The crypto community seems to be going all in on Chimpzee (CHMPZ), which is attracting more investors by the day. This has helped propel the token forward and it is not far from reaching its $1.4 million target.
We give you the rundown on this project and you'll see for yourself why everyone is investing in this hot new meme coin.
$1.4 Million Target Is Getting Closer and Closer
🌴🐵Help us protect 1000 sq meters of the Australian rainforest!
See what we have done.⬇️https://t.co/dziE26mS2t

👏WE ARE LESS THAN 48K AWAY!👏

Receive up to 4X Bonus tokens! Ends when we reach this raise goal!⌛️

🚨Don't miss out!🚨

➡️$150+ 142,858
➡️$250+ 273,811 with 3X… pic.twitter.com/0JThxZgzzV

— Official Chimpzee Project (@RealChimpzee) September 17, 2023
The announcement from the Chimpzee team regarding their commitment to preserving the Australian rainforest garnered an enthusiastic response from the cryptocurrency community. The team's efforts are focused on a 1000 square meter area of the rainforest, with anticipated positive effects on local wildlife. Potential participants in the CHMPZ presale should take note of this significant initiative.
Chimpzee has methodically organized its ecosystem around the central CHMPZ token, which acts as the primary currency governing all activities and incentives within the platform. Within this framework, users can employ the CHMPZ token for various transactions and become eligible for rewards in the form of additional CHMPZ tokens.
Currently, Chimpzee is actively conducting an ongoing presale phase, offering the token at the current rate of $0.00105, with the price set to increase to $0.0011 in the subsequent phase. The final listing price is projected to be $0.00185. Additionally, participants have an exclusive opportunity to benefit from a limited time bonus that can bring the cost of the token to $0.00074 or less depending on how many are bought.
For those unable to secure Chimpzee NFT passports during the presale, they will be made available at a higher price in the future, albeit with limited availability. Participants who did not partake in the presale will need to wait until after the prelaunch of the whitelist NFT passport event, which is an exclusive opportunity reserved solely for presale participants. The eligibility to acquire the Chimpzee Diamond NFT passport will be retained exclusively by those who participated in the initial presale round. Additionally, when CHMPZ coins are used for obtaining Chimpzee NFT passports, a burning mechanism will be activated, potentially removing 5 billion tokens from the overall circulating supply..
At the end of the presale phase, the Chimpzee team's priority will be securing listings on various exchanges and advancing technological aspects. This encompasses the development of the Chimpzee store which is set to launch soon as it is ahead of schedule, NFT passports and marketplace. The inaugural listing on a centralized exchange (CEX) is anticipated to take place in the latter part of the year.
Chimpzee's Rewards Too Good to Ignore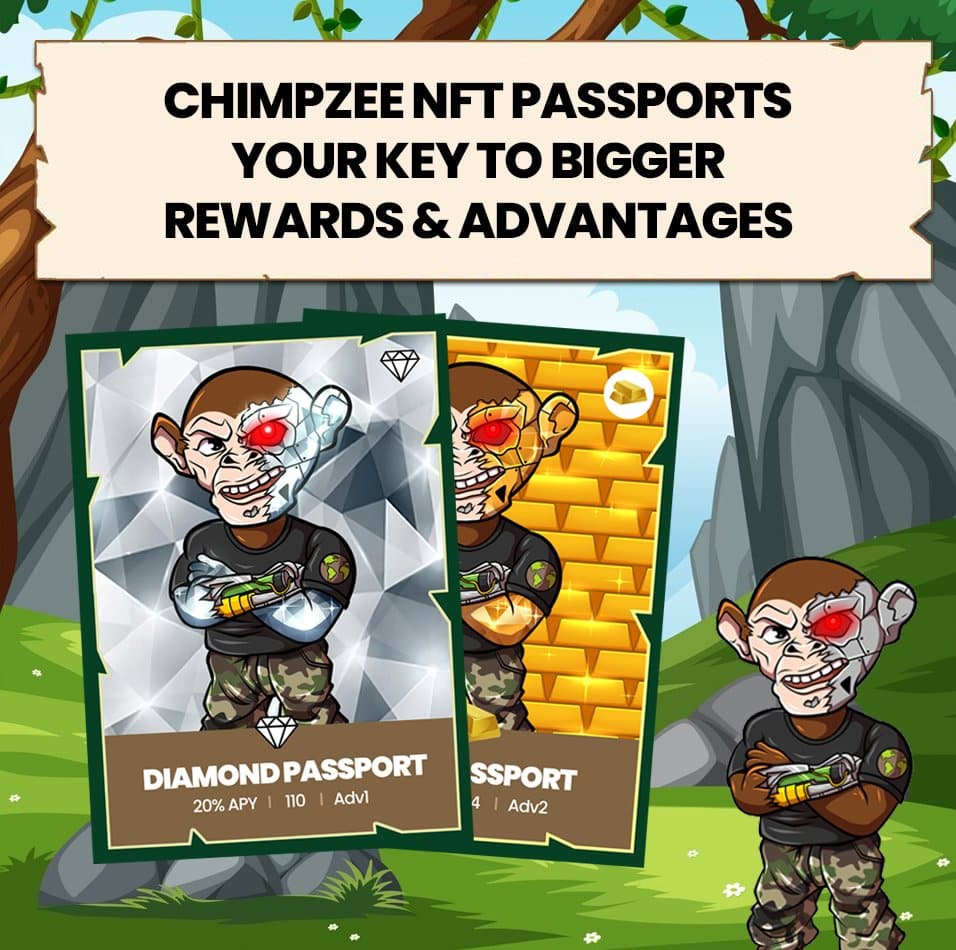 Chimpzee embodies a dual-purpose initiative: addressing critical concerns such as wildlife preservation and climate change mitigation, while also providing users with a means to generate passive income. To support these causes, the project's team has allocated 10% of the token supply and a portion of profits to organizations dedicated to tackling these challenges. Additionally, Chimpzee has outlined comprehensive plans for an ambassador program and community outreach initiative, financed through the project's resources, to underscore the importance of raising awareness and funds for conservation-related efforts.
In pursuit of its mission, Chimpzee introduces a range of robust features, including Shop-to-Earn, Trade-to-Earn, and Play-to-Earn mechanisms. These functionalities empower users to earn rewards while actively contributing to the project's overarching goals.
Chimpzee offers a diverse array of features that are certain to pique the interest of cryptocurrency enthusiasts, with a special emphasis on the Chimpzee shop, NFT marketplace, and Zero Tolerance Game. Among the range of available features, these three components stand out as particularly exceptional and deserving of recognition.
Distinguishing itself from a conventional online marketplace, the Chimpzee shop serves as a centralized hub for a wide variety of products and commodities. Conversely, the NFT marketplace facilitates the trading of NFTs, providing an avenue for passive income by sharing in a portion of the platform's trading fees.
By reaching specific milestones within the environmentally-conscious Zero Tolerance Game, players can accumulate CHMPZ tokens. For an enriched passive income experience within the Chimpzee ecosystem, holders of Chimpzee NFT passports receive additional benefits, contributing to the accumulation of more CHMPZ tokens. The following outlines the stages involved in obtaining a Chimpzee NFT passport.
Furthermore, Chimpzee is on the verge of unveiling a mobile application that integrates AI technology to create personalized Chimpzee AI avatars. This innovative mobile app empowers users to craft their own unique Chimpzee avatars.
Conclusion
Chimpzee is looking like it could set the gold standard for how meme coins should function. It won't be long before it reaches its current presale target and given that investors certainly want those presale rewards, it'll happen soon. Don't miss out on and join in on the fun.