On January 26, 1926, Scottish inventor John Logie Baird demonstrated what is recognized as the world's first working television system to a newspaper reporter and members of the Royal Institutions. As of 2012, the average American watches more than four hours of the stuff a day. In less than 90 years a lot has changed, and in that time, TV has become an institution – a way of life. The path along the way has included invention, government regulation, business decisions and program selection. And now, TV's history is facing a new twist: the impact of the Internet and all its get-it-when-you-want-it entertainment wonder. Here we'll tune in to TV's past and look at where it may be headed in the future.
The First TV
American inventor Philo Farnsworth designed and built the world's first working all-electronic television system and first demonstrated his system to the press on September 3, 1928. After rejecting an offer to sell his patents to RCA and join the company, Farnsworth moved to Philadelphia, joined the Philco Company, and demonstrated the system to the public at Philadelphia's Franklin Institute. He also became embroiled in litigation with RCA, which now claimed that Farnsworth's patents were invalid because of earlier work by Vladimir Zworykin, who had been recruited in 1930 by RCA from Westinghouse. Farnsworth eventually won the various legal suits and was paid royalties by RCA.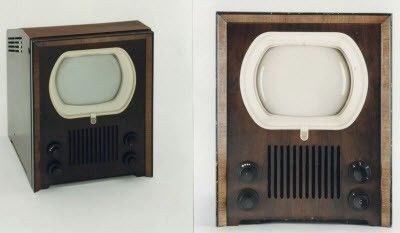 The first TV by Philco
Source: Phillips Communications
The Federal Radio Commission (created in 1926 to regulate U.S. radio use and later replaced by the Federal Communications Commission (FCC) in 1934) issued the first television station license to Charles F. Jenkins is 1928 to broadcast from an experimental station in Wheaton, Maryland. Hugo Gernsback, owner of New York City radio station WRNY, began a series of live television broadcasts on August 14, 1928. Over the next 13 years, experimentation with television continued until the FCC determined that television was ready for commercial licensing, and issued licenses to NBC and CBS-owned stations in New York on July 1, 1941. That same day, the first commercial television advertising appeared on NBC's WNBT (now WNBC), when the station broadcast a test pattern modified to look like a clock, with the words "Bulova Watch Time" in the lower right quadrant, just prior to that afternoon's telecast of a Brooklyn Dodgers game live from Ebbets Field.
World War II brought a moratorium to development as the production of new TVs, radios and other civilian broadcasting equipment was suspended during the war. The end of the war and the general boom in the country jump-started the proliferation of television sets and, by 1947, there were about 44,000 television of them in people's homes (with probably 30,000 in the New York area).
The Emergence of TV Networks and Hit Shows
The post-war years also brought the beginnings of television networks; NBC had begun in 1944 and the Dumont Television Network followed in 1946 and CBS and ABC in 1948.
Television, however, would not have proliferated as it did were it not for the killer apps, "Milton Berle", "Howdy Doody" and "Hopalong Cassidy". Just as VisiCalc would later sell Apple IIs and Lotus 1-2-3 would sell IBM-PCs, "Uncle Miltie" and "Hoppy" sold TVs. In 1948, NBC brought "The Texaco Star Theater" to television, with Berle as one of four hosts, naming him sole host in fall 1948. The show became so popular, gathering 80 percent of the TV audience, that some movie theaters in New York closed when it aired on Tuesday nights. The morning after the show, workplaces would be filled with discussion of the Berle show the previous night. It was a great incentive for TV holdouts to go get a set. (Read more about the personal computer's history in How Spreadsheets Changed the World: A Short History of the PC Era.)
"Howdy Doody", a pioneer in children's television, ran on NBC from 1947 to 1960. Originally created as a voice by NBC radio announcer Bob Smith, the character became so popular that there was demand for a visual character. A red-headed puppet was created (with 48 freckles on his face, one for each of the then 48 states) and it was "Howdy Doody Time" for 14 years.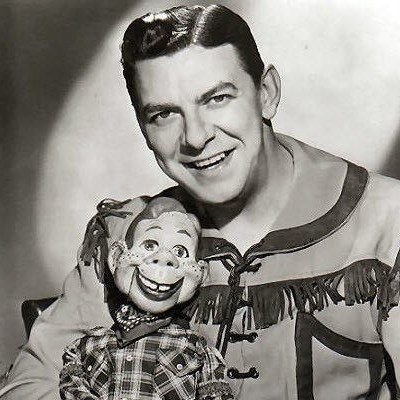 Buffalo Bob and Howdy Doody, 1955
Source: mem45414
Of equal importance to the slightly older young set was "Hopalong Cassidy", the first Western network television series, which debuted on NBC on June 24, 1949. Cassidy was the fictional hero of a series, begun in 1904, of novels and short stories by author Charles Mulford. Beginning in 1935, 66 "Hopalong Cassidy" movies were made starring the actor William Boyd. When the movies began to be less successful than other films, Boyd gambled his future by putting all his assets on the block to purchase the character rights from Mulford , the film backlog from producer Harry Sherman, and the rights to the old films from the studios. He then sold NBC on the idea of a television series – all NBC had to do was to edit the movies down to broadcast time length. The series was tremendously successful, making Boyd a bigger star than he had ever been in the movies and paving the way for other movie cowboys, such as Roy Rogers and Gene Autry, to move to television.
Actor William Boyd as Hopalong Cassidy
Source: Konabish
The success of these shows led the networks to begin a policy that continues to this day: If it works, copy it … ad nauseum. And so, variety shows, kids' shows, and Westerns were duplicated for years. "Lucky Pup" (the vehicle for "Pinhead" and "Foodini"), "Time For Beany," "Kukla, Fran, & Ollie," "Snarky Parker" and "Rootie Kazootie" arrived for kids. Jack Benny, Red Skelton, Jackie Gleason, Perry Como, and Arthur Godfrey all had variety shows, and Wikipedia lists 183 Westerns that sprung from the success of "Hopalong Cassidy," including "Gunsmoke," "Maverick," and "Have Gun, Will Travel."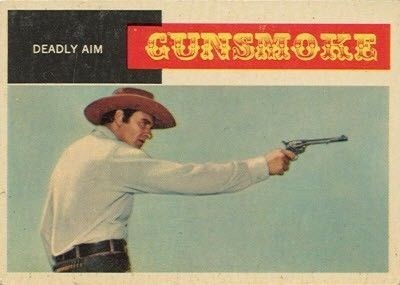 A trading card based on the TV show "Gunsmoke"
Source: twm1340
A second part of the above policy might be: If these shows begin to lose viewership, never try that genre again. Perhaps that's why we don't have Westerns or variety shows on network TV to this day.
Now in Full Color
After years of seeing everything in black and white, color television was introduced to the U.S. in 1953. And TV started look a lot more like it does today – and not just because it wasn't in black and white. NBC introduced two shows that are still staples, "Today," which began broadcasting on January 14, 1952, and "The Tonight Show," which debuted in 1954.
Three major corporations, ABC, CBS and NBC, controlled all network content, and television sets had only 13 channels. During that time, quiz shows and documentaries came and went, situational comedies ("sitcoms") became popular and we moved from simplistic and light ("Ozzie and Harriet") to socially relevant ("Maude") to "adult sleazy" ("Three and a Half Men"). Mysteries became mainly cop procedural shows, and soap operas dominated daytime television until they were replace by talk shows.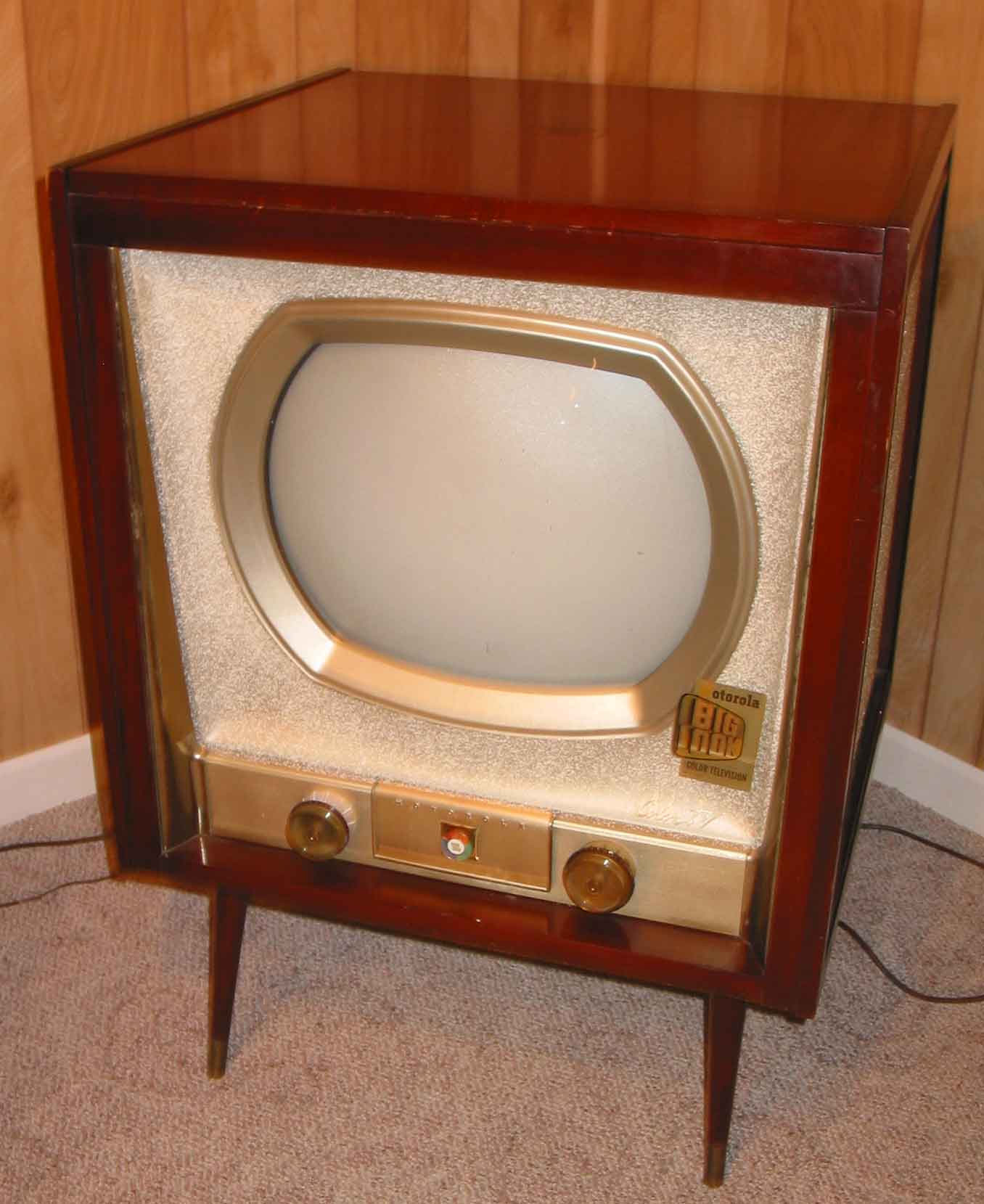 Motorola's 19Ck2, a color set released in 1954
Source: The Early Television Museum
Got Cable?
In the late 1940s and 1950s, Community Access Television (CATV) began to spread, first through Eastern Pennsylvania and then through the Eastern United States as far south as Louisiana. Although there is some belief that John Watson deployed the first cable system in Mahanoy City, Pennsylvania, by putting a large antenna on top of a mountain near Mahanoy and delivering the signals to area homes via cables, the Cable Television Hall of Fame recognizes Robert Tarleton as the developer of the first commercial cable system in the Lansford, Pennsylvania, area.
For the next 25 years, cable systems would be used primarily for bringing quality TV reception for existing programming into areas where "rabbit ears" or roof antennas were not sufficient. The TV world began to change in 1972 when the industry was deregulated and the cable operators became free to both develop and distribute original material not available on "over-the-air" television.
Comcast, the nation's largest cable provider, was originally formed as American Cable Systems in 1963 and was incorporated in Pennsylvania in 1969 as Comcast Corporation. In 1972, Charles Dolan (later the founder of Cablevision) and his partner in Sterling Manhattan Cable, Gerald Levin, launched the nation's first pay-TV network, Home Box Office (HBO). The launching of pay-TV networks tied in with the development of a national satellite distribution system. The second network to use this system was "Ted" Turner's Atlanta Superstation, WTBS, which specialized in sports and classic movies. By the end of the 1970s nearly 16 million households were cable subscribers, a figure that would grow to 53 million by the end of the 1980s as the number of cable networks increased to 79.
In 1973, Dolan sold Sterling Manhattan Cable and HBO to Time Warner. His former partner, Gerald Levin, stayed with Time Warner as president of HBO while Dolan, with his proceeds, formed Cablevision to provide cable connectivity to Long Island and subsequently the New York City boroughs.
In 1980, Turner launched Cable News Network (CNN), the first 24-hour news channel in the country. For the next 30 years, cable networks continued to appear, along with more entertainment channels.
In the beginning, the cable entertainment channels, in addition to sports and movies, carried reruns of network series. This has changed dramatically in recent years as the cable networks moved heavily into original content, drawing large audiences. The critically acclaimed "Mad Men" became the first cable show to receive an Emmy as "Outstanding Drama Series," winning it in each of its first four sessions.
The success of the cable networks, in addition to providing customers with a much wider choice of programming, also seriously undermined the on-the-air networks. The "Big 4" (Fox had joined ABC, CBS, and NBC as a major player, a move that became obvious when it obtained rights to NFL games by outbidding one of the "Big 3 " to do so) were not only competing with each other for news and entertainment dominance, but there were also hundreds of other channels providing competition and siphoning off add revenue.
TV Meets the Internet
The cable companies, once they had coaxial cable in homes and offices, expanded their service offerings to provide Internet connectivity to customers, going into direct competition with traditional Internet Service Providers (ISPs). In addition, once Voice Over IP (VoIP) was developed, the cable companies went successfully into competition with the telephone companies to offer voice communication, previously the sole bailiwick of those companies. The phone companies, which had been providing Internet service as well as voice through digital subscriber lines (DSL) countered by adding television delivery through such services as fiber optics. In addition, direct satellite delivery of television products through DirectTV and DishTV penetrated the market. Even electric utility companies have begun to offer broadband over power lines (BPL) as another way to bring television content to customers. In short, customers now have many more content choices and many more delivery options than ever before.
As if this weren't all confusing enough for customers and industry decision makers, the Internet is now becoming a competitor in the content area. YouTube, once the testing ground for silly amateur videos, short clips of famous movies and instructional videos, is now developing content for the Internet and, as the public gets used to it, this market should continue to grow. And you can bet the TV industry is shaking in its boots about it.
TV and Entertainment Habits
When television first began to gather steam, analysts were afraid that it would destroy the movie industry. The fear was that people would stay home, even invite friends over to watch something rather than go to movies. At the time of such concern, television sets rarely had screens larger than 16 inches and were also black and white only. In retrospect, this concern seems ludicrous. Even when screens grew to 26, even 30 inches and color sets became available, there was still a better viewing experience to be had at the local movie theater.
Now? Not so much.
Since the first public broadcast of high-definition digital television (HDTV) in 1996, pictures have become clearer, approaching movie quality. TVs are bigger, the resolution is better and high-end sound systems can rival any movie theater. Plus, newer technologies such as Apple TV allow users to play videos from the Web, play songs from iTunes, or communicate with friends on Facebook.
No one can predict exactly where we are going, but it's clear that a shift is happening, and one that could dislodge TV networks from their place of prominence. The Web brought us information when and where we wanted it. Now we expect the same from TV. It's a far cry from the days when whole families sat down to watch "Howdy Doody." Now it's more likely that each family member tunes in on a personal mobile device.
We're still watching though, so no matter how TV evolves the odds are good that we'll stay tuned.