Picture this: You're waiting at the bus stop or standing in line for coffee, and you want to check tonight's movie times. So you unzip the front pocket of your jacket, fold it down, and there's your iPad on a sturdy ledge, ready to use. Convenient? Yes. Cool? If you're an uber-geek, absolutely. Affordable? Well … that depends.
As the popularity of mobile devices continues to surge, more businesses across all industries are introducing products that complement on-the-go lifestyles. And because electronics like smartphones and tablets are often seen as accessories anyway, apparel companies are getting in on the action. Alphyn Industries, the makers of the Wearcom clothing line, is entirely in the business of merging clothes with technology. They've got "smart pants" inspired by clothing worn by fighter jet pilots, "tech shirts" made with space-age material and electronic accessories, and pullovers that do much more than keep the wind chill away.
If your table or smartphone is already perpetually glued to your hand anyway, why not wear it? Let's take a look at how these iPhone-friendly fashions work.
Tablet Wear: PADX-1 Ledge Pullover
While the iPad is a useful gadget, its dimensions make it a bit difficult to use without a flat surface. The PADX-1 Ledge is designed to address that problem with an instant surface built into the jacket. A front pocket just below the chest area zips open and folds down into a sturdy platform. The protective pocket safely stores your iPad for fast, convenient access. (Why is the iPad so popular? Read about it in Tablet PCs: Why Don't More Manufacturers Get It Right?)
The pullover's design is based on gear used by EOD bomb technicians, who have a built-in toolkit at the front of their jackets for high-stress situations. And the pullover itself is just as high-tech as the tablet it's built for, with a waterproof, thermal Polartec softshell.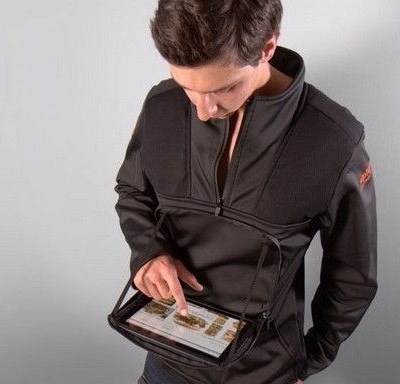 Source: Wearcom
One potential drawback is the pocket position; certainly for women, this screen will be unsightly – not to mention uncomfortable! And if you aren't an Apple fanboi (or girl), you might just be out of luck: The PADX-1 is designed for an iPad only, although the company's website states that it will be making versions for other tablet models soon.
Smartphone Wear: SOMA-1 Pullover
OK smartphone addicts, maybe you really can have on-the-go, hands-free access to your phone, friends and the Internet's infinite wonders. The SOMA-1 pullover is a fashionable black jacket with a custom pocket located on the left forearm, and it's designed to hold your smart phone for single-hand use. Measuring 3"x 5", the pocket can fit a bunch of different devices, including the iPhone G3 and G4, iPod Touch, HTC EVO, Droid and Blackberry Touch. (The phone you carry may say something about the type of person you are. So, What Does Your Smartphone Say About You?)
The pocket boasts a stylish, futuristic look, with a quick-access Velcro flap and a pair of buckle straps securing it in place. A super-thin plastic film under the flap lets you use your touch screen right through the pocket. It's also transparent enough for video calls from your phone.
One of the selling points for this pullover is that you won't have to search through various pockets to extract your device when it goes off. It's not a huge time-saver – most of us know right where our phones are, anyway – but it is a little faster, and let's face it: Tapping away at your arm like a secret agent is pretty sweet.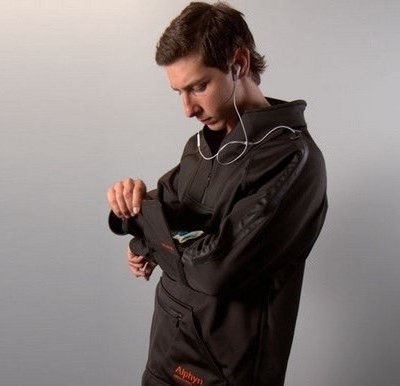 Someone looks seriously awesome …
Source: Wearcom
Like the Ledge, the SOMA-1 is made with waterproof, thermal Polartec. It's also fleece-lined for comfort. This jacket can also accommodate ear buds, with a zipper channel built into the inside of the left sleeve. When you're not using the buds, simply tuck them into the custom pockets in the collar.
The biggest problem with this jacket is that it's designed for right-handed people. Unless you can train yourself to text and swipe with your right hand, all you lefties out there will have to skip this jacket.
Time to Wear to Your Device?
Fashionistas might scoff at wearable technology, but for gadget gurus and tech geeks, these space-aged designs may be as good as Gucci. For now, apparel like this is as close as you can get to becoming fully integrated with your portable device. Next up? Well, it probably involves surgery …