If you own an iPad for personal use you're probably more than aware of its ability to distract. It's why airport waiting areas and subway trains are increasingly filled with row upon row of bowed heads and the soft sounds of finger taps and swipes. But while there's no question that the iPad is great entertainment – and has largely been marketed as such – it and other tablets are increasingly sneaking their way into the business world too. In 2012, Apple CEO Tim Cook famously said that nearly every company in the Fortune 500 was testing iPads. Now, evidence is mounting that many companies – big and small – have jumped on the tablet bandwagon and put the iPad to work. Here are a few of the innovative ways companies are using it. (If you're an Apple fan, check out Creating the iWorld: A History of Apple.)
As an Application Development Environment
According to Nisim Heletz, a developer and Microsoft Certified Trainer at Software Progressions Corporation, the iPad can be a great tool for programmers who want to build and maintain multi-platform apps. That's why the company built the first application development environment that runs on iPad, a software called Corporate Central.
"Using the iPad to create apps allows the author to be extremely mobile in developing the app," said Shauri Levy, a business development executive at Software Progressions. "That might mean going out on the manufacturing floor, out in the field, at home … creating the app from anywhere."
To Create a Futuristic Conference in an Old-School Setting
The Bently Reserve, a conference and event center in San Francisco's Financial District, used to be the Federal Reserve Bank of San Francisco; it's also on the National Register of Historic Places. IPads are part of how the venue's augmenting its 1924 ambiance with a high-tech edge.
"We have 10 different meeting rooms, and five of them are managed through iPads mounted on the walls," said Vivian V. Perez, an event and sales director at The Bently Reserve.
"Clients can bring up and down the window shades (both a daytime and blackout), bring up and down the built-in projector and screen, manage the volume of presentations, as well as the lights in the room.
"The software we are using is proprietary and was developed in-house. To our knowledge we are the only conference center using iPads this way."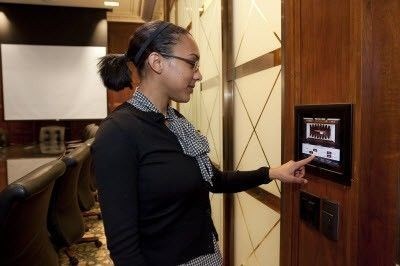 Source: Bently Reserve
To Sniff Out Gas Leaks
"While we use iPads in our business, the more innovative use is by our business customers who use them for remote detection of natural gas leaks, said Bruce Pharr, a corporate marketing consultant at Picarro Inc., a company that specializes in gas analysis technology.
According a November, 2012 press release, Pacific Gas & Electric company adopted Picarro Surveyor in Northern California to detect potential gas leaks that would previously have been difficult to locate. Mounted on a PG&E vehicle, Picarro Surveyor measures and maps methane plumes in the air as the vehicle drives through neighborhoods. This technology combines a gas analyzer with an online user-interface, which provides real-time data on an iPad or other web-enabled device, and alerts users and repair teams immediately upon leak detection.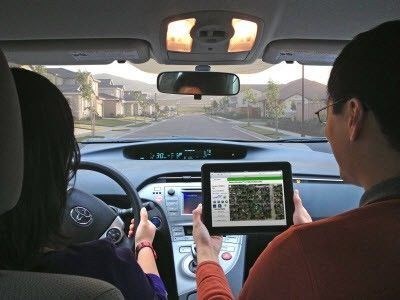 Source: Picarro
As a Payment System
House of Steep, a tea house in Arlington, Virginia, accepts payment exclusively by iPad. Using Sage Mobile Payments and Sage Mobile Solutions Software, owner Lyndsey Clutteur DePalma is both impressing customers and saving time on day-to-day number crunching.
"My customers are impressed that we're so 'new age' but to me, it's just simplicity. This tool makes my life easier," DePalma said. "I get to spend more time strategically driving the business rather than being tied to old-fashioned book-keeping tendencies. It's all in my iPad, so I can do things much faster on just a few screens rather than print outs and manual reconciliations."
As an Aviation Flight Manual
FlightWorks, an air charter operator based in the state of Georgia, introduced tablet-based electronic flight bags in 2012 to replace the cumbersome, 45-pound printed manuals that have been used by the aviation industry for decades. This technology has also been introduced by global carriers such as United Airlines, which estimates that it has reduced annual fuel consumption by hundreds of thousands of gallons by reducing weight. Plus, because the manuals no longer need to be reprinted every time a change is required, keeping them up to date has become much faster and easier.
"The iPad solved many of the challenges aviation companies like FlightWorks faced with regards to distributing and collecting critical information between our flight crew and the home office," said Johan Segring, the vice president of business and information systems at FlightWorks. "Being able to collect flight data and crew duty information in near real-time (reported from iPads) at the beginning and conclusion of every leg segment ensures and enhances both safety and service."
As a Second Screen During Conferences
"When I attend conferences, I always use an iPad to look up further information regarding any topics the speakers are covering. This way, when I take notes … I constantly have a source of bonus information I can tap into, conveniently and all on one device," said Ian Aronovich, co-founder and CEO of GovernmentAuctions.org.
"Outside of these conferences, I also regularly use the iPad to communicate with the home office and overseas contractors via Skype. However, as useful as the iPad is for business, there's one huge drawback that comes with the tablet, along with other iOS mobile devices: the incompatibility with Adobe Flash."
As a Portable Portfolio
"At LeMetric Hair and Beauty Studio, we use the iPad to create videos using an app called Montaj, as well as for social media purposes. Another way we use the iPad is to show photos and videos of our services and products when we meet other business leaders we want to partner with," said Kathleen Sumagit-Rivera, a marketing and PR coordinator for Lemetric.
"The iPad is also great to have at expos and other tabling events to play slide shows, and show other photos and videos to people who are interested in the services we offer."
As a Tool for Collaboration
Reid Carr, CEO of Red Door Interactive, cites the iPad for making meetings more effective and building collaboration.
"I can easily take down meeting notes, action items and disseminate those notes and actions immediately after the meetings by using the Meetings app for iPad, which is tied to my contacts list. Giant Timer allows presenters to keep their timing on track and minimize meeting overages. For meetings with participants in remote locations, we can quickly include them by connecting via Skype and placing them at the meeting table, Carr said.
"The iPad is less of a physical barrier than a laptop and still maintains the personal connection we intend to have in collaborative meetings."
To Speed Up Meetings, Save Paper and Ink
"We discovered we were going through paper and ink cartridges for presentations at a massive rate, so we bought a set of six iPads and started presenting and sharing work on them exclusively," said Nathan Hunt, president of Dressler LLC, a New York City ad agency.
"Our clients appreciate the dynamic interface and the ability to launch links and video within the presentation. The only problem is that clients tend to move through the presentations at their own pace, quickly skipping backwards and forwards. However, even this problem has proved to be an advantage. Our meetings take less time since clients focus in on those areas of the presentation that interest them the most.
"Also, our office printer died just prior to Thanksgiving. We haven't replaced it."
The iPad Grows Up
The iPad isn't perfect. Some business owners told us it was too expensive compared to other tablets, and complained about the iPad's lack of compatibility with some commonly used software (like Flash). For now, Apple continues to dominate the tablet market, but Android-based tablets are slowly chipping away at this lead, especially in the business world. Regardless of which company inevitably wins the tablet war. But in 2013, tablets are more popular than ever, which means that consumers and businesses alike are likely to find all kinds of innovative ways to put them to work.