As an engineering process, computer numerical control (CNC) is often viewed as something that is exclusively used for the mass-scale manufacture of parts. So, someone with little knowledge of the subject could consider it an area lacking excitement. This however, is by no means the case. CNC machining projects are fast becoming an outlet for technically gifted, creative-minded individuals. As a result, some very interesting and exciting projects are emerging. Here are five super-cool CNC projects you can find on Kickstarter.
The Oblique Wine Bottle Holder
According to the tag line, the Oblique Wine Bottle Holder is "made by robots, enjoyed by humans." It's also an excellent example of precision engineering and CNC success, having earned $15,381 in funding when it launched on Kickstarter in 2011, completely surpassing its original $1,500 goal.
Using a CNC machine to produce a unique take on a cantilever wine bottle holder, this product trades complex machined parts for an ingenious use of precision. Precision machined from 6061 aluminum, the product holds a wine bottle horizontally so that the center of mass is roughly above the middle of the footprint of the holder, allowing the bottle and the holder to be co-dependent.
It's popular because it looks simple, clean and modern, but the devil is in the detail; with +/- .002 feet tolerances on every dimension, it's the superb and completely machined craftsmanship of this product that allows it to work.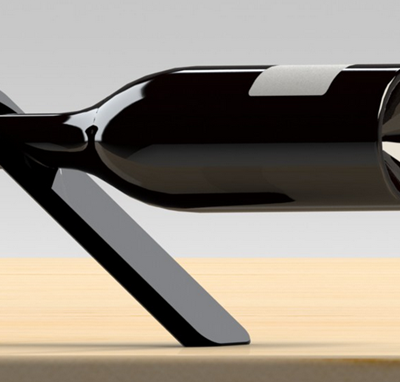 Source: Obliquebottleholder.com
Monkii Bars
Monkii Bars is a CNC machined project that started on Kickstarter but has now made its way to Good Morning America, MSN, AOL, Yahoo and The Huffington Post. That's because just like the Oblique Wine Bottle Holder, Monkii Bars are as simple and cool as they are practical and useful. This portable and minimalist lightweight suspension training tool allows you to work out just about anywhere, both indoors and outdoors. Inspired by the concept of old-school monkey bars, Monkii Bars are completely self-contained units that store 18 feet of suspension line and can be set up in less than a minute, allowing you to perform all kinds of advanced resistance exercises wherever you may be. This nifty product exceeded its funding goal in April by more than $85,000!
Source: Monkiibars.com
The Fusion Wallet
Yes, it's a wallet, but the Fusion Wallet is a CNC machined masterpiece made up of 12 separate components, each of which require a different machining strategy in order to give the wallet its unique edge. Made of of two aluminum plates held together with a hard wearing rubber hinge and hardwood covering, the metal plate and hardwood coverings are CNC machined and hand sanded to create an item that's beautiful, durable and totally unique – a perfect mix of style and function. The project was fully funded on Kickstarter in July 2013, exceeding its goal by $18,000.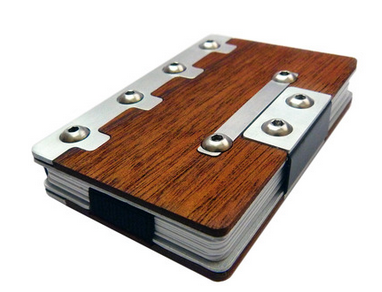 Source: FusionWallets.com
Metal Comb Works
Incredibly simple but wonderfully designed, Metal Comb Works combs are titanium and steel pocket combs designed to be carried every day and last a lifetime. Almost doubling its Kickstarter goal of $4,900, these combs are another example of CNC success.
Making use of a CNC water jet, the combs are the perfect nod to machine-age design thanks to the modern machining techniques used in their manufacture. Going through a process of machining and grinding, the combs are then hand-polished for the perfect finish.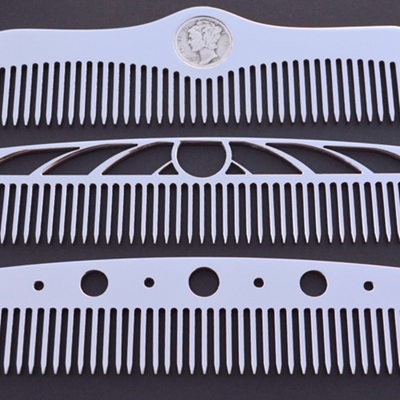 Source: Metalcombworks.com
The eleMount
The problem with many smartphone and tablet holders is their lack of design. Putting a beautifully designed device into a clunky, ugly plastic holder is a shame. The eleMount, a CNC machined mount for smartphones and tablets, aims to provide something better by providing a premium pedestal that matches the sleek style of today's portable devices.
Incredibly user-friendly, the eleMount sticks to any flat surface and features a universal, edgeless design that allows it to work with a wide variety of devices regardless of their size or generation.
Giving it a premium feel and sleek and minimalist style, the eleMount is CNC machined from the finest solid aluminum and features a sand-blasted and anodized finish. And people like it: It surpassed its funding goal by $215,000 in October 2013.