The best self-employed accounting software can help you reduce the amount of time spent organising your company's finances and automate processes to position your business for success – and it'll scale with you as you grow, handling increasingly complex financial data.
This guide will cover everything you need to know about the best self-employed accounting software, how accounting tools can enhance your business functions, and exactly what the leading providers offer. With this information in hand, you can identify the best solution for your accounting and bookkeeping needs.
The Top 10 Self-Employed Accounting Software Solutions
Here's our pick of the best accounting software for self-employment in 2023:
Do Self-Employed Individuals Need Accounting Software?
While you don't have to use an accounting software package, they offer many benefits to enhance the day-to-day workflow of self-employed people. Some of these benefits include:
Time-Saving: Once this software is set up and integrated into your workflow, it'll save you hours of time on manual bookkeeping and chasing down expenses and invoices.
Financial Data: An accounting software package will help you streamline bookkeeping, collecting and storing all your financial information in one place, so it's easy to check your business's economic outlook.
Creation of Financial Reports: Most accounting software automatically provides various financial reports. You can easily download reports like balance sheets and see crucial financial information in real time.
Data Accuracy: As accounting software automatically uploads information, it keeps your books accurate, up-to-date, and free of errors.
Creation of Financial Statements: Every business needs the ability to produce professional financial statements when requested. Accounting software can create financial statements in standard formats that are readily available to download when your business needs them.
Payroll: Accounting software can automate employee payments, calculate relevant contributions, and obtain accurate payroll tax information, making payroll management far faster and more efficient.
Creates Detailed Insights: Most accounting software will provide detailed insights into your business to offer a complete performance overview. You can filter these insights to track departments, projects, locations, and classes so you can see where your business is flourishing and make better strategic decisions.
Streamlines Tax Filing: Using accounting software ensures you have standardised and accurate financial statements, making it easier to file tax reports and calculate available tax credits.
Reduces Inventory Errors: Some accounting software packages include basic inventory management tools to keep a log of your inventory, what stock has been sold, and which products need to be restocked.
Do I Need An Accountant if I Get Accounting Software?
Accounting software tools are transforming how businesses handle their finances. They can help you dramatically improve the efficiency with which you handle financial records and bookkeeping, pay your taxes, and access your cash flow – though someone will still need to manage the system.
Indeed, having a qualified accountant on hand can make a big difference in correctly preparing, organising, and filing your accounts and tax information.
Many elements of accounting require human knowledge and judgment, which even the best accounting software can't offer, so these systems can't replace experienced professionals.
Given this, the best accounting software can provide huge benefits, but it's best to still be able to call on expert assistance when needed.
Our Self-Employed Accounting Software UK Reviews
If you're eager to learn what the leading self-employed accounting software in the UK has to offer, look no further. This section looks into what makes each product unique and what type of business each is best suited to. It should give you all the details needed to make the best decision for your company.
1. FreshBooks — Overall, the Best Self-Employed UK Accounting Solution
FreshBooks is one of the best small business accounting solutions, and with more than 30 million subscribers, it has a reputation for saving businesses time with their bookkeeping. The company reports adding their software can save businesses up to 553 hours a year.
It has a relatively simple interface, so no matter your experience with bookkeeping, it's easy to use – and it's available on both desktop and mobile applications.

Best For
Starting Price
Free Version
Top 3 Features
Compatibility
Payroll Included
Best overall
£9.60/month
30-day trial
– Professional invoicing
– Online payment options
– Time tracking
Apple, Android, and Windows, 100+ integrations
Yes
The invoicing tools have several automatic options like follow-up reminders for payment, late charges, and email confirmations. These features simplify and streamline organising payments, which is ideal for self-employed individuals.
For the sheer amount of functionality available, Freshbooks is very competitively priced compared to other options on the market, and it's great value for money – it's the cheapest full accounting platform on this list.
Given this, we rate it as the best accounting software for small businesses in the UK as well as for self-employed people.
If there's one downside, it's that the platform includes lots of extra features like time tracking, which, though useful, may go unused in some cases.
Features
Lots of features to suit different types of small businesses, including:
Invoicing and billing: Create invoices quickly and easily and save client details for future use.
Time Tracking: Track time on different projects and generate invoices so you can accurately bill clients for your services.
Accounting Options: FreshBooks is HMRC and MTD (Making Tax Digital) compliant and offers features to streamline bookkeeping operations, including a balance sheet, ledgers, VAT returns, and a chart of accounts.
Pricing
FreshBooks offers subscribers three packages, with Premium offering more automation and management tools.

There's also a fourth customisable plan that companies can use if they have a large number of users or specific needs. Each plan comes with one seat, and it's an extra £8/month for every additional user.
Pros
A large number of features, including lots of invoicing options
Inventory management feature on all tiers
Easy-to-use interface
Great value for money
Cons
Plans only come with one seat
2. Xero – Great Accounting Software For Small-to-Medium Businesses
Xero is a popular accounting software solution used by 2 million users and over 16,000 companies worldwide.
It's a cloud-based platform and includes unlimited users with every plan, so all the relevant staff can check finances in the office and on the go. It can even be accessed on an Apple watch, a feature that few competitors offer.
It has deep functionality, making it an excellent choice for self-employed startups planning to scale and expand quickly. Startups less than a year old can get a 50% discount on any of Xero's subscription plans, in fact.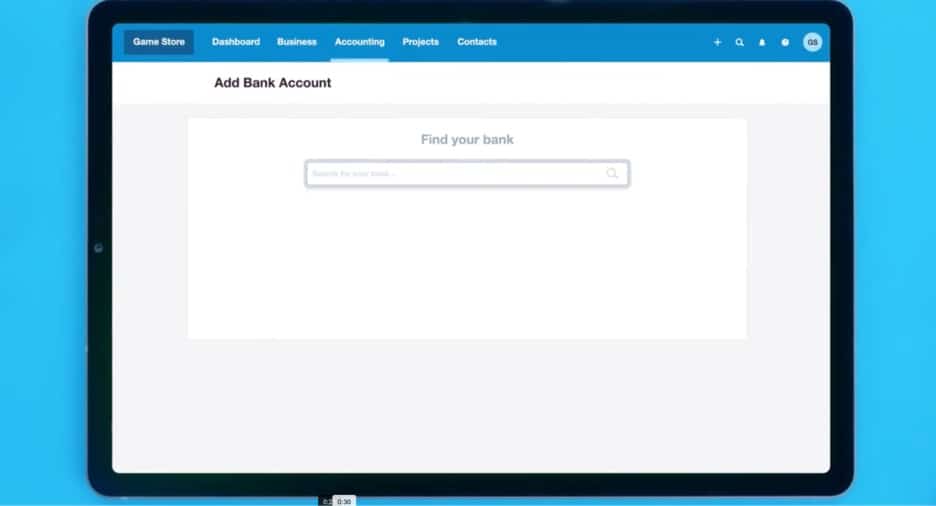 Best For
Starting Price
Free Version
Top 3 Features
Compatibility
Payroll Included
Small-to-medium businesses
£14 per month
30-day trial
– Easy-to-use interface
– Connects to your bank
– Collaborate in real-time
Apple, Android and Windows, 1,000+ integrations
Yes
It's a great platform for simplifying processes. Once your data is entered, you can handle all of your operations from the main page. The only disadvantage is that the base cost is slightly more expensive than other options – but for the amount of features you receive, it's worth it in our opinion.
With competing services, features like accounts payable would only be available in higher-level plans, but it's available with all Xero's tiers. What's more, having access for unlimited users could mean big savings when compared with services like FreshBooks, which charge for every additional seat.
Features
Xero has a wide-ranging feature set, including:
Invoicing: All invoices created can be linked to external applications such as PayPal and Square for easy payment.
Tracking your inventory: It can follow all stock levels and will notify you about issues such as overstocking and supplies running out.
Smart reconciliation: Xero can match bank transfers with data you've entered manually to remove data duplication
Report creation: It can create a range of reports, including profit and loss and general ledgers.
Pricing
There are four different subscription tiers. Premium and Ultimate include features like multi-currency support and expense management.

Pros
All plans have access for unlimited users
Perfect for small-to-medium businesses and scaleups
Advanced features like accounts payable offered with lower plans
Cons
Slightly more expensive than competitors
3. Tide.co – Affordable Pick That's Ideal for Freelancers
Tide.co's accounting software makes manual accounting a thing of the past. Users, and especially new businesses, can sign up for a business bank account along with their accounting solution with Tide.co, making their financial process even more streamlined.
It has everything a small or growing business would need in one place and even has a mobile app to keep you on top of your finances on the go. You can also retrieve accurate tax calculations and link bank accounts for real-time financial updates.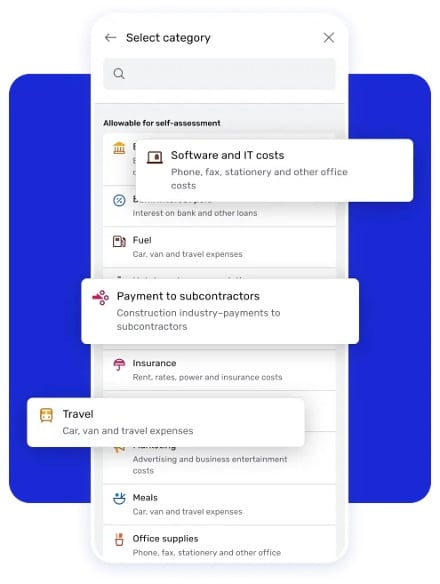 Best For
Starting Price
Free Version
Top 3 Features
Compatibility
Payroll Included
Freelancers
£9.99 + VAT per month
Limited-time trial
– Smarter invoicing
– Preparing VAT
– Automated bookkeeping
Apple, Android, Windows, 5 integrations
Yes
Tide.co comes with a range of features to automate your financial processes to save time. These include smart invoicing, which allows you to create invoices within the app, add a quick payment link, and match payments to invoices to automatically categorise invoices as being paid.
The automated bookkeeping feature allows you to organise transactions, add receipts and add VAT calculations.
This allows you to easily access financial forecasts for your business. You can also prepare your self-assessment tax return for HMRC, setting up transactions to be categorised and claiming allowable expenses.
While it doesn't have the most comprehensive feature set, the banking integration is extremely useful, and it should have everything most freelancers need.
Pricing
Currently, you can get Tide.co's services free for a limited time. After the free trial ends, registered users will be billed for their first month's subscription. Tide.co accounting has a flat fee of £9.99 + VAT per month.
Pros
Great at calculating VAT tax returns
Cost-effective
Automated features for managing transactions and organisation receipts
Best accounting software for freelancers
Cons
More limited feature set and doesn't have time tracking or advanced analytics
4. Sage – Pro Tool with Lots of Advanced Features and Integrations
Sage is a cloud-based accounting app marketed toward self-employed individuals and small businesses. It incorporates a variety of automation features and customisation options and is integrated with Office 365 to streamline critical reporting and record creation.
It's more complex than other accounting software systems, which may discourage some new users and businesses. Still, it offers a huge range of functionality to suit all companies once you learn how to use the interface.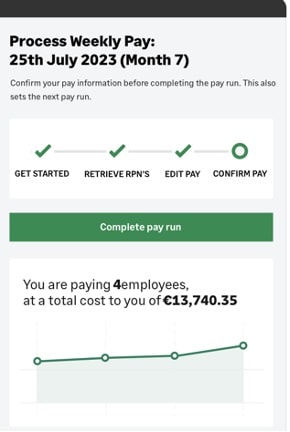 Best For
Starting Price/mo
Free Version
Top 3 Features
Compatibility
Payroll Included
Integrations
£14
1-month trial
– Automated data entry
– Audit trails
– Create detailed reports
Apple, Android, and Windows, 1,000+ integrations
Yes
You can use Sage to get a full overview of your business in real time and monitor your entire client base in one place.
The platform has a wide range of intuitive features, including various bookkeeping tools to manage accounts, inventory, expenses and payments.
You can also batch transactions to enter transactions quickly and save time. It also has strong features to create audit trails for comprehensive records, which is invaluable when it comes to filing your taxes.
Perhaps the best feature is the massive number of integrations on offer, matching Sage but quite a bit more than FreshBooks offers.
Pricing
There are three packages for subscribers to choose from, depending on the level of your business.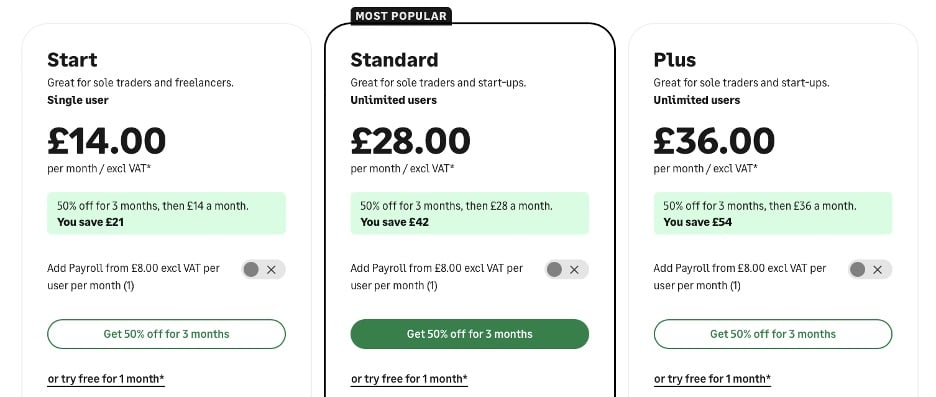 Pros
Lots of customisation options
Great customer support
Features for both small and large businesses, such as audit trails
Automated data entry saves time
5. Bonsai – Best All-In-One Accounting Tool For Small Firms
Bonsai is a great tool for simplifying your business operations and comes with a range of tools for business management, including a CRM and project management features, as well as accounting tools.
It's ideal for fast-growing companies that need easy-to-use accounting software integrated within an all-in-one business platform.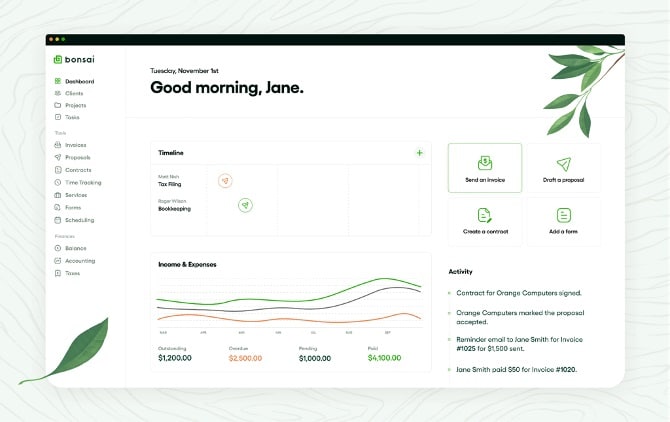 Best For
Starting Price
Free Version
Top 3 Features
Compatibility
Payroll Included
All-in-one business tool
£13.60
7-day trial
– Management reports
– Annual financial statements
– Company registrations
Apple, Android, Windows,
Yes
Bonsai captures accurate, real-time accounting data for business analytics and can prepare monthly and weekly management reports. Going beyond this, it can generate annual financial statements in accordance with local and global financial laws and track PAYE (Pay As You Earn) numbers.
The platform also has intuitive features for creating and sending invoices, and these can be automatically generated from the time tracking tool to ensure accurate billing.
Bonsai can even offer suggestions on where your business could improve, such as with better organisation of financial statements. While it's not intended for larger businesses and won't scale like FreshBooks, Sage, or Xero, the product has a great business toolset for solopreneurs and small firms.
Pricing
Bonsai offers three plans depending on your needs – Starter, Professional, and Business. You can invite collaborators on any of these plans without charge.
It's an extra $9 per month per additional user, and getting a tax assistant to help manage and submit taxes will cost an extra $10 per month.
Pros
Intuitive features
Great business management tools
Accountant on call 24/7, 365 days a year
Detailed reports
6. QuickBooks – Robust Tool That's Ideal for New Businesses
QuickBooks provides robust accounting software for sole traders and retailers and is also a great restaurant accounting tool. It has independent subscription plans with features that are ideal for self-employed individuals and small businesses – and for larger firms, in fact, too.
The platform is excellent at handling tasks like generating tax returns and organising bookkeeping.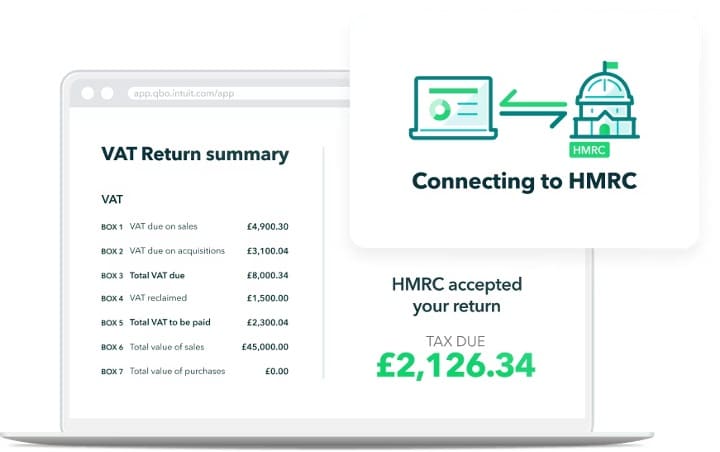 Best For
Starting Price
Free Version
Top 3 Features
Compatibility
Payroll Included
Managing invoices
£10
3-month trial
– Rapid invoicing
– 24-month cash flow forecast
– Auto-match receipts to expenses
Apple, Android, Windows, 750+ integrations
Yes
As well as having tons of integrations, QuickBooks also has an extremely wide range of features across invoicing, bookkeeping and tax filing. It's also easy to give your accountant access to the platform, where they can find all your financial information logged and organised.
Some users have reported finding it hard to navigate. To compensate for that, the package has a wide range of guides and excellent customer service that'll help you with queries regarding the product's features.
You can also check out our complete QuickBooks guide for more information on the platform and how it compares to its competitors.
Features
Here are some of QuickBooks's top features:
Tracking: Track your income and expenses in real-time so you can stay on top of outstanding payments and bills.
MTD compatibility: Submit VAT returns based on the information on the platform.
Invoice Management: Send invoices to customers automatically and monitor and manage them.
Late Payments: Manage late payments by automating notifications to customers.
Connect Bank Accounts: Can connect to numerous bank accounts so all your transactions and expenses are in one place.
Payroll: Run and automate payroll so you can save time on calculating taxes and making bank transfers.
Pricing
QuickBooks' packages are free for new users for the first three months and include the following, running from self-employed to advanced:
Pros
Low-cost subscription plans
Wide range of features
5-star reviews for customer support on Trustpilot
Great for invoice management and payment tracking
7. Oracle Netsuite – Best Accounting Software for Scaling Businesses
Oracle Netsuite's accounting software is an excellent option for businesses that are on their way up – or are already there.
The software is easy to implement and has robust features, such as data management and general ledger capabilities, and will scale with your business.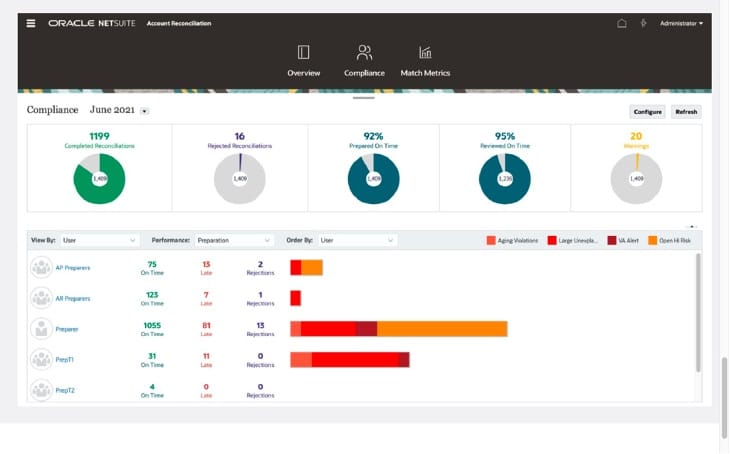 Best For
Starting Price
Free Version
Top 3 Features
Compatibility
Payroll Included
Scaleups
Custom quote
No
– General ledger capabilities
– Financial visibility
– Managing global tax
Apple, Android and Windows
Yes
You can customise which modules you use based on your company's needs. It can be seamlessly integrated with several other business modules like Oracle's Netsuite CRM (Customer Relationship Manager) and ERP (Enterprise Resource Planning) tools to help with inventory management, ordering and tax management.
Larger businesses will get the most value from Netsuite, but Oracle promotes its suitability for small businesses and startups. One drawback, though, is that you'll need to get in touch for a quote matched to your needs.
Features
Oracle Netsuite has features to automate financial management, including:
Financial visibility: Companies can get an overview of how their business is performing.
Managing domestic and international taxes: Efficiently manage taxes and expenses.
Automating payroll activities: Payroll activities like calculating employee taxes, creating payroll documentation and scheduling employee payments can all be automated to save time.
Built-in reporting capabilities: There are several reporting templates that can be used to construct reports.
Pricing
Oracle doesn't disclose its pricing but will provide a custom quote tailored to your needs and user base. The service doesn't offer a free trial or live chat customer support capabilities, which removes the chance to try it before you commit to a subscription package.
Pros
Great at automating processes
Excellent option for large companies and scaleups
Can automate payroll activities
Cons
Limited guides and resources
8. Melio – Great Platform for Handling Payments
Melio is a web-based financial tool that allows you to pay bills via bank transfers for free. You can also defer payments by paying with your credit card at a transaction cost of 2.9%, and it can be used on any internet-enabled device.
This is an excellent way to help manage cash flow and pay bills without paying a considerable amount on banking fees.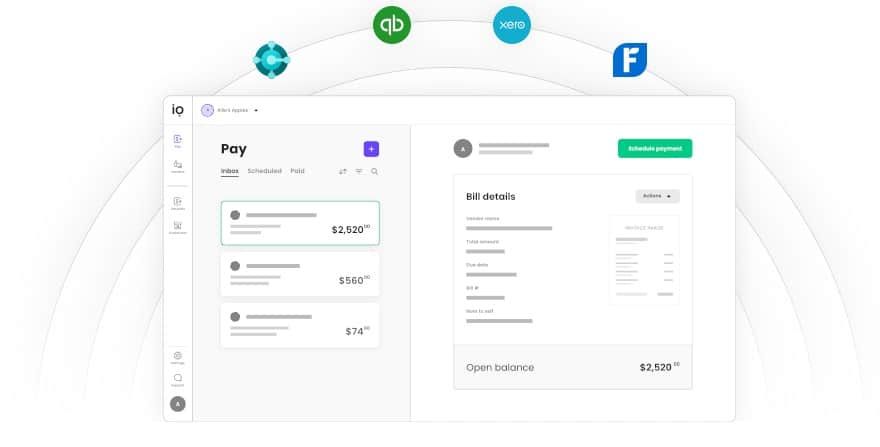 Best For
Starting Price
Free Version
Top 3 Features
Compatibility
Payroll Included
Bill-paying
Free
Free
– Automating bill paying
– Make international payments
– Access local vendor directory
Apple, Android, Windows, plus integrations
No
You don't need to be signed up to Melio to receive payment on this tool, which makes it even more convenient. It supports all major platforms and offers unlimited, multi-user access, making collaboration simple.
With payment tracking and bills management, plus free bank transfers and no subscription fees, there's a lot to like about this service. However, while it integrates with accounting tools, it's not a full accounting system in and of itself. If that's what you need, consider FreshBooks.
Features
Payment Schedule: Set up automatic payments to domestic and international accounts.
Payment Approval Workflows: Invite users or accountants to the platform.
Wide-Ranging Integrations: Can integrate seamlessly with other accounting software packages like QuickBooks.
Pricing
Melio is a free tool with no subscription fees. When you send or receive bank transfers, it's entirely free, but you'll have to pay transaction fees for some other features.
Pros
No subscription fees
Free bank transfers
Only pay for the features you use
Cons
Not a full accounting platform
9. TurboTax – Smart Accounting Software for Completing US Taxes
TurboTax combines automated features with human expertise to give customers a first-class tax filing experience.
While this software is more expensive than its competitors, some companies will appreciate the human touch that other businesses don't provide. That said, TurboTax is US-based, and it's only for filing US taxes.
The platform comes with three options – have an expert handle your taxes, collaborate with an expert on your tax return, or complete the tax return yourself. This service would likely fill the needs of many sole traders and individuals needing self-employed tax returns.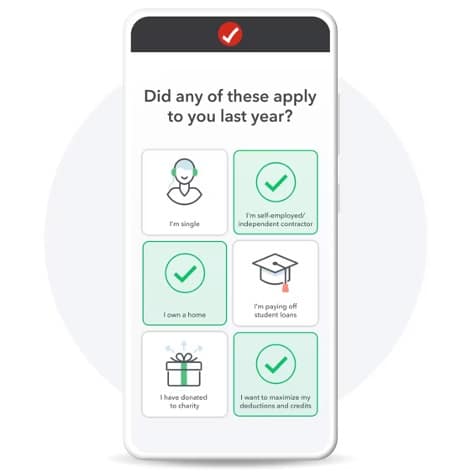 Best For
Starting Price
Free Version
Top 3 Features
Compatibility
Payroll Included
Completing US taxes
£0-£101.28
Free tools
– Expert can handle taxes
– Ample free resources
– Get tax assistance
Apple, Android, Windows, 800+ integrations
No
Once users finish a Q&A-style questionnaire, the process is straightforward, eliminating the manual entry required for typical tax return documentation.
If you're a returning customer, TurboTax will have your previous history, and you just have to answer questions about life changes from the previous year.
That said, TurboTax isn't a complete accounting platform, unlike other options featured here, and is solely for filing taxes in the US.
Features
TurboTax has a specific range of features, including:
Import of Documents: Automatically import documents like W-9s and P60s.
Features for Cryptocurrency: It can upload up to 20,000 crypto transactions simultaneously.
App Integrations: Excellent app integrations, including ItsDeductible.
Compatibility: Several different ways to access your account, including desktop, phone or tablet.
Pricing
TurboTax will help you file your taxes for free if they're simple and to the point. For paid packages, they have three to choose from – standard, Assisted, and Full Service.
Depending on the type of business you own, the type of taxes you want to file, and whether you need expert help will determine the price of the package you need.
Pros
Free version available for simple tax returns
Live-assisted tax filing with experts
Final review of all tax returns
Cons
More expensive than competitors
10. FreeAgent – Powerful Features for Unlimited Users
FreeAgent provides an easy-to-use platform with ample functionality. It's highly rated and has over 100,000 users – and there's a great mobile app.
FreeAgent offers essential accounting features, including international invoicing, time tracking, and inventory management. Additionally, it provides unlimited user access, which relatively few other platforms do.
Best For
Starting Price
Free Version
Top 3 Features
Payroll Included
Unlimited users
£14.50/month
30-day trial
– Free subscriptions with specific UK banks
– Automatic tax forecasting
– Cash flow overview
Yes
For UK business owners, the platform offers great features for handling VAT, as well as for automatic tax forecasts. It's easy to create and send invoices, and you can automatically organise bank transactions and mark invoices as paid, saving you time and ensuring accuracy.
Upon opening an account with certain UK banks, you can get a free TrustAgent subscription. TrustAgent is a mobile app that allows you to control your device's security settings, including biometric access, passwords, and other security measures.
As self-employed individuals often handle sensitive financial information, having an additional layer of security can provide peace of mind and protect against potential cyber threats.
It's worth noting, though, that FreeAgent will only produce a limited number of reports, which means you can only pull so much data out of the platform.
Pricing
FreeAgent has four different monthly subscription plans.
The Limited Company pricing plan is the best fit for small businesses and self-employed people.

The other plans are:
Partnerships or LLP plan: £12 p/month + VAT and £120 p/year + VAT
Sole Trader plan: £9.50 p/month + VAT and £95 p/year + VAT
Landlord plan: Coming soon, and will be £10 p/month + VAT
Pros
Unlimited users
No lengthy contracts
Easy-to-use, intuitive platform
Great mobile app
Cons
Limited reporting features
The Best Sole Trader Accounting Software Tools Compared
Here's a comparison table of the best self-employed accounts software so you can get a quick overview of what each solution offers, whether you want simple accounting tools or a comprehensive sole trader bookkeeping product:
Accounting Software
Best For
Starting Price/Month
Free Version
Top 3 Features
Payroll Included
FreshBooks
Best overall
£9.60
30-day trial
– Professional invoicing
– Online payment options
– Time tracking
Yes
Xero
Small-to-medium businesses
£14
30-day trial
– Easy-to-use interface
– Connects to your bank
– Collaborate in real-time
Yes
Tide.co
Freelancers
£9.99 + VAT
Limited-time trial
– Smarter invoicing
– Preparing VAT
– Automated bookkeeping
Yes
Sage
Integrations
£14
30-day trial
– Automated data entry
– Audit trails
– Create detailed reports
Yes
Bonsai
All-in-one business tool
£13.60
7-day trial
– Management reports
– Annual financial statements
– Company registrations
Yes
QuickBooks
Managing invoices
£10
3-month trial
– Rapid invoicing
– 24-month cash flow forecast
– Auto-match receipts to expenses
Yes
Oracle Netsuite
Scaleups
Custom quote
No
– General ledger capabilities
– Financial visibility
– Managing global tax
Yes
Melio
Bill-paying
Free
Free
– Automate bill paying
– Make international payments
– Access local vendor directory
No
TurboTax
Completing US taxes
£0-£101.28
Free tools
– Expert can handle taxes
– Ample free resources
– Get tax assistance
No
FreeAgent
Unlimited users
£14.50
30-day trial
– Free subscription with specific UK banks
– Automatic tax forecasting
– Cash flow overview
Yes
What's the Best Free Self-Employed Accounting Software?
When looking at the accounting software packages covered in our guide, very few offer a free plan for businesses. However, all options, except Oracle NetSuite, offer a free trial, so you can try them out and make an informed decision before committing.
In our testing, we found that Melio was a valuable free tool for businesses looking to keep their banking expenses at a minimum. QuickBooks, meanwhile, had the most generous trial, running for three months of use, giving you plenty of time to familiarise yourself with the platform.
That said, while free versions and trials are excellent for helping to make informed decisions, they're not a long-term solution for any business. This is because free plans only let you experience a snippet of the features available to paid subscribers.
How to Choose the Best UK Self-Employment Accounting System
Choosing the right accounting system for your business needs is key. Some modern accounting systems may seem complicated, and finding the perfect one for you is certainly no easy task. Here are the key factors to keep in mind when making your choice:
Simple Interface
One of the main reasons you've opted for accounting software is that it'll simplify your workflow. Ensuring that your new accounting software is straightforward to use will determine how much you'll actually use it.
Everyone knows if something is too complicated, most people won't use it, as it'll mean spending hours trying to understand its complexities. A free trial is an excellent way of determining if a software package will integrate well into your company.
Multi-User Access
When choosing a plan for your business, it's essential to determine how many people will be using the software regularly. Many cheaper plans have a cap on the number of users given access.
For future planning, it's advisable to note how many extra spaces are available in your present plan and if you'd need to upgrade your subscription in the coming years to accommodate more users.
Budget
As with everything business-related, you must establish a budget before determining which company has the best product to suit your business. The addition of an accounting software package is no different.
Once the budget is set, you can make the best decision without financially burdening you or your company. That said, it's just as important to ensure that your budget is realistic for the functionality you need.
Features
The main benefit of implementing the best accounting software is that it will make bookkeeping and business financials clear, accurate and uncomplicated.
When deciding on a software package, ensure that every option on your shortlist has everything you need in one place, including invoicing, tracking payments, logging expenses, and time tracking.
Some features may only be available on higher or more expensive plans, so do your due diligence.
Security
Another factor that needs to be considered is the level of security your accounting software will have. The financial information from your company that it'll store within its database is sensitive and private.
Due to the nature of this information, it needs several tiers of protection, including two-factor authentication and encrypted email addresses and passwords.
Help Centre
Having an excellent help centre and comprehensive support will ensure any difficulties are resolved quickly and efficiently.
Accounting packages should be accessible in several ways, including live chat, email, and phone, and the wait time shouldn't be too long. The representative should be knowledgeable and happy to help. It's a resource that could be valuable to you and your business.
Other Business Accounting Guides
Our team of software experts have put together a range of resources on other accounting solutions, including:
What's the Best Self-Employed Accounting Software to Use in 2023?
Our testing concluded that FreshBooks is the best accounting software for self-employed UK workers.
They provide a service that's affordable for new businesses. The platform has a simple interface, which people can use with minimal training, unlike more complex programs like Netsuite, and it comes with a wealth of features like recurring invoices, tax-friendly categories, industry-standard accounting features, and e-signatures.
It excels in invoicing, which is crucial for new businesses, and incorporates numerous features like automatic late fees and multi-currency billing. Plus, there are extra nice-to-haves like time tracking, which many competitors don't provide.
Your accountant can even be added to your FreshBooks account for free. And if you have issues, FreshBooks' award-winning help centre can help you solve problems as quickly as possible. Try the 30-day free trial now to see how FreshBooks can transform your business.
Self-Employed Software FAQs
Can I do my own accounting in the UK?
Is QuickBooks for self-employed people free?
Do self-employed people have to use accounting software?
What is the easiest accounting software to use?
Do I still need an accountant if I use Xero?
What bank account do self-employed people have?
References