In this FreshBooks review, we'll go into detail about one of the best accounting programs for small businesses and home office owners. Originally made as a solution for managing invoices, FreshBooks gradually added new advanced features to its plans and serves as a fully-featured, double-entry accounting management system today.
It can help you manage accounts receivable and payable, inventory, projects, and various aspects of your business's finances. In addition, it integrates with numerous business apps, including Gusto, a popular payroll solution. Besides its features and use case, this FreshBooks review will also focus on how it compares to its closest competition regarding pricing, compatibility, and more.
Who is FreshBooks Best for?
With its focus on invoicing and payments management, FreshBooks stands out as the best solution for freelancers, self-employed professionals, and small businesses.
By helping you tackle your financial activities in a streamlined and efficient manner and providing exceptional automation, time-tracking, and project management features, FreshBooks also helps with time management.
FreshBooks is also one of the most straightforward accounting tools on the market, which means you'll avoid the complexity of traditional accounting software.
However, you shouldn't let its ease of use fool you, as it offers one of the most comprehensive solutions for solo workers and small teams via its affordable subscription-based plans.
The Pros and Cons of FreshBooks
FreshBooks accounting software offers a range of features designed to simplify the financial management of individuals and businesses.
While its advantages heavily outweigh the cons for small teams, it is somewhat expensive for large companies, especially if you need to add many users.
Pros
Unmatched user experience and interface design
Inventory tracking
Double-entry accounting reports
Affordable for solo workers and small businesses
Impressive mobile apps with automatic mileage tracking
Cons
Extra cost per month for additional team members
How Much Does FreshBooks Cost?
FreshBooks offers an affordable selection of subscription-based plans and a lengthy 30-day free trial, so you can use its services free of charge, which is the best way to test its features and determine if it's the right choice for your business's needs and requirements.

Since FreshBooks pricing is tiered, some advanced features are available only with its more expensive plans. It's also worth mentioning that FreshBooks charges 10% less for an annual subscription.
This makes it substantially cheaper than a monthly plan, definitely worthy of considering if you're on a budget. But before you decide, here's what you can expect from each of its plans:
FreshBooks Lite
This entry-level plan offers the necessary features for streamlining billing processes, keeping track of expenses, and managing your finances.
Although it lets you use its invoicing features to their full extent, you'll be limited to 5 clients, which makes this plan more suitable for freelancers with long-term collaborations.
FreshBooks Lite imposes no limits on sending estimates and tracking expenses, and it lets you set up online payment options for your clients.
You'll also have access to FreshBooks' in-depth reports, including tax reports. Lastly, this plan gives you access to the dedicated iOS and Android apps, allowing you to use its features on the go.
FreshBooks Plus
FreshBooks Plus builds upon its Lite plan by allowing you to manage up to 50 clients, making it a better pick for businesses with a larger client base.
It also gives you access to advanced automation features. For example, with FreshBooks Plus, you can set up recurring payments and late payment reminders, which helps maintain a stable cash flow and reduces your admin hours.
It's also the cheapest plan to include mobile mileage tracking, which makes it a must for users who frequently go on business travels or fieldwork.
FreshBooks Premium offers the features of the previous plans and introduces even more functionality. Most importantly, it lets you send unlimited invoices to unlimited clients, making this the best choice for small businesses with contractors or small teams.
It helps you customize email signatures to deliver a personalized experience to each customer and automatically bills late fees to overdue invoices. You'll also have access to advanced project management features.
This includes project profitability, which helps you review how you spend time and money with in-depth reports.
FreshBooks Select
Lastly, there's FreshBooks Select, a customizable plan that requires you to contact the FreshBooks' sales team for a quote. This plan is ideal for small businesses, especially if you need to migrate your data from different platforms or require an account manager.
Whichever offer you opt for, there's a 30-day free trial period during which you can explore FreshBooks' features before committing to a subscription. It's worth mentioning that FreshBooks is one of the most flexible options on the market.
Not only can you upgrade or downgrade your plan at any time, but FreshBooks also offers a 30-day money-back guarantee, and the platform has a hassle-free cancellation process, too.
Is FreshBooks Safe?
FreshBooks maintains regular data backups of your financial and business information. This ensures your information is safe and accessible, even if unexpected data loss, server issues, or other technical challenges occur.
FreshBooks is one of the safest accounting programs because of its robust security measures that safeguard user data and information. It uses industry-standard encryption protocols to protect data transmitted between users' devices and FreshBooks' servers.
This ensures that no unauthorized parties can access your sensitive financial data. While no online service is entirely immune to the ever-evolving cyber security threats they face, FreshBooks also conducts regular security audits and updates to keep hackers at bay.
These audits help the company identify server vulnerabilities, allowing it to update its security if any issues exist. Plus, its servers enjoy maximum physical security in state-of-the-art data centers.
These are secured by constant surveillance, climate control, and biometric access controls. However, the security of your devices and how you control your sensitive account data also impact the security of your account.
Although FreshBooks provides two-factor authentication as an extra layer of protection, we suggest using one of the best password managers to create a strong password that's near-impossible to crack.
What Can I Do With FreshBooks?
FreshBooks offers an impressive array of features that help with various business and financial processes. In this section, we'll delve into the comprehensive toolkit it provides, including its accounting and other business-oriented features.
Expense Tracking
FreshBooks helps you track your expenses in multiple currencies while traveling or working with foreign clients and vendors, allowing you to view invoices, expense reports, revenue by client, and profit and loss in the currencies you work with.
All FreshBooks plans include its invaluable expense tracking feature that gives you an at-a-glance idea of how profitable you are and what you're spending.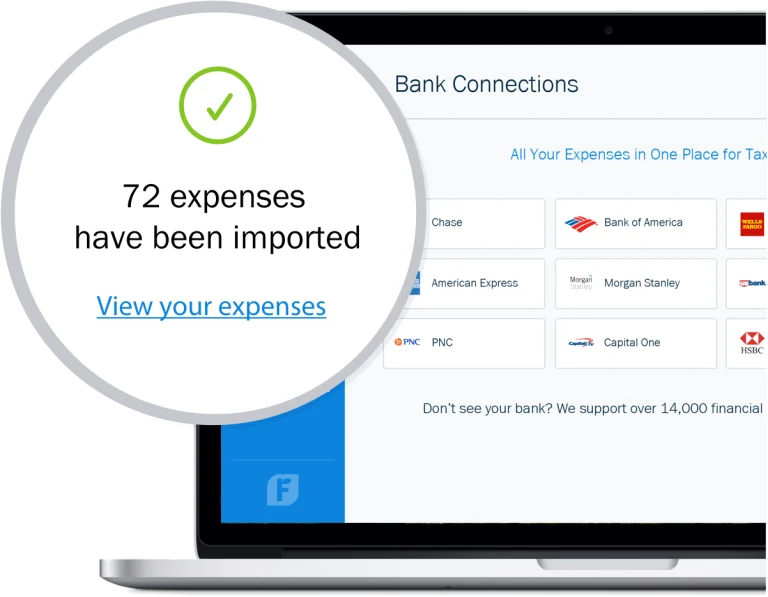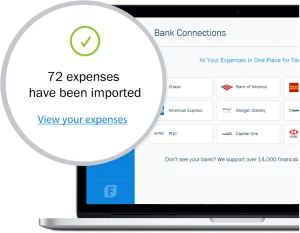 It ensures the information you see is up to date by allowing you to sync your bank account or credit card to your FreshBooks account, which removes the need for manual data entry when managing your expenses.
Most accounting programs for small business owners stop at that, but FreshBooks also offers expense categorization and automatic receipt scanning.
Scanning a receipt using its mobile app will automatically capture the merchant, totals, and taxes. You can categorize your expenses by assigning them to relevant categories, including office supplies, utilities, vendors, or personal expenses.
Bank Reconciliation
FreshBooks streamlines the often complex task of bank reconciliation, which ensures that your financial records are accurate and aligned with your recorded bank transactions.
This crucial process helps businesses identify discrepancies between their accounting records and bank statements.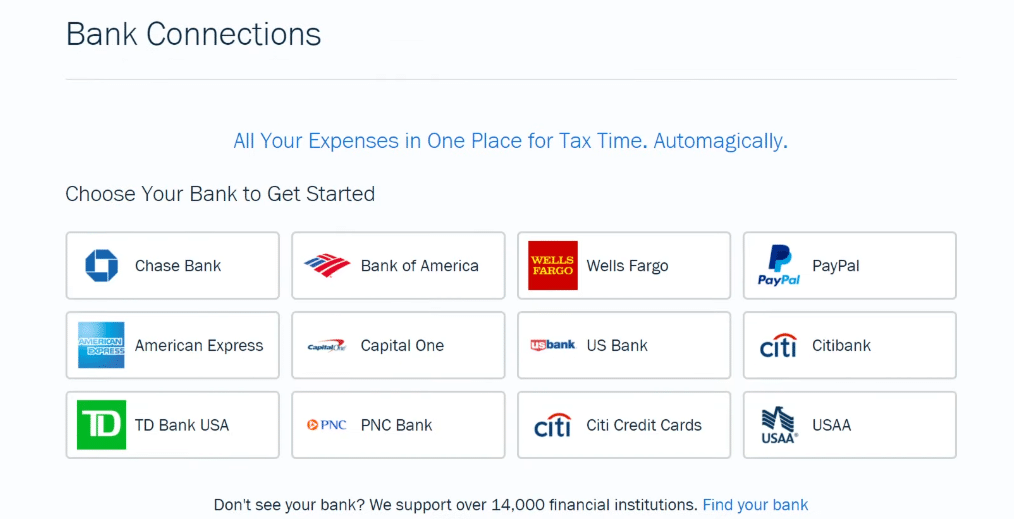 Getting started is as easy as connecting your bank account and setting an opening balance. You can then begin matching your transactions, including expenses, invoices, bills, and other income.
You can also label transactions, which gives you better insight into where you allocate your funds when applying filters such as by client, category, or project.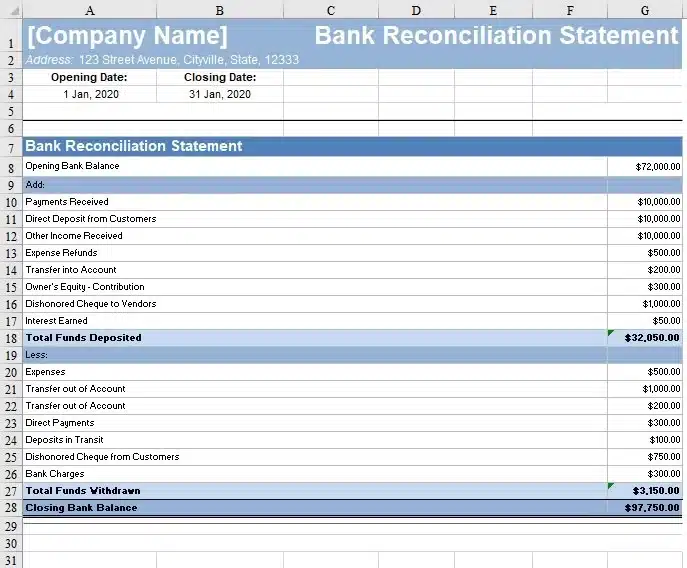 Time Tracking
This feature streamlines the process of managing and tracking billable hours. FreshBooks offers a flexible solution, as you can use manual entry or timers to log your work hours and activities.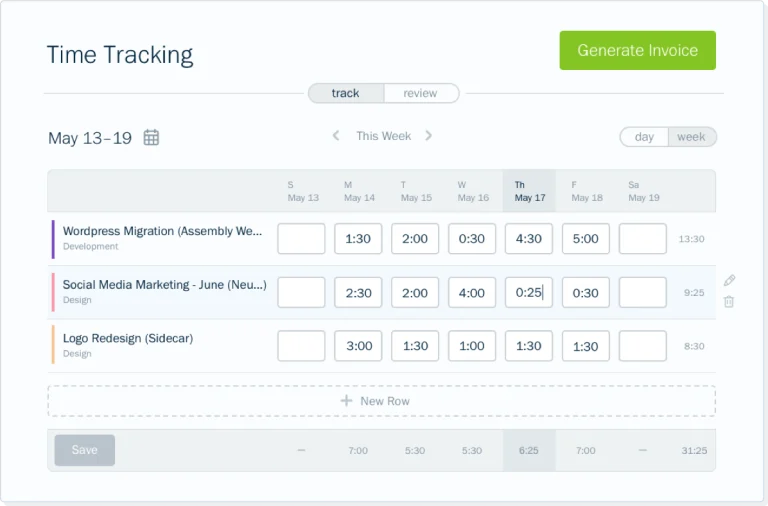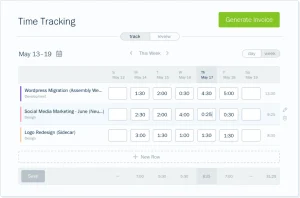 It also provides an at-a-glance view of how your team spends its time, which helps with bottlenecks and work distribution.
Since FreshBooks offers a project management tool, its time-tracking feature seamlessly integrates with the rest of its software, allowing you to track hours tied to specific projects or clients.
Project Management
Although it can't match the capabilities of the best project management software, FreshBooks delivers an excellent solution for freelancers and small teams.
It can help with your team's productivity and collaboration with helpful features like its web-based and centralized file storage and client feedback.
These features help your team access project-related information in seconds and share their progress with your clients as the projects reach their deadline.
In addition, FreshBooks can help you track a project's profitability by service and expense categories. Seeing a project's unbilled hours, incomes, and costs can help you make smarter business decisions.
Invoices
FreshBooks is the best software for small business owners looking for a reliable invoicing solution. It can help impress your clients with professional-looking invoices that accurately show your work and its costs.
You can also add a personal touch to them by adding your company logo, branding, and a personalized thank you email to ensure they reflect your brand strategy.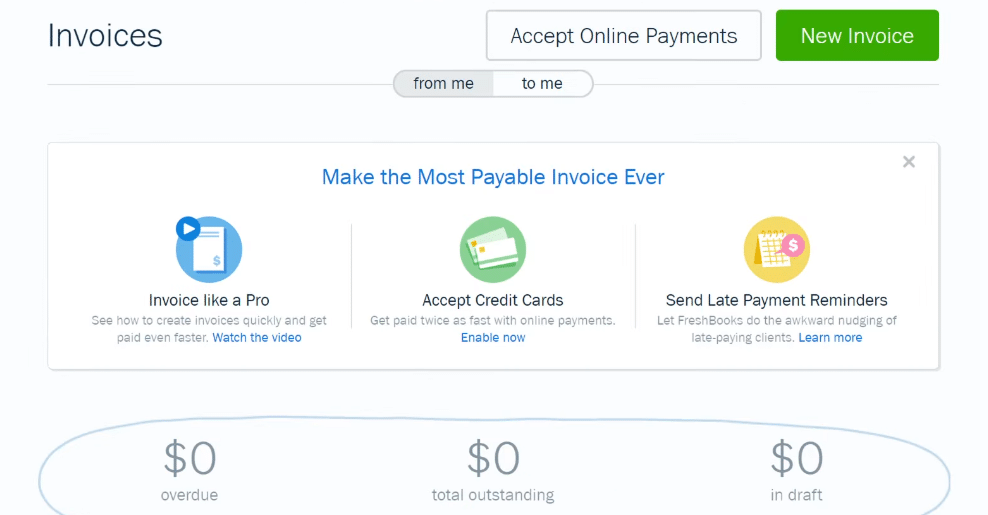 In addition, you can let FreshBooks follow up with clients with automatic reminders for overdue invoices, which can help with cash flow management and minimize delays in receiving payments.
FreshBooks invoicing features also make it easier for your clients to pay their preferred way, online, using their credit cards or ACH transfers.
Inventory Tracking
This feature allows you to add, edit, and review inventory for billable items and helps you keep track of your stock. That makes FreshBooks one of the best for businesses with physical products, as most don't offer native inventory management support.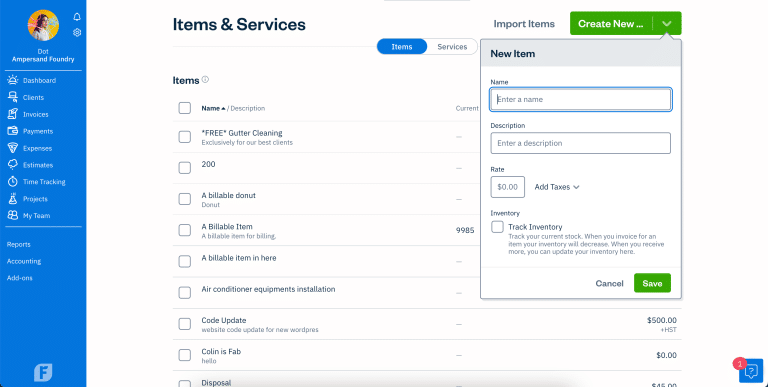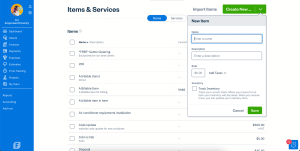 It ensures you have an accurate insight into your stock levels and reduces the risk of overselling or stockouts. You can assign relevant details to your products within the platform, including costs, selling prices, and descriptions.
This information helps you make informed decisions about pricing strategies, and it'll help you understand the profitability of your products.
Analytics and Reporting
FreshBooks provides insightful dashboards and reports that can help you gain valuable insights into your business's health and performance.
These customizable reports can show information for various aspects of your business, including income, expenses, client interactions, and project performance.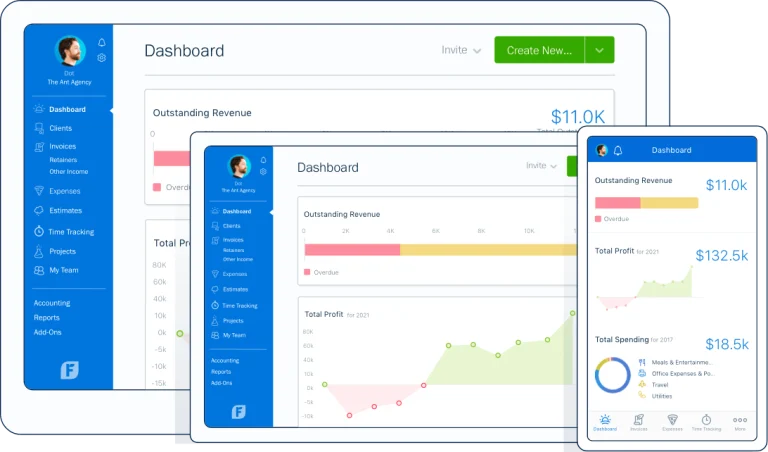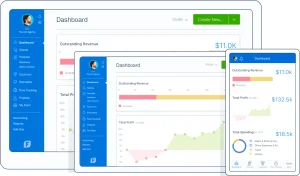 These also help you tackle tax time because the platform stores all your numbers in one place. Accessing its profit and loss reports can help you analyze data trends and identify patterns, allowing you to make informed business decisions.
FreshBooks Vs. Other Top Accounting Programs
FreshBooks cloud accounting software faces respectable competition that delivers similar services. However, they all have their advantages and weaknesses, so we've prepared a table highlighting their main differences:
Popular Accounting Tools

Starting Price

Free Version

Compatibility

Payroll Included?

Top 3 Features

$13.60/month

30-day free trial

Android, iOS, Windows, Mac

Requires integration

Client Account Portal
Unlimited Time-Tracking
Business Health Reports

$15/month

30-day free trial

Android, iOS, Windows, Mac

Requires add-ons

Tax Deductions
Workflow Automation
Free Onboarding

$10/month

None

Android, iOS, Windows, Mac

Requires add-ons

Business Reporting
Safe Storage
Budgeting and Forecasting

$17/month

7-day free trial

Android, iOS, Windows, Mac

Requires integrations

Time Tracking
Global Payments
Form Builder

$15/month

Free Forever Plan

Android, iOS, Windows, Mac

Requires add-ons

Integrated Business Tools
Customizable Quotes
Document Scanning
FreshBooks Vs. Sage
FreshBooks holds a competitive edge over Sage for freelancers, solopreneurs, and small businesses because of its simplicity and transparent pricing.
Although Sage is an exceptional pick for mid-to-large-sized businesses, its low-cost plans can't match FreshBooks.
Most Sage features can be complex to set up and manage for small teams, too, while FreshBooks allows you to streamline most processes, even as a solo user.
FreshBooks Vs. Bonsai
Although these two providers offer a user-friendly and intuitive interface packed with similar features, Bonsai lacks a few advanced features you can find with FreshBooks.
One notable example is mobile mileage tracking, which lets you categorize each trip, track your mileage, and view potential tax deductions.
However, Bonsai offers a larger template library for contracts, forms, quotes, and invoices.
FreshBooks Vs. Zoho Accounting
Zoho Accounting has an exceptional free forever plan that FreshBooks lacks, and both options are on our list of the best home accounting software solutions.
However, while FreshBooks charges you a single subscription for its other business features, such as project management, Zoho is part of a large business suite that charges additional fees for such services.
Although it lacks some unique features its competition has, FreshBooks delivers the most complete accounting service for freelancers and small teams.
Thanks to its ease of use and numerous advanced features, FreshBooks continuously finds its place at the top of our list of the best accounting software each year.
Is FreshBooks Better Than QuickBooks?
Answering this question requires an in-depth consideration of your business's needs and requirements. Both providers offer prominent accounting and financial management software.
And although some of their features overlap, they cater to different business types and have differences. The similarities they share include:
Advanced tools for billing
Helping you maintain a steady cash flow
Letting you create and manage invoices
Expense-tracking functionalities
Both simplify tax preparation
You'll get in-depth financial reports
Another key similarity is that both platforms offer a cloud-based solution, ensuring easy access to financial data from anywhere. However, these services have a different target audience.
FreshBooks offers unmatched service tailored for freelancers, consultants, and small businesses. In contrast, as we explored in our QuickBooks review, it offers more attractive solutions for mid-to-large-sized businesses.
One major drawback of QuickBooks is that its interface isn't as user-friendly as FreshBooks', making it less suitable for small teams and individuals.
In essence, if you're a freelancer, consultant, or small business owner, FreshBooks is one of the best alternatives to QuickBooks because of its simplicity and feature-rich affordable plans.
However, QuickBooks offers more customization and versatility, which makes it ideal for large businesses.
Is FreshBooks Legit? A Look at FreshBooks Reviews
With over 30 million users, FreshBooks is regarded as one of the best accounting software providers in the world.
It's gained a strong reputation as a user-friendly solution that helps small businesses take control of their finances through its excellent expense tracking, reporting, and analytics features.
Although its reputation as a legitimate and reliable solution can be a driving force behind your subscription, it's a good practice to research user reviews and check for customer testimonials.
Since some online services engage in misleading advertising to drive their sales, this has become a necessary practice, and we've decided to do the research for you.
After thoroughly combing through user reviews on reputable review-based websites for different devices, this is what we found.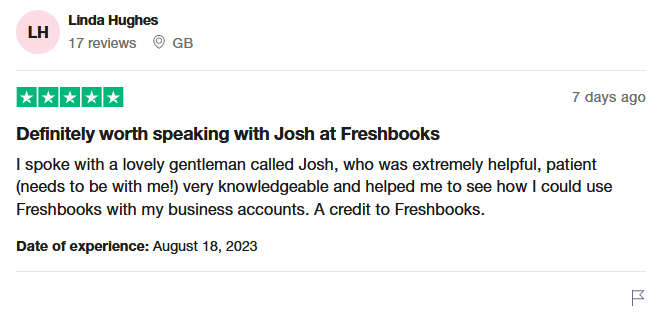 Visiting Trustpilot, we weren't surprised to see that 60% of its customers gave it a 5-star rating. We also noticed numerous reviews describing it as the best accounting software for small businesses in the UK.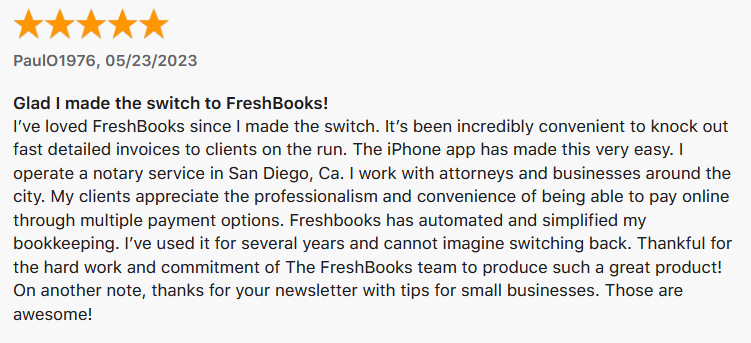 On the App Store, we found that the iOS FreshBooks app users are satisfied with its usability while working on the go.
Beyond this, on TrustRadius, dozens of reviews give it the highest score because of its excellent services for solopreneurs and small businesses.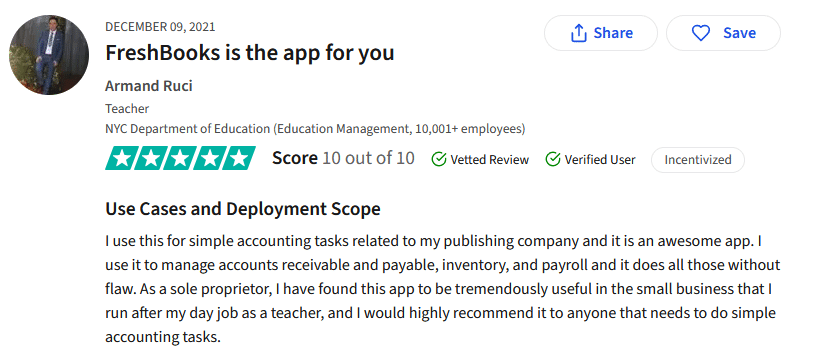 That said, we've noticed mixed opinions of FreshBooks' customer support team, but nevertheless, the provider enjoys an overwhelmingly positive rating.
Most negative reviews also mention that the cancellation process is simple and that the users received a full refund while canceling their subscription, thanks to its 30-day money-back guarantee.
Why You Can Trust Our Analysis Of FreshBooks
Having thoroughly tested several products in this niche, we know exactly what to look for, what features can make or break a deal, and where a product stands in comparison to industry standards.
For total transparency and maximum trust, it's important you know how we come to these conclusions and the process we follow while reviewing these products.
For our FreshBooks review, we vigorously tested the product for a month with the 30-day trial and threw all sorts of curveballs toward its features, like its invoice creation and task tracking capabilities.
We thoroughly analyzed these features on core aspects like ease of use, compatibility, how well they worked, and the value for money they offer, among others.
Once we felt like we'd had enough experience with the tool to form a base opinion of it, we moved to the next part of our research, which was checking customer feedback.
We understand that some issues only crop up in the long run, and there's a chance that we may miss out on it in the limited time we spend with the product.
For this reason, we went through the Reddit and TrustPilot reviews posted by long-time FreshBooks users to ensure that our opinion is backed by not just one but many experiences with the product.
Finally, after combining all the data obtained in the process, we drew out the verdicts that we can vouch for and truly believe in.
Other Accounting Software Reviews
If you'd like to consider other popular accounting tools first, our team of experts has thoroughly reviewed some of the market's best options to help you find the best one for your needs.
FreshBooks Review Conclusion
FreshBooks has solidified its spot as the best accounting tool for freelancers, self-employed professionals, and small businesses across various industries.
It stands out with its intuitive and beginner-friendly interface, invoicing capabilities, and native project management features. In addition, while some competitors charge extra for these, most of its plans include automatic receipt capture and mobile mileage tracking.
Its ease of use can help you take control of your finances and improve your cash flow with features like expense tracking and payment collecting, even if you have no prior experience with similar software.
In addition, it can help you prepare for tax season by providing the required reports that your tax preparer requires. Although it doesn't offer a free plan, FreshBooks has a lengthy free trial that lets you test any of its packages for 30 days before committing to a subscription.
That means you can ensure your team is comfortable with its project management, invoicing, and accounting tools, and if this isn't enough, there's also a 30-day money-back guarantee, which makes FreshBooks a risk-free investment.
FreshBooks Review FAQs
What are the disadvantages of FreshBooks?
Is FreshBooks as good as QuickBooks?
How much is FreshBooks per month?
Is FreshBooks invoicing free?
Does FreshBooks charge for bank transfers?
References