In this QuickBooks Online Review, we explore everything businesses need to know about this popular cloud-based accounting tool. It's armed with an intuitive interface and robust features, making it the go-to option for tackling financial problems small and medium-sized businesses face. With QuickBooks Online, businesses can say goodbye to manual data entry and hello to real-time financial visibility.
Whether you're a freelancer, a small business owner, or a growing enterprise, it's the ideal accounting solution to effortlessly handle your finances anytime, anywhere. In our Intuit QuickBooks review, we'll explore this accounting solution and delve deep into its core features, pros and cons, and pricing, discuss the reputation of the product, and finally, answer some FAQs.
How Does QuickBooks Online Work?
QuickBooks Online offers a comprehensive suite of tools and features designed to streamline financial tasks, enhance productivity, and provide real-time insights into a company's financial health. One of its notable advantages is its cloud-based infrastructure.
By leveraging the power of the cloud, users can access their financial data anytime, anywhere, from any device with an internet connection. You can grant different levels of access to your employees or accountants as well, allowing for collaboration and real-time data updates.
This flexibility allows business owners, accountants, and other stakeholders to stay connected to their financial information on the go, enabling them to make quick, informed decisions.
Plus, it simplifies essential accounting tasks, such as invoicing, expense tracking, and bank reconciliation, helping businesses save time and maintain accurate financial records while reducing the risk of errors and providing a solid foundation for decision-making.
QuickBooks Online also employs various security measures to protect your data, including encryption and regular data backups to ensure the safety and integrity of your financial information. Providing an authoritative platform for financial management, it empowers organizations to focus on their core operations while maintaining a clear and accurate overview of their financial position.
Which QuickBooks is Right for Me?
QuickBooks offers a range of products for specific use cases. From freelancers to businesses with sophisticated accounting needs, there's a version for all. If you're unsure about which version would best suit your business needs, we're here to help.
Here's a quick run-down of the current prices for each product, who it's best suited for, and what differentiates it from the others:
QuickBooks Self-Employed — $15/month — Best suited for freelancers, independent contractors, and other self-employed individuals who require simplified accounting solutions. It includes income and expense tracking, auto-categorization of expenses, compliance with tax obligations, invoice creation, and integrations for easy data importing.
QuickBooks Online — $30/month — This is the ideal version of QuickBooks for small businesses. The cloud-based accounting solution lets you streamline your financial management processes with invoicing, expense tracking, bank reconciliation, and insightful reporting tools. Plus, unlike the non-cloud-based counterparts, it has built-in collaboration capabilities.
QuickBooks Desktop — $549.99/year — This product can handle large data files and provide sophisticated inventory management, making it ideal for larger businesses with complex accounting requirements. It's the best option for mass data entry, and it comes tailored to specific industries like non-profit organizations and manufacturing businesses.
QuickBooks Payroll — $75/month — The ideal solution for businesses of all sizes looking for a comprehensive, integrated payroll management system. It automates payroll, tax calculations, and electronic filing, eliminating the need for manual data entry and reducing the chances of errors.
QuickBooks for Mac — $30/month — A solution designed specifically for Mac users, making it ideal for individuals and businesses operating within the Mac environment.
QuickBooks Online Reviews Pros and Cons
When it comes to choosing the right accounting software for your business, considering the pros and cons is a must. QuickBooks Online is well known as an advanced accounting solution with a strong reputation. However, like any software, it does have some drawbacks. Here are some pros and cons associated with QuickBooks Online:
Pros:
Real-time bank data import
Exceptional cross-compatibility
Cloud-based and accessible anytime and anywhere
Detailed, customizable financial reports
Smooth integration with payroll systems like OnPay
Smart automation features like auto invoicing
Specialized features for industries like job costing and projecting invoicing for construction
Cons:
There aren't many data restoration options
Limited invoice design customization
It can be difficult to manage multiple currencies and international transactions
How Much Does QuickBooks Cost?
QuickBooks Online pricing options are tailored to accommodate businesses of various sizes and accounting needs. This is done by presenting a range of subscription plans. Each plan includes a complimentary mobile app, comprehensive support, and effortless integration capabilities. These are the plans on offer:

The Simple Start Plan — This is best for micro businesses — It allows you to easily track your expenses and income, generate invoices and estimates, connect your bank accounts, accept online payments, access basic reporting capabilities, and manage sales tax.
The Essentials Plan — This is the top choice for service-based businesses — It offers all the features of the Simple Start Plan and additional functionalities such as bill management, support for up to three users, and time-tracking capabilities.
The Plus Plan — This is best for small businesses — It has all the features of the Essentials plan, and users gain the ability to track inventory and project profitability. You can onboard up to five users on the account.
The Advanced Plan — This is best for larger businesses with complex inventory management needs — It has all the features of the Plus plan, and users gain the ability to track inventory and profitability. It includes 25 users for collaborative access as well.
Currently, QuickBooks has a 50% discount for the first three months of any plan or a 30-day complimentary trial. It should be noted that both offers are mutually exclusive, so they can't be combined. In addition, customers who opt for the discount are eligible for the free guided setup service.
For a small additional monthly fee, there's also an option to include payroll features. Before committing, we'd recommend you take advantage of the demo to get a firsthand look at the software and its capabilities.
In terms of cancellation, QuickBooks makes this a straightforward process by offering an easy "cancel anytime policy" with a money-back guarantee.
What Features Does QuickBooks Online Offer?
QuickBooks Online provides advanced tools for streamlined accounting, effective employee management, and improved client relationships, as well as optimizing various business processes. This section will focus on some of its core capabilities.
Expense Tracking
The QuickBooks software's expense tracking feature streamlines the process of recording and categorizing business costs. It provides businesses with a comprehensive toolset to effectively monitor and manage their expenses, ensuring accurate financial records and improved control over spending.
Users can easily import transactions from their bank accounts or credit cards or manually enter expenses along with relevant receipts. The software intelligently categorizes expenses into predefined or custom-made categories, which saves valuable time and minimizes the likelihood of errors associated with manual data entry.
The feature also facilitates in-depth analysis and generates insightful reports, which gives managers real-time visibility into the financial health of the business, empowering them to make informed decisions.
You can effortlessly generate comprehensive expense reports, track deductible expenses for tax purposes, and simplify employee reimbursement procedures.
It's important to note that initial setup and some training or familiarity with the software are required. Nevertheless, the expense tracking feature is a valuable asset, augmenting businesses' financial management capabilities and ensuring efficient expense control.
Bank Reconciliation
Bank reconciliation is a crucial QuickBooks' feature that ensures the accuracy of financial records, comparing transactions recorded in the software with those on bank statements to identify any discrepancies.
Besides saving time and reducing errors, automatically matching and reconciling transactions helps to uncover missing or incorrectly recorded transactions, ensuring that the financial data in the accounting software aligns with the actual bank account activity.
This also provides a clear overview of available funds, highlights potentially fraudulent activities, and enables businesses to generate precise financial reports for informed decision-making.
It should be noted that accurately resolving some discrepancies will require manual intervention, and handling large or complex datasets may present challenges. However, QuickBooks provides solutions, tutorials, and other forms of support to help users effectively address reconciliation issues and optimize the bank reconciliation process.
Payroll
QuickBooks Payroll is a comprehensive feature designed to simplify and streamline the management of employee compensation. With it, businesses can automate critical tasks like payroll processing and generating payslip statements, ensuring seamless compliance with payroll regulations.
This lets businesses save valuable time by accurately calculating taxes and maintaining efficient record-keeping practices. The Direct Deposit feature also ensures faster access to funds for employees, and it includes an employee self-service portal that they can use to access their information and request time off.
Businesses operating in specialized regions or with unique payroll requirements can encounter complexities that require additional support. Certain industries, for instance, have specific payroll calculations or reporting obligations that go beyond the standard features provided by the software.
However, QuickBooks offers valuable resources, support, and optional add-ons to address these challenges and customize the payroll process to meet the unique needs of businesses. And overall, QuickBooks Payroll reviews are positive.
For even more flexibility, QuickBooks also integrates with specialized applications to handle specific needs. By leveraging the resources and support provided, businesses can navigate complex payroll scenarios and ensure accurate and compliant compensation for their employees.
Built-In Tax Features
The QuickBooks software offers a range of built-in tax features that empower businesses to efficiently handle their tax obligations with ease and accuracy. By automating tax calculations, tracking tax liabilities, and generating comprehensive reports, it simplifies the complex process of ensuring compliance with tax regulations.
However, businesses that face unique tax scenarios or have specific industry requirements face challenges that demand additional attention. For instance, freelancers with self-employment tax obligations need specialized features and guidance to accurately calculate their tax liabilities.
Recognizing these unique needs, QuickBooks offers a wide variety of add-ons. For example, QuickBooks apps, which are third-party solutions customized for the cloud-based version of Intuit's product, can be used in this scenario.
While the software provides a solid foundation for tax management, businesses should evaluate their individual needs to determine if QuickBooks Online is the best option.
Integrations
QuickBooks Online's integrations facilitate smooth connectivity between the platform and various third-party applications through the utilization of APIs (Application Programming Interfaces). With this, data synchronization and sharing occur in real time between different software components.
The primary advantage of integrations is the automated data transfer capability, which eliminates the need for manual entry, significantly decreasing the likelihood of errors. Furthermore, integrations augment productivity by permitting data from diverse applications to be accessed and managed within the program, providing users with a centralized perspective of their business operations.
Specifically, QuickBooks can be integrated with software such as CRM systems, e-commerce platforms, and inventory management tools. This ensures businesses can harness the best tools suited to their specific requirements while simultaneously maintaining precise financial records.
Compatibility issues between different systems occasionally arise, which may require troubleshooting and the involvement of technical experts to rectify them. This requires additional training and support, something that QuickBooks dedicatedly extends to all users.
Automation Features
QuickBooks automates tasks like data entry, invoicing, expense tracking, and financial reporting, increasing the efficiency of the business and the accuracy of its data. This involves setting up rules and triggers that automatically perform specific actions based on predefined conditions.
For example, the QuickBooks invoicing automation feature allows recurring invoices to be generated and sent. Another advantage of automation is that bank transactions can be imported and categorized without any manual effort. By automating repetitive tasks, businesses can focus on core operations and strategic decision-making.
It also enhances efficiency by synchronizing data across different modules and applications, offering real-time updates, and eliminating the need for laborious data transfers. Additionally, it improves cash flow management, as automated reminders and data entry reduce late payments and improve the collection process.
Reporting Features
QuickBooks' reporting function aggregates data from various transactions and modules within the program, organizing it into comprehensive reports with customizable filters and parameters. With accurate, real-time financial information, you can make informed decisions and effectively monitor your business's performance.
The customizable nature of reports lets you focus on specific aspects such as profit and loss, balance sheets, cash flow, sales, and expenses. These reports can be easily generated, accessed, and exported in various formats, facilitating sharing and collaboration with relevant stakeholders.
Additionally, the reporting features offer the advantage of drill-down capabilities, allowing you to delve into the details of transactions and identify seasonal opportunities, past trends, or anomalies. This allows for a better understanding of any critical issues or challenges to make better operational decisions going forward.
However, the reporting features in QuickBooks Online limit some advanced functions and customization options to the higher-tier plans, which restricts the flexibility and depth of reporting for users on lower-tier plans. For example, custom reporting of performance data and custom dashboards are features limited to the advanced plan.
Inventory Management
Inventory Management with the QuickBooks software is a feature that enables businesses to efficiently track, organize, and manage their inventory. The SaaS platform provides tools to:
Monitor stock levels
Record purchases and sales
Track the cost of goods sold (COGS)
Generate insightful reports for inventory analysis
You can create product and service items, set reorder points, and track stock movements to manage your inventory effectively. What's nice is that QuickBooks Online automatically adjusts inventory quantities as transactions are recorded, ensuring accurate stock information.
This offers businesses improved control over inventory, minimizing stock-outs or overstocking, and streamlining order fulfillment, empowering businesses to make informed decisions regarding purchasing, pricing, and replenishment.
However, it's essential to note that the inventory management function can have limitations for businesses with complex inventory needs, such as those requiring advanced features like serial number tracking or batch management. Managing large inventories or multiple warehouses necessitates additional integration with specialized inventory management solutions.
Is QuickBooks Online Good? A Look at QuickBooks Reviews
QuickBooks is well-regarded in the industry as it's committed to providing businesses with a reliable, efficient, and forward-looking accounting solution. Don't take our word for it. Quickbooks reviews from customers serve as a valuable resource to gauge the quality and suitability of a tool, offering insights into its performance, features, and user satisfaction levels.
One key factor contributing to the SaaS program's reputation is its long-standing presence in the market. With its intuitive interface, comprehensive features, and proven track record, QuickBooks Online has become a preferred choice for organizations seeking efficient financial management solutions. Here's what users had to say about it: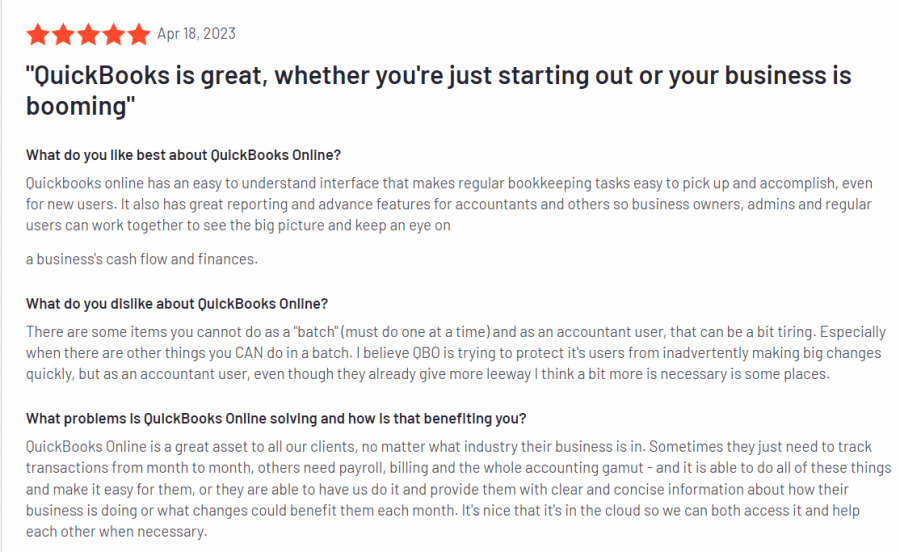 With decades of experience and continuous development, QuickBooks Online has evolved to meet the changing needs of businesses of all sizes. While user experiences and familiarity, QuickBooks' commitment to accuracy and adherence to accounting standards has solidified its position as a trusted and reliable solution.
It delivers precise calculations, meticulous record-keeping, and a robust framework for maintaining accurate financial data.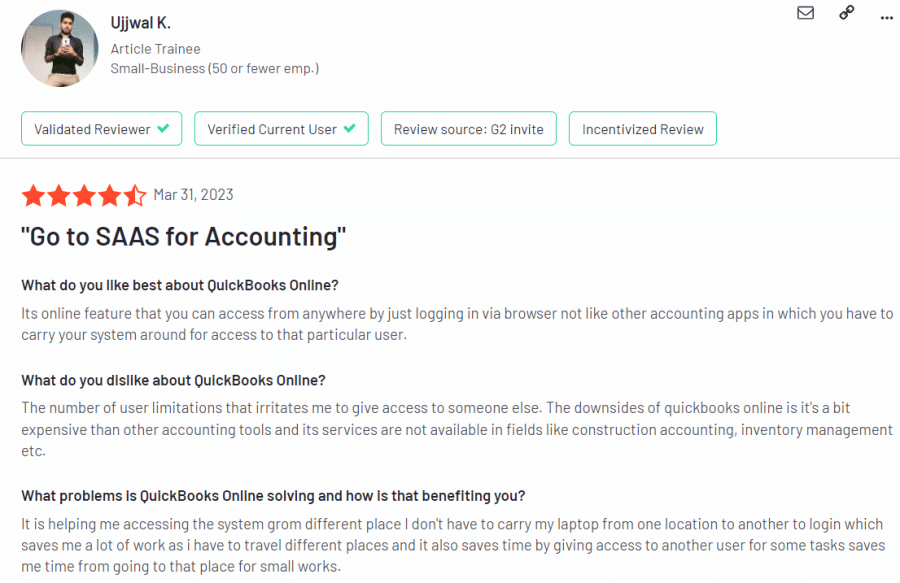 Customers rave about QuickBooks Online for its seamless connectivity with various applications, streamlining their workflow, and automating invoicing processes. Its portability is also praised, letting users access their data from anywhere. Moreover, the simplicity and documentation capabilities that help maintain a clear audit trail are duly appreciated.
Some users do express concerns about user limitations and lack of availability in certain industries, like construction accounting and inventory management, alongside limitations in batch processing. However, it's worth noting that QuickBooks Online has specialized versions of its product to tackle these issues, helping to fulfill special requirements.
Overall, despite some areas that require refinement, QuickBooks Online remains a valuable asset for businesses, accountants, and administrators to manage their finances effectively and gain a comprehensive view of their financial status.
QuickBooks Vs. Top Alternatives
Comparing accounting software options is an essential step in finding the right solution for your business. In the table below, we provide an overview of QuickBooks Online, along with some of its top alternatives. By examining key features such as pricing, number of users, free versions, and money-back guarantees, you can make an informed decision based on your specific needs:
Top Accounting Tools

Starting

Price

No. of Users

Free Version

Money-Back Guarantee

QuickBooks Online

$30/Month

1

30-day free trial

60 Days

FreshBooks

$30/Month

1

30-day free trial

30 Days

Zoho Accounting

$15/Month

1

Free plan available

30 Days

Xero

$13/Month

Unlimited

30-day free trial

No Refund

Sage

$10/Month

1

30-day free trial

30 Days
At first glance, QuickBooks Online seems comparatively higher priced than other options. However, it's important to consider the value it provides in return. Its advanced features, such as customizable reports, industry-specific tools, and automation capabilities, justify the investment.
Furthermore, QuickBooks Online has established itself as a trusted industry leader. The company's dedication to customer support ensures that businesses receive the assistance they need. The availability of a 30-day free trial and a 60-day money-back guarantee further highlights the confidence Intuit has in its product.
Considering the long-term advantages, its adaptability to industries and businesses of all sizes, coupled with its comprehensive features and high customer satisfaction, QuickBooks online cements itself as the preferred choice, in spite of the comparatively higher initial cost.
How We Tested QuickBooks
To offer a full, objective perspective of QuickBooks Online, we explored its features, usability, scalability, integrations, and pricing, as well as points such as cross-device compatibility and the number of users able to access the system.
QuickBooks Online comes with a free 30-day trial, which we took advantage of to fully test the product and all its functionality and to see how its features would serve different users and use cases.
Our team of experts have tested and reviewed a wide range of leading accounting solutions for individuals, small business, and enterprise – from FreshBooks to NetSuite to Zoho Accounting – so we're familiar with industry benchmarks and the best the market has to offer and can compare products and features with the benefit of experience.
We've also done a lot of research into user reviews, both on Reddit and across the web, to ensure we have input based on how real people have found that these products have fared in the real world.
Based on this, we're able to offer a thorough analysis of QuickBooks Online's features and the pros and cons of the platform. This means we can offer an authoritative, unbiased review of how QuickBooks compares to the competition – and you can come to an informed decision about the right solution for you.
Best Accounting Resources and Guides
Beyond QuickBooks, our team of accounting software experts have put together a range of guides, resources, and material on the top accounting tools on the market.
Final Thoughts – Is QuickBooks Online Worth it in 2023?
QuickBooks Online, with its intuitive interface, rich functionality, and dedicated innovation, is the ideal financial management software for businesses of all sizes across a plethora of industries. It offers comprehensive tools for streamlined accounting, expense tracking, bank reconciliation, payroll management, tax calculations, and reporting.
The software's accessibility lets you manage your finances from anywhere, and its integration capabilities allow for effortless connections with various applications, expanding functionality. To top it off, the platform's automation features automate repetitive tasks, improving productivity and accuracy.
QuickBooks Online boasts phenomenal reviews from users online, too. However, some do mention restrictions on user access, industry-specific availability, and certain features, like batch processing, require improvement.
Despite these, QuickBooks Online remains a highly regarded accounting solution. However, the decision ultimately depends on individual business requirements, preferences, and budget. Try the free 30-day trial now to determine if the software aligns with your specific needs.
QuickBooks Online FAQs
Where are QuickBooks files stored?
Is it hard to learn how to use QuickBooks?
Is QuickBooks Online being phased out?
What is the difference between QuickBooks and QuickBooks Online?
Can I use QuickBooks Online offline?
References