In this Tide business account review, we'll talk about this pioneering financial technology company that revolutionizes business banking for small and medium-sized enterprises. Endorsed by over 500,000 businesses in the UK, Tide business banking provides a low-cost service fully compatible with most small business accounting software solutions.
Although Tide bank accounts make it easier for SMEs to manage their day-to-day financial operations without navigating through the bureaucracy of traditional banking systems, the service has its unique pros and cons. Keep reading our Tide business account review to learn more about its innovative approach to banking for SMEs in the UK and see if it's the right fit for your business.
Is Tide a Bank?
Tide doesn't hold a banking license, which means it's not a bank in the traditional sense. However, it partners with banking license holders to provide banking services to its customers.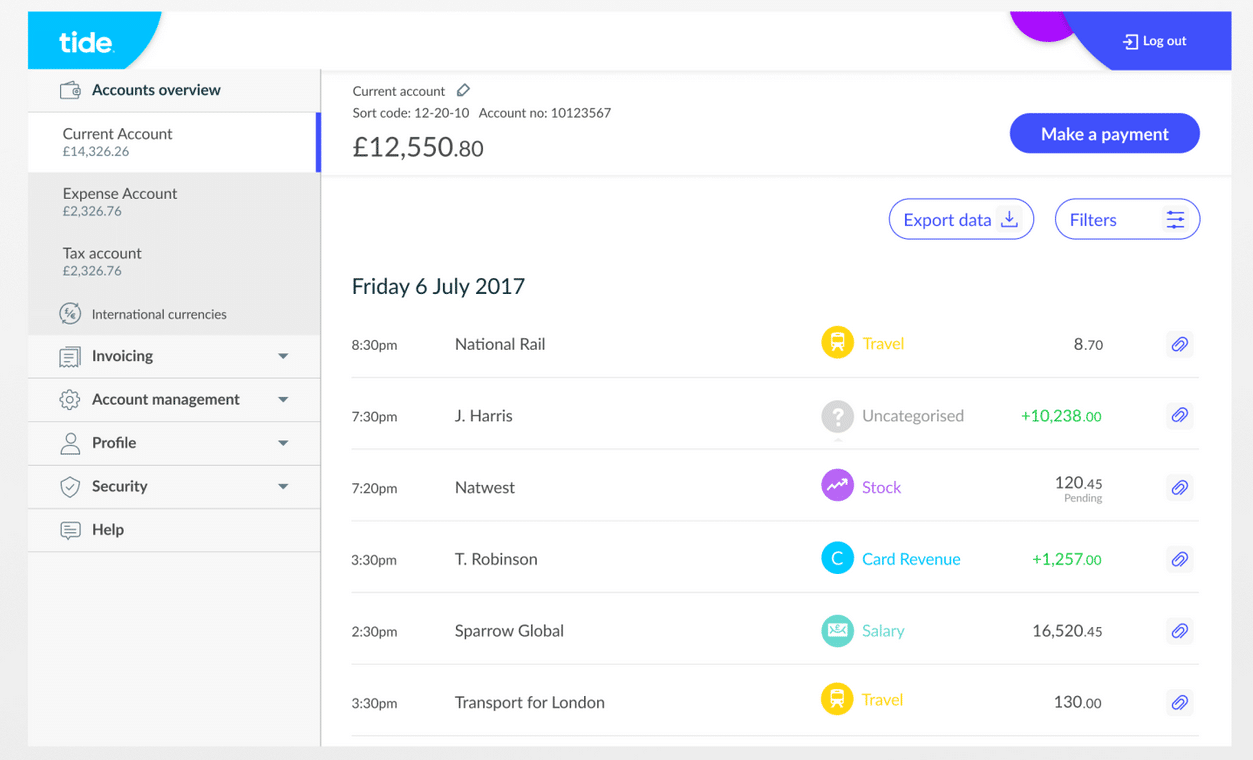 This includes e-money accounts via PrePay Solutions and business banking accounts via ClearBank. Essentially, Tide acts as an intermediary between businesses and its partner banks.
This allows it to provide traditional banking services in a digital and user-friendly manner, making it popular among freelancers, entrepreneurs, and SMEs looking for convenient, modern, and streamlined banking solutions.
Who Owns Tide Bank?
Founded in 2015 by George Bevis, a banker, and Eileen Burbidge, a UK government advisor and
venture capitalist
, Tide is one of the first business banking solutions in the country.
It quickly met the regulatory requirements and standards set by the Financial Conduct Authority (FCA) to operate in the financial sector, resulting in its permission to provide financial products and services since 2016.
After obtaining its FCA permission, Tide attracted numerous individual and institutional investors and venture capital firms who own the company today. Its current CEO, Oliver Prill, has over 20 years of experience with leadership in financial services and working with small businesses.
During its pursuit of becoming a competent business bank accounts alternative to high street banking, Tide won numerous awards for its services, including:
Innovative Product of the Year by Growth Finance Awards
Best Banking Provider by Contracting Awards, and
Who is a Tide Account Best For?
Tide online banking is ideal for small business owners, from freelancers and sole traders to limited companies. It's also an excellent fit for startups seeking quick establishment and hassle-free banking.
Small businesses are Tide's most common users, as the platform provides an easy-to-use solution for basic accounting, banking, and invoicing, amongst others.
That assists small business owners in managing their finances while offering transparent, low-cost banking services. As such, it's also great for freelancers, sole traders, and digital nomads who can benefit from Tide by separating their personal and business finances.
However, this doesn't apply to businesses dealing with large cash deposits or cheques, as Tide doesn't support cheques and has higher fees for cash payments.
Overall, Tide simplifies accounting and tax season preparation, making financial management more efficient and reducing your admin hours.
Besides helping you avoid the hassle of traditional banking, you can use Tide free of monthly subscription costs, making it an excellent pick for budget-conscious users.
How Does Tide Business Banking Work?
Tide provides a dedicated business current account to its users that they can use to manage their day-to-day financial transactions. Its strength lies in its digital platform that anyone with a Tide account can use on their desktop and mobile devices.
Similar to a traditional business checking account, its platform can help you receive payments, make payments, and track expenses, simplifying accounting and tax reporting.
Besides making financial management and other business aspects a breeze, Tide integrates with some of the best accounting tools in the UK. That leads to reduced manual entry, enhanced accuracy in financial records, and allows you to share your business's financial transaction history with your accountant.
Weighing Up Tide's Pros and Cons
Tide banking offers numerous benefits to its users at a low cost, but it doesn't come without its downsides. However, it's clear from our testing and analysis of other user experiences that its benefits heavily outweigh any issues you may have with the software, which makes it an exceptional pick for SMEs in the UK.
For example, while it may not be able to help you gain a deeper understanding of your turnover, like other accounting tools, it provides basic accounting features at no additional cost, and it integrates with other business tools for added functionality.
Pros
Beginner-friendly desktop and mobile apps
Business debit card for enhanced financial flexibility
Integrates with popular business software
Exceptional invoicing capabilities at no additional cost
No fees for overseas card use
Exploring Tide's Pricing Options
Whether you're a startup striving to minimize costs or an established business looking for the most comprehensive financial solution, Tide has a plan for your business.
In this section of our Tide business banking review, we'll explore its pricing plans, fees, and the benefits each solution offers.

Tide Free
Tide offers a comprehensive free plan ideal for small businesses and freelancers looking to improve their financial management while spending as little as they need.
Like any other Tide plan, the free version lets you hold up to 5 business accounts, order up to 50 expense cards for your team members, schedule payments, and more.
However, Tide's free users lack 24/7 legal and phone support, and you'd be missing out on exclusive member perks.
Tide Plus
Tide's entry-level premium plan, Plus, grants you access to Tide's excellent customer support and exclusive member perks missing from its free version.
Exclusive member perks offer incredible value for your money as they introduce you to a world of discounts with Tide's partners that provide various services, including:
Hot desking (as you'd find with some of the best UK VoIP services)
Business insurance and legal advice, and
Marketing boosting capabilities
In addition, Tide Plus users get one expense card free of charge and pay no fees for 20 transfers each month.
Tide Pro
Pro is Tide's newest addition to its subscription-based services, and it helps you save 20p each time you make or receive a transfer, thanks to its unlimited free transfers feature.
In addition, you'll get two expense cards at no additional cost, and Tide will help you protect your intellectual property, including support with filing trademark applications.
Tide Cashback
As the most expensive Tide plan, Cashback gives you 0.5% cashback (similar to the best cashback apps) when you spend using its debit card.
That means that your Cashback subscription can pay for itself as long as you spend over £10,000/month on stock or similar expenses using your Tide debit card or your team's expense cards.
In addition to Tide's other customer support services, Cashback provides a dedicated account management team, available from 9 a.m. to 6 p.m.
Although it doesn't include the unlimited free transfers from Tide's Pro plan, you won't pay any fees for 150 transfers per month.
Tide's Banking Fees
Besides the account monthly fees for its premium plans, you'll face several optional fees, depending on your plan. Unlike some of its competition, Tide provides a transparent fee structure with no hidden costs, so here's what you can expect to pay as your business grows:
Transaction Fees — 20p — This refers to all transfers in and out of the account, while transfers between Tide accounts are free.
ATM Fees — £1 — Tide charges a flat £1 fee for ATM withdrawals with each plan.
Cash Deposits — £2.50 or 0.5%-4% — You're looking at £2.50 for deposits up to £500 or 0.5% of the total deposit amount via Post Office or 3% of the total transaction via PayPoint.
Expense Cards — £5/card/month + VAT — Tide cards for your staff cost £5/card/month + VAT, and you can order up to 50 cards.
In addition, Tide users looking to unlock advanced accounting features instead of integrating a third-party service can opt for Tide Accounting. It costs £9.99 + VAT per month and provides features that make tax preparation, cash flow forecasting, performance tracking, and self-assessment easy.
Can Anyone Get a Tide Business Account?
If you're a resident of the UK and a business owner or self-employed, you can create a Tide account to start managing your business finances.
Creating your Tide account lets you connect it to your business by providing personal and business information, including a picture of a government-issued document.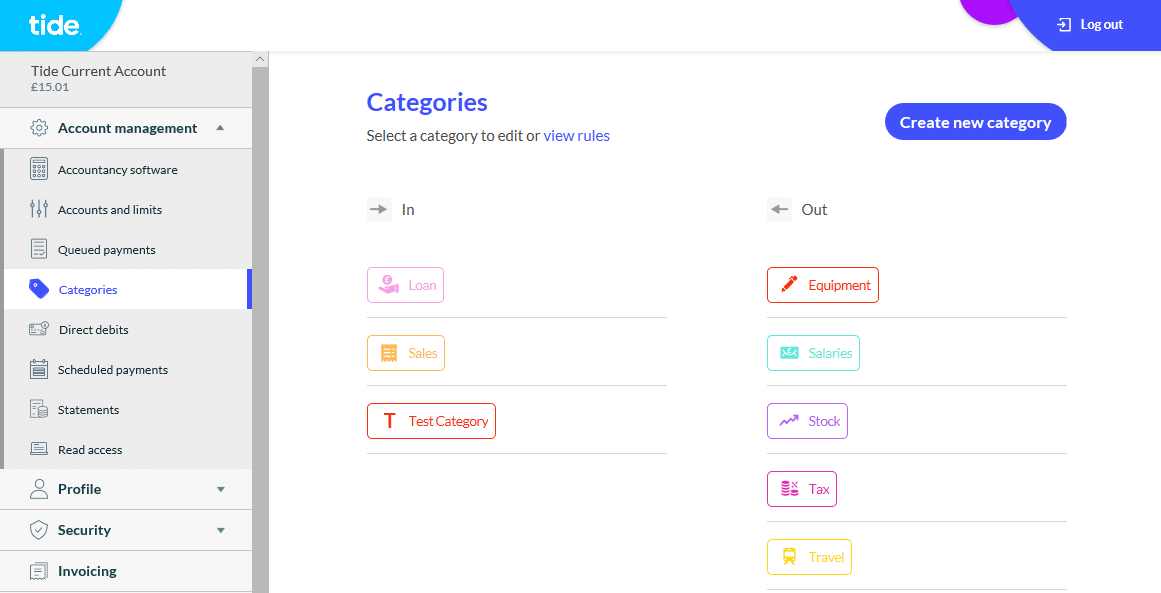 Once Tide verifies the information, you'll receive a business debit card to make payments and withdraw cash as needed. If you're self-employed or a freelancer, you'll need a valid UK home address registered with the HMRC.
In addition, Tide offers company registration services and offers to pay the initial £12 incorporation fee on your behalf. Thanks to its Companies House license as an authorized formation agent, Tide can help you kickstart your business in minutes.
Tide will also help you find a unique company name by checking for name availability, and you'll have the option of picking a virtual office address. However, Tide can't provide its services to everyone.
The company can reject applications from business owners who operate in risky markets or have no means of tracing their funds. Some businesses Tide doesn't work with are insurance companies, charities, escort services, and casinos, among others.
Is Tide UK Good? A Look at Tide Reviews
While Tide has an impressive track record with numerous awards and over 500,000 customers in the UK, it's wise to do some research before you commit to a subscription.
That includes finding user reviews from business owners that operate in similar circumstances to yours, which can help you make an informed decision.
We've combed through reviews Tide users left on reputable reviewing platforms, and here's what we found.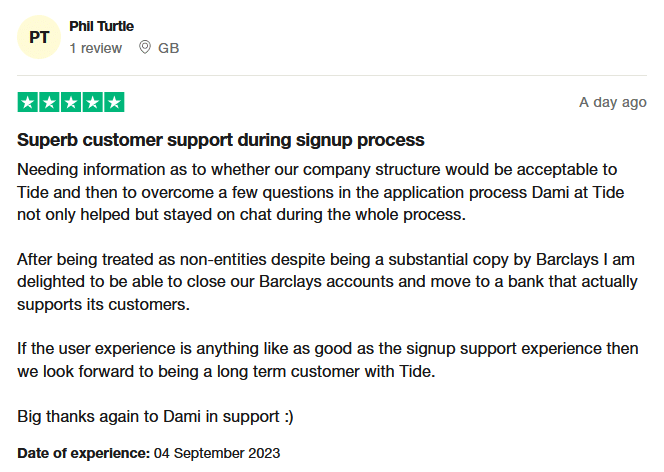 On Trustpilot, almost every Tide bank account review praises its customer support teams, who provide knowledgeable and timely answers to any questions its users may have.

Capterra reviews of Tide are generally positive, but we've noticed that some Tide users dislike how expensive its transaction fees can be in the long term. However, users still rate it high since its benefits heavily outweigh the drawbacks.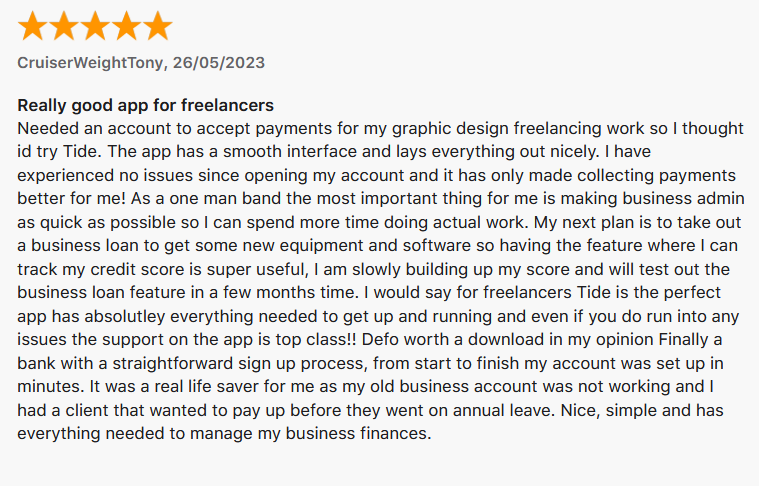 Tide enjoys an impressive 4.8 out of 5 score on the Apple Store, too, with over 64,000 reviews left by its iOS users. Almost every Tide.co review here that we've seen commends its superb invoicing and expense tracking features, as well as its ease of use and quick setup.
We balance this with our own experience with Tide to give our readers a complete overview of who it's best for, who it isn't best for, where it shines, and where it could do with improvement to ensure that you can easily gauge its suitability for your needs.
What Services Does Tide.co Offer?
Depending on your Tide subscription and your business's industry-specific needs, Tide can help you stay on top of your finances, replace even some of the best accounting software for small businesses in the UK, or make invoicing a breeze.
In this section of our Tide bank review, we'll dive into the details of its most advanced features your small business in the UK could benefit from.
Automate Tax and Accounting
Tide provides accounting tools that can significantly streamline your business's tax and accounting processes. One of its key features is expense tracking, which helps you monitor and categorize your business's expenses, improving your cash flow and providing a better real-time insight into your business's health.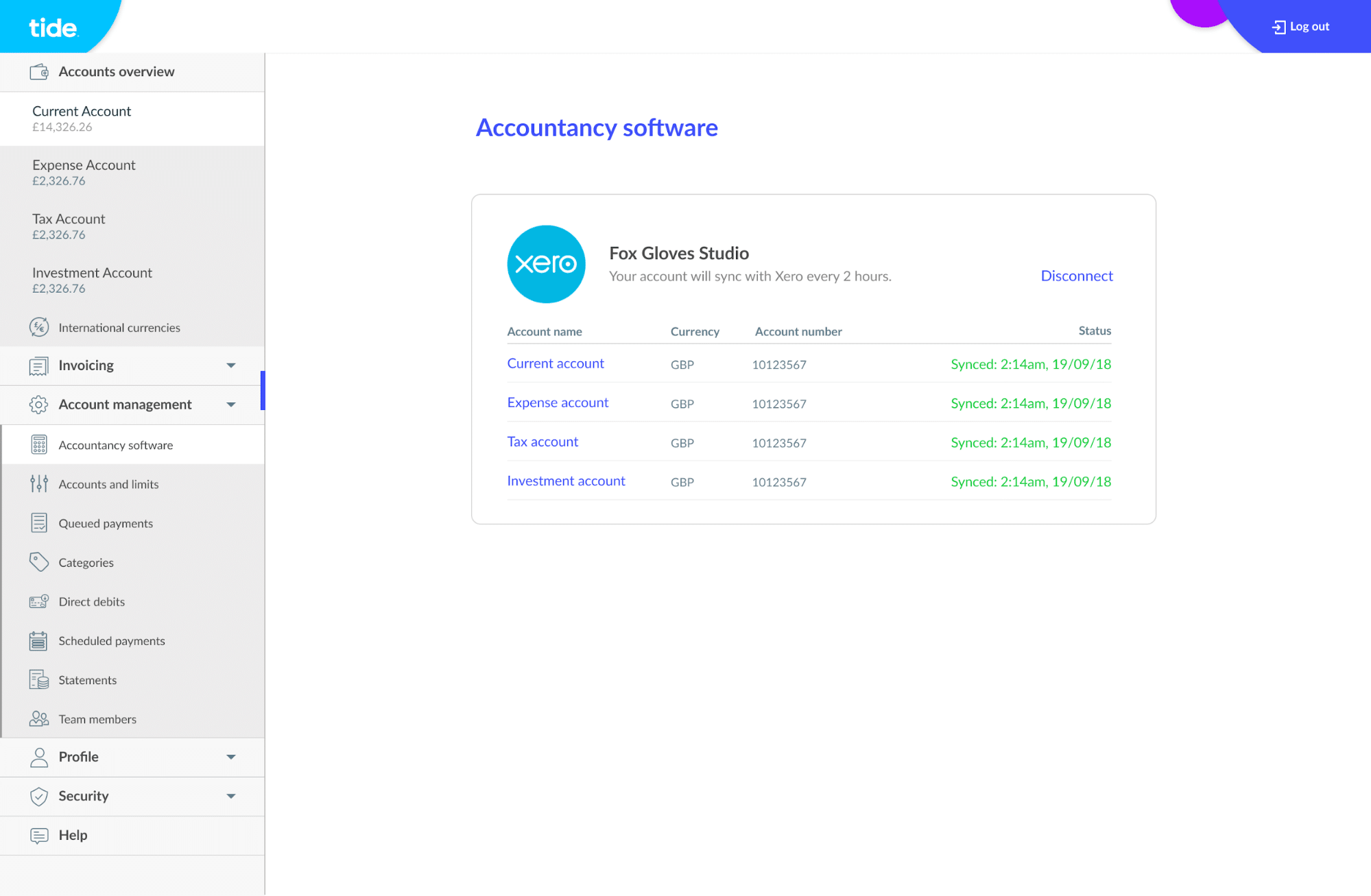 Your Tide current account will also track your activity and provide insightful cash flow forecasts to help you keep your finances in check.
Tide can predict your balance up to 30 days ahead, and it'll provide actionable insights if it detects negative trends that can result in cash flow problems.
Credit Builder
This unique feature is invaluable for business owners who just registered their company, recently moved to the UK, or haven't built up much credit history.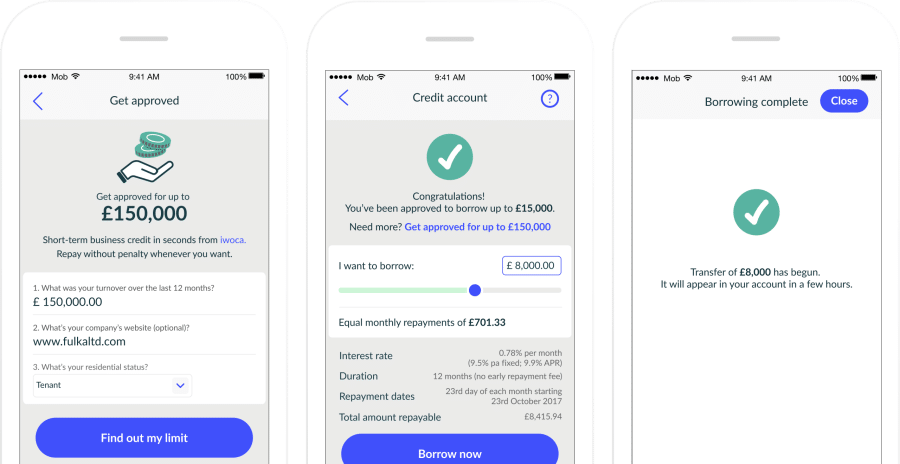 Tide's Credit Builder can help you grow your business's creditworthiness, resulting in better funding options in the future. This feature is a loan designed to help you demonstrate your lending potential as you repay it with 12 monthly payments.
It consists of a £240 principal and an interest rate of 24% fixed. That means you'll spend £33 in total since Tide returns the £240 principal to you after 12 months, and the company will report your payments to Experian to help you grow your business credit score.
VAT Registration
Tide helps business owners with VAT registration by guiding them through the process and providing expert advice if necessary. Its online VAT registration service has a flat fee of £39.99 (including VAT).
Beyond this, it takes just 7 days and helps you avoid tedious form-filling. This service is available to new Tide members and directors of limited companies, and the £39.99 fee is charged directly from your Tide account.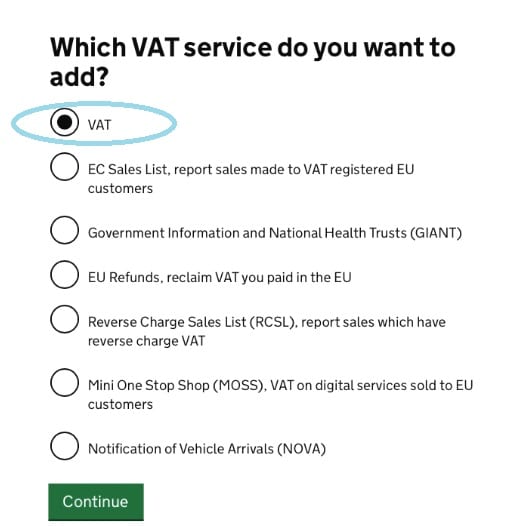 After paying, you'll have to describe your business and its expected taxable turnout and provide your National Insurance Number. Then, Tide will apply to HMRC on your behalf, and you'll receive your VAT number in the next 7 working days.
Once finished, Tide will send you an official VAT certificate with details of when your first return is due, making it an invaluable service for small teams.
Invoicing
Tide's invoicing features are valuable for businesses in most industries and require no third-party integration. It provides customizable, straightforward invoice templates.
You can tailor these to your needs by adding customized footnotes, units of measurement, contact information, and other details. Tide UK even lets you save your invoices as easy-to-read PDF files you can preview before sending them to your customers.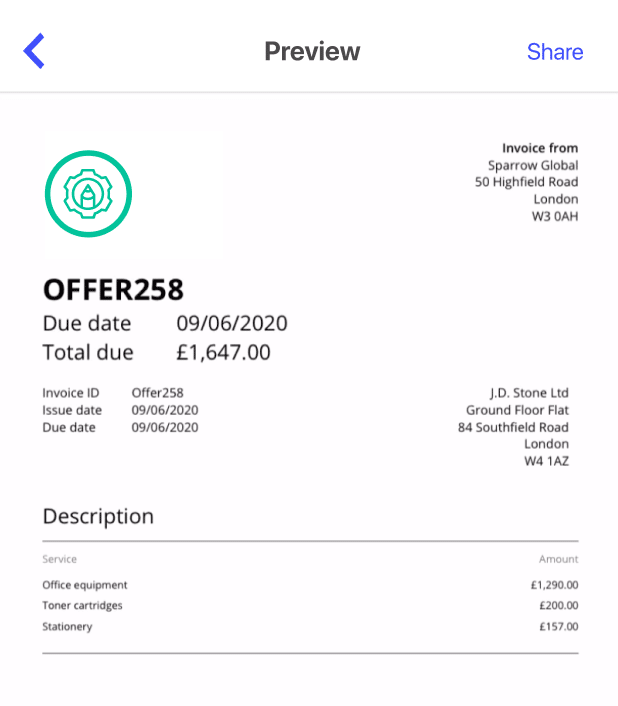 In addition, you can set payment dates and add VAT payments to ensure you get paid on time. Tide's integration with GoCardless is an excellent feature that's also noteworthy for businesses seeking an efficient way to manage direct debits.
That means you can set up recurring invoice payments for your customers, a must-have in various industries, including businesses with monthly memberships or deliveries.
Our Other Guides On Business Solutions
Taking control of your financial management with Tide goes hand-in-hand with other business solutions that improve various aspects of your business, including:
Is Tide Bank Safe?
Tide business banking places a high priority on the security of its customers' personal and business data. The company is authorized and regulated by the Financial Conduct Authority (FCA), which means it adheres to strict industry standards and security protocols.
In addition, it has an ISO 27001 certification that guarantees its staff, processes, and technologies for managing information security have been externally audited and verified as trustworthy.
Plus, Tide follows best practices to ensure unauthorized parties can't access its users' accounts. That includes robust encryption methods for user and server data and various security measures, such as two-factor authentication.
In addition, Tide constantly monitors its network for fraudulent activities. It flags suspicious activities for review and investigation, ensuring the safety of your business's funds in case of a security breach.
It's worth mentioning that ClearBank provides Tide's bank accounts, which are FSCS-protected, for up to £85,000 per eligible person. However, users should also contribute to the safekeeping of their account login information and data.
For this, we recommend using one of the best password managers and regularly monitoring your accounts for suspicious activity.
Why You Can Trust Our Tide.co Analysis
Our Tide.co review involves lengthy testing of Tide's capabilities. After our firsthand experience with its services, from the signup process to customizing our first invoice, we're confident Tide is one of the most user-friendly business banking services this year.
We'd like to point out that its ID checks were somewhat clunky, as we had to re-upload the images multiple times for the website to accept them.
Besides Tide, our experts have tested dozens of similar services that operate in the UK, US, and worldwide. Although Tide lacks some features provided by its top competition, like Revolut, which lets you exchange up to 30 currencies, we are impressed by the value-for-money Tide offers.
It's more affordable and flexible than most of its competition, which makes it the best pick for SMEs in the UK. Besides the above, we also incorporated the experience of other Tide users into our analysis.
Each Tide account review provides unique insight into how others use it in different industries and circumstances. The service enjoys an overwhelmingly positive score across numerous reviewing platforms.
This not only spanned sites like G2, TrustPilot, and Reddit but also the Apple and Google Play Store, which gave us a better insight into its features and day-to-day financial management capabilities.
Concluding Our Tide Bank Review: Is it Worth it?
Whether Tide is worth it for your business depends on your unique needs and requirements. Tide is ideal for any business that values a quick and straightforward account setup, minimal administrative hassle, and built-in tools for expense tracking and invoicing.
Besides these, we're impressed with other services Tide provides to help small businesses in the UK. These include its VAT registration guide, membership perks consisting of dozens of discounts across the UK, and generous cashback.
In addition, Tide seamlessly integrates with popular accounting software you may already be using, which ensures a hassle-free transition to its platform.
Although you can start using Tide for free today, we suggest opting for one of its premium plans to unlock its membership perks and gain access to its knowledgeable and responsive customer support.
Tide.co Review FAQs
What is a Tide business account?
How long does a Tide business account take?
Can I withdraw money from Tide?
Is Tide a real bank account?
Does Tide affect credit score?
How long does a Tide bank transfer take?
What are the benefits of a Tide business account?
References