Admirals is a globally regulated broker with two decades of experience in the industry. It is disrupting the UK trading landscape with its impressive range of over 8,000 financial instruments.
The platform is gaining traction for its extended trading hours and competitive spreads. It is attracting more users due to its competitive fees, diverse asset classes, favorable spreads, multiple payment options, and quality customer service.
Admirals Offers Over 8,000 Markets
When it comes to diversifying investment portfolios, Admirals offers a comprehensive range of asset classes. Starting with Forex, Admirals provides 24/7 trading opportunities across 82 currency pairs, including majors like EUR/USD and GBP/USD.
Commodities like oil, gold, and coffee are traded on Admirals' platform. With 29 CFD-tradeable commodities, investors can hedge against inflation and economic uncertainty.
Also, Indices like the FTSE100 and SP500 are available. Admirals offers 42 index CFDs with a leverage of up to 1:500.
If you're new to trading, indices are a relatively straightforward entry point because they aggregate a basket of stocks, requiring less in-depth analysis.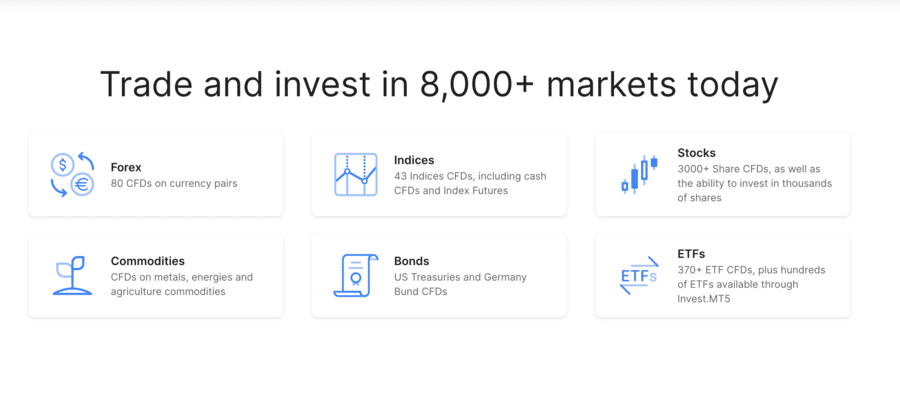 For stock enthusiasts, Admirals Offers over 3,400 stocks from the US, EU, and UK markets. The platform allows a leverage of up to 1:20 on stock CFDs.
ETFs, another low-cost investment vehicle, are also available. Admirals features 362 ETFs that cover various industries and exchanges. Finally, Admirals offers those prioritizing stable income a rare opportunity to trade bonds with leverage up to 1:200.
Commitment to Safety and Regulatory Compliance
Navigating the crypto and financial markets requires a trusted and secure trading environment. Admirals scores high on this count as well.
Regulated by renowned bodies such as the UK's Financial Conduct Authority (FCA) and the Cyprus Securities and Exchange Commission (CySEC), it adheres to international standards to ensure client safety.
All client funds are kept in segregated accounts, separate from the company's operational finances, ensuring your fund protection.
Furthermore, Admirals uses cutting-edge encryption technology to secure personal information and financial transactions. The broker also provides a risk-free demo account valid for 30 days, giving newcomers a safe space to learn and practice.
For extra peace of mind, Admirals has strong financial backing and has been in the industry for 20 years, reiterating its reliability and trustworthiness.
Cost-Effective Trading: An Overview of Admirals' Fee Structure
Admirals primarily charge two types of fees: commissions and spreads. Spreads can go as low as zero pips on Zero accounts and up to 0.5 pips on Trade accounts. This is highly competitive when compared to industry standards.
The commission for shares starts at $0.02, making it cost-effective for stock traders. Additionally, there are non-trading fees to consider. These include a $10 monthly inactivity fee, which only kicks in after 24 months, and withdrawal fees after the first free monthly withdrawal.
Currency conversion fees may apply, but these are generally low. Overall, Admirals offers a financially sensible platform for traders.
Trading Platforms
Admirals provide traders with a range of trading platforms to suit various needs. MetaTrader 4 (MT4) is a well-known platform favored for its simplicity and secure features. It's particularly strong for Forex trading and accessible across Android, Mac, and Windows.
MetaTrader 5 (MT5) offers additional timeframes and indicators for those seeking more advanced tools. MT5 is more versatile, supporting multiple asset classes and Contracts for Difference (CFDs). MetaTrader Web is another option, requiring no download and offering the core functionalities of MT4 and MT5.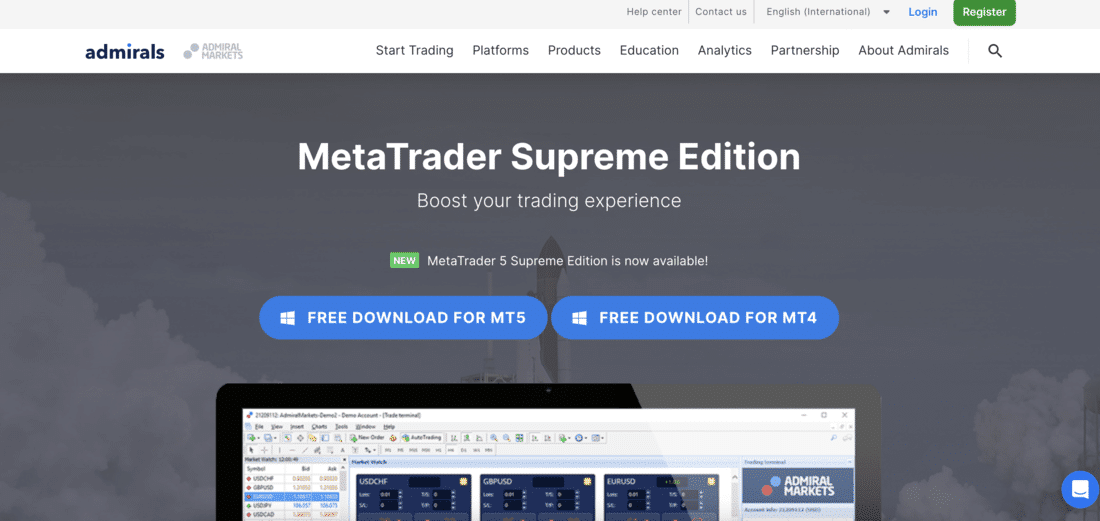 Additionally, Admirals offers MetaTrader Supreme Edition, a plugin that includes various advanced tools and indicators, free for live and trading accounts. The platform also offers a simple, secure mobile app with a user-friendly trading platform.
Interoperability across these platforms ensures traders can switch seamlessly, offering a rich yet user-friendly trading experience.
Improving Your Trading Experience: Account Types, Payment Options and Customer Support
Admirals offers a tailored trading experience with three distinct account types: Zero, Invest, and Trade. Zero and Trade accounts attract experienced traders, offering 1:500 leverage and a minimum deposit of $25.
Invest accounts, better suited for stock and ETF traders, require just a $1 minimum deposit and offer no leverage.
Additionally, Admirals provides a specialized Islamic Forex account, making it inclusive for traders following Islamic finance principles. Each account type aligns with specific trading goals, making it easier for traders to find a suitable trading environment.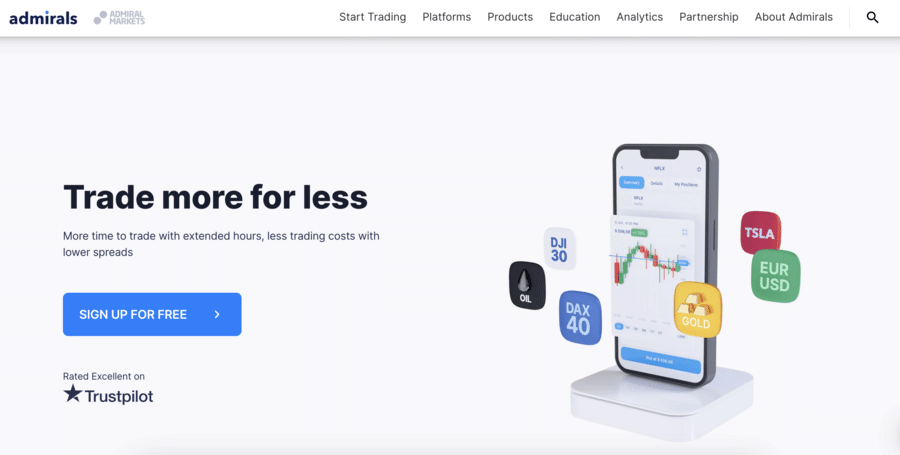 The platform accepts bank transfers, credit/debit cards, and Perfect Cash for transactions. While deposits are free, Admirals allows one free bank withdrawal per month, with subsequent withdrawals incurring a $10 fee. This range of options accommodates various financial preferences.
Additionally, customer service at Admirals sets the bar high with multiple support channels, including live chat, email, and phone.
Support is offered in multiple languages, enabling a broader global reach. The firm's commitment to high-quality customer service is evident in its prompt and effective responses to client queries.
Conclusion: Why is Admirals the Future of Trading?
Admirals has established itself as a promising platform in the UK trading industry. It provides a comprehensive trading environment that serves both beginners and seasoned traders.
The platform's focus on extended trading hours, competitive spreads, and a broad range of asset classes diversifies your investment options and improves your trading experience.
Also, its commitment to quality customer service complements the overall trading experience, making it a compelling choice for those seeking a reliable trading platform.