In the realm of AI dating, where online romance blooms, artificial intelligence (AI) plays a pivotal role.
AI introduces both exciting possibilities and concerning challenges for the dating landscape. AI-driven tools empower users to craft captivating bios and create attention-grabbing profiles, reshaping the way they present themselves online.
However, as AI's influence grows, a darker aspect emerges – the surge in AI-generated fake profiles. Opportunistic scammers leverage AI to deceive and exploit those in pursuit of love. This troubling trend is reflected in the rising number of dating scams reported in the first half of 2023.
In this article, we delve into the AI dating arena, exploring how AI enriches online interactions while simultaneously opening avenues for digital deception. Join us as we navigate the intricacies of AI dating and generative AI dating profile generators.
AI Dating Dilemma: The Impact of Text-Based AI on Authenticity and Interaction
Online dating has become more complicated than ever with the introduction of AI dating profile generators. A catchy bio or a smart opening message can indeed kickstart a budding romance, which is why AI tools are popping up for this very purpose.
Such tools include:
AI Dating Profile Bio Generator by TaskLab: by answering some simple questions, users can quickly come up with a bio that helps improve their online dating profile and attract more matches.
DatingbyAI: helps people spruce up their dating profiles by using their photos and interests to create personalized profile pictures and bios with the help of AI.
However, the use of AI in the dating scene doesn't end with creating catchy bios.
A survey by Kaspersky (2023) showed that many people are open to using AI tools to spice up their conversations on dating apps. For instance, the survey found that 75% of dating app users in the UK stated being interested in using ChatGPT to come up with the perfect chat-up lines.
Over half of single men (54%) said they would be open to using ChatGPT to make themselves appear funnier or smarter on a dating app
Moreover, over half of single women (51%) said they would use AI to handle chatting with multiple potential partners at the same time.
These findings show that AI is becoming a game-changer in online dating. But this trend also brings up some concerns.
Dating expert Crystal Cansdale stresses the importance of being real in building meaningful relationships.
Authenticity is at the core of building relationships, and despite how 'real' a ChatGPT generated message can come across, it will only get you so far, and ultimately, it is not real.
Similarly, David Emm, Principal Security Researcher at Kaspersky, points out that while using AI to create flirty messages might seem fun, it could also hide dishonest intentions.
Using AI such as ChatGPT to create flirty chat-up lines might seem harmless and a fun way to strike up a new conversation with a prospective partner, but those using dating apps should be aware that not everyone will be using it in good faith.
AI Dating Profile Generators: Breathing New Life into Photos
In the quest for love online, your profile picture is often the first draw. It's no wonder many are turning to AI dating profile generators like DatingbyAI for a photo makeover.
As previously mentioned, DatingbyAI helps people enhance their dating profiles by using their photos and interests to make personalized profile images and bios through AI. However, what's interesting is that it provides a whopping 60+ generated photos for your dating profile, based on at least 8 photos you provide to train it.
The AI can change your photos to display you in different settings, outfits, lighting, and even tweak styles to make your profile more appealing. It can also enhance features or adjust the image layout to attract a broader audience on the dating platform.
However, the Kaspersky study reveals some hesitation; while many favor text-based AI like ChatGPT for enhancing conversations, only 37% were open to using AI to enhance their profiles. This reluctance could come from various concerns, a major one being the risk of deception.
As David Emm notes:
Some may be using [AI] to deceive, and as we have seen with photo doctoring, people can very easily pretend to be something they are not and lure others into unpleasant scenarios.
Digital Deception: The Dark Side of AI-Generated Photos in Online Dating
As the boundary between real and AI-created content fades, the digital dating scene treads into a territory where a pretty picture may mask a less pretty truth, echoing the concerns expressed by experts about AI-aided conversation and photo doctoring.
Cansdale highlights the dangers of scammers using AI to deceive love-seekers.
People already need to be cautious of who they are talking to and ensure they are using safe apps that verify their users. These tools make it very easy for fraudsters to prey on the dating world, putting a lot of people at risk.
Reports have been made on suspicious dating profiles that seemed to be AI-created. For example, a woman shared a Tinder profile showing a man's muscular selfie and a bio of a 24-year-old engineer seeking meaningful connections. Users noted anomalies like six fingers and a strange door knob in the background, suggesting the image was AI-generated. The bio, seeming generic, also hinted at AI use, making people believe it's an AI-crafted profile.
Tinder responded by saying:
We encourage our members to look for the 'blue tick', which indicates that the member's profile image is genuine and has been verified by Tinder, through our Photo Verification program.
The dangers of fake online profiles extend beyond dating. On Reddit, an AI-created persona named 'Claudia' showed how AI can make fake adult content creators. Two students made Claudia using Stable Diffusion, selling her AI-made risqué images.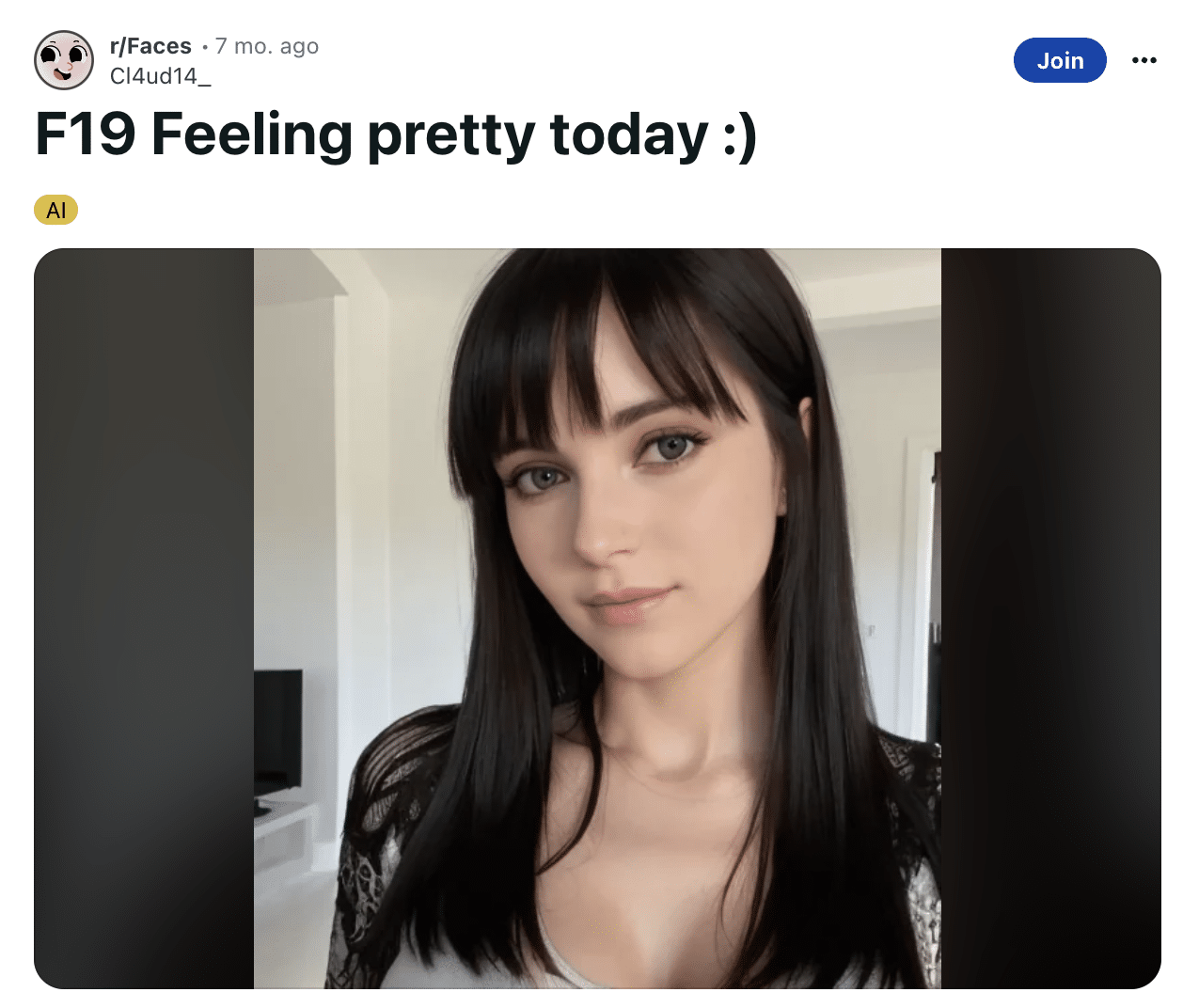 The students who created Claudia told Rolling Stone:
You could say this whole account is just a test to see if you can fool people with AI pictures. You could compare it to the vtubers, they create their own characters and play as an entirely different person. We honestly didn't think it would get this much traction.
In fact, figures for the first half of 2023 from the Australian Competition and Consumer Commissions (ACCC) Scamwatch show that the number of reports for dating & romance scams skyrocketed compared to the first half of 2022 (around +50%; from 1395 reports in H1 2022 to 2088 reports in H1 2023).
The data reveals that the first half of 2023 witnessed the highest number of reported dating and romance scams yet, surpassing the previous high of 2046 reports in the first half of 2020.
Ultimately, as Emm advises:
If AI is about to make catfishing even easier, it's important for individuals to remain vigilant when communicating with others online. Always be cautious and verify the authenticity of those you are speaking with to avoid falling victim to deceitful tactics.
The Fine Line Between AI Enhancements and Digital Deception
In the world of online romance, AI is undeniably making waves, sparking both enthusiasm and apprehension.
AI tools are transforming online dating, helping users create appealing profiles and engaging conversations. However, the rise of AI-generated fake profiles has darkened this digital dating landscape, leading to a surge in dating scams.
As outlined above, it's clear that while AI profile generators and chatbots can improve interactions, it also exposes us to digital deception. The line between real and AI-created content is blurring, making authenticity a challenge for those seeking genuine connections. Furthermore, scammers are exploiting AI's potential, putting many at risk, with the data reinforcing these worries.
To stay safe, people need to be careful and check that the people they meet online are real. We have to find a balance between using technology in dating and making sure we connect with real people so that love seekers can have safe and genuine connections in the digital age.