The best AI copywriting software is designed to put the power of artificial intelligence to work for you. From creating perfect headlines and subheads to coming up with original text that speaks directly to your target audience, AI-driven copywriting software makes the task of content creation exciting and efficient.
We've comprehensively tested the leading AI copywriting software, including JasperAI and Copy.ai, for their accuracy, stability, and functionality. Read on to learn how each of the top, popular AI writer aids compare to learn all the benefits and flaws each one has before choosing the best one for your copy needs.
The 10 Best AI Copywriting Tools Ranked
Based on our thorough evaluation and testing, we've concluded that Jasper.AI is the best AI copywriting tool around. It utilizes the GPT4 language model and is known for being accurate, fast, and easy to use. Let's see how it compares to the other top AI copywriting tools on the market:
How Does AI Copywriting Software Work?
So, how does AI copywriting software work? Using NLP (Natural Language Processing) and machine-learning algorithms, AI software gets smarter over time, understanding data to generate more human-like content. With each piece it generates, the algorithm learns from user inputs until it becomes an expert on a subject matter or tone.
By training AI models on large sets of text – for example, web pages, articles, or customer surveys – businesses can create their own customized writing helper that writes in their brand voice with exceptional accuracy.
Imagine generating high-quality copy like a professional marketer or writer with just the click of a button – that's the power of AI copywriting software. With algorithms capable of understanding data and creating human-like content, businesses are leveraging this technology to save time and drive innovation in their campaigns.
In fact, the global AI market value is expected to reach $267 billion by 2027, evidence of how much businesses value automating writing tasks and improving their product quality.
The Pros and Cons of Using AI Copywriter Tools
With the rise of AI technology, many businesses have already started using AI in various ways. In fact, 37% of businesses and organizations employ AI for copywriting. However, before implementing this technology into your business strategy, let's look at some pros and cons associated with AI copywriting tools:
Pros
Increased writing speed: They can create content quickly and efficiently, saving you time for other tasks — cutting your current content creation process in half.
Reduced cost: With AI copywriting tools, companies can reduce the costs associated with publishing high-quality content since many solutions offer free and low-cost options for creating it.
No more writer's block: Writer's block can hit the best of us and dampen creativity. With an AI copywriter tool, you'll get ample ideas to aid in your writing or have options done for you.
Enhanced creativity: AI copywriting tools are not only able to finish tasks quickly but can also provide fresh ideas and language that lift the quality of content.
It's important to note that AI tools will never replace humans, as we're still necessary for deciding which stories need telling and who needs hearing them.
However, with an AI copywriter tool, you gain a reliable partner that offers creative solutions and results at any time of day.
The fact that around 71% of people believe that AI is more innovative than people speaks volumes. That said, as with anything, there are some things to keep in mind, including:
Cons
Errors in content: AI copywriting tools still have room to grow when it comes to accuracy; there can sometimes be errors regarding spelling, grammar, and sentence structure.
Inability to add human perspective: Although AI tools provide plenty of interesting ideas, certain concepts (such as emotion) may need more focus on a human level to be effectively conveyed.
Overall, AI copywriting software solutions are phenomenal in many ways, but businesses shouldn't rely solely on these tools if they want their campaigns to reach maximum success.
What Can I Use An AI Copy Writer for?
AI content generation tools offer a streamlined content strategy, but what makes these tools a must-have is that, beyond just generating blog posts, there are many uses for an AI Copy Writer:
Email Campaigns
May it be sales or nurture email campaigns, AI copywriters can create relevant emails quickly and accurately. It can easily capture the consumer's behavior and produce automated emails that are tailored to customer audiences.
Whether you need an automated welcome message, price change notifications, or shopping cart abandonment messages, AI copywriters have the ability to offer unique email content for each customer segment.
Ads created by AI copywriters require less work and are very cost-effective. They can automatically create high-performing ads based on keywords provided and structured according to consumers' interests on various platforms such as Facebook and Instagram.
Thanks to machine learning algorithms, these types of ads can display a personalized feel at scale, which is just not possible with traditional marketing methods.
Product Descriptions
When launching new products or refreshing existing product descriptions, AI writers are ideal for creating accurate, compelling, customized product descriptions that will drive conversions.
Once your business has uploaded its data sets into the software's AI writer program, it'll quickly churn out hundreds of copies depending on certain parameters, like seasonality or location.
Website Copy
Gone are the days of manually typing content for web pages and microsites. With an AI copywriter, businesses can create website content faster than ever before — specifically tailored to their target audience.
You'll find that they often even help in maintaining relevance amongst your customers as it has the capability to gather customer feedback that'll help you adjust your link-building strategy accordingly.
The Best AI Copy Generators Reviewed
Let's review the best AI copy generators available on the market today. Here, we'll examine their features, pricing, and the top benefits and known flaws of each of the best AI copy tools so that you can make an informed decision.
If you'd just like to compare key criteria like what each one is best for, their starting price, free version details, and the top 3 features, then feel free to skip ahead to our comparison table.
1. JasperAI — The Best GPT4 AI Copywriting Tool for Marketers
JasperAI has been recognized as the best GPT4 AI copywriting tool for marketers, providing quick results with a healthy return on investment. With over 100,000 customers already using this cutting-edge technology, you can trust that your content needs will be met in an efficient and effective manner.
For starters, the Jasper copywriting AI allows content to become completely automated with its use of advanced deep learning algorithms. As a result, it produces human-like text that'll resonate with your audience and deliver the best results at a rapid rate.
The AI-Powered Content Generation feature is where the power lies. This feature leverages both natural language processing (NLP) and Natural Language Generation (NLG) algorithms that automatically identify key elements within any given context (such as sentiment, keyword prominence, and topical focus).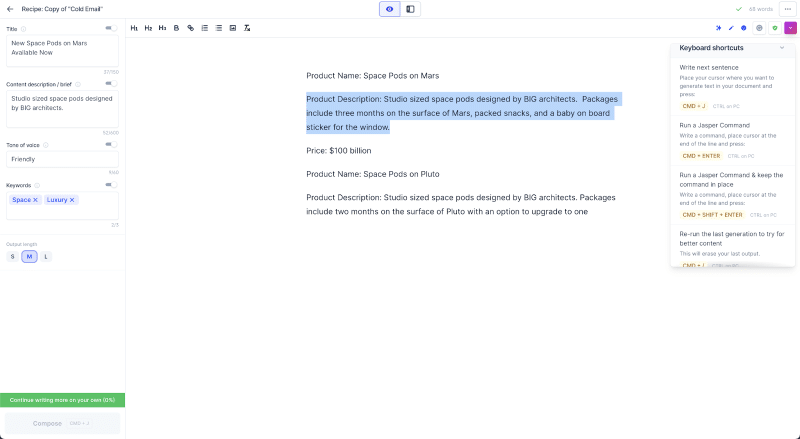 Best For
Starting Price
Free Version
Top 3 Features
Any Writing Needs
$39/month
7-Days Free

AI-Powered Content Generation
Content Brief Interpretation
Language and Tone Customization
Through this advanced analysis process, you're able to match different customer profiles along with respective goals accurately and then make adjustments accordingly. Better yet, you needn't worry about relevancy, accuracy, or quality.
For customers who need an extra edge in terms of brand tone and creative copywriting, the Content Brief Interpretation capability comes to your rescue. Using advanced artificial intelligence algorithms, the platform interprets the brief from its content as desired by you or any team member.
It works accordingly until satisfied with adequate results, generating tailored text based on that same interpretation within a fraction of the time needed otherwise. The Language & Tone Customization feature also allows you to adjust the generated content slightly by upscaling it according to personal preference.
You're allowed to customize elements like sentence structure and length, which further enhances readability while making sure that no mistake goes unnoticed due to automated revisions being done in real-time. That said, one flaw worth noting is that it can struggle with some overly complex topics.
Pricing
The Business tier provides tailored AI features with advanced controls, security, and team support. Teams, the most popular option, is designed for collaborative campaigns and includes multiple seats, brand voices, and templates.
The Creator plan focuses on individual content enhancement with a browser extension and SEO mode, making it suitable for personal projects. Here's the pricing for each one:

Pros
Quick content creation process for greater efficiency
Has a powerful Command feature to refine your copy
Offers a lot of flexibility in pricing
Cons
May have difficulty with overly technical topics
2. Copy.ai — Quick Content Generation With GPT-3 AI Copywriter
Copy.ai takes the guesswork out of content creation by harnessing the power of artificial intelligence to quickly generate high-quality copy for your business. It employs OpenAI's GPT-3 technology, meaning it takes only 30 seconds to create marketing and website copy from start to finish.
As we explored in our in-depth Copy AI review, it provides several unique solutions for writers, including its First Draft Wizard and Freestyle tools, as well as a series of free AI writing generators. With these, Copy.ai makes it easy for anyone to create engaging content that stands apart from what's already on the web.
Beyond these, the Writer's Block Solution eliminates roadblocks when trying to come up with ideas in times of need. It quickly delivers fresh topic ideas, so you don't have to stress yourself over what could be written about next.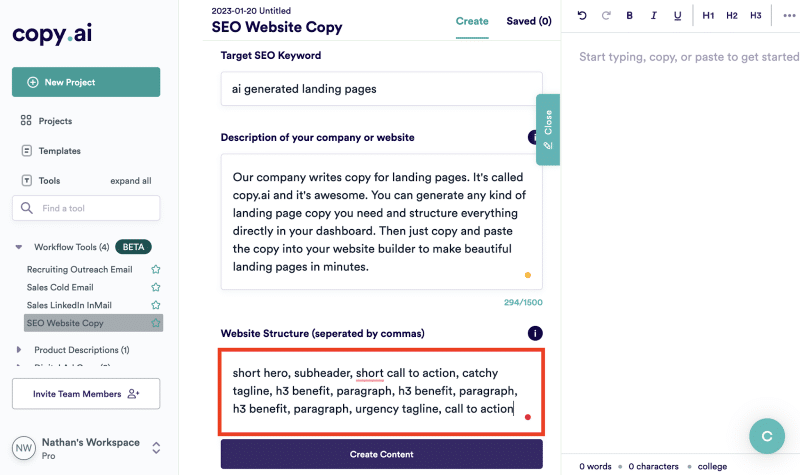 Best For
Starting Price
Free Version
Top 3 Features
Quick Content Generation
$49/month
Free Plan

Writer's Block Solution
Diverse Content Formats
AI-Powered Language Enhancement
Additionally, Copy.ai's Diverse Content Formatting assists creators in instantly changing a piece from one format into another, e.g., a blog post can be automatically changed into an email newsletter or vice versa without having any manual reformatting done.
This saves valuable time when producing multiple versions for different platforms or outlets simultaneously. Last but not least, Copy AI also offers an AI-powered language Enhancer that strengthens your copy's readability and, therefore, its effectiveness.
The pros of Copy.ai far outweigh its cons, as expressed in its numerous positive reviews, where many report great improvement in productivity due to the tool's powerful features and intelligent design – something worth considering for anyone looking for a fast start with good quality content produced easily and quickly.
It should be noted, however, that some users have reported lag while generating content, but this issue appears minor when compared to all other benefits of this AI Writing assistant.
Pricing
Copy.ai's Free plan is perfect for individuals as it offers 2,000 words and unlimited projects, while the Pro plan is designed for teams seeking to leverage Generative AI for organization-wide collaboration.
It includes expanded features like multiple user seats, various brand voices, prompt templates, and access to the API, building upon the capabilities of the Free plan.
For organizations with more extensive requirements, the Enterprise plan provides unlimited words, robust security and oversight capabilities, and dedicated support, ensuring a tailored experience.

Pros
Simple interface with a gentle learning curve
Decent text editor to polish copy thoroughly
Multiple content types for different purposes
Supports different writing tones and styles
Cons
May lag while generating content
3. Rytr — Budget-Friendly AI-Human Content Writer
Rytr is one of the cheapest AI-powered writing assistants and one of the best Copy AI alternatives, as it helps you write high-quality content quickly. Users appreciate its ability to generate great content fast while giving them options to customize their pieces in minutes with minimal effort at a fraction of the cost.
It offers over 40 use cases and templates along with 20+ tones of voice and other features, such as AIDA & PAS copywriting formulas, so users can make sure their pieces are reader-friendly and perfect for the task at hand.
One of Rytr's key features is versatile content generation. It allows you to generate content in a variety of forms, such as blogs, stories, and listicles, depending on what's appropriate for your content consumers. Why is this unique? Most AI copywriting tools specialize in generating one type of content, such as an article.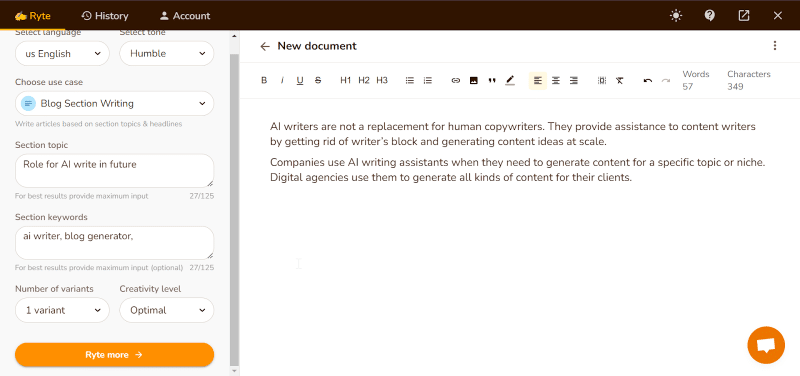 Best For
Starting Price
Free Version
Top 3 Features
Those on a Budget
$9/month
Free Plan

Versatile Content Generation
AI Collaboration
Industry-Specific Templates
You can choose from over 30 languages, too, so even if English isn't your native tongue, there's no need to worry. Plus, users report they save up to 25 million hours of manual work due to the time-saving aspect; this one feature alone saves them bundles.
The second prominent feature worth noting here is the AI collaboration available through Rytr that makes it easier than ever before for marketers and entrepreneurs to get quality work done in mere seconds.
The AI works closely with creative writers to produce the best possible content, and it does so extremely quickly. As such, you can say goodbye to waiting days on end for just a few short pieces.
And finally, Rytr offers industry-specific templates that enable you to get more precise results than ever before. You can target niche industries effectively, like food or medical writing, with ease thanks to the extra boost in accuracy this feature provides.
Thanks to these templates, copywriters report they no longer need to spend as long researching their plotlines or facts when creating content; instead, they're able to get higher-quality work done more efficiently.
Pricing
Rytr's approach stands out with its affordable and character-based plans, a refreshing departure from the usual "unlimited" offerings. The Free plan gives you 10k characters per month, and the Saver plan offers 100k characters, both at budget-friendly rates.
This practical approach ensures you pay for what you need, making it an ideal choice for various scales of work. That said, some do prefer uncapped tools like Copy.ai, so it all depends on your needs: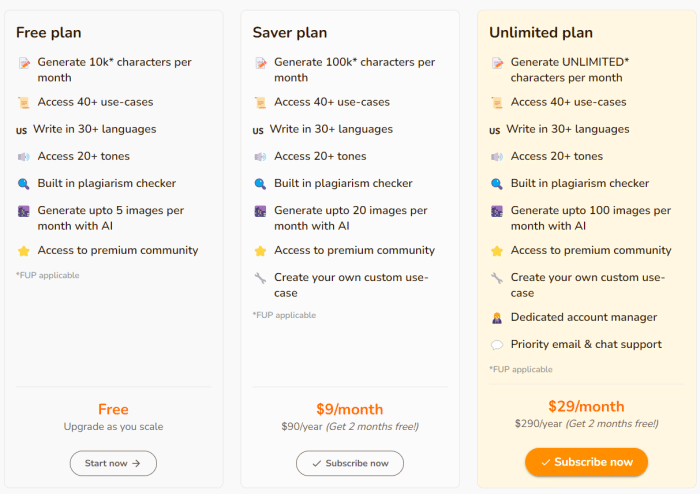 Pros
Clean, uncluttered user interface
Supports 30+ languages for multilingual writing
Inbuilt plagiarism checker for convenience
Generates content across many specific genres (blog, social media, etc.)
Cons
Limited for short-form content
4. Writesonic — Dynamic AI Copywriting for Engagement & SEO
Writesonic is one of the best free AI copywriting tools that help content creators, marketers, agencies, and entrepreneurs create dynamic content quickly and efficiently.
It offers advanced AI technology to produce SEO-optimized words, personalized content tailored to your target audience, and highly engaging ad copy. This makes it easier for professionals in a variety of fields – including writing, e-commerce stores, and marketing teams – to save time while creating quality content.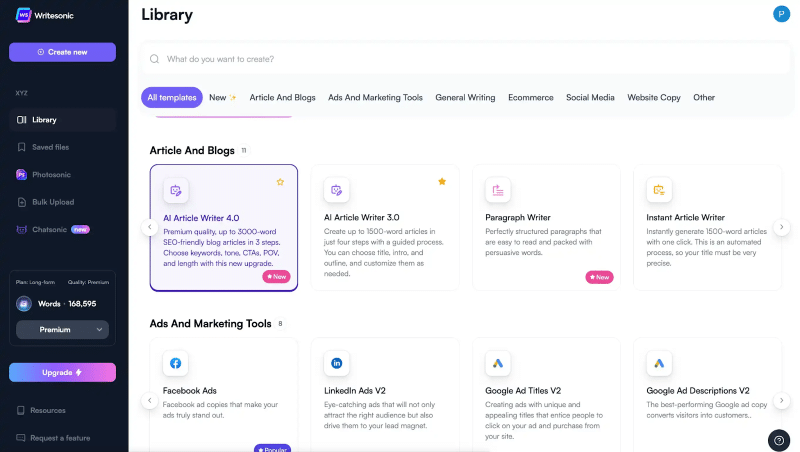 Best For
Starting Price
Free Version
Top 3 Features
Engagement & SEO
$16/month
Free Plan

Dynamic Content Creation
Content Personalization
SEO-Friendly Content
The Dynamic Content Creation feature allows you to generate relevant content quickly without any manual input. It can automatically write articles for sites with a click of a button. Similarly, its Sonic Editor feature makes it easy to write sales emails or reports without having to put your own effort into creating them.
Content personalization plays a big role in appealing to your customers through meaningful and personalized messages. Writesonic provides this with its vast library of data sources condensed into their algorithms which learn from feedback received daily by millions of users around the world.
It's worth noting that while most of the features are automated, users will still have some limited control over how their content is created and optimized. For example, you don't have the option to manually rephrase a sentence or portion of content, which can limit what you can do with content personalization.
However, Writesonic does offer a free trial to test all its features before you commit to a paid plan. With its powerful AI writing tools, there's no doubt that your business will benefit from more efficiency and better quality content production in the long run.
Pricing
The free trial allows a limit of 10,000 words/month. The Unlimited plan is popular for both individuals and small teams, while the Business plan offers enhanced features like writing with your specific brand voice.
Enterprises can also benefit from custom packages with specialized support and features like more invoicing options, training sessions, and custom AI model training.

Pros
SEO-focused content is written 10x faster than manual writing
Affordable pricing starting at $15 per month
Easy to use even without prior experience with AI writing tools
Offers various features for writers, e-commerce stores, marketing teams, and entrepreneurs
Cons
Limited control over rephrasing sentences or parts of the content
5. ShortlyAI — Copywriting AI for Summarization and Creativity
ShortlyAI is making waves in the copywriting market with its lineup of AI tools that are designed to help improve writing productivity and creativity.
This AI-driven assistant excels in summarization, creative writing assistance, and question-answering, catering largely to research-driven content creation. With ShortlyAI, you can quickly generate short stories or articles with a simple click of a button.
Let's start with what made this tool popular. ShortlyAI is designed to help get rid of writer's block and write more, faster – allowing you to quickly summarize or shorten long passages of text with relative ease.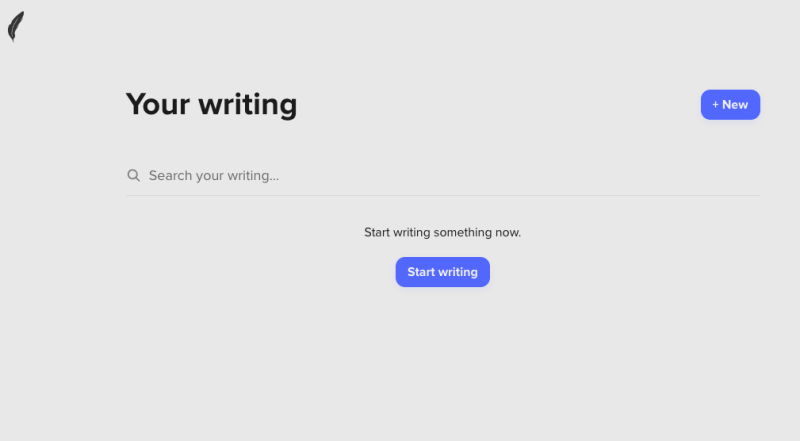 Best For
Starting Price
Free Version
Top 3 Features
Summarization & Creativity
$65/month (Billed Annually)
2 Months Free

Summarization and Content Shortening
Creative Writing Assistance
Question Answering
Continuing off that point, most AI tools out there can only help with writing typical blogs. Creative writing means that ShortlyAI can help generate creative content, like short stories and pieces of fiction in any genre.
Finally, there's a question answering for those times when you just can't seem to find the answer or words you're looking for – which happens a lot more than we'd care to admit. ShortlyAI provides detailed answers sourced from the internet based on the keywords entered.
This could be great for those writing research papers or longer blog articles, as it conveniently builds up your knowledge base on any given topic quickly and effectively.
Aside from some minor issues, such as its daily bot limit, which may be reached under heavy use, ShortlyAI is certainly worth checking out if you're looking for a quick and efficient copywriting assistant.
Pricing
ShortlyAI offers a clear and concise pricing model, presenting two choices: monthly and annual subscriptions. Despite the different billing frequencies, both options provide access to the same comprehensive set of features.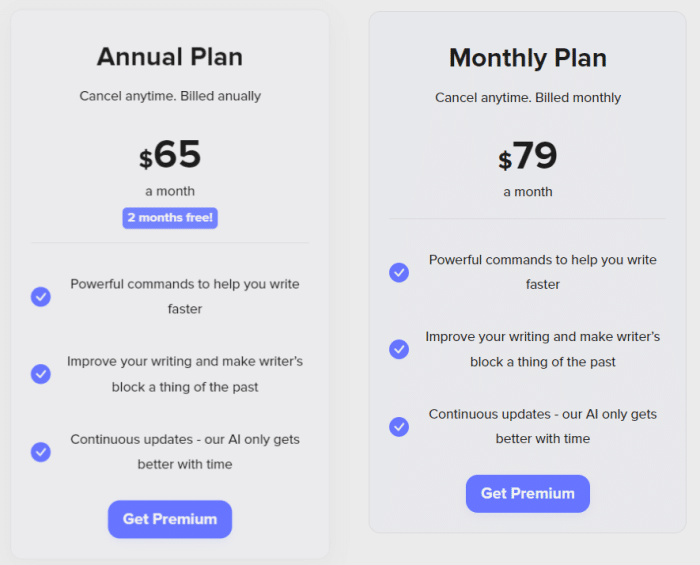 Pros
20x faster than other comparable solutions
User-friendly 'Write for me' button
Its original output passes plagiarism checkers
Cons
A daily limit to prevent bot abuse, which may be reached under heavy use
6. WordAI — Enhance Originality with Advanced Text Spinning
WordAI gives you a human-quality rewrite tool to ensure the best quality of content. It's a great choice for marketers, businesses, and entrepreneurs wanting to create the highest-quality product quickly.
WordAI offers advanced text spinning, sentence and paragraph rewriting, and other content repurposing effects that help improve your message's originality.
This automated solution by AI provides up to 1,000 rewrites per article backed up with other extended functionalities like bulk downloading, HTML compatibility code view, and much more.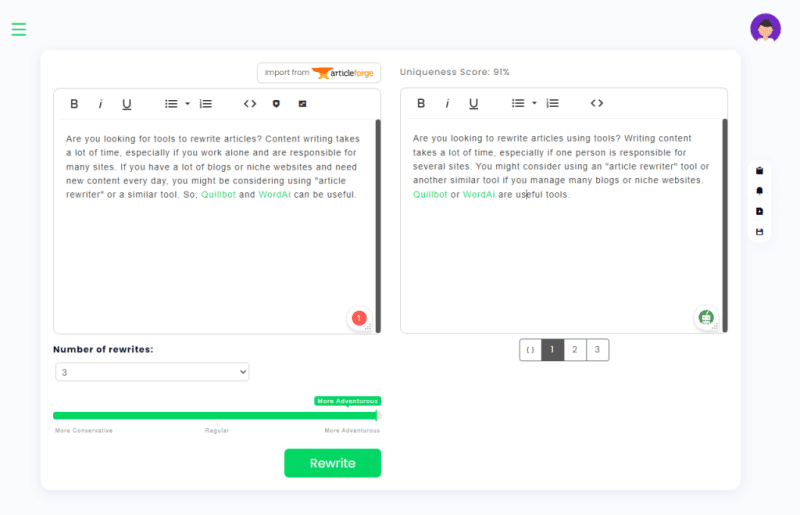 Best For
Starting Price
Free Version
Top 3 Features
Text Spinning
$9/month (Billed Annually)
3-Days Free

Advanced Text Spinning
Sentence and Paragraph Rewriting
Content Repurposing
One of its most salient features is its fast turnaround time; you can enter your content and click "rewrite". In a matter of seconds, it'll produce professional results, improving your output and reducing the hours that go into writing authentic content or editing existing pieces while ensuring accuracy.
Also included are patented algorithms that let you avoid AI detection, such as duplicate content and scripts already running on your page.
WordAI also gives you control over creativity with its Spintax editing features enabling you to restructure sentences while keeping their overall meanings intact, and the repurposing solution lets you up your output 10-fold to cut costs and easily meet project deadlines.
Other tools at play include creative phrase insertion, which helps enrich text descriptions and concisely describe the same concepts differently while improving reading comprehension quality, all in line with word count constraints.
Pricing
Enjoy WordAI's three tiers: Starter for budget-friendly users, Power for substantial rewriting needs, and Enterprise for custom high-volume usage. Enjoy AI-powered rewrites, human-level quality, and Copyscape approval. Plus, a 30-day money-back guarantee ensures risk-free discovery of WordAI's capabilities.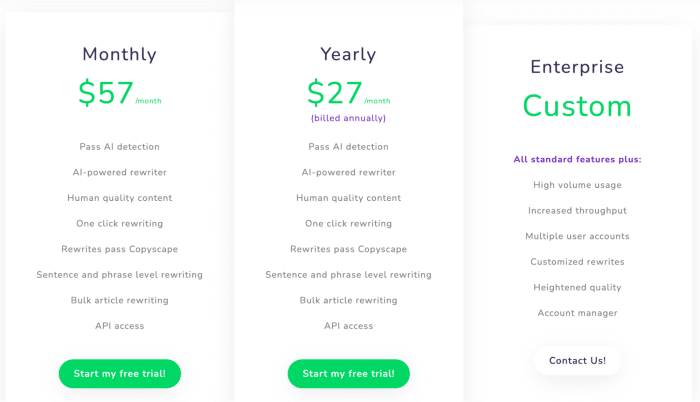 Pros
Bulk article updates for large-scale content operations
Zero plagiarism in generated content
Affordable pricing
User-friendly UI
Cons
Higher-quality content only available under the Enterprise plan
7. Scalenut — Multi-Language Customizable Content Generator
Scalenut, an AI-powered platform, is one of the best AI content generators on the market. It offers a range of features to help with SEO and content marketing. Of these features, Scalenut's AI Copywriter stands out for its ability to create high-quality content that resonates with users' target audiences.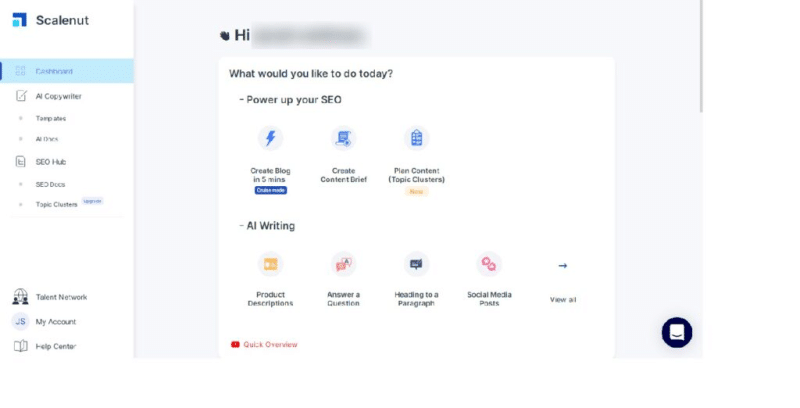 Best For
Starting Price
Free Version
Top 3 Features
Text Spinning
$20/month (Billed Annually)
7-Days Free

Build Keyword Clusters
Integrated Plagiarism Checker
Cruise Mode
With this powerful tool, you can quickly generate creative and reader-friendly content for various needs. The AI Copywriter lets you produce compelling social media copy or long-form content through automated functions such as Cruise Mode and NLP Analysis.
Beyond all this, the integrated plagiarism checker helps ensure quality assurance for all written pieces. That said, another innovative feature is Scalenut's "keyword clusters," which allows you to quickly find related terms to pinpoint other content opportunities.
Then, there's also Cruise Mode, another amazing feature for those after an SEO-AI tool. This increases readability for viewers while optimizing keywords and content, thus boosting visibility on search engines.
While these features have helped many businesses worldwide create compelling written pieces that help reach their desired goals, some users have said they miss being able to create a personalized writing style when using Scalenut's version of automated copywriting.
Pricing
The Essential plan, perfect for individual creators and consultants, provides 100,000 AI words, SEO article creation, 40+ AI templates, SERP analysis, and more — making it phenomenal value for money.
The Growth plan is designed for budding startups and growing businesses and encompasses unlimited AI words, expanded SEO article creation, keyword clusters, page optimization, and WordPress integration.
For large teams and agencies, the Pro plan offers unlimited AI words, advanced SEO capabilities, dedicated customer support, and the option to add extra users.

Pros
Keyword grouping for better SEO
AI interface specifically designed for copywriting
Allows for brainstorming and ideation
Cons
Must manually create your own writing styles
8. CopySmith — For Small Businesses Planning to Scale
CopySmith (now known as Describely) is an AI-powered copywriting tool that promises to revolutionize the way businesses create high-quality content. With its industry-leading Artificial Intelligence and advanced GPT-3.5 algorithm, CopySmith stands out as one of the leading copywriting providers in today's market.
Its sophisticated algorithms have been trained by award-winning copywriters and are designed to help people generate high-quality copy faster than ever before.
CopySmith's core features include AI-driven copy refinement, content quality evaluation, and multiple content categories, all of which make it a powerful creative tool for anyone looking to improve their marketing efforts.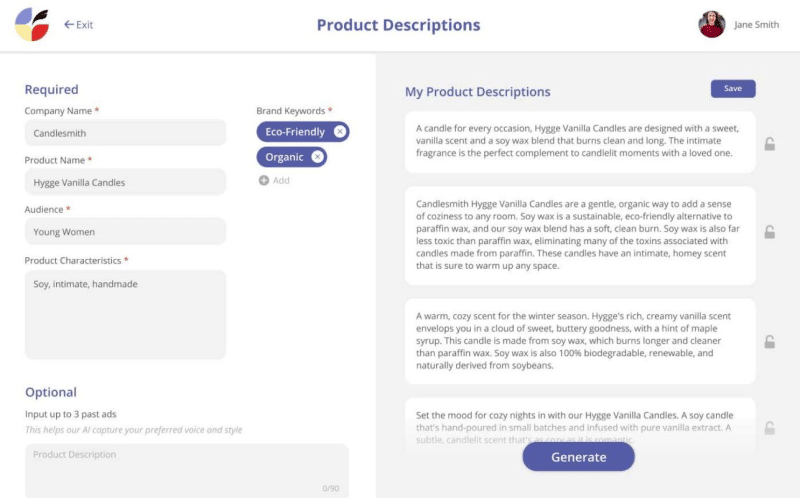 Best For
Starting Price
Free Version
Top 3 Features
Scaling
$19/month
14-Days Free

AI-Driven Copy Refinement
Content Quality Evaluation
Multiple Content Categories
The tool streamlines the process of creating compelling campaigns from concept to launch by auto-suggesting variations for headlines, article ideas, product descriptions, SEO tags, and taglines to significantly improve overall campaign results.
Perhaps what makes Copysmith stand out most is its ability to offer a comprehensive suite of services within just one platform, ensuring top-quality results each time you use it, no matter how diverse your project needs are — in fact, it even helps with Google and Facebook Ads.
Plus, if you're a small business that wants to scale its content, Copysmith also offers advanced reporting tools to evaluate the quality of your campaigns. For example, the AI-driven Copy Refinement feature can be used for keyword targeting and even to evaluate multiple aspects such as readability score or word count.
It's an all-encompassing tool for businesses and is undoubtedly one of the best AI tools for copywriting, but it is worth noting that its interface is a little outdated, which might be a bit confusing at first; however, this doesn't deter our overall recommendation.
Pricing
CopySmith offers three tiers to cater to various needs. These options provide escalating features, from essential AI copy generation and plagiarism checks in the Starter plan to advanced analytics, custom templates, and full API access in the Enterprise tier.

Pros
High-quality content tailored to company needs
Wide range of templates for every form of marketing copy
Fast content generation in hours
Convenient templates to get you from ideation to creation
Cons
Interface isn't ideal for some users
9. Anyword AI — E-commerce-Driven Copy with A/B Testing
Anyword AI is a cutting-edge AI-powered copywriting platform that helps businesses and individuals create high-quality, unique content for their marketing campaigns.
It enables users to quickly generate meaningful content through natural language processing, machine learning, and prompt-based learning algorithms while also offering an innovative predictive performance score to help you maximize the success of your marketing efforts.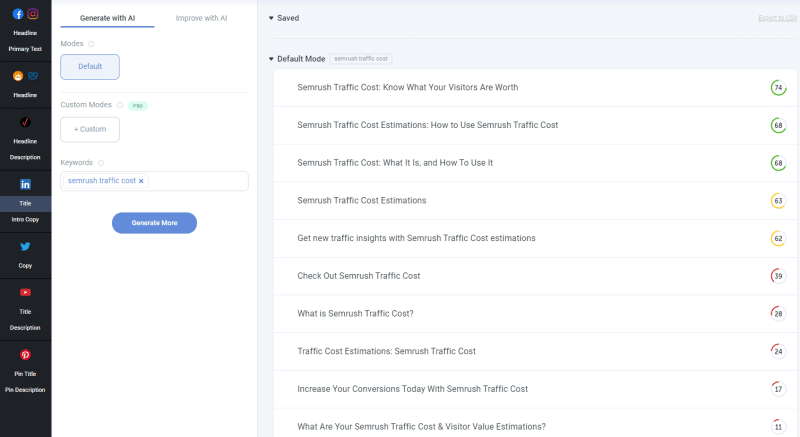 Best For
Starting Price
Free Version
Top 3 Features
A/B Testing
$39/month
7-Days Free

Performance-Driven Copywriting
A/B Testing Integration
E-Commerce-Focused Content
Anyword features a variety of powerful tools designed to streamline content creation, including an AI Writer Generator, which can turn out a wide range of captivating lines with just a few clicks, as well as a Content Generator Tool built specifically for B2B needs.
Furthermore, it simplifies A/B testing integration by providing intuitive scores and rankings based on how effectively the variation will perform in practice. This makes it easy to select the best possible content before going live with a new ad, for example.
In addition, Anyword caters especially to eCommerce customers by creating readymade cold emails optimized for conversions and sales, optimizing press releases according to industry standards, and crafting up social media copy across multiple languages (such as English, Spanish, and French).
It's worth considering that although it's perfect for e-commerce needs, Anyword AI currently has no direct connection with WordPress. This could be a dealbreaker for some, but since the platform enables integration with other powerful tools like Google Ads and Facebook Ads, it presents an adequate workaround.
Pricing
The "Starter" plan is designed for solo marketers and freelancers, providing a seamless solution for generating professional copy swiftly. It includes features such as Data-Driven Copy Generation, performance-driven templates, and predictive analytics.
The "Data-Driven Teams" plan, tailored for small marketing teams, emphasizes performance and on-brand content generation, offering additional benefits like unlimited 1-click performance boosts.
For larger organizations seeking tailored solutions, the "Business" plan offers custom-built Gen AI and Copy Intelligence, incorporating advanced features like Custom Scoring AI Models and Enterprise-Grade Security.

Pros
Saves time by generating large copy needs quickly
User-friendly and easy to learn
Predictive performance score based on personas
Multilingual capabilities
Cons
No direct WordPress connection
ContentBot is the perfect social media content writing AI tool for any digital marketer, content marketer, SEO specialist, or blogger. Working with a wide variety of AI Foundation models, ContentBot can generate high-quality content tailored to your target audience and optimized for search engine performance.
Each feature allows for the creation of comprehensive content strategies in as little as seconds. Its automated social media content feature allows you to create unique content quickly and efficiently. You can even keep track of your marketing performance by leveraging in-depth analytics data resulting from each campaign.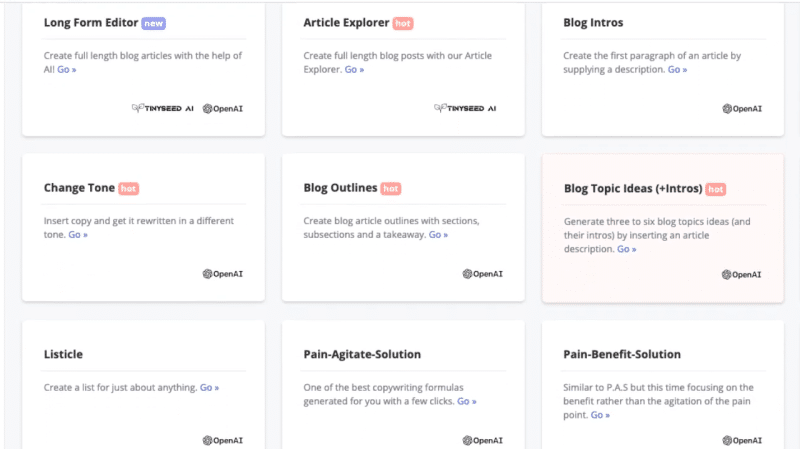 Best For
Starting Price
Free Version
Top 3 Features
Social Media Copy
$1 per 1,000 words
NA

Automated Social Media Content
Hashtag and Caption Suggestions
Content Calendar Management
This means an easier understanding of who's engaging with their content and how well your copy is performing. The hashtag and caption suggestions tool also helps optimize any content for an audience by creating applicable hashtags.
Beyond all this, ContentBot provides comprehensive keyword tracking to maximize search engine optimization (SEO) effectiveness. And it doesn't end there either. There's also a content calendar management feature that allows you to automate and plan projects, boosting your progress across all social media platforms.
At its core, ContentBot offers a comprehensive suite of features designed to help any business or individual create high-quality pieces that are optimized for SEO results.
However, it's worth noting that ContentBot doesn't have a repository of AI prompts like ChatGPT. That said, this shouldn't hinder your experience with the platform, as it still provides great value for content creators.
Pricing
The Prepaid plan provides flexible options for a one-time payment based on word count, while the Starter plan is ideal for those beginning their AI content creation journey.
The Premium plan is designed for startups and content marketers, and the Premium+ plan offers comprehensive features for agencies, including enhanced AI blog posts.
Each plan includes unlimited seats, AI writing, workflow capabilities, and essential tools like SEO optimization and built-in plagiarism checking.

Pros
Free extensions (Chrome and WordPress plugins)
Automated regular blog posts
Provides hashtag and caption suggestions
Range of features (tone-changing and rewriting)
Cons
No repository of AI prompts
Comparison of the Best AI Copy Writers
Now that you know the good and the potential downfalls of each one, here's a quick table comparing all the key details of the best AI copy writers so that you can narrow down your options and get started with the one best suited to your needs and budget:
Best AI Copywriting
Best For
Starting Price
Free Version
Top 3 Features
JasperAI
Any Writing Needs
$39/month
7-Days Free

AI-Powered Content Generation
Content Brief Interpretation
Language and Tone Customization

Copy.ai
Quick Content Generation
$49/month
Free Plan

Writer's Block Solution
Diverse Content Formats
AI-Powered Language Enhancement

Rytr
Those on a Budget
$9/month
Free Plan

Versatile Content Generation
AI Collaboration
Industry-Specific Templates

Writesonic
Engagement & SEO
$16/month
Free Plan

Dynamic Content Creation
Content Personalization
SEO-Friendly Content

ShortlyAI
Summarization & Creativity
$65/month (Billed Annually)
2 Months Free

Summarization and Content Shortening
Creative Writing Assistance
Question Answering

Word ai
Text Spinning
$9/month (Billed Annually)
3-Days Free

Advanced Text Spinning
Sentence and Paragraph Rewriting
Content Repurposing

Scalenut
Multi-Language Content
$20/month
7-Days Free

Build Keyword Clusters
Integrated Plagiarism Checker
Cruise Mode

CopySmith
Scaling
$19/month
14-Days Free

AI-Driven Copy Refinement
Content Quality Evaluation
Multiple Content Categories

Anyword AI
SEO and A/B Testing
$39/month
7-Days Free

Performance-Driven Copywriting
A/B Testing Integration
E-Commerce-Focused Content

ContentBot
Social Media Content
$1 per 1000 words
NA

Automated Social Media Content
Hashtag and Caption Suggestions
Content Calendar Management
How to Choose the Best Copywriting AI Tool
With the rise of the new GPT 4 from OpenAI and the increase in copywriting automation using AI-enabled tools, it's important to know which one will best suit your needs. Here are some things to look for when selecting a copywriting AI tool:
Interface: You don't want to waste time trying to figure out how to use the platform. Look for an intuitive design that allows you to easily navigate between tasks and edit as needed.
Content Formats: Make sure the tool supports the types of content formats you need, such as blog posts, emails, website pages, eBooks, etc., so it can be used with all your projects.
Integrations: Consider whether the AI integrates seamlessly with other applications like Dropbox or Google Docs to save time by automating mundane tasks such as document formatting.
Plagiarism Checker: To maintain the quality and originality of your work, make sure the AI tool has a plagiarism checker so you can avoid inadvertently creating copies of existing content.
SEO: Copywriting tasks should include optimizing keywords and phrases to help improve your search rankings, so be sure to look for an AI tool that includes SEO capabilities.
Pricing: Factor in the cost. Most copywriting AI tools offer subscription-based pricing with varying levels of features and support. Choose one that fits your needs within your budget.
Conclusion | What is the Best AI Copywriting Software in 2023?
Now that we've explored what AI copywriting software is, looked into some of the benefits it can bring to your content creation process, and outlined which software best suits your needs, you might be wondering: What is the best AI copywriting software for 2023?
The answer lies in a remarkable platform developed by Jasper, boasting NLP, NLG, and Analytics capabilities capable of finding topical insights and driving engagement through automated data analysis.
With its own library full of personalized phrases and templates ready to use at any given time, along with freebies – like copyright-free images or SEO advice – Jasper is among the most advanced tools available today when it comes to AI Copywriting Software.
AI Copywriting FAQs
What is AI copywriting software?
Is AI good for copywriting?
Which software is best for copywriting?
Can Google detect AI copywriting?
Will Google punish AI-written content?
Can AI-generated content be plagiarized?
Does AI content hurt SEO?