The best AI marketing tools have opened up new possibilities for businesses to improve their strategies and outmaneuver the competition. By leveraging AI technology, companies can automate their processes, optimize campaigns, and uncover unseen opportunities to target potential customers.
In this article, we compare the 10 best AI marketing tools, presenting an overview of their top features and pricing. These include JasperAI, CopyAI, and Rytr – our top 3 choices for AI marketing automation. We explain the strengths of each tool and which industry it works best for. Read on to learn more about how AI can help you revolutionize your digital campaigns.
The 10 Best AI Tools for Marketing
Here's a quick summary of our shortlist, highlighting the unique selling points of each product and the best of what they have to offer.
The Key Pros and Cons of Using AI for Marketing
Recent studies have shown that 61.4% of marketers have already employed AI tools for business in their marketing activities. This shift towards automation suggests a recognition of the benefits on offer, such as increased efficiency, improved customer experience, and more accurate business insights.
AI can assist in marketing by writing copy, creating images, and automating emails. As AI continues to evolve, it's become increasingly efficient compared to traditional marketing methods of assigning work and relying on manual processes.
Using AI-driven analytics also allows for better targeting and forecasting in the marketing process. This helps promote more personalized campaigns that resonate with audiences more effectively.
Despite its advantages, there are drawbacks when using AI for marketing. Machine learning algorithms are limited by their input data, which can result in unproven bias if customer information isn't properly curated.
If poorly managed, AI-generated content, such as blogs and ads, can sometimes be bland or lack the creative spark needed to connect with an audience. This can lead to decreased engagement and even reduced
SEO
performance compared to content created by human professionals.
While AI's use in marketing offers several advantages, such as task automation and deep personalization, it's worth considering precisely how it's being used and its biases. Assessing the positive and negative aspects can ensure organizations use Artificial Intelligence appropriately.
What Can I Do With AI Marketing Software?
AI marketing software can be a powerful tool to enhance your marketing strategies and customer engagement. There are many uses for AI in digital marketing, from data analysis and content generation to personalization and media buying.
Data Analysis: AI helps marketers collect user data and analyze it to gain insights into customer behavior. Marketers can use this information to create targeted campaigns that speak directly to customer needs and interests.
Content Generation: This is the biggest and most common application of AI in marketing. AI-powered software can use customer data to create fully customized content tailored to each user's demographic and interests. This helps marketers better target their message and reach potential customers more effectively.
Personalization: AI technology can help personalize content based on individual customers' online behavior – providing them with more tailored pages or email messages. This allows businesses to develop deeper relationships with customers by addressing their individual needs.
Media Buying: AI can assist with tasks like digital ad placement, saving marketers time and resources when managing and optimizing campaigns. AI also provides real-time recommendations so advertisers can ensure ads reach the right people with their messages.
Customer Service: One of the most popular uses of AI marketing software is to deploy customer service chatbots. They can answer questions, recommend products and services, and resolve customer complaints – without requiring any manual intervention from customer service agents.
How To Make Money With AI
A study conducted by Statista revealed that, in 2021, the market for AI in marketing hit an estimated $15.84 billion. It was expected to accelerate over the following years, reaching a whopping $107.5 billion by 2028.
This enormous investment in AI technologies points to their utility to increase profitability and cut costs, driving efficient marketing strategies.
There are many other ways you could make money with AI, including offering freelance copywriting services, enhancing digital marketing with technological integrations, and working with businesses on how they can implement artificial intelligence into their operations.
Comparing the Best AI Tools for Digital Marketing
Here's a side-by-side comparison of the top ten AI tools for digital marketing, including their pricing and features.
Best AI Marketing Tools
Best For
Starting Price
Free Version
Top 3 Features
JasperAI
Best Overall
$39/month
7-Day Free Trial
– Copywriting
– Integrated Marketing Campaigns
– Content Strategy
CopyAI
Email Marketing
$36/month
Free-Forever Plan
– Lifecycle Emails
– Nurture Sequences
– Event Promotion
Rytr
Budget-Friendly Online Stores
$9/month
Free-Forever Plan
– Reply to Reviews and Messages
– Product Descriptions
– Call to Action
Writesonic
Ad Setup
$15/month
Free-Forever Plan
– Facebook Ads
– Google Ads
– SEO Meta Tags for Products
LookaAI
AI Design
$8/month (annual)
Free Logo Maker
– Logo Maker
– Brand Kits
– 300 Templates
ShortlyAI
Blog Posts
$5.42/month (annual)
3-Day Free Trial
– Blog Writing
– Powerful Commands
– Unlimited Credits
PictoryAI
AI Video Creator
$19/month
14-Day Free Trial
– Edit Videos Using Text
– Create Shareable Video Highlights
– Automatically Caption Videos
WordAI
Passing AI Content Detectors
$27/month
3-Day Free Trial
– Content Humanizer
– Content Repurposing
– Topic Suggestions
Scalenut
Boosting SEO
$27/month
7-Day Free Trial
– Cruise Med
– Automated Outlines and Keywords
– Real-Time SEO Score
Describely
Ecommerce
$19/month (annual)
7-Day Free Trial
– Centralized Product Data Management
– Bulk Content Edit and Generation
– Versatile Third-Party Integrations
The Market's Top Content Marketing AI Tools Reviewed
Let's dive deeper into these AI tools to see which is the best for your digital marketing needs. We researched and tested all 10 of these tools to see precisely what they can do for your growing businesses:
1. JasperAI — Your Ultimate AI Marketing Tool
JasperAI has become the go-to tool for enterprise teams looking to speed up and improve content creation, and having tested the tool, it's easy to understand why.
With an impressive suite of features, this AI writer and marketing software product has proven itself to be a powerful asset in streamlining various processes, from generating copywriting ideas to creating full marketing campaigns.
Based on reviewing customer feedback, users have seen an 80% reduction in time spent on first drafts, a 40% increase in content downloads, and a 3.5x return on investment, which definitely makes JasperAI worth considering when it comes to efficient enterprise solutions.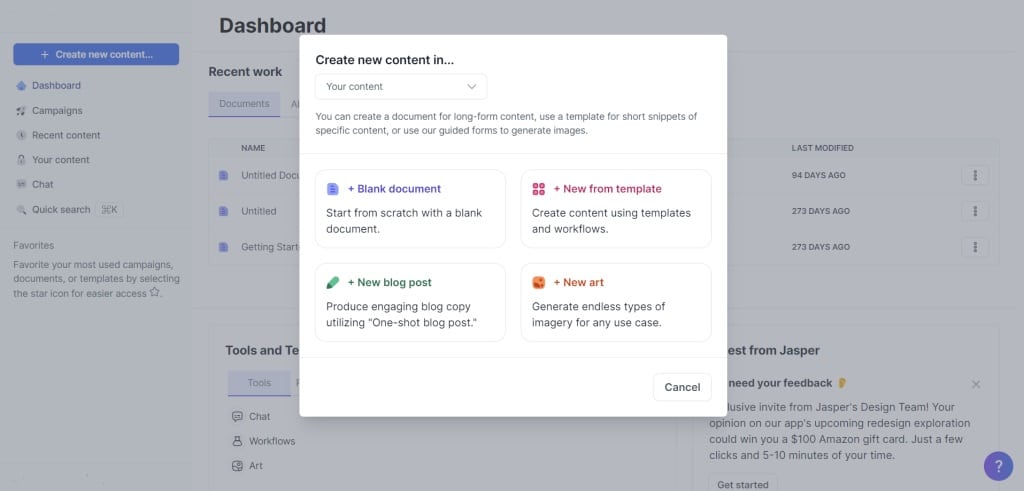 Best For
Starting Price
Free Version
Top 3 Features
Best Overall
$39/month
7-Day Free Trial
– Copywriting
– Integrated Marketing Campaigns
– Content Strategy
One of Jasper AI's primary features is enabling real-time customization of brand voice through AI monitoring techniques, making sure all copy generated reflects your desired objectives while clearly encapsulating your distinct style.
Customers such as Sports Illustrated, Anthropologie, and Sentinel One have used the platform to identify trending topics and quickly publish content – two needs often at the core of successful strategies.
A standout feature for us was the Art Generator feature, which provides a user-friendly environment to visualize ideas prior to execution. You can use simple descriptions or detailed specifications and get a level of advanced control previously only found in specialized tools.
The AI chat feature is a remarkable addition, permitting customers to interact with the platform's AI capabilities in a more human-friendly manner.
It's designed to generate content while also providing contextual and sentiment-based support, ultimately leading to further optimization and success.
One thing to consider is the extra cost for plagiarism detection, which is worth considering when compared to other platforms with similar offerings. Based on our testing, though, Jasper AI is the best AI tool on the market.
Pricing
Jasper's Business plan provides personalized AI features, enhanced control, security, team training, and dedicated tech support.
For those seeking a comprehensive AI experience, the Teams package is the most popular choice, offering advanced features for content creation across multiple brands, collaboration on campaigns, and extensive user management capabilities.

Pros
Easy to use and beginner-friendly
Save money with a consistent stream of high-quality content
Over 50+ AI templates offered
Supports multiple team members
Cons
Plagiarism detection costs extra
2. CopyAI — Achieve AI Email Marketing Mastery
CopyAI is one of the best AI email marketing tools to help businesses produce better copy and content. Since its debut, CopyAI has offered users an unparalleled suite of features for effective marketing.
One of CopyAI's most useful features is its Lifecycle Emails feature, which makes it easy to customize emails for each stage of the sales funnel. With a drag-and-drop builder, users can create targeted, personalized emails that engage customers more effectively than generic templates or stock copy.
CopyAI provides powerful design options and access to analytics and performance reporting – so you can be sure your message is reaching your customers.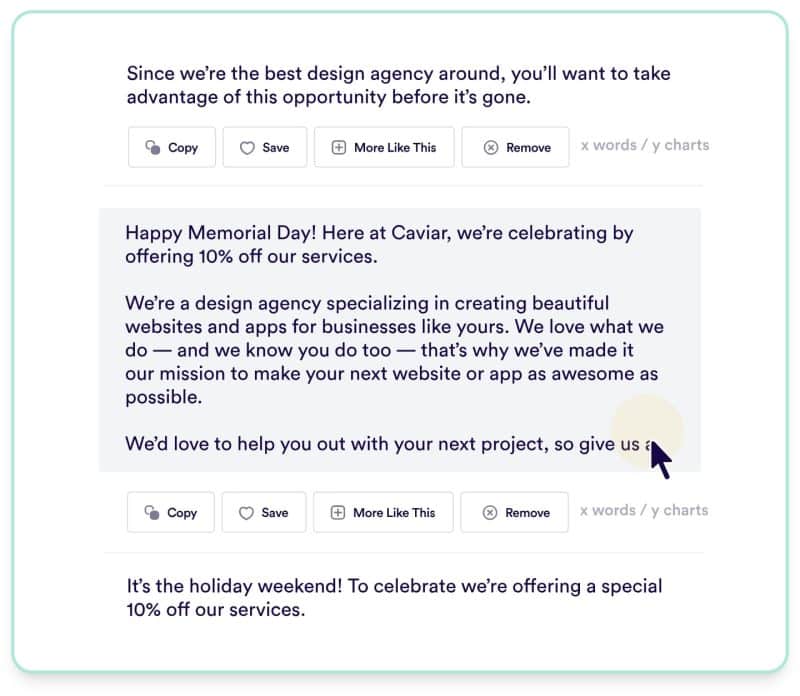 Best For
Starting Price
Free Version
Top 3 Features
Email Marketing
$36/month
Free-Forever Plan
– Lifecycle Emails
– Nurture Sequences
– Event Promotion
The platform also offers Nurture Sequences, which use automated messaging principles triggered by specific events or actions. This helps marketers send custom messages and includes options like adding a user's name or expanding dynamic shortcodes to enrich media content.
By creating unique user experiences through the customer journey, CopyAI can boost engagement and increase revenue.
CopyAI also offers an impressive Event Promotion feature, which helps marketers plan and execute events. With a simple setup process, users can create effective emails with five templates to choose from.
Though there are occasional issues of lag while generating content with CopyAI, this AI marketing tool is an ideal solution when looking for top-level results in email marketing, considering the countless possibilities it offers. It doesn't have quite the range of features as Jasper AI – but it is a little cheaper.
Pricing
Each plan includes the same features, differing only in the number of words available for chat. Users can choose a plan based on their specific word count requirements, ranging from the Free plan for beginners to higher-tier plans for entrepreneurs, growing teams, businesses, and large-scale organizations.
All packages provide unlimited chat, projects, Infobase entries, brand voices, language options, templates, and API access, ensuring a comprehensive AI-powered experience tailored to your needs.

Pros
User-friendly interface that's easy to understand and use
Text editor with blog-style management system capabilities
Great event promotion features
Template support for creating multiple types of content with custom styling
Cons
Occasional lag when generating content
3. Rytr — Elevate Your Online Store Experience
Rytr is one of the best AI marketing tools for online stores. It provides powerful features, including automated replies to reviews and messages, product descriptions, and call-to-action elements that can increase content visibility and engagement levels.
Moreover, with over 40 templates and 30+ languages supported, it's well-equipped to handle large projects.
For businesses wanting to reach as many customers as possible with their digital stores, Rytr presents an ideal solution to help manage reviews and messages while adding persuasive product descriptions and calls to action that engage and convert new customers.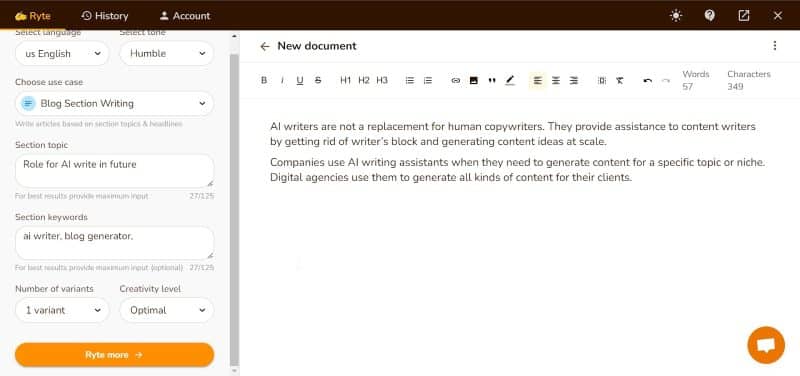 Best For
Starting Price
Free Version
Top 3 Features
Online Stores
$9/month
Free-Forever Plan
– Reply to Reviews and Messages
– Product Descriptions
– Call to Action
Businesses can create eye-catching visuals with Rytr in seconds to draw visitors and significantly increase their sales prospects. The platform also helps users craft quality emails effortlessly by streamlining the review response process with recommendations generated using AI algorithms designed for the purpose.
Its advanced resources allow marketers to modify copy in any language according to regional trends and speech patterns to better connect with local audiences.
Furthermore, Rytr's exclusive call-to-action feature automatically provides users with easy-to-understand prompts that can instantly boost sales.
Although it may not work perfectly for all kinds of content development, Rytr nonetheless presents an excellent option for small businesses that want their campaigns to stand out from the competition in an ever-changing digital landscape.
Pricing
Rytr makes waves with its reasonably priced, character-defined plans. Their Free plan delivers 10,000 characters per month, while the Saver plan supplies 100,000 characters at a budget-friendly price. This means you only pay for what you actually need, making it perfect for all workloads.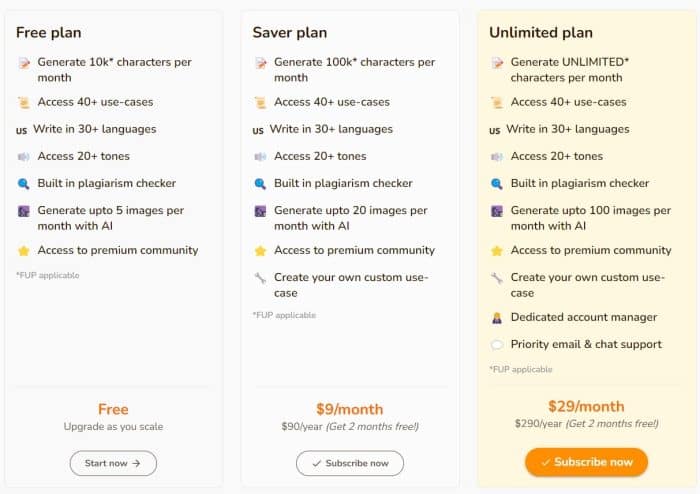 Pros
Develop high-quality content in seconds
Affordable AI writing assistance
Generates content in over 30 languages
Provides 5,000 characters for free each month
Best AI for small business marketing
Cons
May not work perfectly for all content formats
4. Writesonic — Create Compelling Ads at a Minimal Cost
Writesonic is an AI platform that provides cutting-edge solutions to marketing teams. With an extensive range of features, it ensures maximum efficiency in creating content, optimizing SEO, and managing digital ads.
It offers powerful AI tools and versatile chatbots for both businesses and individuals across multiple languages.
The advertisements feature of Writesonic lets marketers set up their campaigns on Google Ads, Facebook Ads, or any other platforms without wasting time on mundane tasks such as the creation of ad copy or budgeting.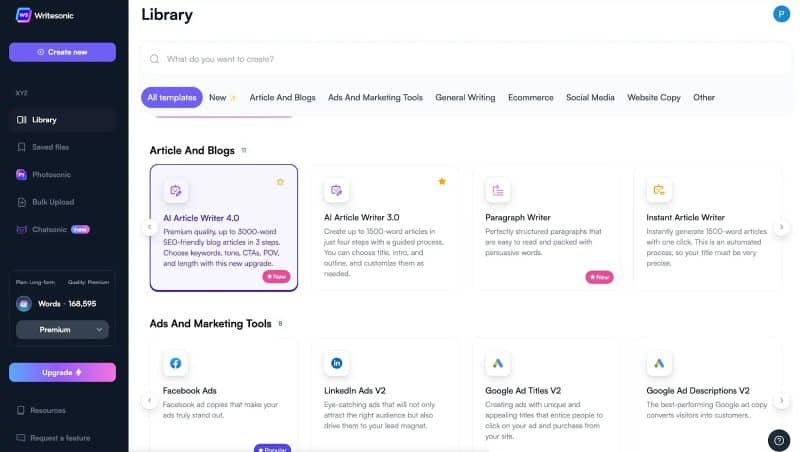 Best For
Starting Price
Free Version
Top 3 Features
Ad Setup
$15/month
Free-Forever Plan
– Facebook Ads
– Google Ads
– SEO Meta Tags for Products
The dashboard shows real-time transparent analytics so you can track performance and instantly get recommendations. What's more, customers can save up to 50% of costs through optimized bidding strategies generated by the AI system based on customer data points such as keywords.
Writesonic also has a dedicated SEO meta tags platform, which helps drive traffic directly from product pages, ensuring improved sales conversions even at low cost or investment efforts from the advertiser's side.
Even while making small changes like no index/follow settings, customers can see a huge difference in visibility among search engines on the product pages they are targeting.
Furthermore, this robust platform allows users to create engaging social media posts using its powerful AI writing tools that generate text from scratch in mere seconds, saving precious time.
These tools can even produce impressive digital art and memes, which can be extremely useful in brand marketing.
Pricing
The Free plan is perfect for small projects, providing access to essential features like Chatsonic, AI Article Writer 4.0, and Sonic Editor. The Small Team plan is ideal for small businesses and enhances your experience with higher word caps, GPT-4 access, personalized article writing, and priority support.
The Freelancers plan, designed for individual content creators, provides unlimited words and includes all the Free features, making it a great upgrade.
For medium-to-large businesses, the Enterprise plan offers tailored solutions, including SSO, custom AI model development, and premium support, providing a comprehensive experience for professional users.

Pros
Offers a straightforward and beginner-friendly user interface
Excels at both short and long-form content
Integrates with Surfer SEO
Affordable
Cons
Word credits don't carry over when resubscribing
5. LookaAI — Complete Control Over Brand Design
LookaAI differs from the other tools on this list as it specializes in AI-powered logo designs. Launched by Dawson Whitfield in 2016, Looka is a platform that makes design more accessible and straightforward for businesses, in turn making it one of the best AI tools for social media marketing.
It has incredibly powerful capabilities, including generating custom logos, brand kits with their associated colors, fonts, and, of course, the logo itself. Users also get access to high-resolution logo files once they've finalized the design – perfect for printing onto products or promotional materials.
If you need to create logos for a business or product, then LookaAI provides an incredibly easy-to-use solution. The platform has over 300 ready-made templates you can customize with branding elements and colors. You also have the option to create custom logos using its AI-powered logo maker.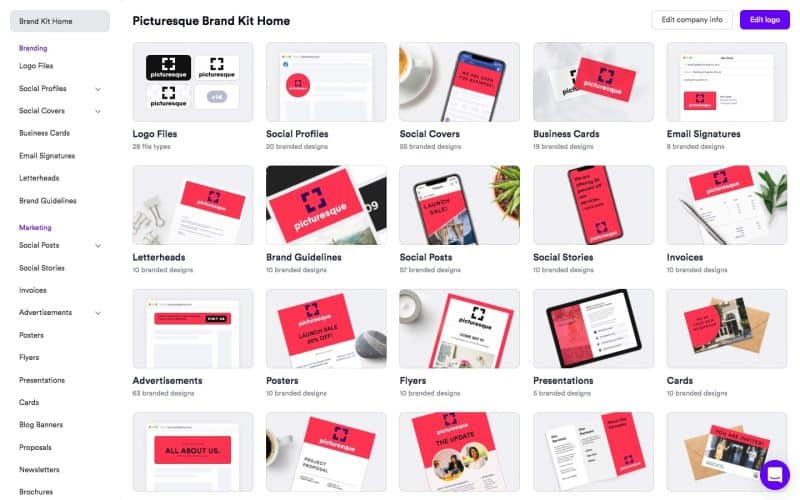 Best For
Starting Price
Free Version
Top 3 Features
AI Design
$8/month (annual)
Free Logo Maker
– Logo Maker
– Brand Kits
– 300 Templates
This speeds up logo creation and helps ensure consistency across products, websites, and other materials. With its intuitive editor, it's simple to make minor adjustments or alterations until you're satisfied with the design.
In addition to creating custom designs for businesses, LookaAI also provides users with access to a Brand Kit, which provides pre-formatted versions of their logo for social media usage, as well as business cards.
It takes the stress out of sifting through hundreds of font styles and picking one that fits perfectly for both online and offline purposes – making it one of the most useful tools on our list today.
There are limited customization options available after purchase, though this is only applicable when it comes down to large-scale projects that require multiple iterations and changes before publishing online or in print.
Looka also has some minor restrictions when it comes to customization post-purchase. Above all, LookaAI is an incredibly powerful, user-friendly platform for AI design – one that any business, regardless of size or complexity, should consider using.
Pricing
LookaAI offers two comprehensive subscription plans tailored to different business needs. The Brand Kit Subscription provides essential tools for starting a business, including unlimited logo changes, full logo ownership, hi-res and vector files, social media assets, business collateral, and exclusive offers.
For those seeking a complete online presence, the Brand Kit Web Subscription includes all the features of the Brand Kit plan and an AI-generated website.
Additionally, LookaAI offers standalone logo packages catering to different budget and file type requirements, with options for unlimited post-purchase changes and lifetime technical support.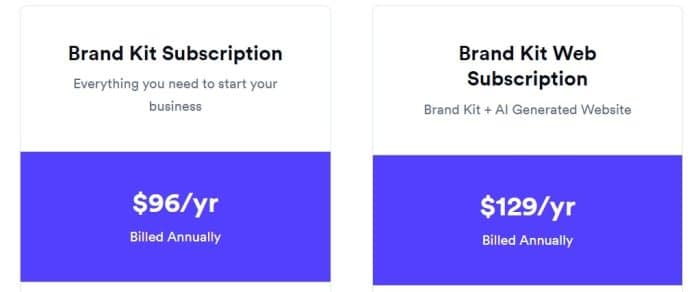 Pros
Can create a logo in minutes
Affordable plans to fit different budget needs
Complete branding suite to create business identities
Produces beautiful and highly customizable logos
Cons
Limited customization options available after purchase
6. ShortlyAI — Rapid Blog Creation With Limitless Possibilities
ShortlyAI is a revolutionary AI writing partner that makes it easier and faster to produce quality content. With its cutting-edge technology, interactive writing with users, and commands for optimizing text passages, ShortlyAI gives writers the tools to overcome writer's block and create articles quickly.
Not only does ShortlyAI come with blog writing capabilities, but its powerful commands can significantly improve your output quality while saving you valuable time. And with unlimited credits, you never need to worry about running out of uses.
The first feature that stands out with ShortlyAI is the ability to generate content from keywords. Whether you need a short story, a blog entry, or even a longer article, this AI writing partner helps you get it done quickly and efficiently.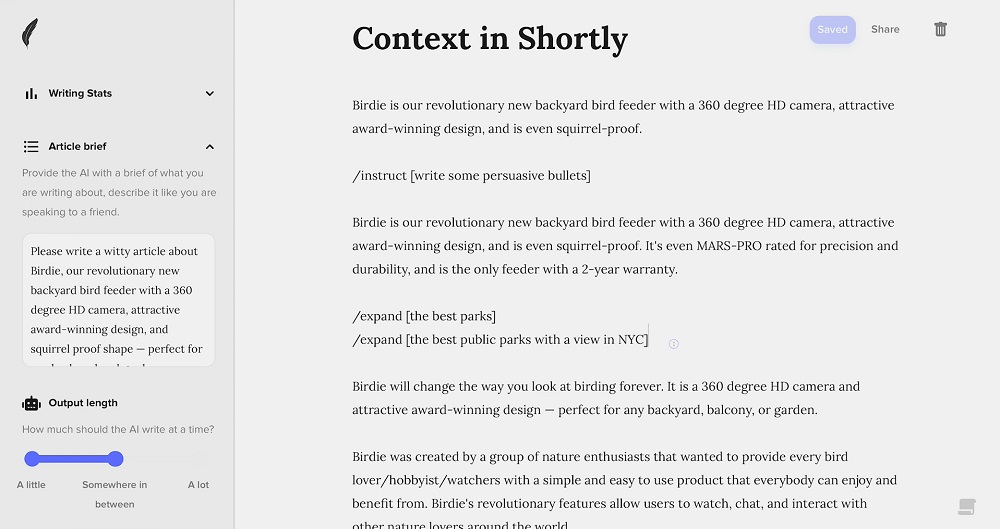 Best For
Starting Price
Free Version
Top 3 Features
Blog Posts
$5.42/month (annual)
3-Day Free Trial
– Blog Writing
– Powerful Commands
– Unlimited Credits
The program uses GPT-4 from OpenAI for interactive writing with users to generate relevant text for different use cases. Once created, you can also optimize your passages using powerful commands integrated within ShortlyAI for further text customization.
Another standout feature of ShortlyAI is the affordability factor – whether you're a hobbyist or a professional writer looking to save on content curation costs, this solution gives you unlimited credits when using its services.
This means no more worrying about post and page limits or running out of credits – allowing writers to focus their time and energy on perfecting their crafts instead.
Perhaps the only thing to consider with ShortlyAI is that it currently works exclusively in English.
Pricing
You can choose a monthly or annual subscription for ShortlyAI. Both options provide access to the full suite of features.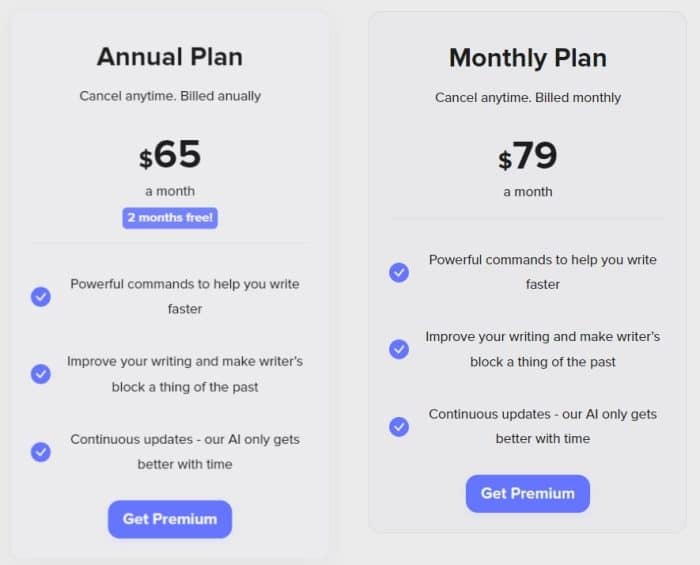 Pros
Intuitive and easy-to-use interface
No limit on the amount of text you can create
Interactive and engaging writing process
Rapidly produces high-quality content
Cons
Currently only works in English
PictoryAI is an AI-powered video editing software that gives marketers and businesses the ability to quickly create, edit, and caption videos for brand building and product marketing. This cloud-based platform offers a range of outstanding features, like converting longer pieces of text into short, shareable videos in a few minutes.
It even adds captions automatically. For companies requiring collaboration among multiple team members, PictoryAI has a Teams Plan available with plenty of additional features beyond the initial tier but at an extra cost.
The core feature of PictoryAI is its Edit Videos Using Text tool, which allows users to easily convert their blog posts or other text sources into shareable video highlights within minutes. This creates engaging content for social media channels and is packaged as part of the brand's digital marketing strategy.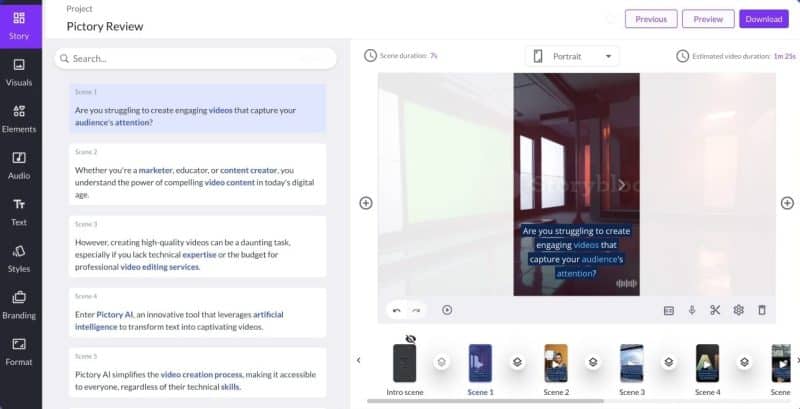 Best For
Starting Price
Free Version
Top 3 Features
AI Video Creator
$19/month
14-Day Free Trial
– Edit Videos Using Text
– Create Shareable Video Highlights
– Automatically Caption Videos
On top of being able to drag and drop elements around your canvas, you have access to various music tracks in addition to more than one million free HD stock images.
The powerful automated captioning tool also makes it easier for marketers who wish to make their videos accessible without having hours spent manually captioning them first.
The comprehensive Teams Plan from PictoryAI includes advanced features such as allowing multiple users to work on the same project, creating video control portals, and tracking the performance metrics feed of each campaign.
You get full access to all these features but with the added cost of a higher-tier subscription.
Pricing
PictoryAI's Standard plan is perfect for beginners, providing 30 videos, 10 hours of video transcription, and three customizable templates each month.
The Premium plan caters to professional creators and small-to-mid-sized organizations, offering extended benefits such as 60 videos per month, 20 hours of transcription, Getty images, automatic voice-over synchronization, and Hootsuite integration.
For collaborative teams, the Teams plan at $99 per month expands on the Premium features with three users per account, 90 videos per month, and enhanced sharing and collaboration tools.

Pros
Great at finding suitable media files for text
StoryBlocks allows users to get images and videos on one subscription
Perfect product for bloggers to turn posts into compelling videos
Saves users time by automatically finding relevant visuals based on content
Cons
Not all features are included in the initial tier, so upgrading is recommended
8. WordAI — Seamlessly Craft Organic Content
WordAI is one of the most advanced text-rewriting tools today. The artificial intelligence-powered technology uses machine learning models to effectively restructure and rewrite complete articles while preserving the original meaning and context.
Content created using WordAI can easily pass AI detection, ensuring content remains unique without compromising its readability or search engine optimization.
Despite Google's statement that they don't penalize AI-generated content, every blogger wants to ensure their content won't be flagged by search engines.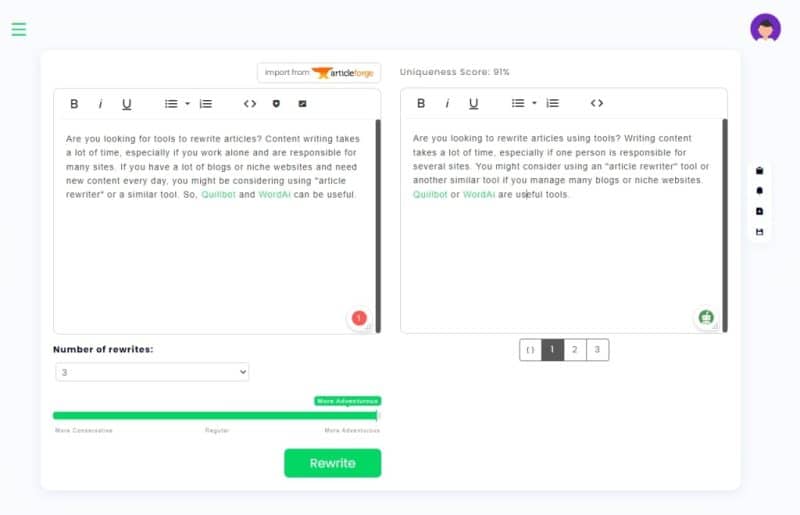 Best For
Starting Price
Free Version
Top 3 Features
Passing AI Content Detectors
$27/month
3-Day Free Trial
– Content Humanizer
– Content Repurposing
– Various Topic Suggestions
The best way to ensure this is through WordAI's Humanizer feature, which rewrites the text with substitute words and modifies its sentence structure while keeping the original meaning intact.
It also has a feature that suggests various topics related to your query and helps create convincing topic sentences for articles. Content repurposing adds diversity and depth to already published content without seeming too repetitive or SEO-optimized.
With WordAI, you can easily repurpose existing information with different synonyms and alternative sentence structures using "skip-words" technology.
This allows multiple versions of content accessible in different languages backed up by Natural Language Processing (NLP) technology from IBM Watson Alphabet Inc's Google Cloud Platform APIs.
All these features save time when rewriting and revising bulky amounts of text for any purpose, such as blog articles or even mobile app descriptions, with the help of canned sets from WordAI's quick rewrite library.
WordAI supports bulk article rewriting with an option for integrating application programming interfaces [APIs] into other applications, making automated marketing easier than ever before.
There are annual options for smaller businesses that don't need enterprise-level features or services, and the free trial allows customers to test before deciding whether or not they should invest in the product. The only downside is that WordAI can be expensive for some users, but its host of features certainly makes up for it.
Pricing
WordAI has three tiers – Starter, Power, and Enterprise. Take advantage of a 30-day money-back guarantee to ensure satisfaction with your purchase.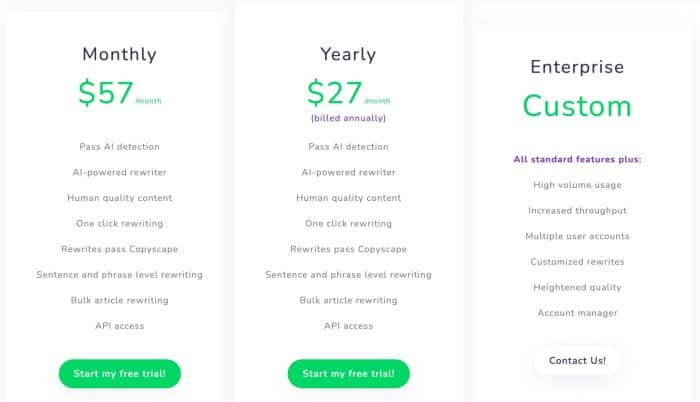 Pros
User-friendly interface that's very easy to use
Produces unique, high-quality content
Offers various rewrite options
Allows for bulk article updates
9. Scalenut — Boost SEO and Optimize Engagement
Scalenut has quickly made a name for itself as one of the best AI digital marketing tools available. Its popularity is largely due to its impressive features that help your business improve SEO and content production.
From auto-creating outlines, keyword recommendations, and real-time SEO score tracking to automated question-and-answer generation capabilities, Scalenut provides an essential service needed for any successful digital marketing campaign.
The 'Cruise Mode' feature gives insight into what topics are trending so you can stay ahead of the competition and create content tailored to user interests.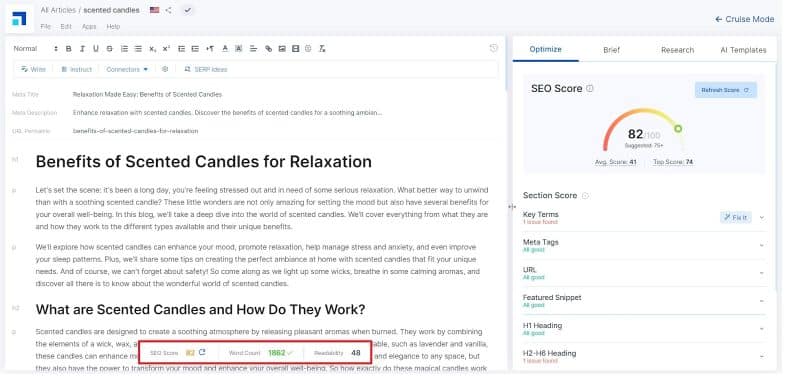 Best For
Starting Price
Free Version
Top 3 Features
Boosting SEO
$27/month
7-Day Free Trial
– Cruise Mode
– Automated Outlines and Keywords
– Real-time SEO Score
It uses Natural Language Processing (NLP) terms to generate engaging yet reader-friendly content – a key factor in gaining organic traffic on search engines. With limited time investment per blog post, Scalenut simplifies the process of creating interesting content without compromising on quality or visibility.
The Content Optimizer allows people to maximize their ranking with detailed analysis insights on how well each page and each keyword are performing in search engine results pages (SERPs).
By using this tool, you gain access to valuable consumer data. This can shape your long-term digital strategies and help you drive more organic traffic to your platform.
The AI-powered Marketing Copywriter is well-equipped to write sales copy and extend your brand's reach into new markets. This AI writing assistant uses advanced machine learning techniques and natural language processing to create higher-quality content in many languages.
With Scalenut's Traffic Analyzer, users can leverage informative analysis regarding overall website performance, including how it takes on competition for keyword searches and SERP visibility.
Pricing
With Scalenut's Essential plan, there's something for every creator and consultant. Get 100,000 AI words, SEO article creation tools with more than 40 AI templates, SERP analysis, and much more.
With the Growth plan specifically tailored to budding startups and growing businesses, you get unlimited AI words, keyword clustering, page optimization, and WordPress integration.
For larger teams and agencies, we have a Pro plan featuring advanced SEO capabilities, dedicated customer support options, and the ability to add extra users.

Pros
High-quality NLP in content generation
Users praise Scalenut's content generation speed
Generates excellent content
Simple and easy-to-use UI
Cons
Lacks additional comment/bookmark section
10. Describely (aka Copysmith) — Streamlined Ecommerce Solutions
Describely (formerly Copysmith) is a great tool for anyone looking to take their ecommerce business to the next level.
Its AI-powered integration and product management capabilities allow users to efficiently create high-quality SEO-optimized content at scale, all while retaining complete control of any changes made.
With the ability to import your entire catalog and manage products in one centralized place, Describely provides manufacturers and retailers with a dependable solution that can help them maximize their SEO performance.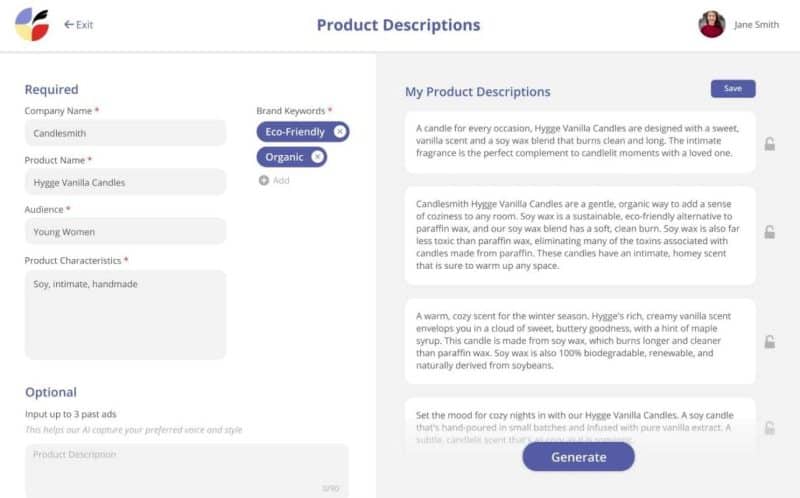 Best For
Starting Price
Free Version
Top 3 Features
Ecommerce
$228 per year
$19/month (annual)
– Centralized Product Data Management
– Bulk Content Edit and Generation
– Versatile Third-Party Integrations
One of the major advantages of Describely is its bulk content edit and generation feature, which allows users to generate large batches of content quickly. This can be especially useful when launching new product lines or replacing existing descriptions for an array of SKUs.
For those using third-party CMSs such as Shopify or Salsify, Describely also offers seamless integrations, so you don't have to worry about duplicating information across different platforms – everything is kept together. Further integrations with Wix and Amazon are in development, too.
For maximum efficiency, you can do bulk product content creation and optimization tasks. Even better, you can use Describely's SEO-optimization features to plan keywords for new products and score existing content against SEO best practices.
Its AI technology will automatically suggest words and phrases more tailored toward the specific product or service you are trying to promote.
Although learning how to use this tool effectively may take time, the effort is certainly worthwhile for those hunting for a powerful solution that can help save time.
All in all, Describely represents a great value proposition compared to other solutions on the market as it offers a range of features – from bulk editing capabilities to seamless integrations with popular CMSs – designed with the ecommerce professional in mind.
Pricing
Describely offers three plans – Starter Annual, Pro Annual, and Enterprise Plans. These provide different features, from basic AI copy generation and plagiarism checks with the Starter option to more complex analytics, custom templates, and API access in the Enterprise plan.

Pros
High-quality content creation
Bulk product content generation
SEO optimization
Integration with ecommerce tools
What is the Best Free AI Marketing Tool?
CopyAI is rated as one of the best free AI tools for digital marketing today. It's easy to use and comes with high-quality content generation capabilities.
It supports multiple languages, offers preset/custom tones for various audiences, and is intuitive and easy to learn, making it nearly perfect for professionals who want to produce content effortlessly.
Its free tier is great for those getting started with AI marketing, as it offers one seat, 2,000 words, and 200 bonus credits.
While free tools are good for smaller projects or when budget is an issue, paid solutions offer more features that can improve the quality of your work as well as the efficiency of your workflows.
Paid solutions typically come with greater flexibility and control over content production processes, meaning you can generate a higher quality of output.
If you're ready to take your marketing strategies up a notch, we recommend considering upgrading to these paid solutions instead of relying on free ones.
How to Choose the Best AI Marketing Software
Due to the rise in popularity of ChatGPT, many AI-based marketing tools have come to market recently. To help make your decision easier, there are a few key factors you should consider when selecting the best marketing AI tools for your business:
Ease of Use
Most AI content generator is very simple to use. However, some platforms, such as ShortlyAI, offer commands that require a little bit of learning. Also, AI design tools such as DALL-E and LookaAIcan can be tricky to use initially, so it pays to look for options that provide easy-to-follow tutorials.
Price
You'll need to calculate how much budget can be allocated and what features are necessary for your business needs. Some features may require a higher plan or add-on tools, increasing the total investment.
Reputation
When choosing any AI marketing solution, research into its reputation is key. Many products have pros and cons, and opting for a product with a good track record and references from trusted sources will give you peace of mind from knowing you made the right decision.
Accuracy and Built-In Plagiarism Checkers
Ensure that any AI content generator tool you select has built-in plagiarism checkers to ensure your content is accurate and unique before posting online. Also, test samples of generated copy on multiple platforms, such as Google Docs, to get a sense of accuracy levels before launching content campaigns.
GPT Version
Finally, be sure to check the GPT version of your AI content generator when making your decision. The newer versions come with more advanced features, giving you an advantage over competitors in speed and quality of generated content. GPT-4 is commonly used today for better and more updated output.
How to Use AI in Marketing – A Quick Guide
In this section, we'll provide a detailed step-by-step guide on how to use JasperAI for marketing purposes.
Step 1: Create an Account
Create an account with JasperAI by providing your name, email address, and password. You can either use your Gmail or sign up for a new one.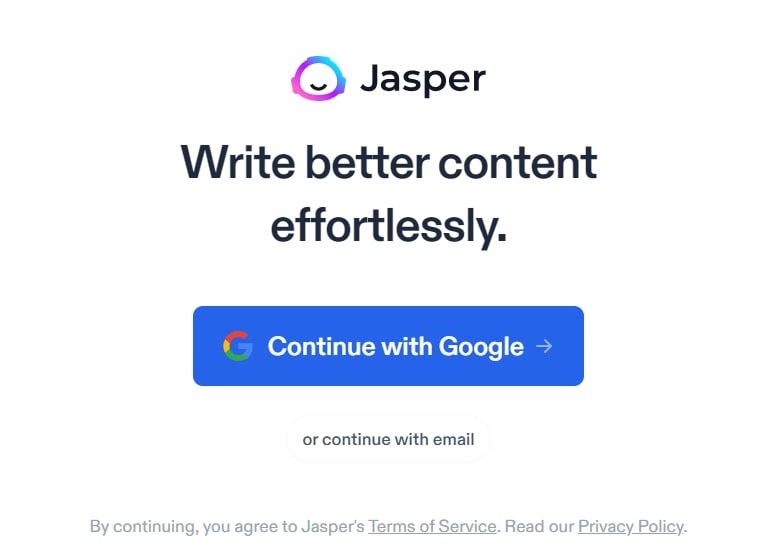 Step 2: Choose Your Plan
JasperAI offers different plans to suit your marketing needs. Review the plans and determine which one best fits your strategy.

Step 3: Familiarize Yourself with the Dashboard
Once logged in, get familiar with JasperAI's dashboard. Look for sections on data analysis, campaigns, content creation, and more. Start by exploring each section and how everything works together.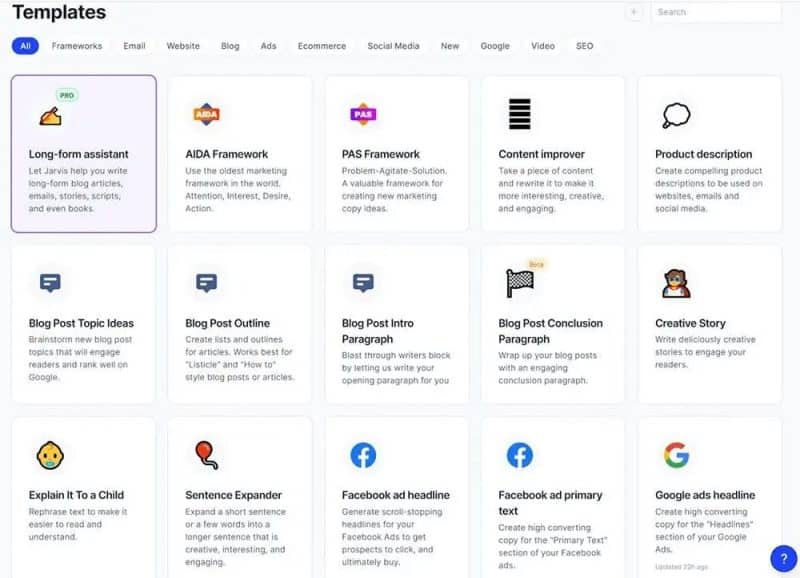 Step 4: Define Your Audience
In the project settings, define your target audience; this is important as it helps create content specifically tailored towards them with greater impact potential.
You can add filters such as location or interests depending on what type of content optimization you need for maximum success rate with that particular demographic segmentation strategy.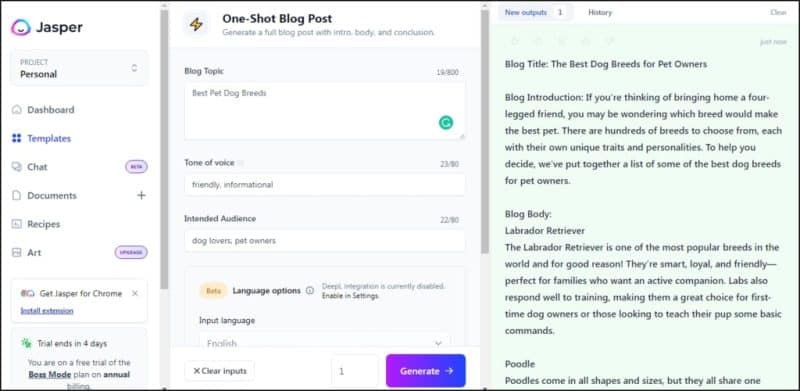 Step 5: Generate Content
When ready, click 'Generate Content' and decide what kind of content needs to be created (blog post, social media post, email campaign). Provide a brief description or keywords related to the topic.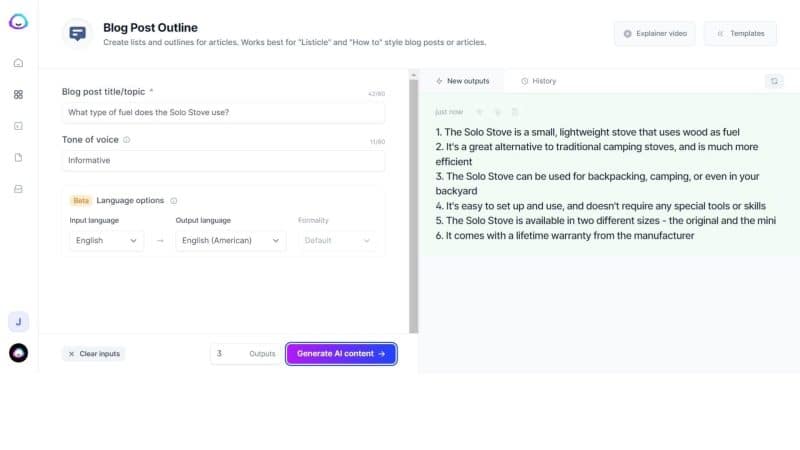 Our Other AI Tools Guides
If you want to learn more about different AI tools, we have a range of guides that'll help you find the right solution for your project.
Conclusion – What is the Best AI Marketing Tool to Use in 2023?
After thoroughly reviewing the features and capabilities of each AI marketing tool on this list, it's clear that JasperAI is the best AI marketing tool for 2023.
JasperAI offers powerful machine learning capabilities, integrated customer data analytics and reporting, automated tasks, dynamic segmentation optimization, and more.
These features combine to make it the best choice for businesses looking for an AI marketing solution that is both reliable and cost-effective. Its simple user interface makes it easy to set up and use with minimal impact on daily operations. It's one of the best marketing tools around and an outstanding AI marketing platform.
Marketing AI FAQs
What is the best AI tool for digital marketing?
What is the best use of AI in marketing?
What is the best AI for B2B marketing?
How do you make money with AI?
What are the disadvantages of AI in marketing?
What is the best free AI tool for marketing?
References