The best AI voice generator will help you construct human-like AI voices for both audio and video content. You can create social media content and audiobooks, translate books and videos, and even learn a new language by talking with AI in real-time. Plus, you'll be able to choose from hundreds of preset AI voices or generate a new one by providing your own voice as input.
However, with a new AI tool being launched almost every day, picking an AI voice generator can be a difficult task. That's where we come in. We've done the hard yards for you and found and reviewed the 10 best AI voice generators based on criteria like affordability, collaboration capacity, number of languages offered, and customer support, among other factors. Read on to find out why MurfAI, LovoAI, and Altered have emerged as top choices in a competitive market.
The Top 10 AI Voice Generators Ranked
Here's a quick look at our top picks for the best AI voice generators to give you an idea of what to expect from our comprehensive guide:
Why Use an AI Voice Generator?
AI voice generators offer many advantages over traditional sound and voice editing tools. These include:
Save Production Time
AI voice generators let you create human-like voices in no time. They are perfect for reducing time spent creating audio content, such as voiceovers, podcasts, or automated customer service responses. You can also save time on editing and the recording process.
Save Money
This is an obvious benefit of using a voice generator. You can save money you would otherwise spend on hiring a professional narrator, including salaries and other recurring payments.
In essence, you can produce high-quality content while reducing costs. Plus, if you're looking to make money with AI, you can create and upload content on YouTube, Spotify, and other digital platforms.
Automation
Once you enter the script, the AI voice generator will automatically start producing content, enabling you to create a large amount of audio content quickly. They can be helpful for automated tasks like customer support, chatbot, and content narration.
Personalization and Consistency
Voice generators can produce various voices, letting you experiment with the accents and tones that work for your target audience. You can customize voices for narration, audiobooks, and marketing.
This level of personalization can help you develop a unique voice that enhances customer recognition and engagement.
Generate Voice in Multiple Languages
With a voice generator, you can generate audio in any language you like. These systems use algorithms that help analyze the sample volume and generate a synthetic version.
The AI will then analyze the soundtrack and generate audio, translating text and audio automatically. With multiple languages to choose from, you can then connect with audiences worldwide.
Unlimited Content
Instead of writing a script and casting actors, as with traditional content creation, you can look at a list of AI voice actors or listen to audio samples before coming up with innovative ideas for new content. You can also couple the technology with the best AI story generators to get unique script ideas.
A Quick Comparison of the Top Voice AI Solutions
Here's a table highlighting the key differences between each of our top picks so you can compare them side by side and make an informed purchase decision.
| | | | | | |
| --- | --- | --- | --- | --- | --- |
| Best AI Voice Generator | Starting Price | Free Version | Text-To-Speech | Voice Cloning | Languages |
| MurfAI | $19/month | Free plan | Yes | Yes | 20+ |
| LovoAI | $19/month | Free plan | Yes | Yes | 100 |
| Altered | $49/month | 7-day trial | Yes | Yes | 75+ |
| VoiceOverMaker | $10.65 (for 60 characters/credits) | Free plan | Yes | N/A | 30 |
| Synthesia | $22/month | Free demo | Yes | Yes | 120 |
| Voiser | $15/month | Free trial | Yes | Yes | 75+ |
| Listnr | $9/month | Free plan | Yes via API | Yes | 142 |
| KitsAI | $9.99/month | Free plan | Yes | N/A | 60 |
| Uberduck | $8/month (annual) | Free plan | Yes | Yes | 25 |
| ElevenLabs | $1/month | Free plan | Yes | Yes | 29 |
Reviews of the Best AI-Generated Voice Makers
Eager to get the best voice AI generator for your next project? Read on, and we'll now discuss each of our top picks in detail, including their best features, pros and cons, and pricing. Ready?
1. MurfAI — Overall, the Best AI Voice Generator
MurfAI's high-quality audio output delivers studio-level quality. The best part is that it lets you get started for free, and even with the free plan, you get to try all the 120+ voices before you finalize your pick.
It doesn't require any credit card details to get started and even lets you bring up to three users on board. Although it doesn't allow you to download your track, you can still share it with others via a link, so this plan is perfect for the initial stages of a project.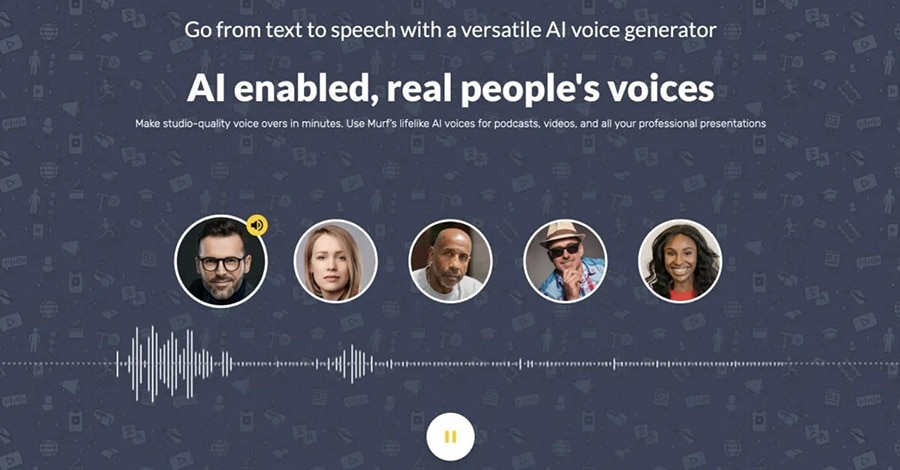 | | | | | |
| --- | --- | --- | --- | --- |
| Starting Price | Free Version | Text-To-Speech | Voice Cloning | Languages |
| $19/month | Free plan | Yes | Yes | 20+ |
If you want to unlock the full capabilities of the tool, you should switch to a paid plan. The paid options come with tons of extra perks. For instance, it gives you access to 8,000+ licensed soundtracks.
And there's no need to worry about licenses – every MurfAI user gets commercial usage rights for these tracks. You can use this feature to jazz up your audio and add a backing track to it instead of just having a plain voiceover.
The paid plans also let you experiment with different languages. Depending on the plan you choose, you can get up to 20 languages and accents. If you want to release your content in multiple languages but don't have access to a language expert, MurfAI is a superb tool.
It also comes with a native AI translator solution available as a paid add-on for the Enterprise plan – you do have to pay extra, but it's a far cheaper alternative to hiring a language expert.
It also comes with one of the best AI voice changers that takes your own voice and polishes it with 120+ voices from its library. One very minor drawback is that if you want vocals for music, you might consider KitsAI. All-in-all, though, it's an affordable solution with a huge range of features.
Pros
Generous free-forever plan with 120+ voices
Supports 20+ languages and accents
8,000+ licensed tracks with commercial usage rights
Doesn't require a credit card to subscribe to the free plan
Cons
AI translation is available only on the Enterprise plan and only as a paid add-on
2. LovoAI — Award-Winning AI Voice Generation Tool with 500+ Voices and 100+ Languages
LovoAI is an award-winning AI voice generator with a massive collection of 500+ voices and 100+ languages. Although it doesn't have quite as many features as MurfAI, LovoAI also offers a great free plan for new users.
Its paid plans, however, bring a lot to the table. For instance, LovoAI has recently launched a collection of hyper-realistic voices that consistently replicate human speech – as if the audio had been recorded by a voice artist in a studio. This makes it one of the most realistic AI voice generators out there.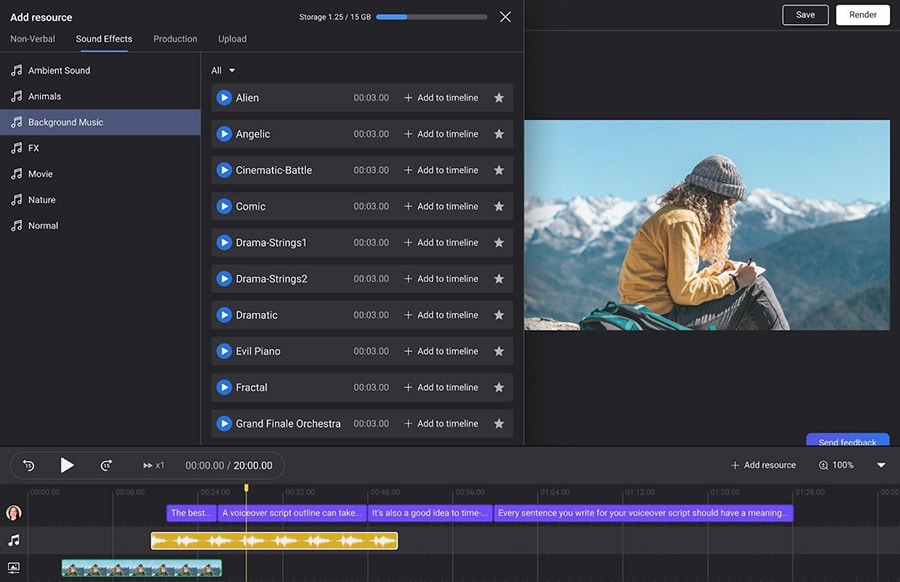 | | | | | |
| --- | --- | --- | --- | --- |
| Starting Price | Free Version | Text-To-Speech | Voice Cloning | Languages |
| $19/month | Free plan | Yes | Yes | 100 |
Another interesting feature that caught our attention was voice cloning. If you have an audio file, this tool lets you clone your voice and then swap it with the voice in the recording so it sounds like you're the one speaking.
The best part about LovoAI, though, is that it offers more than just voice generation – it's an all-in-one AI generation tool for content creators.
Along with voice generation and editing, you also get access to AI text and art generators on the pro plan. If you have a podcast, you can use the voice generation tool to record episodes and the art generation tool to market your podcast on social media channels.
The AI art generator produces compelling images within seconds by using simple prompts as inputs. Similarly, you can use the Genny AI writer to generate scripts for your podcast series or YouTube videos.
If you're a pro user, you also get a priority queue, which means you join a separate line and get your audio generated much faster. What's more, the Pro+ plan also provides 400+ GB of storage for your media assets, so you don't have to sacrifice space on your device.
Pros
Voice cloning available
400+GB storage for Pro+ users
Access to 100 languages and 500 voices
Pro plan comes with an AI text and art generator
Cons
Videos on the free plan have a noticeable watermark
3. Altered — Great AI Voice Editing Tool to Manipulate Your Voice
Altered is the best AI voice editing tool – it's perfect for those who want to keep their own voice but make it sound better and perhaps more professional. For instance, it comes with an AI-powered voice cleaner that removes gaps in conversation.
Common verbal fillers like stutters, "ums," and "ahs" can make audio sound amateurish, especially if it's not used in dialogue. But thanks to Altered's voice cleaning tool, you can remove these disturbances in a few clicks.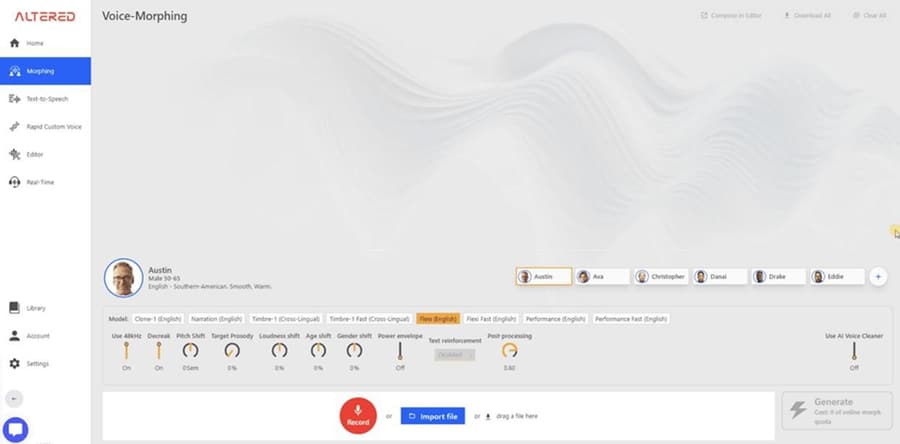 | | | | | |
| --- | --- | --- | --- | --- |
| Starting Price | Free Version | Text-To-Speech | Voice Cloning | Languages |
| $49/month | 7-day trial | Yes | Yes | 75+ |
It'll also take care of other annoying sounds like lip smacking or teeth grinding so that the final audio comes out flawless.
For the best results, you should pair this feature with the AI denoiser, which removes non-voice sounds from the background. If you're recording in your room, and the recorder catches the sound of your fan in the final audio, this will be easily deleted by Altered while cleaning the audio.
What makes these features even better is that they work on independent audio files as well as on audio embedded in videos.
Even if you want to completely change the voice, you'll have plenty of options on Altered. Depending on your chosen plan, you can get six to 20 professional voices and 800+ general voices, putting it ahead of LovoAI in this respect.
You can also create custom voices by mixing and editing existing voices, both with your own voice and the ones on the database. However, to make the most of this feature, you'll need a good knowledge of voice editing.
Pros
Contains a massive 800+ general voices
Lets you create your own custom voice
Best-in-class voice editing features
Advanced batch processing is available
Cons
Many of the features, such as voice editing, require some skill
4. VoiceOverMaker — Most Accessible Text-To-Speech Editor on the Market
VoiceOverMaker is ideal for creators looking for a text-to-speech editor. It allows you to turn text into a natural, professional-sounding voiceover. Although text-to-speech conversion is a common feature, what makes VoiceOverMaker really stand out is its ease of use.
You can access this feature directly on the web, and you don't even have to upload your video. Just select it and enter the text under the video, and a voice will be automatically generated.
You can then edit this voice in their Advanced video and audio editor that allows you to control intrinsic characteristics of the voice, such as pitch and clarity, as well as how it mingles with the video, i.e., its relative speed.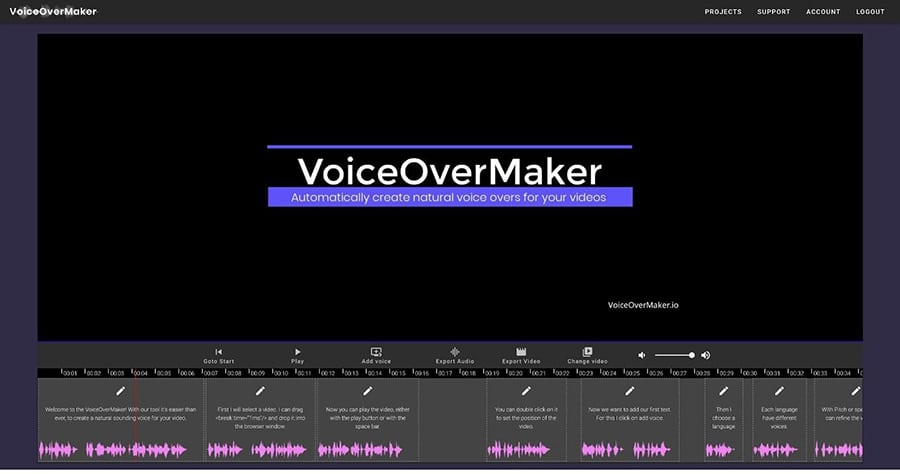 | | | | | |
| --- | --- | --- | --- | --- |
| Starting Price | Free Version | Text-To-Speech | Voice Cloning | Languages |
| $10.65 (for 60 characters/credits) | Free plan | Yes | N/A | 30 |
It also comes with a seamless automatic translator that easily converts your text-to-speech voices in different languages in just a click. Some of the popular languages supported by VoiceOverMaker include Arabic, Russian, Spanish, Vietnamese, etc.
Another feature that makes content creation super easy for influencers is the screen recorder. Suppose you're a game streamer on YouTube. With this tool, you can capture your gameplay as well as edit your AI voiceover on it at the same time.
If you have a bigger content creation team, VoiceOverMaker is ideal for you. The platform is designed to support teamwork and collaboration.
It allows multiple people to work on the same project at once and share their ideas and output in public view for everyone on the team to see so that you don't have to rely on other team management tools.
Pros
Supports 600+ voices
Ideal platform for team collaboration
Comes with a built-in screen recorder tool
Supports seamless language translation with just a click
Cons
Some of the sample voices are a bit robotic
5. Synthesia — Video Editor That Enables You to Create Human-Like Avatars with Voiceovers
Synthesia is a video editor that also comes with language and voice editing tools. So, while it's not exclusively for voice artists, it's one of the best AI tools for content creators.
Its biggest USP is the avatars feature. Not everyone can afford to hire a cast and have them act. But does that mean that your video won't have any characters? Absolutely not. With Synthesia, you can get up to 140+ avatars who will speak and act however you instruct them to.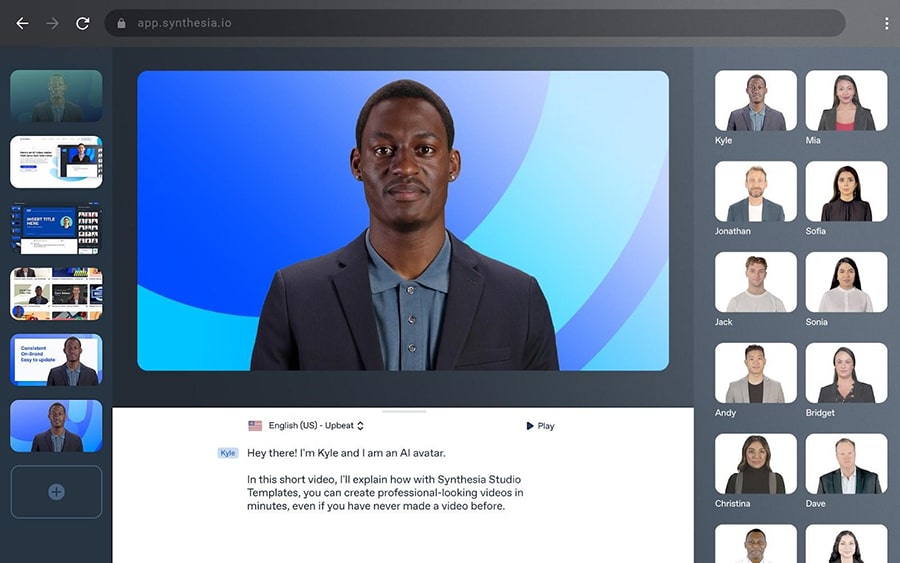 | | | | | |
| --- | --- | --- | --- | --- |
| Starting Price | Free Version | Text-To-Speech | Voice Cloning | Languages |
| $22/month | Free demo | Yes | Yes | 120 |
The best part is these avatars are nothing like Snapchat's animated avatars. These are very real, modeled after real human faces, and apart from an expert, it's almost impossible for anyone to notice they are AI-generated.
Once the video is ready, you can add a voice of your choice or add a custom audio recording of your choice. The voices are available in different accents, and the process of adding one is super simple.
You just have to click on the Voice bar at the bottom left corner of the screen. It'll open the voice menu, where you can test the different voices until you find the perfect match.
Its newest addition is the AI script assistant tool, which is ideal for creators who don't want to hire a scriptwriter. It works in collaboration with ChatGPT.
Once you enter a prompt, ChatGPT will instantly create a script that Synthesia will use to automatically create a video for you. Productions that would usually take you a couple of days can be wrapped up in under an hour.
Pros
Comes with an AI script assistant tool
120+ languages and voices
Can automatically generate closed captions
Lets you add human-like avatars to your videos
One of the best AI voice generators for YouTube
Cons
Primarily a video editor with audio features
6. Voiser — Offers a Text-To-Speech Editor and a Speech-To-Text Editor
Voiser is a popular text-to-speech converter tool that also lets you convert speech to text. The best part is, when you visit their website, you'll find a glimpse of both the tools on their homepage.
You can type in text and select a character to voice it. It'll give you an idea of what to expect. We had a lot of fun trying out the different voices and accents.
Coming to the plans, Voiser offers three varieties – Personal, Business, and Enterprise. And if you're planning to use this AI voice generation tool for work, we definitely recommend the last two plans. The quality of voices and the number of options are much better in these plans.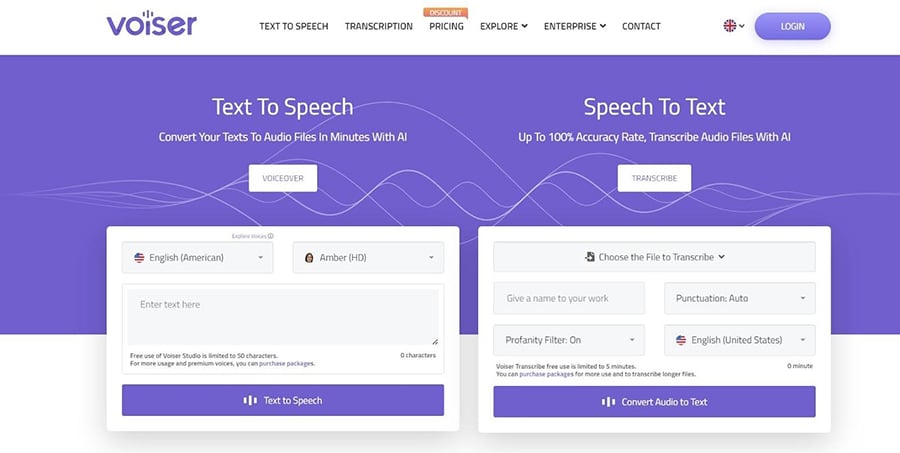 | | | | | |
| --- | --- | --- | --- | --- |
| Starting Price | Free Version | Text-To-Speech | Voice Cloning | Languages |
| $15/month | Free trial | Yes | Yes | 75+ |
For instance, the Business plan has 400 HD 500+ voices coupled with 75 languages and 140+ invoices. Whether you're trying to increase diversity in your corporate videos or create a multi-character audiobook, the business plan has got you covered.
Voiser's merits go much beyond its voice generation feature. For instance, it goes out of its way to help you have a seamless experience by offering support over WhatsApp. Quick solutions to your problems ensure you never miss a deadline.
Also, the tool works with characters, i.e., each time you purchase a plan, you get a certain number of characters that you can spend to complete actions.
However, if there are any problems from Voiser's side, they'll reimburse you for the character. For example, if you face pronunciation errors while generating audio, Voiser will fix the issue and credit the used characters to your account.
Pros
500+ voices
Support is available over WhatsApp
Both text-to-speech and speech-to-text is available
License for usage rights is available with Business and Enterprise plans
Cons
Some voices are a bit unemotional
7. Listnr — Offers the Largest Databases of Voices with 900+ Voice Options
Listnr has one of the biggest databases of AI voices. At 900+voices, it has at least double the number of options any other provider on the list can offer. The best part is you can test the voices before you buy a plan.
Just go to the AI Voices option from the top header and select the type of accent you want. It'll then lead you to a page with an editor where you can enter text and have it converted to AI audio almost instantly. The transparency that this hands-on experience brings to new customers is truly commendable.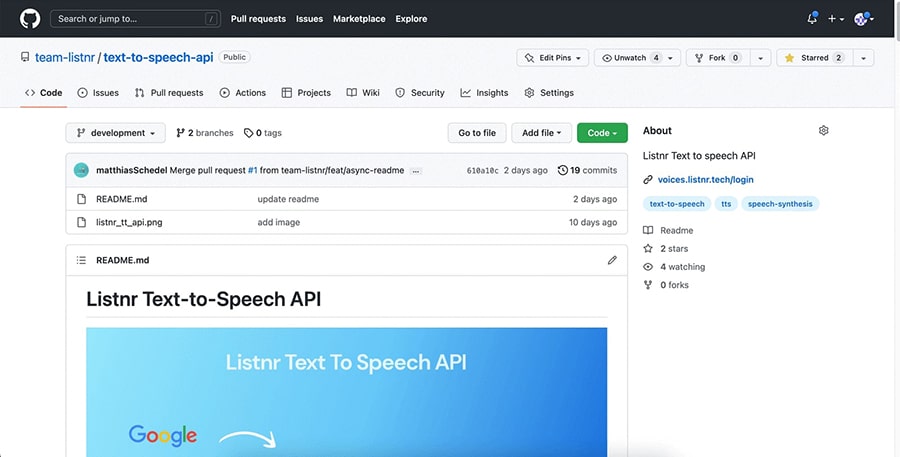 | | | | | |
| --- | --- | --- | --- | --- |
| Starting Price | Free Version | Text-To-Speech | Voice Cloning | Languages |
| $9/month | Free plan | Yes via API | Yes | 142 |
Another feature worth mentioning is the download option on its free plan. Usually, tools that have a free plan, such as MurfAI or LovoAI, don't let you download the converted audio on the free plan.
You're only allowed to share it through links. But with Listnr, you get up to 20 downloads/exports for free. Then, when you get to one of the paid plans, you'll get unlimited downloads for the entire duration.
Furthermore, Listnr is the only app on the list to provide cloud storage for every user, even on the free plan. It starts at 1GB on the free plan and goes all the way up to 250GB on the Agency plan.
Starting from the first paid plan, you get unlimited audio embeds on each plan. This way, you can create complex pieces with multiple soundtracks or voices without worrying about exceeding any monthly limits.
Pros
900+ voices available
Unlimited audio embeds
Free storage ranging from 1GB to 250GB
20 downloads available even on the free plan
8. KitsAI — Ideal for Musicians Looking for Studio Quality AI Voices
KitsAI specifically caters to those who need a tool to work on their music because its features are more focused on soundtracks and instruments. For example, it lets you create an instrumental version of your voice.
You can pick a cello, drums, guitar, or saxophone. You'll even get a demo audio with instruments so that you'll know what to expect. The options are endless.
Speaking of voice generation, KitsAI lets you create your own custom voice. You can pick a source audio of your choice and use it to train a unique voice model for yourself.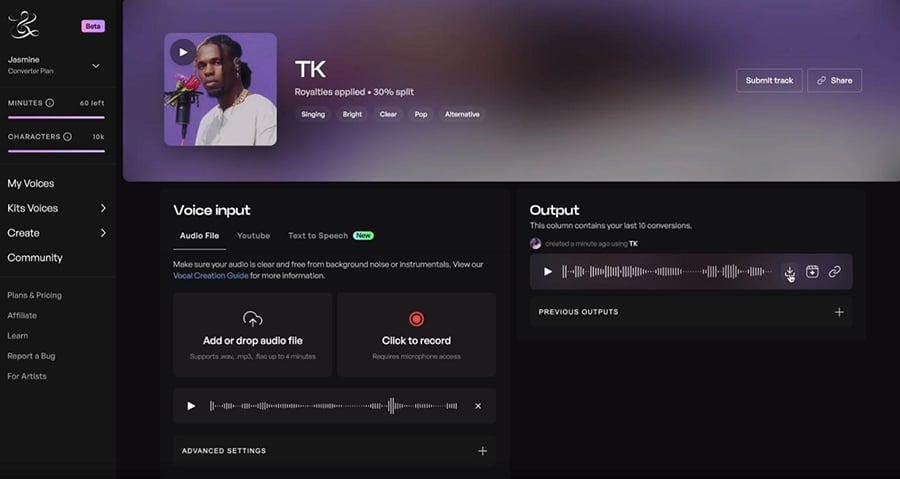 | | | | | |
| --- | --- | --- | --- | --- |
| Starting Price | Free Version | Text-To-Speech | Voice Cloning | Languages |
| $9.99/month | Free plan | Yes | N/A | 60 languages |
What's more, the "Train" feature comes with a voice separator tool. Enter any song, and it'll separate the voice and instruments into two distinct tracks. This way, you can add different background music to vocals and vice versa.
If you don't want to use your own voice, KitsAI offers a vast range of AI voices. What makes it different from the other tools on the list is that a section of these voices is edited to sound like they are recorded by actual artists in the studio, making your final music sound professionally recorded.
All of these voices are royalty-free and come with a license that lets you use them for commercial purposes.
Since KitsAI's voice library is ever-growing, you'll be able to find never-heard-before voices instead of generic AI voices. After all, when it comes to music, a unique voice is a prerequisite to success.
Just like Listnr, KitsAI also lets you download the soundtracks even on the free plan. In addition to that, there are no download limits. You can export unlimited MP3 songs for free.
Pros
MP3 downloads available even on the free plan
Studio-recorded AI artist voices are available
Lets you convert voices into instrumental music
Allows you to separate voices and instruments from tracks
9. Uberduck — Popular AI Voice Editing Tool for Rappers
Uberduck is another popular AI voice-generation tool that caters to musicians, especially rappers. Its rap generation tool is very easy to use. All that you have to do is select a beat of your choice, then generate lyrics using AI or create your own, choose a voice for the rap, and hit download.
Although you can download it in both audio and video format, you cannot actually create a video using Uberduck. For that, you'll have to take the video content and work on a different video editor.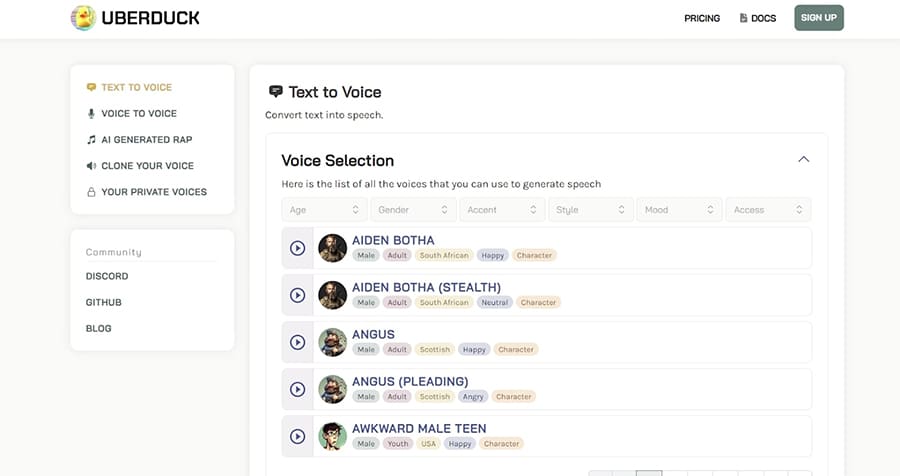 | | | | | |
| --- | --- | --- | --- | --- |
| Starting Price | Free Version | Text-To-Speech | Voice Cloning | Languages |
| $8/month (annual) | Free plan | Yes | Yes | 25 |
Other sound editing features are similar to the ones offered by other tools above. You get a text-to-speech tool that converts your text inputs to flawless audio. You can either use an AI voice from Uberduck's library or create your own for this purpose.
All the voices you create on your own can be stored in two ways – public and private. By making them public, you'll allow others to access them, and by keeping them private, you'll have them all to yourself.
Just like text-to-speech translation, you can also get a voice-to-voice translation. It does exactly what the name suggests – it takes an audio and changes the voice in it while keeping everything else the same.
Voice cloning is also available, letting you create a replica of your voice for use in audio. What makes the cloned voices of Uberduck stand out is the overall audio quality. No matter how you recorded it or in what environment, the final output will always sound like it's studio-recorded.
Pros
Custom voice cloning is available
Best-in-class tool for generating AI raps
Lets you make your custom-created voices private
Both text-to-voice and voice-to-voice translation available
Cons
Free plan doesn't offer commercial usage rights for AI voices
10. ElevenLabs — Best Tool for Dubbing with Auto-Language Detection
ElevenLab's new Dubbing feature gives it an edge over its competitors. It helps you translate your content into 29 different languages within a few seconds.
The best part is that you can also use this tool if you don't know the language of the original content.
If you have audio in French but don't know the first thing about that language, you can enter it in ElevenLab's editor, and it'll automatically detect the language and help you translate it into a new language. You don't even have to log in to get a free demo, just go to their Product list and click on "Dubbing."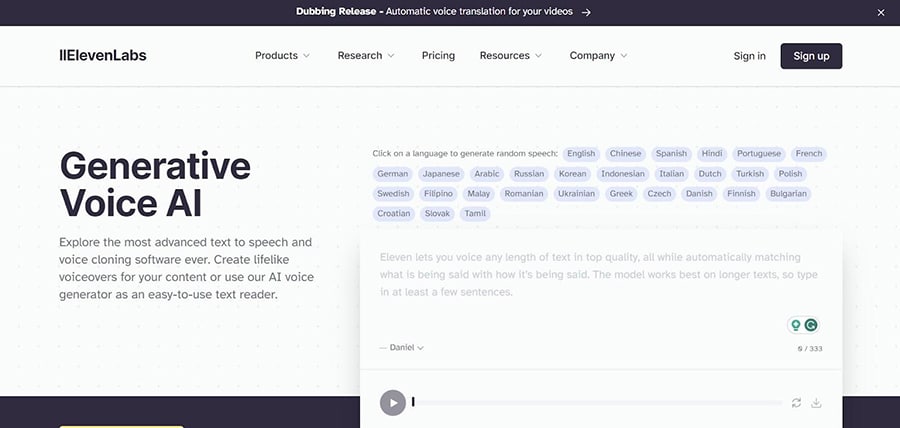 | | | | | |
| --- | --- | --- | --- | --- |
| Starting Price | Free Version | Text-To-Speech | Voice Cloning | Languages |
| $1/month | Free plan | Yes | Yes | 29 |
Right from the free plan, you'll have complete access to its shared voice library, where you can access countless free voices to use in your content. If you don't like the existing voices, you can also create your own with the custom Voice Designer tool. Depending on the plan you pick, you can create up to 600 custom voices.
It also comes with a voice cloning tool available on all the paid plans, using which you create an almost perfect replica of your own voice. This way, when you translate a document into a language you don't know, you can still use the cloned voice, dub it, and make it sound like you're the one speaking.
Although AI voices available on ElevenLabs sound very realistic, using your own voice, especially if you're a content creator, is much more authentic than using an AI voice.
Pros
Instant access to voice cloning
Lets you create up to 600 custom voices
Automatic language detection before dubbing
Priority rendering available for Enterprise users
Cons
Less good at handling long-format content
What is the Best Free AI Voice Generator?
MurfAI offers the best AI voice generator free plan, which offers various features most free plans don't. Take its link sharing, for example – MurfAI lets you share links for the audio and video output you generate with the free plan.
You can also add up to three users to collaborate on a project, and MurfAI lets you use all of its 120 voices on the free plan. You also get 10 minutes of voice generation and transcription.
However, while free plans are good enough to test out a platform, they generally don't offer the full range of features you need.
That's why we recommend upgrading to a paid plan, with advanced features and functionality like commercial usage rights, licensed soundtracks, multilingual voice generators, voice changers, and priority support. These are just some of the tools you need if you're serious about making audio and video content.
How We Ranked the Best AI Voice Generators
Let's look into some of the key factors we considered to rank the best AI voice generators:
Feature-to-price value: We looked at different options that offer various features like multilingual features, voice modulation, and a range of voices while providing competitive pricing.
Quality of voice output: The clarity and natural feel of the voice can affect the user experience, which is why we carefully handpicked tools that offer high-quality voice output.
Ease of use: We evaluated the user-friendliness, interface, and the overall user experience. Our top-ranked tools are easy to use, whether you're a beginner or a professional.
Reviews and feedback: We go the extra mile to research various review sites and user feedback to ensure that we provide you with reliable information.
Reputation: We carefully researched the different AI voice generator providers and checked out how reliable and trustworthy they are. We dug deep into details like their track record, customer support, and credibility.
Free trials and demos: We understand that committing to a service can be tough without trying it first. So, we picked tools that offer free trials so that you can try them out and see if they're the right fit for you. Many of our tools even have a free forever plan for small-scale usage.
Language support: We choose voice generators that provide voices in multiple languages other than English, providing you with a handful of options to choose from.
Other Guides on Artificial Intelligence
Now that we've covered the AI voice generation game, here are some other AI guides from our network:
How to Use AI to Generate Speech — A Quick Guide
Wondering how to make an AI voice? Here, we'll break it down into a few steps to produce quality voiceovers with MurfAI.
Step 1. Choose a Voice
Before creating your voiceover, check out Murf's library and browse through the voice library. They have over 120 voices in 15+ languages you can choose from. You can play each voice until you find the one that matches your audio.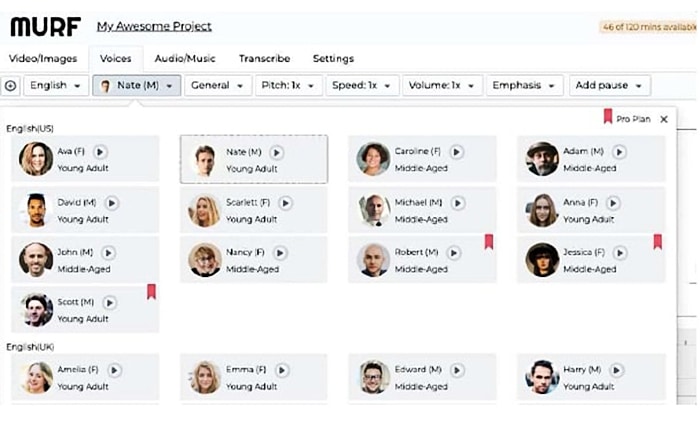 Step 2. Create the Script
Crafting your script is a crucial step in creating compelling content. Murf Studio's text editor offers a creative canvas to write your script from scratch or copy and paste existing content.
With the built-in AI grammar assistant, you can be assured your script is polished and professional. There's also a 1,000-character limit on text to ensure easy reading. Furthermore, you have the option to add more text and to fine-tune it.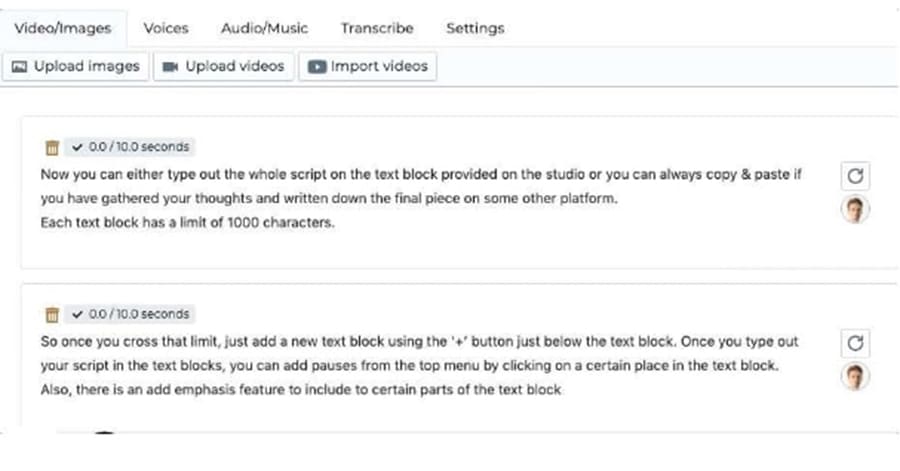 Step 3. Build, Test, Edit
After editing your script, click the "Build Audio" button to render the audio. Click the play button to check if the audio is in perfect sync. You can always go back and edit it until you're satisfied.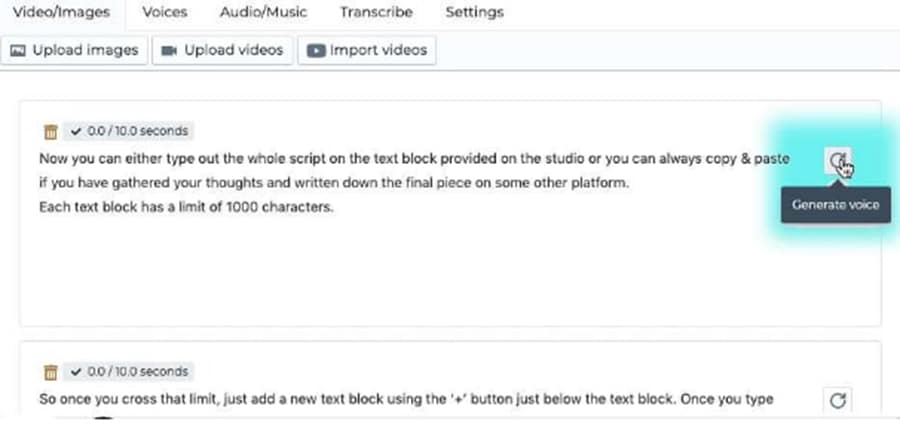 Once everything is done, you can download the HD file directly. However, to download the file, you need to have a paid subscription. If you want to share your audio files with others, though, you can generate a sharable link that's valid for a set time.
Conclusion — What is the Best AI Voice Generator to Use in 2023?
Our list of the best AI voice generators includes everything you need to generate high-quality AI voices for various kinds of content.
Whether you're a beginner looking for an affordable or free option to try out AI voices or a professional looking for AI tools that can assist you in creating content, you'll find something on our list.
However, no matter your specific need, MurfAI is an all-weather choice. You get access to 8,000+ licensed tracks with commercial usage rights, along with 20+ languages and accents.
It also comes with a handy free plan that lets you try out the platform with transcription and voice generation features included. Plus, you don't even need to enter a credit card to try it out.
AI Voice Maker FAQs
Is there a free AI voice generator?
What is the voice AI everyone is using?
Can I create my own AI voice?
How much does an AI voice generator cost?
Is AI voice cloning legal?
Can AI replicate human voices?
References