The best AI writing tools make content writing far easier with quicker turnarounds, better SEO optimization (and sentence structures), and a tone of voice best suited to the topic and target audience at hand. Alongside refining your content, AI writers will help you generate writing ideas, find relevant keywords, and consistently churn out blogs that align with your brand.
However, with so many different tools that use artificial intelligence for writing, choosing one can be difficult. That's why we've compared the 10 best AI writing software based on criteria like pricing, ease of use, integrations offered, and data privacy. Stick around to learn why these tools have made it on our list and how they compare.
The Market's Top 10 AI Writing Tools Ranked
Jasper is the best AI writing assistant, as it's great at creating all types of content, from short social media posts to essays, and it can intelligently capture your brand's individuality and learn about your company to create personalized sales copy as well. That said, every AI tool has a unique selling proposition that might be exactly what you need. Here's a glimpse into the best of the bunch:
How Do AI Text Generators Work?
AI text generators operate through a sophisticated process of natural language processing and machine learning. These systems are trained on vast amounts of textual data, ranging from books and articles to websites and social media.
The training involves learning the statistical patterns and structures within the text, allowing the AI to understand grammar, syntax, and context. When you input a prompt or a question, the AI text generator employs a method called "transformer architecture" to:
Break down the input
Process it through multiple layers, and
Predict the most probable sequence of words as an output
The more data the AI is exposed to, the more it fine-tunes its understanding, leading to increasingly coherent and contextually relevant responses. It'll then produce readable and contextually relevant responses, mimicking human language.
Should I Use AI for Writing?
Yes. Incorporating AI into the writing process can empower writers and content creators to achieve greater efficiency, creativity, and precision while saving time and resources. The collaboration between humans and AI in writing can lead to high-quality content and a more streamlined content creation process. Below are some of the reasons why you should use AI for writing:
Cost Savings and Scalability — AI writing tools can generate content at a fraction of the time and cost compared to manual writing. Businesses can save on hiring additional writers and can quickly scale content production to meet growing demands.
SEO Optimization — AI can analyze search engine algorithms and user behavior to suggest relevant keywords and optimize content for better search engine rankings. This helps improve organic traffic and boost online visibility.
Better Writing Quality — AI language models are trained on vast datasets, ensuring a high level of language proficiency. This improves grammar, style, and coherence, producing more professional and refined writing.
Create More Readable Content — AI text generators can analyze the readability of content and suggest improvements to make it more accessible and engaging for readers, which can help retain audience interest and improve user experience.
Greater Flexibility — AI that writes for you can generate content across various topics, styles, and formats, catering to diverse needs and preferences. It allows for a wide range of content creation, from technical writing to creative storytelling.
Integration — The best AI tools for content writing integrate smoothly with popular apps such as Google Docs, making developing content and editing a breeze. Plus, browser extensions enable writing on the go.
Boost Creativity and Inspiration — AI text generators can act as creative collaborators, providing fresh ideas and perspectives and inspiring prompts to overcome writer's block and stimulate creativity.
What Can I Use An AI Writing Bot for?
AI writing bots are becoming increasingly popular as a way to save time and improve the quality of writing. These bots can be used for a variety of tasks, including:
Content Creation — These advanced language models can swiftly generate high-quality, contextually relevant, and engaging content across various formats, including blog posts and social media posts, among others. You can use these tools to brainstorm ideas and get writing prompts and suggestions for improvements.
Social Media Management — AI text generators can generate personalized responses to comments and messages by analyzing user interactions and preferences, fostering better engagement. Moreover, they can craft compelling ad copy and promotional content, optimizing social media advertising campaigns for improved reach and conversions.
Product Descriptions — AI software can analyze product specifications, features, and user reviews to create compelling and accurate product descriptions. By understanding the context and target audience, AI text generators craft engaging narratives highlighting the product's unique selling points and benefits.
On-Page Optimization — AI tools can analyze content of all kinds to identify areas for improvement in terms of SEO. They can suggest relevant keywords, meta descriptions, and headings that align with your target audience and search engine algorithms.
Proofreading and Editing — AI writers can meticulously analyze text for grammar and punctuation errors. They can also identify inconsistencies, redundancies, and awkward sentence structures, providing comprehensive editing suggestions.
Readymade Templates — AI text generators can generate professionally written templates tailored to specific requirements, saving you ample time and effort crafting documents from scratch while ensuring consistent, high-quality output.
Generate Emails — You can input the purpose of the email, the recipient's details, and any specific requirements, and the AI text generator will create a well-structured and engaging email. Whether it's a business communication, a marketing campaign, or a personal message, AI-generated emails save time and effort for individuals and businesses alike.
The Market's Top AI Writing Tools Reviewed
Here's a detailed rundown of the best AI writing apps, including their best features, pros, cons, and pricing. It's time you find the best software for your needs:
1. JasperAI — Best AI Writing Software for Every Need
JasperAI (previously JarvisAI) is an advanced and all-weather AI writing tool that can create just about any type of content for you, including Facebook ads, blog posts, or emails. Unlike most tools, it doesn't have pre-determined brand voices but recognizes and learns your individual brand voice and infuses it into the tone of its content.
You can upload information about your business, audience, and the type of content you want, and Jasper will create your content keeping that information in mind, meaning it'll represent your brand's voice in all forms of communication, saving you hours of editing.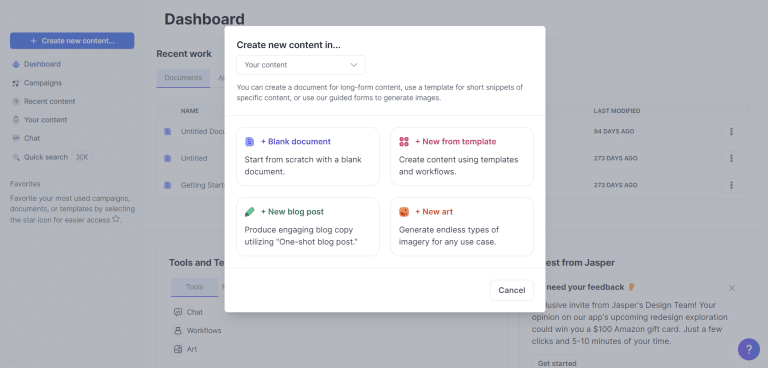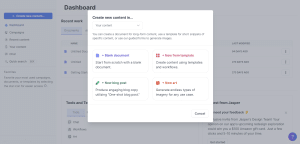 Best For
Starting Price
Free Version
Standout Features
B2B campaigns
$39/month – billed annually
7-day free trial

Supports 30+ languages
Integrates with SurferSEO and Grammarly
Brand voice representation feature
Since you create your brand voice by inputting facts about your company, each plan includes a 'memories' limit that defines the maximum amount of information you can input, and you get as many as 50 memories in even the basic creator plan, with higher plans offering even more.
This AI tool leverages a number of LLM models like GPT-4, Claude 2, and Bard, among others, to create almost anything, even with minimal input. And after your content is generated, you can use the integrated Grammarly tool for polishing the language and making sure the punctuation is correct.
Plus, you also get great efficiency with JasperAI's Chrome extension that allows you to use it directly on platforms like Gmail, Google Docs, and WordPress, meaning sending business emails will only take a few seconds, and it saves you the chaos of copy-pasting the generated content on whatever platform you intend to use it on.
So, to conclude, JasperAI is popular for B2B campaigns, but it can single-handedly fulfill most of your content writing needs.
Pricing
Jasper gives all the essential features, including SEO capabilities, on its starter plan: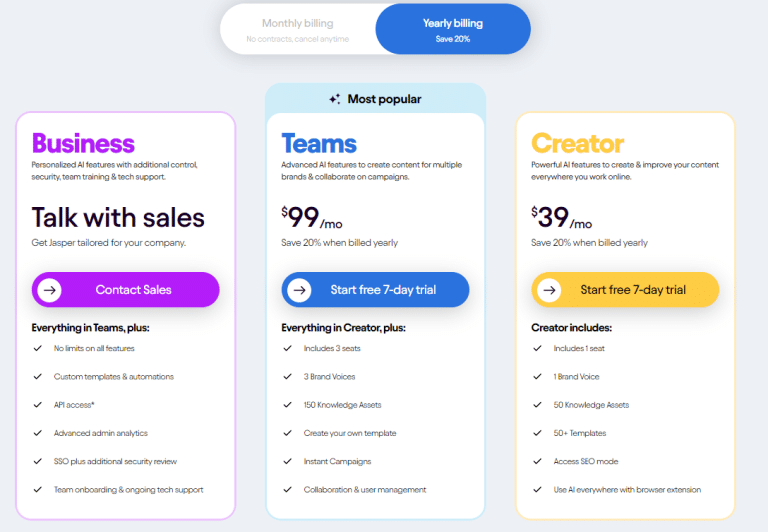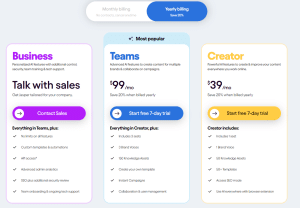 Pros
Chrome extension available
Extensive template options
Conveniently creates plagiarism-free content
Works for both short-form and long-form content
Cons
A little expensive for the entry-level crowd
2. Copy.ai — Powerful AI for Writing With Ample Templates and Tones
Copy.ai is a user-friendly AI tool that's a great option for bloggers and copywriters, as it offers a wide range of use cases, from social media captions to meta descriptions and everything in between. You can pick a tone out of the 8 basic preset tones, including bold, friendly, and professional. The best part is that if you don't find a tone that fits your use case, you can create your own.
Moreover, as we explored in our full Copy AI review, with 90+ copywriting templates, you're guaranteed to find something that's specifically tailored to what you're looking for in this respect. While many options are good, a wide sea of templates can be a little intimidating and overwhelming, especially when you're in a hurry.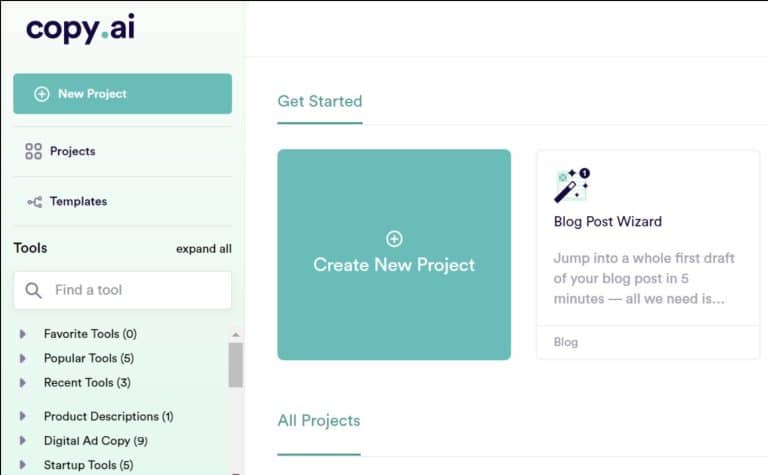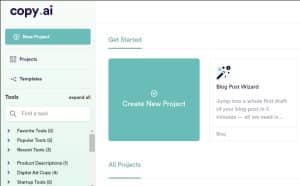 Best For
Starting Price
Free Version
Standout Features
Copywriters, bloggers
$49/month
Free plan + 7-day free trial

90+ copywriting templates
In-built plagiarism checker
Multi-language support
If you're a writer, Copy.ai is brilliant at generating ideas to help you get in the creative flow when you're facing writer's block. If you're also a creator, you can sit with the AI and watch it present some unique and relevant content ideas for your target audience.
Another interesting feature is its capability to generate texts in formats like Feature-Benefit and AIDA (Attention, Interest, Desire, Action), which are highly effective for writing product descriptions or cold emails. What's more, there's also a free plan for first-time users who want to have a taste of the platform before committing.
Overall, Copy.ai produces impressive copy for most tasks and is a great option for writers and bloggers, though it's important that you don't skip the proofreading part as you might need to tweak the generated content for perfection.
And on one final note, Copy.ai's reputation is largely unsurprising, but what's nice is that it's very intuitive and modern, so even users who are new to using AI for content creation can easily find their way around. However, testing showed that in some use cases, it takes a little longer to produce output, so it's not the fastest interface.
Pricing
Copy.ai keeps it simple with one free plan, one set plan, and one where you have the liberty to choose the features you want: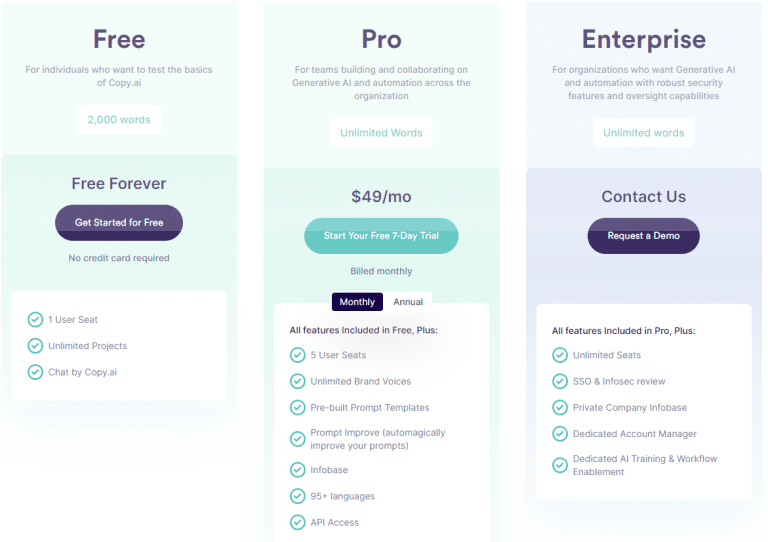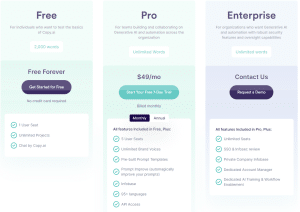 Pros
Essay-writing AI with a user-friendly dashboard
Quick and reliable email support
Offers a capable free plan
Customizable tone
Cons
Not the best for short-form content
3. Rytr — Best Free AI Writing Tool
Rytr is one of the most affordable AI content writers on the market. If you're on a tight budget or don't have a budget at all, Rytr is the one for you. What makes Rtyr a user favorite is its simplicity. Whatever you want to get done, just describe it and click the "Start Rtying" button. And the best part is, the content generated doesn't have any spelling mistakes, thanks to its in-built spell-checker.
Its free plan allows you to generate 10,000 characters per month, which is enough if you just want the occasional meta descriptions or social media captions out of the tool, but what truly makes the free plan stand out is that it offers access to over 20 tones and AI image generation of up to 5 images.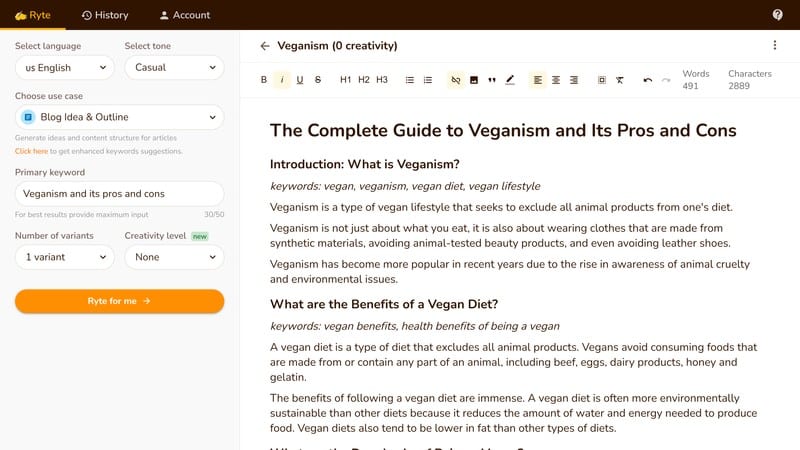 Best For
Starting Price
Free Version
Standout Features
Budget-conscious users
$9/month – billed annually
Free plan + 7-day free trial

Great free plan
20+ tone presets
Cheap unlimited plan
Rytr has a lot to offer for small-business owners and marketers, in fact, it even offers to write business idea pitches, product descriptions, and CTAs for ads to ensure that your conversion rates are always great.
If you're not a business owner yet, don't worry, Rtyr will give business ideas according to your skills and talent. All you need to do is explain your interest and skills in under 200 words, and you'll instantly have 3 business ideas — they might not always be very practical, but they can be a great starting point.
All in all, Rytr is a handy AI writer that delivers great quality content at a very reasonable price and can be used by even a 5-year-old. That said, it's not recommended for long-form content because the results can often be off-target.
Pricing
Besides a feature-rich free plan, Rytr impresses with two very cheap paid plans that offer 2 months for free on the annual plan: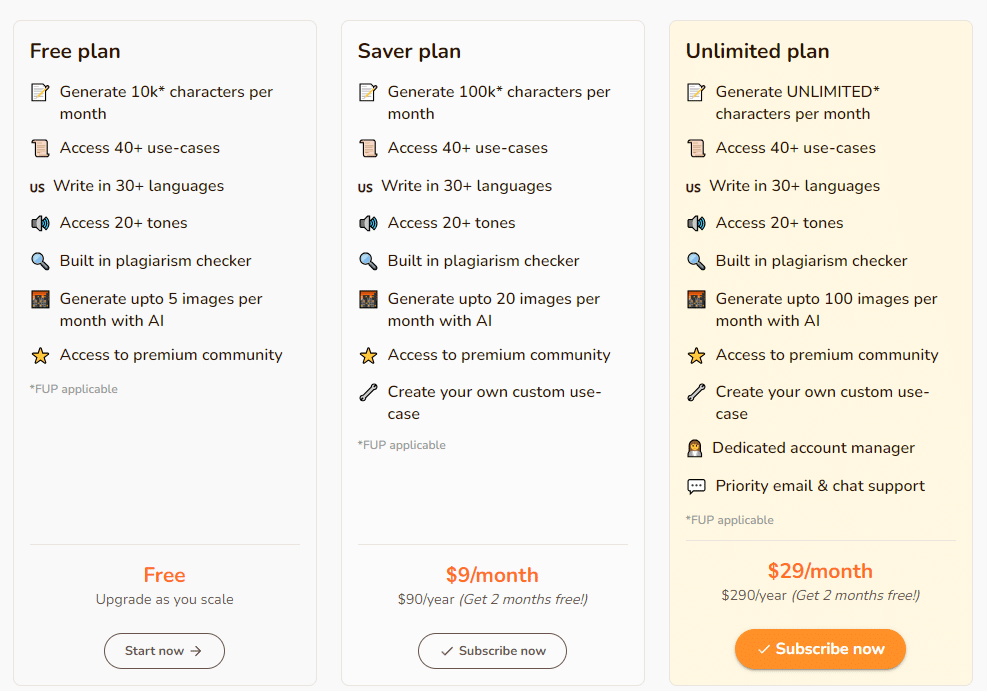 Pros
Amazing value for money
Best for beginners
Great for short-form content
30+ use cases
Cons
Not recommended for long-form content
4. Writesonic — Best for Marketing Content with both Text and Image Generation Prowess
Writesonic is the one for you if you're looking for marketing content that's SEO-friendly because, unlike most, Writesonic integrates with SurferSEO – a tool that allows you to optimize your content with better SEO keywords so that your page ranks better.
It has a library of sonic tools, including Photosonic and Chatsonic, that allows you to create images from text and chat with the AI, respectively. Of course, like any other AI-generated content, the images generated might require slight editing, which you can do with the in-built editing tool, but overall, the tool produces pretty unique and relevant pictures.
You can customize almost everything in your plan with Writesonic – even change the quality of words generated, and your word limit will vary accordingly. For example, 1 superior quality word equals 6 premium quality words, so you don't waste your limited words if you just want an outline.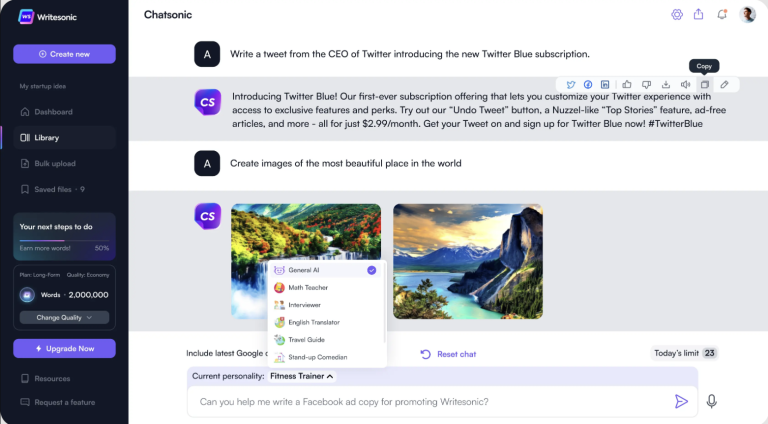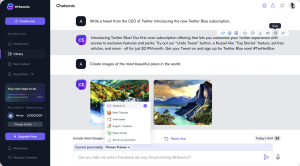 Best For
Starting Price
Free Version
Standout Features
SEO
$16/month – billed annually
Free plan + 7-day free trial

SEO-optimized content
100+ AI templates
Free plan with 10K words
Also, you can choose between GPT-3.5, GPT-4, and GPT-4 32K on the business and enterprise plans. For the other plans, you get GPT- 3.5, which is still on par with the best that other AI writers offer and certainly good enough for basic use cases like meta descriptions. It's worth noting that GPT-4 and GPT-4 32K are more intelligent.
They better understand the inputs you put in, therefore producing better results, and they're more capable of handling longer texts, as well as languages other than English. Beyond all this, the content generated can be downloaded in Doc or PDF formats which makes forwarding the content a breeze.
There's also a super handy free forever plan, and although it's not as feature-rich as Rytr's because of the fewer tones and use cases, it offers 10,000 words per month as opposed to the 10,000 characters offered by Rytr.
So, on the whole, Writesonic is a great option for you if your memo is an SEO-friendly AI writing tool that's packed with features for both art and text generation.
Pricing
Writesonic is a delight for those on a budget, given that its Business plan with GPT-4 and GPT-4 32K is cheaper than its Unlimited plan: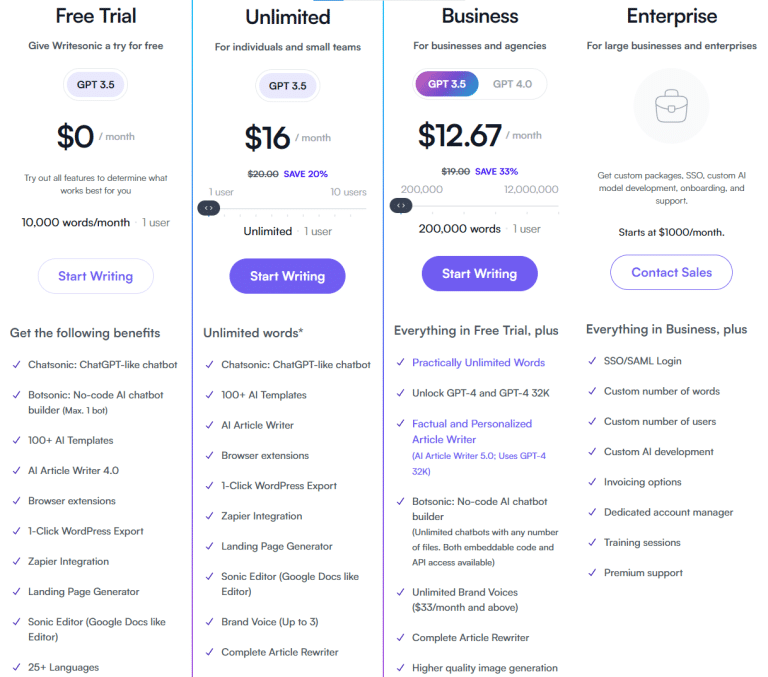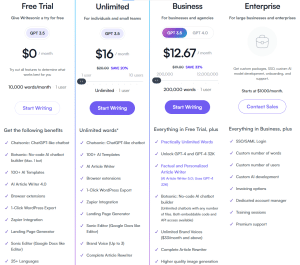 Pros
Strong re-writing capabilities
SEO-optimized content
GPT-4 support on paid plans
Customizable plans
5. AI-Writer — Best for Efficiency as it Needs Little Input
AI-Writer is one of the most accurate AI tools for writing, and it makes writing articles easier than ever. You can generate an entire article based on just a simple headline or a keyword. Not just that, it will complete your half-written sentences and even rephrase them if you want it to.
With its sub-topic discoverer, you can find a unique take on your existing content, which comes in handy when you can't think of new ideas and need a new perspective, or you've just run out of content to write around a niche.
To use the feature, all you need to do is enter a sentence and click on the Find Subtopics button on the right side, and you'll be presented with several ideas that closely relate to your topic, then it's up to you to decide whether these would be great as just a sub-heading or deserve a separate blog post.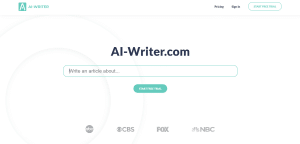 Best For
Starting Price
Free Version
Standout Features
High-output writers
$49/month
7-day free trial

Sub-topic generator
Verifiable citations/ references
Text rewriting
Oftentimes, we discover that the created content isn't as SEO-friendly as we'd want it to be. But with AI-Writer, you can simply post your content, and it'll optimize it for you within minutes. Of course, be sure to check the content again before posting, but we found the performance of this optimization feature very impressive.
On the downside, the long-form blog posts created from this AI tool are a little bland to read and usually look like a wall of text without anything to keep the flow interesting — like subheadings or bullet points — so you'll usually want to fix that before publishing.
Overall though, with its innovative features like subtopic discoverer and rephrasing tools, AI-Writer can be a great wingman for writers. However, it's worth noting that since it generates results from a single text input, there isn't a lot of scope for customization, and the results might take some time.
Pricing
AI-Writer doesn't reserve any of its features for any specific plan, and it's just the maximum limit of words per article and the number of users allowed that change per plan: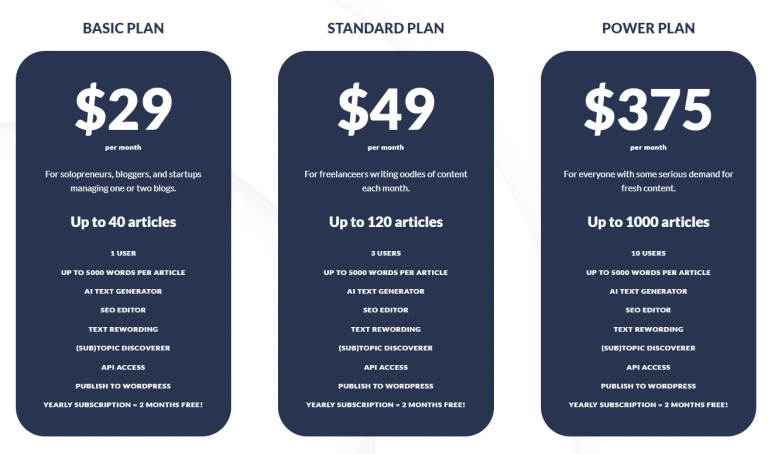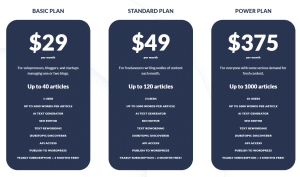 Pros
Minimal input required
Handy sub-topic generator
Citations can be verified
AI blog writer with a great rephrasing tool
Cons
Slow text generation process
Little customization options
6. WordAI — AI Article Writer Best for Repurposing and Paraphrasing Text
WordAI is the best rewording tool if you want to scale your content or are already working with bulk content. It stands out with its AI Content Spinning tool that works by paraphrasing your content and not just by replacing words with their synonyms like most content-spinning tools do.
Instead, it uses language processing and machine learning to understand the context and then replaces the words and phrases to ensure high-quality paraphrasing while also keeping the overall meaning intact.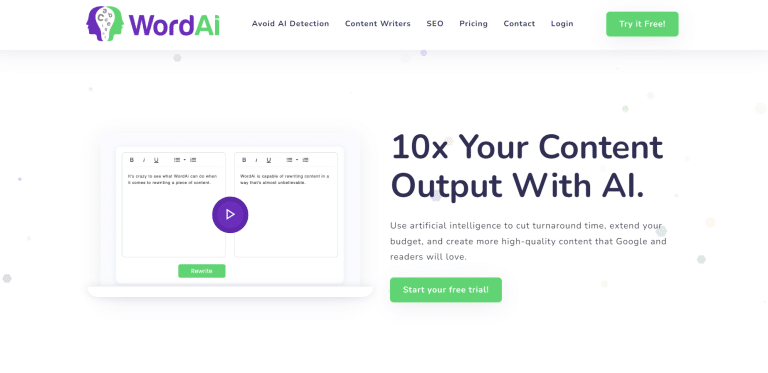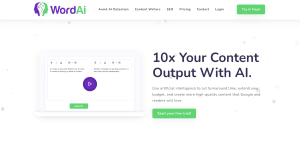 Best For
Starting Price
Free Version
Standout Features
Paraphrasing text
$27/month – billed annually
3-day free trial

Rephrasing that passes AI tests
HTML support
AI content spinning
To take things one step further, WordAI features a Perfect Tense integration which takes care of the grammatical aspect of the content for negligible spelling mistakes and proper English. You can also get HTML support on the upgraded version, which makes editing HTML codes possible from the editor itself.
The reason it's so efficient for bulk rewriting is that you can upload all your articles and sit back as the AI works on them. This saves a lot of time and, more importantly, the hassle of entering the articles one by one when the quantity is generous. Exporting the rewrites is a breeze, too – you can get them out as spintax or in bulk as it is.
The best part is that the rephrased text is humanized and will easily pass as humans in AI detector tests. It's integrated with Article Forge, meaning you can also generate articles through Word AI if you want to. We recommend this even if you use another AI for text generation, as you should still rephrase your content with Word AI for more humanized content.
Pricing
WordAI offers one of the most affordable starting points in the industry. That said, it's predominantly a rewriting tool which is why it's this cheap: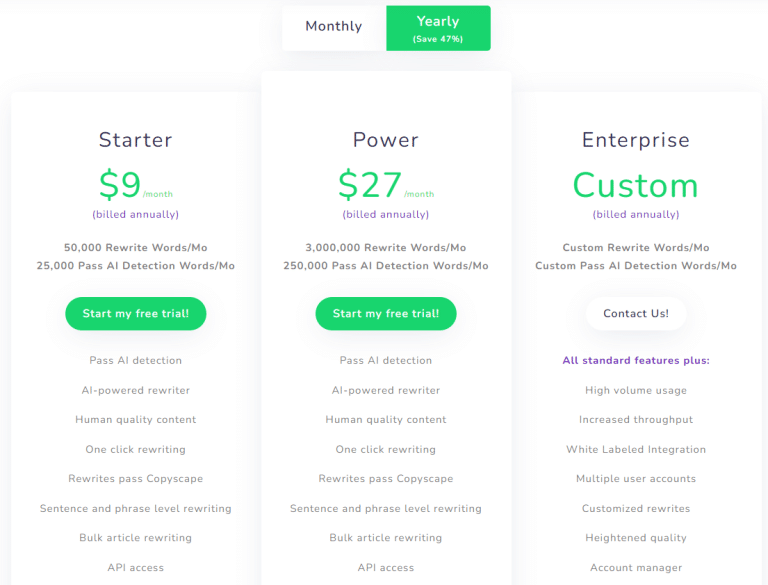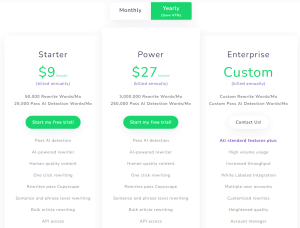 Pros
Human-like rewritten quality
Comes with SEO integration
Easy bulk rewriting
Integrations like PerfectTense and ArticleForge
Cons
Little ability to generate original text
7. Scalenut — Best AI Text Generator for Creating SEO-Friendly Content
Scalenut is an AI tool designed with the needs of a marketer in mind. There's a load of advanced features centered around SEO optimization, including a great keyword planner for strategic content planning. The keyword planner will generate location-specific topic clusters for you that are built around the keyword that you entered.
Each keyword cluster comprises multiple relevant keywords that can be used for the topic – simply enter a keyword and your target location. And for more assistance in content planning, head to the questions section under "content brief" to find trending questions about your keyword on platforms like Google, Quora, and Reddit.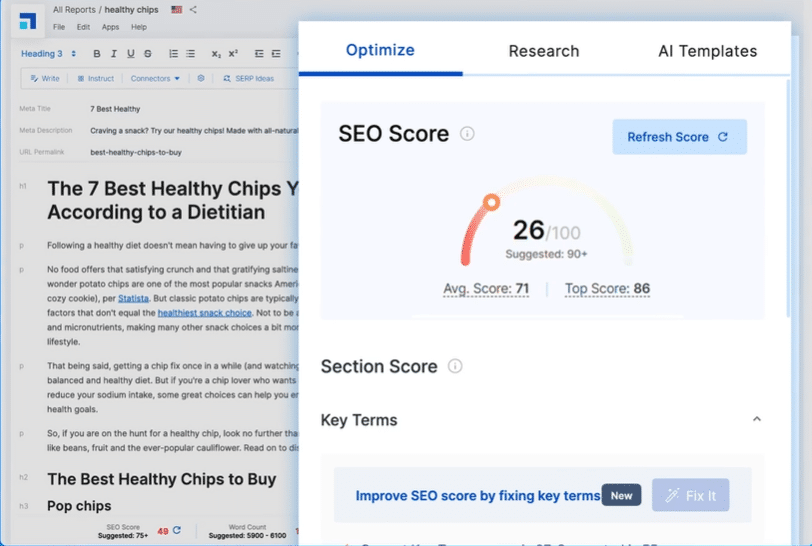 Best For
Starting Price
Free Version
Standout Features
Advanced AI tools for SEO
$39/month
7-day free trial

Keyword planner
Real-time SERP stats
Content strategy and keyword cluster generator
It has an SEO assistant that's equivalent to Jasper's SurferSEO, but where it surpasses the competition is its competitor research features that let you study different parameters in the top 30 pages ranking on the SERP (Search Engine Results Page) for your keyword. Plus, being the advanced tool that it is, the AI commands in Scalenut are more detailed than most tools on the market.
While others have a simple "Compose" button, Scalenut allows you to give more direction about the kind of content you want by letting you select from the operator and connector buttons instead of having to write commands.
To give you an idea about how the connector button lets you add depth to the content, you simply have to select a connector from the list, for example, 'moreover' or 'contrast', and a paragraph will be generated with it. As such, it's easy to conclude that Scalenut is a high-end marketing AI solution that has a lot to offer for users who want to get to the depth of their content.
Pricing
Scalenut's recent price cuts have made it a seriously affordable and tempting option: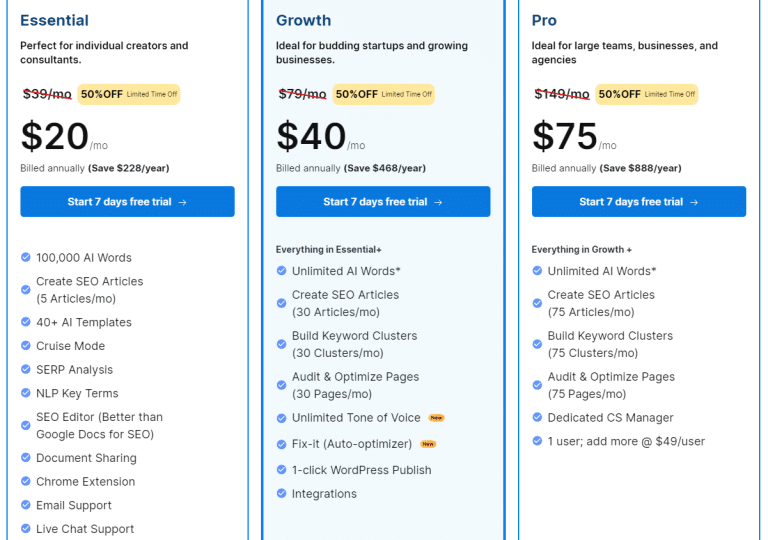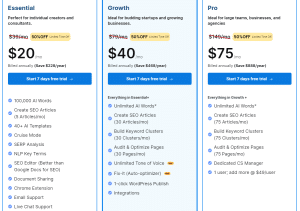 Pros
Effective SEO reports
Live chat support
Various integration options
High-quality content
Great long-form editor
Cons
Tone options aren't available on the basic plan
Lacks the history tab
8. Copysmith — The Go-To AI Writing Tool for Bulk Creation
Copysmith is an impressively fast AI writing assistant that can work with a range of formats like product descriptions or social media captions. You can customize the language, tone, and creativity of the content to match your target audience for better engagement.
While it also has other features for rewriting paragraphs and creating blog outlines that work perfectly well, we specifically love its long-form content generation capabilities — so good that the "Article Writing Assistant" is perfect if you're looking to scale your business.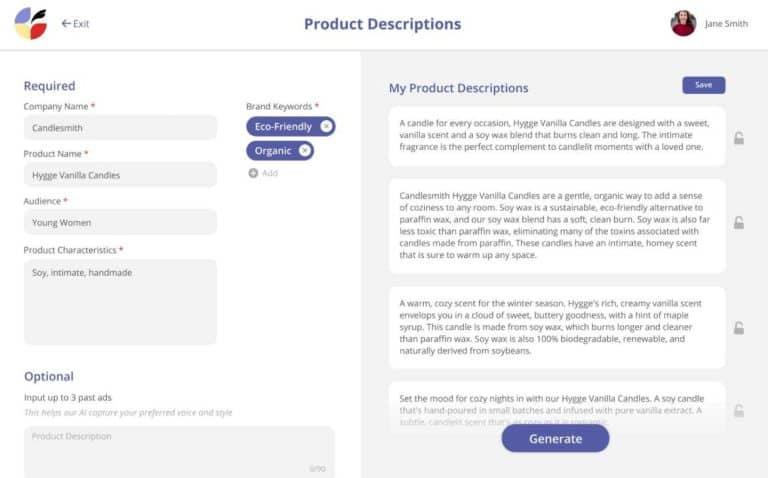 Best For
Starting Price
Free Version
Standout Features
Bulk content production needs
$19/month
30-day money-back guarantee

GPT Turbo Technology support
E-commerce integrations
Article writing assistant
Thanks to its amazing processing and text generation speed, Copysmith is a great fit for generating bulk content in little time. Plus, the AI tool reassures users that the generated content will get through any plagiarism checker like Copyscape, so you don't have to worry about the uniqueness aspect of its work.
The interface of Copysmith is one of the easiest to work with, too – it's clean and intuitive, and if you ever get stuck, you'll find plenty of guides on the left side of the home dashboard to guide you through just about everything.
We love that you can get handy access to Copysmith by downloading a Chrome extension. Plus, depending on the plan you choose, there are a handful of other integration options available, like Shopify and even Zapier. All things considered, Copysmith is great for users with mid-pack e-commerce content creation needs with its quick turnaround time and several integration options.
Pricing
Copysmith's Pro Annual plan is the most value for money if you're in for a long-term commitment: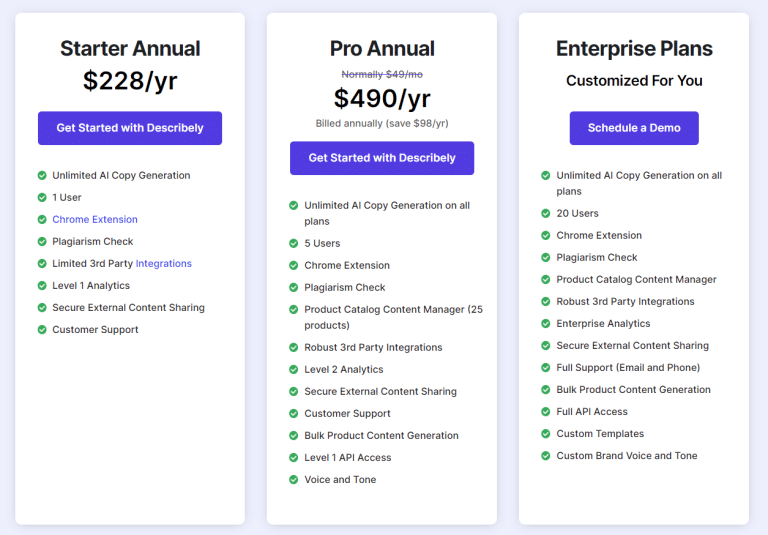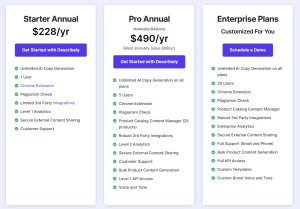 Pros
FAQ idea templates
Chrome extension available
Faster than most AI writers
Unique templates
Solid integration options
Cons
The in-built plagiarism checker needs tweaks
Hypotenuse AI is the best e-commerce AI writer in the market, which makes writing product descriptions easier than ever. It uses computer vision and Natural Language Processing (NLP) to understand human language and then uses the same to generate product descriptions from bulk information.
While the copywriting and overall writing capabilities of Hypotenuse are as good as you can expect from an AI, what makes this unique is its out-of-the-box e-commerce features like product catalogs – an effective way to organize and store your products in one place instead of having to upload them one by one.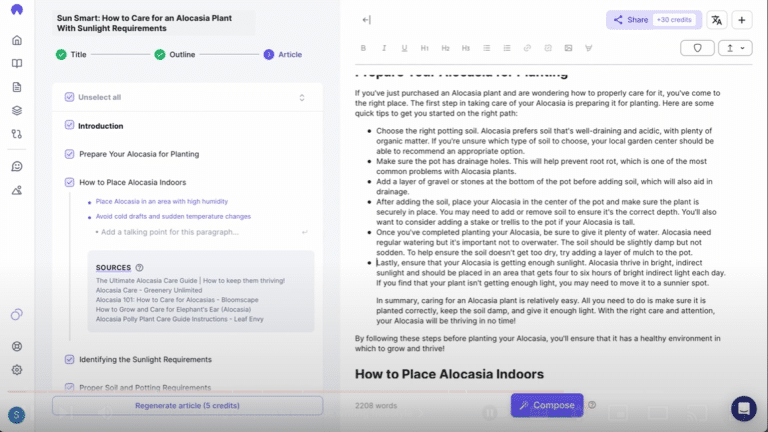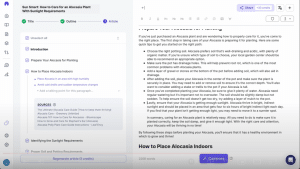 Best For
Starting Price
Free Version
Standout Features
E-commerce stores
$15/month
7-day free trial

Content Detective
Article sharing link
Article writing assistant
If you have ample products, you can directly import them through the Shopify integration, or you can do it in bulk via spreadsheets. Either way, there will be support documentation and helpful guides to walk you through the process. Plus, the descriptions for your PDP (Product Detail Pages) will be crafted automatically from the retrieved product information.
It's always important to fact-check AI-generated articles before publishing, and Hypotenuse makes it a breeze with its 'Content Detection' feature by providing the citations and sourcing to you, meaning you won't have to waste a lot of time researching the internet to find and verify the text.
There's also a unique article-sharing feature that enables you to share a public link of the article with multiple people, maybe for proofreading or other purposes. This comes in handy for team collaboration. All in all, Hypotenuse is a great AI tool for e-commerce that helps you streamline your products and create product descriptions and other content very quickly.
Pricing
HypotensueAI offers feature-rich plans with the option to customize one for yourself: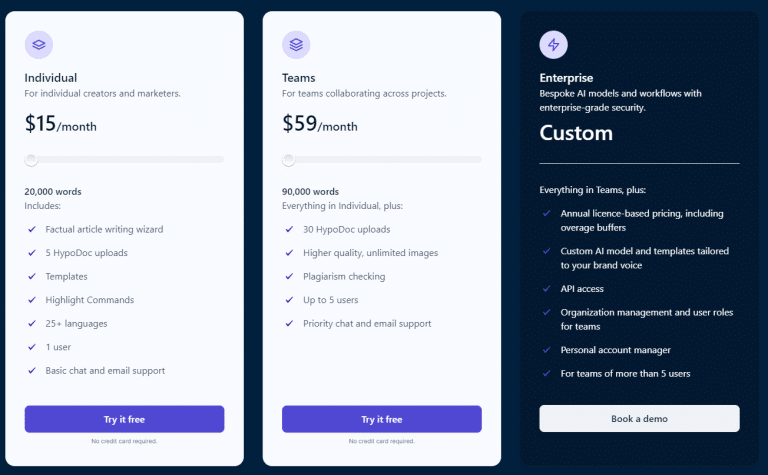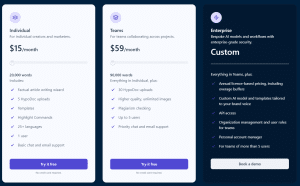 Pros
Great for writing product descriptions
Supports bulk importing
Fact-checking is a breeze
User-friendly
Can also generate images
Cons
Templates are a little scarce
10. ClosersCopy — The Best AI Copywriting Tool
ClosersCopy is an advanced copywriting tool that uses three different AI algorithms — Blog AI, Sales AI, and Story AI — for blog writing, creating sales copy for marketing, and social media content. All three algorithms are trained on different databases to create content that's as creative or logical as required by the field.
This unique feature not only simplifies and customizes the content creation process, but it's worth noting that while most rivals use Chat GPT and other third-party AI tools, these AI algorithms are proprietary to ClosersCopy.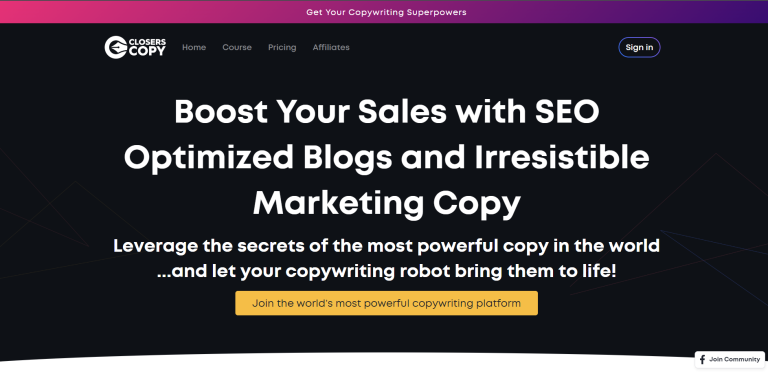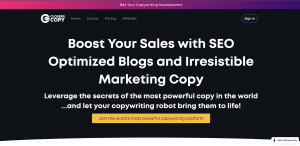 Best For
Starting Price
Free Version
Standout Features
Copywriting
$49.99/month
14-day free trial

Three different AI Algorithm
Unlimited content generation
100+ languages supported
Sure, it has a relatively steep learning curve, but to simplify it for you, there's a dedicated course section with in-depth tutorials explaining every feature in video format. Overall, the library is very extensive for newcomers to the AI scene.
Beyond this, we love that you get a readability grade and a report stating the number of adverbs, passive voice statements, difficult sentences, and other things about the generated text in the insights tab. On top of that, these are also color-coded for convenience.
If you have ambitious content generation needs, you can go with the copywriting Superpower plan or higher plans and get unlimited AI writing, SEO Audits, and updates. While it's a little disappointing that there isn't a free plan or trial on offer, there's a generous no-questions-asked 14-day money-back guarantee, which is above par with what most competitors provide.
Pricing
Though not the cheapest on our list, ClosersCopy packs a solid punch right from the most basic plan: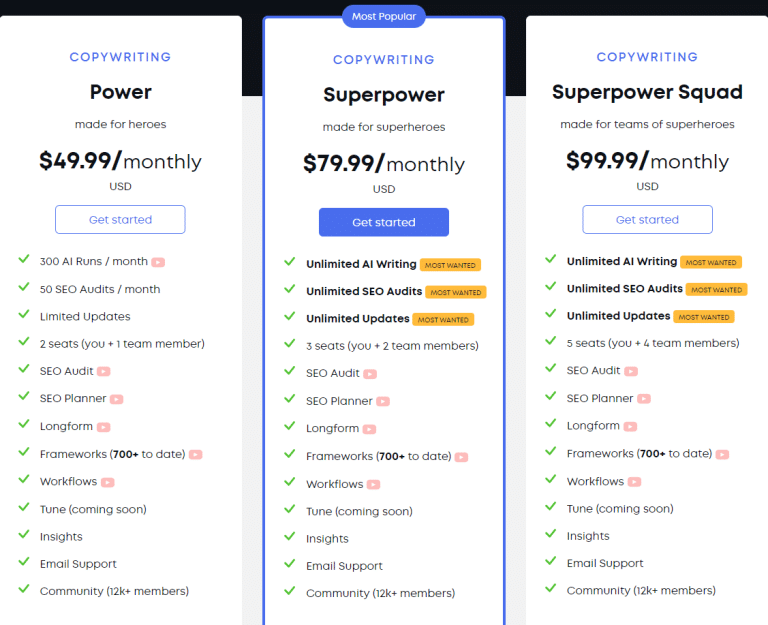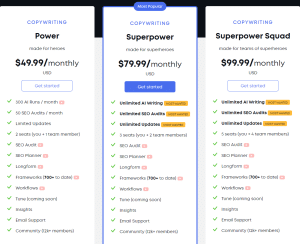 Pros
Dedicated AI algorithms
Great for copywriting
Extensive library of tutorials and guides
SEO audits
Cons
Steep learning curve
A little slow
Comparison of the Best AI Writing Generators
That's a lot of information. To help compare, here's a quick table highlighting the key differences between each of our top picks so that you can make a quick, informed decision on the one most aligned with your needs and budget:
AI Writing Software
Best For
Starting Price
Free Version
Standout Features
JasperAI
B2B campaigns
$39/month – billed annually
7-day free trial

30+ languages supported
Integrates with SurferSEO and Grammarly
Brand voice representation feature

Copy.ai
Copywriters, bloggers
$49/month
Free plan + 7-day free trial

90+ copywriting templates
In-built plagiarism checker
Multi-language support

Rytr
Budget-conscious users
$9/month – billed annually
Free plan + 7-day free trial

Great free plan
20+ tone presets
Cheap unlimited plan

Writesonic
SEO writing
$16/month – billed annually
Free plan + 7-day free trial

SEO-optimized content
100+ AI templates
Free plan with 10K words

AI-Writer
High-output writers
$49/month
7-day free trial

Sub-topic generator
Verifiable citations/ references
Text rewriting

WordAI
Paraphrasing text
$27/month – billed annually
3-day free trial

Rephrasing that passes AI tests
HTML support
AI content spinning

Scalenut
Advanced AI tools for SEO
$39/month
7-day free trial

Keyword planner
Real-time SERP stats
Content strategy and keyword cluster generator

Copysmith
Bulk content production needs
$19/month
30-day money-back guarantee

GPT Turbo Technology support
E-commerce integrations
Article writing assistant

Hypotenuse AI
E-commerce stores
$15/month
7-day free trial

Content Detective
Article sharing link
Article writing assistant

ClosersCopy
Copywriting
$49.99/month
14-day free trial

Three different AI Algorithms
Unlimited content generation
100+ languages supported
How to Choose the Best AI Writer App for You
AI writing apps are becoming increasingly popular as a way to save time and improve the quality of writing. However, with so many different apps on the market, knowing which one is right for you can be difficult. Here are some factors to consider when choosing the best AI writer app for you:
High-Quality Content Output
Choosing an AI writer app that delivers high-quality content output is of utmost importance for several compelling reasons. Firstly, your content represents your brand and serves as the voice of your business or ideas. High-quality content builds credibility and fosters trust, leading to better engagement and customer loyalty.
Secondly, well-crafted, grammatically correct, coherent, and contextually relevant content ensures effective communication of messages and ideas. It resonates with the target audience, driving higher conversion rates and achieving marketing objectives. Moreover, high-quality content adheres to SEO best practices, improving search engine rankings and online visibility.
Ease of Use
A user-friendly interface and intuitive features enable even those with limited technical expertise to leverage the full potential of the app. A simple workflow saves valuable time, allowing content creators to focus on generating ideas and refining content rather than getting bogged down in complex processes.
Moreover, an easy-to-navigate app, reduces the learning curve, enabling quicker adoption and integration into existing writing workflows. This ensures that users can harness the power of AI-driven writing without encountering obstacles or frustration.
Features
Different AI writer apps offer varying capabilities, such as generating blog posts, social media content, product descriptions, or code snippets. By carefully evaluating the features of the app, you can select one that best suits your requirements, saving time and effort in generating the desired content types.
Advanced features like language translation, SEO optimization, and customization options enhance the app's utility, allowing for a more tailored and impactful content creation process. Additionally, features such as grammar and style checking, readability analysis, and plagiarism detection contribute to the overall quality and professionalism of the output.
Integrations
An AI writer app with robust integration capabilities can easily integrate with popular content management systems, collaboration tools, and marketing platforms. This facilitates effortless content publishing, distribution, and team collaboration.
Moreover, integration with analytics and SEO tools allows you to optimize content for search engines and measure its performance effectively. There's no doubt that a well-integrated AI writer app enhances the user experience by reducing manual data entry and minimizing the need to switch between multiple applications.
Pricing
Different AI writer apps offer various pricing models, such as subscription plans, pay-as-you-go options, or tiered pricing based on usage. Evaluating pricing structures can help you select an app with the required features and content volume that fits your budget.
Additionally, understanding the pricing details, including hidden fees or additional costs, allows for better financial planning and prevents unexpected expenses. Choose a cost-effective AI writer app that offers sustainable solutions for content creation needs.
SEO Capabilities
Consider SEO when choosing an AI writer app to optimize content for search engines and increase online visibility. An AI writer app with robust SEO capabilities can analyze keyword relevance, search trends, and competition to suggest targeted keywords and phrases, enhancing the content's search engine rankings.
The app can also assist in crafting meta descriptions, headings, and content structures that adhere to SEO best practices, enabling you to create SEO-friendly content without extensive SEO knowledge. By optimizing content for search engines, businesses, and individuals can reach a wider audience, attract potential customers, and achieve marketing objectives more effectively.
Use Cases
There are various AI writer apps available, each designed to cater to different industries, content types, and writing styles. Select one that best suits your requirements, whether generating blog posts, social media content, product descriptions, technical documentation, or creative writing.
Understanding the app's intended use cases can help you gauge its versatility and determine if it can address your content generation challenges. Moreover, choosing an AI writer app that caters to multiple use cases can offer a broader range of possibilities and applications, maximizing the value and return on investment.
Conclusion | What is the Best AI Writing Tool to Use in 2023?
Our list of the best AI writing software isn't short of action. From the best free AI writing tools and AI that writes essays to professional tools with detailed SEO analysis, you can choose any tool that suits your fancy. From writing for college projects to generating brand content, there's something for everyone on our list.
However, JasperAI is a sure-shot choice when it comes to creating brand-specific campaigns, essays, social media posts, and just about everything else. It recognizes your brand's voice through 'memories' and generates articles that align with your goals. Try JasperAI now with the 7-day free trial.
AI Writing FAQs
What is the best AI for writing papers?
What is the best free AI for writing?
What is the most advanced AI writing tool?
Which AI learns your writing style?
Are there risks to AI writing?