Copy.ai is an artificial intelligence (AI) writing tool that gives you the ability to create a range of content, including but not limited to, web copy, blogs, emails, and social media. It's available in over 25 languages and is the perfect gateway for people new to using AI technology.
In this Copy AI review, you'll learn what Copy-ai is and how you can use this free AI writing assistant to elevate your content creation process. This comprehensive guide will give you everything you need to know about this popular writer assistant before deciding if it's the right AI tool for you.
How Does Copy.ai Work?
Copy.ai is based on OpenAI's language prediction model — GPT-3 (Generative Pre-trained Transformer 3) — the most advanced artificial intelligence model for language creation available right now. As such, Copy.ai can generate several different pieces of content at once, allowing you to choose the best option for your project.
It uses natural language processing to produce either a full body of work or an outline that matches the user's brand and tone and is trained on over 175 billion parameters, which are variables that define the behavior and structure of the model and are learned from data obtained during the training process.
The more you use Copy.ai, the more it'll understand your writing style, meaning it'll improve the quality of the content it generates the more you use it. In terms of ease of use, Copy.ai has kept its interface simple and easy to use to appeal to a wide range of customers.
Once you've written something, it can be saved and shared directly to and from this homepage, unlike other AI programs like ChatGPT, where you'd have to transfer your work into a word processor like Microsoft Word or Google Docs before you save or share it.
Is Copy.ai Good? The Pros and Cons
Copy.ai is an excellent tool for copywriters who want to expand and improve their writing style and increase productivity, but as with all AI tools for writers, there are advantages and disadvantages to note:
Pros
Offers high-quality content creation
Works well for both long and short-form content
There's a wide selection of templates and customization options
Has a free trial and affordable paid plans
Large Facebook community to share ideas and updates
Works as advertised for boosting creativity
Easy-to-use interface
Works quickly, saving the user ample time
Cons
It doesn't automatically save your work
There's a 40,000-word limit on the prompt you can enter
Like all AI programs, it can generate inaccurate sentences, specifications, or facts
Is Copy.ai Free? Copy AI Pricing Breakdown
Copy.ai's pricing, like its software, is straightforward and clear. They offer three plans:
Free Plan
Pro Plan
Custom Team Plans
Let's take a closer look at what you can expect to get on each plan.
Free Plan
Copy AI offers a free plan in which one user can use 2,000 words or 10 credits a month free of charge and without adding their credit card details. With this plan, you'll also have access to over 90 writing tools and a bonus of 100 credits for the first month.
Pro Plan
If you want to use this tool regularly, there's a 7-day free trial of the Pro plan in which the word count is unlimited, and you still don't need to add your credit card details.
If you decide to become a monthly subscriber, the Pro plan starts at $49 per month if you opt for a monthly subscription, which is on the higher side for AI writing tools. If you choose a yearly subscription plan, it works out considerably cheaper at $36 per month.
With this plan, five users have an unlimited amount of words to use a month, which allows teams to collaborate. It also has pre-built prompt templates, access to 95+ languages, and prompt improvement, which improves your prompts over time.
Regardless of how many words you use every month, all users will have access to all features. Plus, as a bonus, Copy.ai supports all major credit cards and Google Pay, and the tool even offers a 10-day refund policy if you change your mind.
Custom Plan
While the Pro Plan offers unlimited words, it doesn't offer unlimited users. If you're a business owner, then a custom plan may work better, especially if you have a team that exceeds five people. Contact Copy.ai for your custom quote for pricing based on your team size and needs.
What Can I Use Copy AI For?
Copy.ai has many uses, making it an excellent tool for writers, but the opportunity to transform writing with AI, like Copy AI, is also great for companies who like to create a variety of content for their websites and customers. Here are some of the key applications you can use Copy.ai for:
Product Descriptions
One of the most unappreciated pieces of writing is the product description. The sale of many products is determined by the quality of the text that describes the product and if it meets the consumer's wants and needs.
Depending on the product or service, however, writing a product description engaging enough to catch customers' attention can be challenging.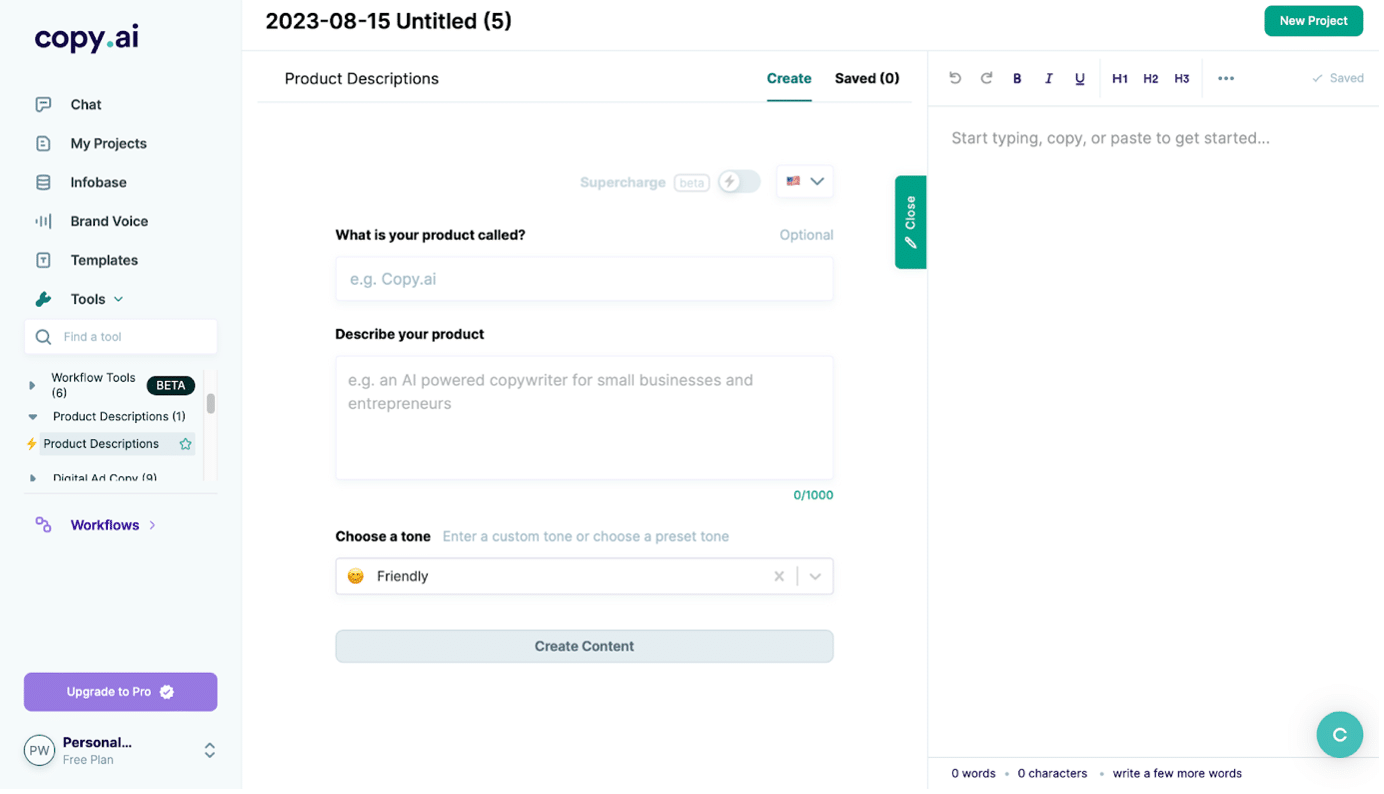 This is where Copy.ai can help. To construct your new product description, start a new project and add the name of your product to the prompt box that asks: "What is your product called?"
From there, you can describe your product using applicable keywords, and within seconds, you'll have several versions of your new product description to choose from.
Digital Advertisements
Copywriters who work in advertising or who create a lot of marketing content know that it's difficult to consistently come up with creative copy that'll wow consumers. Copy.ai is a content generator that doesn't only create marketing content for you.
It can also give you a little inspiration if you're struggling to find a new angle on a project. Several Copy.ai tools can be used to generate high-quality marketing copy, including:
General Ad Copy
This feature creates specific advertisements around a product or service and can also be used for social media and Google Ads. The process starts by supplying Copy.ai with a product or brand name, a description of the product or service, and the desired tone of the ad.
From there, several advertisements are created. It's as simple as that.
Facebook Primary Text
This feature is used for creating advertisements specifically for Facebook Ads. Like the "General Ad Copy" feature, you need to add your information to the tool, and a number of options will be generated instantly for you to choose from.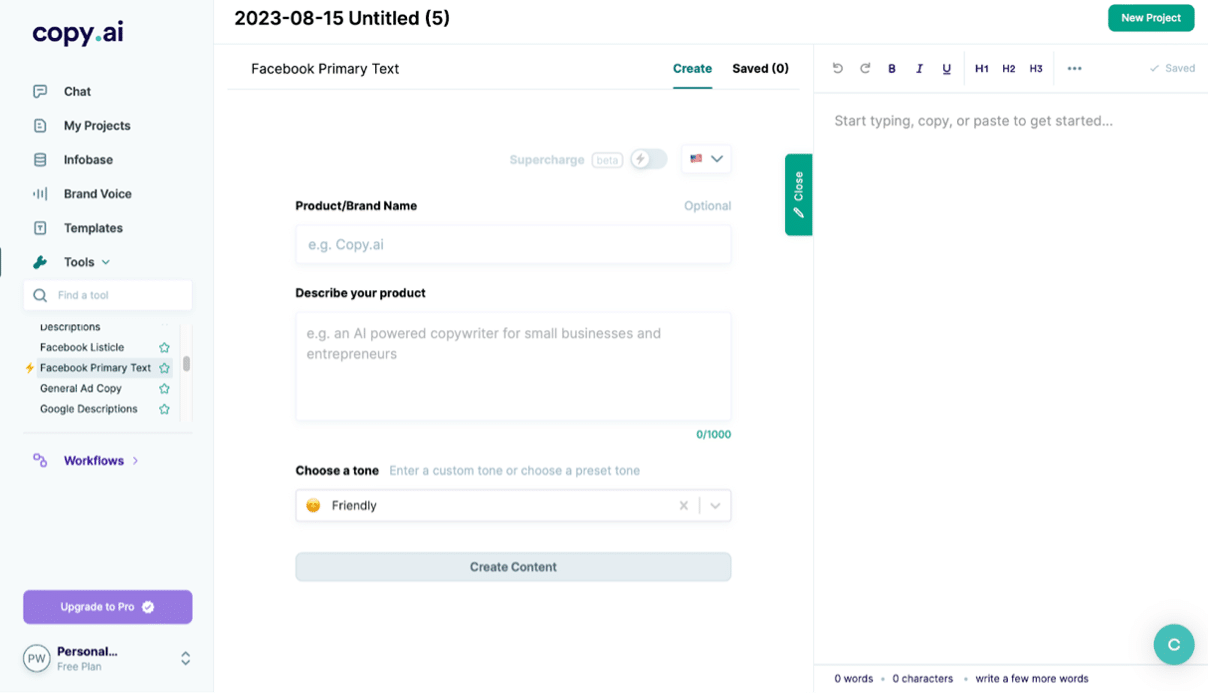 Google Descriptions
This is similar to the product description features previously mentioned, but one is developed especially for the Google algorithm, hence the name. With different features for creating digital advertisements, you aren't stuck with that result if you feel like Copy.ai hasn't generated the ad you were looking for.
If this is the case, you can experiment with different inputs to achieve your desired results. Sometimes it might take a couple of tries to get the correct combination, so don't be discouraged if the first try is off the mark.
Brainstorming
Not only does Copy.ai create sections of writing content, but it can also help you set up your own business and take the leap into the entrepreneurial world.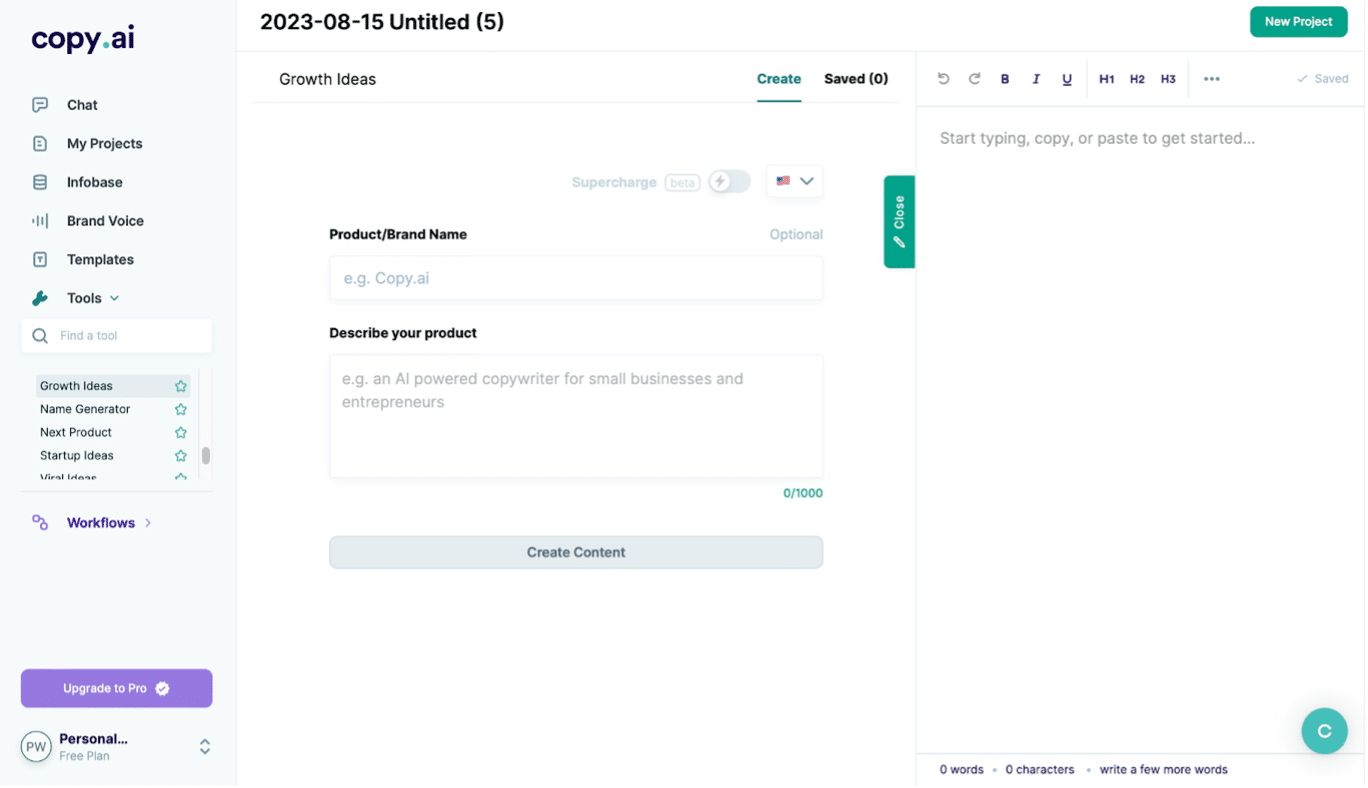 If you want to start your own business but need help figuring out where to start, all you have to do is click on the "Start-up ideas" feature and input a list of topics that you're passionate about, like engineering or consumer technology, for example.
From there, it'll generate ideas related to these industries to potentially inspire your new career. Plus, as with the startup ideas feature, the "Name Generator" feature will help you create a name for your product when starting a business or brand.
Website Copywriting
Copy.ai offers a range of features that simplify the process of building or updating your website. It accomplishes this by generating various pieces of website content, providing invaluable assistance in transforming your ideas into reality.
Call-to-action — This feature generates call-to-action (CTA) one-liners to entice your target consumers to visit your site or to direct them to a specific page on your website.
Meta descriptions — This tool will create meta descriptions for your product. For this feature, the more detailed your explanation, the better meta description it produces.
Landing page hero text — It produces concise and catchy phrases that can be used as your company's catchphrase.
Writing Tools
This feature set is excellent for content writers or bloggers as it ensures that every piece of work that you create is engaging, clear, and to the point. Here's a quick overview of each of the tools on offer:
Sentence Rewriter
This is a convenient tool if you're stuck on a sentence that you feel can be written more good (see what we did there?). You just input the sentence into the tool and select the tone you want your sentence to be re-written in, and it'll produce a few alternatives.
From customer reviews, this feature is more of a rephrasing tool, but it's still beneficial to writers who just can't seem to get that one sentence to flow properly.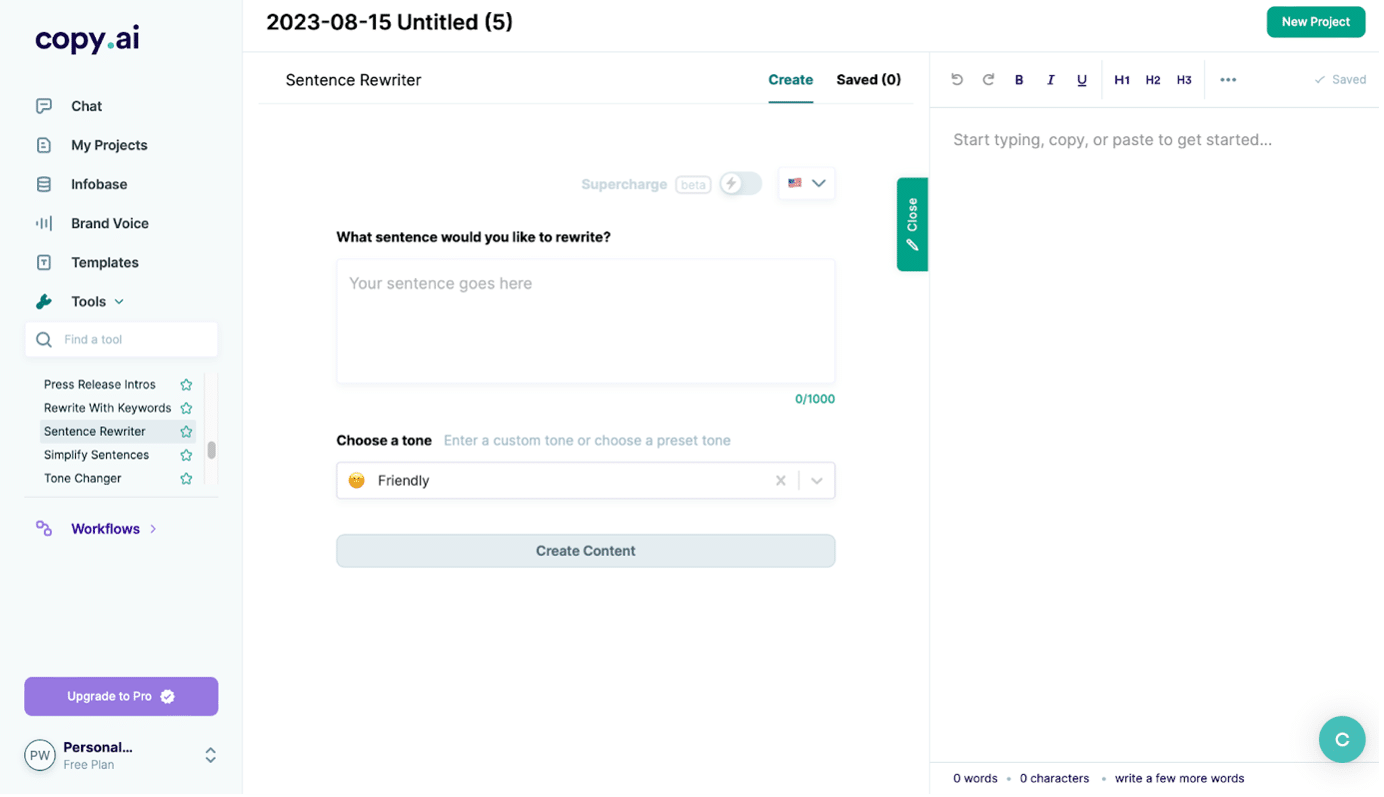 Bullet Point to Paragraph Tool
This does exactly what it says it'll do. You have to enter the main points of your desired paragraph (in bullet points if you wish) into the prompt box. This, along with a topic and tone, will prompt Copy.ai to produce a paragraph based on your input.
Most users are satisfied with the results from this tool, but some of the results can be a little bland. Thankfully, this isn't a huge issue, as we found that there are, generally, plenty of usable paragraphs to choose from.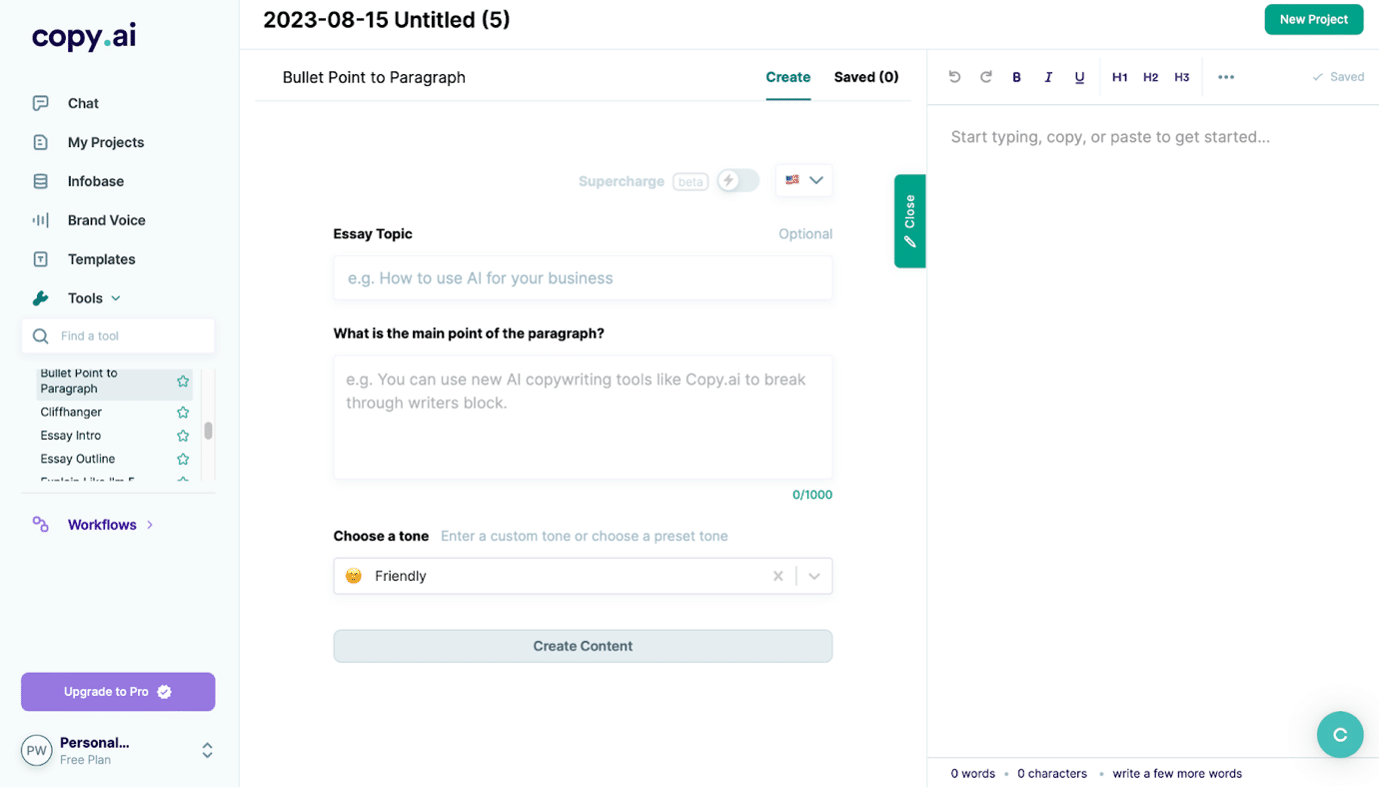 Simplify Sentences
This is the opposite of the previous feature in that it'll reduce a complex paragraph of writing into several short and concise sentences. We found that this feature was the most disappointing as it didn't shorten the section effectively, but it did simplify it (somewhat) for readers.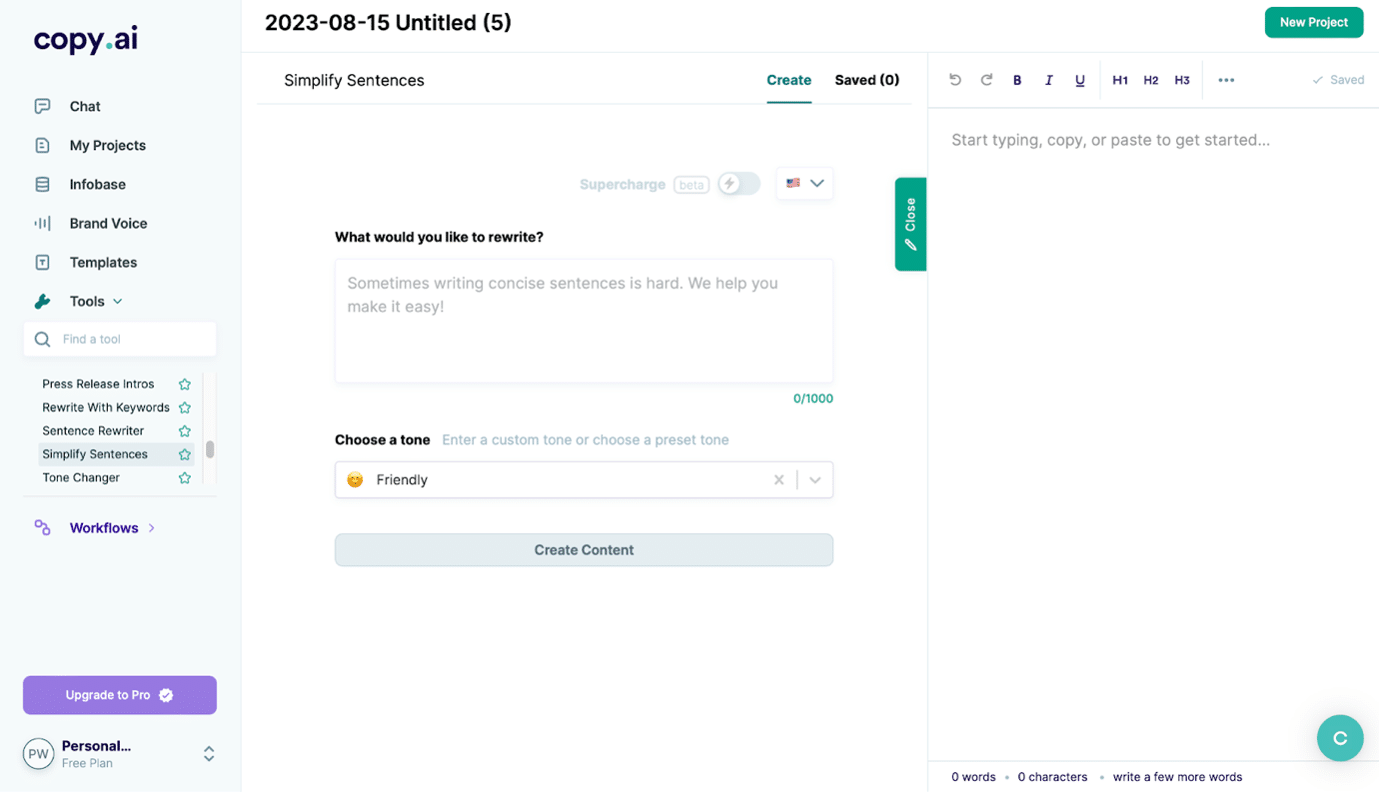 Sales Writing
For general sales or marketing-based writing, several Copy.ai features can help you create excellent copy for any product or service.
The "AIDA (Attention Interest Desire Action)" Copywriting Formula feature will give you a copywriting framework to base your sales funnel writing around. This feature is perfect for a beginner, as we found the outputs were quite simple and straightforward to use.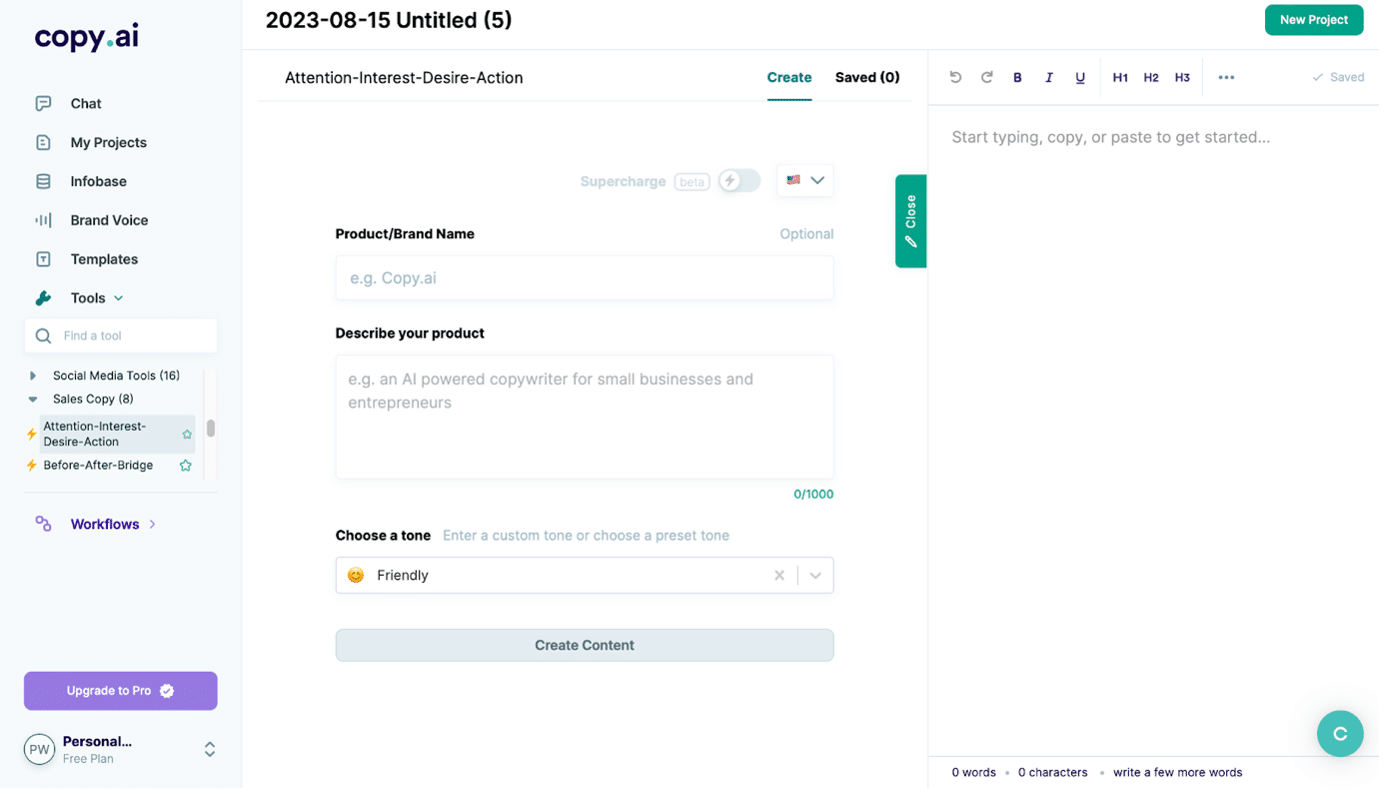 The "PAS (Pain Agitate Solution)" Copywriting Framework feature is another framework that's used widely by copywriters. It'll help you identify a customer's problem and find a solution to it by using your particular product or service.
The "Features to Benefits" tool offers a comprehensive list of how your product or service can positively impact its customers, highlighting the value it brings. To generate these benefits, you add the product name, a description, and the tone to the prompt boxes, and it'll create a diverse list of benefits for you to use.
Startup Tools
Similar to Copy ai's website copywriting tools, there are additional features that can enhance your product, service, or brand, taking it to new heights. These include:
Brand Mission feature
This will generate a short description detailing your product or service and how that'll fix a specific problem your consumers face. Adding basic information produced excellent results, all of which could be used by any user, regardless of their skill level.
Brand Voice Feature
This feature will create a list showcasing your product, service, or brand's qualities. These can be used for creative writing and for creating effective descriptions of your brand and what it has to offer.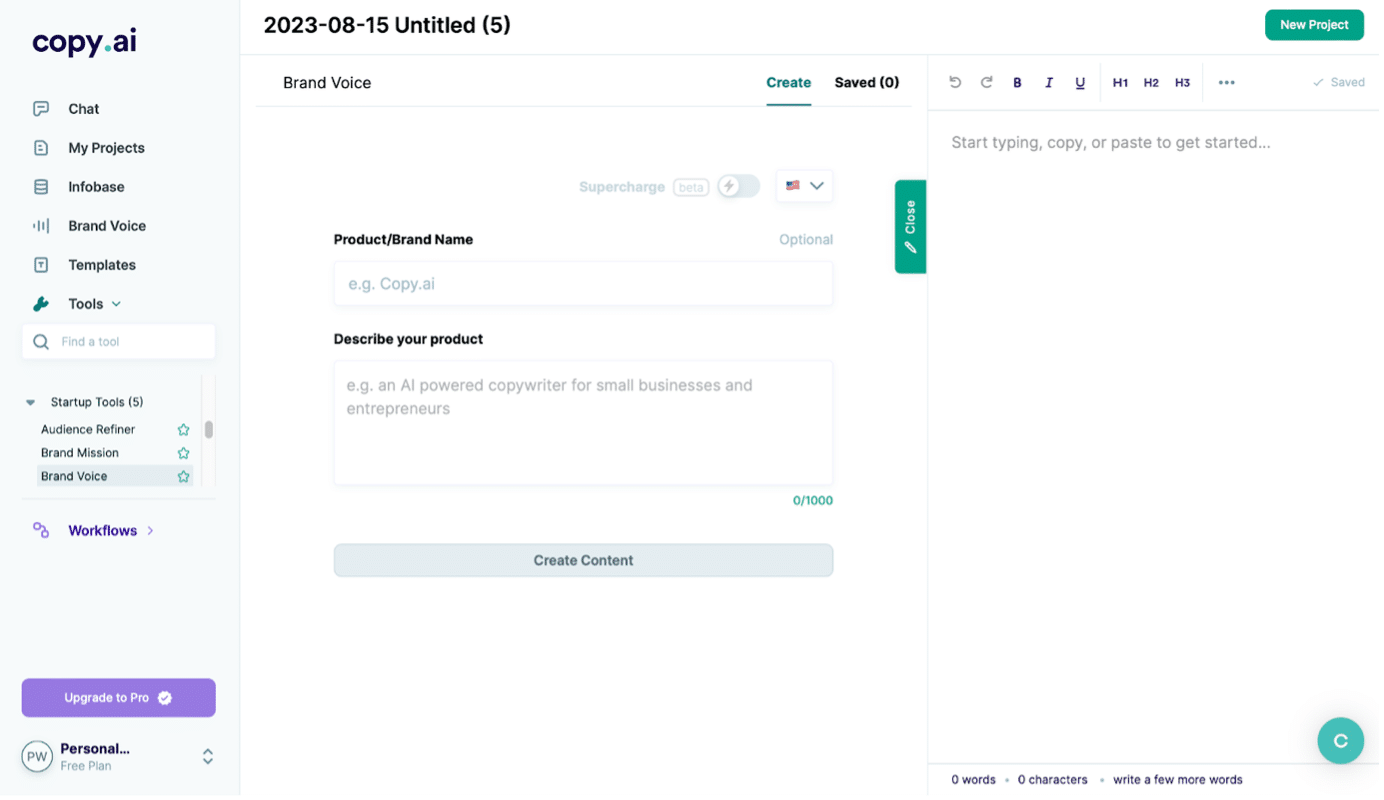 Blog Writing
Here's a look at some of the key blogging tools on offer with Copy.ai:
Blog Titles Feature
This creates a title for a blog article depending on the information it receives. Copy.ai can help to perfect that task of generating the perfect article title that'll attract readers to your blog.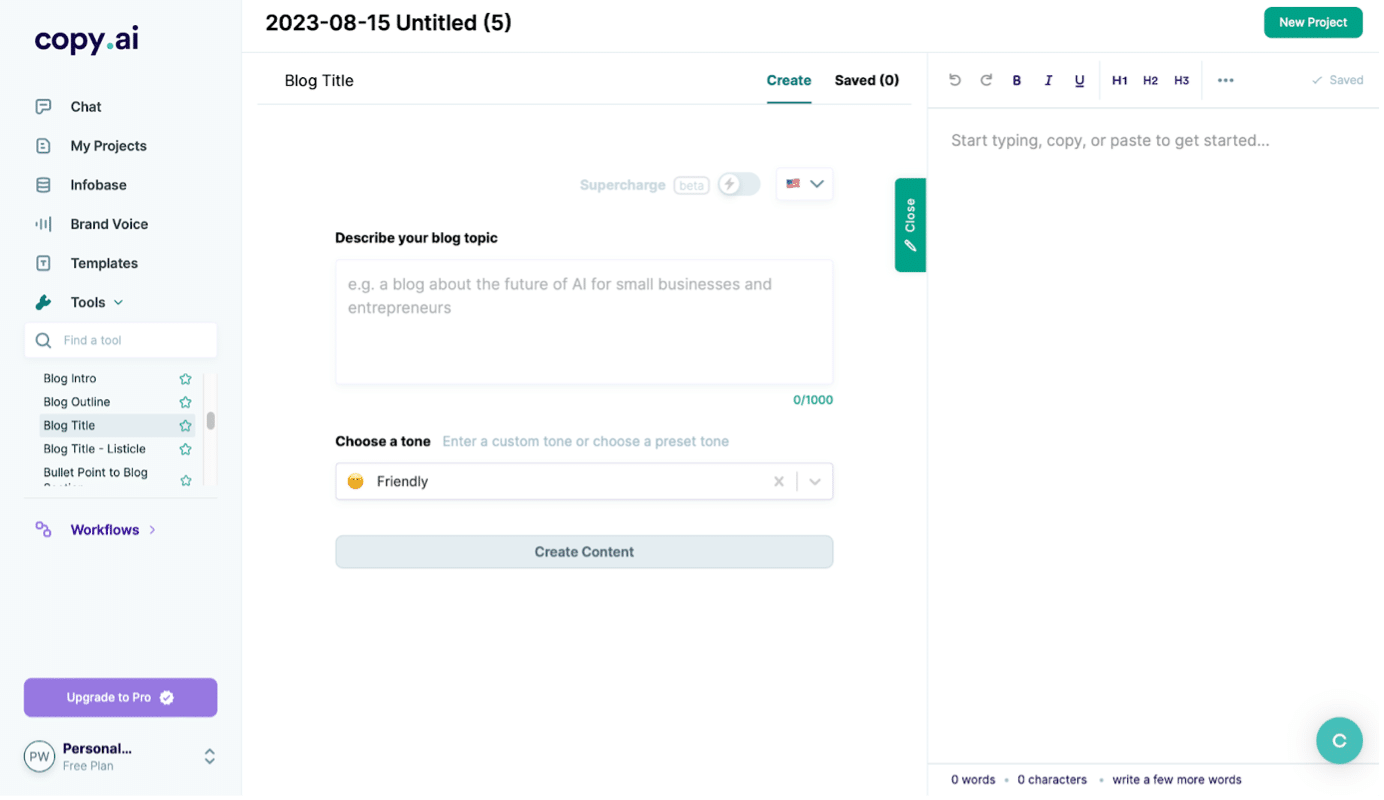 Blog Conclusion Feature
This will create the summarizing paragraph at the end of the article. Like blog titles, sometimes ending an article can be tough to get right, but this tool can generate a conclusion in seconds, streamlining the writing process and enhancing efficiency.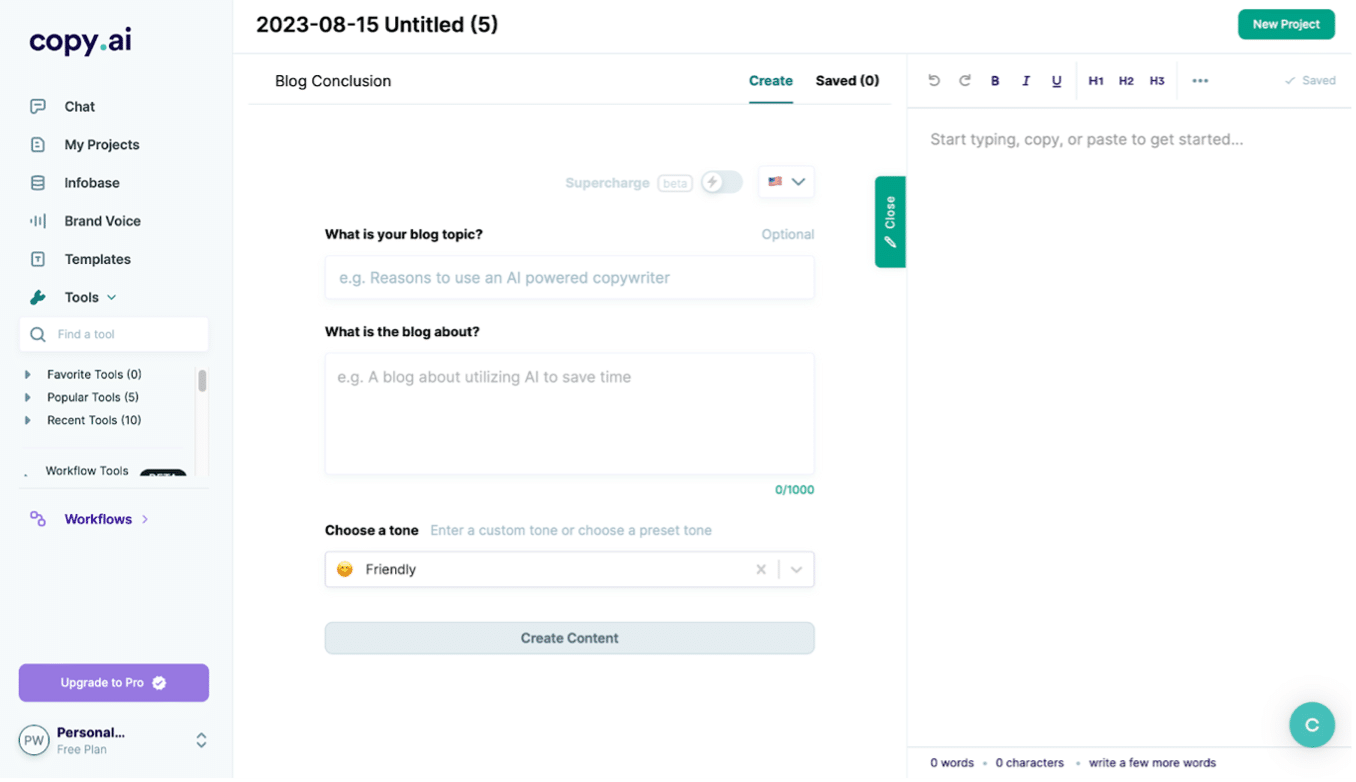 Within this section, we show how several tools can be used to enhance your advertising with Copy AI on various social media outlets:
Elevate your Instagram posts with captivating captions. To create these engaging captions, simply provide a concise description of the topic or content you wish to caption.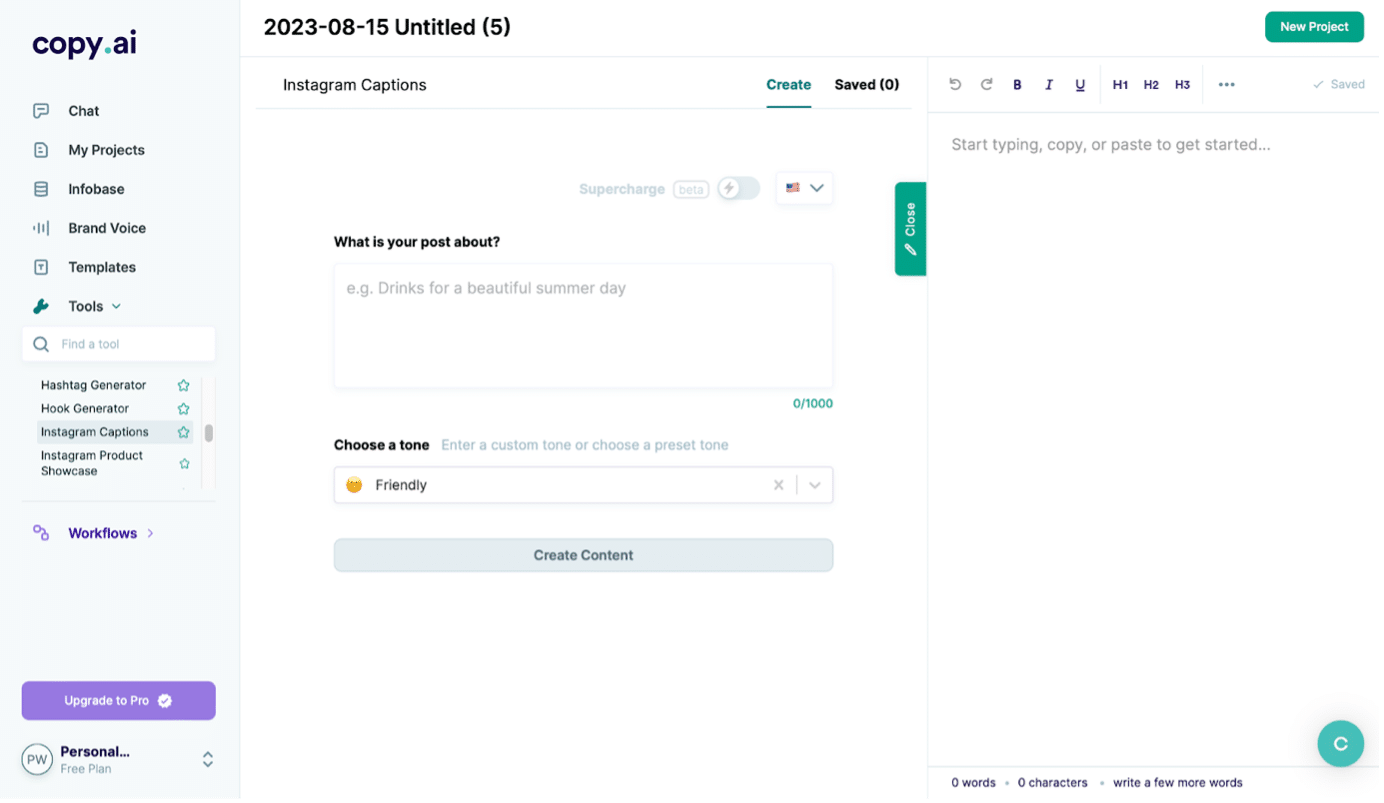 Crazy YouTube Ideas Feature
This feature is similar to the start-up ideas feature. It'll generate a range of ideas for YouTube videos based on the information you enter in the prompt boxes.
Email or Letter Construction
In the corporate sector, constructing concise and professional emails is something every employee must do every day. Copy.ai has several tools that help to make that process easier.
Catchy Email Subject Lines
This tool will create the perfect email subject line to draw the attention of your intended recipients, whether they're fellow employees or consumers.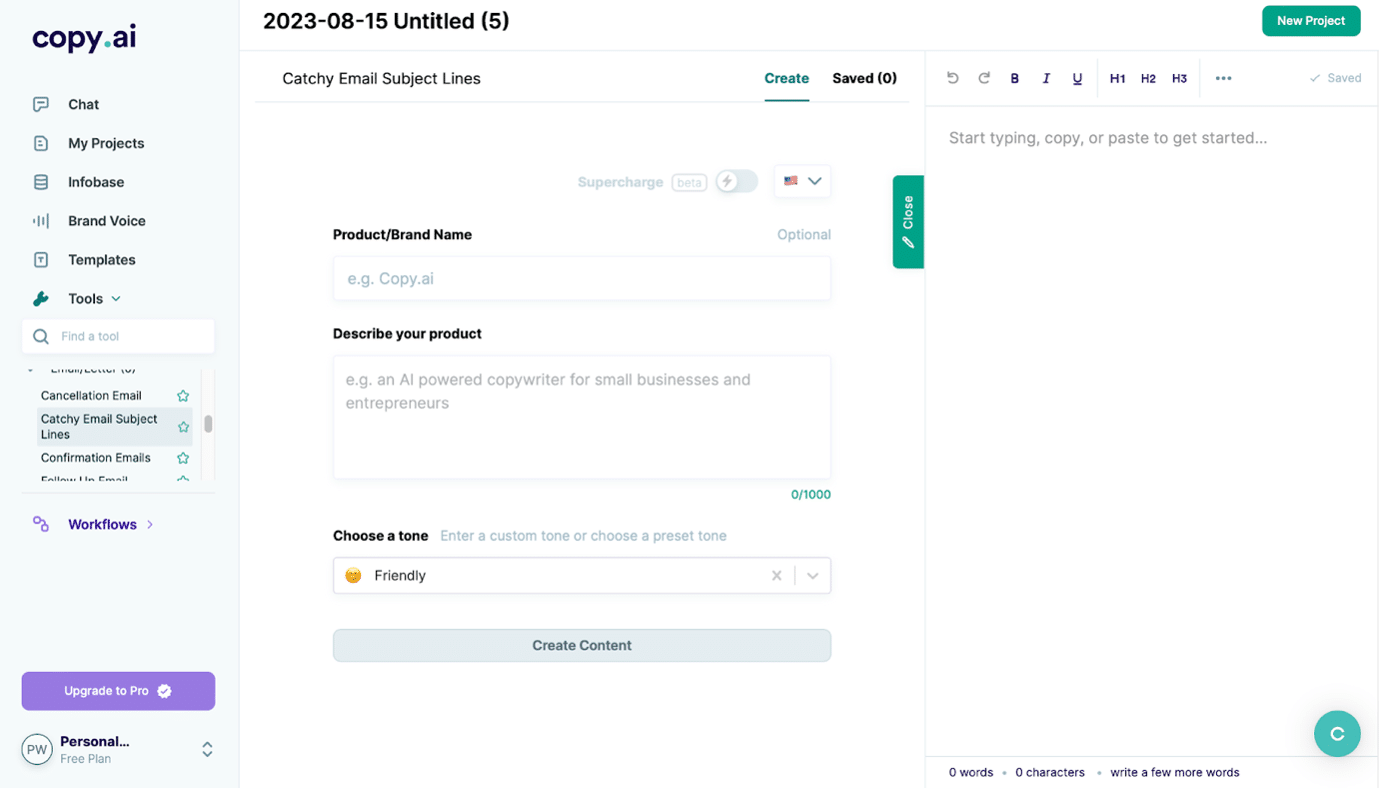 Follow-Up Email
This tool creates a follow-up email for a range of scenarios, including meetings, interviews, and presentations. While this tool is effective, it needs a general email template to write emails like job applications and holiday requests.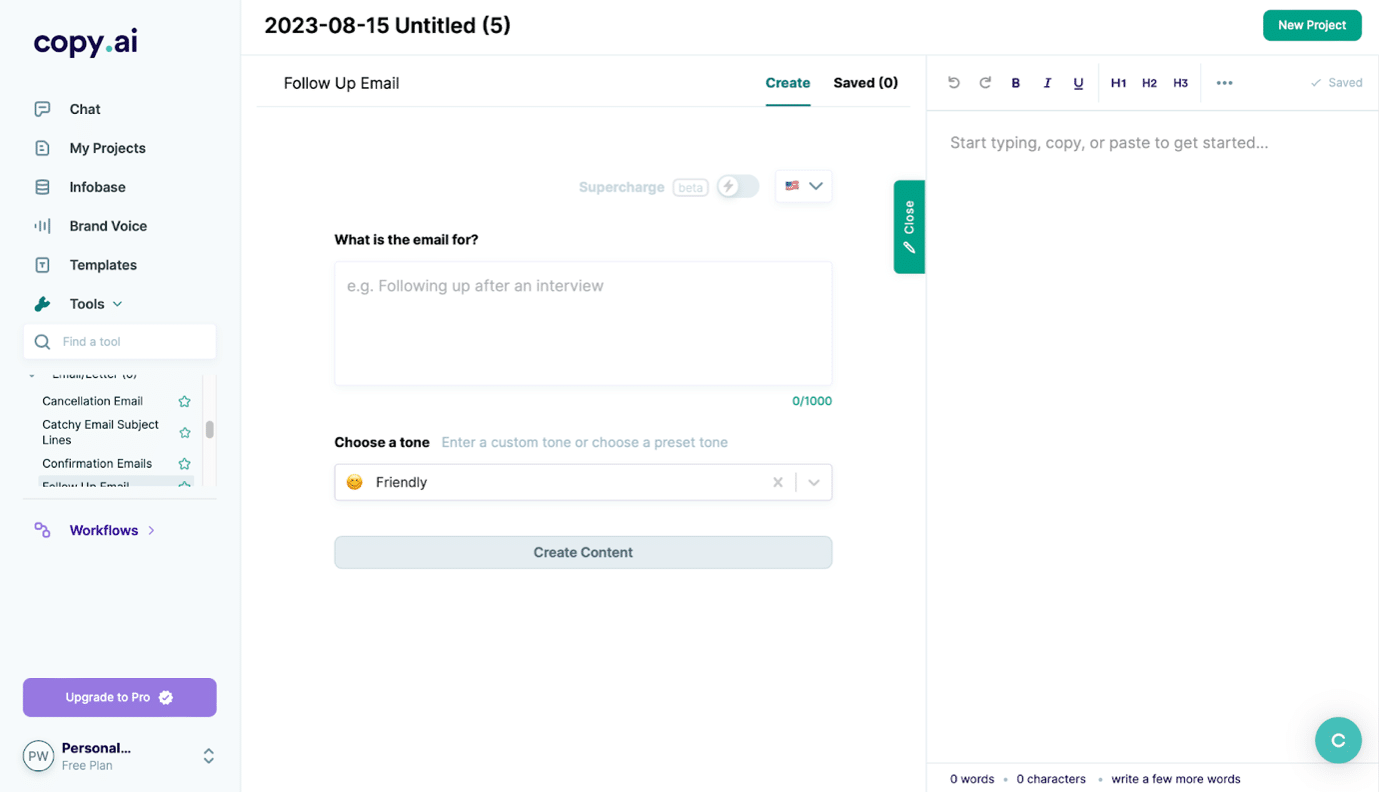 Is Copy.ai Plagiarism Free?
From customer reviews and in our own testing, when using an independent plagiarism checker, most content produced by Copy.ai has a low plagiarism rating. Fortunately for Copy.ai users, there's also a plagiarism checker built into it, which allows you to double-check your work for originality.
This is a common feature across most AI writing tools in the industry. That said, it's worth noting that the Copy.ai plagiarism checker can only be used by paid subscribers and can't be accessed through the free version. This is a pity, but again, something you'll come across with most AI writer aids.
A Look At Copy AI's Content Quality and SEO
While AI may raise some ethical concerns, we're focusing more on how the tool works and where its strengths and weaknesses lie. There's no doubt that Copy.ai excels in many areas, but when it comes to the quality of the content it produces and SEO, is it the best tool to help? Let's explore this a bit more below.
Content Quality
Copy.ai produces human-like, high-quality content for a range of industries. Most of the writing options generated are catchy and engaging. However, some sections of content can be inaccurate (which is the case with every AI writing tool in existence), so fact-checking and editing is always necessary.
Overall, even basic sections that are created can be helpful starting points for writers.
SEO Optimization
When it comes to SEO, Copy.ai can also help to improve your search engine ranking. This tool can generate meta descriptions, social media bios, and product descriptions with ease.
However, for blog posts, it doesn't give any feedback on the keyword usage (or if the keyword(s) are included at all). Beyond this, there's no way to integrate with other SEO tools that could help with this issue.
This is definitely something to note, as some other programs like Jasper and Frase offer SEO integration with powerful programs like SurferSEO.
Copy AI's Templates
To streamline the process of writing various types of content, Copy.ai offers its users a range of templates to use. You can use these templates for various projects, including cover letters, professional emails, and general content creation.
Here are the main templates that could help simplify your writing workflow:
Blog Introduction
Along with the conclusion, the introduction of a blog post is a vital but tricky part of any blog to write. It has to be framed in a certain way to get people's attention and be interesting enough for them to want to continue reading. Copy.ai has a template to help with this.
To create your new and improved blog introduction, you can add a blog title, a description of the blog, and the tone you'll use, and it'll give a variety of introductory paragraphs for you to choose from. This practice will develop your writing skills, allowing for improved flow, readability, and word choice.
Blog Outlines
To help reach that coveted high SEO (Search Engine Optimization) ranking, some writers may need assistance to create content that resonates with customers and boosts visibility.
Copy.ai offers a blog outline tool that'll essentially craft a brief with different headings, making it easier for writers to produce high-ranking blog posts.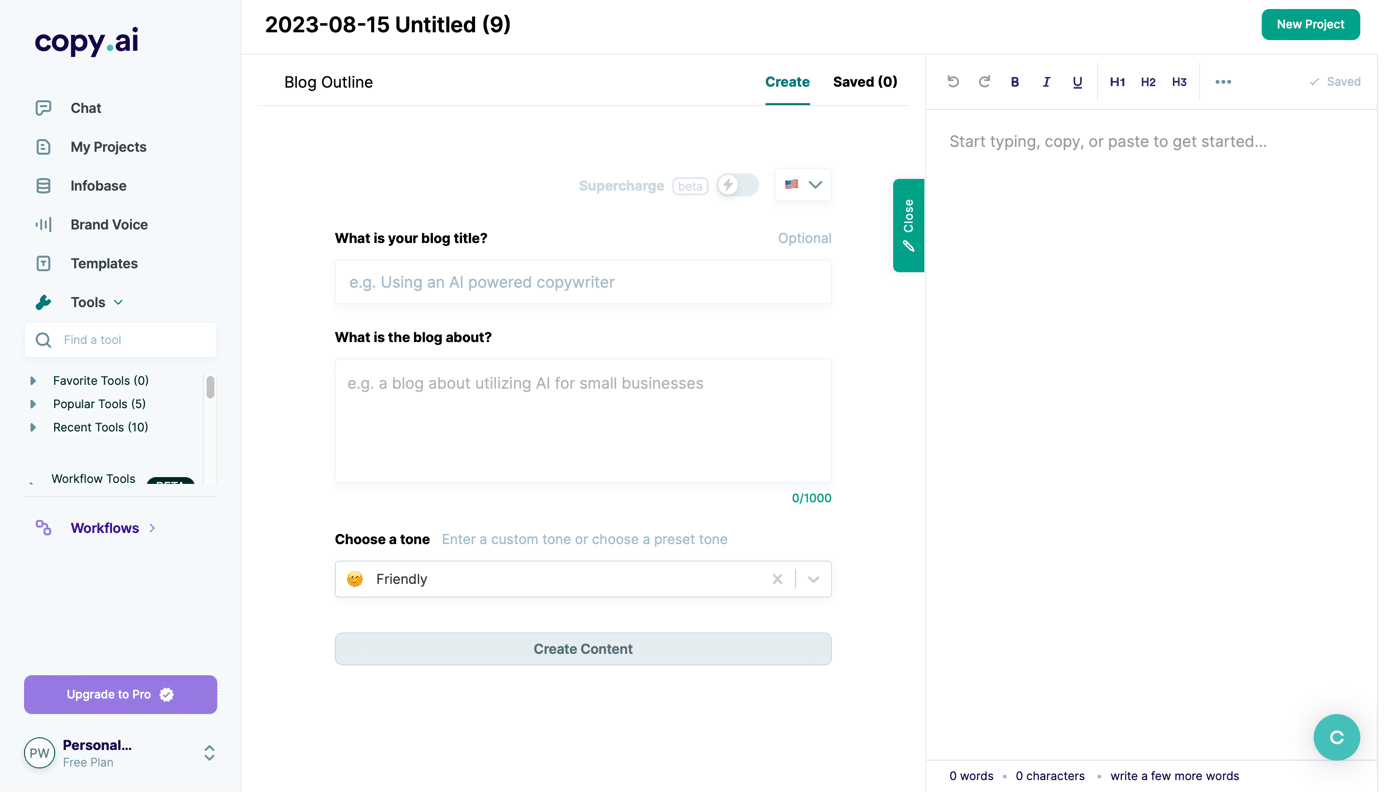 This will help you craft compelling content and outline your blog posts so that you can structure your article properly and include the correct information. To generate this outline, you need to input a blog title and description, and it'll create several results.
Interestingly, along with the blog post outline, it also provides a takeaway point that could be used as the basis of your conclusion.
Job Description
Like blog posts, job descriptions must attract the correct candidates to the posting. To do this, they have to have two things, a) the right content within the posting, and b) it has to make the job sound interesting enough for the candidate to want to apply.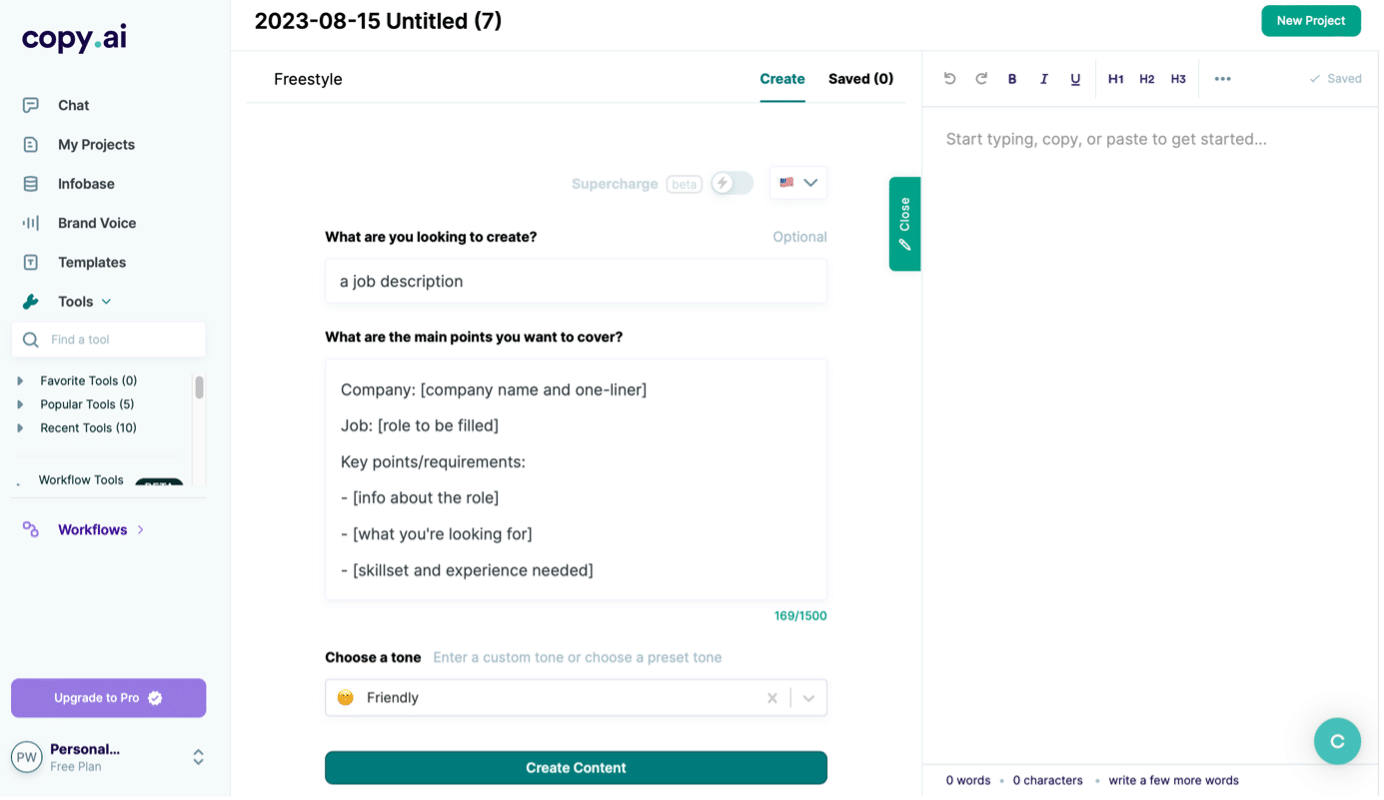 The job description feature can be found in the freestyle section of the tools. To create a job description, enter "a job description" in the prompt box that asks, "What are you looking to create?"
Once you input the main points you want to cover and the job description's tone, it'll create your desired description.
Everyone knows how crucial a solid social media presence is for business in this modern era. Some brands have achieved remarkable success solely through their social media presence.
Consequently, the creation of engaging social media posts holds immense importance. The bio section within a brand's social media presence explains where the brand has come from and what it stands for.
The freestyle section in the tools is once again where you need to go to create a compelling social media bio. Tell Copy.ai that you want to create an Instagram bio in the prompt box asking, "What are you looking to create" by adding a description.
This will generate multiple social media bios, some of which even incorporate humor, a unique feature not found in competing platforms.
FreeStyle Content
Along with social media bios and job descriptions, various types of content can be created in the freestyle tool section, including long-form content, email marketing, and even jokes.
The freestyle section is perfect if your content doesn't fit into the other templates. This feature is common across other AI generators, like the Rytr Magic Command tool.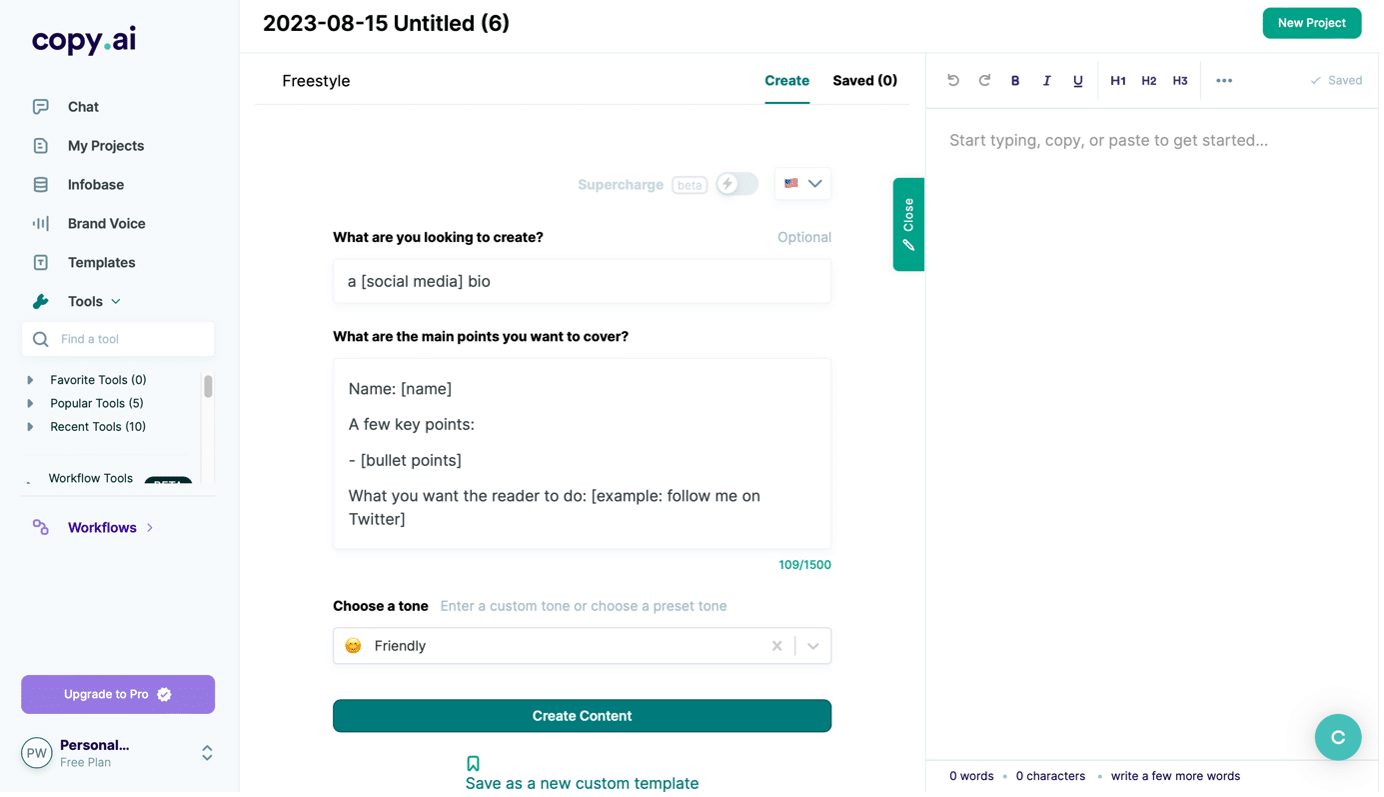 Copy AI Vs. Jasper and Other AI Writing Assistants
While Copy AI has excellent features, how does it fair up against some of the best AI tools on the market? Here's a brief overview of the five top AI tools, including CopyAI:
| | | | | | | | |
| --- | --- | --- | --- | --- | --- | --- | --- |
| Top AI Writing Tools | Best For | Starting Price (Annual) | Free Version | Powered By | Number of Templates | Integrations | Plagiarism Check |
| | Copywriting | $36/month | Up to 2,000 words/month + 7-day free trial | OpenAI | 90 | Instagram, Google Ads, Linked In, Google, Facebook Ads, Facebook, X, Winton AI, Chat by Copy.ai | Yes |
| | Accuracy | $39/month | 7-day free trial | OpenAI | 70 | Krater.Ai, Gmail, Shopify, Google, WordPress, Amazon, Youtube, Facebook Ads, Winston AI, SciSpace AI Dector, Nekton.AI, Surfer, NVIDIA AI | Yes |
| | Content Creation | $19/month | 14-day free trial | GPT-3 | 35 | Woocommerce, Zapier, Hootsuite, Google Doc, Shopify, Frase, BigCommerce | Yes |
| | Free Tools | $12.67/month | Up to 2,500 words/month + 30-day free trial | GPT-3 | 80 | X, Google Docs, WordPress, Google Sheets, OpenAI, Facebook, Shopify | Yes |
| | SEO content | $12.66/month | Up to 10 credits + 5-day trial for $1 | GPT-3 | 35 | WordPress, Google Analytics, Google Search Console, Google Docs, HubSpot, Live Chat, | No — but it does offer an originality score |
There are several great options for writers interested in using an AI writing tool to aid in automating content creation, including several Copy AI alternatives. Copy.ai pricing is competitive as it offers more words per month and a larger number of users than some of the cheaper options.
Also, the addition of a free version that includes all of Copy.ai's features is something many of its competitors don't offer. Frase does provide a free version and a trial, but unlike Copy.ai, their users have to pay $1 to use their 5-day trial. It's a limited version, so it only allows you to:
Create five separate documents
Crawl through the Google search console once
Test one answer engine for 30 days
However, this trial does give users the option to research unlimited questions, which is one of the main reasons people opt for Frase. That said, overall, Copy.ai stands out as a top-notch AI writing assistant software solution.
The competitive pricing, seamless integrations, extensive features, and versatile templates make it a clear frontrunner.
Is Copy AI Good? A Look at Copy.ai Reviews
As Copy.ai is so popular, many people have used and reviewed it online. On the customer review website Trustpilot, over 170 users gave their opinions on the quality of the content generated and the overall experience of using this AI to help with their content writing.
Of the customers who provided a Copy.ai review, 71% gave it a five-star rating, while 13% gave it four stars. Overall, customers believe it helps them produce high-quality content quickly that's engaging, clear, and concise.
While many customers are happy, one drawback mentioned is that the tool sometimes misses grammatical errors. To address that, do a final review of your work before submitting it.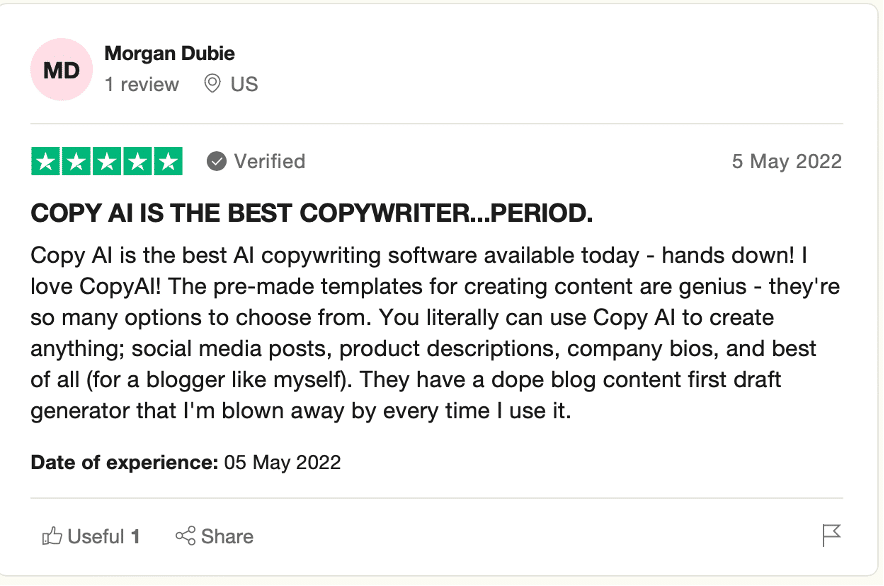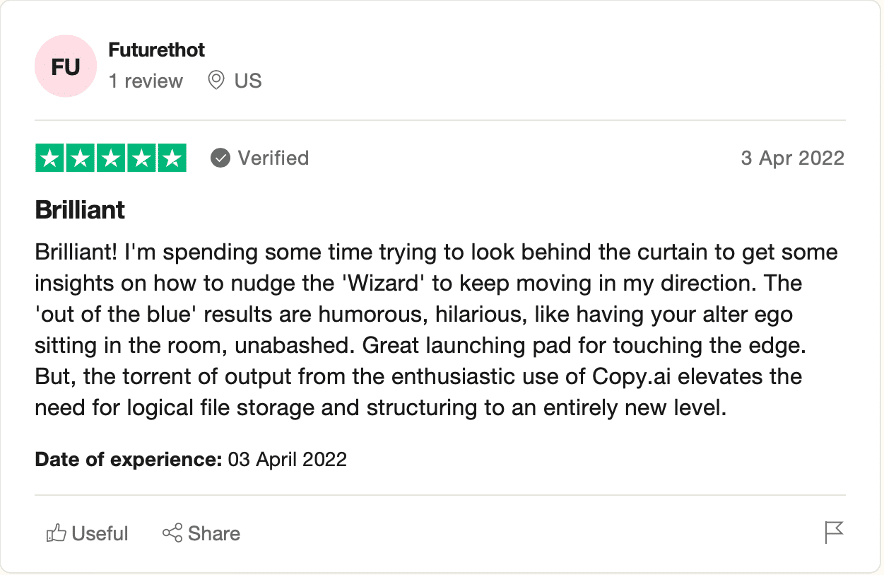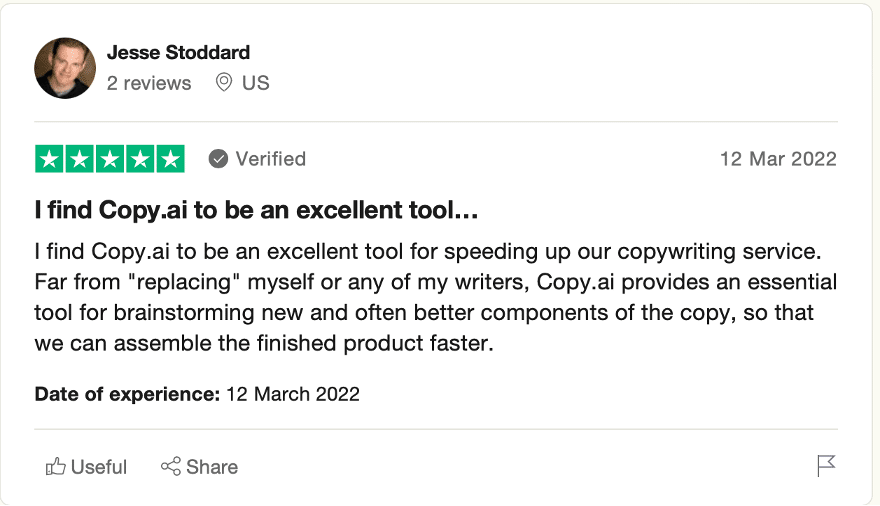 From Copy AI reviews, not only on TrustPilot but all major reviewing sites — including Reddit — it's clear that professional customers are also happy to continue using this AI tool as it has streamlined their professional copywriting service and increased teamwork and brainstorming overall.
How to Use Copy.ai for the Best Results – A Quick Guide
If this is your first time using Copy.ai, here's a quick guide on how to set up and use this tool for optimal results:
Step 1 – Log In or Register Your Account
Through your computer or mobile device, you can log into the Copy.ai website or download the Copy.ai app and click "Get Started for Free" or "Login." For a new user, enter your email address, and a six-digit code will be sent to it to verify the email.
Once the code is entered, you must then complete a survey that lets Copy.ai know what kinds of content you'll be producing. For returning users, you can bypass this and log in using your registered email address and password.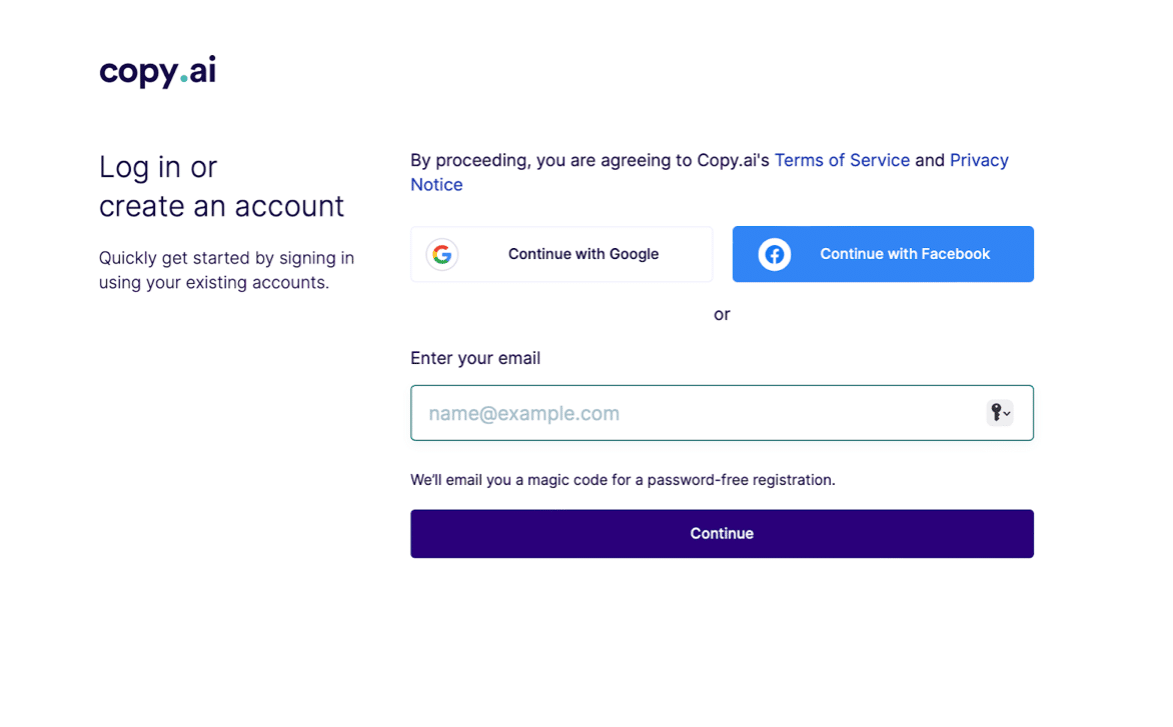 Once you've created a new account or logged into your existing account, you'll be directed to Copy.ai's homepage. From that point, you can begin your journey into content creation.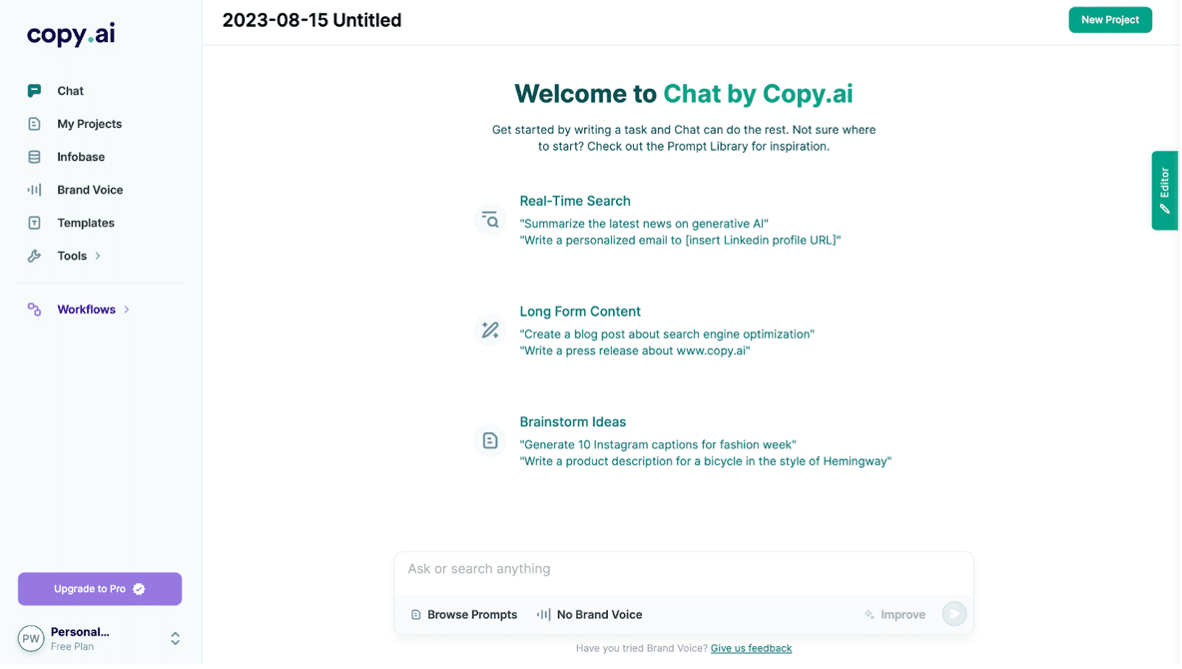 From the menu on the left, you can access any content you've created in the past or any template you wish to use.
Step 3 – Creating a New Project
When you log into the homepage, it automatically brings you to a new project. From here, you can use the menu on the left-hand side of the screen to access a range of tools and templates tailored to your specific needs.
To create a new project, click on the "New Project" button, and it'll start a brand new project for you to begin.
Step 4 – Using a Tool
Navigate to the "Tool" section in the menu, where you'll find various subheadings to choose from based on what you want to create. Once you've selected an option, it'll bring you to a page to enter details about what you want to create.
Provide the required information in each prompt box, and then click on the "Create Content" button. This will provide you with a range of content options to choose from.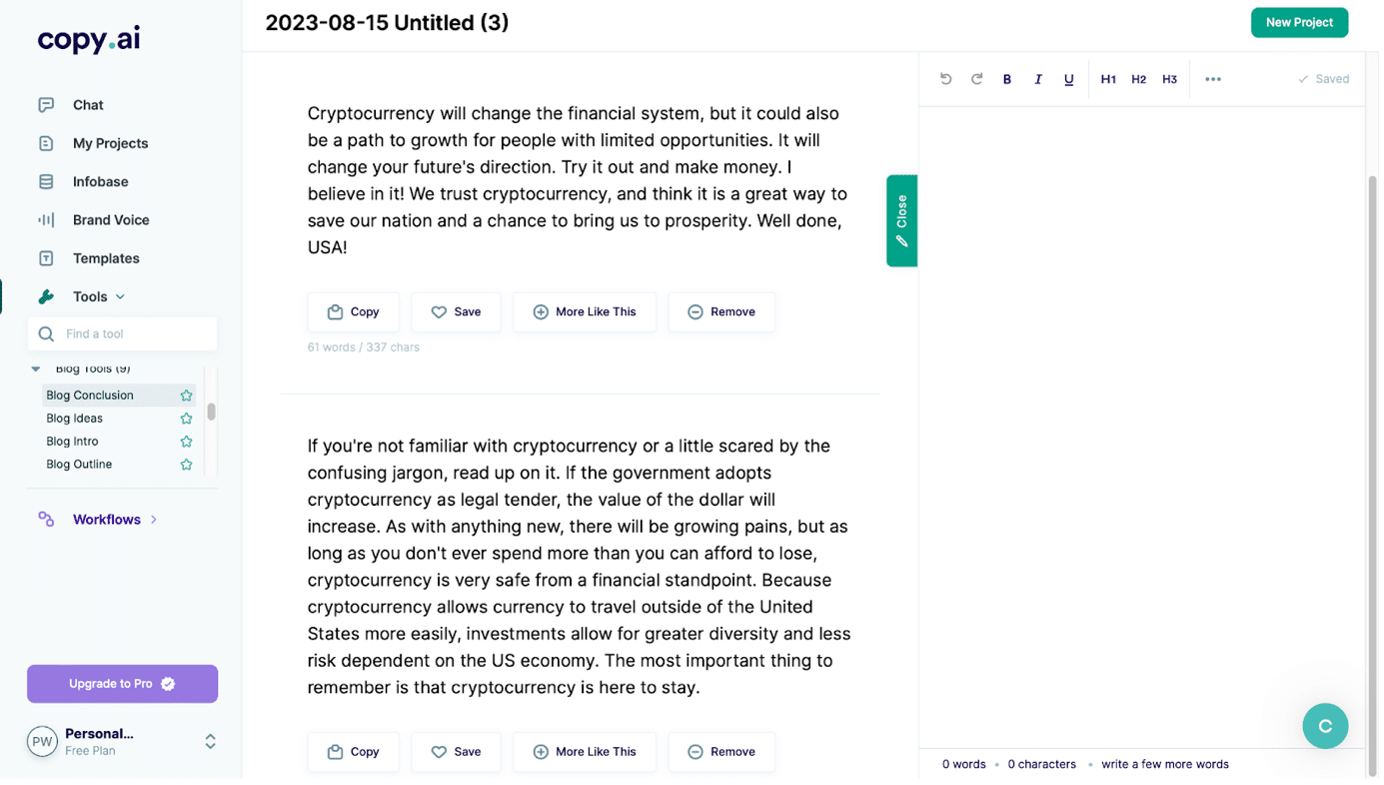 Step 5 – Using a Template
To use a template, click on the template heading in the menu on the right-hand side of the homepage. A menu containing several headings will pop up. Select a subheading that applies to your specific project and click "Start New Project."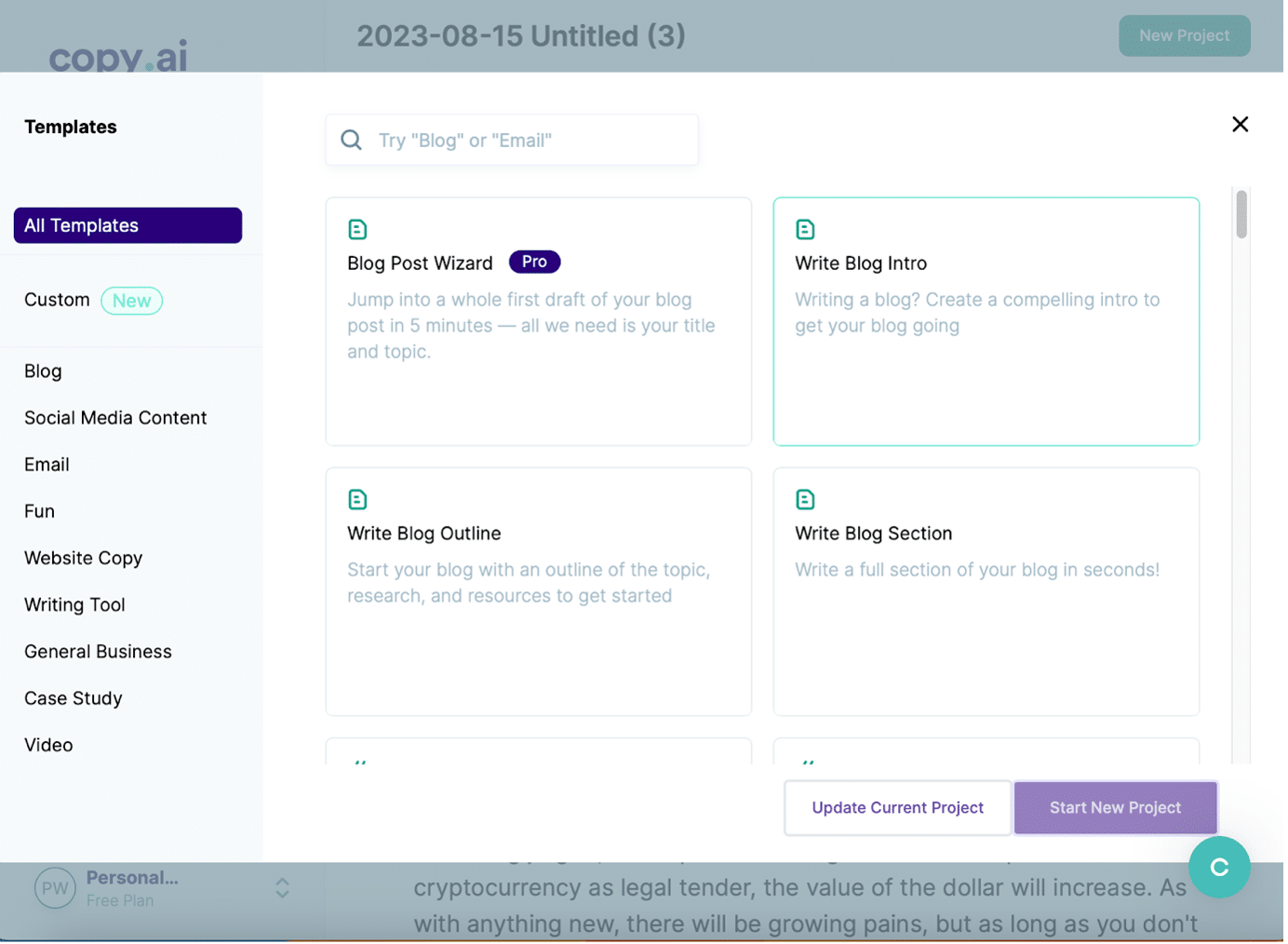 You can then insert your information into the prompt boxes and click "Create Content."
Depending on the type of writing you want to create, this will generate multiple options.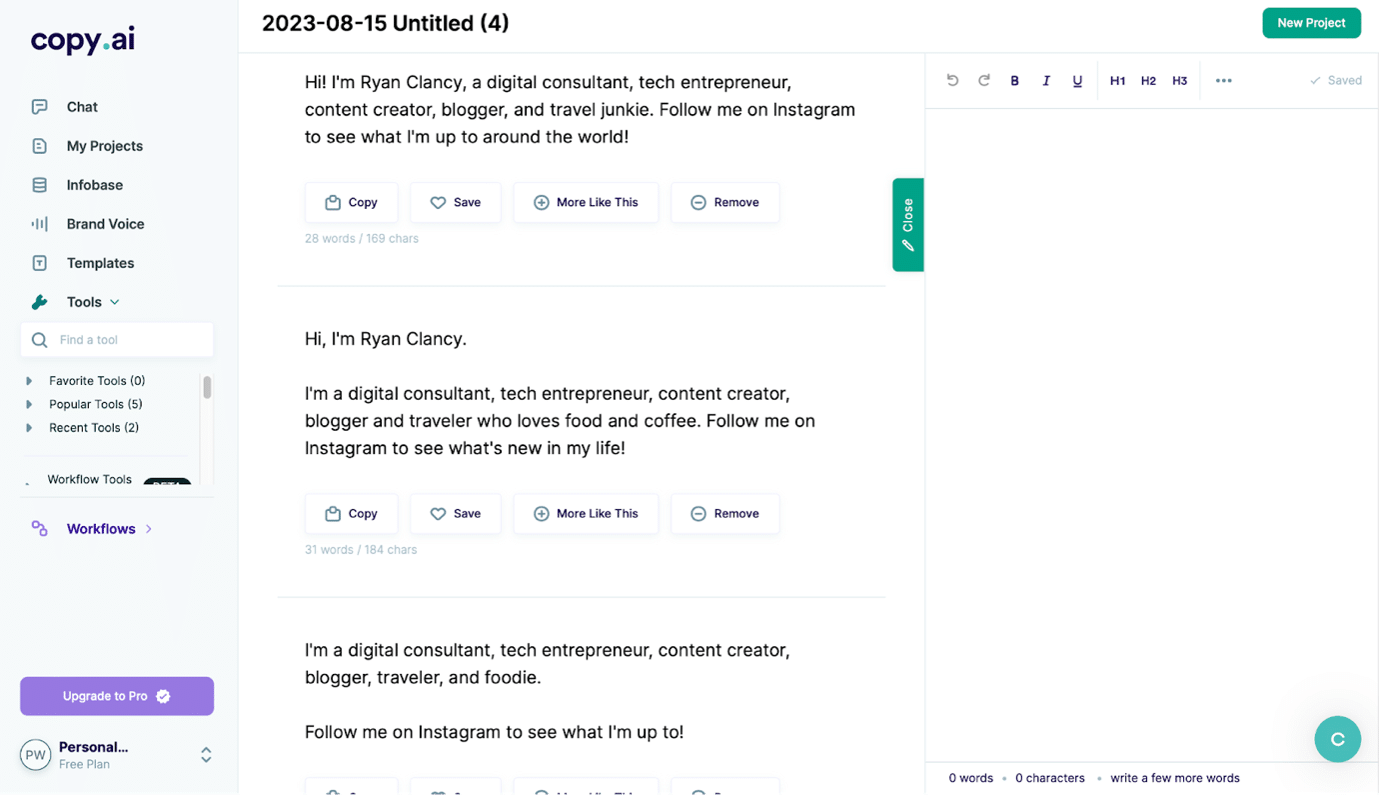 How We Tested Copy.ai
When reviewing AI software, we consider factors like features, usability, pricing, integrations, and suitability for different use cases, so we can offer a rounded, objective view of a product and how it will work for different users.
Copy.ai offers a seven-day trial – in addition to its free plan – which we were able to use for our review, allowing us to thoroughly test the product and its features.
We've also tested a number of other top AI writing software products, such as JasperAI and Rytr, giving us more ground to compare the performance and usability of top tools in the fields.
In addition to that, we've scoured the web for user feedback – on Reddit on other platforms – to get a sense of how these tools work in the real world and for regular, everyday use.
Given this, we're able to offer a detailed overview of Copy.ai's key features, weigh up its pros and cons, and provide an objective review of its place in the market and how it compares to other leading solutions. All of that means you can make an informed decision about the best tool for your needs and requirements.
Our Best AI Guides and Resources
Going beyond Copy.ai, our team of AI experts have put together a range of guides and resources on the best AI tools and software currently available on the market. These include:
2023 Copy AI Review Conclusion
Copy.ai is an AI-powered writing assistant that both amateur and professional writers can use to enhance their writing and unlock their creativity. With 90 diverse templates and seamless app integration, it effortlessly integrates into any professional's life, offering essential features that enhance productivity and efficiency.
Copy.ai has many advantageous features that other AI programs are missing, including a free version accessible to all users and a 7-day free trial that grants full access to all the remarkable capabilities provided by Copy.ai.
Writers can use this service for various types of content, including product descriptions, website copywriting, digital advertisements, and even miscellaneous content like creating social media bios or crafting jokes.
Humor is a tricky topic for AI, but Copy.ai's algorithms seem to have a better grip on human humor than other programs. Overall, Copy.ai is a dependable AI writing assistant that provides its users with a plethora of options to create top-notch content.
It promotes creativity, productivity, and professionalism, all while offering an easy-friendly interface. Take part in their risk-free trial today to discover if Copy.ai can help you elevate your writing skills.
Copy AI Review FAQs
Which is better, Jarvis or Copy AI?
Is CopyAI better than ChatGPT?
Is Jasper AI better than Copy AI?
How to make money with Copy AI
References