How to make money with AI is a question a lot of people are asking today. The market is flooded with AI tools, presenting you with an unprecedented opportunity to generate cash without burning the midnight oil. The best thing about this is that anyone can start their own business or become a content creator – you don't have to be tech-savvy, possess a high level of skill, or have a team of experts at your disposal.
If you want to make money online with the help of AI, this detailed guide is for you. We've eliminated the clutter to provide proven money-making ideas that work, along with recommendations of the AI tools best suited to those tasks. Keep reading to find out the best ways to make money online using AI tools, along with valuable tips and tricks and a list of our favorite AI tools. So – here's how to make money with AI.
6 Proven Ways to Make Money With AI
Let's dive straight into how to make money from AI. We've selected the following six methods after thorough and careful research, including an assessment of the market conditions to determine what's trending right now.
1. Write Books With AI
JasperAI – Leading AI Content Creator With Wide-Ranging Tools For Generating Text And Images
Matches your brand voice
Supports 30+ languages
Can adjust copy tone

Writing a book using traditional methods can take months or years. If you market your book well, though, your one-time effort could earn you paychecks for years in the form of royalties.
So, if you want to create a passive income source in the publishing industry, consider using the best AI writing tools like Jasper or Copy AI, which guarantee unique content. In fact, Copy AI comes with a built-in plagiarism-checking tool that you can use to ensure your work is 100% original.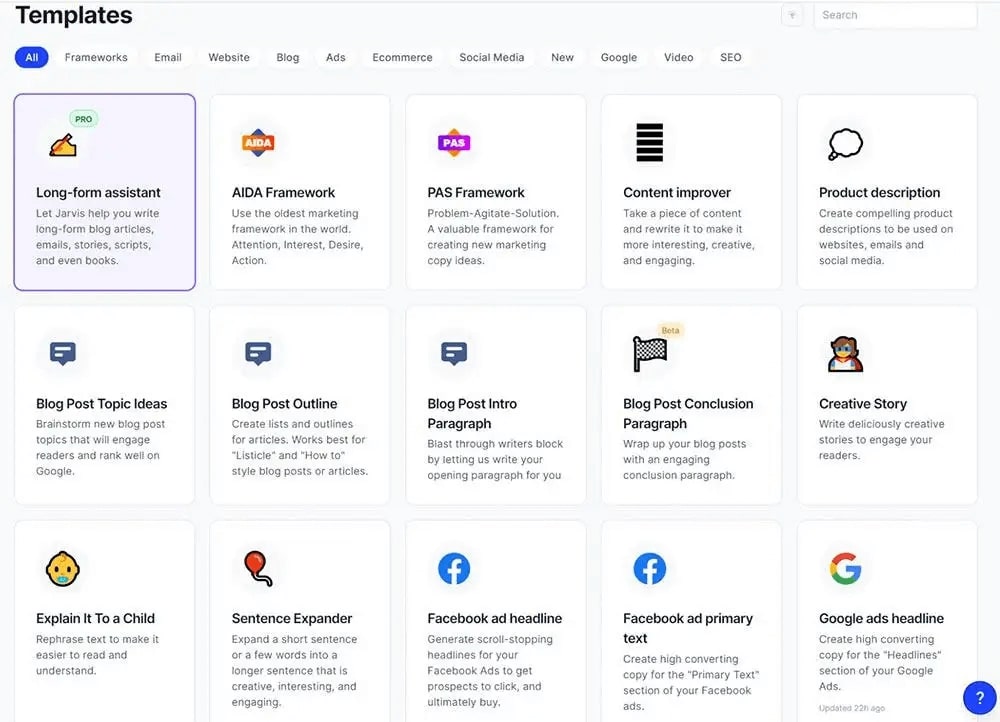 JasperAI is a leading AI tool when it comes to content creation. It uses models like ChatGPT4, Bard, and Claude 2 to generate any type of content you need. If you're wondering how to make money with ChatGPT, Jasper might very well be the answer.
Its basic plan starts at $39/month and comes with 50+ templates, SEO functionality, and 50 "memories" – inputs you can assign to JasperAI, which help it understand your content objectives and specific requirements.
After you've written your book, you can list it on Amazon or sell it through your own website. It's worth noting that, as of now, you can't publish it through traditional publishing houses due to legal complications that come with copyrighting AI-generated works.
Remember, books generated solely by AI aren't protected by copyright law at present. There's also a lot of ambiguity about how much AI use would make a creative work ineligible for copyright protection. To overcome this, you can generate prompts from AI models and use your own creative skills to craft a book.
The Best Tools for Generating Text With AI
Here's a quick overview of the best AI tools for generating text:
Best AI Text Generators
Best For
Starting Price
Free Version
Top 3 Features
Jasper AI
Extension for web use
$39/month
7-day trial
– 7-day risk-free cancellation
– Brand voice options


– Advanced admin analytics

Copy AI
Managing unlimited projects even with the cheapest plan
$36/month
Free plan
– 95+ languages
– 90+ prompt templates
– Unlimited projects on all paid plans
Rytr
Dedicated account manager
$9/month
Free plan
– Built-in plagiarism checker
– 30+ languages
–

20+ tones

Writesonic
Beginner-friendly, with training sessions
$13/month
Free plan
– Priority AI processing
– Bulk processing
–

Includes an image generator

Scalenut
Search engine optimization
$19/month
N/A
– Unlimited AI words
– SEO editor
–

Auto article optimizer
2. Content Marketing
Content marketing – creating content such as blogs, images, or videos to promote a product or generate interest – is a highly effective way of getting the word out about your business.
However, creating content can take a lot of time. Writing a high-quality blog with research and editing could take a whole day or more.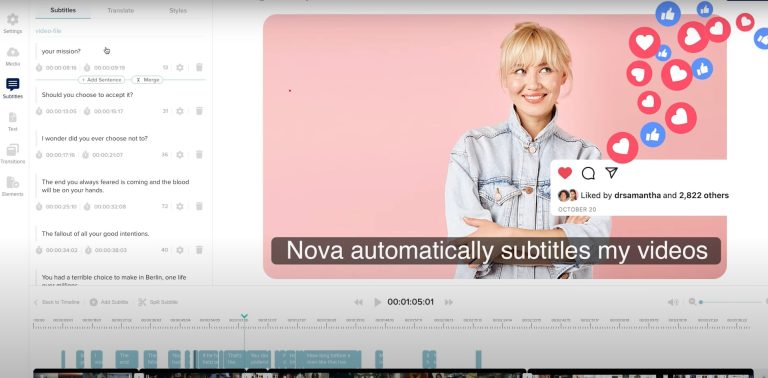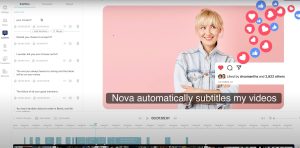 Similarly, planning a video and shooting and editing it can take anywhere from a few days to a week. But with the best copywriting AI tools and video editors, you can get both jobs done in seconds and create more content in less time.
For writing blogs, you can use the same tools described above, such as Jasper AI and Copy AI. Other options include Scalenut, Writesonic, and Rytr. For creating video content, we recommend tools like Nova AI, PictoryAI, and Animoto.
NovaAI offers a free-forever plan with 360 minutes of subtitle translation, 12,000 characters of text-to-speech conversion, and an upload limit of 2GB. For more features, you can switch to the paid plan, which starts at $8/month when billed annually.
3. Sell Your Art
Artsmart – Outstanding Tool For Creating Realistic, High-Definition Images From Text And Image Prompts
Hyper-realistic images
Customization options
Removes backgrounds

No matter how technologically advanced we become, there'll always be a demand for good art. If you're wondering how to make money with AI art, there are two principal ways to go about it.
You can either work as a graphic designer and offer your work to companies who'll use it in products or on social media, or you can target art enthusiasts and art collectors and woo them with your unique pieces.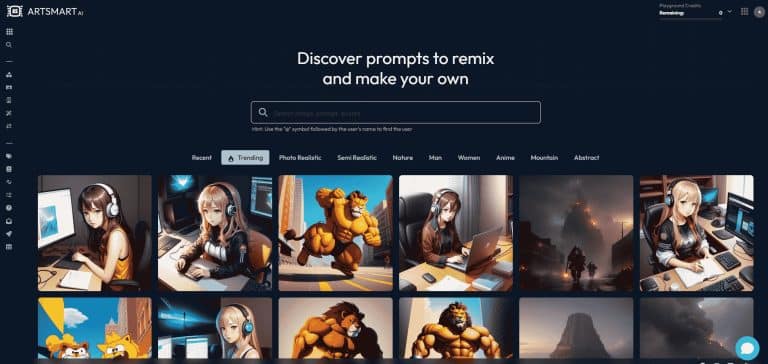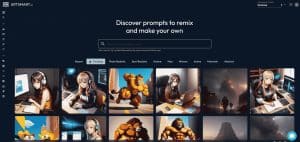 If you're using AI to generate art, it may be difficult to make money from sales as it's often easy to tell the difference between human-created and AI-generated art. However, if you use the same AI tools for graphic designing and do some work on the final output, it'll sell as well as any regular human-created art.
There are a lot of tools available for this, such as Artsmart, Artspace, and Photosonic, among others, that have unique features to help you generate best-selling art.
Artsmart, for example, can generate images within a matter of seconds with the help of your prompts. The more detailed the prompts, the more accurate the output will be. You can even customize camera angles and weather and generate images in the style of your favorite painters.
The Best Tools for Generating Art With AI
Here's a quick overview of the best AI tools for generating art:
Best AI Art Generators
Best For
Starting Price
Free Version
Top 3 Features
Artsmart
Editing character poses and facial features
$16/month
30-day trial
– Character pose copy
– Weather and time manipulation
– 30-day money-back guarantee
Artspace
Reconstructing images
$297/ one-time payment
14-day money-back guarantee
– Inpainting
– Outpainting
– Negative Prompt
Photosonic
Autoface Restoration
$15/month
Capped at 10,000 words/month
– Image Upscaler
– ChatGPT Chatbot
– Creates Photorealistic Images
Super Machine
Affordable pricing
$10/month
N/A
– Multiple templates
– Blank canvas to work on
–

Albums for easy categorization

PicsArt
Team management
$5/month
Trial + free plan
– Tons of templates, fonts, and stickers
– Access on both web and mobile app
–

Built-in animation maker
4. Sell Your Music
LalalAI – Powerful AI Music Tool For Removing Vocals And Splitting Instrumental Tracks
Fast processing
Batch upload
2GB file upload limit

You don't always have to be a megastar to sell music. You don't even have to put out an album. There are plenty of other ways to make money from music.
For instance, you can sell subscriptions to your music through your social media channels or your own site or sell directly to companies looking for jingles and promo music.
If you're not using AI to directly mimic an existing artist, you can list your music on platforms like Spotify and earn royalties. After all, good music will always be in demand.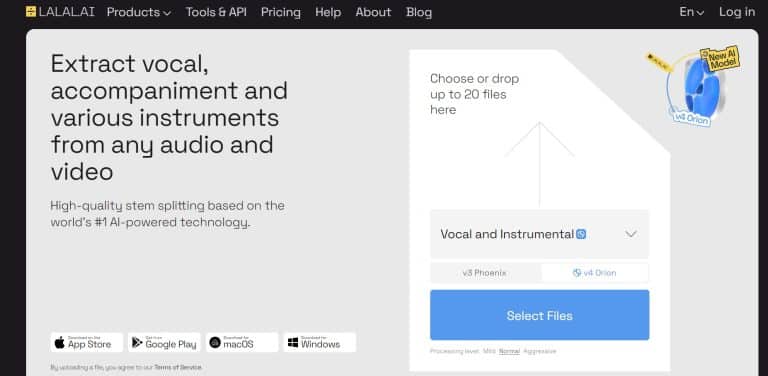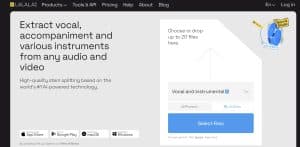 If you're looking for the best AI music generators in the industry, try LalalAI, Mubert, or Resonance Sound. With Mubert, you can get started for free, and with LalalAI, you get to upload in bulk, even on its cheapest plans. Each AI music generator comes with its own unique offerings – check out the table below to find out more about them.
If you're not a musician, you can still find ways to make money with songs. For example, you can create karaoke recordings, or you can deconstruct tunes by removing their vocal tracks.
If you happen to have some musical education, you can even create mashups of different songs and promote them on your social media and YouTube channels. Mashups are a fan-favorite genre and have the potential to take the industry by storm.
The Best Tools for Generating Music With AI
Here's a quick overview of the best AI tools for generating music:
Best AI Music Generators
Best For
Starting Price
Free Version
Top 3 Features
LalalAI
Fast processing
$15 one-time fee
N/A
– Fast processing
– Batch upload
–

2GB file upload limit

Mubert
Best for games, radio, and digital platforms
$11.69/month
Free plan
– Lets you monetize posts
– No attribution needed
–

Lossless quality
5. Create Videos Online
PictoryAI – Text-To-Video Magic Generator Tool For Shareable Media
Shareable video highlights
Automatically caption videos
Access 15k+ music tracks

Creating videos is one of the most profitable businesses around right now. Platforms like TikTok, Instagram, and even YouTube are pushing short-form video content with reels and shorts. With quality videos, you can quickly grow a loyal follower base and earn money through affiliate marketing and brand sponsorships.
If you're posting videos on YouTube, you can also earn via Google AdSense. YouTube pre-roll ads are all part of Google Adsense, and creators earn cash based on the number of views each video gets. You can also use these video-generation tools to create and sell courses.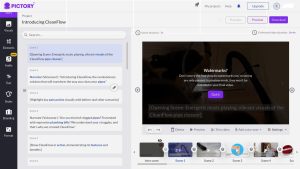 Some of our favorite tools for creating video content are Sythesia, Animoto, and Nova AI – and we recommend using the paid versions of these tools as the free versions don't come with enough stock assets or features. With Nova AI, for instance, the free version can only be used for translating and adding subtitles.
PictoryAI, meanwhile, can generate videos with just a script. It adds video slides, background music, and a voiceover that's suitable for your script.
You can even upload one of your blogs and generate videos in a matter of minutes. Adding automated captions, summarizing long videos, and creating video highlights are just some examples of what PictoryAI can do for you.
The Best Tools for Generating Video With AI
Here's a quick overview of the best AI tools for generating videos:
Best AI Video Generators
Best For
Starting Price
Free Version
Top 3 Features
PictoryAI
Hyper-realistic AI voices
$19/month
Free trial
– 10 million Getty Images
– Access 15k+ music tracks
– Automated captions
Animoto
Recording screen and webcam together
$3.50/month
Free plan
– High-quality videos
– Unlimited downloads
–

Professional fonts

Nova AI
2TB of cloud storage for your videos
$10/month
Free plan
– No upload limit on paid plans
– 2GB to 2TB storage space
–

Video translator

Synthesia
Adding AI avatars to videos
$22.50/month
N/A
– 140+ AI avatars
– 120+ languages and voices
–

Built-in screen recorder
6. Build Websites With AI
Wix – All-In-One Web Design Solution With An Automatic Website Creator Powered By AI
900+ templates
Built-in analytics tool
Great SEO tools

Web development is one of the most profitable professions in the digital world. Every business these days requires a digital domain, so the demand for websites is increasing by the minute.
If you go down the traditional route, though, you'll have to spend months mastering coding, picking the right templates, and arranging website elements.
With AI website builders provided by GoDaddy and Wix, though, you can build a website from scratch in just minutes.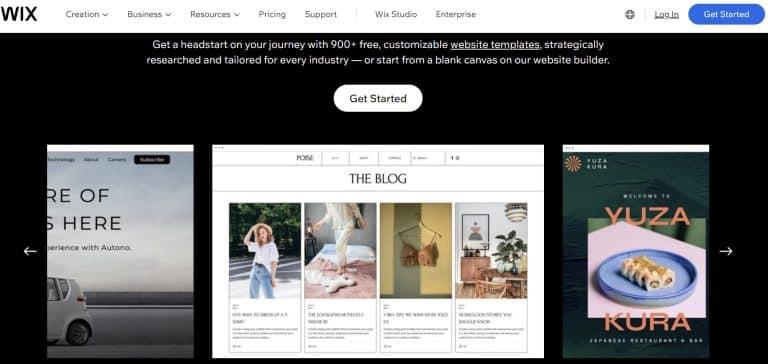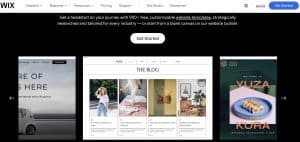 Wix ADI, for example, is an AI-powered site generator that can help you build websites extremely quickly. Here's how you can build a website with AI:
Create a profile on Wix if you don't already have one.
Choose your design preferences, color and font themes, and the pages you need on your website, such as an "About Us" and "Contact" page.
Within seconds, Wix ADI will generate a complete website for you. You can customize the website to your requirements and choose pre-built sections, color palettes, and font pairings.
The Best Tools for Generating Websites With AI
Here's a quick overview of the best AI tools to make money by building websites:
Best AI Website Builders
Best For
Starting Price
Free Version
Top 3 Features
Wix
Tons of templates and easy-to-use
$16/month
Free plan + 14-day trial
– Wix Artificial Design Intelligence
– 900+ templates
– Built-in analytics tool
GoDaddy
Small business website building
$9.99/month
Free plan + 30-day trial
– Free SSL certificate
– 24/7 live chat and phone support
–

Robust security protocols

IONOS
Personal consultant for every user
$1/month for first 6 months
N/A
– AI SEO text generator
– AI text generator
–

AI image generator

Hostinger
Manage up to 100 websites at once
$2.99/month
N/A
– AI content generation
– AI-based SEO
–

AI user behavior analysis
The Benefits of Using AI to Make Money
Now that we've given you a thorough run-through of how to make money online with AI, here are the top four biggest benefits of doing so.
1. No Need For A Team
If you can't hire and manage a team right now, AI is the next best option for you. Imagine you're trying to build a successful blog. For that, you'd likely need a minimum team of three — a writer, a photographer and videographer, and an editor.
However, if you use AI to make money, you can replace the writer with a tool like Jasper AI and the photographer and editor with tools like Picsart and ArtSpace.
You can even use Wix or GoDaddy's AI website builder if you don't want to hire a website designer. You can run an entire business as a solopreneur with the help of these tools.
2. Almost Anyone Can Do It
Making money with AI is one of the few hustles that doesn't require any skills to get started.
Let's say you want to create ebooks. Imagine doing it without an AI tool — you'd have to delve into creative writing, learn the art, how to format a book, and how to edit, among many other things.
It could easily take you from six months to a year before you could even think about making money. But with AI tools like Jasper AI and Copy AI taking care of the hard part, you can make money from day one.
3. Saves a Ton of Time
It's no secret that AI tools are much faster than any human can ever be. So, if you want to generate content in bulk as fast as possible, go for AI. If you hire a writer for your website, they'll take at least a day or two to write a high-quality, keyword-rich blog.
On the other hand, if you feed the prompts to an AI writing tool such as Writesonic, it'll create a unique, fresh article for you in seconds. At that pace, the number of articles you could generate in a day is insane.
The same goes for music. Many songwriters take weeks, sometimes even months, to come up with a good song. Tools like Mubert, on the other hand, can do the job in seconds.
4. Super Affordable
AI tools are undoubtedly more affordable than hiring a team. If you hire a full-time worker, you'll have to pay them a minimum hourly wage plus benefits.
For instance, the average salary of a photographer in the USA is $47,132 per year. Even the image generator ArtSmart's most expensive plan costs just $32.50/month. Annually, it'll cost you about $390, which is a fraction of what a professional photographer would charge.
Plus, it's flexible. You only need to pay for what you use. If you aren't going to use a subscription every month, you can simply cancel it.
Are There Risks to Making Money With AI?
AI is still a relatively new subject for most, so before you dive deep into the industry, here are some potential risks to look out for:
1. Ethical Considerations and Lack of Authenticity
If you're an artist using AI for your work, it'll be a little more difficult for you to gain your audience's trust. People are still getting used to the idea of AI, so they may not be able to appreciate your contribution to the final product if you declare you use AI for your work.
If you don't declare you use AI, that would be another moral dilemma. It would be an even more difficult place for you to be in if someone else found out you were using AI before you disclosed it to your audience.
All in all, how you use AI tools and the role they play in determining your credibility are difficult but important questions you must consider.
2. Legal and Regulatory Frameworks
The biggest risk with using AI to create your content is that you might not always enjoy complete and unquestionable ownership over it. The copyright laws are different in every country, but one thing that remains common is that copyright laws for AI-generated content differ from those relating to traditionally created content.
In the US, for example, there's no copyright protection for AI-generated content. However, if the final piece includes both AI and human contribution and if those two parts can be clearly distinguished, then you can apply for a copyright claim on the human-generated element.
With that said, what you have contributed to the product and how it makes it different is very subjective, and you might not receive a satisfactory verdict from the authorities.
3. Data Privacy and Security Concerns
The more AI tools you use to create your product, the more third-party apps you have to share your information with, and in today's world, that's a risk.
Let's say you're creating a book, and you use an AI tool to write the content, another to generate images for the book, another to design the cover, and maybe another to help you promote it.
So, with one product, you're sharing your personal information with at least four different apps. Now, the bigger question is how many of these have been in the market long enough to be reliable.
That's why, if you solely rely on AI tools, it's always recommended that you go for well-known apps like Picsart, for image generation, and Mubert, for music generation. These are tried, tested, and trustworthy, and there's hardly an offering that can replace those things in today's world of increasing cybercrime.
4. Competition and Market Saturation
There are limitations to what an AI tool can do. It hasn't got the creative quotient of a human mind – yet. That's because AI tools are trained on millions of user data points – things that already exist or have happened in the past.
Whatever AI produces for you, even if it's unique, will be the amalgamation of words that are already said or art that's already painted. It might not be something that'll make you stand out.
To tackle that, we recommend using AI tools as a starting point and then using your imagination and creativity to add to the piece. Doing so will also help you build credibility with your audience (as discussed in the previous point) and set you apart from the other people who are using the same AI tools and prompts as you.
What's the Best Free AI Tool to Make Money?
There's no single best AI tool for generating income, which is why we've explored a variety of tools in each niche. However, a lot of people will be interested in finding the best free AI tools for making money.
1. For Generating Music
Mubert is the best free tool for generating music. Visit their main page and scroll down to find the option "Generate a track for free," where you can enter a prompt and select a genre or mood. Within seconds, Mubert will generate unique music for you. You only need to create a free account if you want to download it.
Although the free plan is sufficient for basic music generation, you'll need a paid subscription to unlock the full potential of AI music generation, which is why we recommend LalalAI.
LalalAI doesn't have a free plan like Mubert, but it only costs $15 to get started, and the features are much more comprehensive.
For instance, you can generate up to 90 minutes of music on the cheapest plan. So if, on average, one song is three minutes, you can easily create 30 songs for this price.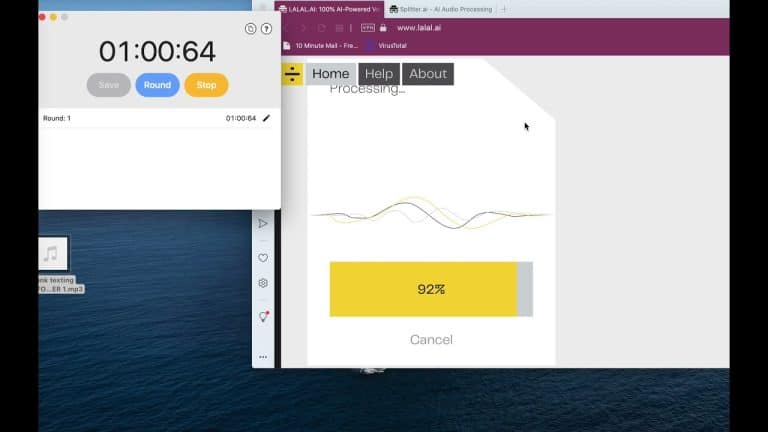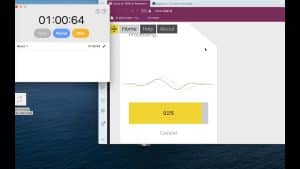 Plus, you can upload in bulk and benefit from its lightning-fast processing speed. The premium plan is priced at just $25, and we believe it's worth the money, given that it lets you generate up to 300 minutes of music.
There are a lot of things you can do with LalalAI, which would otherwise require expensive, sophisticated equipment, including:
Removing vocals, drums, or percussion from a song
Creating an acapella from a song
Creating instrumental tracks
Building a mashup or a karaoke track
2. For Generating Art
Photosonic is our top choice for instant art generation. Since it's primarily an AI writer, you get a two-in-one AI writer and art generator at the same time. The free plan gives one user unlimited access to the art generator along with 100+ AI templates.
If you're looking for a more premium art generator, try Artsmart AI.
The basic plan is priced at $16 and comes with 1,000 Playground credits. These are digital tokens you'll use to perform actions like editing an image or removing the background.
Artsmart has some great features. For instance, you can copy the pose of a character from one picture to another. This will include the positioning of their body as well as the background.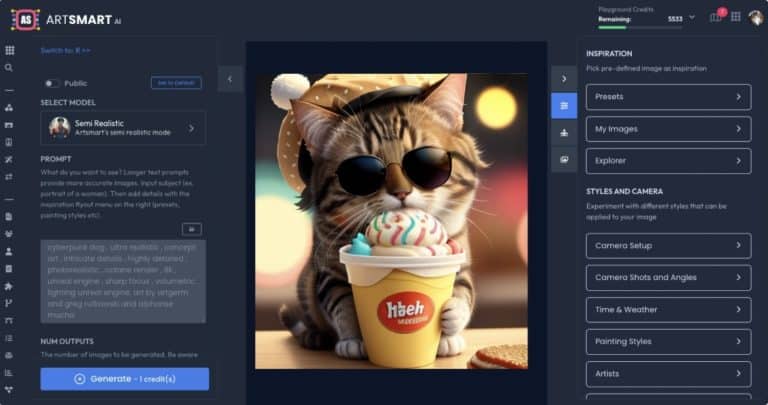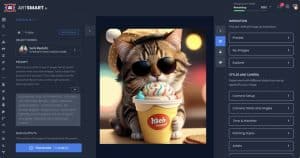 You can also add details about the camera type and settings, and Artsmart will make the picture look like it was taken by that specific camera – no one will be able to tell it's edited.
You can even choose from various modes such as Standard, Semi Realistic, Realistic, Hyper Realistic, and Photo Realistic.
What's more, you'll also be able to change the weather and time of day, from night to sunlight, enhance facial details, replace damaged parts of the picture, and more.
3. For Generating Text
Copy AI is the best free tool for instantly generating text. The free plan is free forever and works for one user at a time. It comes with 200 work credits that can generate text and 2,000 chat words, which you can use to communicate with a Copy AI bot and have it read articles, surf the internet, or watch videos on your behalf.
However, if you're looking for a more fully featured writer, Jasper AI is our top recommendation. Although it doesn't have a free plan, it comes with a free trial and a demo, so you know what you're getting into.
The best thing about Jasper is you can add it as an extension and use it in tandem with all your favorite web apps like Gmail, LinkedIn, and WordPress.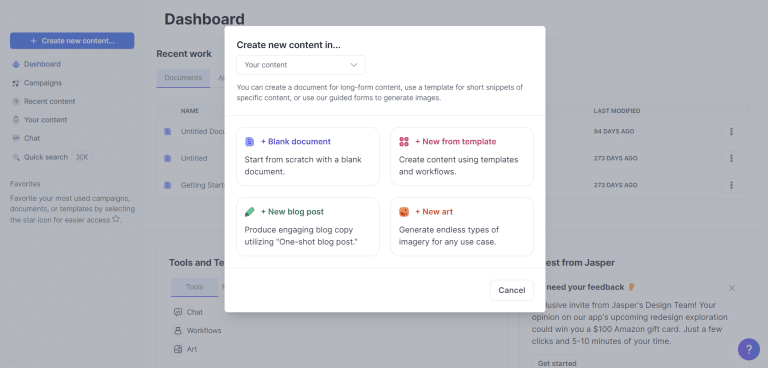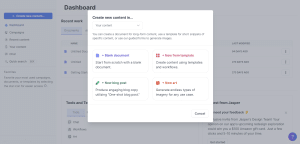 Let's say you've written an email to a client, but it doesn't quite hit the right tone. In that case, if you already have the Jasper extension, you can select the text, tap on the "Ask Jasper" icon, and type in how you want to rewrite it.
It'll only take a few seconds for Jasper to come up with a brand-new email, whether you want to add humor or gravity.
You can also create content directly from your dashboard. Share some details about the project and the asset type, such as whether it's an ad, email, or blog post, and in 15 seconds, Jasper will have high-quality content ready for you.
4. For Video Generation
Animoto's free-forever plan lets you create unlimited videos. You also get access to its standard features, which include three font sizes, color swatches, screen recording, webcam recording, animated design elements, and more.
For more features, try PictoryAI.
The cheapest plan costs just $19 and lets you create up to 30 videos a month, including text-to-video generation. You can also have 34 voice options for the voiceover.
If you have an existing video, you can use Pictory's tools to quickly edit it. Videos up to one hour in length are supported under this plan.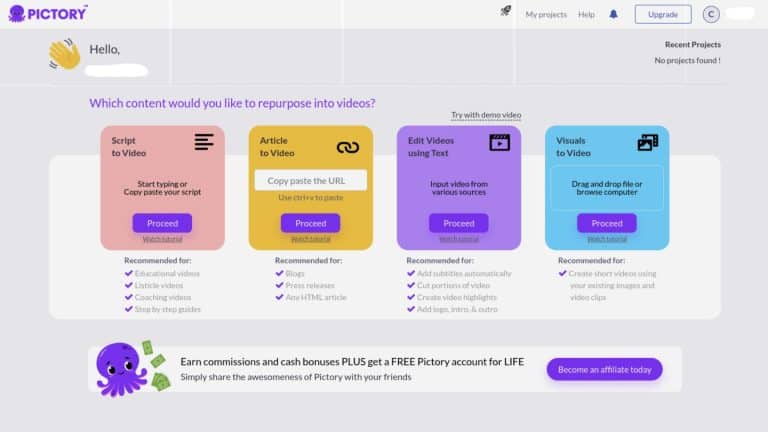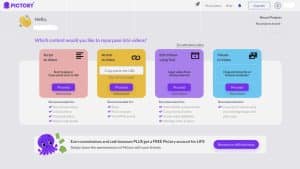 The most high-end plan is priced at $99/month and lets you create 90 videos, pick from 60 standard voices – you can also choose from their 51 hyper-realistic AI voices – create 30-minute-long text-to-video content, and access millions of stock images.
You'll also get a free trial, which comes with the ability to create three video projects.
Making videos is a breeze with PictoryAI. You simply upload your script, and the AI will do the rest. It'll pick the right sentences for you and choose from a vast library of three million video clips and 15,000 music tracks, all of which are royalty-free, automatically creating a soundtrack for your videos.
You can record and upload your own voiceover or pick from PictoryAI's realistic AI voices. If you want to promote your brand, you can add brand elements before finalizing the output.
This can all take hours with a regular video editor, but with AI, all you need is a solid script.
5 Tips for Making Money With AI
Here are five practical tips for making money with artificial intelligence using the methods we've described:
1. Identify Niche Markets and Specific AI Applications
With so many new tools popping up on the market, it's easy to get overwhelmed. Remember, if you want to make progress, you need to find a niche you're passionate about, pick the right tools and stick to it. Consistency is the key.
For instance, if you wish to make money through music, we recommend using LalalAI, Mubert, and Resonance Sound. Similarly, if you wish to make money selling art, we recommend using Picsart, LookaAI, and Supermachine.
With some tools like Picsart, you can even get started for free. However, we recommend switching to the paid plans if you truly want to scale your business. For instance, in Picsart, the paid plans come with a million more high-res stock image options compared to the free plan.
2. Build a Strong Network and Collaborate with Other AI Experts
If you want to stay tuned to the latest developments in the industry and grow your AI skills, it's important to connect with like-minded AI experts. You can find AI experts interested in connecting on Facebook groups or LinkedIn.
If you're a creator using AI tools for their content, you can also partner up with other fellow creators from your niche. Along with updates on everything new, building a network of competent AI experts has the potential to open a million new doors for your business.
3. Showcase Your AI Expertise with Case Studies and Projects
This is for those who want to create online courses on AI and help other aspiring creators make the most of these tools. There are many creators out there claiming to be AI experts, so it's hard to make an interested learner trust you.
The first thing you want to do is show them you know what you're talking about. Put together case studies and show your work with AI, projects you have worked on, and testimonials of people who benefitted from your work.
Ensure you have enough tangible evidence and a batch of existing users to vouch for you.
4. Stay Up To Date on AI Trends and Innovations
If recent trends are any indication, it's safe to say AI will continue to grow and flourish in the coming few years.
It's best if you stay on the lookout for the latest innovations and trends in the market. This will not only help you stay ahead of your competitors, but you'll also know if a new and better tool comes up that makes your work a lot easier.
5. Continuously Improve and Refine Your AI Solutions
Remember, AI tools aren't perfect. They can be your partner in creation but not the sole creator.
When it comes to content creation, there are certain nuances that only humans can handle. Therefore, continue to work on the product produced by your AI tools, adding a few touches and smoothing the rough edges.
If you feel like your current AI solutions aren't doing a good job, don't be afraid to look for a better alternative. We promise there are tons out there. Plus, when using a new tool, we insist that you start with a free plan, a free trial, or a free demo before moving to a paid plan.
Other Popular Techopedia AI Guides
Having explored how to use AI to make money online, here are a few more guides from our network to help you zero in on the best AI tool for your use case, get ideas for generating artificial intelligence passive income, and further investigate how to make money with AI tools.
Conclusion
With developments in AI rapidly progressing, it's important to keep abreast of the latest developments and integrate AI into your work.
The demand for AI professionals is growing at an annual CAGR of 32%. By 2025, AI is expected to create 2.3 million new jobs. This presents an opportunity to hone AI skills early to benefit from the expanding job market.
What's more, every professional field will be impacted by AI. If you fail to learn how to make money with AI bots, you'll likely end up losing your job to someone who has it figured out. This is the right time to start building AI skills into your job framework.
Our comprehensive guide serves as a yardstick for those looking to make money with the help of AI. You can use AI prompts to generate templates and create content, music, and art. You can build websites, write books, and build courses with the help of AI – the possibilities are truly endless.
FAQs
How can I earn money from AI?
How to use AI for passive income?
Is AI good for starting businesses?
How much money can you make in AI?
References