In this Jasper AI review, we'll go through the features, benefits, and potential use cases for Jasper AI. As a language model AI with OpenAI as a partner, Jasper AI is designed to generate human-like text responses based on prompts. The copywriting tool can assist the creative writing process and claims it can provide accurate, original, and unplagiarized content five times faster than a human copywriter.
We will provide a comprehensive Jasper AI review, looking into the tool and its capabilities and exploring how it can streamline and elevate your copywriting and content creation process.
Table of Contents
Table of Contents
Jasper Overview: What is Jasper AI?
Jasper AI is a tool with AI-enabled capabilities that can create a wide range of content quickly and efficiently, which includes blog posts, product descriptions, ad copy, and social media posts. It was initially known as Jarvis when it was launched in 2021 by founders Dave Rogenmoser, John Hillip Morgan, and Chris Hull.
The content it creates is SEO-friendly and plagiarism-free, making it the perfect tool to help streamline your content creation process and increase productivity. Using
Jasper AI
, you can create content that will engage your target customers, grow website traffic, and increase your profits.
How Does Jasper AI Work?
The Jasper AI writer uses Natural Language Generation (NLG), which converts information into text. Specific information is fed into the software and passed through "conditional logic." This ensures that the output from Jasper AI is as close to human-generated text as possible.
It also uses another process called "deep learning," where artificial intelligence attempts to imitate how the human brain works to process data, identify patterns, and make decisions.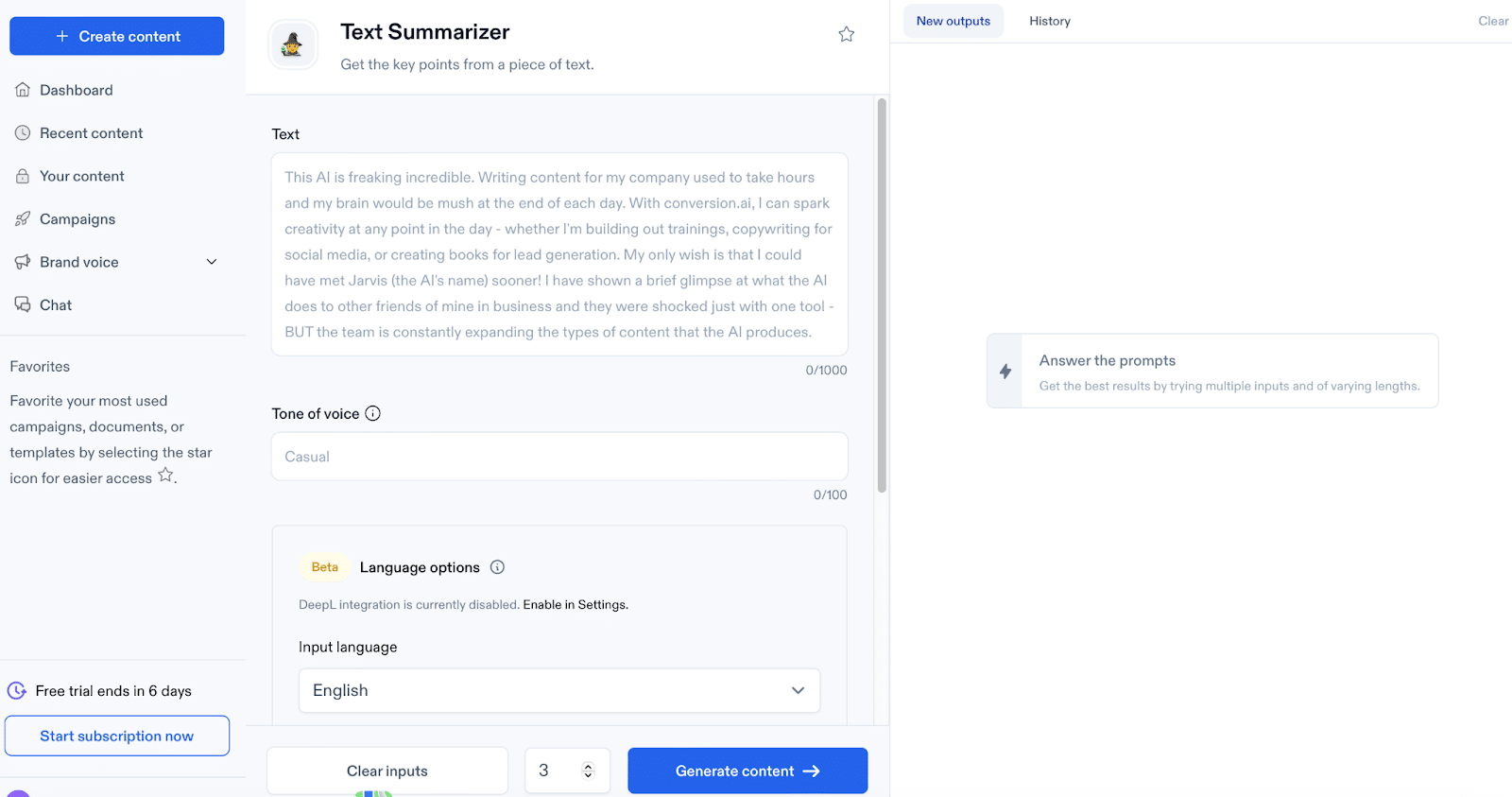 Deep learning models are trained with exposure to large amounts of text sourced from the internet, including databases like Wikipedia and trend-based content from social media. The more the tool is used, the more it learns the best and most likely outputs for a specific instruction.
The Jasper writing tool is one of the few AI-enabled tools that does a good job of replicating human intelligence. It has a simple-to-use interface and a broad range of templates that can help create high-quality content, from blog posts to longer articles. It has something for everyone.
What is Jasper AI Used For?
Jasper AI can be used for a wide range of applications and can assist writers at any stage of the content creation process, whether providing an outline for a blog post or constructing a catchy headline for social media. Use cases include:
Blog posts: There are specific templates for short online pieces.
Long-form content: Using outlines and templates, Jasper can create longer pieces of text that come with an introduction and conclusion.
SEO-based content: You can develop content with SEO in mind using the tool's custom templates, and you can benefit from the SurferSEO integration for further optimization.
Social media posts: Jasper can produce social media posts based on the prompts you provide, or it can base them on existing pieces of content. Be prepared for plenty of emojis and hashtags.
Email newsletters: Writing templates include "Persuasive Bullet Points" and "Email Subject Line," so you can create newsletters that actively engage your audience.
This is only the tip of the iceberg, though, and there are many other use cases for Jasper AI. On their website, they offer over 50 different templates that can assist in creating high-caliber writing for a multitude of industries, such as marketing, copywriting, and communications.
Is Jasper AI Good? The Key Pros and Cons
The Jasper AI writing tool can help elevate your copywriting skills, save time, and increase productivity. But as with all services, there are advantages and disadvantages. Here are the pros and cons of Jasper AI:
Pros
Creates content far faster than human copywriters
100% original, plagiarism-free content
Can produce SEO content for higher SERP rankings
Supports over 30 languages
Easy-to-use interface
Can jumpstart the creative process
Over 50 templates available to use
Cons
There can be repetition of words and phrases
Doesn't work without internet
Overall, Jasper AI is a valuable tool for businesses, freelance writers, and marketing executives who regularly create a large amount of content, and if you're a writer, it can be the tool you need to produce engaging and exciting content for your customers.
How Much is Jasper AI — Jasper.ai Pricing Breakdown
Jasper AI keeps everything as simple as possible, and that applies with its pricing, too. There are three Jasper pricing plans which aim to cater to every customer. So, how much does Jasper cost?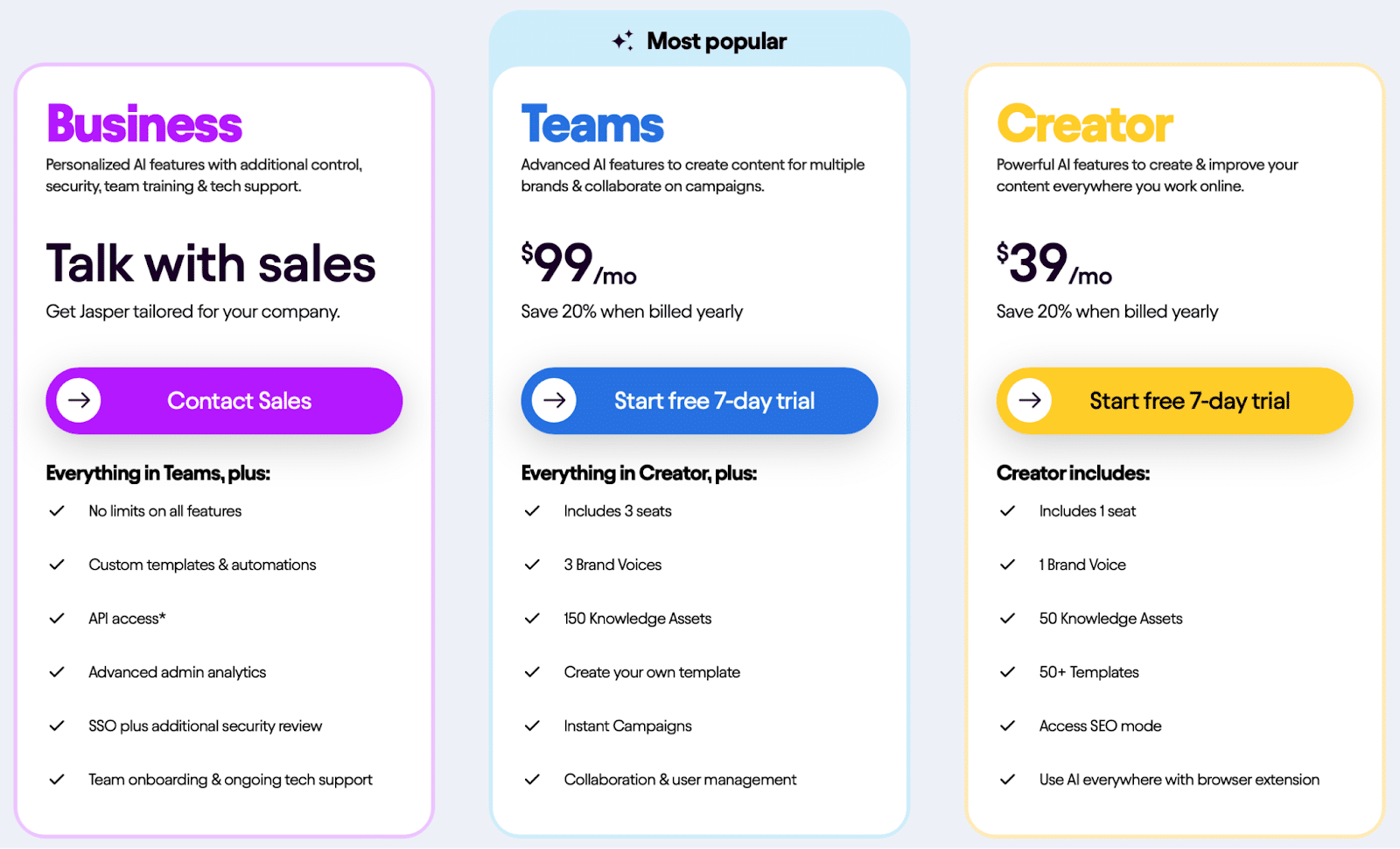 Creator Plan
This is Jasper AI's basic plan, and it's tailored to freelance writers, influencers using affiliate marketing, content creators, and sole traders. The pricing is competitive at $49 a month or $39 a month if you choose to pay annually.
This plan provides one user with one saved brand voice and up to 50 stored memories. You'll have full access to Jasper AI's templates, browser extension, and SEO mode.
Team Plan
This plan has been created for small businesses and marketing teams to use Jasper AI's tools to streamline their processes. It's $125 a month or $99 per month if billed annually and includes access for three people, three saved brand voices, and 150 saved memories. Users can also access all the features in the Creator Plan.
Business Plan
Jasper AI also offers bespoke business plans. You can access all the features the tool has to offer, including custom templates, advanced admin analytics, Single Sign-On, and security reviews, to name just a few. To get a quote, contact their sales team.
There's also a free trial you can try if you're thinking about adding Jasper AI to your workflow. This lasts seven days and includes access to Jasper's full feature set so you can see the benefits it offers.
From our independent testing, we found that signing up for their free trial was straightforward, and it's an excellent way to try out Jasper's tool without financially committing to anything.
Seven days isn't the longest trial we've seen AI-based tools give their customers, but it was enough time to try out every aspect of the product. It was a little disappointing, though, that there were no free versions of the product, with many competitors offering at least some free tools.
Reviewing Jasper AI's Core Features
Jasper AI is an invaluable tool for writers and businesses looking to create content. Here are some of the core features of Jasper AI:
Content Creation
Jasper AI is great at content creation and generating a wide range of content. From our testing, we've found that content produced by Jasper AI qualifies as being 100% original content.
We found navigating Jasper's content creation tools to be very simple, and it's clear why this tool is so popular. It has an extensive range of templates to suit every type of content that businesses or freelancers might want.
We were pleasantly surprised with the document editor, which can help produce an entire piece of content or several smaller ones. It's very intuitive and easy to use.
To streamline your workflow, there's a plagiarism checker built into it, which can rate your writing for originality. We found the results satisfactory when we checked the content we produced on Jasper AI.
The checker is an optional extra that can be added to your monthly plan for $0.03 to check the first 200 words, then an additional $0.01 for the next 100. It's a shame that it costs extra, but it's worth investing in to ensure that your work is high-quality.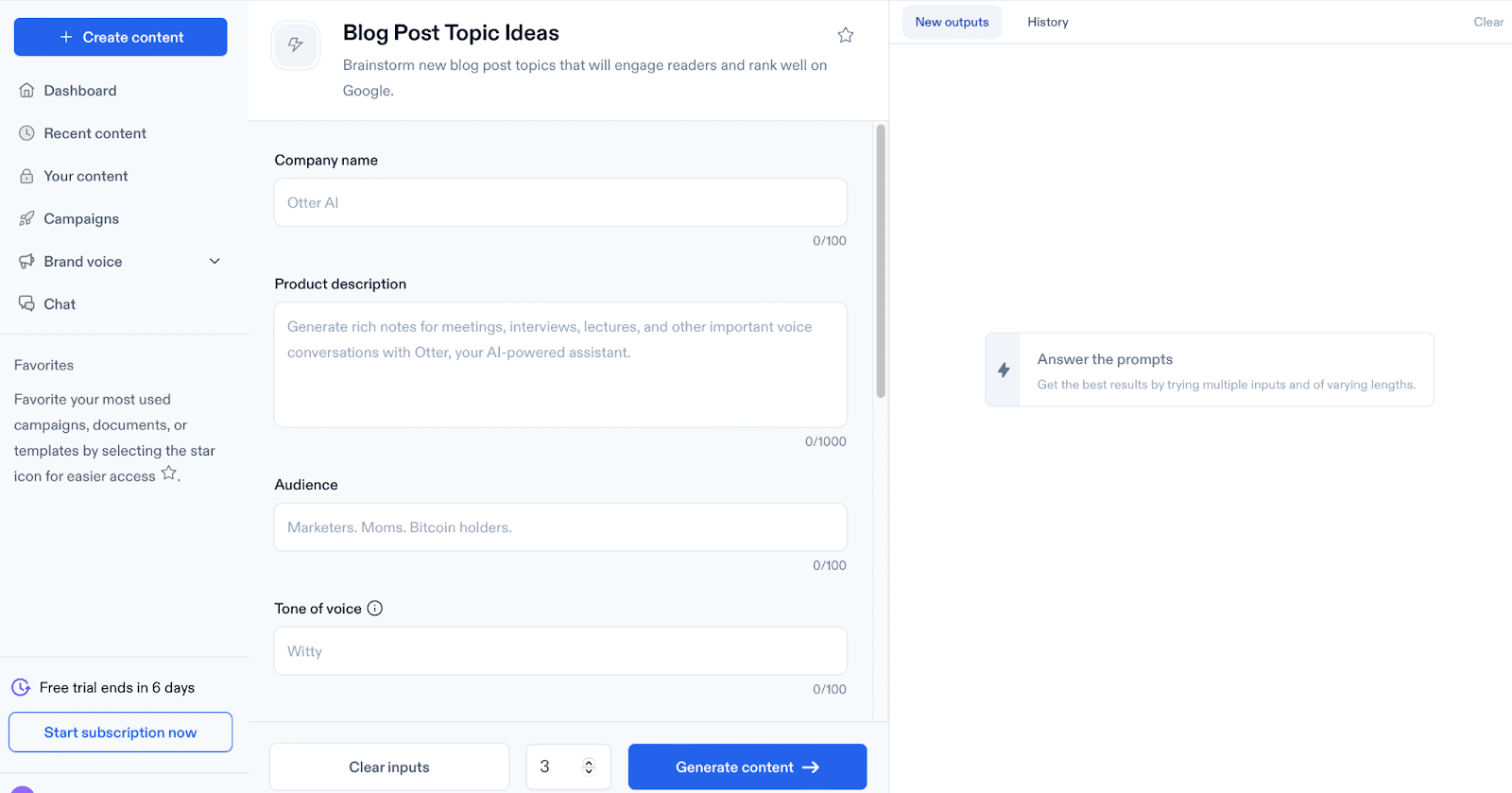 Here are some of the most valuable templates Jasper offers:
Blog Post Topic Ideas – One of the hardest things about creating content is thinking of fresh ideas to keep your customers interested. If you need help developing blog post ideas, Jasper AI can provide innovative and engaging concepts.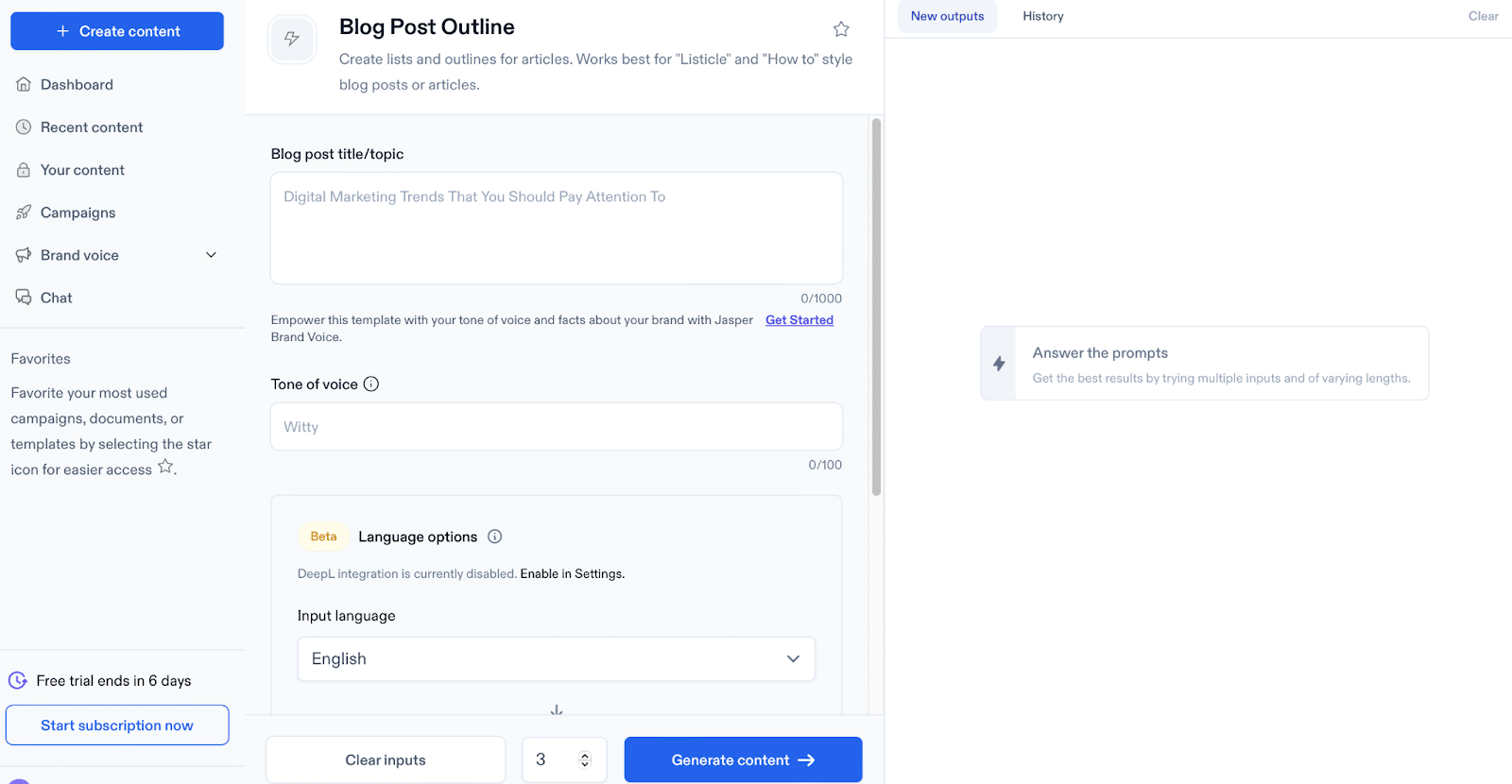 Blog Post Outline – If you're unsure of how to outline a particular post, this writing tool can help provide an overview to generate a spark of creativity. It allows writers to think outside the box and produce excellent work.
Blog Post Introduction and Conclusion Paragraph – Jasper AI can help with problematic introductions and conclusions. Our testing found that these tools work well at creating relevant, engaging stretches of text that fit well with articles – and they can be created quickly.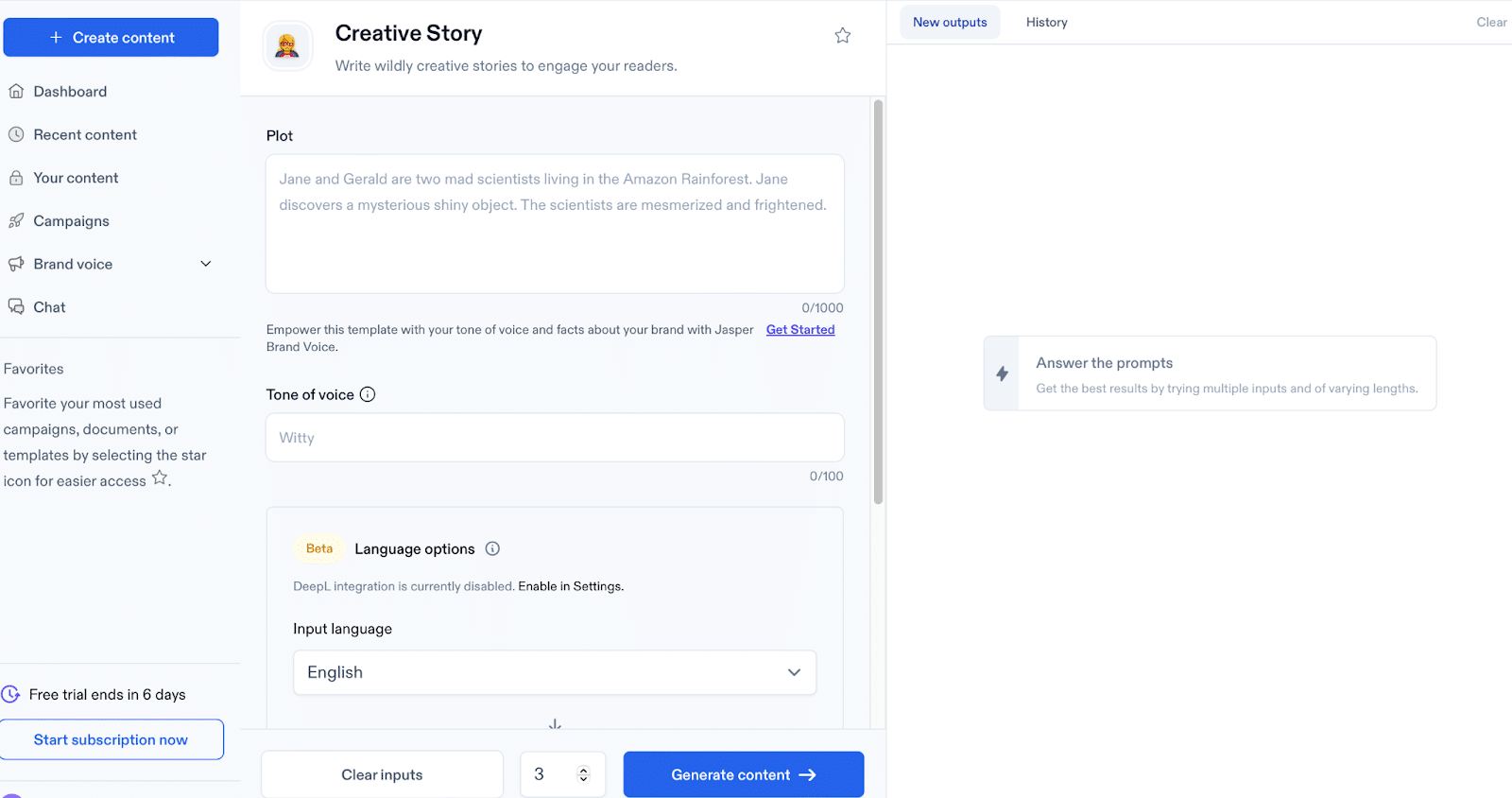 Creative Story – Along with blog posts and data-driven business content, Jasper can write creative narratives to engage your readers. This feature could be used for everything from business biographies to short stories.
Feature to Benefit – Another unique but helpful item that Jasper AI has is Feature to Benefit, which turns dry product information into compelling copy describing the benefits of a product. It's an excellent feature for boosting social media posts or product description engagement.
Explain It To a Child – This feature rephrases text so it's easier to read and understand. It's handy for simplifying complex text, whether for children or just to make it more accessible to a wider audience.
Text Summarizer – You can instantly receive a simple summary of a piece of text by adding text into the form. You can even summarize text originally in a foreign language.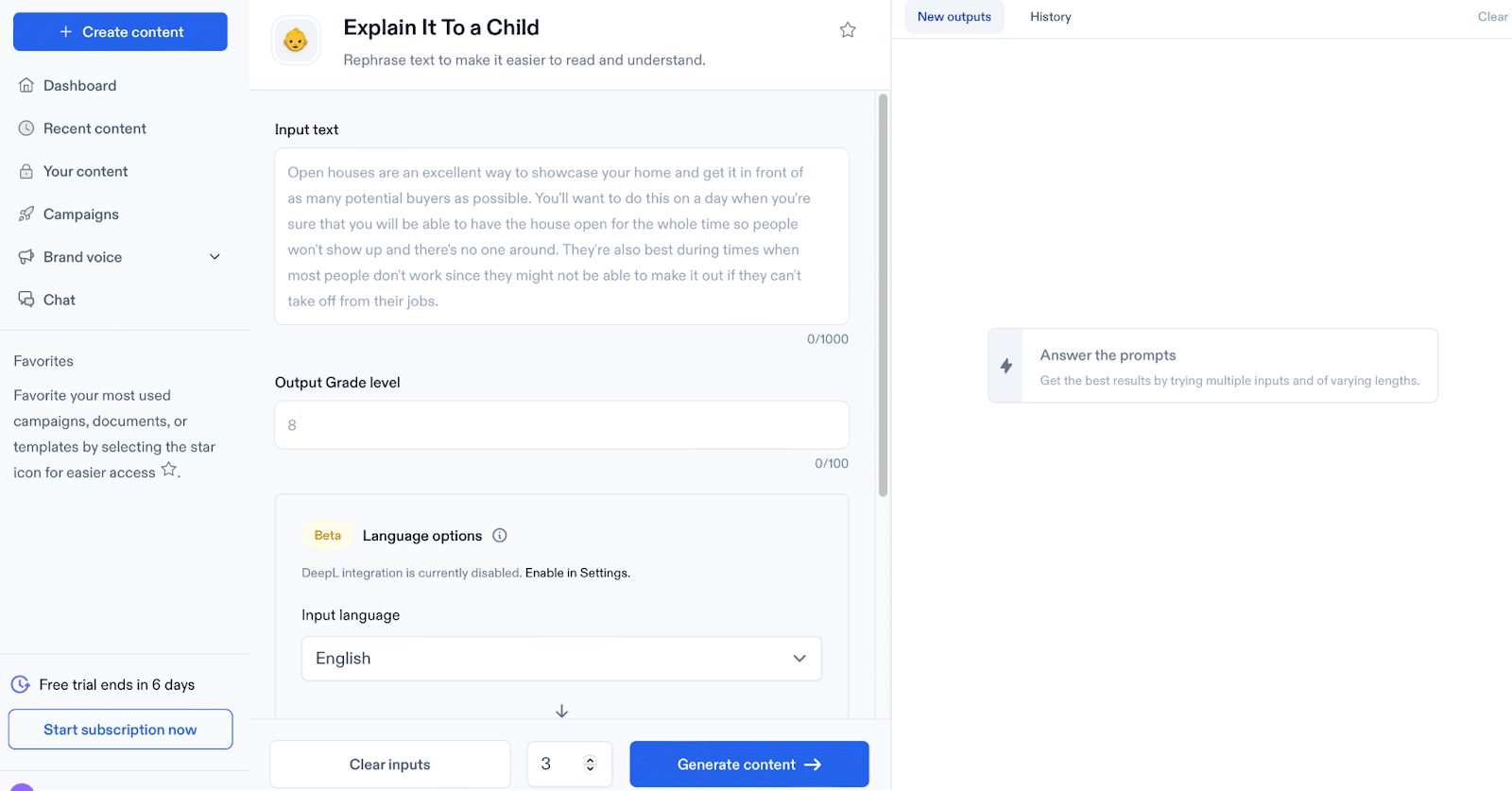 Other templates include:
Jasper Essay Writer
Jasper Lists
Sentence Expander
Engaging Questions
Perfect Headline
Website Sub-Headline
Quora Answers
Photo Post Captions
Persuasive Bullet Points
Ridiculous Marketing Ideas
Email Subject Lines
Review Responder
Unique Value Propositions
From our testing of Jasper and other AI writing tools, we found that it was very good at creating short to medium pieces of text. Anything much longer than that, and it could drift off in the wrong direction.
Jasper makes it easy to coordinate the use of its different tools – and having a detailed outline with headings, which act as prompts, can be very useful in guiding the tool to create strong long-form content.
The toolset is versatile and intuitive, and you can use multiple tools to create the content you need. When using other AI-enabled tools like Copy AI and ChatBot, we also found that Jasper AI was better at constructing sentences displaying emotion, whether it be empathy, sorrow, or happiness.
Jasper Campaigns and Brand Voice
Jasper allows you to integrate your brand voice into the content it creates, ensuring Jasper's content will have a tone and style aligning with your brand identity.
It does this by ingesting your style guide, as well as your existing content, such as blogs, social media posts, and customer reviews. This allows Jasper to understand your brand's unique language patterns and writing style.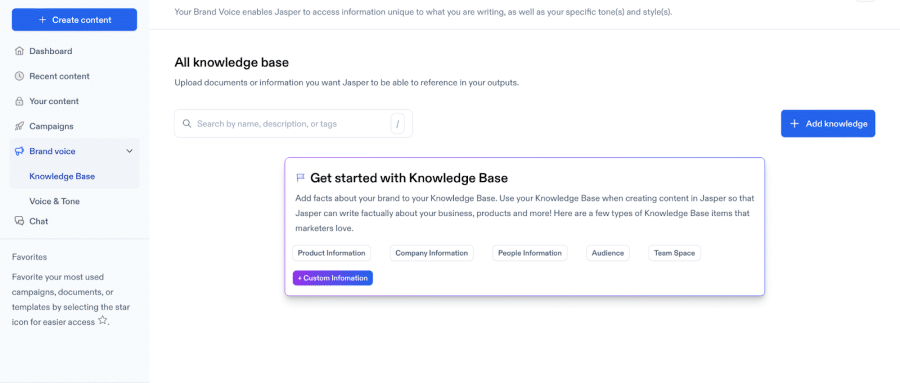 What's also useful is that Jasper AI can learn about your product lines, customer base, and brand details, along with other pieces of information. This ensures it supplies accurate information about your products across product descriptions, marketing materials, and more.
The tool can then create original content in your organization's voice, which will likely need minimal editing. Creating content with this tool is like talking to a very well-informed staff member or a manager.
Product Descriptions
As well as creating social media posts and long-form content, Jasper AI can generate product descriptions, and it's much easier than with other AI writing tools. Jasper is able to highlight the key features and benefits of products and make them appealing to customers.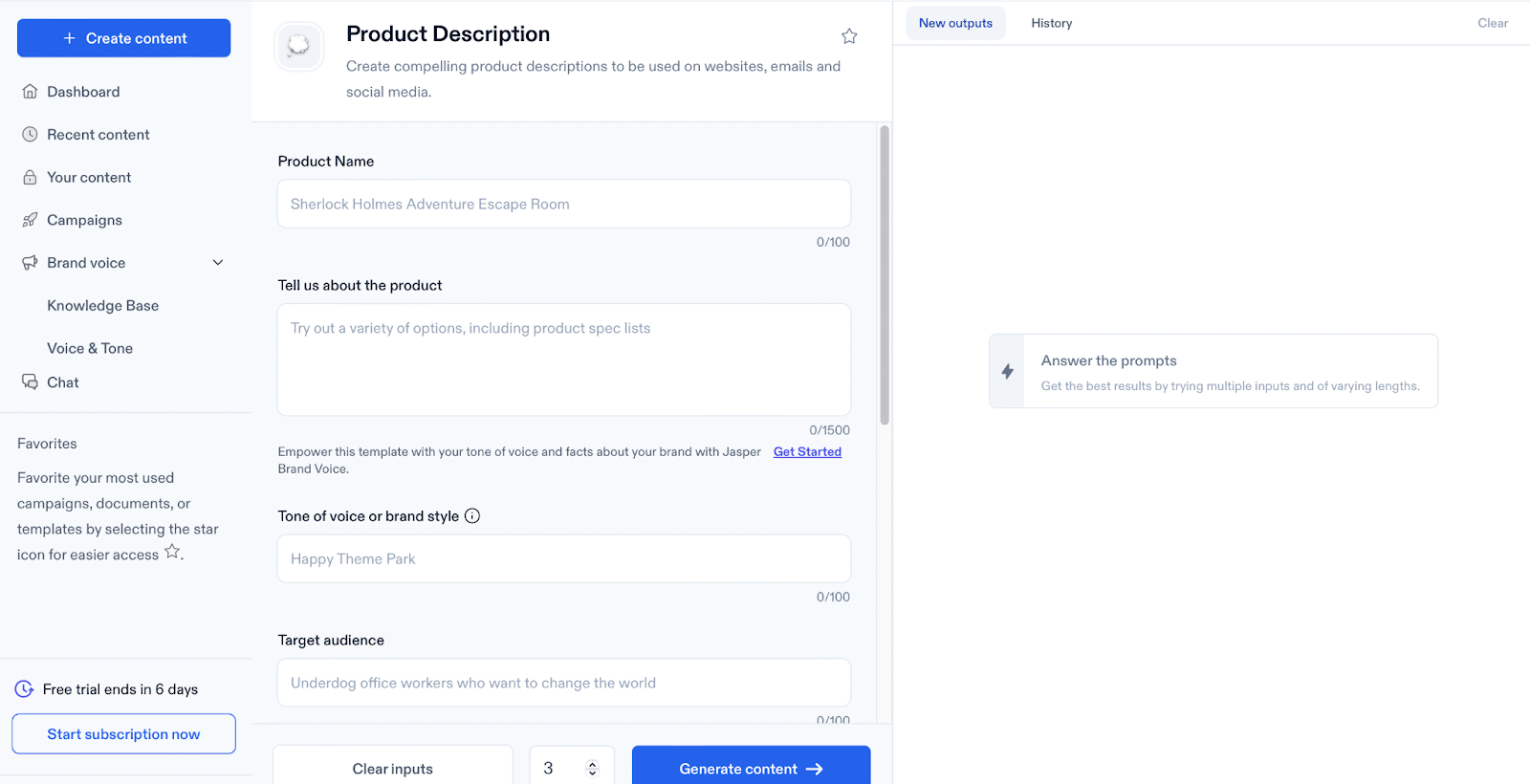 Jasper AI can describe each product in a new and exciting way, and this can be particularly useful for businesses that need to create a large number of product descriptions at a time. During our testing, we found that it excelled at creating compelling and detailed product descriptions.
Marketing Copy
Jasper AI is proficient in creating a wide range of marketing copy, from witty social media captions to persuasive ad copy. You can also adjust the writing style and tone as you need, ensuring all your marketing and advertising is expertly curated.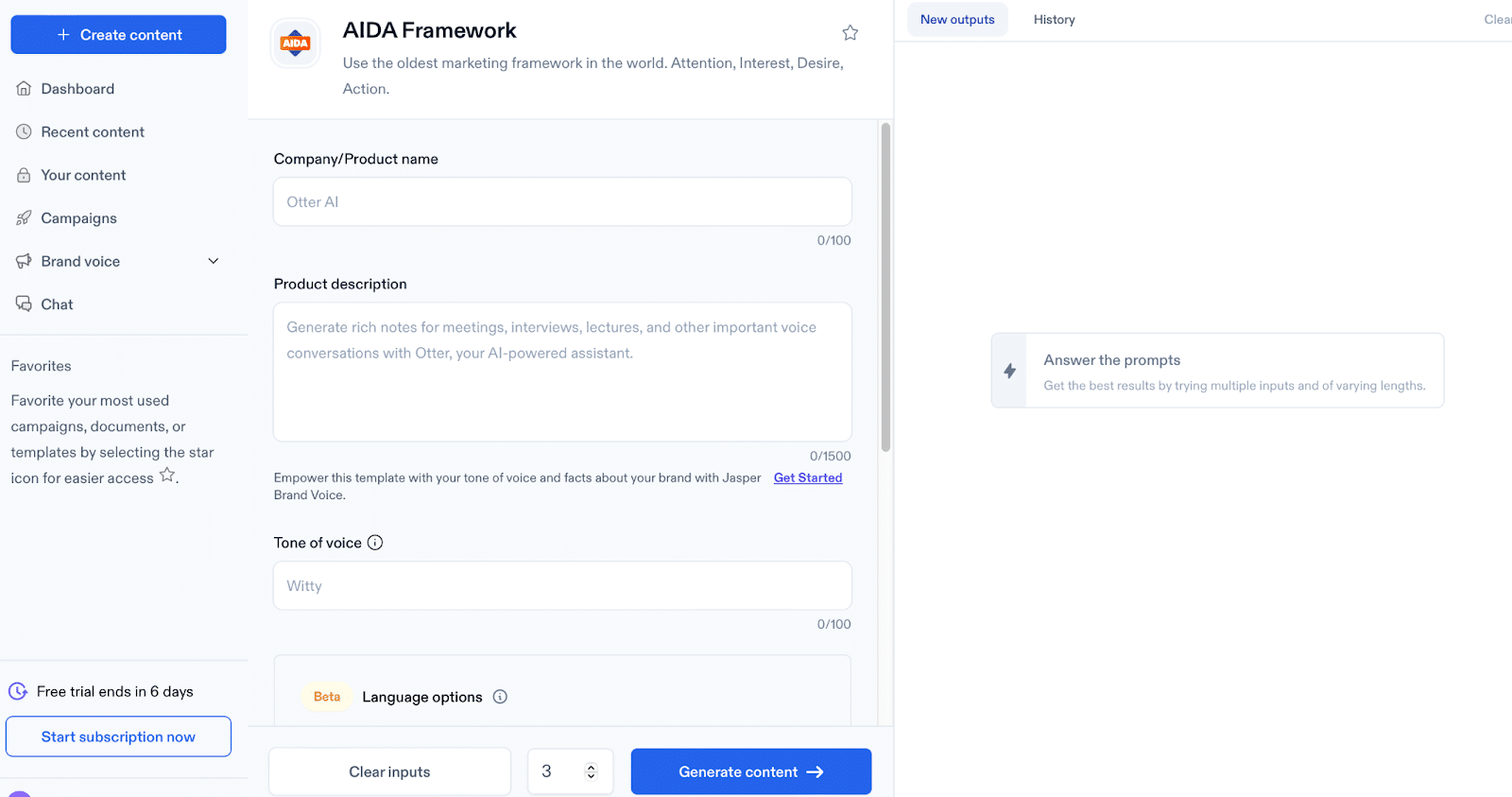 Jasper also provides tons of templates to kickstart the content creation process. It won't post directly onto your social media channels for you, however.
Some of the formats Jasper can provide content for include:
The AIDA Framework and PAS Framework – The Attention, Interest, Desire, Action framework is the oldest marketing framework in the world, and Jasper can help you create copy specific to your company using AIDA formatting. It can also create content for the Problem, Agitate, Solution framework.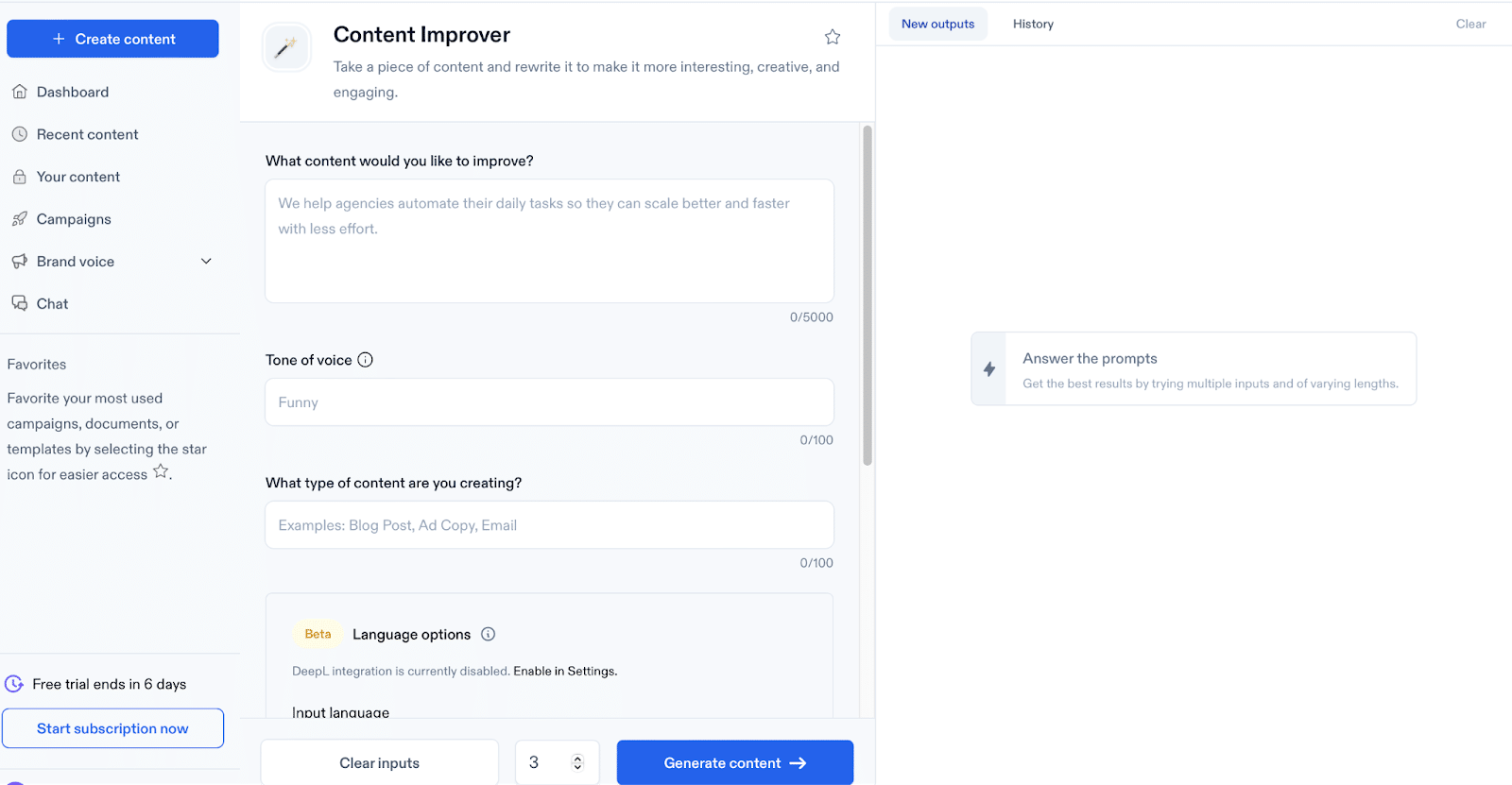 Content Improver – This invaluable tool takes existing text and can adjust and enhance it, as well as altering the tone of voice and style.
Facebook Ad Headline – This writing tool can help generate eye-catching ad headlines for your Facebook profile, helping to engage your audience and drive social traffic to your website.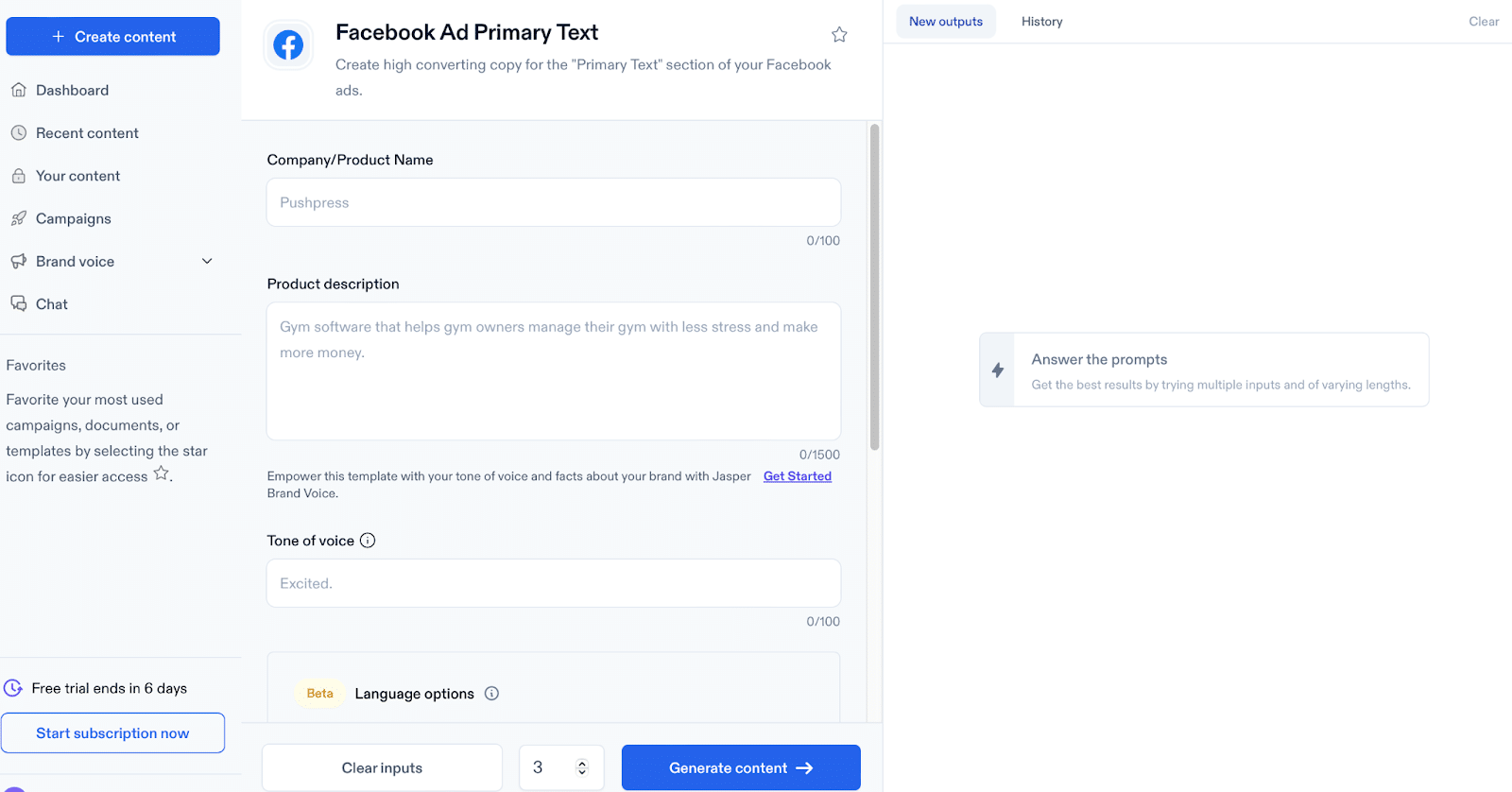 Facebook Ad Primary Text – Along with headlines for your Facebook ads, Jasper can create full ad text for your social media profiles based on your prompts. There are also templates for LinkedIn, Google Ads, Amazon products, and SEO meta tags, among others.
Jasper AI + SurferSEO
Jasper has a partnership with SurferSEO so users can efficiently create SEO-optimized content and boost their SEO rankings.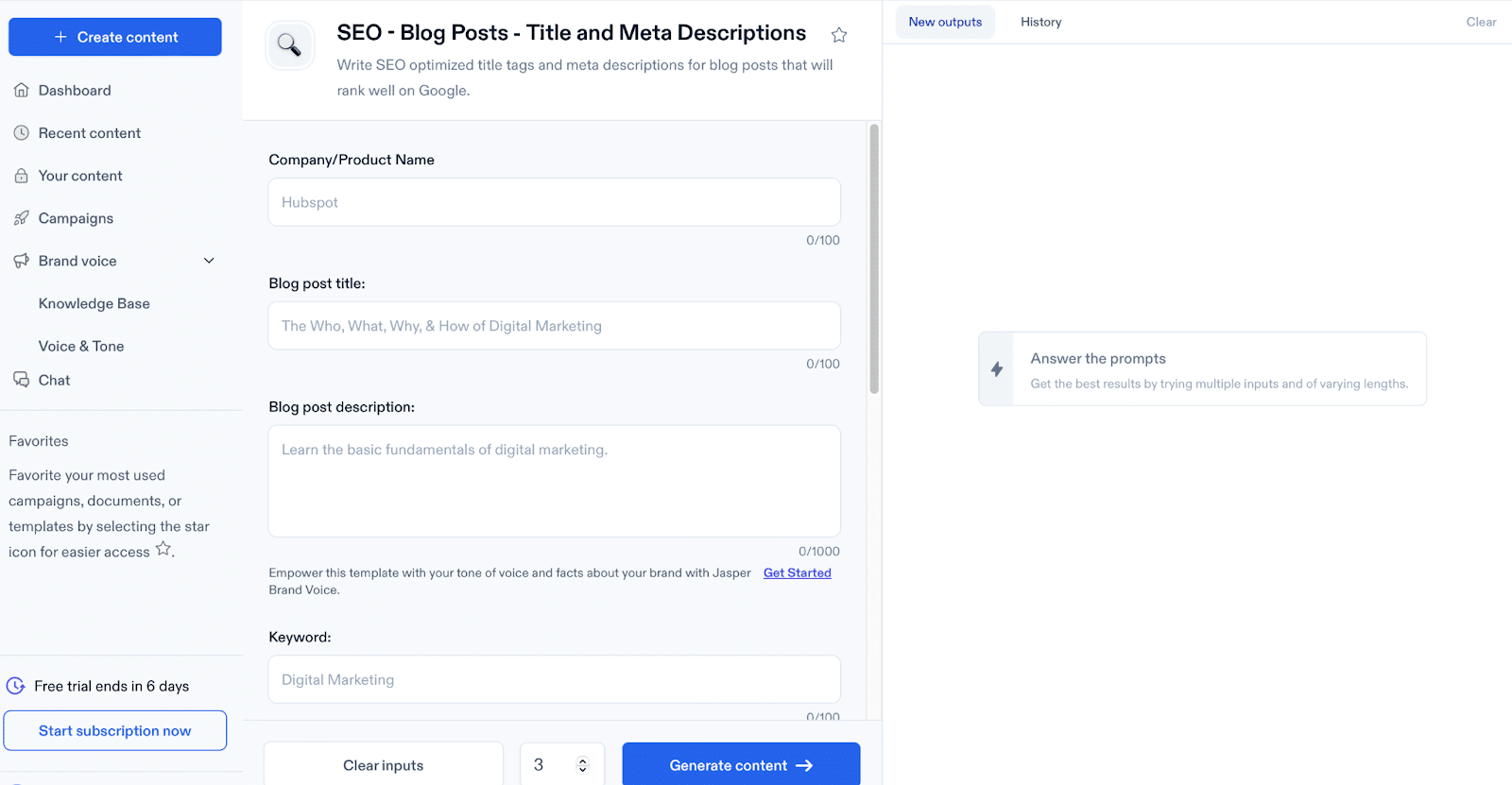 To use these features, turn on SEO mode when creating content, and it will show you suggestions to increase your SEO ranking.
While Jasper does have some SEO native features, like keyword optimization and meta description generators, you'll need an active subscription to SurferSEO and Jasper AI to unlock deeper optimization options.
Jasper Chat
Jasper Chat is an upgraded version of AI's hottest language model, ChatGPT, which can provide an impressive conversational experience. It can access the internet and various search engines to cite its sources.
When using the chat feature, you can ask the Jasper bot questions, make suggestions, and share your opinions without using a template or a specific set of commands. This feature can be used with any content creation item to produce content in the desired tone, which can be exported straight into a document.
Jasper Art
Jasper AI is known for creating excellent written content for various businesses, but in 2022, the company launched Jasper Art. This new feature lets you quickly create unique images for your company branding, blog, or social media profiles.
You can control the output by adding a description in the prompt box of exactly what you want. Producing your own images means you won't have to pay for specific pictures or use stock photos. Very few AI tools combine text generators with image generators, so this is a great extension of Jasper's capabilities.
Jasper's Chrome Extension
Jasper also provides a Chrome extension that can create professional content quickly and efficiently, whether writing an email, creating blog content, or producing consumer-based social media posts.
To install the Jasper Chrome extension, go to the Chrome Web Store, search for "Jasper AI," and click "Add to Chrome." You can then access Jasper whenever you need.
After opening a dialog box, you can select a template, and then you just need to add your prompt, set a tone of voice, and click "Generate." It will then give you multiple choices to choose from.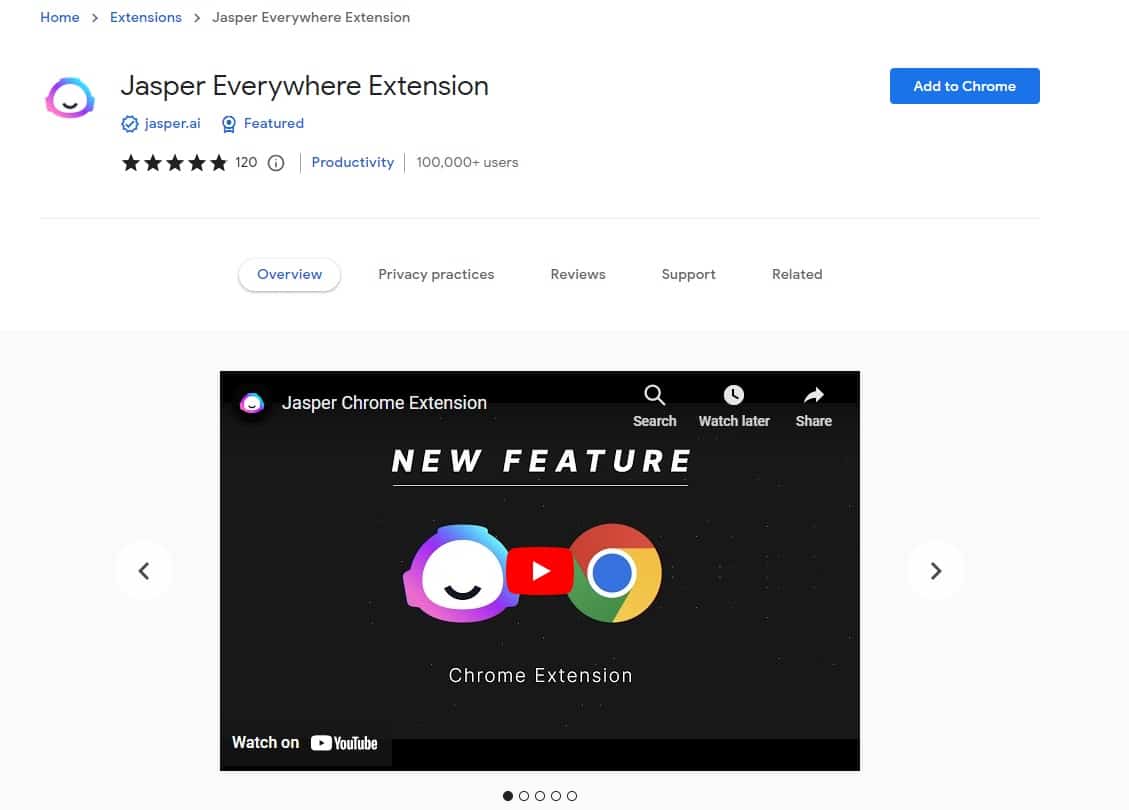 When drafting an email, for example, you can use Jasper AI to create an empathetic response, showing you and your company are understanding and caring, for example, ensuring your correspondence feels personal, individual, and direct.
Jasper AI can also integrate with many other services, including Google BigQuery, Google Sheets, Google Docs, Zapier, Make, and Grammarly.
Features like the Jasper Chrome extension, the Jasper AI app, and Jasper Art set the tool apart from the rest.
Jasper AI Recipes Prompt Library
Jasper's AI Recipes feature provides a library of commands to help you use the content generator more efficiently.
You can work with pre-configured recipes generated by Jasper AI experts, so you don't have to spend time figuring out the best way to build prompts. This can fast-track individual tasks, and it will also help you to learn the best way to structure your own prompts in future.
Jasper AI vs. Popular Jasper AI Alternatives
While Jasper AI has excellent features that can be extremely useful for many businesses, how does it compare to other AI-enabled tools on the market? Here's a brief overview of the top five AI-based tools available today, including Jasper AI and several other Copy.ai alternatives:
Top AI Writing Tools
Best Suited
Starting Price/ per month
Free Version
Top 3 Features
Jasper AI
Marketing Content
$39
7-day free trial
– Use your brand ToV
– SEO-based content
– 50+ templates
Copy AI
Sales Copy
$36
Yes – 2,000 words per month
– Excellent marketing copy
– Secure
– Use brand information
Rytr
Social Media & Ads
$29
Yes – 10,000 words per month
– Writing emails
– Creating content fast
– Using various tones and voices
Writesonic
Improving Existing Copy
$33
Yes – 10,000 words per month
– Trend-driven content
–
Writing in your brand ToV
– Using analytics to improve content
ShortlyAI
Rephrasing Copy
$65
2-month free trial
– Helps with writer's block
– Creative brainstorming
– Helps edit sentence length
Jasper AI's pricing is reasonably competitive and provides good value for money, with lots of templates and variety on offer for content creation. What's more, the free trial is a great way to see if Jasper AI suits your company and overall workflow.
Copy AI and Writesonic come at a similar price point, but both of these services offer a free version, which allows you to write a set number of words every month free of charge.
Jasper AI stands out as one of the best AI writing products, though, having a reasonable price, seamless integrations with services, a broad database of templates, and some superb extra features like Jasper Art.
Is Jasper AI Worth it? Summarizing Jasper AI Reviews
Jasper AI is one of the leading AI-enabled copywriting tools, and lots of users have taken the time to review it. To get a sense of the full user experience, we explored a range of Jasper AI Reddit reviews and Trustpilot Jasper reviews to gauge how customers have found it in the long term.
Lots of customers have written reviews that echo our feeling that this tool is great for individuals who want to work smarter, not harder – and Jasper's AI engine reviews are highly positive.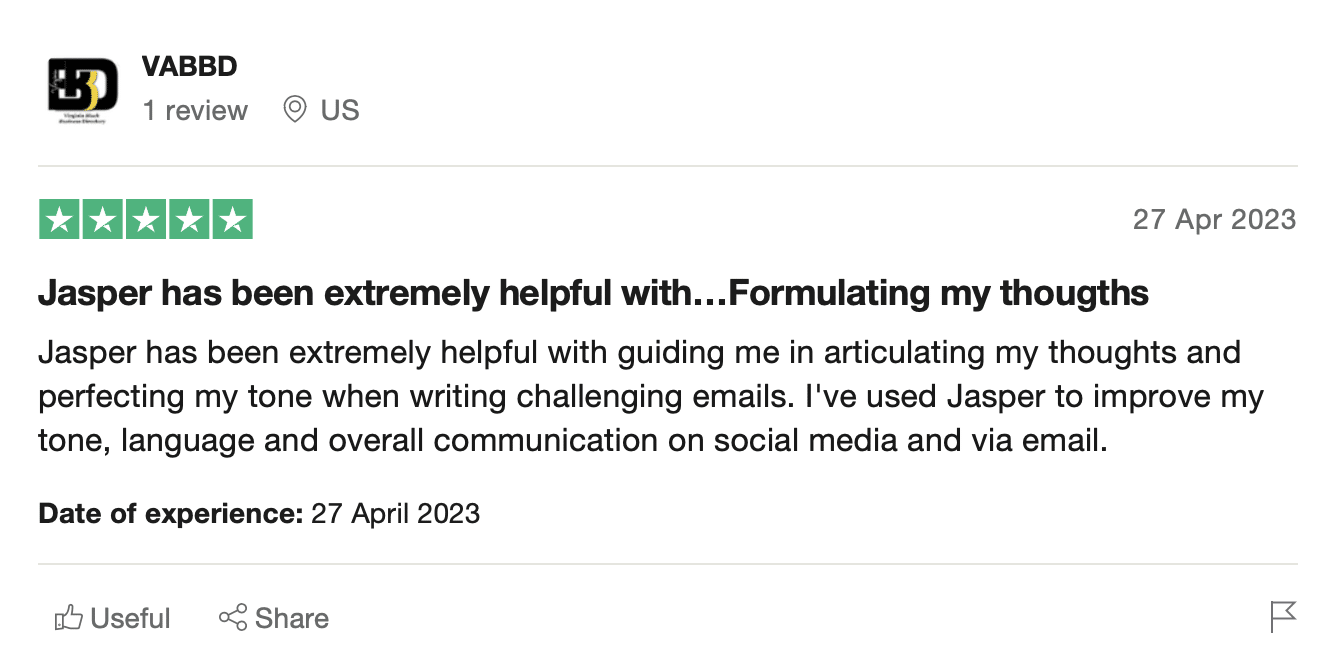 Over 4,138 customers have written reviews on TrustPilot, and of these, 89% have given it a five-star rating, while another 6% gave it four stars.
There's a consensus that Jasper AI helps copywriters, marketing executives, and content creators improve their work and create copy that resonates with their customers.
While many customers are happy, one disadvantage is the occasional repetition of phrasing. To combat this, they advise you should ensure you read over and edit your work.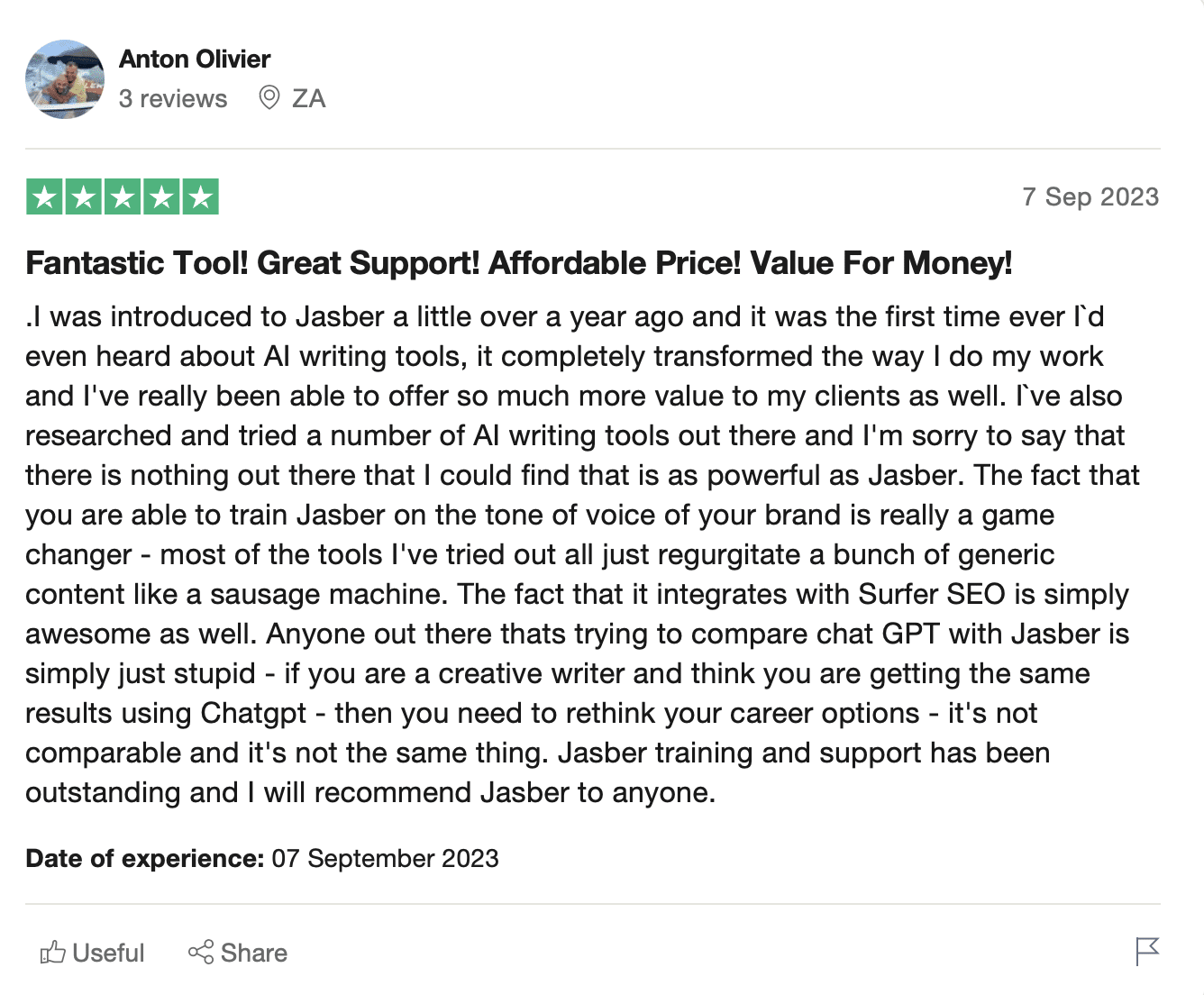 Generally, though, Jasper AI reviews indicate customers are happy with the service and find it to be professional, efficient, and reliable – and it's become an integral part of their workflow.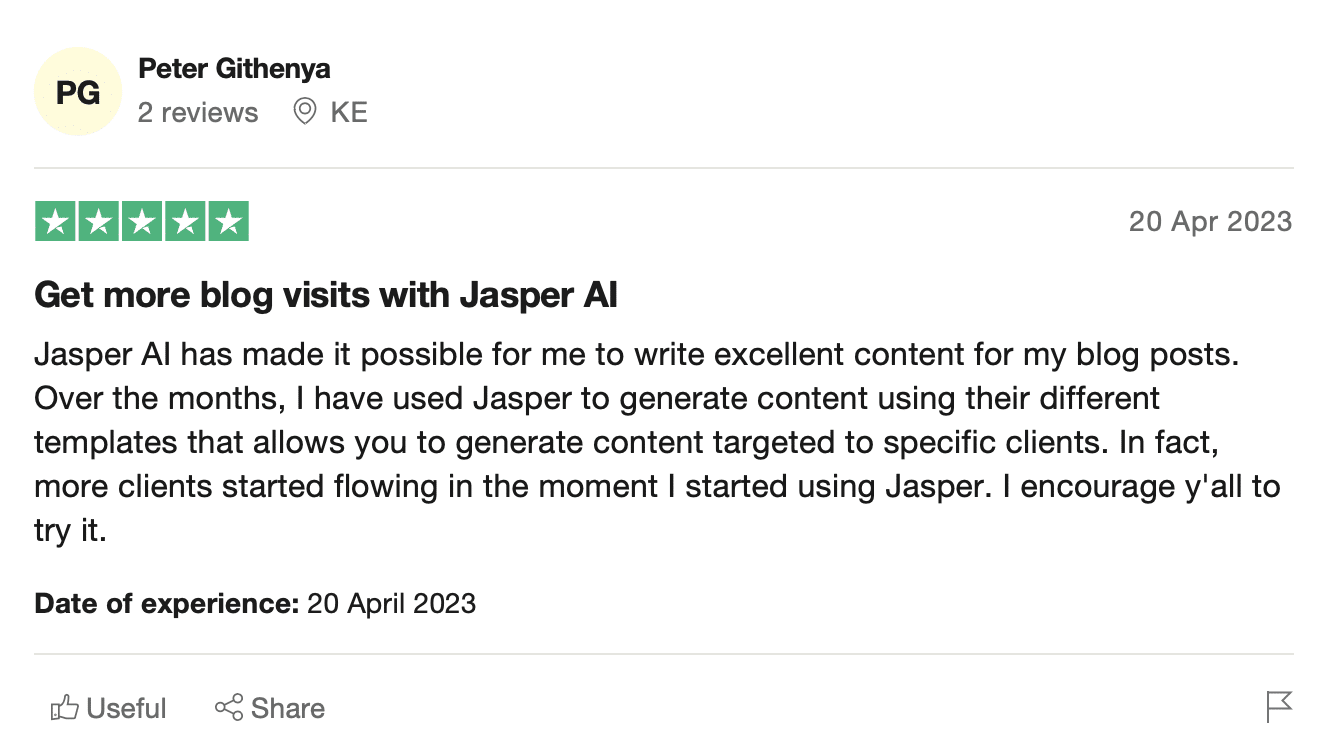 Jasper Art is an addition that's been popular with Jasper AI's customer base and makes the platform a one-stop shop for content creation. The opinion online is that generating cohesive and impressive content is much easier with Jasper than with competing products on the market.
Despite some drawbacks, it's a reliable, efficient, and user-friendly AI tool, which is great for both beginners and professionals creating content. Indeed, Jasper AI is generally seen as one of the best AI copywriting tools available.
Our Other AI Software Guides
If you're thinking about implementing an AI-enabled tool into your business and are unsure about which ones to choose from, here is a list of our other AI guides and resources so you can make an informed decision:
Why You Can Trust Our Review of Jasper AI
We take our reviews and recommendations very seriously. We don't solely depend on information provided by companies but thoroughly test tools ourselves. This approach enables us to offer firsthand insights and precise information on products, ensuring accuracy and reliability.
In addition to this, we actively collect feedback from real users across the internet. This allows us to paint a more complete picture of the product's user experience.
Our team has broad-ranging experience in the field of AI copywriting. With our team's extensive testing of various tools and platforms, we have gained a great deal of insight into the market and the distinguishing factors that set exceptional tools apart.
Our objective is not to endorse particular products or platforms but to offer unbiased and insightful reviews. We take pride in presenting a well-rounded evaluation of the product, covering both its merits and drawbacks.
Our review of Jasper AI is grounded in meticulous research, sector expertise, and dedication to delivering impartial and well-rounded insights. Whether you're contemplating using Jasper for copywriting or are simply intrigued by its capabilities, our review should provide you with everything you need to know about the platform.
How to Use Jasper AI — A Quick Guide
Jasper AI is a simple tool with an uncomplicated, user-friendly interface. Here is a quick and easy guide showing you how to generate your first piece of content with Jasper AI.
Step 1. Log in to Jasper AI
Go to Jasper AI, and if you're a registered user, click the "Login" button. If you're a new customer who wants to try Jasper AI's features, click the "Try Jasper for Free" button. These buttons are located in the top right-hand corner of the screen.
Step 2. Creating a New Content Project
When you log into Jasper AI, you'll arrive at the homepage. You can select a template from here by clicking "Create Content" on the left-hand menu.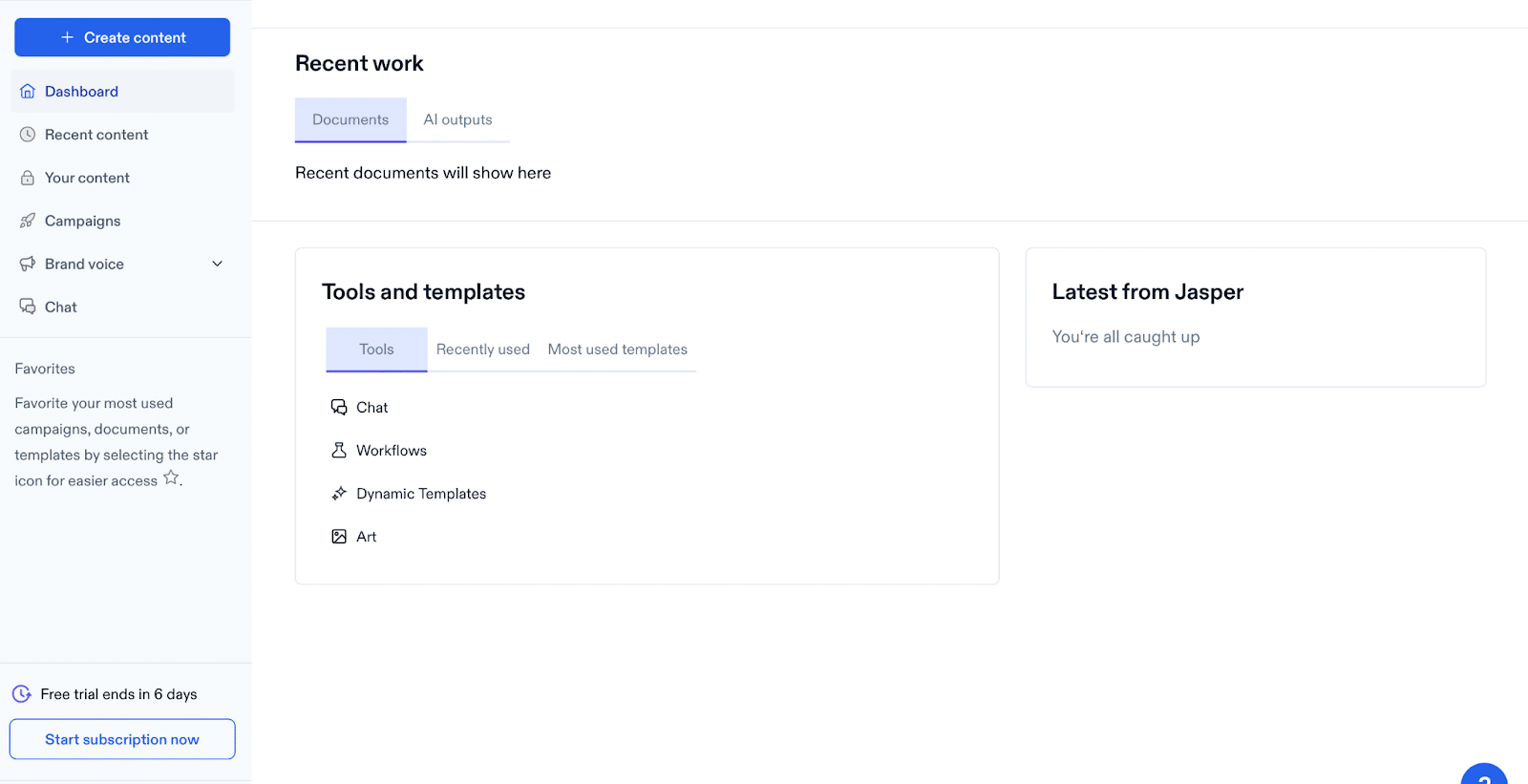 From here, four prompts will be displayed. You can choose from:
"Blank Document"
"New From Template"
"New Blog Post"
"New Art"
Click on the option that applies to your needs.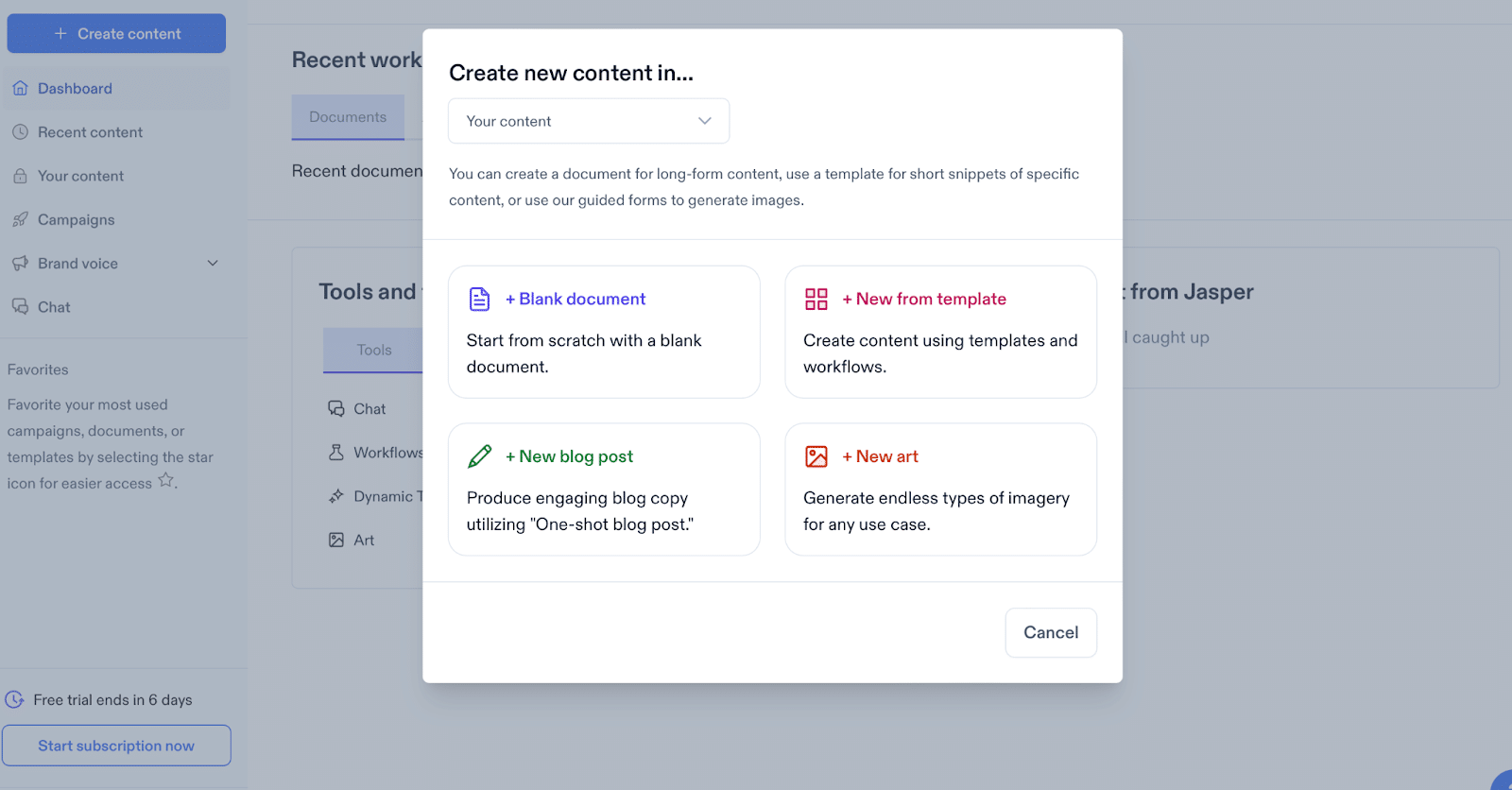 More often than not, you'll want to use a template – so click the "New From Template" option.
Step 3. Creating Content From a Template
These templates include long-form content, blog posts, and Facebook Ad Titles.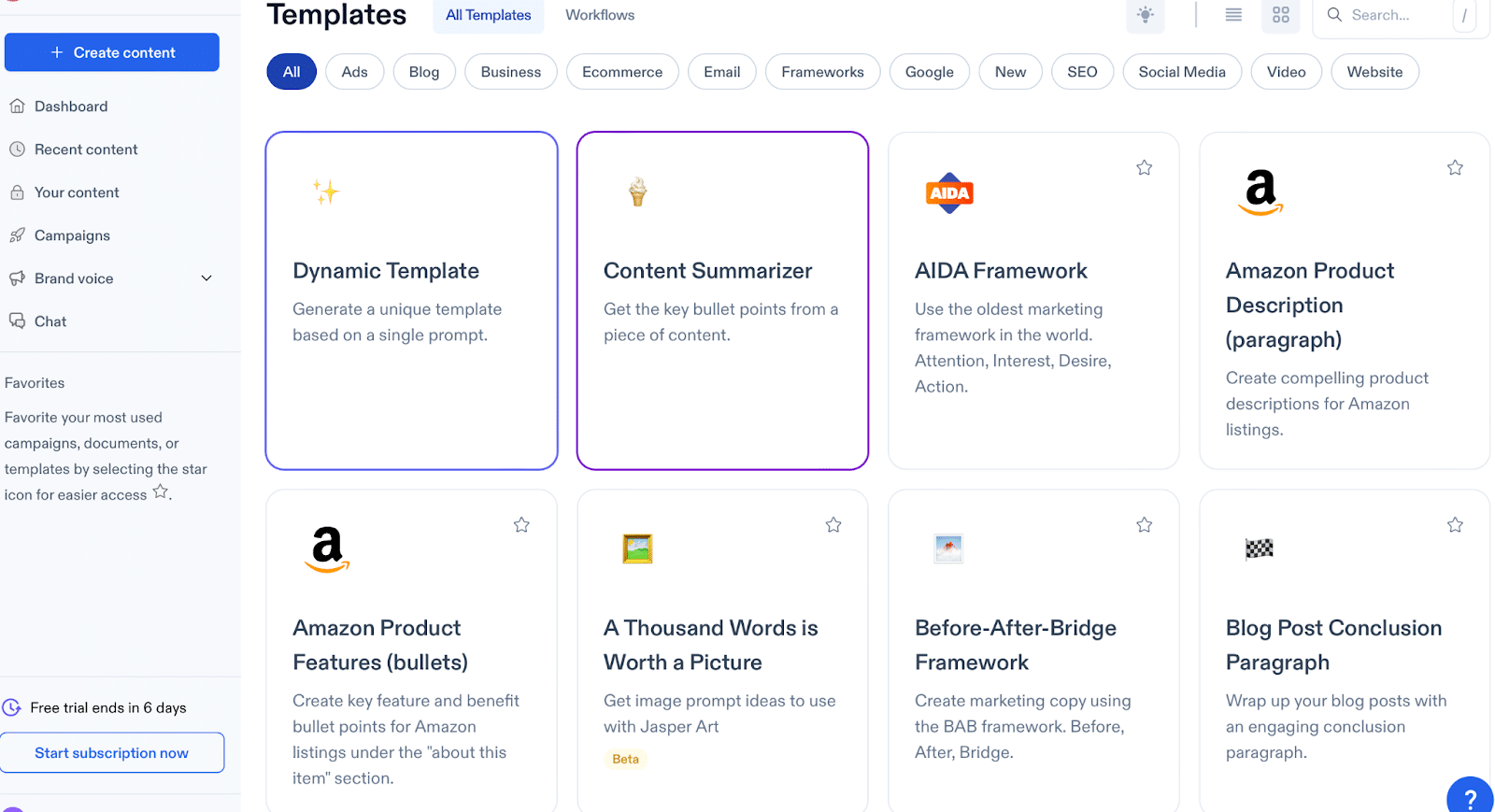 In the template sections, there's a list of templates across the top of your screen, arranged by category, and you can also view all the templates under "All." This will give Jasper AI an understanding of the content you're looking to generate.
Step 4. Add the Correct Information to the Template
When you've decided on the template you wish to use, add the desired information to the prompt boxes. The more detail you add to this section, the better the content Jasper AI will produce. We recommend adding as many specifics as possible on the subject matter.
Once you've added your prompt, you can select the tone of voice for your content by entering it in the form.
Step 5. Watch Jasper AI Create Your Content
When you're happy with the information entered in the form, double-check that everything you've entered is correct, covering the template, the prompt, and the tone.
Next, generate your content by clicking "Generate AI Content." In seconds, Jasper AI will have created multiple outputs based on your prompt for you to use – giving you more choice and flexibility. We got great results and were impressed overall.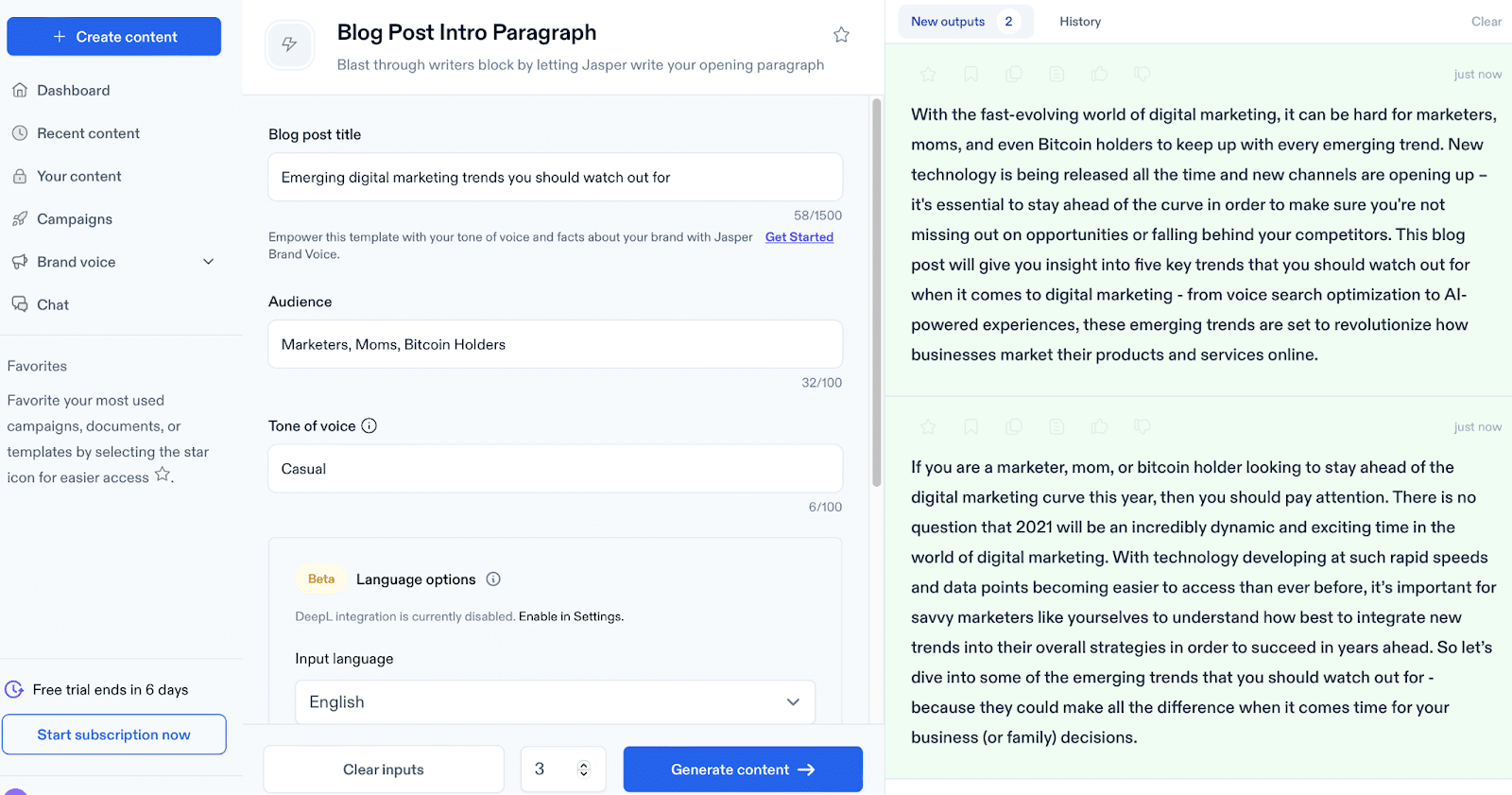 Step 6. Transfer Your New Content to the Document Editor
Once you've selected the content you're happy with, you can transfer it to the document editor, where you can continue writing or receive more help from Jasper AI by updating the prompt boxes with more information explaining the content you want to create.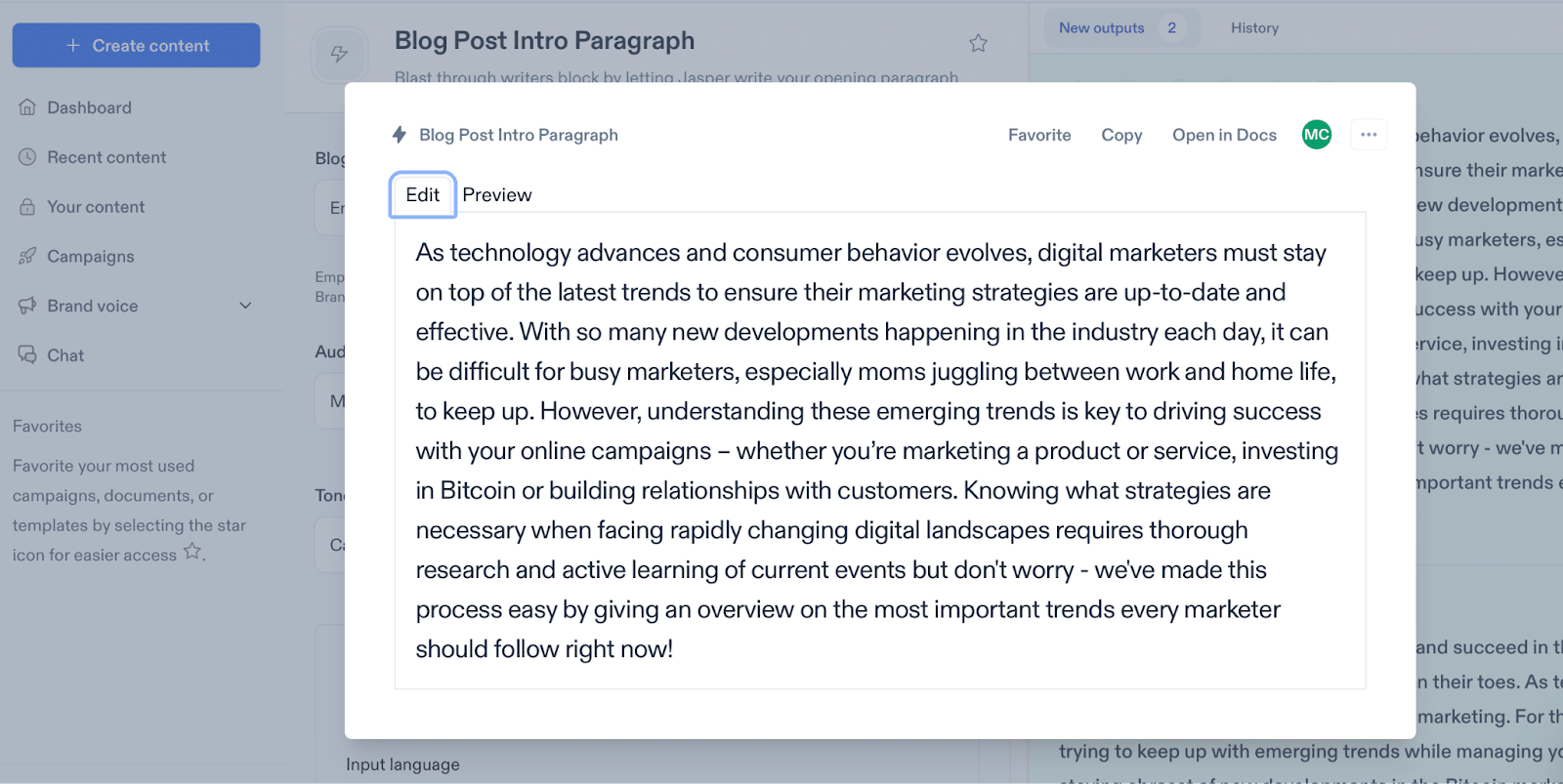 Concluding Our Jasper AI Review
Jasper AI is one of the best AI writing tools to assist freelance writers, content creators, sole traders, and marketing executives. It can easily integrate into any business's daily workflow, and with 50+ writing templates and the Jasper Chrome extension, it's the ultimate tool for creativity and productivity.
While some people may be unsure about using AI technology, Jasper AI has a lot to offer, and you can benefit from the best SEO automating tools to bring your products and services to a broader market.
Writers can use these tools to create a wide range of content, including blog posts, product descriptions, real estate descriptions, and even engaging questions and tweets.
Unlike many other AI-enabled tools, it's also great at creating pieces of content that have an emotional element to them. This feature has helped push Jasper AI to the forefront of AI-based writing assistants.
Overall, it's a tool that can elevate everything from product descriptions to your social media content, with many options to produce professional and innovative writing.
To see how Jasper AI can help take your business to the next level, try out the seven-day free trial today.
Jasper AI Review FAQs
Can you use Jasper AI to make money?
Is Jasper AI better than Copy AI?
Is Jasper AI free or paid?
Is Jasper AI art worth it?
Can Google detect Jasper AI?
How accurate is Jasper AI?
References