In this Rytr review, we'll take an in-depth look into the features and capabilities of this incredible AI writing software to show you exactly what the tool can do and how you can utilize it for business, social media posts, ads, YouTube video scripts, or your personal blog.
We'll also provide a full pricing breakdown, highlight all the pros and cons of Rytr, and show you how it compares to other leading AI writing tools so you can make an informed decision.
Table of Contents
Table of Contents
Rytr AI Writer Overview
Rytr is an online AI writing tool that lets you generate unique, original text for personal and business use. It relies on artificial intelligence for writing and user inputs to ensure the generated text is original, on-topic, covers all the key points, and addresses the topic appropriately.
You can use the Rytr AI copy generator to:
Generate content briefs
Create long-form or short-form blog posts or articles
Instantly get copy variations for ads
Get text for email marketing campaigns
Use it as an AI essay writer for college assignments — but only for inspiration, of course
The options are truly endless with Rytr, so if you're looking for an AI writing assistant to help you create content ten times faster without breaking a sweat, look no further.
What is Rytr.ai Used For?
There are many use cases for Rytr, ranging from creating high-quality content for your blog and writing the copy for your advertising campaigns to creating cover letters and emails.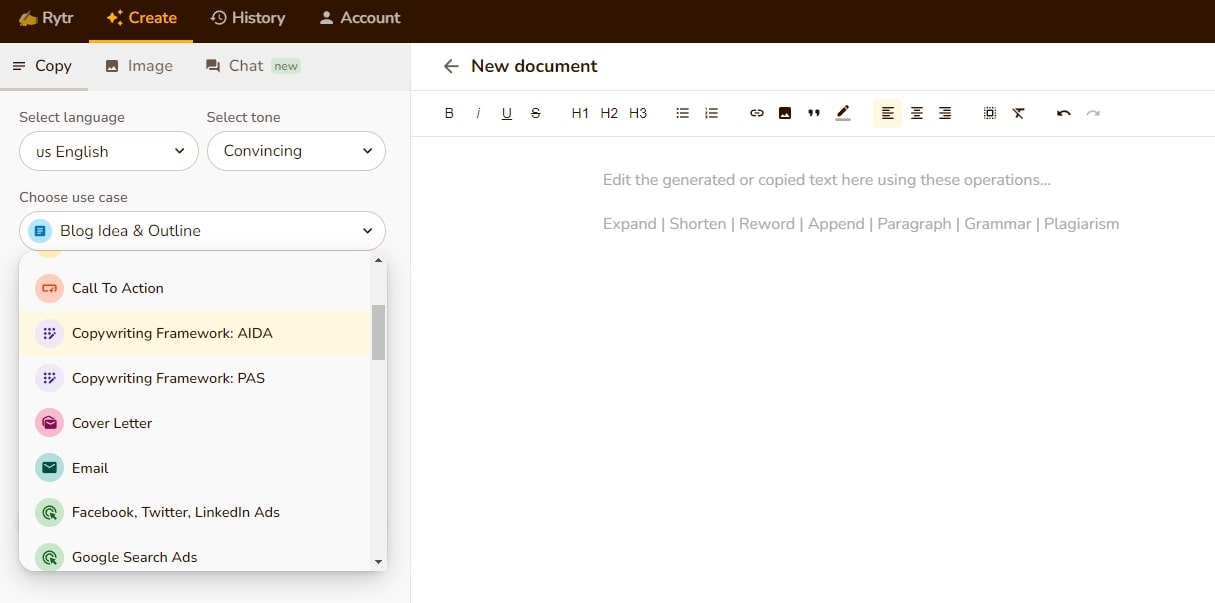 Here's a quick breakdown of the most common uses for Rytr.ai:
Content ideas — Rytr can help generate content ideas on virtually any topic. You could use the tool to get ideas for your blog, including full article outlines, or YouTube videos for video content creators.
Long-form content — In addition to blog ideas, Rytr can generate text for blog posts. All you need to do is provide it with instructions and keywords, and it will instantly generate up to three variants.
Copy — Instantly create multiple variations of ad copy, email subject lines, and Calls to Action (CTAs), then simply choose the one you like the best.
Job descriptions — Companies often use the Rytr app to create compelling job descriptions for roles in ads so they can attract top talent.
SEO metadata — If you don't want to bother with SEO meta titles and meta descriptions but still want to rank high on Google, you can have Rytr create SEO-optimized metadata for you.
Product descriptions — For ecommerce stores with thousands of items, it would take weeks to create unique product descriptions for every item. Rytr can do it in seconds.
Is Rytr AI Good? The Key Pros and Cons
In our testing, Rytr performed well, especially when it came to short-form content, outlines, and copy. However, it did struggle with long-form content, especially when asked to expand on the paragraphs it had already generated.
Here are the biggest pros and cons of this AI bot writer:
Pros
Incredibly easy to use
Offers dozens of use cases
Instantly generates three variations of the text/copy
Lets you select sentences and paragraphs to improve and rephrase
Has a built-in plagiarism checker
Can handle SERP (Search Engine Results Page) analysis and keyword generation
Cons
Long-form content is often repetitive and lacks flow
Keyword research is fairly rudimentary
Overall, Rytr is great for marketers who want to create engaging, compelling copy in seconds, as well as for content writers who want to quickly generate blog outlines and text or improve their existing copy.
That said, we wouldn't recommend using Rytr to generate entire articles. Doing so paragraph by paragraph would take a lot of time, plus you'd still have to double-check factual accuracy, delete repetitive text, and improve the flow manually.
That's why we recommend using Rytr as an AI writing assistant rather than relying on the tool as an AI generator to create long-form content from start to finish without input from a writer.
Full Rytr Pricing Breakdown
We'll continue this Rytr.me review by taking a look at the different pricing plans.
When it comes to Rytr's price, there are currently three plans available — Free, Saver, and Unlimited: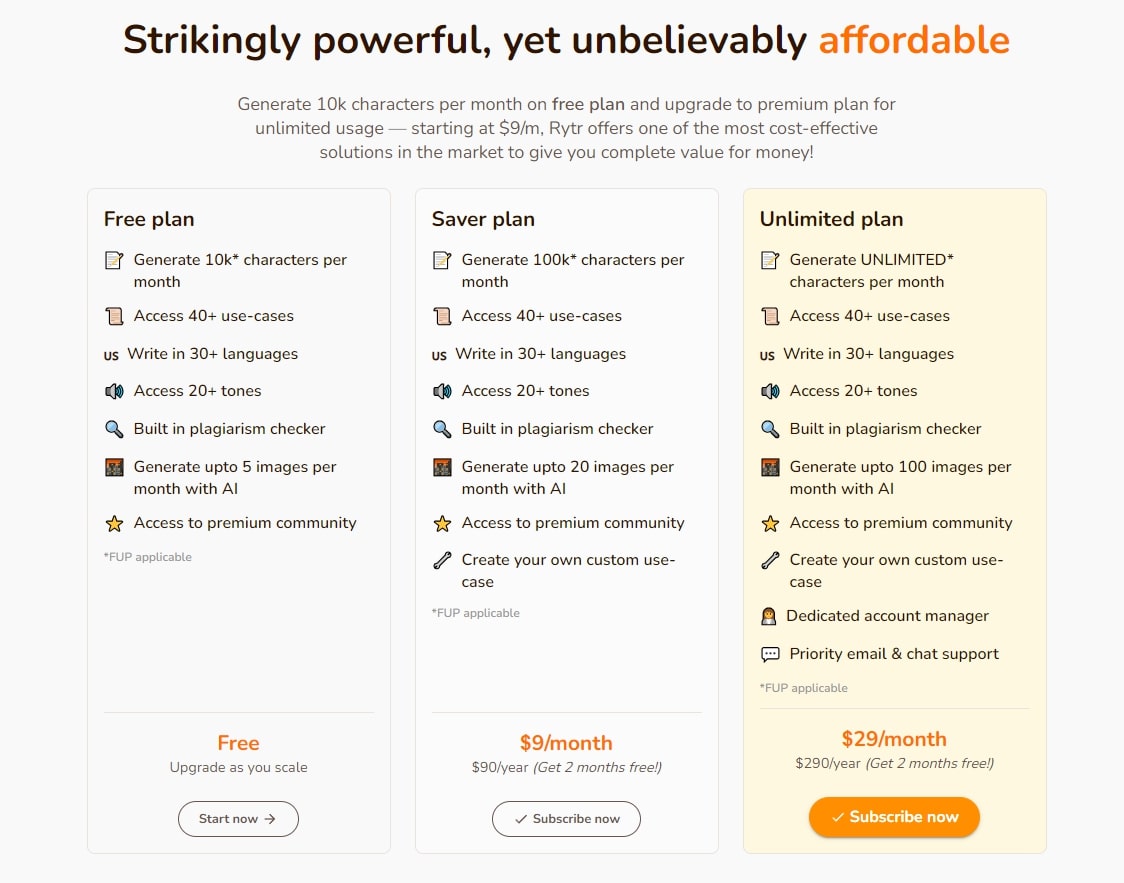 The key thing to note here is the limit to the number of characters you can generate on the Free and the Saver plans. While 10,000 characters might sound like a lot, this translates to about 1,500 to 2,000 words. You'll have 10x more characters to work with on the Saver plan, which should be enough for about ten blog posts.
Comparing Rytr's cost to other leading AI writing tools, Rytr is by far the most affordable. For comparison, JasperAI and Copy.ai's plans start at $39/month and $49/month, respectively, and Rytr is just as feature-rich as these tools.
That said, all the prices you see in the image above are listed as monthly payments, but in reality, you'll have to commit to an annual plan and pay the full price upfront. So, if you choose a paid plan, be prepared to set aside $90 for Saver or $290 for the Ultimate plan.
Is Rytr Free?
You can use Rytr free forever, provided you don't go above the character limit, in which case you'd either have to wait for the next month or upgrade to a paid plan.
While this is great news, given that you technically don't have to spend a single cent, the 10,000 character limit means Rytr's free plan isn't really viable for generating tons of long-form content.
It's best used for creating content outlines and generating copy, but be mindful that if you're generating three variations, you'll burn through the character limit quite quickly.
There are only a handful of good AI writing tools with free plans, but Writesonic, for example, lets you generate 10,000 words on the free plan, which is about five to six times as much, with one word equalling five to seven characters, on average.
Rytr's Core Features Reviewed
We've come to the meat of this Rytr.ai review — the tool's core features. Here are detailed breakdowns of all the key features of the Rytr.ai writing tool so you can see exactly what it's capable of and decide whether it fits your needs:
Content Outlines and Ideas
Rytr really excels when it comes to generating ideas for blog posts and video content. To test it out, we had it create an outline for an article about cat food, and this is what it came up with: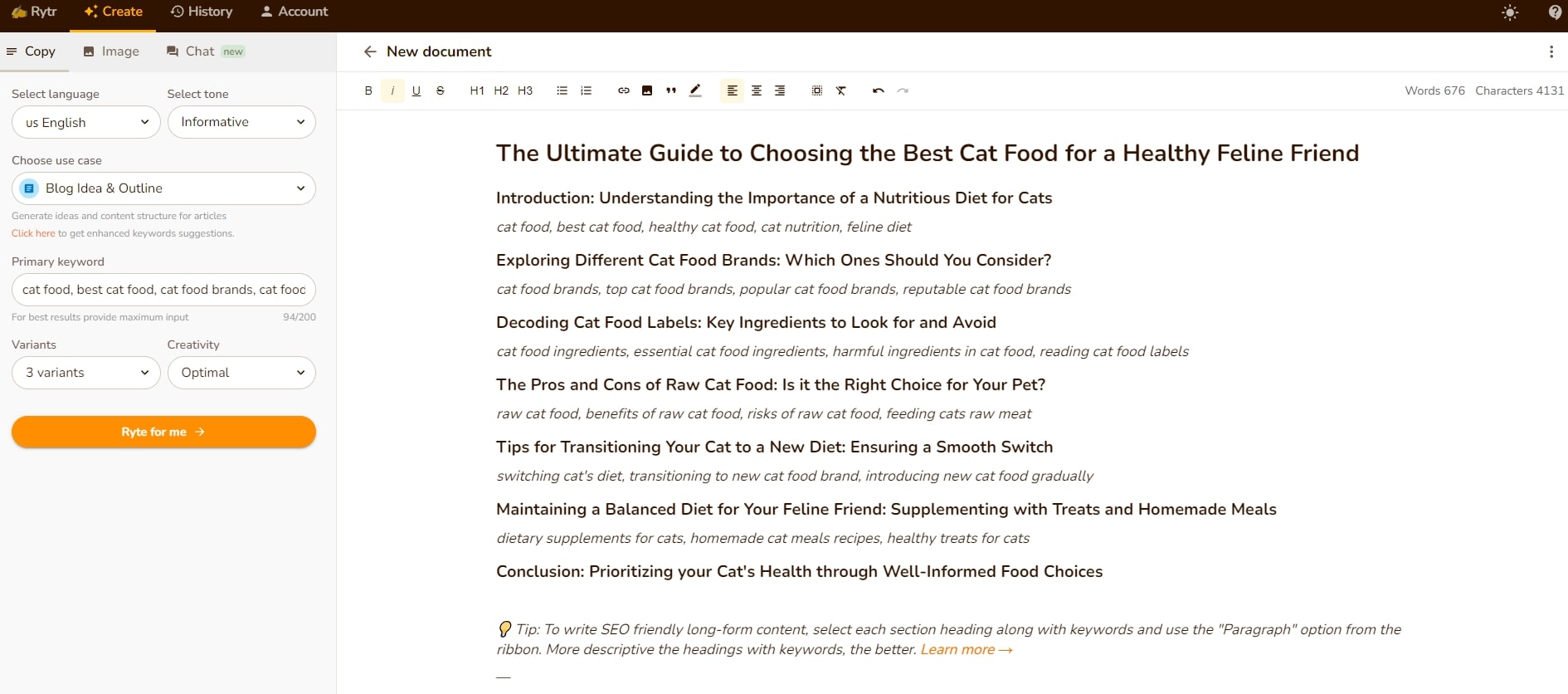 We were quite impressed with the proposed outline, as it covers all the key points you might address when writing about the topic. Additionally, you can see all the recommended keywords to include in each heading, which is a great way to ensure your article will rank for the right keywords.
This makes Rytr an excellent choice for content agencies, as you can generate briefs for hundreds of articles in a single day and provide your writers with exact instructions and article outlines. This helps save valuable time, ensures that they focus on the right sub-topics, and provides them with a direction for their research.
AI Writer
To test out Rytr's actual writing capabilities, we had it follow these instructions to generate a complete section of the article.
What's great is that you don't have to open a new tab and manually type the instructions. All we did was select the intro suggestion that the tool provided and click the "paragraph" option to have Rytr generate a full introduction for us.
Here's the result:

While not perfect, the intro is pretty damn impressive. We'd only cut the "in this section" portion of the generated text and maybe tweak a sentence or two, but other than that, we'd say Rytr did an incredible job.
The text is engaging, it covers all the key points, and honestly, we wouldn't be able to tell that it wasn't written by an experienced writer.
Content Improvement and Rephrasing
Another super useful feature of Rytr is content improvement. If you don't like how a particular sentence sounds, all you need to do is select it and click on "Improve" or "Rephrase" in the pop-up menu above it.

A few clicks and about ten seconds later, we've got a much better alternative:

One thing to keep in mind is that you should always select a full sentence when using the "Improve" feature.
When we only selected "what constitutes the best cat food," Rytr took that prompt and provided a full list of bullets in the middle of the sentence. The information was relatively useful, but we'd still have to go back and edit the original sentence. Still, the ability to expand the text by selecting key phrases can come in quite handy.
Plagiarism Checker
Rytr's built-in plagiarism checker is a fairly bare-bones tool. You can select a sentence, a paragraph, or an entire text and run it through the plagiarism tool, but it will only tell you if there are exact matches for the phrases and sentences Rytr generated and nothing more.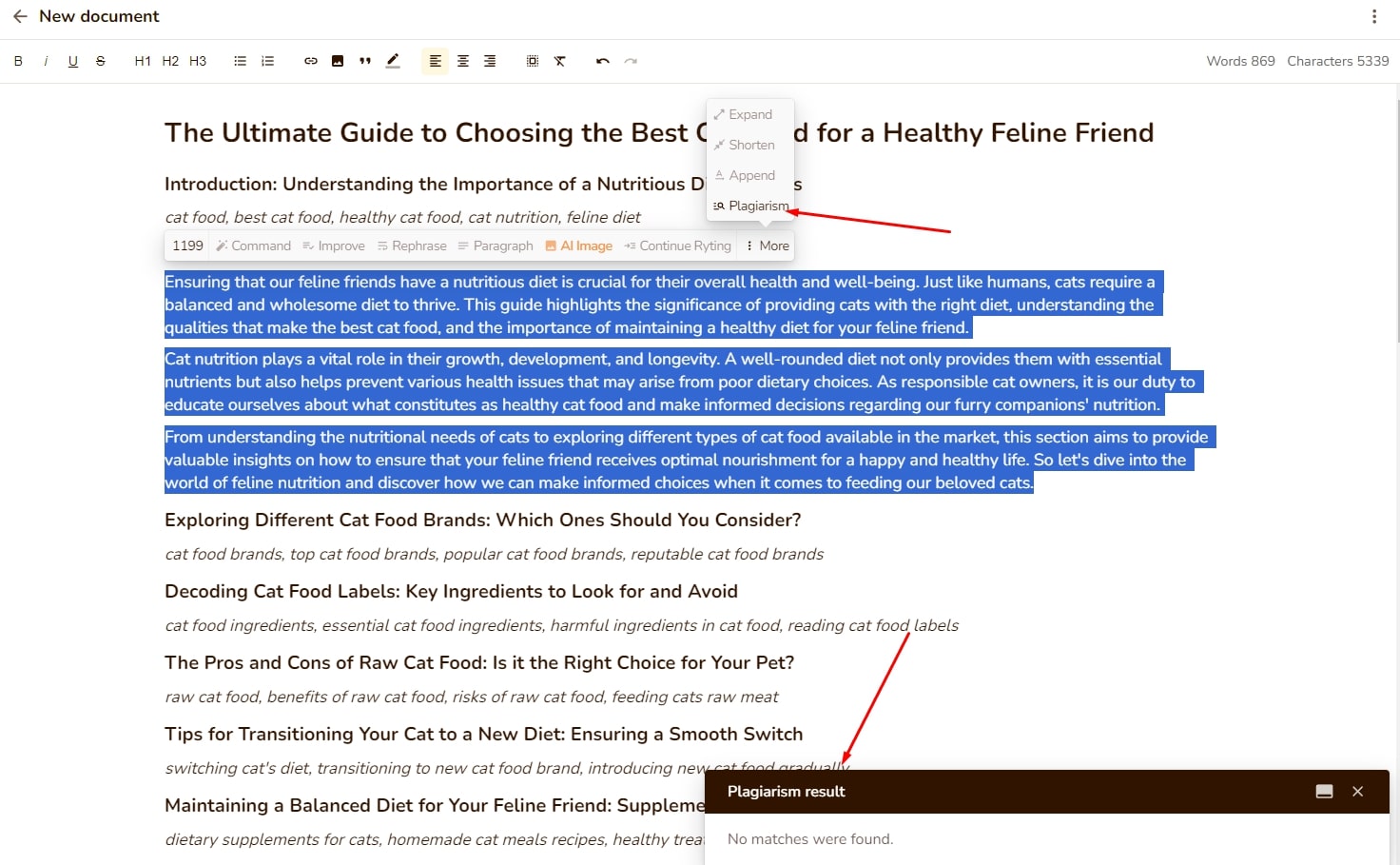 This is why we recommend running the text through a different tool, such as Grammarly, to be sure it won't get flagged for plagiarism. The generated text should be original, so you shouldn't have any plagiarism issues, but it's best to be on the safe side.
Ads, CTAs, and Website Copy
Aside from original long-form content, you can also use Rytr AI for writing convincing copy for your web pages, Google ads, social media campaigns, and marketing emails.
Here's an example of a Google Search ad Rytr put together when prompted to write about Whiskas cat food: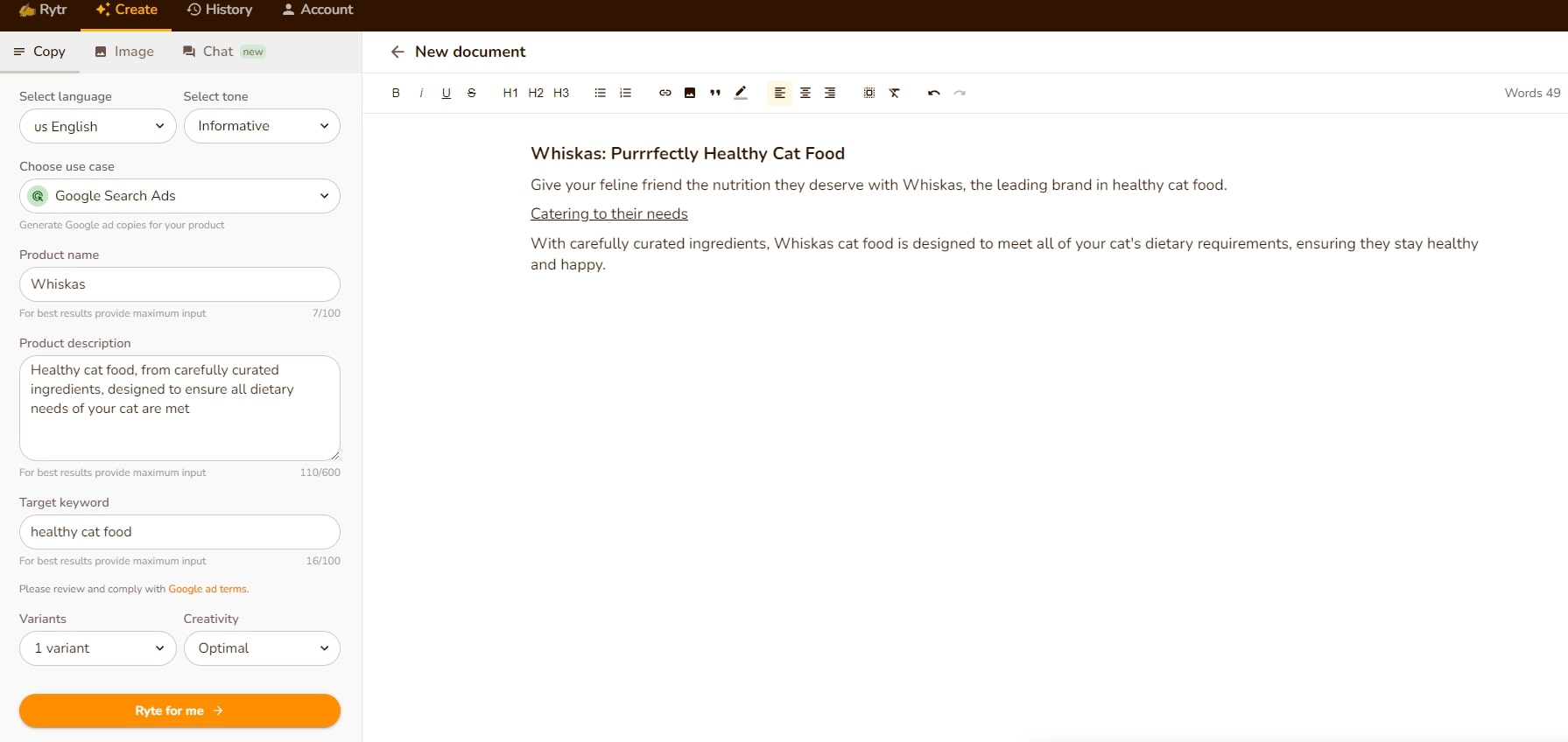 We absolutely love the headline. It's humorous and catchy, and it would go perfectly with an image of the product.
The copy itself is also quite good, but one thing to note is that the tool will draw influence from the product description you provide. In other words, the copy is only going to be as good as your product description, so try to use buzzwords in the description to ensure the generated copy catches the attention of your audience.
Metadata
When it comes to meta titles and meta descriptions, the core principle is the same as with the copy, except that Rytr understands that it needs to include exact keyword matches in the generated metadata — and AI tools excel at SEO.
So, if you don't want to write the metadata yourself, you can just give Rytr a nudge, and it will do it for you. It follows SEO best practices, so you don't have to worry about title and description length since the tool will automatically take character limits for metadata into consideration.
Our Evaluation of Rytr's Interface
At this point in our Rytr review, it's time to talk about the UI (user interface) and the platform's usability. As you've seen from the images in this review, the interface is super clean and intuitive, so it shouldn't take you more than a few minutes to figure out how to use Rytr to its full potential.
The drop-down menu for different use cases has an icon for each type of text Rytr can generate, so it's easy to find exactly what you're looking for at a glance.
What we also love about Rytr's UI is the fact that there are examples for every segment, be it keywords, product descriptions, or writing instructions. This helps ensure you always know what to enter into the AI writing tool to get the desired result.
Another great aspect of Rytr's UI is the organization. You can sort documents generated with the tool into folders, rename those folders, and mark certain documents as favorites for quick and easy access from the dashboard.
The browser extension is also pretty straightforward. Once you add it to your Chrome account, you can configure the language, tone of voice, and creativity level of the app.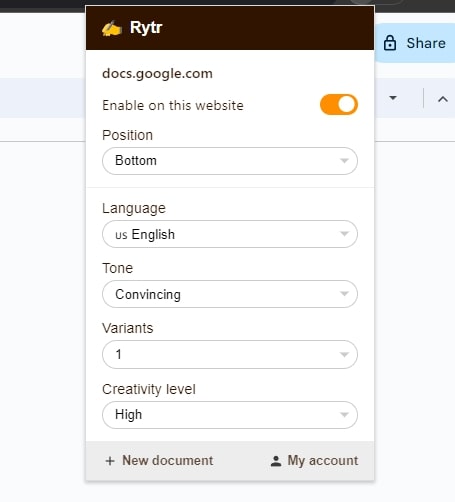 Then, simply write out the instructions you want Rytr.ai to follow (in a Google doc, in an email, or anywhere else you're typing), select the text, and click "Command." In seconds, you'll get from one to three variants of the text, depending on what you choose.
Overall, we'd say that Rytr is one of the most easy-to-use AI writing tools that we've tested, so you don't need any previous knowledge or experience to use it.
Rytr vs Jasper and Other Top AI Software Apps
Now that you have a better idea of what Rytr offers let's see how it compares to other leading AI writing tools:

Leading AI Writing Tools
Best Suited For
Starting Price
Free Version
Top 3 Features
Rytr
Content outlines and copy
$9/month, billed annually
Free plan
– Content outlines and ideas
– Content improvement
– Keyword generation and metadata
JasperAI
Marketing copy
$39/month, billed annually
7-day free trial
– Copy generated based on style guides
– Sentence rewriting
– Grammarly integration
Copy.ai
Branded AI content
$36/month, billed annually
Free plan
– Copywriting templates
– Built-in plagiarism checker
– AI content with your brand voice
Writesonic
Rewriting existing content
$39/month, billed annually
Free plan
– Text expander
– Story generator
– Landing page generator
ShortlyAI
Long-form articles
$64/month, billed annually
No
– Commands for writing even faster
– Instant rephrasing
– Slider to change output length
Rytr is best for creating content ideas and generating outlines for blogs and scripts for videos. It's also much the most affordable of these products, especially considering it supports dozens of use cases, offers tons of different writing styles, and lets you improve and rephrase content on the fly.
Is Rytr.ai Good? Summarizing Rytr Reviews
Throughout our testing, Rytr surpassed our expectations. The content is grammatically correct and has a decent flow, and the AI writing tool is on point when it comes to factual accuracy.
Rytr also excels when it comes to covering all the key information and sub-topics, so we wouldn't hesitate to recommend it for both commercial copy and editorial content. And we're not the only ones to have had an overwhelmingly positive experience.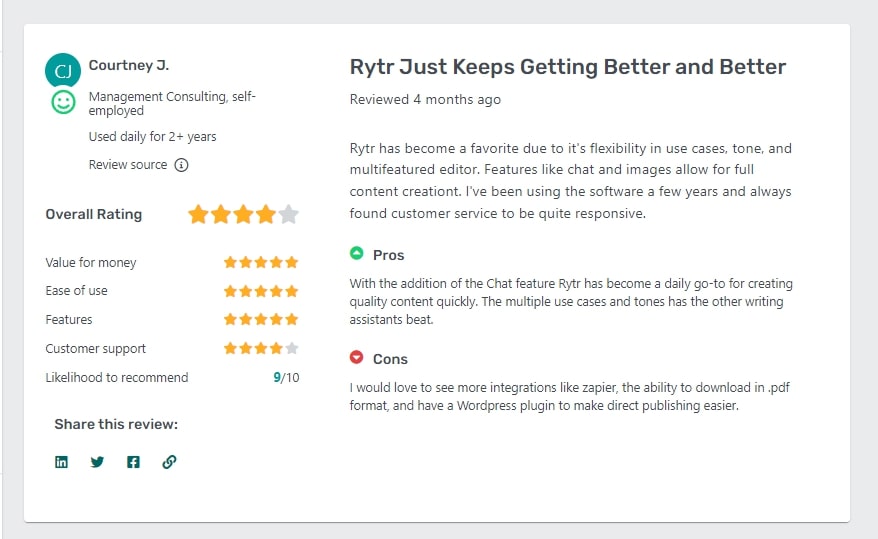 The vast majority of user reviews on trusted websites like G2, GetApp, and Trustpilot highlight Rytr's ability to generate informative, engaging, plagiarism-free content.
In addition to short-form blogs, users praise Rytr's ability to create compelling copy, with reports of great success with paid advertising campaigns with copy created by this awesome AI writing tool.
Our Other AI Software Guides
If you want to see how Rytr.ai compares to other leading AI writing software or want to read in-depth reviews of its top competitors, here's a list of our AI software guides:
Why You Can Trust Our Review of Rytr
For starters, we have over a decade of experience writing software reviews, so we're intimately familiar with the research and testing process and know exactly what to look for to give you all the information you need to make an informed decision.
We've also tested Rytr's AI in practice, going through all of its core functionality to showcase what the tool is capable of. To give you an unbiased opinion, we've supplemented our own experience from testing the tool with dozens of user reviews so you can get a complete picture of how the product really works.
Additionally, we've reviewed other leading AI software tools, such as Copy.ai, JasperAI, Writesonic, WordAI, and Copysmith, so we can provide a fair comparison and properly position the tool against the top Rytr alternatives on the market.
How to Use Rytr — A Quick Guide
To round out this Rytr review, we'll show you just how easy it is to get started with this tool. Follow the step-by-step guide below, and you can start creating engaging, compelling content and copy with Rytr.ai in minutes.
Step 1: Get Started With a Free Plan
Rytr.ai offers a free plan that you can use to try out the tool in practice. It requires zero commitment, and you won't even have to provide your credit card information to test it out.
Keep in mind that the free plan is limited to 10,000 characters each month, equal to around 1,500 to 2,500 words. While this will suffice to test Rytr on one full long-form piece of content, you'll have to upgrade to a paid plan if you want to continue using it on a daily basis.
To get started, visit the official Rytr.ai website and click the Start Ryting button.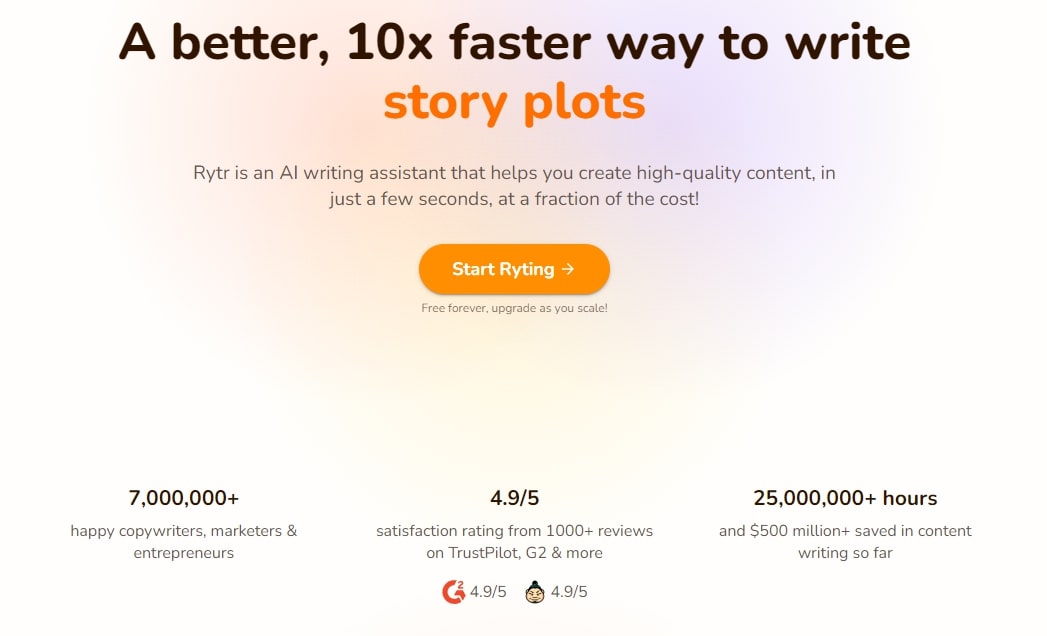 Then, log in using one of your existing accounts. The available options are for Google, LinkedIn, and Facebook.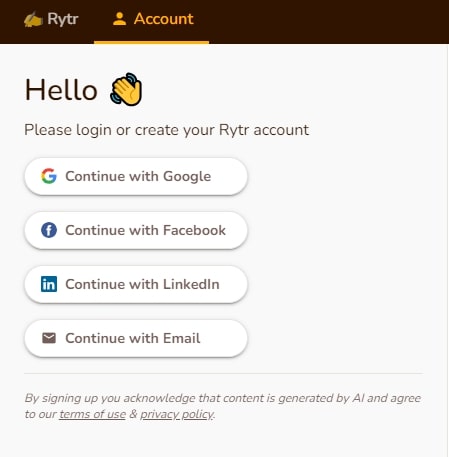 Alternatively, you can use your email address to create an account and use your Rytr login in the future to access the tool.
Step 2: Select a Use Case
Once you log into the dashboard, you'll need to select a Use Case. Put simply, you need to choose what kind of text you want Rytr.ai to generate.
There are currently 35 different use cases to choose from, ranging from blogs and ad copy to job descriptions, keyword generation, and YouTube video ideas.

With a paid plan, you'll also have the opportunity to create your own use case and have Rytr.ai writing any kind of text you need, such as a short story or even a video script.
Step 3: Provide Detailed Instructions to Rytr.ai
After selecting the type of text you want the tool to generate, you need to feed it crucial information for it to know what to focus on.
This includes selecting the tone for the generated text, with options including convincing, informative, casual, and passionate, stating what topic the tool should cover, and providing keywords that Rytr.ai should include in the text.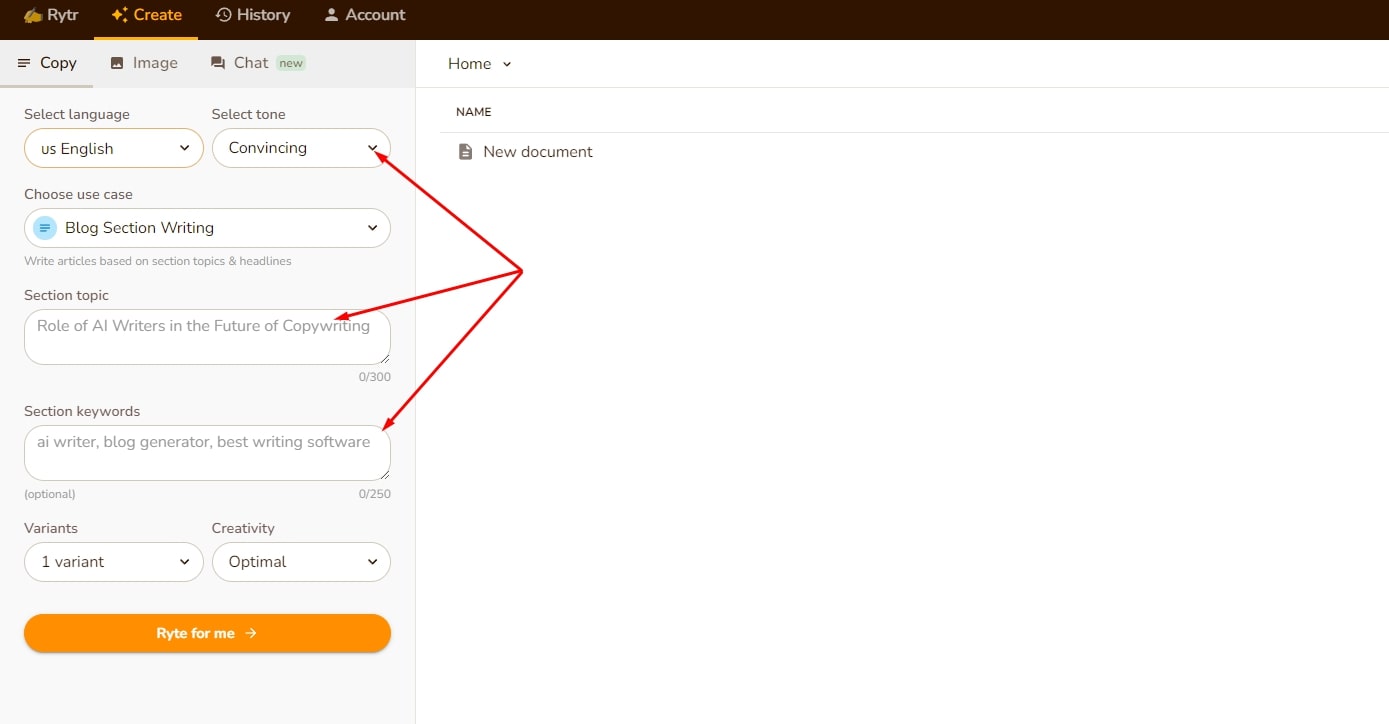 You can also choose how many variants of the text you'd like Rytr to generate — one, two, or three. Keep in mind that with three variants, you're burning through your monthly character limit three times as fast.
So, if you want to fully utilize this feature, we recommend the Unlimited subscription plan, which removes all limitations regarding the amount of generated text.
Step 4: Fine-Tune the Generated Text
Rytr will generate the variations in a couple of seconds, and you'll see all the content right there in the dashboard.
You can then select sentences or phrases and use the Improve or Rephrase function to force it to generate that particular section again until you're satisfied with the result, as seen in our previous cat food example.

Naturally, you can also manually edit the text, rewrite parts of it, reorganize paragraphs to your liking, and edit the text as you see fit.
Step 5: Publish the Article
After you're done editing and are satisfied with the final version of the text, you can simply copy-paste it into WordPress or any other content management platform you're using and publish it right away.
The same goes for ad copy. All you need to do is paste the generated text into your campaign and add product images, and you're good to go.
Concluding Our Rytr Review
To sum up our Rytr.ai review, this AI text generator is a fantastic option for both individuals and content writing or copywriting agencies, especially if you're creating content for yourself or your clients on a daily basis.
Rytr offers dozens of use cases, so you can use it to generate virtually any type of text, whether you need a content outline, a full-fledged article, an engaging ad for your marketing campaign, product descriptions, SEO metadata, or even video ideas for your YouTube channel.
Most importantly, the quality of the generated text is excellent. The text is completely original, so it passes plagiarism checks with ease, the sentence structure is great, and the factual accuracy is on point.
That said, Rytr still struggles at times with repetitiveness, which is apparent when generating long-form content, but that's something AI writing software generally tends to have trouble with due to the nature of AI learning.
Still, with a few tweaks and proper use of the Improve and Rephrase tools, you can generate high-quality, long-form content ten times faster than writing articles from scratch.
Click the button below to test out Rytr AI's writing capabilities in practice, free of charge, and see first-hand whether it's the right AI software for you.
Rytr Review FAQs
What is better than Rytr?
What are the disadvantages of Rytr?
What is the difference between Rytr and CopyAI?
Can Google detect AI SEO?
What are the benefits of Rytr?
References