The best antivirus for Chromebook will protect you from malicious online activity such as malware and phishing attempts. Chromebooks are considered pretty safe, but adding an extra layer of security is always a good idea.
In this article, we've reviewed the top 10 virus protection tools compatible with ChromeOS to bring you a comprehensive list of the options for the best antivirus for Chromebook so you can make an informed decision to protect your data.
Ranking The Top Virus Protection Tools for Chromebook in 2023
TotalAV is our number one-rated antivirus for Chromebooks, thanks to its wealth of features, including real-time monitoring, anti-phishing capabilities, and a VPN, all at a really low price. Still, there's strong competition, so let's see how the others perform.
Do Chromebooks Need Antivirus Software?
It's sometimes said that Chromebooks don't necessarily need an antivirus as they're equipped with virus protection tools out of the box. In addition, ChromeOS is based on Linux, which is considered one of the most secure operating systems around.
That said, malware for Chromebooks is a problem, and there's always the risk of your machine being infected with malware through a bad application or via a Chrome extension, so it's vital to protect yourself with the best antivirus for Chromebook.
Is the Best Free Antivirus for Chromebook OS Good Enough?
Free virus protection for Chromebooks is great for scanning your device and letting you know about known viruses your system might have. However, many of them fall short when it comes to unknown threats and real-time protection, and you'll often have to put up with ads.
Paid antivirus services offer more protection from a wider range of threats and often come bundled with other security features like a VPN, a password manager, and the ability to block specific websites. Some even allow you to back your data up on a secure server.
The Top Antivirus Software for Google Chromebook Security Reviewed
Having explored how Chromebooks can be affected by malware and other malicious software, let's take a look at the best security solutions so you can rest easy knowing there's a solution for you.
1. TotalAV — Overall, the Best Antivirus Solution for Chromebooks
TotalAV sits at the top of the list thanks to its affordability and excellent malware detection and removal rates. It's also super simple to use and comes with a free smart scan to help get you started.
The free plan can detect and remove malware, and if you upgrade to paid plans, you can get real-time protection.
Malware can be sneaky and remain hidden, but with TotalAV, 100% of malware threats are removed, and while some solutions demand a fair amount of computing power to scan for threats, TotalAV requires surprisingly little, which means it won't slow your system down.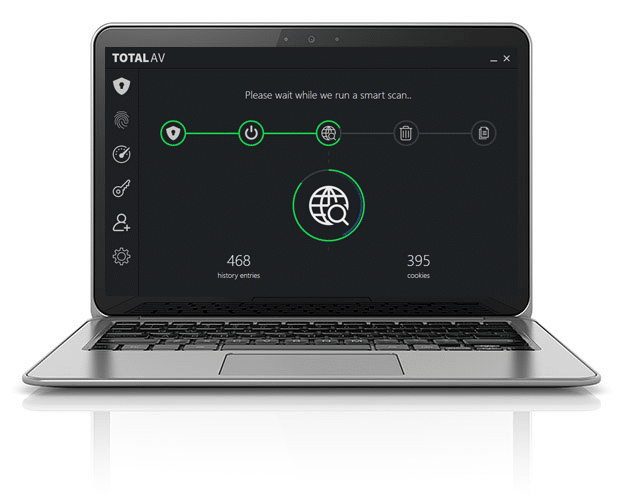 Cheapest Subscription Plan

Max Devices Supported
Free Trial

Money-Back Guarantee

$9.95/month – year 1

6
Seven days

30 days (Annual)
14 days (Monthly)
TotalAV protects more than 25 million devices, which gives it access to a huge database of virus definitions – so you can rest assured that TotalAV knows how to deal with any malware you might get, and it does it faster than its competitors.
What's more, if it comes across a virus it's never seen before, it'll add it to its database, meaning it's always updated with the latest information regarding viruses and zero-day threats.
Real-time protection is offered with the paid versions of TotalAV and can catch security threats in real-time while the Security scan meticulously checks all apps on your Chromebook for any threats.
That's not all, either. TotalAV also comes bundled with an unlimited VPN – a Virtual Private Network service – that encrypts your online presence, hiding you from most threats.
There's also a feature called Device Tune-Up, which clears all the junk files on your system. This increases the efficiency of your device, while the WiFi checker ensures your WiFi connections remain secure.
To sum it all up, TotalAV is an affordable antivirus with a whole range of features and an extremely comprehensive set of virus definitions that are updated daily. Given that, TotalAV is undoubtedly the answer to the question, "What is the best antivirus for Chromebook?"
Pricing
If you download the free version of TotalAV, you'll get access to its Pro features for seven days before it asks you to either upgrade or revert to its basic free plan.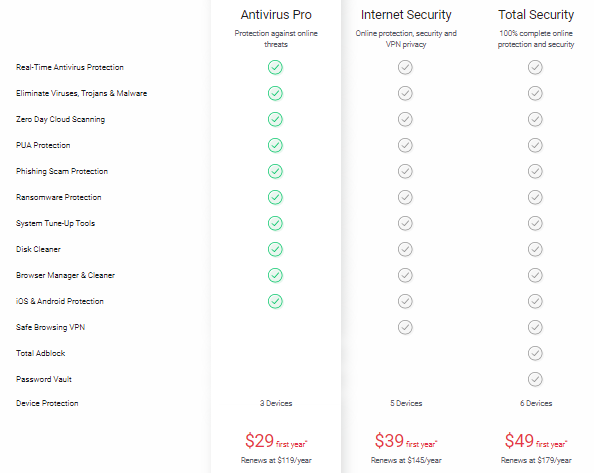 The free plan is limited, but you can enjoy its scanner to check for and remove malware.
Pros
Requires very little processing power
Virus definitions are updated daily
VPN has unlimited bandwidth with paid versions
Offers real-time tracking capabilities
Best antivirus software for Chromebook
Cons
The free plan is limited
Price goes up after the first year
2. Surfshark One — Popular Lightweight Security Solution
Surfshark One is a premium security suite that comes equipped with one of the best business VPNs, a search engine, a data breach monitor, and of course, an antivirus that racks up near-perfect scores in the anti-malware department.
It also encrypts your connection with AES-256-GCM encryption, which is among the best encryption standards around. The antivirus scanner is also lightweight, meaning your Chromebook won't be throttled when running either of the two different scans available to you.
The quick scan checks the most vulnerable areas of your system, while the full scan runs an in-depth system scan and looks for all kinds of threats. As with TotalAV, virus definitions are compared against a massive database, which is regularly updated.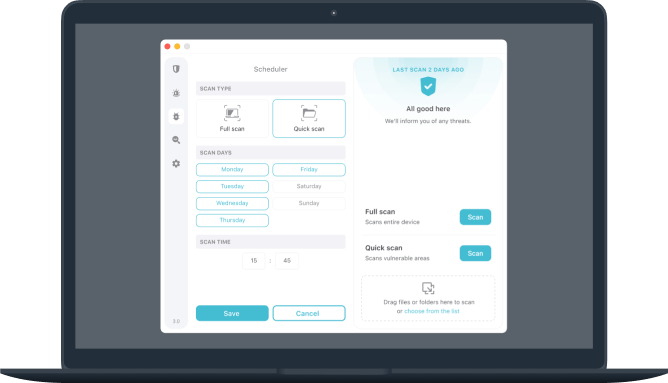 | | | | |
| --- | --- | --- | --- |
| Cheapest Subscription Plan | Max Devices Supported | Free Trial | Money-Back Guarantee |
| $3.22/month – 2-year plan | 5 | Free scan | 30 days |
Surfshark also offers real-time protection, which ensures your Chromebook won't download harmful software, but what we really liked was the drag-and-drop feature. If you don't trust a file, simply drag and drop it into the app.
This will scan that particular file and remove any threats. We found the process to be pretty intuitive and not too different from the Custom Scan feature often found with more expensive solutions.
There are also a number of customization options available. You can schedule scans for when you're away from your ChromeOS device, for example, which is great for time-saving and efficiency.
Something else we were happy to see was the data breach monitoring tools. This alerts you if any of your personal data, like email addresses or credit card information, has been leaked online.
If you're in the market for a no-fuss antivirus solution that's not only more affordable than most but also easy to use and is equipped with a host of extra features, including one of the best VPN apps on the market, then look no further than Surfshark.
Pricing
Surfshark often has deals, so you'll be able to enjoy a free month with subscriptions – but compared to its competitors, Surfshark is a serious bargain.

Whatever you decide, rest assured that if you aren't happy, you can simply request a refund with their 30-day guarantee.
Pros
Comes with a private search engine
World-class VPN included
Offers a free month with purchases
Intuitive drag-and-drop feature
Cons
Browser extension can fail at blocking fake websites
No firewall available
3. Norton 360 — Top Choice with a Huge Malware Database
Norton is a popular brand with years of experience in online personal security, and Norton 360 is where the firm really shines. Norton 360 is a perfect match for your Chromebook thanks to its excellent malware detection rates and fantastic real-time protection.
It also comes with a feature called LifeLock that protects you against credit card fraud as well as identity theft. That's not all – you'll also get access to one of the best password managers, where you can create, save, and manage your passwords and confidential documents with ease.
Norton for Chromebook also comes with a smart firewall that monitors communication between your Chromebook and other devices and blocks any unwanted or unauthorized traffic, adding another layer of security to your online presence.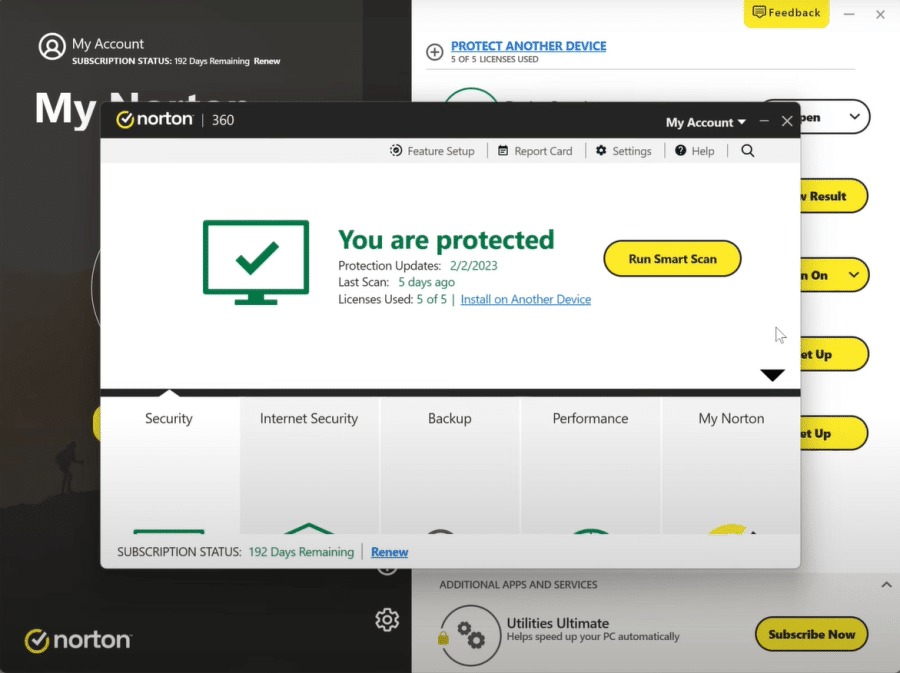 | | | | |
| --- | --- | --- | --- |
| Cheapest Subscription Plan | Max Devices Supported | Free Trial | Money-Back Guarantee |
| $4.99/month – 1-year plan | 10 | 14 days | 30 days |
Other features include a secure VPN, Dark Web Monitoring, and Secure Cam. All of these are available on the Norton 360 Standard plan.
The anti-malware engine uses a combination of machine learning, advanced heuristics, and a malware directory to detect anything out of the ordinary. These can range from simple virus definitions all the up to advanced malware programs like spyware and ransomware.
When it comes to system scans, they can be pretty resource-intensive, but you can rest assured that if there is anything to be found, Norton 360 will find it.
Norton 360 splits all of its security tools into separate apps, so you'll need to download individual apps if you want the full Norton 360 experience – which can be a chore.
And when it comes to the VPN, the service isn't as fast as its competitors. We don't think that's a deal breaker, though, as it's more of a security add-on than a core focus for the package.
Pricing
Norton 360 offers four packages, each having more features than the last. It also offers a 14-day free trial.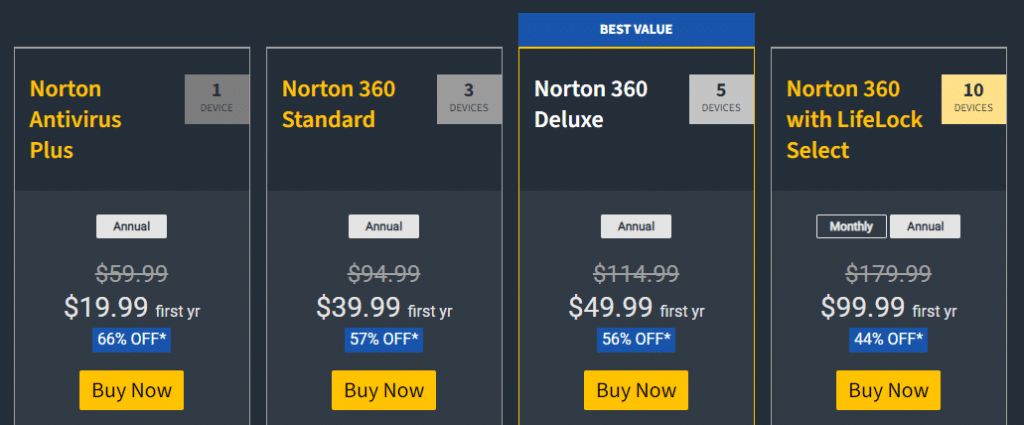 And like many other security solutions, Norton offers a 30-day money-back guarantee – try it now.
Pros
Covers up to 10 devices
Powerful anti-malware engine
Comes with a firewall and password manager
One of the best spyware removers
Cons
Scans are resource-intensive
Multiple apps for the full suite
4. Nord Antivirus — Top-Class VPN With a Free Threat Protection Add-On
Here, we have one of the best VPN providers, which is now equipped with Threat Protection. It's essentially an antivirus combined with an ad-blocking tool and, together, they create a powerful filter that keeps you safe from malware, trackers, and ads.
It also comes with an "Always-on" feature for maximum online security at all times. One of the standout features is the real-time protection, which monitors downloaded files and takes immediate action against suspicious activity.
Nord has two variants of its antivirus solution – Threat Protection and Threat Protection Lite. The former is the main product, and it's equipped with everything from malware scanning, phishing protection, and ad and tracker blockers.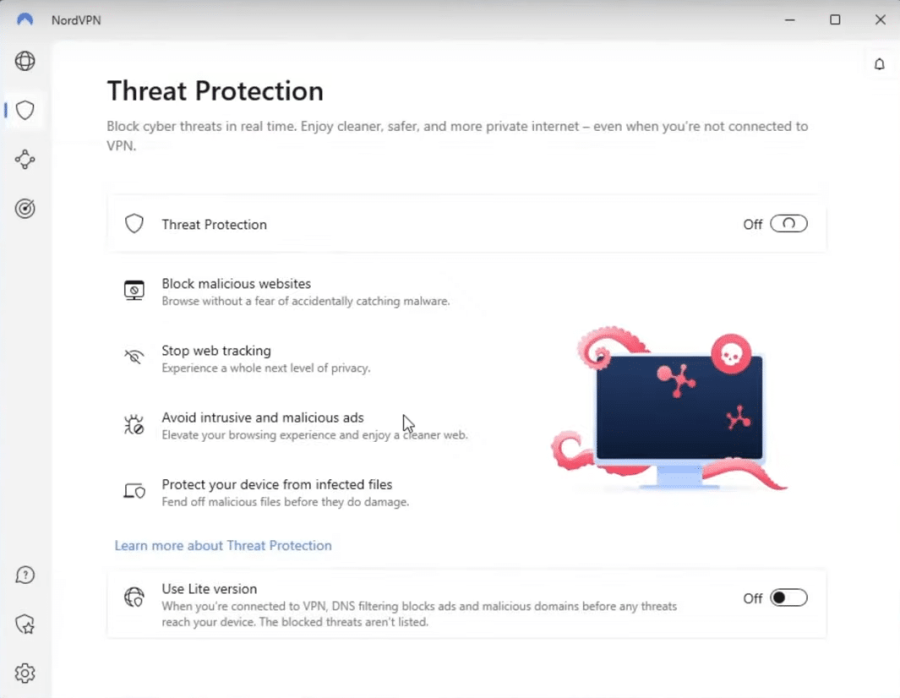 | | | | |
| --- | --- | --- | --- |
| Cheapest Subscription Plan | Max Devices Supported | Free Trial | Money-Back Guarantee |
| $2.49/month – 1-year plan | 6 | No | 30 days |
Threat Protection Lite focuses on blocking ads and malicious websites. Unfortunately, it can't scan downloads for malware, it can't block trackers, and it requires a VPN connection.
It's important to note that this isn't a stand-alone product, and you'll need to get NordVPN to get access to Threat Protection. That being said, it's one of the best VPN products out there, making it a great option for all-around online security.
Other features include a password manager that works across all platforms, a data breach scanner that alerts you if your data has been leaked online, and a full 1TB of online storage protected by next-gen file encryption.
What we really liked was the seven-day security report on offer. This report shows you a summary of exactly what Nord has protected you against so you can see for yourself how effective the product actually is.
Pricing
If you get any of the three packages on offer, you'll get access to one of the best VPNs available: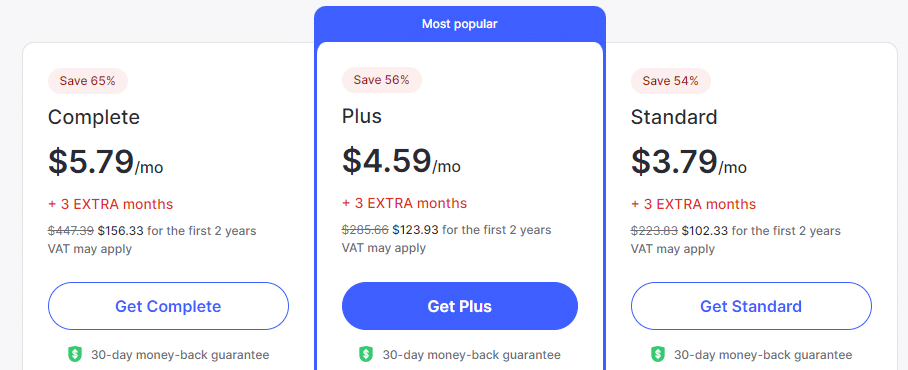 However, if you want access to one of the top family and business password managers, the data breach scanner, and cloud storage, you need to get the Complete package – which starts at only $5.79 a month.
Pros
Bundled with an excellent VPN
Offers always-on security
Provides a seven-day summary report
Cons
Not a stand-alone antivirus
Some locations have slow servers
5. TrendMicro — User-Friendly, AI-Powered Antivirus
TrendMicro is a user-friendly security solution that boasts brilliant customer support and comes with a standout social media privacy scanner that makes it stand out among the crowd.
The Social Media Privacy Scanner checks, among other things, who can see your personal information, whether your profile shows up in search engines, whether you can be found by your email address or cell phone number, and whether you can be targeted with ads depending on your activity.
You'll then be prompted to make the changes you want in one place rather than trying to find your privacy settings through your social media apps. We found this feature to be very useful.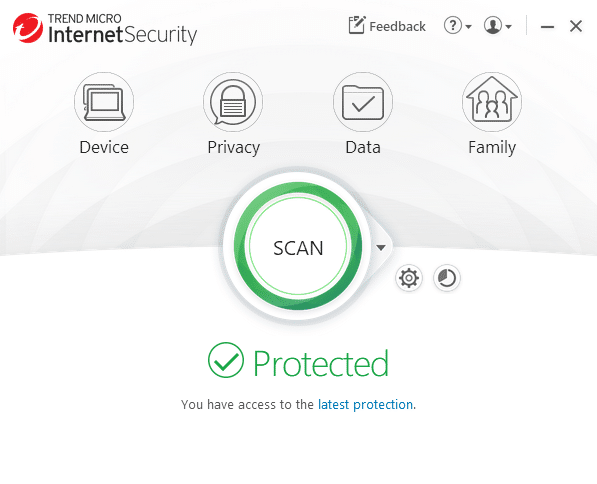 | | | | |
| --- | --- | --- | --- |
| Cheapest Subscription Plan | Max Devices Supported | Free Trial | Money-Back Guarantee |
| $4.16/month – 1-year plan | 10 | 30 days | 30 days |
When it comes to the antivirus, TrendMicro offers three types of scans. The quick scan looks at all the places where risks could be found, like your folders, background processes, and registry.
The full scan will look at your entire system, leaving any folders that are password-protected or encrypted. Then, you have a custom scan, which lets you choose which folders you'd want to scan.
Something we found to be unique is the Folder Shield. This allows you to protect your files from malware. What's nice is that you can extend this feature to not only your local files but to any file you have on the cloud. In other words, folders in your Google Drive or Dropbox will also benefit from this layer of security.
Pricing
TrendMicro extends its service to Chromebooks in two of its packages.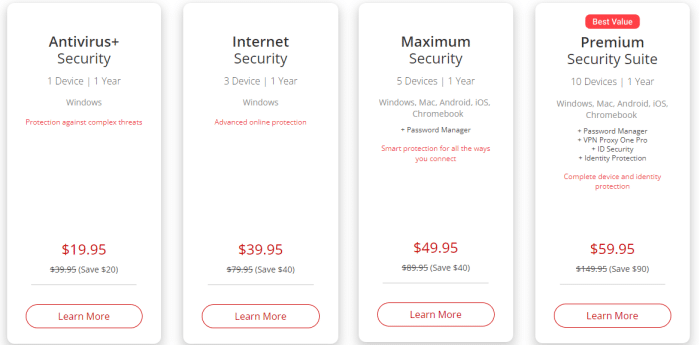 This means if you have a Chromebook, the best options are the Premium Security suite or the Maximum Security suite.
Pros
Extremely user-friendly
Offers social media scanning
Folder shield protects locally and cloud-saved files
Cons
Basic plan isn't compatible with Chromebook
No integrated firewall
6. ESET — Affordable and Comprehensive Security Solution
ESET is a lightweight, cloud-based antivirus program that's user-friendly and a popular choice for beginners. Setup on your Chromebook is dead simple, and an anti-theft tool helps you recover stolen devices.
Regarding malware and ransomware detection, ESET received near-perfect scores with AV-Test, and the same can be said for any phishing scams. It also gives you the ability to see who logs onto your WiFi.
With these features, it's easy to see why ESET is one of the best security solutions for Chromebooks.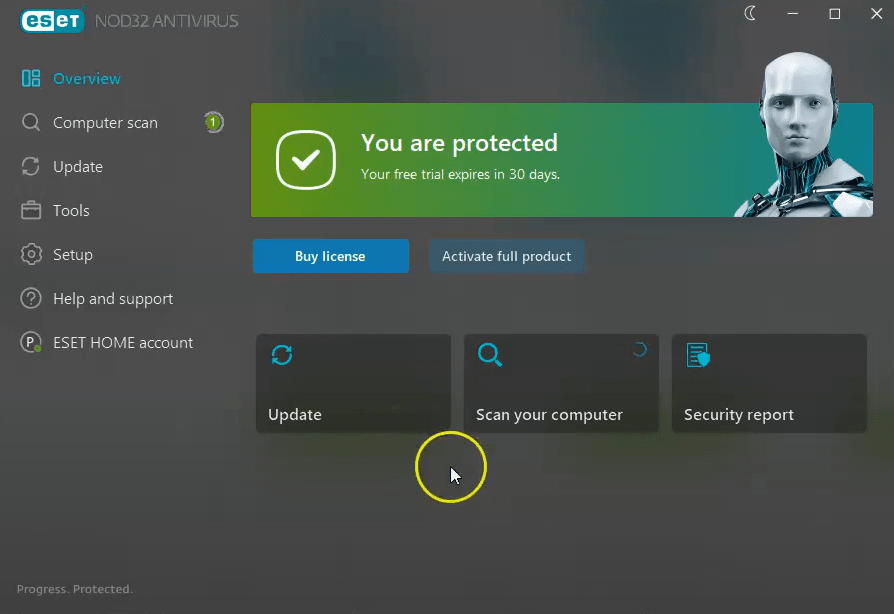 | | | | |
| --- | --- | --- | --- |
| Cheapest Subscription Plan | Max Devices Supported | Free Trial | Money-Back Guarantee |
| $3.33/month – 1-year plan | 10 | 30 days | 30 days |
Other features on offer are an integrated, interactive firewall that monitors incoming traffic to ensure nothing suspicious comes through.
You can train the firewall to recognize and block anything that doesn't match your activity. There's also protection for online banking so whenever you visit a recognized financial site, your payment details will remain secure.
It does this by automatically switching to a secure browser. Something else that's been bundled up with the antivirus is ESET's password manager, though this is only available on the more expensive plans.
As password managers go, it's not bad, but there are better solutions out there. That being said, it's equipped with 256-bit AES encryption for added security.
Unlike other solutions, it's easy to get hold of ESET's customer support team. No matter what problem you have, the team is always willing to help you out.
Pricing
Below are your options with ESET, and if you aren't ready to commit yet, try the free trial. It's 30 days and doesn't require any credit card details.
It's worth noting that the basic plan doesn't offer support for Chromebooks. For this, you'll need one of the higher-tier plans.

Pros
Offers anti-theft tool
User-friendly and light on resources
Intuitive firewall
Cons
Starts to get expensive with more devices
Basic plan doesn't support ChromeOS
7. Avast — Best Free Antivirus for Chromebook
If you think of free antiviruses, Avast may well come to mind. That's because they've been around for over 20 years, and their free plan is very generous.
With it, you can scan for malware, ransomware, and many other digital threats. This can all be done in the background, meaning it won't slow your Chromebook down.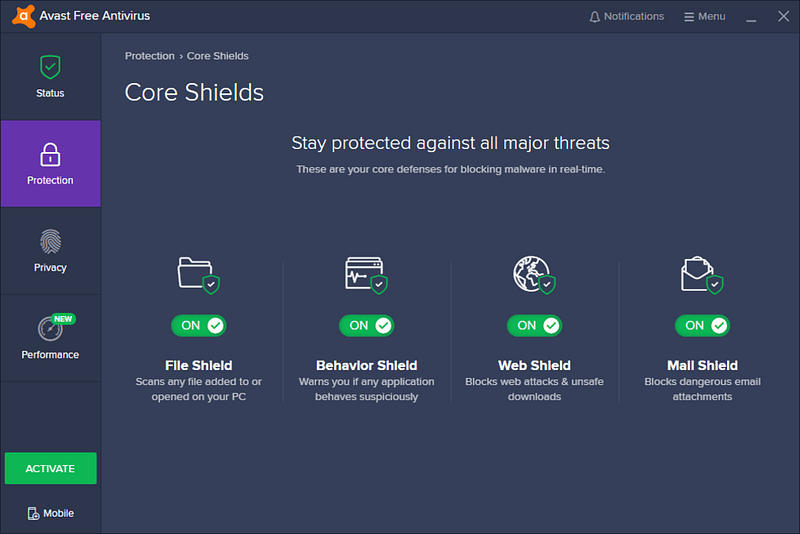 | | | | |
| --- | --- | --- | --- |
| Cheapest Subscription Plan | Max Devices Supported | Free Trial | Money-Back Guarantee |
| $8.33/month – billed annually | 10 | Free-forever plan | 30 days |
Avast received 100% malware detection rates on AV-Test, earning itself a "Top Product" certificate.
This easily puts it among the best antiviruses on the market today. Other features on offer are advanced anti-tracking protection, webcam, and microphone protection and it comes bundled with a VPN.
In other words, you can disguise your online identity to avoid being targeted with ads. More than that, microphones and webcams are often hacked for blackmail, but with Avast, hackers will find it impossible.
In fact, Avast is one of the only popular solutions to offer this. Avast for Chromebook also includes a data breach scanner that constantly looks at the dark web and other online sources to ensure that any account associated with your email address hasn't been compromised.
This isn't bad, but competitors have a wider array of personally identifiable information to look for, while others have actual human agents, as is the case with Norton.
Pricing
Avast undoubtedly offers one of the best free antiviruses for ChromeOS, as it comes with an array of features.

Among your options, the Premium plan is a very well-rounded security suite that can cover up to 10 devices – we recommend trying this one today.
Pros
Comes with a free-forever plan
Excellent antivirus lab scores
Bundled with a VPN
Cons
Paid plans are more expensive than the competition
Data-breach scanner isn't as good as others
8. Avira — Excellent Free Antivirus for the Chromebook OS
Avira is a powerful cloud-based antivirus with one of the best malware scanners, period. In fact, it's so good that Avira has actually licensed out their malware scanner to competitors like TotalAV. If you're looking for a ChromeOS antivirus that's free, then Avira is a definite contender.
The comprehensive free plan even comes with a password manager that's as good as stand-alone products, ransomware protection, and real-time protection, plus other features that you'd normally have to pay for, like adware protection.
Being cloud-based means it's lightweight and won't slow your machine down. It does this by offloading CPU-intensive processes to an online server, where it can use advanced tools to scan for viruses and malware.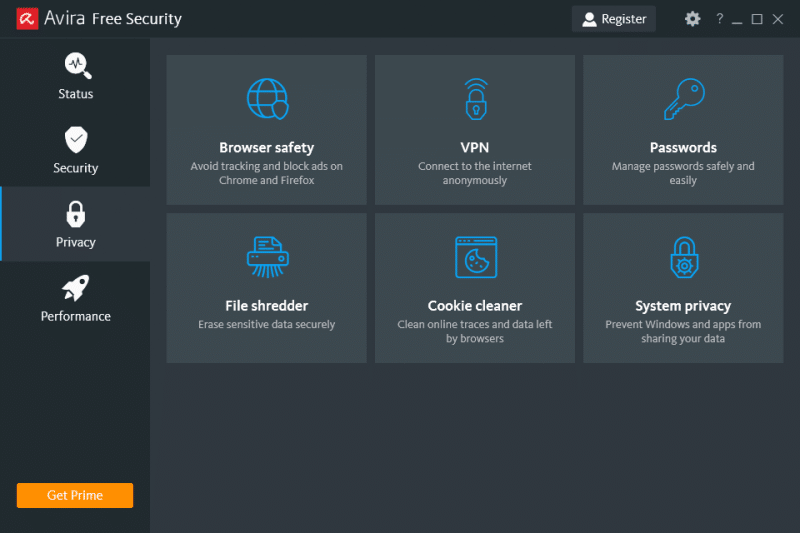 | | | | |
| --- | --- | --- | --- |
| Cheapest Subscription Plan | Max Devices Supported | Free Trial | Money-Back Guarantee |
| $4.99/month – 1-year plan | 25 | Free-forever plan | 60 days |
It then compares what it might find against a large malware directory to ensure nothing falls through the cracks. The sheer amount of scans on offer makes Avira shine compared to its competitors.
Smart Scan scans your entire system, looking for any vulnerabilities, which can range from privacy issues to app permissions that have unnecessary access to your data.
There are also more advanced scans like rootkit scans, external device scans, or local drive scans, though these may be better suited to more tech-savvy people.
However, these scans are more specific and could save you time as they won't scan your entire device. With this amount of control plus access to so many powerful features, it's easy to see why Avira is on this list.
Pricing
The free plan is one of the most comprehensive plans on the market, while Avira's paid plans offer incredible value for money.

That being said, going for the Prime package will probably be the best choice for Chromebook users, and with it, you'll get a risk-free 60-day money-back guarantee.
Pros
Comprehensive free plan
Excellent password manager
Offers a generous 60-day money-back guarantee
Cons
Not the most user-friendly
Customer support could be improved
9. McAfee — A Great Option for Beginners
The Chromebook McAfee antivirus is a very popular, user-friendly security solution equipped with additional features like a VPN and password manager.
Its malware scanner also performs well, detecting most malware threats it comes across. For ChromeOS users, this is great news, as Chromebooks are primarily affected by malware.
McAfee offers sophisticated security features like constant monitoring for online threats. Doing this protects you from threats like ransomware and crypto-jacking, where your device is hacked, and its resources are used to mine for cryptocurrency.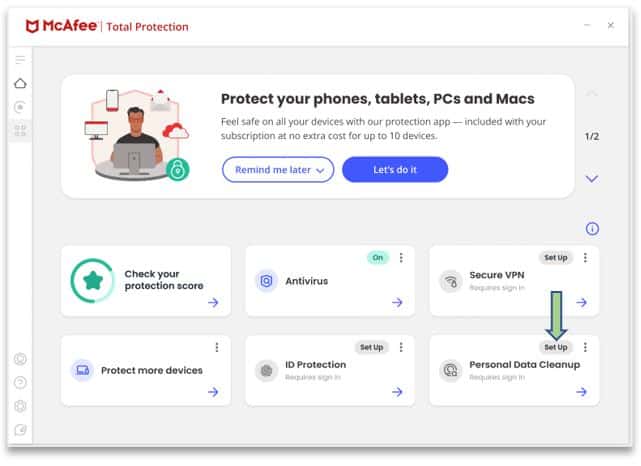 | | | | |
| --- | --- | --- | --- |
| Cheapest Subscription Plan | Max Devices Supported | Free Trial | Money-Back Guarantee |
| $3.33/month – 1-year plan | Unlimited | 30 days | 30 days |
Something else on offer is a vulnerability scanner that looks for essential security patches and notifies you if any of your apps need to be updated. An outdated app could be a weak point in your security, so it's nice to see that McAfee helps combat this.
There's also a pretty intuitive firewall that allows for many things to happen, for example, such as opening ports for services on other devices to access your system.
McAfee also has a stealth mode, so you can hide your device and you can block specific IP addresses and connections, giving you plenty of control.
Something else we really liked was the array of tutorials available. This makes McAfee very accessible for beginners. Plus, if you're still struggling, their customer support is second to none. There's nothing the team won't be able to help you with.
Pricing
All the plans below come with a 30-day money-back guarantee and a 30-day free trial.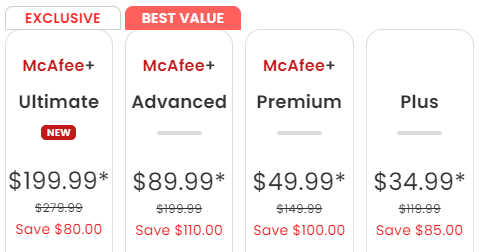 This means you can take advantage of this service for a whopping 60 days, completely risk-free.
Pros
VPN with all plans
Offers a vulnerability scanner
Great choice for beginners
Cons
Relatively resource intensive
Pricing plans are confusing
10. Malwarebytes — Straightforward Antivirus with a Built-in VPN
Malwarebytes for Chromebook is a minimalist antivirus with all the core features an antivirus should have, like real-time malware protection, anti-ransomware capabilities, and web protection.
If you're looking for a straightforward, easy-to-use security solution, you might want to take a look at Malwarebytes.
Some additional features include Browser Guard, which is a free web extension that protects against trackers, pop-up ads, phishing sites, and exploit attacks.
| | | | |
| --- | --- | --- | --- |
| Cheapest Subscription Plan | Max Devices Supported | Free Trial | Money-Back Guarantee |
| $5/month – 1-year plan | 5 | 14 days | 60 days |
Malwarebytes has a VPN on offer, but you'll have to upgrade to the premium + privacy VPN account. The VPN isn't necessarily the best out there, but it does offer some good features.
It has over 500 servers in 40 countries, which is good considering that a top provider like TotalAV only offers about 30 server locations.
Another strong feature of the VPN is the WireGuard protocol. Since it is one of the fastest and most secure protocols around, we were happy to see it integrated.
There are some faults with Malwarebytes, though. For example, there's no firewall or data breach monitor and no device optimization tools.
This would be a good fit for those looking for a simple antivirus, and its offering is perfectly serviceable. What's more, the low cost somewhat makes up for the missing features.
Pricing
A strength of Malwarebytes is its pricing. The most expensive personal antivirus plan starts at just under $100 a year.

There's also a 14-day free trial and a decent 60-day money-back guarantee.
Pros
Affordable pricing
Free stand-alone antivirus
WireGuard protocol on VPN
Cons
No firewall
No data breach monitor
No device optimization tools
The Best Antiviruses for Google Chromebook Compared
Here's an easy-to-follow comparison table so you can make the best decision when it comes to online security for your Chromebook.
Antivirus Solution
Cheapest Subscription Plan
Max Devices Supported
Free Trial
Money-back Guarantee
TotalAV
$9.95/month – year 1
6
Seven days

30 days (Annual)
14 days (monthly)

SurfShark One
$3.22/month – 2-year plan
5
Free scan

30 days

Norton
$4.99/month – 1-year plan
10
14 days

30 days

Nord Antivirus
$2.49/month – 1-year plan
6
No
30 days
TrendMicro
$4.16/month – 1-year plan
10
30 days

30 days

Eset
$3.33/month – 1-year plan
10
30 days
30 days
Avast
$8.33/month – billed annually
10
Free-forever plan

30 days

Avira
$4.99/month – 1-year plan
25
Free-forever plan
60 days
McAfee
$3.33/month – 1-year plan
Unlimited
30 days

30 days

Malwarebytes
$5/month – 1-year plan
5
14 days

60 days
Key Features to Look For When Choosing Chromebook Virus Protection
When it comes to the best antivirus for Chromebooks, there are a few key factors to consider before making a decision.
Compatibility
Not all antivirus solutions are compatible with Chromebooks. That's why it's important to make sure that the solution you choose will work on your system.
Many solutions like TotalAV and SurfShark are available for download from the Google Play Store. In fact, it's the only place you can download an antivirus for Chromebooks.
Price
Cost will always be a factor you need to keep in mind with any purchase. The same goes for an antivirus program. While there are some free solutions out there, we recommend that you opt for a paid version, as it offers more features, such as a VPN or a password manager that will increase your security.
Features
A solid antivirus program has a variety of features to make sure your online presence is safe. Besides standard threat protection, some security solutions like TotalAV are bundled with a VPN, while others like Norton come with dark web monitoring.
It's important to note what features you're after, as some of these may only be available on a higher-tier plan. This is especially true with cheap and free solutions – so make sure you can scan your Chromebook for viruses and malware to your requirements.
Performance
Chromebooks have little storage and aren't the most powerful devices. Consider whether or not the choice you want to make will affect your Chromebook's performance. A solution like SurfShark requires very few resources to run.
Customer Support
Another important factor you should keep in mind is the quality of customer support offered. If you're trying to get rid of malware or another questionable application that seems to have infected your computer, contacting an expert can often make a big difference.
The last thing you want is to ask for help from someone who has yet to learn how to help.
Best Antivirus Guides
Our team of experts has compiled numerous guides on antivirus solutions. Here, you'll find the best of the bunch for further reading:
Conclusion – Which Antivirus is Best for Chromebook in 2023?
The best antivirus for Chromebook is TotalAV, thanks to a vast array of security features, such as complete ransomware protection, fast scans, and excellent browser protection. That's not to mention the fact that there's an excellent free tier on offer, and the service comes with great customer support.
Chromebook Antivirus Software FAQs
What is the best free antivirus for Chromebook?
Can Chromebooks get viruses?
Does Chromebook have built-in antivirus?
How do you scan a Chromebook for viruses?
Are Chromebooks safe for online banking?
Which antivirus programs don't work with Chromebook?
References