Mac antivirus tools are an essential part of keeping your computer secure. There's a popular perception that Apple devices don't get hacked, but this is far from true. As more people turn away from Windows and towards MacOS, it's inevitable that malware developers will turn their attention towards OSX as well.
To this end, we've reviewed and compared the best Mac antivirus programs to bring you our list of the top 7 device protection tools for Mac OSX. We've based this on effective protection, compatibility, ease of use, and overall value for money. Stay with us as we go through our list of the top Mac tools like TotalAV, McAfee, and Norton that you can use to keep your computer safe.
The 7 Best Mac Antiviruses
Each of our top Mac antivirus providers has been verified as highly effective. Check them out below for their unique protection features:
Best Antivirus for Mac | Top 7 Reviewed
We've reviewed each of the best Mac antiviruses below to help you find the one best suited to your needs and budget:
1. TotalAV — 2023's Top Mac Antivirus Software
TotalAV tops our list as the best tool for Mac computers. It's not just a powerful antivirus program for Mac; it's also a complete privacy protection solution. In fact, it's renowned for being the best Android antivirus and tops the charts for Windows, iOS, and even server protection.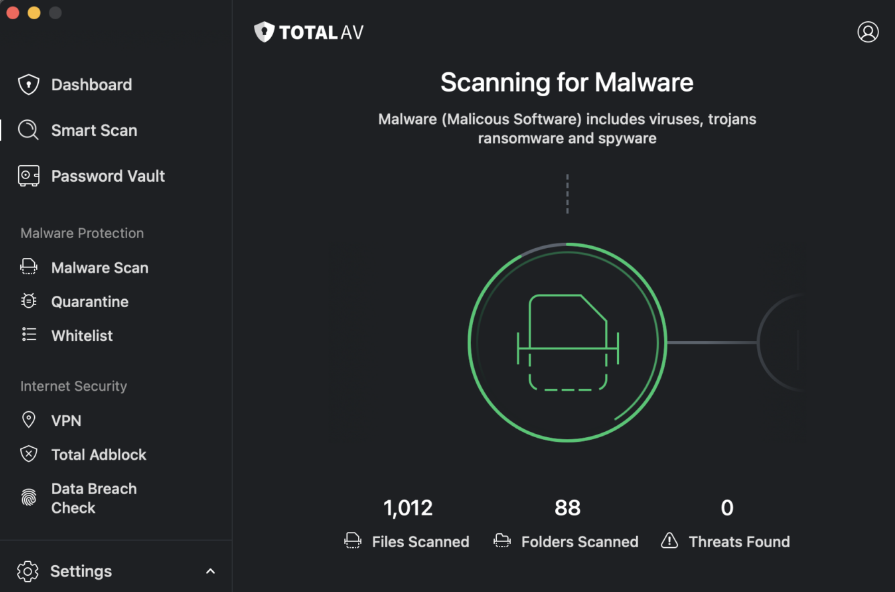 Cheapest Plan
Best Features
Free Trial
Max Devices Supported
Automatic Updates
Auto-Clean
$29
1. Real-Time Protection

2. Malware Cleaner

3. Advanced Cloud Scanning

30-Days
6
Yes
Yes
TotalAV's core antivirus functions are speedy and complete. Using our test setup, we found it was easy to download and install. Once fully installed, it performed a full scan on our 512GB test SSD within ten minutes and positively identified every test malware file on the system.
TotalAV also provides real-time malware protection in addition to the Smart Scan feature. Any malware downloaded by your device is automatically removed before it can execute.
Beyond malware protection, you'll also get access to a secure VPN, iOS and Android device protection, and cloud file scanning to ensure no nasty files are lurking on your cloud host. Overall, TotalAV tops lists like these time and time again as it provides complete peace of mind in a single package.
Pros
Ideal for users on a budget
It comes with a free trial version
Protects both desktop and mobile devices
Cons
Other providers have better phishing protection
Pricing
TotalAV has a few different plans depending on which features you need. The premium packages are tailored towards VPN users, so if you only need Antivirus protection, you should stick to the basic "Pro" package:
The core package, which has a fantastic introductory price of $29/year, makes TotalAV one of the most affordable providers on our list, and even after this introductory offer expires, it's only $10/month charged yearly.
We recommend buying the Total Security package if you're looking for extra device coverage. The total AdBlock feature makes this subscription worth it, and to sweeten things further, it lets you cover up to six devices with both the anti-virus and VPN services.
2. McAfee — Powerful Real-Time Online Protection
McAfee antivirus is a world-renowned antivirus brand started by the infamous John McAfee in 1987. Today, it's trusted all around the world by enterprise and personal users.
For complete peace of mind, it uses real-time threat protection and scheduled antivirus scans in conjunction with a personalized scanning profile you can set for each family member.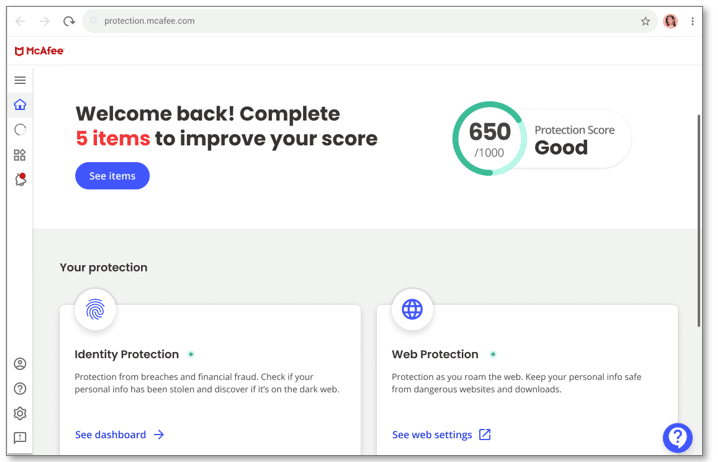 Cheapest Plan
Best Features
Free Trial
Max Devices Supported
Automatic Updates
Auto-Clean
$29.99
1. Real-time Threat Protection

2. Protection Score

3. File Shredder

30-Days
10
Yes
Yes
McAfee has been accused of not giving the user enough control over how and when the antivirus program works. Still, after spending some time with the modern McAfee antivirus, this company has massively cleaned up its act.
In fact, McAfee antivirus is only one part of a suite of privacy protection tools, all designed to make your internet browsing safer. There's credit monitoring, identity theft prevention, online data cleanup, and a "kill switch" for your vital online accounts in case you suspect fraud.
You'll be able to shut down access to your bank account, bill services, and credit cards instantly through McAfee's security freeze service.
Pros
User Friendly
24/7 Support Available
Identity Protection
One of the best Reddit antivirus recommendations
Cons
Best Features Locked Behind Expensive Plans
Pricing
McAfee is more than your average antivirus program, and as such, there are many different plans depending on your needs. The "Basic" package will cover a single device: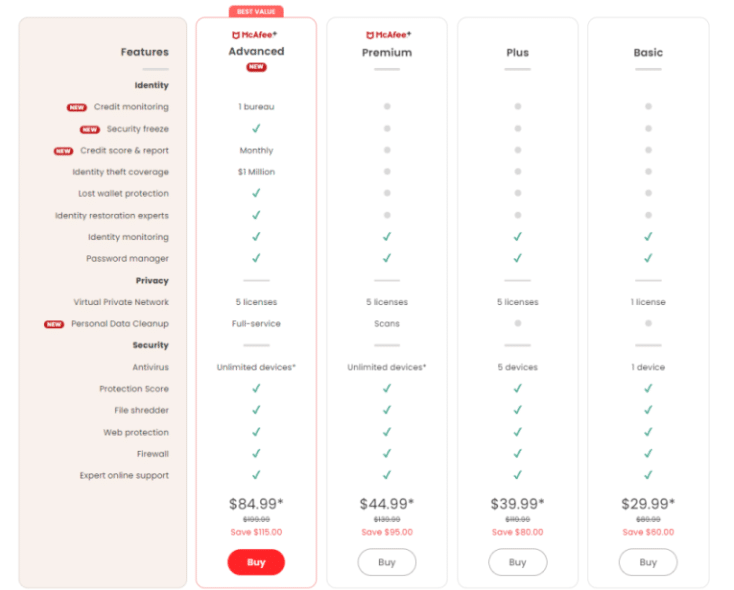 McAfee is competitively priced, and by default, dark web leaks are covered, even on the basic plan. That said, the powerful identity theft prevention features are locked behind McAfee's advanced package.
Overall, you'll find that McAfee comes with one of the best basic packages for the sheer number of features included, but the highest-end packages are quite expensive. The only real difference between Premium and Plus is the number of devices you can cover under the anti-virus plan.
3. Norton — 100% Protection Promise and Unlimited Devices
Norton Antivirus is another world-renowned provider for its powerful security services, one of many reasons it's landed third on our list of the top best Mac antiviruses. It gives you comprehensive protection against malware attacks, ransomware, and direct hacking attempts. Indeed, running it on our test harness gave a 100% protection rate against the malware samples we used on our OSX machine.
Cheapest Plan
Best Features
Free Trial
Max Device Supported
Automatic Updates
Auto-Clean
$19.99
1. Online Threat Protection

2. Cloud Backup

3. Smart Firewall

7-Days
Unlimited
Yes
Yes
Unsurprising as it may be, Norton has a 100% virus detection promise, which ensures that you'll be fully protected from a malware attack. This means that, after conducting a full scan, should there still be malware on your device, you'll be referred to a Norton Expert for free one-to-one advice on removing the malware.
You're entitled to a full refund on your subscription if the Norton Expert can't remove the malware for you. That said, one of the key complaints against Norton in the past was a difficult uninstall process. We tried it out for ourselves and found that while you need to download a separate tool to uninstall Norton, this process was relatively painless.
In fact, Norton provides this tool on their site, along with clear instructions on how to operate it. Overall, it's a solid solution for ultimate device protection, and it even comes with handy add-ons, such as one of the best parental control solutions on the market and a solid VPN.
Pros
Comprehensive Virus Database
Designed for Multiple Devices
Extra VPN option
Cons
Other Providers Are Cheaper
Pricing
Norton has many price plans depending on the features you need. The Antivirus Plus is actually the cheapest plan, which comes with all the standard malware protection you'd expect, along with 2GB of cloud storage, a smart firewall, and a password manager.

Standard adds a webcam manager, basic identity theft monitoring, and bumps the cloud storage up to 10GB. That said, the Deluxe is built for concerned parents as it lets you manage multi-device households and increases the device limit to five and adds parental control and privacy monitoring functions.
Finally, the Lifelock package adds 100GB of cloud storage, protects you against identity theft losses of up to $25,000, and gives you access to up to $1 million in legal aid should your identity be stolen.
4. Avast — Beats Malware, Viruses, and Ransomware With Ease
Avast is trusted by hundreds of millions of users globally. It's not quite as prolific as Norton or McAfee, but you can be assured that Avast will provide reliable device protection. Plus, it's been built to take the smallest toll on your Mac possible.
When we tested the Smart Scan feature, we found almost no noticeable impact on CPU or RAM usage. That said, Avast will work on your Mac all the way back to one's running 10.11 (El Capitan), but no further back than that.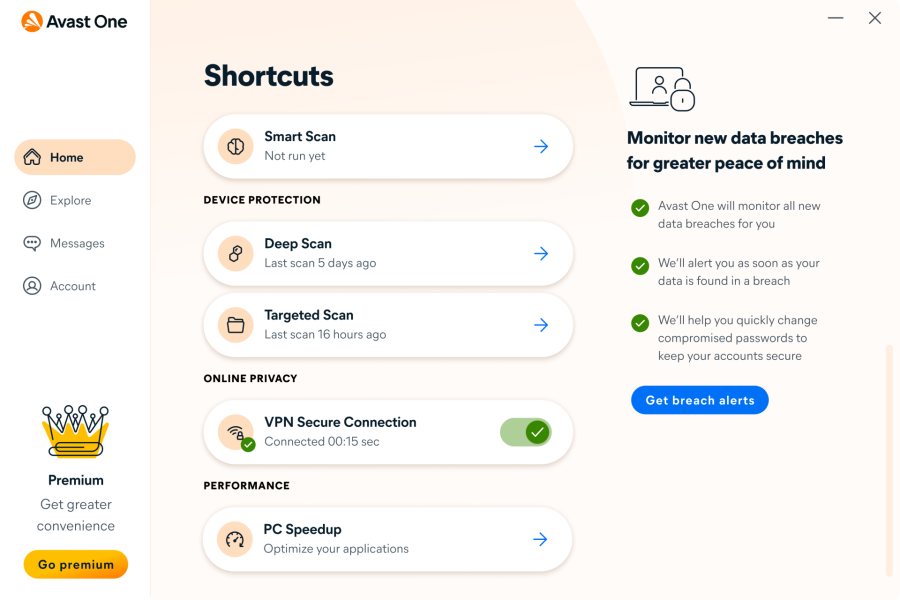 Cheapest Plan
Best Features
Free Trial
Max Device Supported
Automatic Updates
Auto-Clean
$50.28
1. Network Security Scan and Alerts

2. Pay Guard

3. Ransomware Protection

7-Days
10
Yes
Yes
Avast has also been built to offer maximum protection on your Mac. Our malware tests returned a 100% detection rate for both Mac and Windows-based malware, which means you can be confident it'll protect your devices on a network that mixes Windows and Mac computers.
Besides this, it goes beyond just antivirus protection, ensuring that you've got malware blocking and anti-phishing protection to keep the most popular attacks at bay. This is vital in today's world, where approximately 1.2% of all emails are malicious — this sounds small but totals a whopping 3.4 billion phishing emails sent every single day.
Beyond this, there's even a network analyzer that shows you all the relevant details for the devices connected to your network. It's not quite as detailed as the Windows version, but it's nice to see there's almost total parity in the feature set for Windows. So, on top of being a top solution for Mac, Avast is undoubtedly among the best Windows antiviruses as well.
Pros
Free Trial Version
Ransomware Protection
Network Monitoring
Cons
Ransomware Protection Requires Extra Subscription
Pricing
Avast has a pretty straightforward pricing scheme. While you can download Avast One Essential for free, there's also a basic and enhanced package:

Avast One covers five devices by default, which is great if you want to protect the whole household on a budget. This makes it one of the cheapest dedicated antivirus programs on our list.
The Premium Security subscription enhances Avast by adding ransomware protection and network monitoring, which tells you whenever a new device connects to your local network. The plan you choose is up to you, but try it free now to see if it's your cup of tea.
5. Nord Threat Protection — Antivirus That Comes With a Top-Tier VPN
NordVPN is one of the best VPNs you can buy. However, it also comes with a threat protection function that keeps you safe from malware, advertisements, and other malicious attacks. Combined, Nord Threat Protection offers robust online security at an incredibly affordable price point.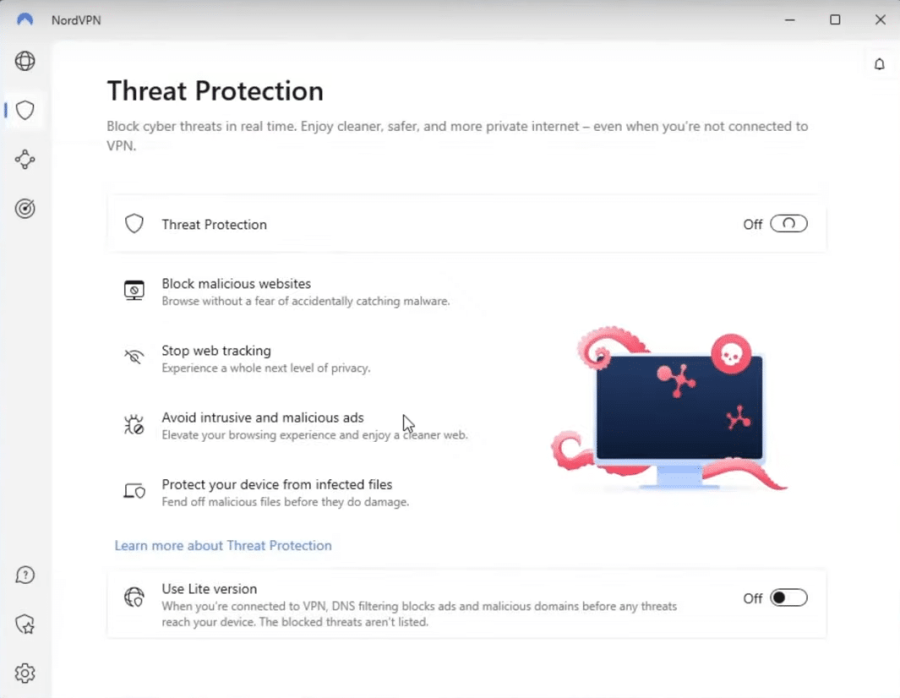 Cheapest Plan
Best Features
Free Trial
Max Devices Supported
Automatic Updates
Auto-Clean
$3.49/month — 2-year plan
1. Doube VPN

2. Meshnet

3. Dark web monitor

No
6
Yes
Yes
Nord Threat Protection is built into the NordVPN app. It scans files you download to ensure they're not secretly malicious malware droppers. What's nice is that it works even when you're not connected through NordVPN, ensuring you're protected 24/7 when using Threat Protection.
Its popularity is primarily because you get all these premium security features as part of NordVPN, an internationally recognized VPN solution that's passed several external audits to verify its security. That said, there's no doubt that it does a supreme job of protecting your internet traffic while the antivirus ensures no malware lurks on your Mac device.
Besides keeping you safe from malware and malicious ads, Nord unblocks a world of opportunities for unblocking geo-restricted content on sites and services like Netflix, Amazon Prime, and numerous others for complete online security and freedom.
Pros
Offers excellent split tunnelling
24/7 customer support
An effective Kill Switch
Covers 6 devices
Cons
It can't be purchased without VPN
Pricing
NordVPN has a few options for subscription plans, but Threat Protection becomes available by default in every plan alongside the core VPN app: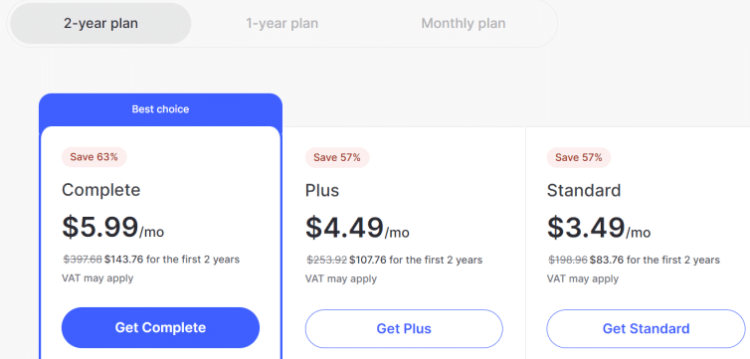 NordVPN's extra plans, Plus and Complete, give you a data breach scanner for identity theft protection and one of the best password managers. Additionally, Complete also comes with 1TB of cloud storage.
This cloud storage is scanned using the same technology used to recognize malware on your computer through NordVPN, so you can be confident anything you're uploading or downloading in the cloud is safe.
6. Surfshark — Identity Theft Protection, Antivirus, and a Great VPN On Top
Surfshark is another that's among the best VPN app providers that boast antivirus functions on top of their VPN. In fact, it was one of the first to bundle an antivirus with its VPN service, which means it's spent a lot of time being honed and updated into the great product it is today.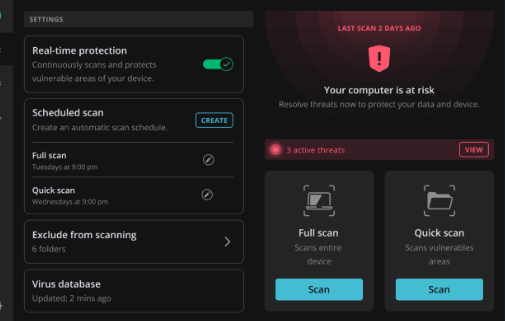 Cheapest Plan
Best Features
Free Trial
Max Devices Supported
Automatic Updates
Auto-Clean
$65.76
1. Real-time Protection

2. VPN

3. Device Scanning

7-Days
5
Yes
Yes
Surfshark One, or Surfshark Antivirus, is a bundle that gives unlimited VPN connections for your devices and five devices covered by their antivirus suite. Not only is this incredibly generous, but it offers users complete online freedom and security across all their devices.
That said, we found Surfshark One to be pretty speedy when scanning our test Mac, and it was among the best for blocking advertisements and known malware distributors. This is no doubt due to their expertise as a top-tier VPN provider.
To sweeten things further, there's also dark web monitoring to ensure your details aren't floating around online, waiting for an identity thief to come along. This often isn't something many are concerned about. Still, with a new identity theft victim every 22 seconds, it's an issue everyone needs protection against, making it a welcome security addition to Surfshark's overall package.
Pros
Data breach monitoring
Excellent VPN
Realtime protection
Cons
Pricing
Surfshark has one subscription package if you want the bundled Antivirus features, but there are several subscription lengths to sign up for:

With a long-term plan costing less than $2.50, Surfshark is one of the cheapest Antivirus products on our list. This would already be fantastic value for an Antivirus product, but when you add unlimited VPN connections on top of using its vast set of encrypted servers located worldwide, it's clear Surfshark is an absolute winner.
7. Intego — Highly Specialized Mac-Only Antivirus and Malware Remover
Intego has a proven track record of providing quality software products for Mac OSX first and foremost, which is why they're heading up the tail end of our list of antivirus products for Mac. With decades of experience working with Apple products, you can rest assured that Mac experts are behind this powerful Mac antivirus.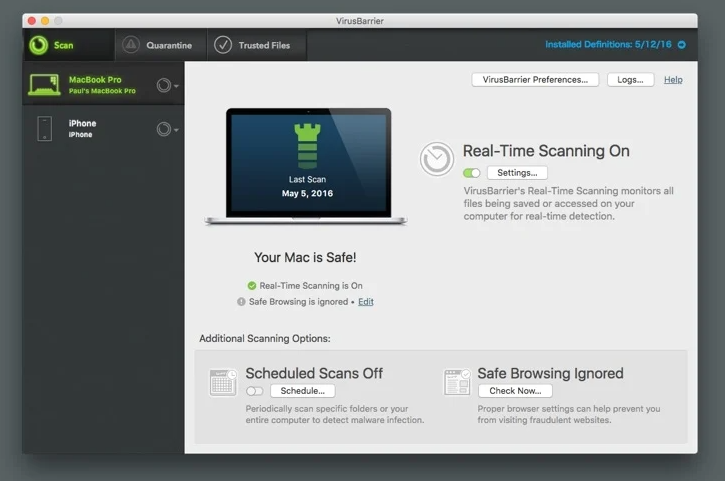 Cheapest Plan
Best Features
Free Trial
Max Device Supported
Automatic Updates
Auto-Clean
$29.99
1. Internet Security

2. Content Barrier

3. Washing Machine

30-Days
10
Yes
Yes
This is evident in everything from the quick runtime to the consistently clean and simple user interface. That said, Internet Security X9 is Intego's premier malware defence service, which uses a firewall to prevent hackers from accessing your computer.
Intego also integrates real-time malware scanning, scheduled scans, and constant blacklist updates for their antivirus with a content filter that keeps other nasty content from appearing on your computer. This makes it ideal for concerned parents looking for a parental control solution to block not just malware but pornography, gambling, and other content from their children's devices.
Beyond this, there's even identity theft protection. You can link Intego to your credit score and be updated whenever there's a significant change. This is one of the first major warning signs you've been a victim of identity theft, so you'll want to know as soon as this changes.
Pros
Firewall protection
Anti-predator chat monitoring
Mac optimization
Cons
Pricing
There are few choices when you buy Intego, as the core antivirus product doesn't come bundled with other products: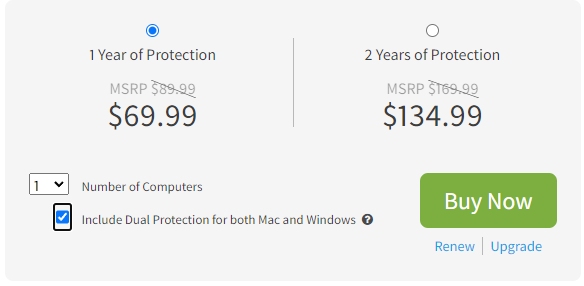 You'll have to choose the number of devices you want to protect, as Intego only protects one device by default. They're a little more expensive than some other providers on our list, but if you need software that's been built for Mac first, there's no better choice than Intego.
Top-Rated Mac Antivirus Programs Compared
Here's a quick head-to-head comparison of the best Mac antiviruses to help you narrow down your options and find the one best suited to your needs and budget:
Provider Name
Cheapest Plan
Best Features
Free Trial
Max Devices Supported
Automatic Updates
Auto-Clean
TotalAV
$29
1. Real-Time Protection

2. Malware Cleaner

3. Advanced Cloud Scanning

30-Days
6
Yes
Yes
McAfee
$29.99
1. Real-time Threat Protection

2. Protection Score

3. File Shredder

30-Days
10
Yes
Yes
Norton Antivirus
$19.99
1. Online Threat Protection

2. Cloud Backup

3. Smart Firewall

7-Days
Unlimited
Yes
Yes
Avast
$50.28
1. Network Security Scan and Alerts

2. Pay Guard

3. Ransomware Protection

7-Days
10
Yes
Yes
Nord
$3.49/month — 2-year plan
1. Multihop VPN

2. Meshnet

3. Dark web monitor

No
6
Yes
Yes
Surfshark
$65.76
1. Real-time Protection

2. VPN

3. Device Scanning

7-Days
5
Yes
Yes
Intego
$29.99
1. Internet Security

2. Content Barrier

3. Washing Machine

30-Days
10
Yes
Yes
Do I Need Antivirus Protection? | Can Macs Get Viruses?
There has long been a misleading idea that Mac devices don't get viruses. This isn't true. There are thousands of examples of potent malware tools developed exclusively for Mac devices. However, there's a grain of truth to this falsehood.
In the past, fewer hackers focused on developing malware for Mac devices because they weren't trendy in industrial or enterprise settings. This has changed in recent years.
The increasing share of domestic users switching to MacBooks over regular laptops has encouraged hackers to build ransomware and spy programs for standard Mac computers. So, Mac is undoubtedly susceptible to attack in the modern day.
What Threats Are Prevalent?
No matter which operating system you use, you'll encounter some ever-present threats when you're online. Although Mac OSX has strong security features by default, all it takes is one accidental download or an unknown zero-day attack to ruin your computer.
Mac Ransomware can steal your personal information, such as credit card details and passwords, and then lock your computer so it's unusable until you pay a Bitcoin ransom. Once your details have been stolen, you're constantly at risk of identity theft.
In some cases, hackers have been known to spend several years using the same social security number to impersonate unwitting victims.
Best Free Mac Antivirus Vs. Paid Solutions | Which is Best?
Free antivirus programs for Mac can be more of a headache than they're worth. You need to ensure the Antivirus you're downloading is from a reputable vendor. Still, plenty out there masquerade as a legitimate antivirus and then sell your information or access to your computer.
The providers we've highlighted in our list are all trusted Antivirus providers who sometimes offer free trial versions alongside their main product. For example, TotalAV gives you access to the core Antivirus functions for free on unlimited devices.
Unfortunately, digital threats in the modern world extend far beyond someone installing malware on your computer. Identity theft is often the most damaging digital threat the average person will go through.
No antivirus solution has a free program to help you with identity theft, so you'll have to buy a subscription if you want to monitor the deep-web hacker sites for your details.
How to Choose the Best Mac Antivirus Tool
When choosing an antivirus tool for Mac OSX, you should keep a few metrics in mind. Many dedicated antivirus review sites will post a complete breakdown of their testing scheme and files used, so you can get a complete view of how effective each antivirus tool is.
Speed is also essential, but you should bear in mind this is often limited by hard-drive speed. The best Mac antivirus tools will take advantage of the faster SSDs in newer Mac computers, drastically reducing the time spent scanning your computer.
Generally, if you find your computer significantly slowing down when using an antivirus tool, you should shop around to see if you can find a faster one. Plus, many Antivirus tools come with free trials, so you can test them before subscribing.
How Do I Scan My Mac for Viruses?
Installing and setting up an antivirus tool on a Mac is straightforward. Let's use TotalAV as an example:
Step #1: Download and Install TotalAV
Head to TotalAV's website and browse their Mac antivirus section. You don't need to sign up for a subscription to download and try it. Once you've downloaded the TotalAV.pkg, it's just a matter of double-clicking to install it.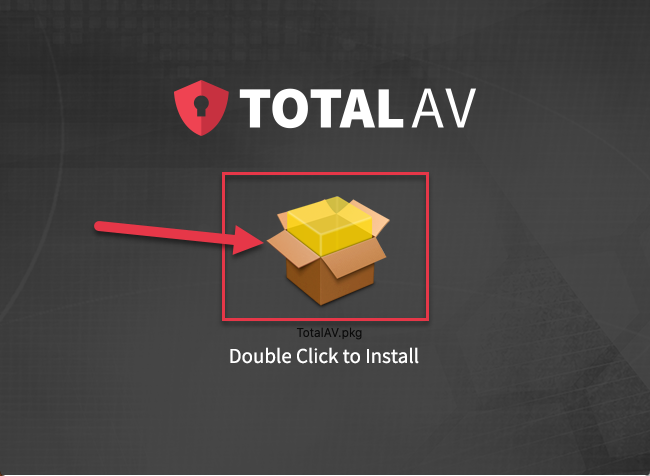 Step #2: Click Continue to Install
Once you've opened the install wizard, it's easy to get through the installation process. You'll need to select where you want to install TotalAV and which type of installation you'd prefer.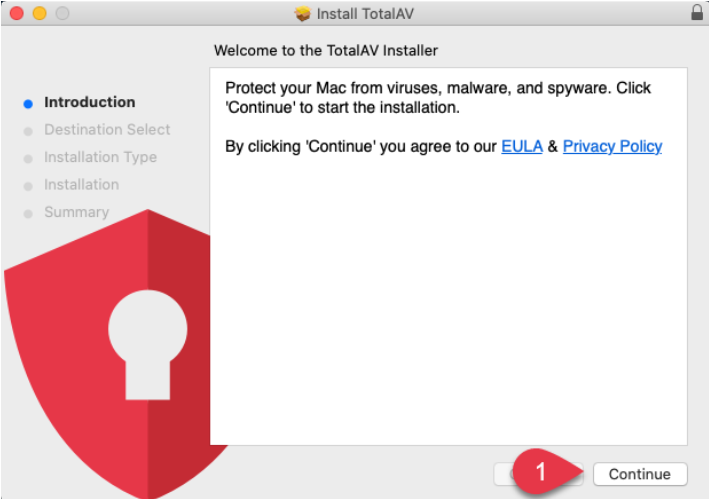 Step #3: Enter Your Password to Complete the Installation
TotalAV uses system-level tools, which require permission from the administrator to install. In most cases, this is as simple as putting in your username and password.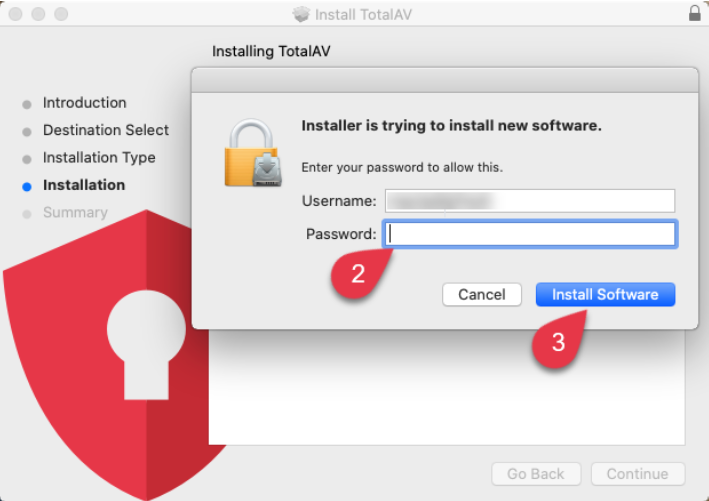 Now you're up and running with TotalAV. There's an automatic update service, so you'll always be updated with the latest malware definitions.
Mac Antivirus FAQs
How does an antivirus work?
Do Macs need an antivirus?
Which is the best antivirus for Mac?
What's the best free Mac antivirus?
Do antiviruses slow Macs down?
Conclusion | What's the Best Antivirus for Mac in 2023?
TotalAV is our best pick for the top antivirus for Mac in 2023. It's relatively inexpensive, passed all of our antivirus tests, and did so extremely quickly. Some of our other providers offer a more specialised service, but TotalAV leads the pack for overall value. Try it now risk-free with the 30-day free trial.