The best Antivirus Reddit ensures you can browse the internet without the headache of someone swooping through your personal files and information. With the best antivirus by your side, you can avoid malware, ransomware, and malicious software from wreaking havoc on your system.
However, given the number of choices available, choosing an ideal antivirus can be tiring. That's why we've compiled a list of the best antivirus Reddit based on rankings and recommendations of thousands of Reddit users, plus criteria like pricing, compatibility, speed of scans, selection rate, and customer support. Read on to discover why software like TotalAV, Surfshark, and Norton are the best in the business.
10 Best Antivirus Software Reddit Users Recommend
TotalAV is easily the pick of the lot. Thanks to its fast malware scan, built-in system cleaner, effective browser extensions, and excellent customer support, it's a feature-loaded and top-of-the-line antivirus. Here's how it compares to others on our list:
Top Antivirus Reddit Picks Reviewed
Eager to protect your systems with the best antivirus? Dig right in as we discover in detail each of our top picks, including their best features, pros, cons, and pricing. Ready?
1. TotalAV — The Best Overall Antivirus Reddit Recommends
TotalAV is best known for its user-friendly interface, making it easier for beginners to use the platform. It also offers a generous free scan for those who don't want to invest in an antivirus right away or are after basic antivirus support.
Under the free scan, you get real-time protection and monitoring so that all external threats are blocked before they can enter your device. With that said, it also tags with advanced malware and ransomware protection. Plus, it'll remove adware so that your browsing experience isn't interrupted by constant ads and pop-ups.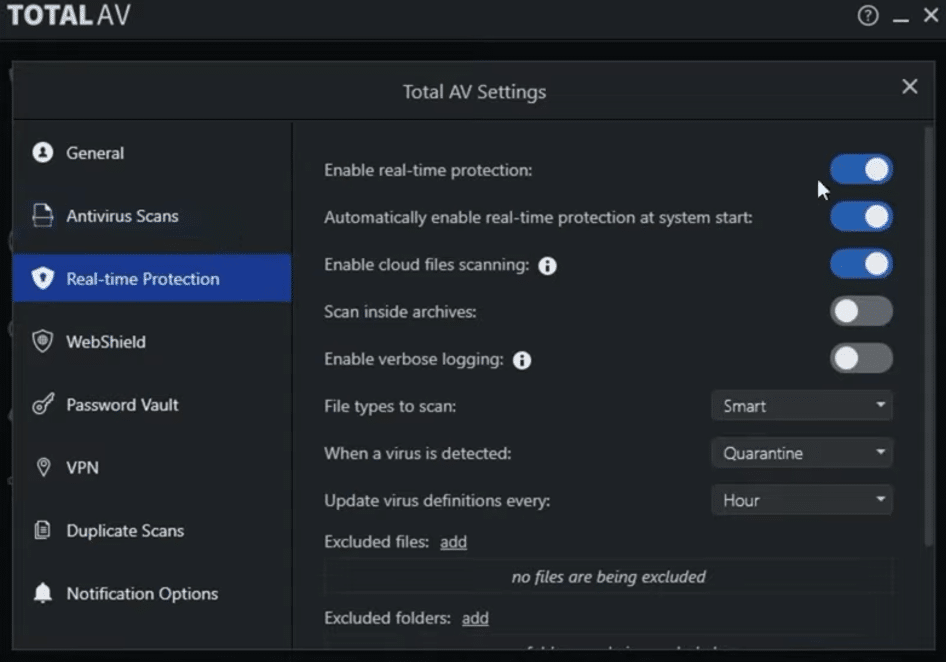 You'll have to upgrade to a paid plan for unlimited connections, a password manager, Family Protection, and other advanced features. Speaking of TotalAV's antivirus features, all its users swear by its WebShield extension. You can add this on Chrome, Edge, and Opera, and it'll look out for websites that could be harmful to your device.
If you accidentally click on a dangerous website, it'll immediately redirect you before any real damage can be done. Another benefit of using TotalAV is its built-in system cleaner and optimizer. With this tool, you can automatically remove junk and cache files, duplicate folders, and many other unnecessary programs that take up space on the system.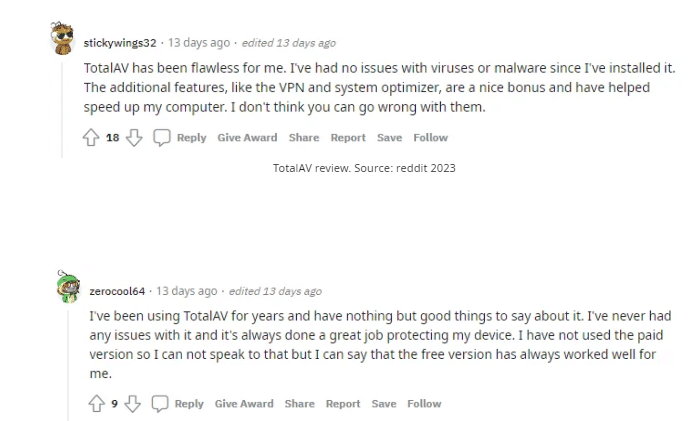 Removing such files will improve your device's overall performance and reduce the chances of virus attacks. After all, hackers usually target these obsolete files to hide malicious software. That said, TotalAV's system cleanup feature also extends to browsers. This is useful for cleaning your history and cookies, which third-party ad companies use to copy your personal data for advertising.
| | | | | |
| --- | --- | --- | --- | --- |
| Starting Price | Compatibility | Max Devices Supported | Free Trial/Plan | Money-Back Guarantee |
| $29/year | Windows, Mac, iOS, and Android | 6 Devices — Total Security Plan | A free scan | 30 days |
Pros
Has a built-in ad blocker for online security
Customize your cookies via a privacy manager
Offers a free scan to test the software
You can set up scheduled scans
Cons
Pricing
TotalAV's free scan is a great starting point for users who want to test the platform before committing to it. The most value-for-money plan will cost you a mere $29/year, protect as many as 3 devices, and give you PUA protection.

Try TotalAV risk-free today with the 30-day money-back guarantee. Don't like it? Get a full refund.
2. Surfshark — A Complete Security Package | Antivirus + VPN + Ad Blocker
Surfshark is truly an all-rounder. On the one hand, it protects your device from trojans, malware, and viruses, and at the same time, it comes with a VPN and ad blocker that prevents annoying pop-ups from ruining your browsing experience.
One of the biggest benefits of using Surfshark is its light on your device resources. Even when running 24/7, it won't consume much RAM or CPU power, enabling your device to run at its original speed and performance.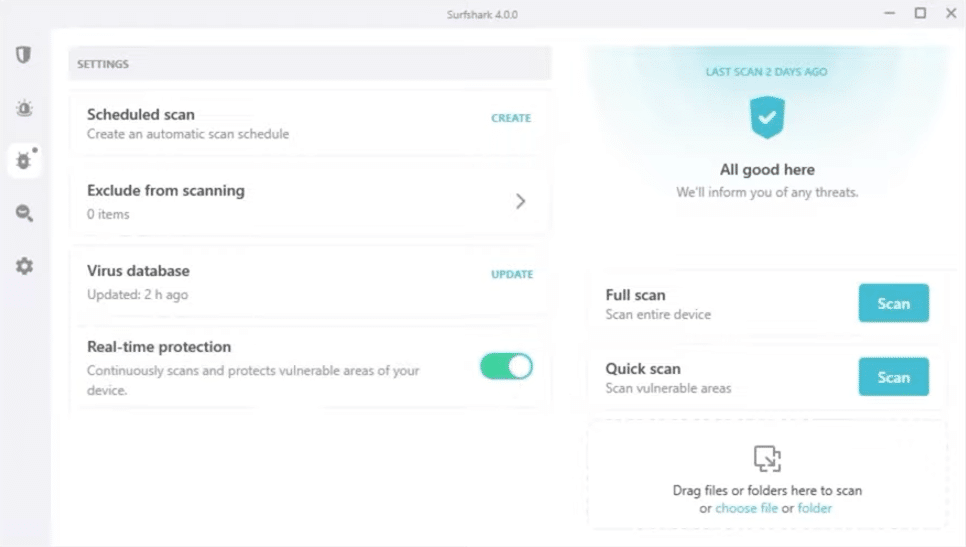 Speaking of its efficiency in blocking malware attacks, Surfshark has an outstanding record. For example, in a test conducted by AV-Tests, Surfshark blocked 99% of zero-day attacks. Overall, it got a rating of 4.⅚ — pretty awesome if you consider the current industry standards.
Speaking of scans, Surfshark offers the same three types: a quick scan, a full scan, and a custom scan. However, compared to its competitors, it completed all its scans at rocket speed. The full scan took about 25 minutes, whereas the quick scan only took 7 minutes.
Although the total scanning duration will depend on the number of files you have in your system, Surfshark is undoubtedly one of the fastest in the market.
Moreover, during these scans, it found at least 9 out of the 10 hidden malicious files we deliberately planted in the test device.
Another benefit of using Surfshark is scheduling a scan in advance. For example, if you want the scans to be done without your supervision or post your working hours, just set the time and date. The best part? It lets you scan up to 5 devices simultaneously, making it the perfect antivirus solution for families.
| | | | | |
| --- | --- | --- | --- | --- |
| Starting Price | Compatibility | Max Devices Supported | Free Trial/Plan | Money-Back Guarantee |
| $2.05/month — 2-year plan | Windows, Mac, iOS, and Android | 5 | Free scan | 30 days |
Pros
Comes with a handy CleanWeb feature
Scans files when they're being downloaded
Offers multi-hop connections
Comes with excellent VPN functions
Cons
Full scans slow down systems
Pricing
The fact that Surfshark is a VPN + antivirus combo already makes buying it a smart financial decision. Add its dirt-cheap pricing on top of this, and you get a security package that just can't be ignored.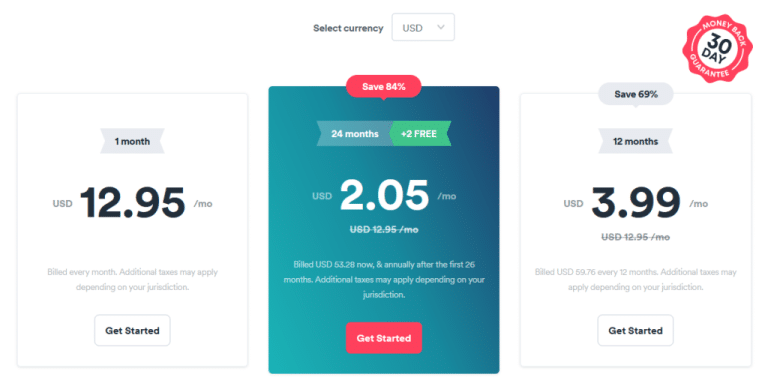 We also like how it's simply priced — all the plans are the same in terms of features, the only difference is the duration. Get started with Surfshark risk-free now with the 30-day money-back guarantee.
3. Norton — A Reddit Favorite Antivirus with Super-fast Scanning
Norton is one of the most popular antivirus solutions in the market, and the biggest reason for that is its versatility in threat detection. Whether it's simple spyware or catastrophic ransomware, Norton is well-equipped to handle all.
That said, Norton's virus scanner is recommended as one of the market's most powerful and efficient scanners thanks to its massive malware directory, machine learning capabilities, and heuristic analysis.
During our testing, we uploaded 700 files on the test device, out of which 200 were hiding a digital threat. Starting from simple viruses and malware to Trojan and Ransomware, it had it all. Results? Norton was able to detect 100% of threats instantly.
Its real-time protection feature is also equally impressive. We tried downloading a malicious file intentionally to see how Norton would handle the situation. The software immediately blocked the downloads.
On top of that, the dangerous files that were in zipped folders were prevented from being unzipped after a quick scan. In short, it's next to impossible for a malicious file to creep into your device with Norton's protection.
Another thing that we really liked about Norton was how fast its scans were. During our evaluation, the full scan only took about 35 minutes, which is fast compared to market standards, where a regular full scan can go on for as long as 2 hours or more.
Even then, if you don't have the time for a full scan, Norton lets you pick between a quick and custom scan — much like Surfshark. The quick scan will look into files where digital threats usually make a home, whereas the custom scan will comb files you find suspicious.
| | | | | |
| --- | --- | --- | --- | --- |
| Starting Price | Compatibility | Max Devices Supported | Free Trial/Plan | Money-Back Guarantee |
| $19.99/year | Windows, Mac, iOS, and Android | 5 devices — Deluxe plan | 7 days | 60 days |
Pros
Automatic file backups
Offers several parental control options
Smart AI-based vulnerability assessment
Offers webcam protection and dark web monitoring
Renowned for being one of the best Windows antiviruses
Cons
Pricing
Norton's starting package is cheaper than TotalAV's, but it'll cover just a single device instead of TotalAV's 3. Still, at just $19.99/year, if you get a cloud backup of 2GB, a password manager, and online threat protection, it's certainly worth a look.

Unsure? Sign up to Norton today with the 7-day free trial and whopping 60-day money-back guarantee. If you don't like it, cancel your subscription within this time to not lose a single penny.
4. Avast — The Best Free Antivirus Reddit Users Talk About
Avast is one of the big names in the antivirus industry. It keeps you safe from browser attacks and monitors your WebCam and external devices to further minimize the chances of a virus attack. With that said, one of the biggest reasons for Avast's massive user base is its generous free plan.
For $0, you can have Avast look out for malware and other digital threats in real-time. On top of that, it'll also scan your WiFi to look for vulnerabilities that can be exploited. It's worth mentioning that we love how lightweight it is, despite being free. You can have it running in the background continuously, and it won't impact your device's performance.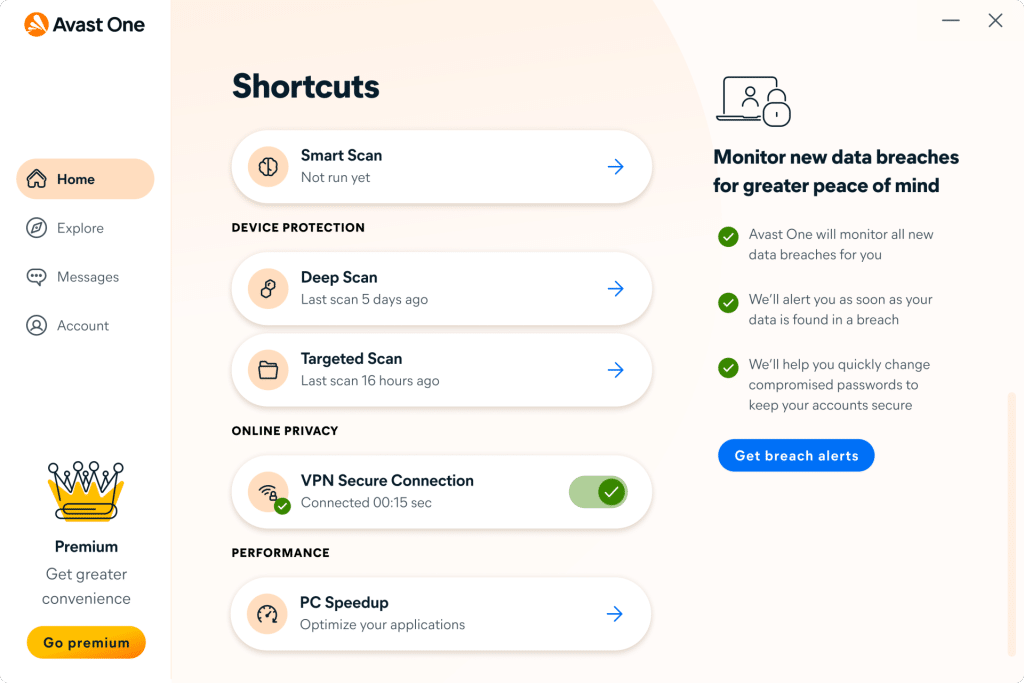 Third-party tests also back Avast's competency as an antivirus solution. For example, in a test conducted by AV-TEST, Avast showed a 100% accurate detection rate for both old malware and zero-day attacks. This earned it the "Top Product" certificate, the highest rank AV-TEST offers.
Beyond this, Avast is perhaps one of the only renowned antivirus software that protects your WebCam from hackers. WebCams are often used to record personal moments, which can be later used to blackmail the user for a ransom. But with Avast's protection, your WebCam remains 100% secure.
It also lets you scan external devices such as USBs, CDs, and DVDs for viruses. Since external devices are a popular source of virus attacks, Avast will only establish a connection once it's satisfied that the device is safe.
| | | | | |
| --- | --- | --- | --- | --- |
| Starting Price | Compatibility | Max Devices Supported | Free Trial/Plan | Money-Back Guarantee |
| $2.59/month | Windows, Mac, Android, iOS | 10 Devices — Premium Security plan | Free plan — Avast One Essential | 30 day |
Pros
Boot Time Scan removes stubborn spy apps
Real-time Wifi scanning and threat protection
Features one of the best firewalls
Has an entirely free plan
One of the top Android antiviruses
Cons
Paid plans can be expensive
Pricing
Avast's free forever plan will fetch you an advanced firewall, data leak alerts, ransomware protection, and more.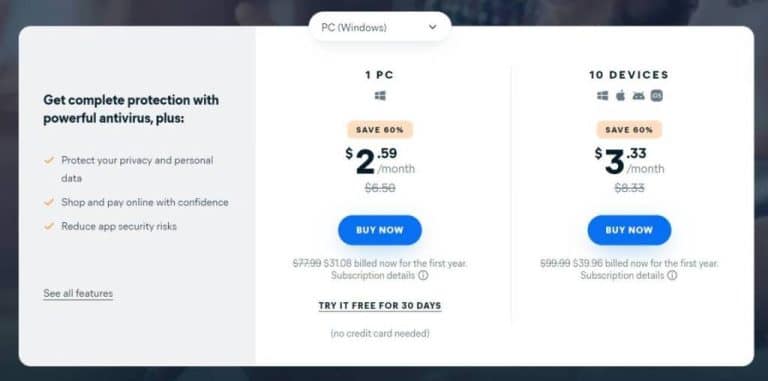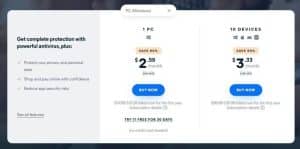 If you were to take our advice, we'd go for the Premium Security plan since it offers a VPN beyond extending protection to 10 devices.
5. McAfee — A Highly Recommended Reddit Antivirus for Real-Time Protection
McAfee is undoubtedly one of the top players in the market. Its biggest USP is fast scans for all types of scanning. For example, during our evaluation, the full scan only took about 30 minutes, whereas the quick scan was done within 5 minutes.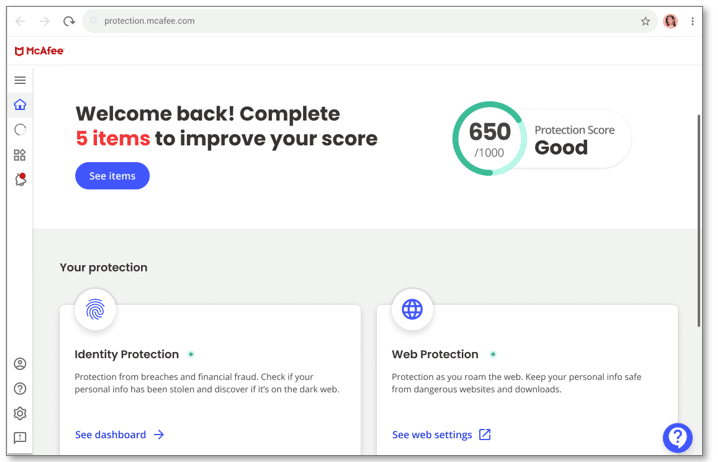 Beyond this, if you're suspicious about a particular file or folder, you can have them looked at through McAfee's folder scan. It's a much faster way to detect vulnerabilities than the full scan. That said, McAfee is also well-equipped to protect you against ransomware.
It does so by turning on an extra layer of protection with its Ransom Guard that monitors your device 24/7 without slowing down your browsing experience. Plus, like most reputed antivirus software, McAfee also comes with its own system cleaner — QuickClean.
It not only removes old and outdated files but, in the process, also reduces the risk of exploitation. After all, apps and files that are left abandoned for a long time often turn into breeding grounds for digital threats.
If you ever run into any trouble, McAfee offers enough tutorials and FAQs for beginners to get started. In fact, almost all common questions that you'll have in the beginning will be covered in this section.
Besides this, McAfee boasts great customer support, making it a solid option for beginners.
| | | | | |
| --- | --- | --- | --- | --- |
| Starting Price | Compatibility | Max Devices Supported | Free Trial/Plan | Money-Back Guarantee |
| $19.99/year | Windows, Mac, iOS, and Android | Unlimited — Family Premium plan | 30 days | 30 days |
Pros
The 'QuickClean' feature cleans out system junk
A score-based assessment for easy understanding
Offers a unique 100% virus protection pledge
Identity Monitoring of up to 10 email addresses
Cons
Not ideal for Mac devices
Pricing
McAfee's best offering is its Premium plan with security freeze functionalities, identity monitoring, and coverage for unlimited devices.

Try it risk-free today with the 30-day free trial now.
6. Eset — All-in-One Computer Security Tool
Eset isn't just antivirus software — it's an all-in-one system security and management tool. In addition to protecting your system from malware and viruses, it offers parental controls, VPN, and an in-built system cleaner.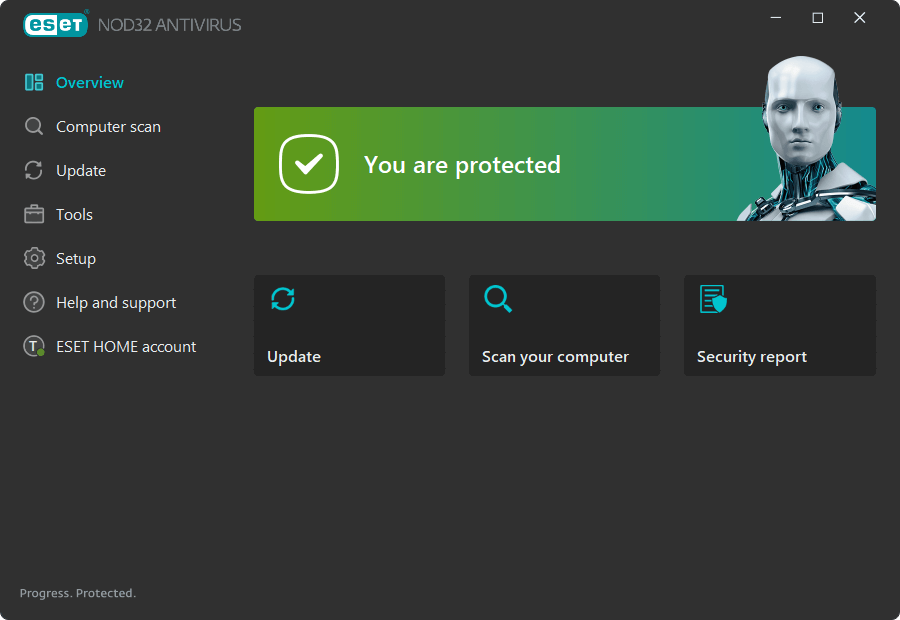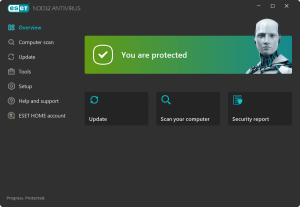 It offers three types of scanning options:
Full device scan to check every nook and corner
Quick targeted scan to only check files you're suspicious of
A removal device scan for USBs and CDs
Eset showed excellent malware detection rates during our tests in all the above-mentioned scans. In fact, under the full scan, it detected all the 100 malware-infected files we placed in the test device.
Another Eset feature that we found really helpful was its highly intuitive firewall. You can either put it on an auto-mode, where Eset will decide which traffic sources need to be blocked, or you can put it on interactive mode, where you can choose which to block and allow. On top of that, the firewall also comes with a learning mode wherein it creates custom rules based on your activities.
| | | | | |
| --- | --- | --- | --- | --- |
| Starting Price | Compatibility | Max Devices Supported | Free Trial/Plan | Money-Back Guarantee |
| $39.99/year | Windows, Mac, and Android | 1 | 30 days | 30 days |
Pros
The anti-theft tool helps recover stolen devices
Easy to set up and light on system resources
Allows scheduling several security tasks
Effective background operations
Cons
Detection rates need improvement
Pricing
Eset has many pricing options, and you can select one depending on the number of devices you want to protect and the duration of your plan. You'll like how the plans are separated based on whether you need protection for your home or work devices: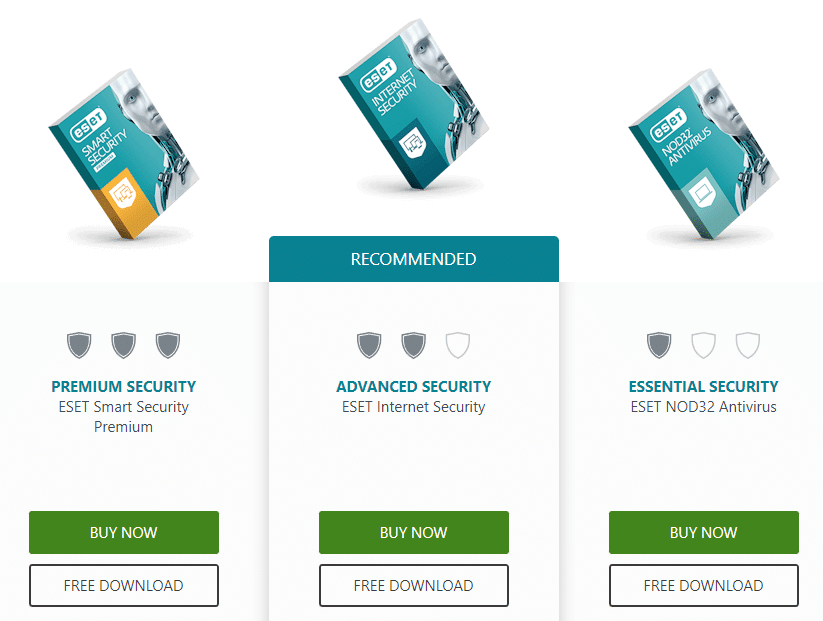 There's a 30-day free trial and a money-back guarantee if you find Eset isn't your cup of tea.
7. Avira — One of the Best Antivirus Apps with Multiple Types of Scans
Avira is best known among users for its generous free plan. For no cost, the free plan will provide you with real-time protection, monitoring, and updates so that both your device and the antivirus system are on their best form — ready to fight all kinds of threats.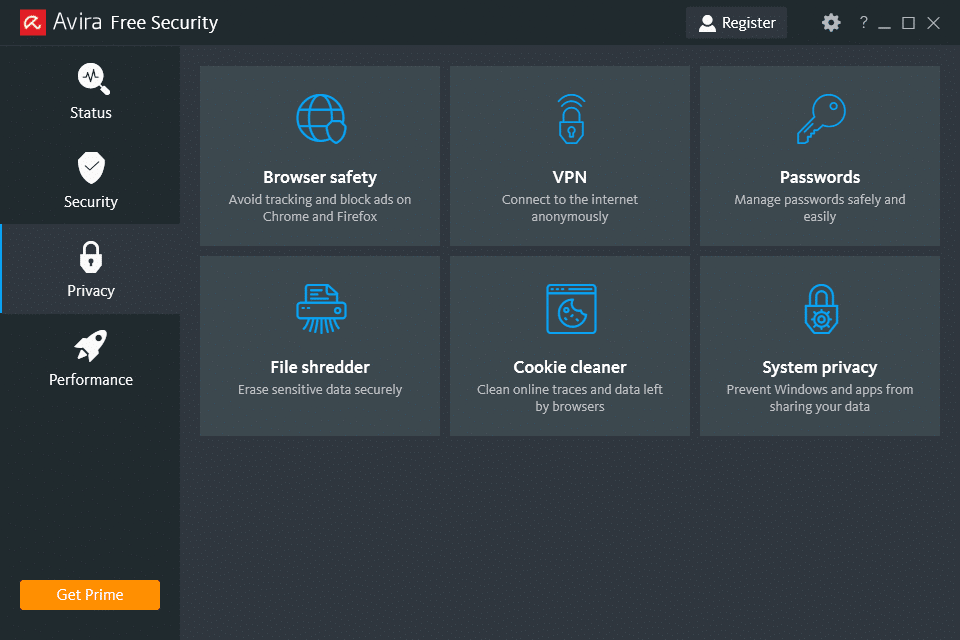 Avira's efficiency isn't just an individual claim but is backed by third-party testing. For example, in a test conducted by AV Tests, Avira got a perfect score in all three parameters — Usability, Protection, and Performance.
In another series of tests conducted by AV-Comparatives, Avira not only ranked as one of the safest antivirus solutions but also got an Advanced+ rating, the highest rating offered by AV-Comparatives.
That said, one of Avira's biggest USPs is an automated software updating tool that looks out for old and outdated tools and updates them to minimize the risk of exploitation.
| | | | | |
| --- | --- | --- | --- | --- |
| Starting Price | Compatibility | Max Devices Supported | Free Trial/Plan | Money-Back Guarantee |
| $26.99 for the first year | Windows, Mac, Android, iOS | 5 | Free plan and free trial | 60 days |
Pros
Offers a forever plan
Optimizes system battery usage
No runtime system slowdowns
Compatible with most systems
Cons
Sluggish customer support
Pricing
Although limited in its capability, Avira's free plan is still a decent pick for individuals with basic protection needs. For $0, it offers a 500Mb/month VPN and an Update Scanner.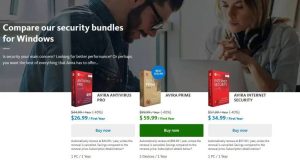 Would you also like real-time data breach alerts, an unlimited VPN, and automatic cleaning and updates? Go for a premium plan.
8. Kaspersky — A Family-Friendly Reddit Antivirus Suggestion to Protect Up to 20 Devices
Kaspersky has an excellent virus scanner, making it one of the most efficient antivirus solutions, with fast detection and almost zero false alarms. Depending on your plan, it can simultaneously protect 3 to 20 devices, making it a go-to choice for families.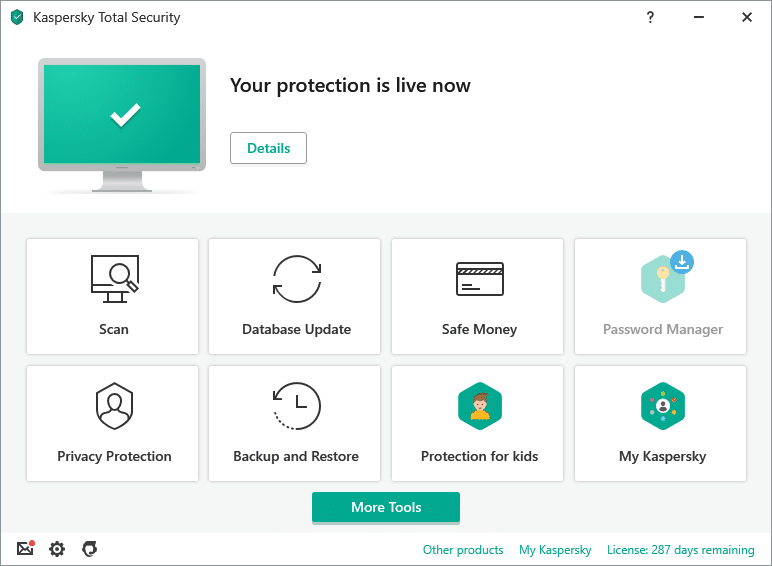 Its ever-growing virus database makes Kaspersky efficient in identifying and removing malware from any device. Once a file that could be potentially harmful comes onto its radar, it'll quickly upload it to its cloud database for further analysis and then use machine learning to check if it's actually malicious.
Whatever the result, it's stored in its database for good so that the next time something similar occurs, it can find fault faster. Last but not least, Kaspersky also has parental control features and a robust VPN, much like the other providers on our list.
| | | | | |
| --- | --- | --- | --- | --- |
| Starting Price | Compatibility | Max Devices Supported | Free Trial/Plan | Money-Back Guarantee |
| $16.99/year | Windows, Mac, Android, iOS | 20 devices — Premium plan | No | 30 days |
Pros
No unnecessary pop-ups
Fast, powerful, and effective low-resource scans
Tracks app changes to detect malicious activity
A well-laid-out Security Center makes system management easy
Cons
The controls seem a bit clunky
Pricing
While the Kaspersky Standard plan is good, we recommend the Premium one since it offers a parental control app and can simultaneously protect up to 20 devices.


Try Kaspersky risk-free with the 30-day guarantee to see if it's your cup of tea.
9. Intego — The Best Antivirus for Mac
Intego is the perfect antivirus software for those looking for a product specially designed to protect Mac devices. The antivirus program is available under the VirusBarrier package and is best known for its lightning-quick real-time protection and excellent threat detection rates.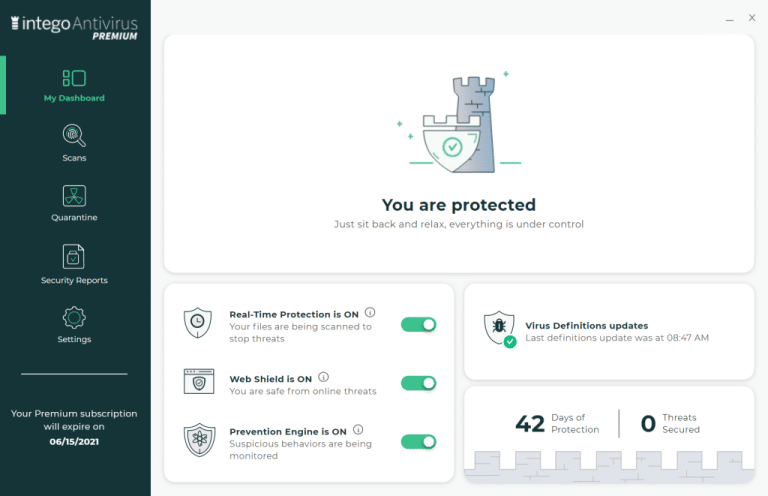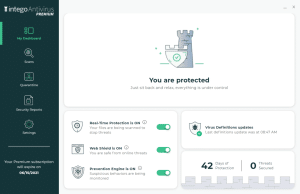 In all tests conducted by AV-Comparatives, Intego consistently scored well and identified many different types of digital threats. Once Intego identifies a potentially dangerous file, it'll immediately quarantine it so that the virus doesn't spread to the other files on your system.
The only thing we didn't like about Intego's Mac version is that each antivirus task has a separate app. This means instead of handling one app; you'll have to manage up to 6 at a time. Although we're not a fan of it, dividing up the responsibility among different apps actually makes it easier for beginners to use them.
Also, note that Intego also has an antivirus solution for Windows users. However, it's not as feature-rich as some of the other solutions on the market, or even its own Mac-specific antivirus, for that matter. That said, we recommend it for Mac users.
| | | | | |
| --- | --- | --- | --- | --- |
| Starting Price | Compatibility | Max Devices Supported | Free Trial/Plan | Money-Back Guarantee |
| $19.99/year | Mac, Windows | 5 | 30 days | 30 days |
Pros
Comes with a handy File Cleaner
Excellent real-time malware protection
100% malware immunity pledge
Offers several parental controls
Cons
Pricing
Since Intego has different products for Mac and Windows, their pricing is also different. The best Mac plan is the Mac Internet Security X9 plan, but you can also pick the premium bundle as it comes with parental controls and will boost your system.


On the other end, Intego's Family plan will offer the best bang for your buck for Windows.


10. TrendMicro — An AI-Powered Antivirus that Redditors Trust
TrendMicro is a popular antivirus solution that's best known for multi-platform support. In fact, two of its products also support Chrome OS, which is a rare feature in antivirus software.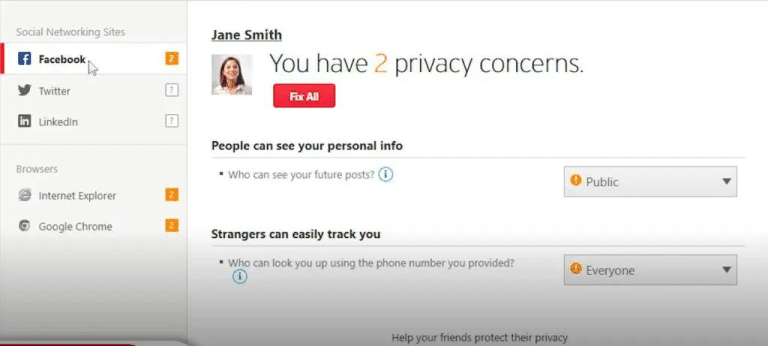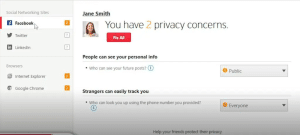 It uses AI powers to detect the presence of viruses or other digital threats in your device. Even if they're hiding in seemingly safe files, TrendMicro will definitely dig them out.
We recommend TrendMicro for its impeccable Folder Shield. You can use this feature to cast an extra layer of protection on your most important files that you can't lose at any cost. This works on both locally stored files and the ones on the cloud.
In some of its higher-priced plans, TrendMicro also offers additional features such as VPN to access the web safely and anonymously as well as a password manager to take off the burden of remembering passwords from you — all in all, makes for a compelling security solution for your device across many fronts.
| | | | | |
| --- | --- | --- | --- | --- |
| Starting Price | Compatibility | Max Devices Supported | Free Trial/Plan | Money-Back Guarantee |
| $19.95/year | Windows, Mac, Android, and iOS | Unlimited | Yes | No |
Pros
Several data breach alerts
Offers a password manager
Safeguards your payment information
Offers email phishing scam prevention
Cons
Customer support is sluggish
Pricing
The free version of TrendMicro — HouseCall — comes with custom scanning options, detailed reports, and analysis of the threats found during scans. Definitely try HouseCall to get the hang of the platform.


Once convinced, you can move to a paid plan, the best of which is the Antivirus+ Security plan, particularly because it offers protection from emails with malicious codes and links.
Best Reddit Antiviruses Compared
Here's a crisp table highlighting the key differences between our top picks so you can make a quick, effective decision on the best Reddit antivirus pick based on your needs and budget:
| | | | | | |
| --- | --- | --- | --- | --- | --- |
| Antivirus | Starting Price | Compatibility | Max Devices Supported | Free Trial/Plan | Money-Back Guarantee |
| TotalAV | $29/year | Windows, Mac, iOS, and Android | 6 Devices — Total Security Plan | A free scan | 30 days |
| Surfshark | $2.05/month — 2-year plan | Windows, Mac, iOS, and Android | 5 | Free scan | 30 days |
| Norton | $19.99/year | Windows, Mac, iOS, and Android | 5 devices — Deluxe plan | 7 days | 60 days |
| Avast | $2.59/month | Windows, Mac, Android, iOS | 10 Devices — Premium Security plan | Free plan — Avast One Essential | 30 days |
| McAfee | $19.99/year | Windows, Mac, iOS, and Android | Unlimited — Family Premium plan | 30 days | 30 days |
| Eset | $39.99/year | Windows, Mac, and Android | 1 | 30 days | 30 days |
| Avira | $26.99 for the first year | Windows, Mac, Android, iOS | 5 | Free plan and free trial | 60 days |
| Kaspersky | $16.99/year | Windows, Mac, Android, iOS | 20 devices — Premium plan | No | 30 days |
| Intego | $19.99/year | Mac, Windows | 5 | 30 days | 30 days |
| TrendMicro | $19.95/year | Windows, Mac, Android, and iOS | Unlimited | Yes | No |
Is an Antivirus Necessary in 2023? | Key Benefits
Yes, antivirus software is still necessary for 2023. Cybercriminals are still constantly developing new viruses, spyware, ransomware, and other malicious software to compromise the security of computers and other devices.
In fact, there's a cyberattack every 39 seconds. If that isn't enough proof that you need one, here are some key benefits of using antivirus software:
Protection Against Malware
Antivirus software is designed to protect your device from malware, which includes any malicious software that can cause harm to your system. Malware can infect your device in many ways, including through downloads, attachments, email links, and even websites. Antivirus software can detect and remove malware before it can wreak havoc on your device or compromise your data.
Safe Web Browsing
Recent statistics show that 12.8 million websites are infected with malware worldwide. Antivirus software can protect you while browsing the internet, and many also include browser extensions that can help block malicious websites and alert you to potentially dangerous sites. These extensions can also prevent you from clicking on links that lead to malicious sites to prevent phishing attacks and other forms of cybercrime.
Firewall Protection
A firewall is a security feature that helps prevent unauthorized access to your device or network. Some antivirus software includes a firewall that can help protect your device from hackers and other cybercriminals. The firewall can monitor incoming and outgoing traffic and block any suspicious activity.
Automatic Updates
Cyber threats constantly evolve, so antivirus software is updated regularly to avoid new threats. These updates are typically automatic, so you don't have to update your software manually. The updates can include new virus definitions, security patches, and other improvements that help keep your device protected.
This is why third-party antivirus solutions like those we've reviewed here are trusted over built-in Mac, Windows, and mobile threat detectors. These aren't updated frequently enough to ensure protection from new and emerging threats.
Why Should I Trust Reddit Recommendations for Antiviruses?
If you're questioning the reliability of Reddit recommendations for antivirus software, consider these factors that demonstrate why it's a wise decision:
Real Users Provide Genuine Feedback
Since Reddit is a user-generated content platform, the reviews and comments about antivirus software are likely to be authentic and unbiased. By reading comments from real users, you can gain insight into their experiences with different antivirus software and make an informed decision.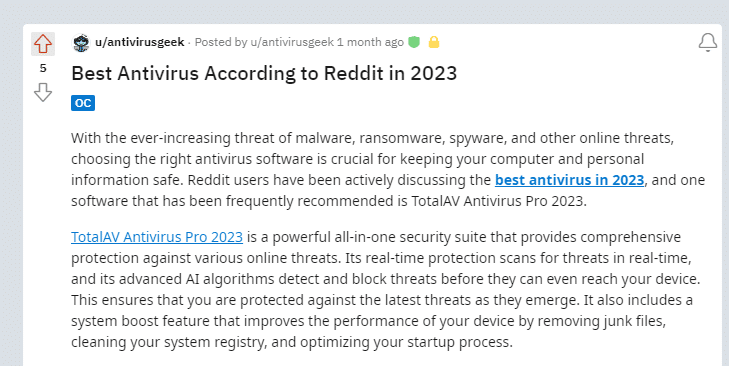 Redditors Are Candid In Their Opinions
Reddit is known for its frank discussions. Redditors aren't afraid to share their opinions, even if it goes against the popular narrative or the marketing claims of antivirus companies. This means you'll likely find genuine reviews of antivirus software on Reddit.

Beyond this, they won't hesitate to express dissatisfaction if a product doesn't meet their expectations. Therefore, if an antivirus software provider receives a positive review on Reddit, you can be confident that the software is reliable and meets high standards.
Fake Posts Are Easy to Spot
Although some fake reviews or sponsored comments can be found on Reddit, they're usually easy to spot. One way to identify fake posts is to look at the user's posting history. If the user has only made comments on a particular brand or product, it could be a sign of a fake account or a paid comment.
You can stay informed about which antivirus providers to avoid and which ones are worth considering through Reddit user recommendations and user experiences.
Do Reddit Users Think Free Antiviruses Are Good?
When it comes to free antivirus software, Reddit users have varying opinions. While some comments suggest that free antivirus can provide adequate basic protection, the consensus leans towards paid options being more effective due to their additional features and tighter security.
In today's world, where cyber threats are becoming increasingly sophisticated, it's not worth risking your digital safety to save a few dollars. Redditors are generally not impressed with antivirus software that offers insufficient security, is too expensive, or slows down their system. TotalAV and Surfshark are two antivirus providers that have received positive feedback from Reddit users.
How to Choose the Best Reddit-Recommended Antivirus for You
When selecting the best Reddit-recommended antivirus program for your needs, you should consider the following factors:
Features
When choosing the best Reddit-recommended antivirus, consider the features that are important to you. Look for antivirus software that offers comprehensive protection against various malware types, including viruses, spyware, and ransomware. Look for features such as real-time scanning, automatic updates, and anti-phishing protection.
Ease of Use
Another essential factor to consider is the ease of use. You want antivirus software that's easy to install and configure, with a user-friendly interface that makes it simple to perform scans and manage your settings. Look for software that offers intuitive controls and clear instructions, so you can get up and running quickly.
Read Reviews and Comparisons
Finally, read reviews and comparisons of different antivirus software options. Check out Reddit threads and other online resources to see what other users say about their experiences with various antivirus programs.
Look for reviews that discuss the software's effectiveness, ease of use, and overall value for the price. Comparing different options can help you make an informed decision and find the best antivirus software for your needs.
To help, we've done this step for you. Read the reviews or comparisons again to find the best Reddit-recommended antivirus for you.
Antivirus Reddit FAQs
What is the best antivirus according to Reddit?
Is Norton better than Kaspersky?
Should I get a free or paid antivirus?
What's the best free antivirus Reddit 2023?
What's the worst antivirus according to Reddit users?
Conclusion | What's the Best Antivirus Reddit Users Recommend in 2023?
Our picks for the best Antivirus compile a comprehensive list of the top antiviruses for your system based on Reddit recommendations and feedback. Whether you need an antivirus for your personal needs or one for your business with several device access, we have one for all.
That said, TotalAV is the perfect all-rounder, irrespective of your needs. With unmatched real-time protection, fast scans, high detection rates, and excellent customer support, TotalAV is the only antivirus you'll ever need. Don't believe us yet? Try TotalAV yourself with a free scan now.