The best spyware remover tools come with robust malware, spyware, and ransomware protection features that scan your system for malicious entities and neutralize them before they can steal any personal data or corrupt any apps. With these spyware detectors, you can rest assured you'll have a safe browsing experience.
However, with so many options, choosing one is difficult. That's why we've found and reviewed the 10 best spyware removal tools based on criteria like affordability, detection rates, system compatibility, and customer support. Dig in to learn what makes each one unique to find the one best suited to your needs and budget.
Our Results — The 10 Best Spyware Removal Tools Ranked
TotalAV stands out as the best spyware remover on our list due to features like real-time monitoring, smart data breach scanning, and the remote firewall. Having said that, other spyware removers on our list are just as capable. Here's a look:
What Are the Common Typеs of Spywarе and Malwarе?
Spyware and malware are malicious software designed to infiltrate and harm your device or steal sensitive information. Here are some common types of spyware and malware:
Adware: This type of malware displays unwanted advertisements on your device, often pop-ups or banners. While not always harmful, it can be annoying, dampening your browsing experience.
Trojan Horse: These are disguised as legitimate software, tricking users into installing them. Once installed, they can perform various malicious actions, such as stealing data or providing unauthorized access to the attacker.
Potentially Unwanted Applications (PUAs): These are programs that may not be outright malicious but are often unwanted due to their behavior, such as aggressive advertising, tracking, or changing browser settings without clear consent.
Spyware: Spyware is designed to gather information about a user's activities without their knowledge. It can monitor keystrokes, record browsing habits, and collect sensitive data.
Worms: This self-replicating malware spreads across networks and devices without user interaction. They can exploit security vulnerabilities to infect systems.
Ransomware: These threats encrypt the victim's files and the attacker demands a ransom payment for a decryption key. It's devastating, resulting in data loss or significant financial harm.
Rootkits: This online threat is designed to hide their presence on a compromised system by modifying system files or processes. They often grant unauthorized access to attackers.
How Accuratе Arе Malicious Softwarе Rеmoval Tools?
Malicious software removal tools have proven highly accurate and effective in identifying and eliminating many threats. Our selection of the market's top solutions has been meticulously curated.
We focused on those consistently demonstrating exceptional performance in our internal testing and independent evaluations conducted by renowned security testers, such as AV-TEST and AV-Comparatives.
We've taken great care to hand-pick removal tools that have a proven track record of delivering outstanding results, including 100% malware detection rates and solid marks on core aspects such as performance, usability, and protection (as per AV-Test.org).
They swiftly identify patterns and behaviors associated with malicious software with advanced algorithms, signature databases, and heuristic analysis, enabling them to detect known and emerging threats to provide comprehensive defense against potential attacks.
While no tool can guarantee absolute protection, thorough testing, continuous updates, and proven track records ensure that the top malicious software removal tools are effective at maintaining a secure digital environment for their users.
Compare the Best Spyware Removal Software in 2023
Here's a quick look at all of our top picks, along with the key differences between them, so that you can make a quick yet effective decision:
| | | | | | |
| --- | --- | --- | --- | --- | --- |
| Spyware Removers | Starting Price | Free Version | Devices Covered/Subscription | Recent Test Score | Device Compatibility |
| TotalAV | $29/year (2.42/month) | Free scan | 6 | 100% hidden malware detection | Windows, MacOS, iOS, Android |
| Surfshark | $59.76/year ($2.49/month) | Free scan | 5 | 4.5/6 protection, 4.5 performance, 6/6 usability | Windows, MacOS, Android |
| CyberGhost | $56.94/year ($2.19/month) | 24-hour trial for desktop | 7 | 5.5/6 protection, 5/6 performance, 6/6 usability | Windows |
| Norton | $49.99/year ($4.16/month) | 7-day free trial | 5 | 6/6 for protection, performance, and usability | Windows, MacOS, iOS, Android |
| Nord | $123.93/year ($4.59/month) | No | 6 | No Independent Tests | Windows, macOS, Android, iOS, Linux, Chrome, Firefox, Edge |
| TrendMicro | $19.95/year ($1.66/month) | Free forever plan | Unlimited | 6/6 for protection, performance, and usability | Windows, MacOS, iOS, Android |
| Intego | $19.99/year ($1.67/month) | 7-day free trial | 5 | 5.5/6 protection, 5/6 performance, 6/6 usability | Windows, Mac |
| Avast | $34.68/year ($2.89/month) | Free forever plan | 10 | 6/6 for protection, performance, and usability | Windows, MacOS, iOS, Android |
| Avira | $26.99/year ($2.25/month) | Free forever plan | 5 | 6/6 for protection, performance, and usability | Windows, Mac, Android |
| McAfee | $29.99/year ($2.49/month) | 30-day free trial | Unlimited | 6/6 for protection, performance, and usability | Windows, Mac, iOS, and Android |
The Market's Top Spyware Detectors Reviewed
Eager to get your hands on the best antivirus software and spyware detectors for complete online and system security? Read on as we'll now discuss in detail each of our top picks, including their best features, pros, cons, and pricing. Ready?
1. TotalAV — Overall, the Best Spyware Remover With Real-Time Monitoring
TotalAV is a popular antivirus solution and is best known for its 100% free spyware and malware removal tool. The tool is well-equipped to dig out digital threats, no matter where they're hiding.
And it's not just a claim, in pretty much every TotalAV VB100 test, the software got a perfect score and managed to find 100% of the hidden malicious files. Also, there were zero false positives.
It can also protect you against Ransomware, one of the deadliest digital threats to ever exist, where a hacker steals or locks your personal files and asks for a ransom to restore your access to them.
Each TotalAV plan, including the free one, comes with real-time device monitoring., ensuring that the spyware will be detected and neutralized even before it enters your system.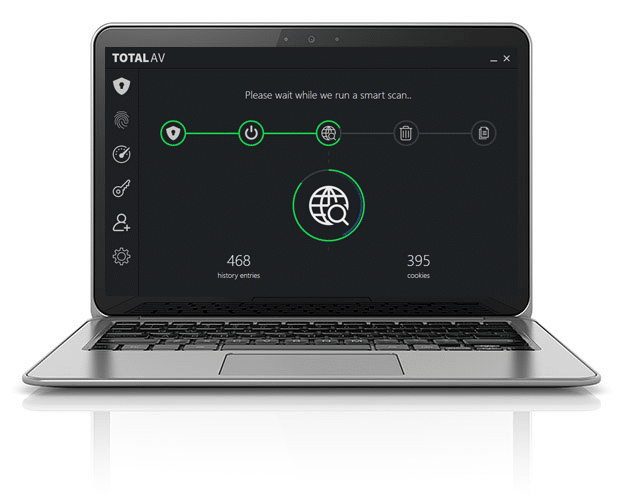 | | | | | |
| --- | --- | --- | --- | --- |
| Starting Price | Free Version | Devices Covered/Subscription | Recent Test Score | Device Compatibility |
| $29/year (2.42/month) | Free scan | 6 | 100% hidden malware detection | Windows, MacOS, iOS, Android |
To keep your existing files safe, you can also run routine scans on your system. Under device scanning, the feature that stood out to us was Rare File Alert. As you can guess, it alerts you when a rare file shows up during a scan.
Usually, spyware sneakily downloads malicious files or software on your device. In case there is one, you'll be notified immediately, and TotalAV will seek permission to look further into it before figuring out how to neutralize it.
These features make it almost impossible for spyware to steal your data. But if they still manage to somehow do it, TotalAV's Data Breach Monitoring feature will be on the lookout and notify you if it finds your email and passwords online.
Pros
You can schedule scans as per your needs
Unlimited bandwidth VPN with paid plans
Unparalleled real-time protection
Works simultaneously on six devices
Cons
Limited features on the free plan
2. SurfShark — A Well-Rounded Spyware Remover With Webcam Protection
Surfshark's affordable and user-friendly antivirus software also comes with a VPN included in every plan, and to protect your device from spyware, Surfshark offers 24/7 monitoring, a lot like TotalAV.
Each program is scanned in real-time while you're downloading or installing them. This way, if they're really hiding spyware, the threat can be neutralized before any damage can be done.
Also, Surshark updates its database every 3 hours. This means that no matter what type of spyware is introduced to the market or how new they are, Surfshark has a record of it in its database.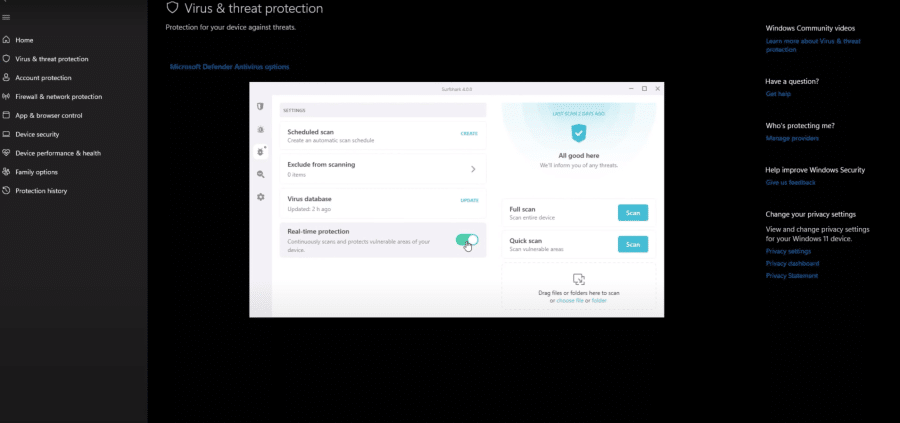 | | | | | |
| --- | --- | --- | --- | --- |
| Starting Price | Free Version | Devices Covered/Subscription | Recent Test Score | Device Compatibility |
| $59.76/year ($2.49/month) | Free scan | 5 | 4.5/6 Protection, 4.5 Performance, 6/6 Usability | Windows, MacOS, Android |
Hence, it'll be able to identify the spyware easily and know exactly how to destroy it. What sets Surfshark apart from TotalAV is the additional Webcam protection feature.
Usually, spyware tries to access your webcam to record your intimate moments that can later be used for extortion. But with Surfshark, your webcam will be locked to external users.
And if an app still tries to access it without your permission, you'll be notified immediately. Beyond all this, people who access too many unknown sites are often at a greater risk of spyware attacks.
That's why Surfshark lets you create and manage a unique online alias with a different name, email, and date of birth. It'll act as a shield and deviate the spyware from your original credentials.
Pros
Comes with a private search engine
Handy features like 'Split Tunneling' and 'CleanWeb'
You can run scheduled and customized scans
Private data exposure alerts
Cons
The ID check isn't available in all countries
3. CyberGhost — Malware Scanner That Comes With a World-Class VPN
CyberGhost's antivirus, CyberGhost Security Suite, is available as an add-on to its robust VPN and is a perfect sidekick for complete Windows protection. It offers complete 24/7 protection against trojans, spyware, ransomware, adware, and other threats.
To start with, we loved CyberGhost's centralized dashboard. As Windows has loads of privacy settings scattered throughout the system, finding and fine-tuning each one takes a ton of time and expertise.
CyberGhost assembles 76 of these key settings in one place so that you can customize them as per your needs.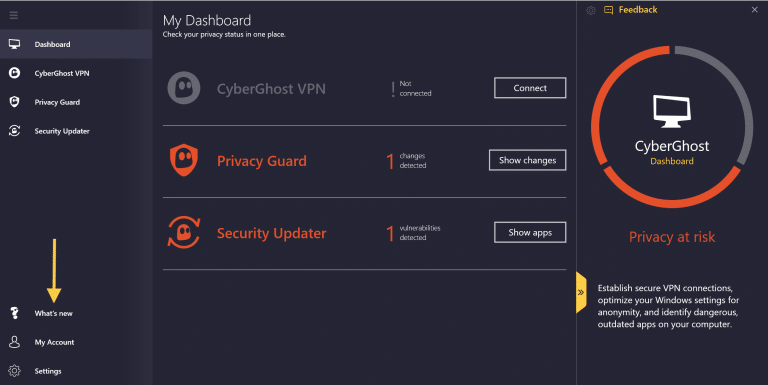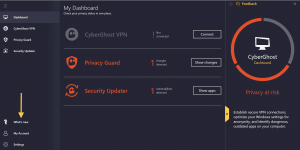 | | | | | |
| --- | --- | --- | --- | --- |
| Starting Price | Free Version | Devices Covered/Subscription | Recent Test Score | Device Compatibility |
| $56.94/year ($2.19/month) | 24-hour trial | 7 | 5.5/6 Protection, 5/6 Performance, 6/6 Usability | Windows |
CyberGhost has partnered with Intego to include antivirus solutions on its VPN apps. Its dashboard is pretty similar to its VPN wing, with a clean modern UI.
You'll be able to track all recent scans, quarantine files, and other updates straight from the dashboard. You'll also find an update scanner that'll let you know when apps need an update.
The reports tell you how many files were scanned and the number and type of threats found, quarantined, and neutralized. This comes in handy to locate files that have been causing trouble.
It's also worth noting that CyberGhost's VPN has been independently audited, proving its security claims are watertight. Beyond this, it uses Intego, which boasts a near-perfect score of:
5.5/6 for protection
5/6 for performance, and
6/6 for usability
It's safe to say that CyberGhost's security is solid. It ranks higher than Intego alone, as it's paired with the top-notch VPN.
Pros
One of the best Windows antiviruses with centralized settings
Comes with a reliable VPN with 9,200 servers
Works on 7 devices simultaneously
Very cheap, especially if you take the 2-year plan
Cons
Relies on third-party collaboration, no in-house antivirus
4. Norton — An Anti Spyware Solution With a 100% Virus Protection Promise
What we absolutely love about Norton is its in-house expert assistance. From the moment you purchase a plan, a security expert is assigned to you who can access your device remotely to remove any viruses that might have slipped in.
Moreover, Norton's 100% Virus Protection Promise is the perfect cherry on the cake. This essentially means that if, for any reason, the expert is unable to solve the security issue, Norton will refund your money — a great testament to the provider's security.
If you're someone who's frequently on video calls, you'll love Norton's SafeCam feature. Most spy apps stay hidden on your system and may access your webcam. SafeCam monitors your camera, immediately blocks spyware, and notifies you of the same.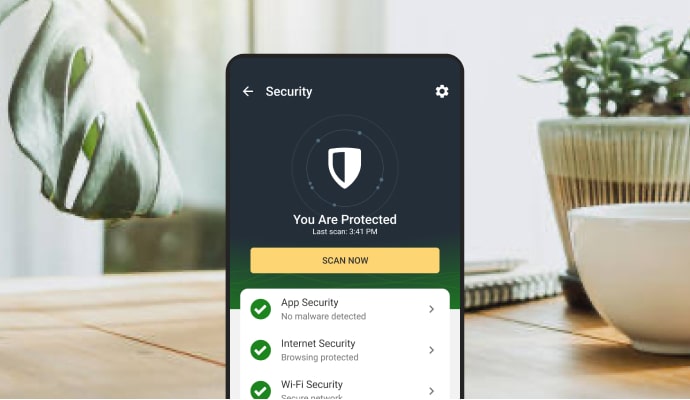 | | | | | |
| --- | --- | --- | --- | --- |
| Starting Price | Free Version | Devices Covered/Subscription | Recent Test Score | Device Compatibility |
| $49.99/year ($4.16/month) | 7-day free trial | 5 | 6/6 for protection, performance, and usability | Windows, MacOS, iOS, Android |
Norton's firewall is also different from others. The Norton Smart Firewall monitors all traffic received and sent from your device to protect your personal files from malicious attacks and intrusive eyes.
Plus, its real-time social media monitoring comes in handy for social bees. Norton highlights malicious links on Twitter, Facebook, and web-based emails, ensuring that you can browse your social platforms without the fear of being watched.
You can test all these features and more with the generous 60-day money-back guarantee — the longest in the industry. Plus, you also get a 7-day free trial.
Pros
Comes with a secure VPN from the Standard Plan onwards
Offers a password manager on all plans
Comes with an advanced firewall
Real-time social media monitoring
Cons
Consumes a lot of computing resources
5. Nord — Popular Spyware Detector With Real-Time Download Scans
Nord Threat Protection is an add-on service you get with NordVPN — one of the best VPN apps in the industry, with over 5,500 servers in 70 countries offering class-leading privacy, speed, and access to geo-restricted content from around the world.
Threat Protection scans files you download online for malware — after all, that's the major source of threat for your system. If it finds any suspicious files, it deletes them before it can wreak havoc on your system.
Websites you visit are often full of third-party trackers, too. These keep an eye on your online activity to target you with intrusive ads. Nord Threat Protection blocks these trackers so that you can enjoy high levels of privacy when browsing online.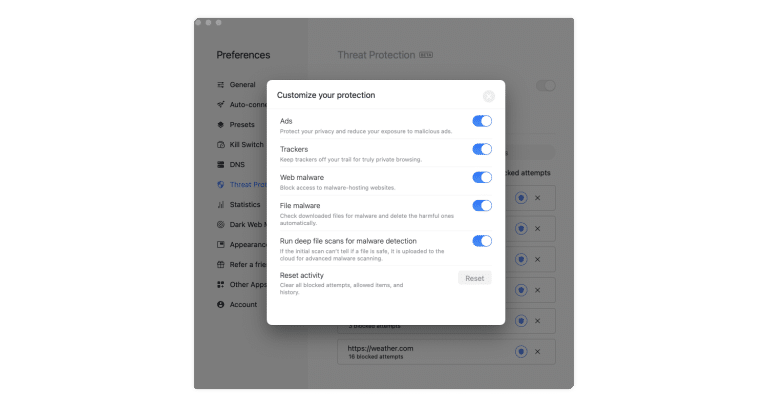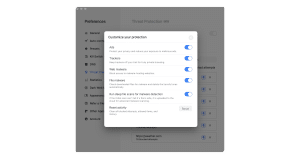 | | | | | |
| --- | --- | --- | --- | --- |
| Starting Price | Free Version | Devices Covered/Subscription | Recent Test Score | Device Compatibility |
| $123.93/year ($4.59/month) | No | 6 | No Independent Tests | Windows, macOS, Android, iOS, Linux, Browsers |
Similarly, many websites are filled with intrusive ads that can often be riddled with malicious spyware and malware. Nord Protection blocks these ads even before they get a chance to load completely, ensuring you can enjoy an ad-free browsing experience.
Nord's malware protection comes in two versions — Threat Protection and Threat Protection Lite. Threat Protection works on Windows and MacOS and doesn't require a working VPN, whereas the Lite works on mobile and requires a VPN connection.
Nevertheless, enabling Nord's threat protection is a breeze. You simply need to open the Nord app, click the shield icon, and toggle the Threat Protection switch on. What's more, you can try all these features with the backing of a 30-day money-back guarantee.
As with CyberGhost, Nord Threat Protection may lack independent tests at the time of writing, but it's from a brand renowned for its online security — Plus, tests conducted on the VPN and password manager have proven it's undoubtedly a safe protection solution.
Pros
Online privacy-focused spyware remover
Detailed 7-day protection summary
URL trimming removes trackers in links
Comes with useful browser extensions
Cons
No scheduled full system scans
6. TrendMicro — A Reliable Malware Scanner for Complete Network Security
The TrendMicro spyware remover comes packaged with a service called HouseCall. The best part about HouseCall is that it's completely free and easy to set up.
You simply need to run the software and click on Start Scan, and although it lacks real-time monitoring, it more than makes up for it with its Custom Scan option, where you can select specific locations to run a spyware scan on.
Let's say you've just downloaded a bunch of files and want to ensure they're free from any malicious elements. You can run a scan just on those downloaded files — you won't have to spend time scanning the entire system.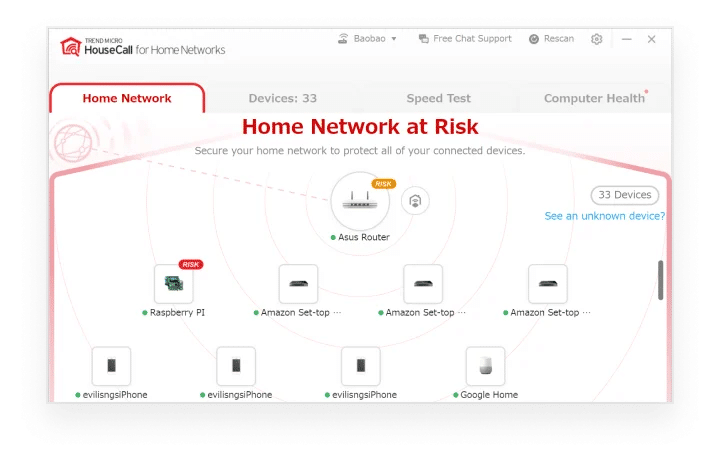 | | | | | |
| --- | --- | --- | --- | --- |
| Starting Price | Free Version | Devices Covered/Subscription | Recent Test Score | Device Compatibility |
| $19.95/year ($1.66/month) | Free forever plan | Unlimited | 6/6 for protection, performance, and usability | Windows, MacOS, iOS, Android |
What we love about TrendMicro is its Smart Protection Network. TrendMicro is an ever-evolving spyware remover that learns from every device in its network, noting all threats previously removed on devices using TrendMicro.
It leverages this information to remove any future threats on devices on its network, and its 100% AV-Test score for zero-day malware detection just goes to prove the effectiveness of its network.
This means that as more and more devices join its network, the spyware remover becomes more adept with the latest spyware and malware.
The best part is that TrendMicro doesn't collect any personal information while gathering threat data from devices, and it scans all devices connected to your home network for spyware and malware and removes them immediately.
Pros
A free forever antivirus solution
Doesn't collect any personal data
Supports unlimited devices
Offers URL-level detection
Cons
No full scans
No firewall protection
7. Intego — Offers the Best Malware Removal for Mac
Intego does an excellent job protecting Windows and Mac devices from malicious malware, spyware, and other security threats. If you're looking for an antivirus solution exclusively for your PC, Intego is a solid pick.
However, Android and iOS devices are still out of Intego's purview. That said, we absolutely love Intego's location-specific and daily automated scans — a feature leading antiviruses like Kaspersky and TrendMicro do not provide.
Location-specific scans make sure you can run targetted scans on folders you're suspicious of, while automated scans are perfect for routine system maintenance.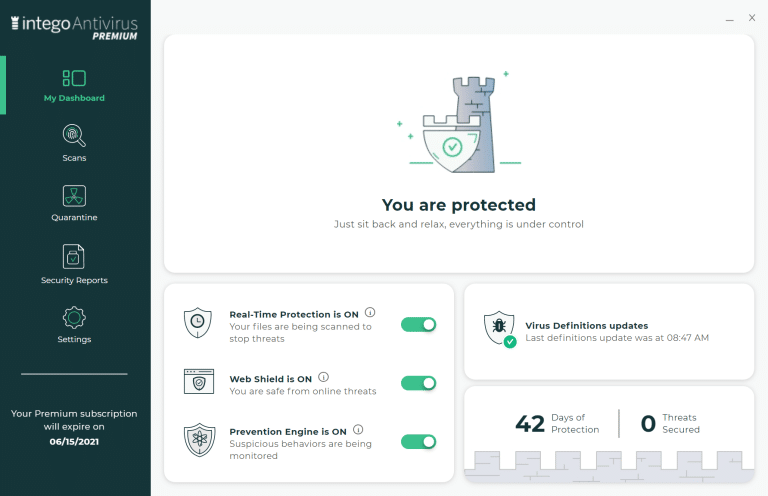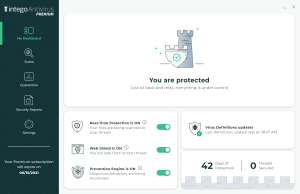 | | | | | |
| --- | --- | --- | --- | --- |
| Starting Price | Free Version | Devices Covered/Subscription | Recent Test Score | Device Compatibility |
| $19.99/year ($1.67/month) | 7-day free trial | 5 | 5.5/6 Protection, 5/6 Performance, 6/6 Usability | Windows, Mac |
When Intego finds a malicious entity during scans, it gives you complete control of how you want your system to be protected. These are the two options you have:
Option 1 — Repair and remove the threat immediately
Option 2 — Quarantine the threat in a separate folder to prevent it from spreading
If you're someone in the financial sector, you'll like Intego's comprehensive financial protection. It blocks ransomware, banking Trojans, and cryptocurrency stealer malware, ensuring you don't fall prey to online financial scams.
Intego also promises zero-day protection, intuitively blocking advanced and new, emerging threats. For reference, zero-day attacks refer to cyberattacks that have just been discovered before developers have had a chance to neutralize them.
However, we were a little disappointed by Intego's inability to run real-time scans on web activity or downloads due to Mac App limitations. That said, its periodic scans make up for it, as it includes email and pop-up protection.
Pros
One of the best Mac antiviruses
Comes with an inbuilt firewall
Superior parental controls
Allows you to make a personal backup
8. Avast — Best Free Spyware Remover With Different Web Shields
Avast is undoubtedly one of the best free spyware solutions you'll come across, with a full suite of shields, namely File, Web, Behaviour, and Mail shields, each made for a specific purpose.
For example, the Web Shield prevents malicious entities from the Internet from entering and wreaking havoc on your devices. Among the scan types, Avast's Boot Time scan is a feature that stands out.
It runs a scan before your system boots up so that viruses and malware can't hide in undetectable places. Moreover, recent AV tests showed that it didn't detect legitimate software as malware, which proves its accuracy.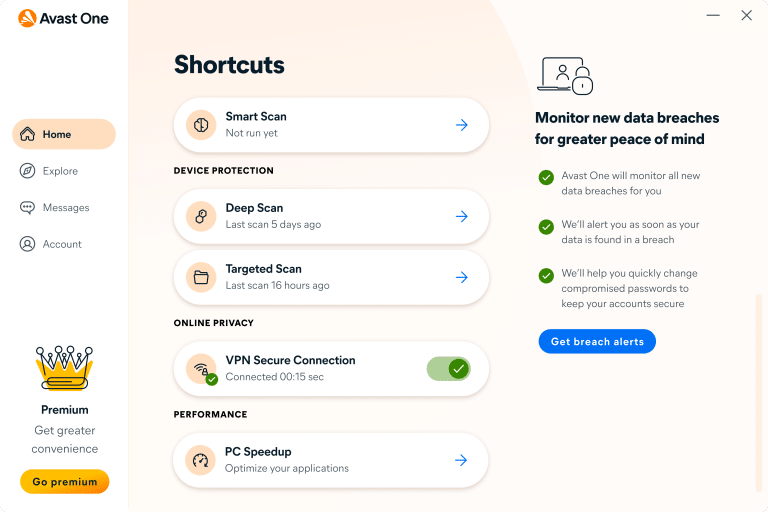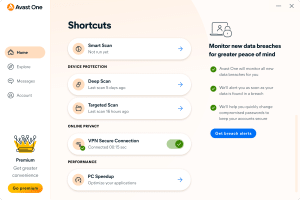 | | | | | |
| --- | --- | --- | --- | --- |
| Starting Price | Free Version | Devices Covered/Subscription | Recent Test Score | Device Compatibility |
| $34.68/year ($2.89/month) | Free forever plan | 10 | 6/6 for protection, performance, and usability | Windows, MacOS, iOS, Android |
Avast's free plan also comes with a robust ransomware scanner that prevents your personal files from the prying eyes of online intruders. This is normally found in paid plans, but Avast offers it for free.
If you wish to go beyond its free plan, Avast offers some incredibly useful features, such as a webcam scanner, an advanced firewall, and a safer shopping experience.
The webcam scanner is handy for those who regularly participate in online meetings. Avast scans your webcam for any suspicious trackers and removes them before any data leakages.
With 435 million+ active users and 30 years of experience, Avast is certainly a value-for-money antivirus solution.
Pros
Offers various scan types
Scan for Wi-Fi security weaknesses on the free plan
Can be used on up to 10 simultaneous devices
Dynamic security protocols help develop device immunity against new spyware
Cons
Occasional low detection rates
9. Avira — Spyware Detector With the Lowest Footprint
Although not among the top antivirus solutions on our list, Avira's 35 years of industry experience has made it an internationally recognized and awarded antivirus provider.
The best part about Avira is that it has the smallest footprint in the entire antivirus industry. This means that it's very light on your system resources.
It'll run seamlessly in the background, protecting you against malicious entities while you can go about doing your work without any blips.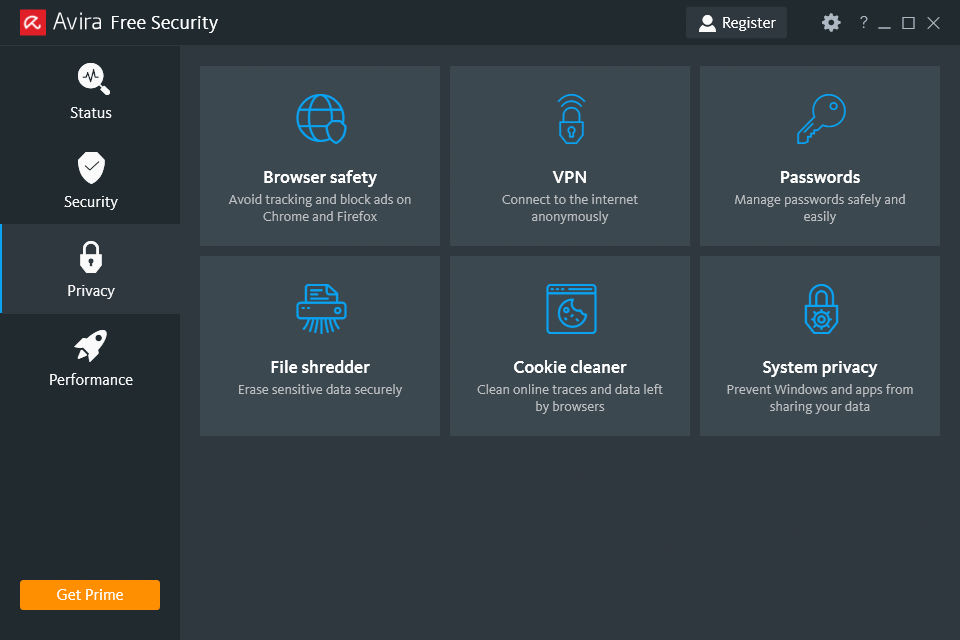 | | | | | |
| --- | --- | --- | --- | --- |
| Starting Price | Free Version | Devices Covered/Subscription | Recent Test Score | Device Compatibility |
| $26.99/year ($2.25/month) | Free forever plan | 5 | 6/6 for protection, performance, and usability | Windows, Mac, Android |
Similar to HouseCall, Avira has a centralized depository of spyware known as Avira Protection Cloud. The cloud is updated every time a new type of spyware is detected anywhere across the globe.
As you'd expect, Avira then uses this information to fight off any similar attacks on your system. And just like TrendMicro, it boasts of a 100% AV-Test score for zero-day malware detection.
Beyond this, if you're always on the internet browsing stuff, you'll need Avira's 'Browser Safety' — a spyware cleaner that prevents malicious downloads. Moreover, it suggests alternatives free from trackers and malware.
Avira's firewall also keeps monitoring your computer apps to determine if they're attempting to share your personal data. Plus, it monitors outside sources attempting to scan open ports on your computer and notifies you when it's blocking attempted intrusions.
Pros
Excellent zero-day malware detection
The lowest footprint in the industry
A long 60-day money-back guarantee
Free useful browser extensions
Cons
Plenty of ad pop-ups on the free version
10. McAfee — A Beginner-Friendly Spyware Detector
McAfee is a perfect beginner-friendly solution for "not-so-tech-savvy" people. Sure, blogs and "how to" articles can get a lot of technical work done. But McAfee goes a step further with their in-house experts, who'll solve any issues you might be facing.
Another reason McAfee is popular is its Protection Score, which rates your system's overall health between 1 and 1,000 and offers ways to improve it. For example, if your email password has been compromised, it'll recommend you change it to boost your score.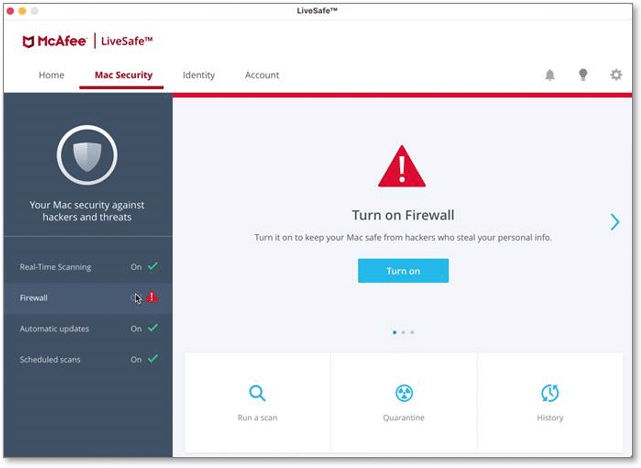 | | | | | |
| --- | --- | --- | --- | --- |
| Starting Price | Free Version | Devices Covered/Subscription | Recent Test Score | Device Compatibility |
| $29.99/year ($2.49/month) | 30-day free trial | Unlimited | 6/6 for protection, performance, and usability | Windows, Mac, iOS, and Android |
McAfee also comes with a file shredder that deletes sensitive files to ensure no traces are left behind. Moreover, McAfee's identity monitoring keeps an eye on your emails, SSNs, bank accounts, and credit cards and notifies you immediately if there are any changes.
Talking about dedicated spyware and ransomware protection, McAfee's Ransom Guard goes on to strengthen your device security after unauthorized file encryption or spyware installation attempts.
What's more? It also creates a secure backup of the files that were under attack so that no data is lost. Recent AV tests showcased a 100% detection rate of widespread and prevalent malware.
Among other features, McAfee offers a VPN, a password manager, and parental control features, making it a complete system security package that'll offer full coverage.
Pros
A handy Protection Score feature
One of the best antiviruses for Android
Excellent independent test scores
Very light on system resources
Comes with VPN protection
What's thе Bеst Frее Spywarе Rеmoval Solution?
Avast is a reliable and effective option among the best free spyware removal solutions. The company's reputation for consistent delivering high-quality protection against a wide range of threats and its user-friendly interface make it a preferred choice for many users.
Avast undoubtedly provides a comprehensive free version of its security software, which comes with robust spyware detection and removal capabilities.
But while free spyware removal solutions can be valuable tools in the fight against malicious software, it's important to recognize their limitations. Free versions aren't nearly as potent as their paid counterparts, with the absence of:
Advanced protection layers
Features such as firewall protection
Coverage of multiple devices at the same time
Insights on attacks and system health
All this makes investing in a premium security suite a far better option if you face more advanced threats or seek continuous, proactive defense.
Our Testing Methodology — How We Ranked the Best Spyware Removers
Our ranking of the top spyware removers is based on a thorough testing process that evaluates various key factors. These include:
Budget and Compatibility Considerations
In our evaluation of the best spyware removers, we consider the diverse needs of users, including different budgets and compatibility requirements.
We assess the affordability of various plans each software provider offers, catering to cost-conscious consumers and those seeking premium features.
Compatibility with different operating systems and devices is also crucial, ensuring that anyone can find a suitable solution that aligns with their technology ecosystem.
Features
In assessing the best spyware removers, our testing methodology thoroughly examines each tool's features. We evaluate the comprehensiveness of their:
Scanning options
Real-time protection capabilities
Quarantine and removal functionalities
And additional tools that enhance overall cybersecurity
Features like web protection, a firewall, and optimization utilities add value to the software's effectiveness in combating spyware threats, and these take preference in our list's top spots.
Security
We examine the software's ability to detect a wide spectrum of spyware types, including known and emerging threats. Effective spyware removers should also exhibit robust defense against other malware forms to ensure comprehensive protection.
A key criterion is the capability to prevent unauthorized access to personal data, financial information, and sensitive files. We prioritize software with multi-layered security mechanisms to prevent increasingly sophisticated spyware attacks.
Technical Support
We also pay heed to the quality and accessibility of technical support provided by spyware removes. Adequate customer support channels, responsive communication, and knowledgeable assistance are vital in helping you resolve issues and navigate complexities.
Software providers offering a range of support options, including live chat, email, and comprehensive knowledge bases, receive higher rankings in our assessment.
Ease of Use and Starter Plans
We placed a strong emphasis on the user experience, particularly for those new to cybersecurity software. Analyzing starter plans, we looked for intuitive interfaces, straightforward setup processes, and essential features that offer an effective defense against spyware.
Independent Test Results
We place great importance on test results obtained from the tools we use and also consider independent evaluations conducted by respected cybersecurity testing organizations like AV Tests and AV Comparatives.
Solutions that consistently demonstrated high detection rates, minimal false positives, and low impact on system performance were prioritized.
Accuracy and Efficiency
Spyware removers must accurately identify and remove spyware without generating false positives that disrupt legitimate activities. Our methodology evaluates the software's scan efficiency without causing undue system slowdowns.
A good spyware remover should be able to detect threats effectively while having minimal impact on the device's performance. This ensures that the user's experience remains seamless.
Regular and Automatic Updates
Regular updates are crucial for maintaining the effectiveness of spyware removers. We consider the software's commitment to keeping its spyware definition database current to combat new and evolving threats.
Additionally, automatic updates are important for real-time protection. Our ranking factors in the software's ability to seamlessly deliver updates to users' devices to ensure ongoing security against the latest spyware risks.
Reputation and User Feedback
The reputation of a spyware remover in the cybersecurity community played a crucial role in our ranking process. We assess each company's trustworthiness, history, and customer feedback.
This meant considering factors such as their track record in addressing security concerns, transparency in communication, and commitment to user privacy.
How to Run a Spyware Scan
Running a spyware scan is vital in safeguarding your device from potential threats. Using TotalAV as an example, we'll explore how to effectively perform one to ensure the security and privacy of your digital environment.
Step 1 — Launch TotalAV
Open the TotalAV application on your device. If you haven't installed it yet, you can download it from the official TotalAV website.
Step 2 — Choose Scan Type
TotalAV typically offers different types of scans, including Quick Scan, System Scan, and Custom Scan. Here's how each one differs:
Quick Scan: This option scans critical areas of your system for common threats. It's a faster scan.
System Scan: This comprehensive scan checks your system for various threats, including spyware.
Custom Scan: This allows you to select specific files, folders, or drives to scan.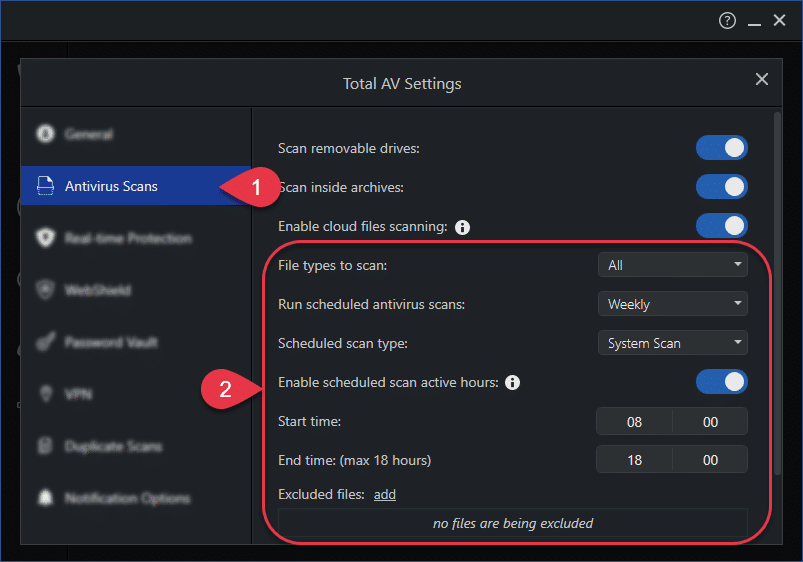 Step 3 — Start the Scan
Select the scan type you prefer and click the scan button. TotalAV will be scanning your system for spyware and other threats.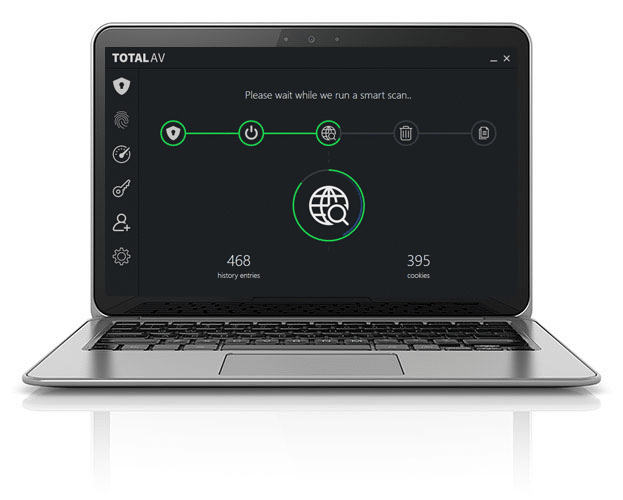 A scan usually takes 5-10 minutes to finish, following which the software will keep the detected viruses in the Quarantine Virus Vault.
Step 4 — Review Scan Results
Once the scan is complete, TotalAV will display a report of the detected threats. Spyware and other malicious items will be listed along with their details.
Step 5 — Clean Up and Finish
After you've taken action on the detected threats, TotalAV will prompt you to clean up or restart your system.
Other Antivirus and Malware Removal Guides
Here we've focused on tools renowned for their efficiency in removing spyware, but our team of experts has also compiled numerous guides for varying needs, including:
Summary | What is the Best Spyware Remover to Use in 2023
Our list of the best spyware removal tools includes tools for every use case. Whether you're looking to safeguard your Windows PC from spyware or need reliable anti-malware software for your Mac or mobile devices, you'll find something to your liking on our list.
However, TotalAV is an all-weather choice when it comes to spyware protection. Features like real-time monitoring, Rare File Alerts, Data Breach Monitoring, and a remote firewall provide complete protection from both online and offline spyware threats.
The biggest positive is that you can see it working in real-time with TotalAV's free scan, or check out its full potential risk-free with a 30-day money-back guarantee.
Spywarе Rеmovеr FAQs
What programs remove spyware?
What's the best spyware detector?
Is there a free removal of malware and spyware?
Can someone install spyware on my phone without me knowing?
References