With the growing number of online threats, finding the best Windows antivirus is a must nowadays. It's a common misconception that you need great antivirus software only if you frequently visit dark parts of the web. However, in reality, around 10-20 million new computer viruses emerge every year.
If you don't run any software protection, your device could be in great danger. Malware, ransomware, phishing sites, and worms are just some of the many online threats that could severely damage your computer. Read on to discover the best antivirus software for Windows at bargain prices.
Top 7 Best Windows Antivirus Tools Ranked
Here are the top 7 antivirus software that offers 100% protection against cyber threats and excels in keeping your identity private from the prying eyes of hackers and other internet abusers. Stay protected with these antivirus tools:
1. TotalAV – Overall, the Best Windows Antivirus
TotalAV provides comprehensive coverage at an affordable price. Despite being relatively new, this provider has positioned itself as the best antivirus for Windows 11, though it works equally well on previous versions as well.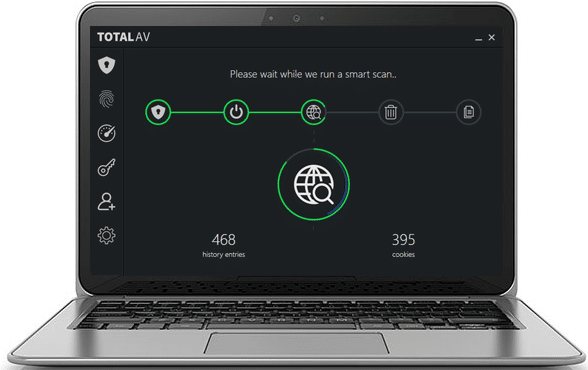 Extra Features
Pricing
Free Version
Money-back Guarantee
Customer Support
Number of Device Protected
Password Vault

VPN

System Tune-up Tools

$29
Yes
60 days
Yes
3 – 6
The best Windows antivirus offers several applicable security features for both regular and advanced users. TotalAV offers real-time protection, meaning the antivirus will scan for malware in the background.
More importantly, this feature is automatic, so you don't have to enable it manually every time you turn on your computer, and it'll eliminate trojans, spyware, malware, adware, and worms.
Furthermore, TotalAV provides advanced identity protection. The web is packed with phishing sites and harmful viruses that aim to steal your online identity. Because of that, TotalAV will scan the internet and dark web, looking for potential identity theft.
If a person is impersonating your identity or misusing your social networks, TotalAV will identify the threat and eliminate it. This feature is handy to protect children while browsing, as they're the most vulnerable.
TotalAV isn't just the best antivirus for Windows. The app also allows browsing the web safely by altering your IP address. Though it can't be compared to the world's best VPN software, TotalAV's IP protection will do the job.
On top of that, you can use the safe password vault and keep all your passwords in one place.
Pros
Has free version
Includes a password vault
Best antivirus for Windows 11
Protects PC from phishing sites
Parental control + VPN service
Cons
No real-time protection on the free version
Pricing
TotalAV offers a free version of virus protection. However, despite being tempting, freemium has its downsides. For example, you won't be able to enjoy real-time protection. On top of that, you'll notice a significant difference between the freemium and paid version's performance.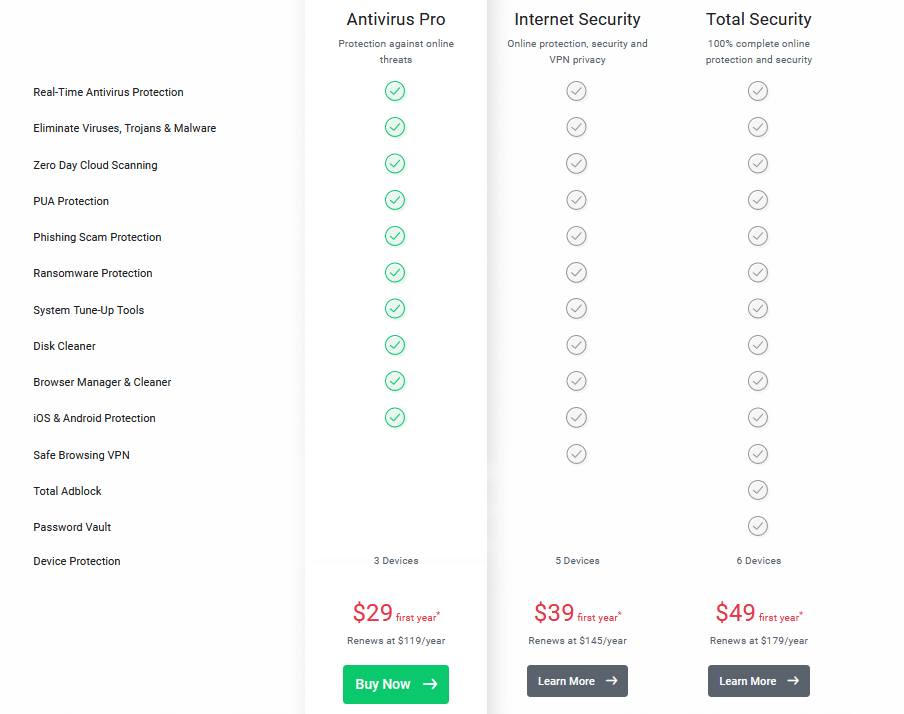 That said, you can get one of the fastest and most efficient virus-removal tools for only $29 for the first year of service. The basic version will protect up to 3 devices, while the pro keeps up to 6 devices from various online threats.
2. McAfee – Offers a Highly Functional Firewall
McAfee is one of the most recognized virus protection providers. You'll often come across this antivirus software for Windows by downloading various files online, which is an interesting marketing strategy. It comes with several great features to keep your browsing safe and exciting.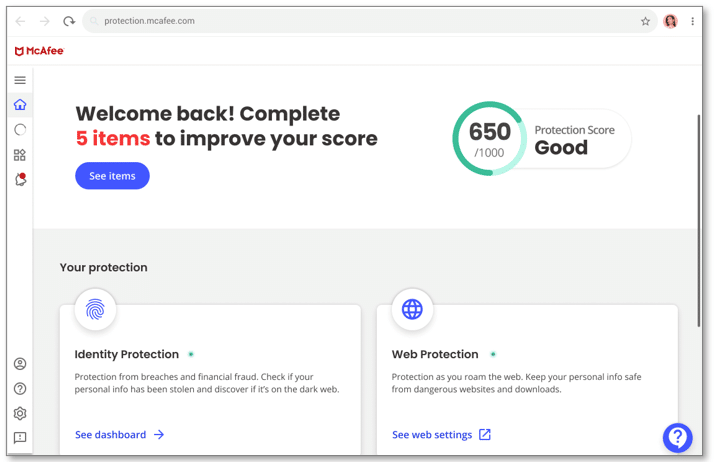 Extra Features
Pricing
Free Version
Money-back Guarantee
Customer Support
Number of Device Protected
WiFi Vulnerability Scanner

File Shredder

$1M Identity Theft Coverage

$29.99
Yes
30-days
Yes
5
The app allows you to choose between the two basic security features — quick and full scan. The first option will quickly run through your system, looking for harmful software; however, a quick scan isn't as thorough as the full option.
Also, the quick scan feature will impact your CPU a bit more than expected. Still, McAfee offers several options to make your browsing experience smooth and seamless. For example, the web boost feature aims to improve the overall website responsiveness.
It'll work in the background and try to remove pop-ups and site animations. You'll notice it stops any auto video on the website you visit to ensure your internet speed remains flawless.
McAfee firewall is another interesting feature that allows you to turn on the protection against viruses and prevent them from entering your operating system.
You can hide your PC from other devices using Stealth mode and check whether there was an attempt to connect with your device. You can do that via the NetGuard option.
Pros
30-day free trial
Also a leading Android antivirus
Ransomware protection
Quick and Full scan features
Web booster
Stealth mode
Cons
Pricing
You can protect one device for the price of $29.99 per year. This deal will cover basic malware protection, including VPN usage. This will be more than enough for a general user.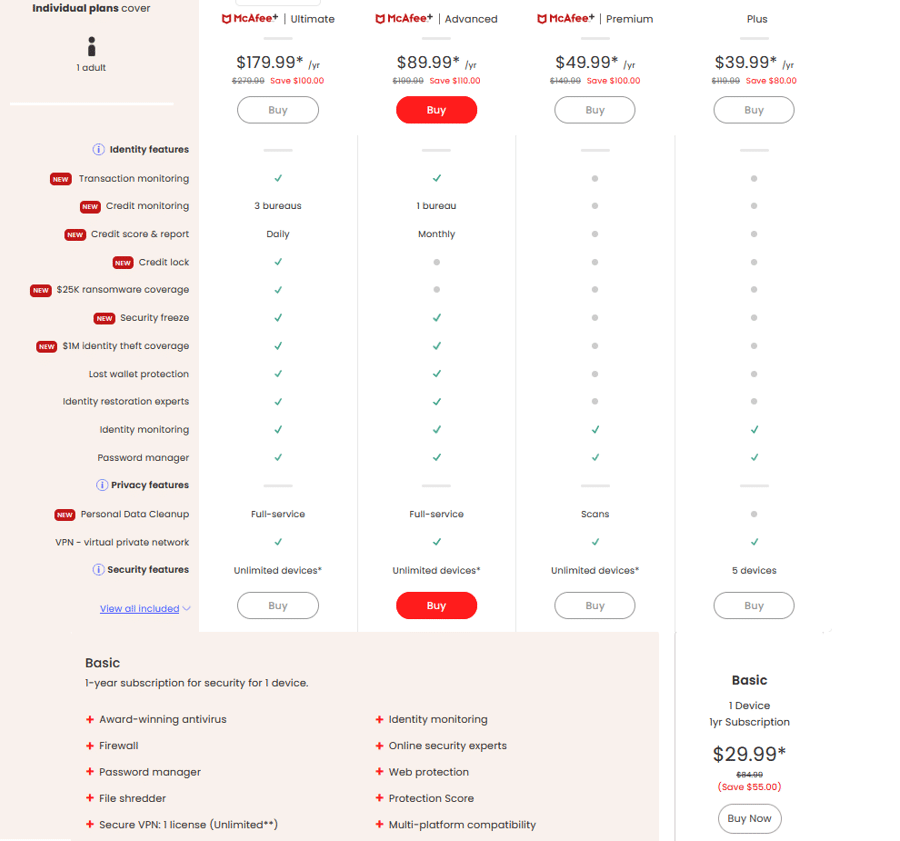 However, we recommend the McAfee advanced account if you need ultimate protection. The service will cost you a bit more than the Plus version, but it offers several valuable features like transaction and credit monitoring, credit score & reporting and security freeze capabilities.
3. Norton – Great Antivirus Protection for Families
Norton is one of the best Windows antivirus tools and one of the most affordable. It's been used by millions so far and has excellent online ratings. Plus, the Norton app will have a minimal impact on your computer performance.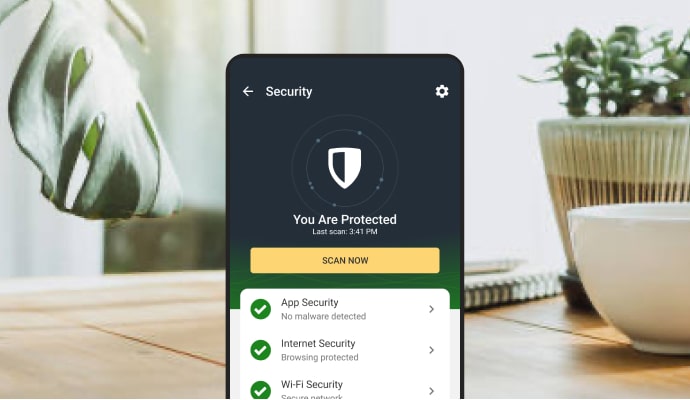 Extra Features
Pricing
Free Version
Money-back Guarantee
Customer Support
Number of Device Protected
Dark Web Monitoring

Parental Control

$19.99
No
60-days
Yes
10
When it comes to average users, your computer speed will slow down around 10% – 15% while browsing. However, we noticed our computer speed dropped 24% while downloading larger and more demanding files.
Still, we can conclude Norton delivers excellent performance and deserves to be included in the best Windows antivirus list. The Parental Control option also allows you to create a separate account for each family member, including children.
This is especially great for parents as it allows you to choose which websites your child can access and which will be forbidden. You can select the type of content your children can see in just one click.
Pros
Great for families
Can connect up to 10 devices
Affordable price
Parental control option
Decent performance
Cons
It slows your PC when downloading huge files
Pricing
Norton's pricing list includes four different packages. You can get basic protection for only $19.99.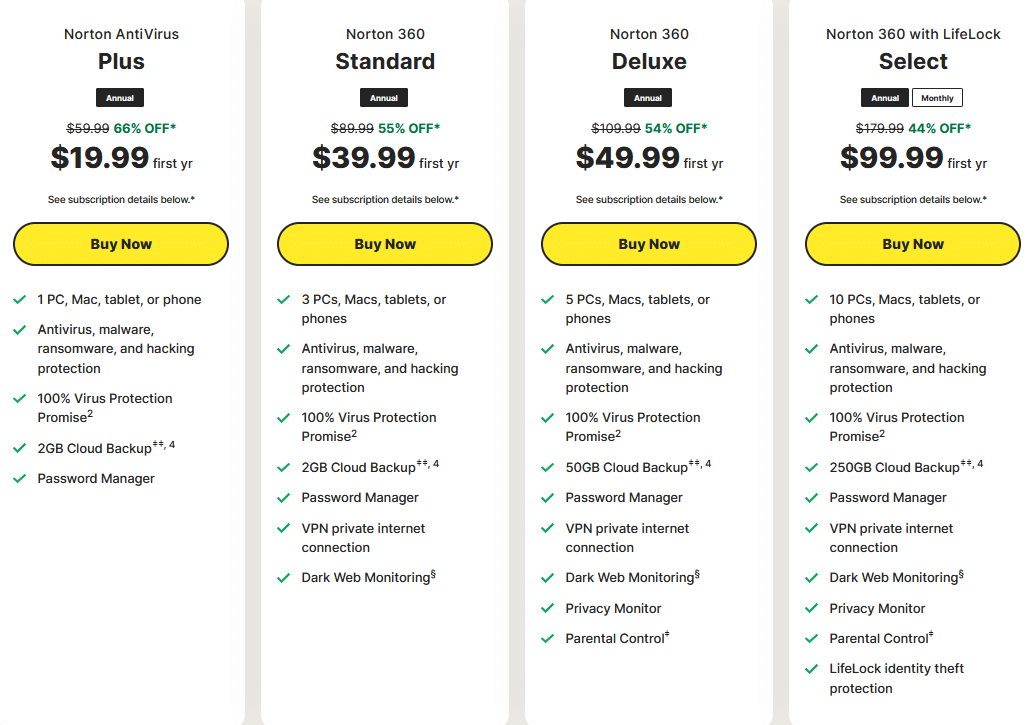 However, suppose you wish to protect more of your devices. In that case, you'd need to go for the Select account, which allows you to protect up to 10 devices simultaneously, making Norton one of the best antivirus software for Windows for your entire family.
4. Avast – Best Free Antivirus for Windows
Avast has been delivering one of the best free virus protection solutions for decades. It boasts over 435 million users and blocks over 66 million threats daily, plus it's one of the most recognizable antivirus software tools on the market.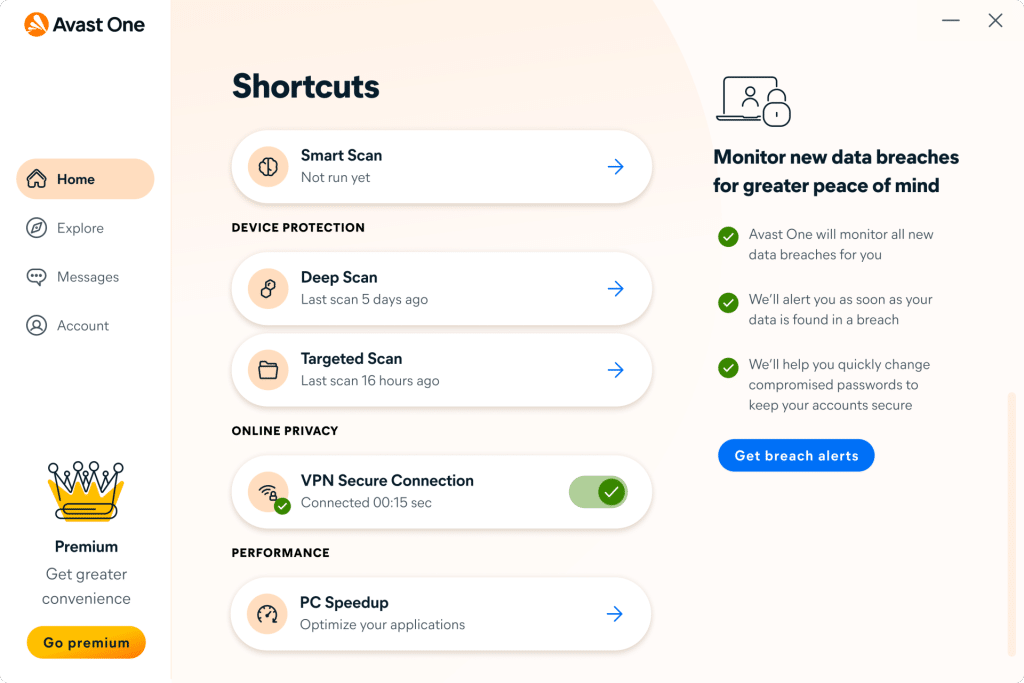 Extra Features
Pricing
Free Version
Money-back Guarantee
Customer Support
Number of Device Protected
Cleanup Software

Driver Updater

VPN

$34.48
Yes
30-days
Yes
10
Avast offers a simple and user-friendly app everyone can use. You'll find your way around the software with no fuss, as the app will do most of the job for you. Like other popular antivirus programs, Avast also offers a smart scan option.
This feature will locate browser threats (if there are any), look for outdated apps and scan your computer against viruses and malware. It'll also point out if your computer is vulnerable to phishing sites or if some of your files can be used for ransomware.
A smart scan is available in both the free and paid versions of Avast. But there's one crucial difference — only with a paid version will you be able to resolve security issues.
Also, by subscribing to Premium or Ultimate accounts, you can get a bunch of exciting and useful security features such as Secure Line VPN, Cleanup Premium, Anti-Track software, and others.
Pros
Highly rated
User-friendly app
Popular free antivirus for Windows 10
Protects against phishing scams
Cons
The free version keeps redirecting to the cashier
Pricing
Avast is among the best free antivirus software for Windows. The freemium version offers basic protection against viruses and malware and will keep them in quarantine or effectively remove them from your device.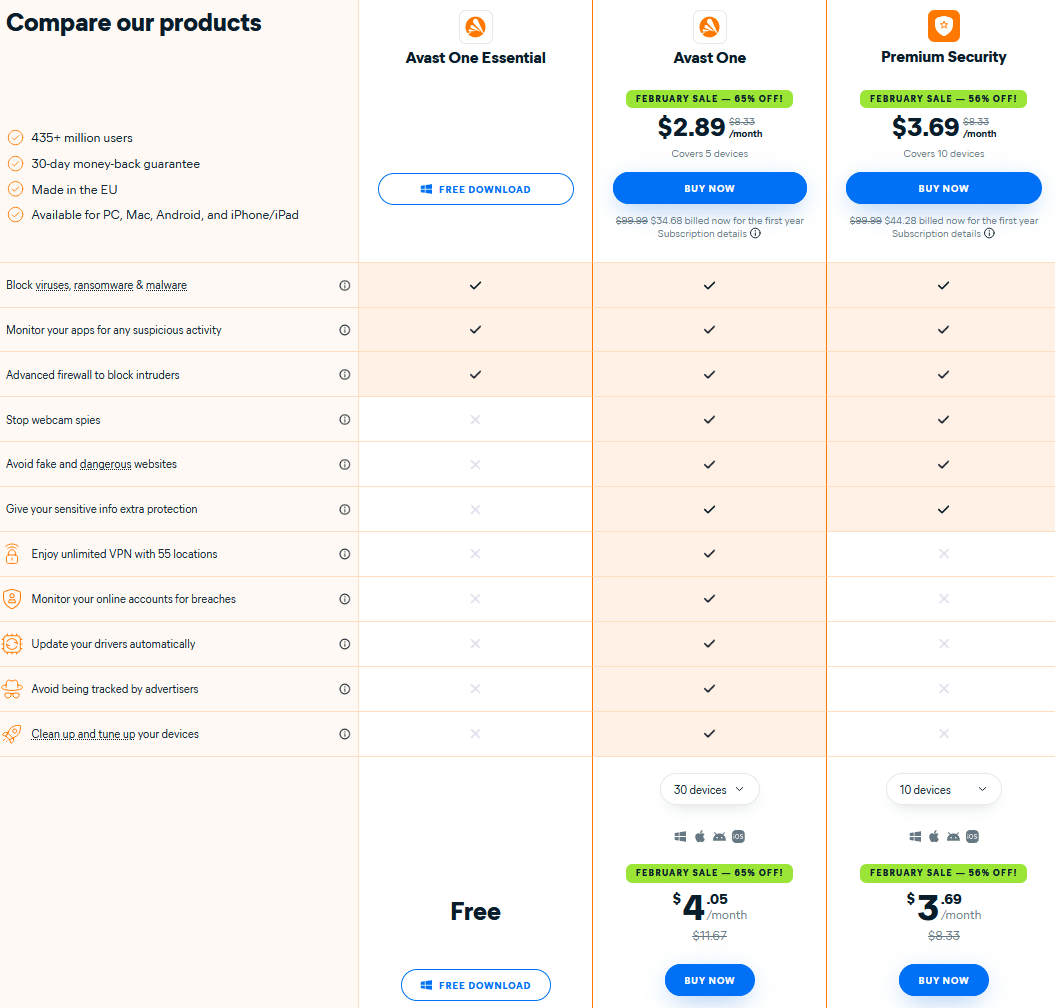 However, it has some limitations, which is only normal. If you need to increase your firewall protection and prevent files from being used for ransomware, we advise you to get the Premium version, which is only $34.48 for the first year of your subscription.
5. Nord Threat Protection – Great Protection While Using VPN
Nord isn't only one of the best VPN providers but also one of the most renowned malicious software removal tools. Nord Threat Protection will scan your computer for malware and viruses and safeguard your device from any online threats.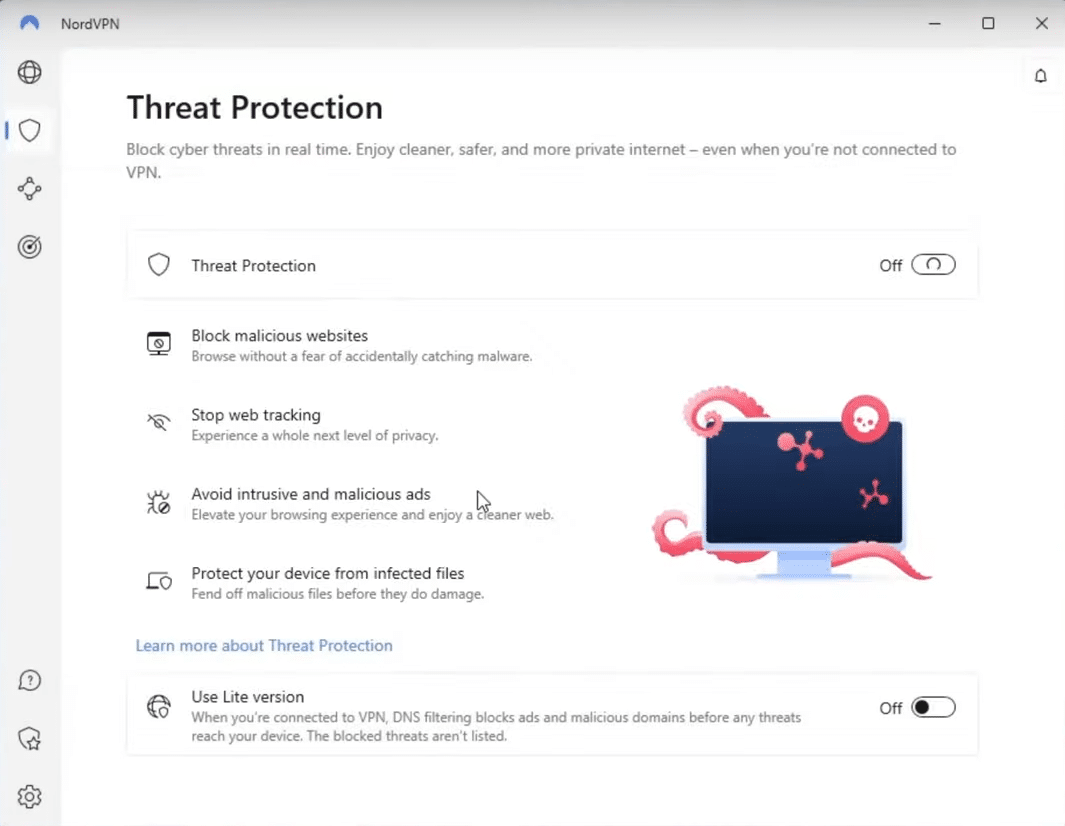 Extra Features
Pricing
Free Version
Money-back Guarantee
Customer Support
Number of Device Protected
Password Manager

Data Breach Scanner

$71.88
No
30–days
Yes
6
You can get the Threat Protection feature once you obtain the Nord VPN service. It works as a great combo and adds to your existing firewall protection. Beyond this, the Nord Antivirus program will protect you against malware and ransomware.
Also, it'll block web trackers and access to malicious websites; plus, you can check files for threats and filter DNS at request. The app is customizable, and you virtually select which defensive shield you wish to use, thus optimizing your computer performance.
Admittedly, the app lacks some features like parental control. This would be a great addition to the existing safety net. Still, Threat Protection is a relatively new feature, so it's tough to judge. There's still room for improvement, and Nord takes all the necessary steps to compete.
Pros
DNS filtering
Blocks ad trackers
Great VPN service
Protects against malware & viruses
Cons
Lacks parental control option
Pricing
Nord offers several subscription plans, with 1-year and 2-year plans being more budget-friendly.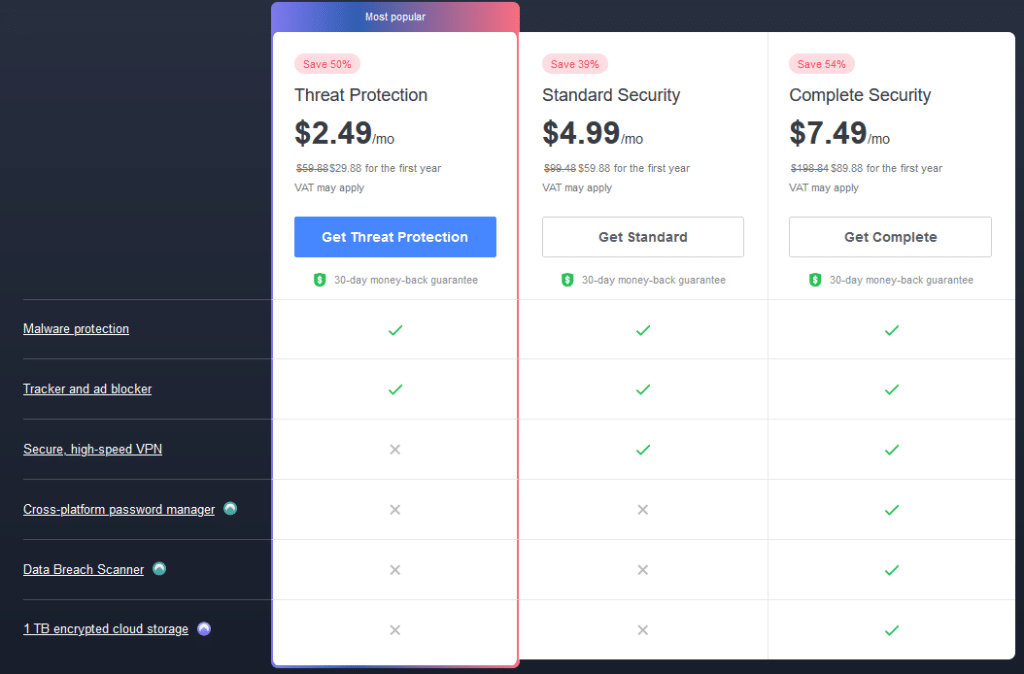 Paying $71.88 for an antivirus in development may seem like too much at first. However, remember that you'll get one of the most efficient VPN services for the same price. Unless you're working for a top-secret service, this VPN and antivirus combo will be a perfect choice.
6. Surfshark – Lightweight Antivirus Protection
Surfshark is another popular VPN that offers protection from online threats. It offers a beginner-friendly interface and decent protection against malware attacks.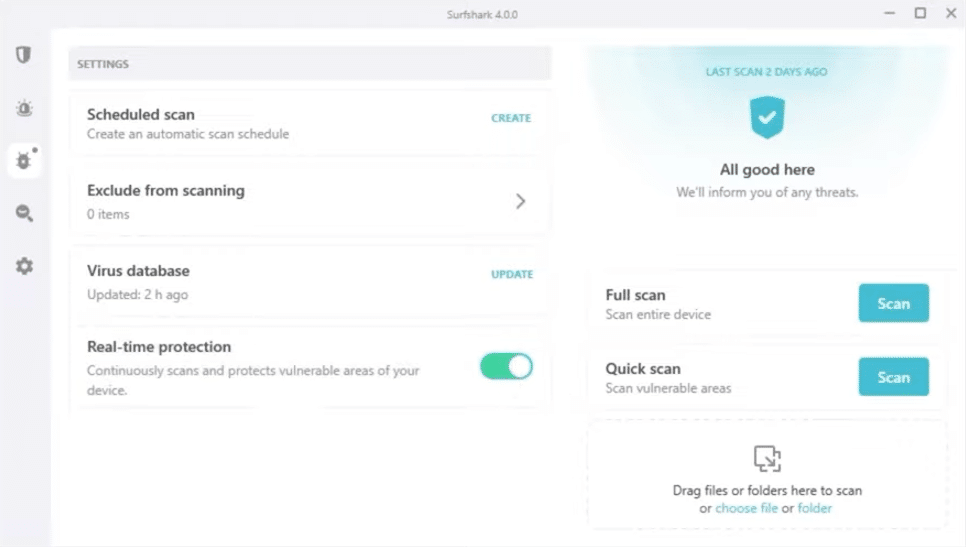 Extra Features
Pricing
Free Version
Money-back Guarantee
Customer Support
Number of Device Protected
Surfshark Alert

Surfshark Search

$65.76
Yes
30-days
Yes
5
One of the best Windows antivirus providers comes with a simple navigation app that allows your computer to stay protected while maintaining optimum performance. The Surfshark app won't affect your CPU much, and most of the time, you'll forget it's even there.
The real-time protection feature will automatically scan and search for threats during your online activity. Simultaneously, it won't slow down your computer by more than 5%. You can also fully scan your machine.
While this is useful, you should bear in mind this action will take a couple of hours. Still, it'll be worth your time once you see how efficient Surfshark can be. During our testing, Surfshark antivirus has recognized 18 out of 20 threat types on our system, which is a pretty good result.
Pros
Full scan feature
Has no effect on your computer speed
Protects your OS in real-time
Could combine with VPN
Cons
Lacks more security features
Pricing
You can grab your Surshark antivirus for $65.66 for the first 12 months. The monthly cost of this antivirus software is only $14.44 for the month-to-month subscription.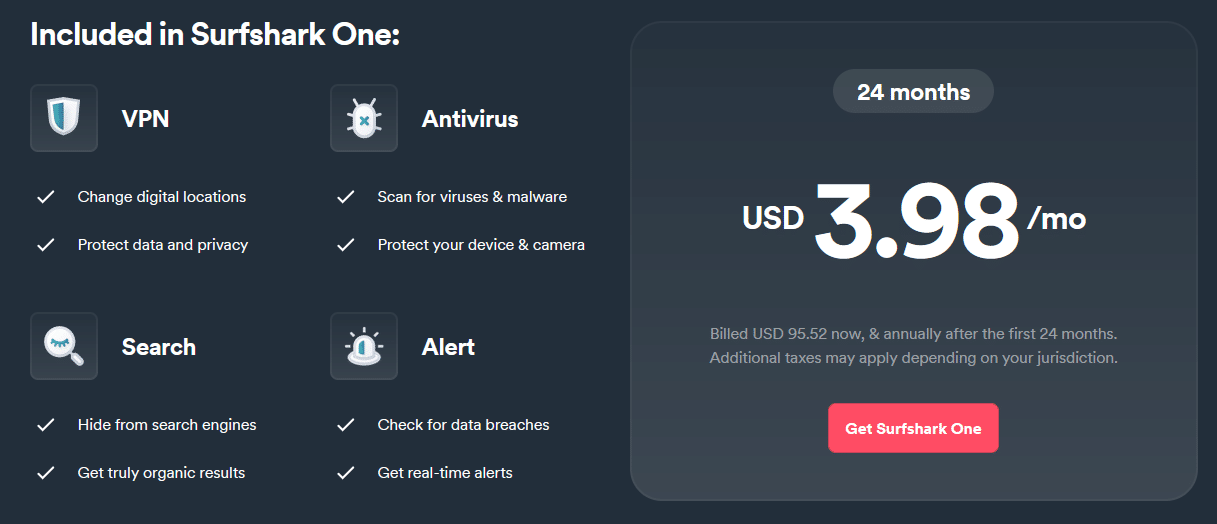 If your job requires sharing delicate files and visiting dark corners of the web, you can probably get more efficient Windows antivirus software for the same money.
However, if you're a casual user that wants to increase computer's protection levels while browsing the web anonymously, Surfshark would probably be the best choice.
7. Intego – Best Antivirus for Mac
Intego was primarily built to protect Mac computers. However, it's equally efficient for Windows 10 and 11.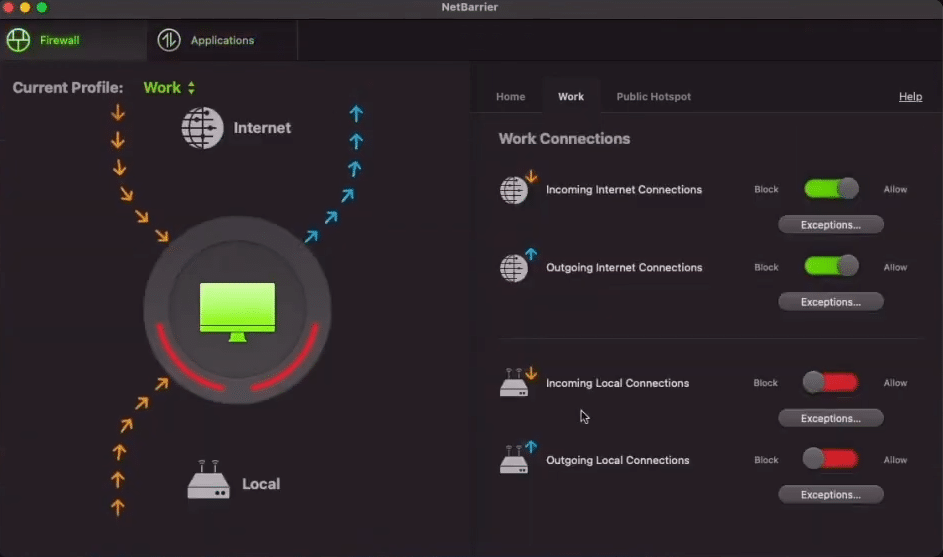 Extra Features
Pricing
Free Version
Money-back Guarantee
Customer Support
Number of Device Protected
Intego Web Shield

Block Zero Day Attacks

$79.99
14-day free trial
30-day
Yes
5
Intego boasts a simple and beginner-friendly Windows app that protects your PC 24/7. The antivirus has its own integrated Intego Web Shield that aims to prevent viruses from entering your operating system in the first place.
Also, Intego boasts advanced technology to block Zero Day Attacks. No malware or hacker can surprise Intego software, which is why this provider enjoys 34 million users.
Pros
Great for Mac devices
24/7 protection
Supports up to 5 devices simultaneously
Blocks Zero Day attacks
Cons
Complex pricing structure
Pricing
You can try this antivirus at no cost, as it offers a 15-day free trial. If you like its service, you can get Intego protection from anywhere between $19.99 and $219.99.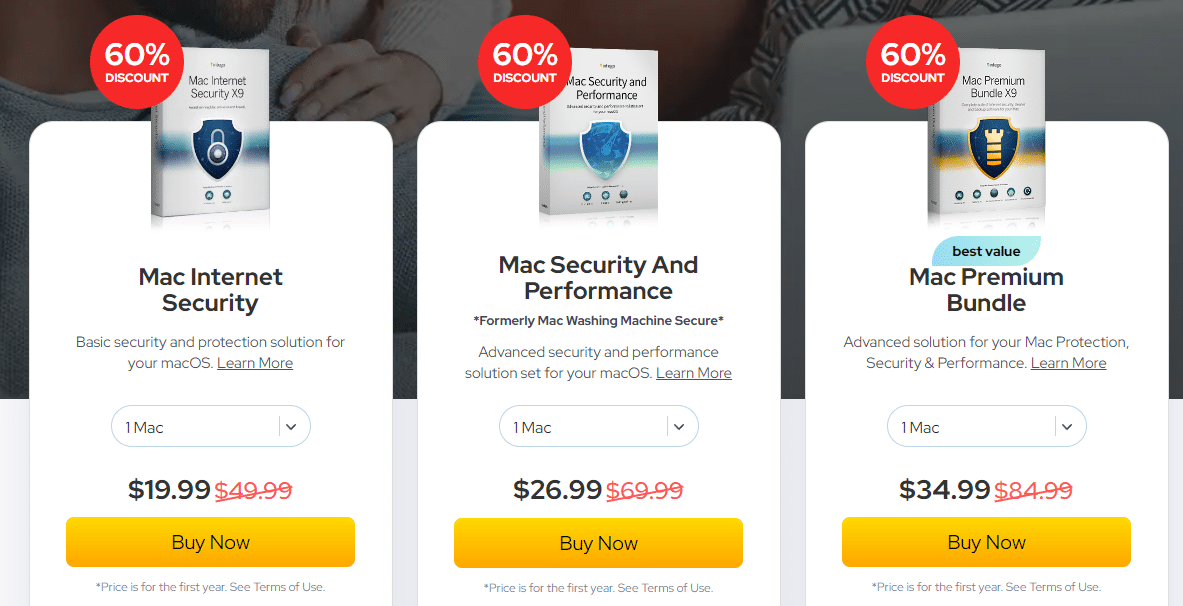 The price depends on the type of package you choose and whether you wish to combine both the Windows and Mac antivirus. Protect one device for the price of $69.99.
However, if you want to share the same antivirus with your family, this will cost you between $100 and $200, depending on the number of devices you wish to secure.
Best Antivirus Software for Windows Compared
Here's a quick overview of our top Windows antivirus solutions to help you make a decision on the best one for you:
Antivirus
Extra Features
Pricing
Free Version
Money-Back Guarantee
Customer Support
Number of Devices Protected
TotalAV
Password Vault

VPN

System Tune-up Tools

$29
Yes
60-day
Yes
3 – 6
McAfee
WiFi Vulnerability Scanner

File Shredder

$1M Identity Theft Coverage

$29.99
Yes
30-day
Yes
5
Norton
Dark Web Monitoring

Parental Control

$19.99
No
60-day
Yes
10
Avast
Cleanup Software

Driver Updater

VPN

$34.48
Yes
30-day
Yes
10
Nord Threat Protection
Password Manager

Data Breach Scanner

$71.88
No
30–day
Yes
6
Surfshark
Surfshark Alert

Surfshark Search

$65.76
Yes
30-day
Yes
5
Intego
Intego Web Shield

Block Zero Day Attacks

$79.99
14-day free trial
30-day
Yes
5
Does My Device With Windows Need an Antivirus?
While it's true that many operating systems actively work on improving their protection, the number of online threats still implies you need a strong antivirus in 2023. Because most cyber threats specifically target Windows, having the best antivirus for Windows is a must.
An excellent antivirus app will protect you while browsing the web. Even if you take extra care and avoid downloading files from untrusted websites, your operating system may be vulnerable.
The best antivirus software for Windows will actively scan, identify, and prevent cyber threats from attacking your computer. Antiviruses will either quarantine infected files or delete them for good. The most common threats you can encounter online are:
Malware — A virus that infects your OS
Ransomware — Steals your information and holds it for ransom
Phishing — Deceives you into revealing personal information
Password attacks — Steals your passwords (most commonly for online banking)
Trojans — Malicious code that takes over your machine
Even occasional web visitors can have unexpected encounters with any of the mentioned threats. It's rare, but it happens. So, the question is – is the mere possibility of getting your computer infected by trojan enough to make you buy an antivirus?
If all your work is on your computer or if you only keep your family photos, perhaps it would be worthwhile to consider getting increased online security. After all, can you put a price tag on your favorite memories?
Best Free Antivirus Software for Windows
Avast has a long tradition of being one of the best free antivirus providers on the market. Indeed, this antivirus is used by millions of people and has proven to be trustworthy. However, Avast's free version doesn't cover advanced windows security.
After TotalAV rebranded and updated its software, it started to take over the free antivirus market. The free version of TotalAV offers a quick scan and full scan options for your computer.
It includes protection from malware, viruses, and worms. At the same time, TotalAV will have minimal impact on your PC's speed.
How We Ranked the Best Antivirus Apps for Windows
You can find the best antivirus for Windows 11 or 10 in two ways: manually testing every antivirus service out there or reading our manual. We tested every provider by inserting contagious files on our computers and analyzed the performance of over 50 antivirus providers.
Here's how we selected the very best:
Performance
Naturally, we select providers with the highest malware detection rates. But, at the same time, we look for antivirus software that won't slow down your computer. Every provider from this list will allow your machine to use 100% of its speed.
Ease of Use
Not all of our readers are tech-savvy. Some of you may be looking to use antivirus software for the first time. Thus, every provider comes with a simple installation and easy-to-navigate Windows app.
Cost
The list contains antivirus tools suitable for every budget. Occasional users can find a bunch of free versions, while tech-geeks can pick among dozens of extra features. Plus, you'll notice that many of them come with insane discounts.
Customer Support & Money-Back Guarantee
Having someone to talk to is vital if you find yourself at a dead end. Thus, we pick providers offering live chat, email, and phone support. Plus, in case you're unsure, almost all offer a lengthy guarantee or free trial.
Extra Features
Since the number of threats keeps rising, we want you to be fully protected against different cyber attacks. Besides saving you from various types of malware, the best antivirus for Windows should offer features like password managers and protection from malicious software.
How to Use the Best Windows Antivirus
If you've never used any antivirus protection before, we'll provide you with detailed instructions on how to register and download the best antivirus for Windows 10 and 11.
Step 1 – Visit the Official Website
Type in the name of your desired antivirus in your search engine. We'll take TotalAV as an example, but you can choose any provider you wish. Once you find the official page, you should see a download button. Download the app and then go for the installation.
Step 2 – Create an Account
If you already have an account, select the login option. Enter your email and password to access your account. At the bottom of this pop-up window, you'll notice a registration button.
You can create your account either through the login or by clicking the Protect your PC now button. Both options will guide you to the ordering page.
Step 3 – Pick a Package
Choose between the three main packages: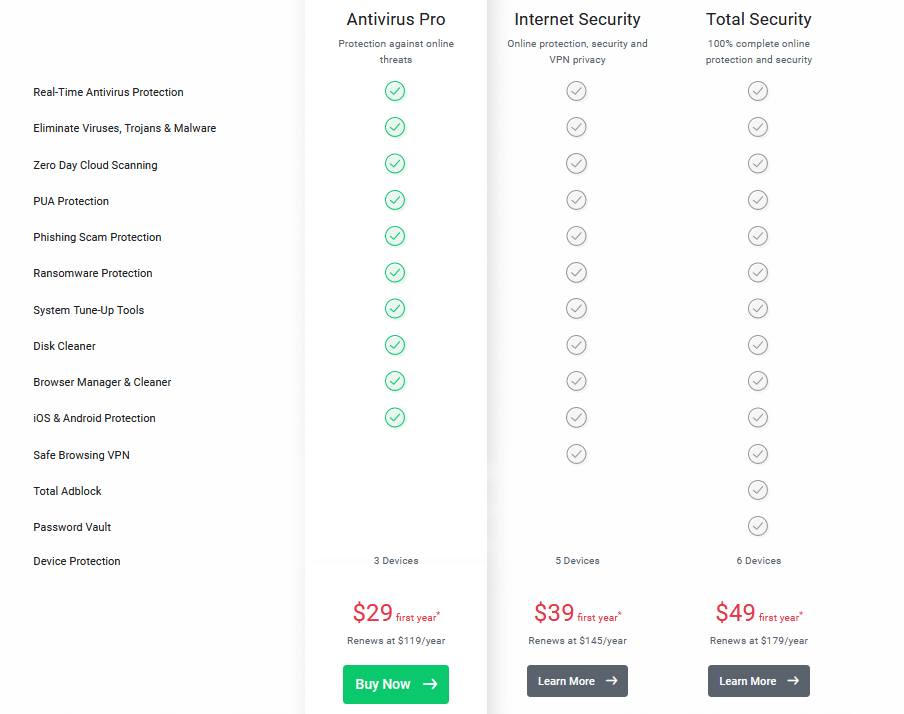 Pick a package and click on Buy Now.
Step 4 – Payment
TotalAV will offer you a payment option depending on your region. The website will guide you and help you to finish your payment. Once you confirm the transaction, you'll be able to activate your TotalAV package and enjoy maximum protection.
Windows Antivirus FAQs
What is the best antivirus software for Windows 10?
What is the best antivirus software for Windows 11?
What antivirus should I use for Windows 10 free?
Is it better to have 2 antiviruses?
Will an antivirus slow my device?
Conclusion | What's the Best Antivirus for Windows in 2023?
The number of online threats will keep rising as the Internet becomes more influential in our everyday lives. Simultaneously, your online identity is more valuable than you might think. For this reason, you should find suitable antivirus software for Windows before it's too late.
After thoroughly analyzing hundreds of antivirus programs, we've concluded that TotalAV is the best Windows antivirus. TotalAV is able to perform the most challenging tasks without affecting your computer's performance.
It identifies threats with incredible speed. Most of the time, viruses and malware won't make it into your system because TotalAV eliminates them in a split second before the breach.
Get TotalAV now and stay protected while browsing online. If you don't like it, you can get your money back within 60 days.