If you want to know how to turn off antivirus software to download files or speed up your device's performance, then we can help with step-by-step instructions provided in this guide.
If antivirus software flags the wrong files as being potentially dangerous, you'll likely want to turn it off to finish the installation. Equally, some antivirus solutions run resource-heavy background processes, which may slow down your device's performance, interfering with your work. To help you overcome these issues, we'll explain how to turn off your antivirus, why you should turn it back on later, and what alternative steps you can take to turning off your antivirus software.
Table of Contents
Table of Contents
How to Disable Virus Protection By Device
There are different approaches to turning off your antivirus on devices with different operating systems, such as Android and iOS smartphones and Windows and Mac computers. Here, we'll show you how to turn the antivirus off on each one.
How to Disable Antivirus on Windows 10
Locate your antivirus program in the taskbar notification area, also called the system tray.
Right-click on your antivirus program's icon and click "Shut Down" or on similar prompts.
Click "Yes" if asked to confirm your choice.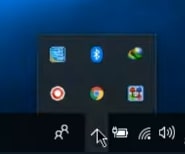 How to Turn Off Antivirus on Windows 11
Open your taskbar notification area and locate your antivirus program's icon.
Right-click on the antivirus program's icon and choose to pause protection temporarily.
Confirm your choice by clicking "Yes" to the system prompts.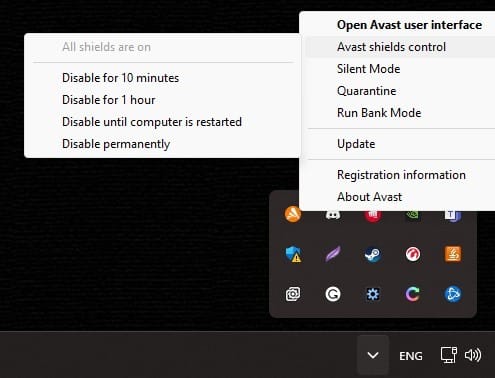 How to Turn Antivirus Off on Mac
If you're wondering how to turn off antivirus on Mac devices in less than a minute, here are the steps you need to follow, regardless of the product.
Navigate to your Applications folder or the Launchpad to locate and open your antivirus program.
Open the real-time protection settings panel. For example, Avast has a "Core Shields" menu in its "Preferences" settings.
Locate the button that stops the program from scanning your files. In our example, you would uncheck the buttons under "File Shield" and "Web Shield" for Avast.
You can also force quit programs by pressing Option, Command, and Escape at the same time, then selecting the app you want to quit from the Force Quit menu.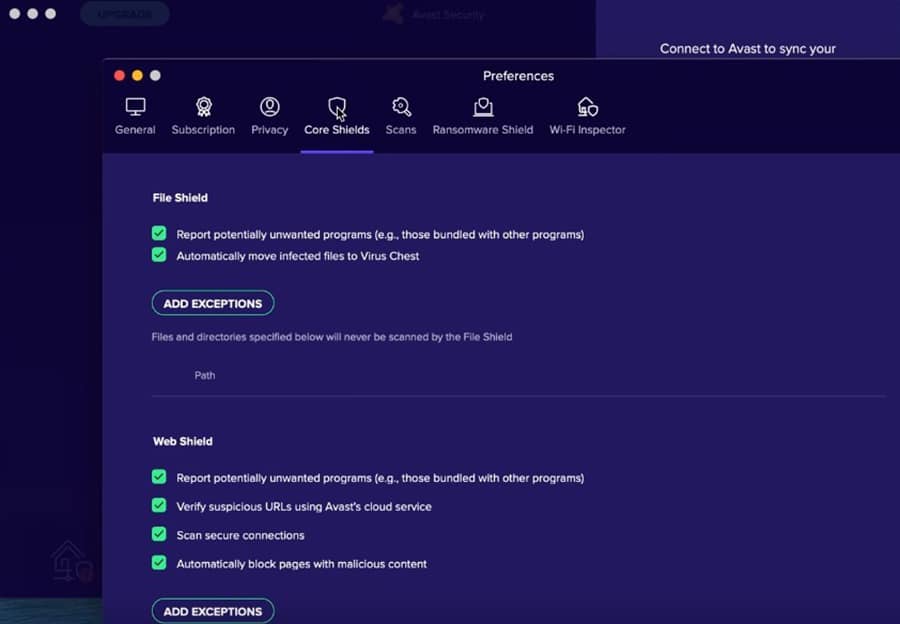 How to Disable Antivirus on Android
Depending on your Android device, you'll need to follow specific steps to turn off the antivirus.
For Android versions older than 8.0, do the following:
Open your device's settings.
Navigate to the Applications menu, locate the antivirus app you want to turn off, and then tap on it.
Click "Force Close" to turn the antivirus off.
For Android version 8.0 or higher, each antivirus app has a permanent notification running in the background. To turn them off, do the following:
Swipe down to open your notification tray.
Tap the gear icon on your antivirus app permanent notification by swiping left on it.
Toggle the permanent notification off.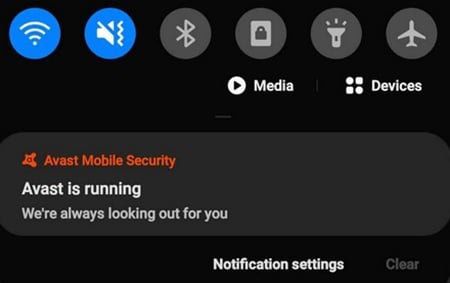 How to Turn Off Virus Protection on iOS
Locate the antivirus application on your iPhone.
Hold your finger on the app.
Press the "X" to permanently delete it or enter its Menu options to turn it off temporarily.
Locate the "Stop" or "Disable" options in the menu.
Tap the option and press "Yes" when the device asks for confirmation.
How to Turn Off Antivirus Software By Antivirus Vendor
Although most antivirus solutions for Windows have similar layouts, some are harder to turn off than others. To show you how to turn off Windows Defender and various third-party antivirus solutions, we'll provide step-by-step guides for each antivirus in this section of our guide.
How to Disable Windows Defender
If you're looking for a solution on how to turn off Windows Security temporarily, here's how you can do it without putting any files on your computer at risk.
Search for the Windows Security app on your Start menu.
Open the Windows Security app and navigate to "Virus and Threat Protection."
Click "Virus and Threat Protection Settings" and toggle the switch under "Real-Time Protection" to off. Follow the same steps to turn it back on when necessary.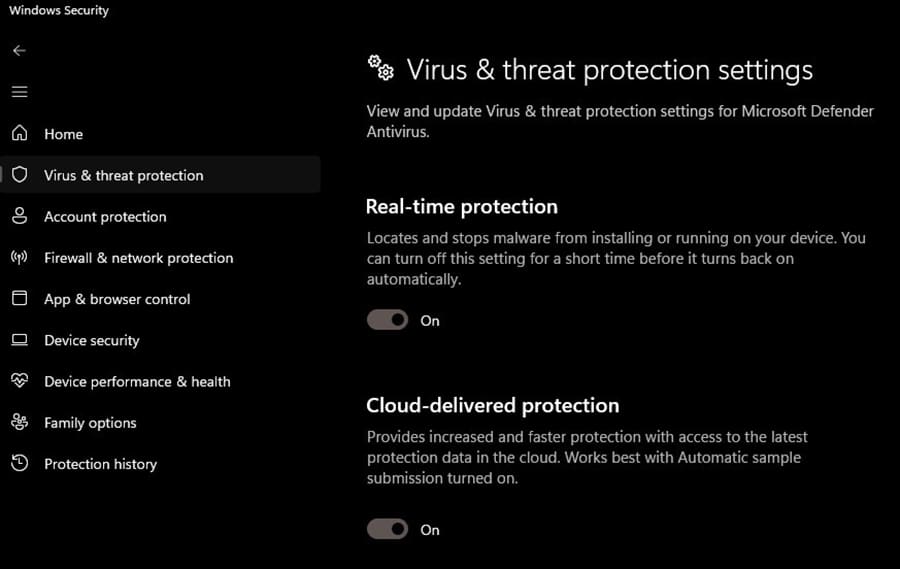 How to Permanently Disable Windows Defender on Windows 10
If you don't want the Windows Defender app to turn itself back on automatically, you can permanently disable it by doing the following:
Go to "Windows Security" from search, then "Virus & threat protection," and then "Manage settings." Once there, turn the "Tamper Protection" switch to off.
Then press the Windows key + R on your keyboard to open the Run window.
Type "gpedit.msc" and hit Enter to open the Group Policy settings.
To locate the Windows Defender folder, click on "Computer Configuration," then "Administrative Template," then "Windows Components," and then "Microsoft Defender Antivirus."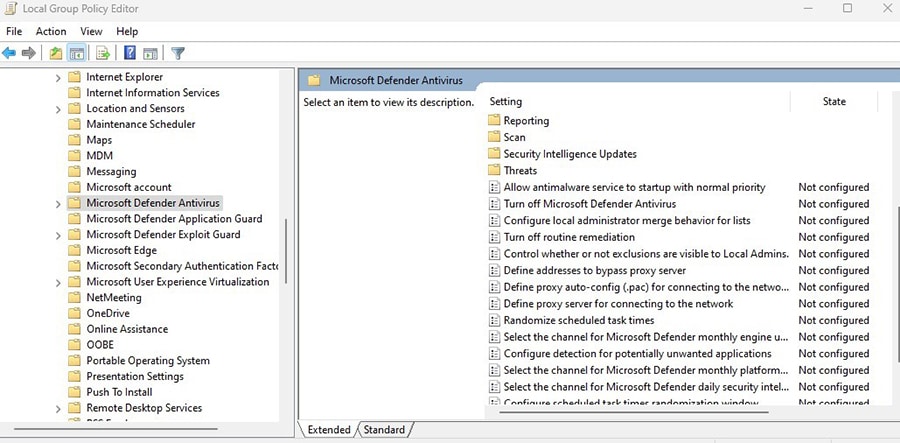 Click "Turn Off Microsoft Defender Antivirus" in the right section of the panel.
Check "Enabled" to finish the process. You can retrace these steps to turn Windows Defender back on when necessary.

How to Turn Off Avast Antivirus Software
If you're wondering how to turn off virus protection for Avast on Windows, here's what you need to do.
Open Avast by double-clicking on its icon in the system tray or desktop.
Click "Protection" and open the "Core Shields" submenu.
Once there, toggle off any Avast security options to temporarily disable them.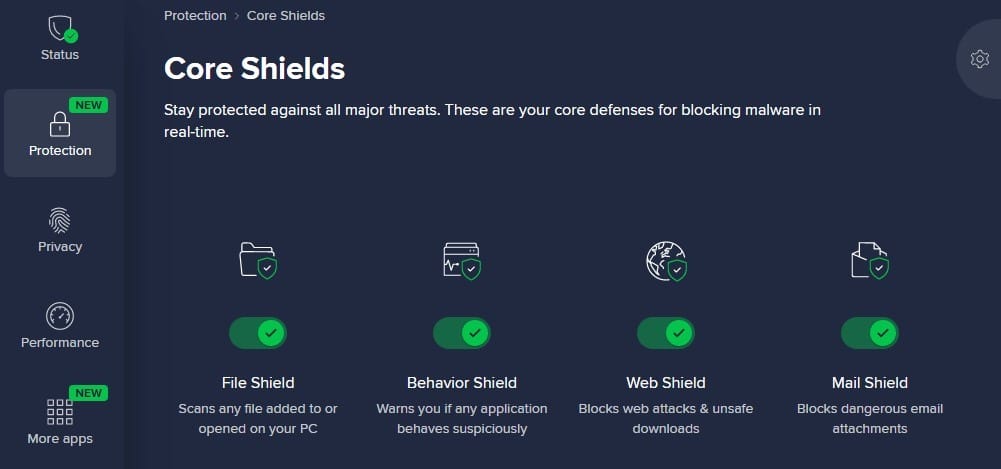 Alternatively, you can turn off Avast's protection entirely and pick if this will be a temporary or permanent measure.
Open your system tray in the bottom right corner.
Locate Avast's icon and right-click it.
Mouse over "Avast Shields Control" and pick an option from the list that appears.

How to Turn Off AVG Antivirus Software
Open AVG by finding its icon in your system tray or desktop.
Click "Computer" on the home screen.
Disable the features by toggling them off.
Pick between scheduled and permanent deactivation of its features.
Click "OK" when prompted by the system to finish the process.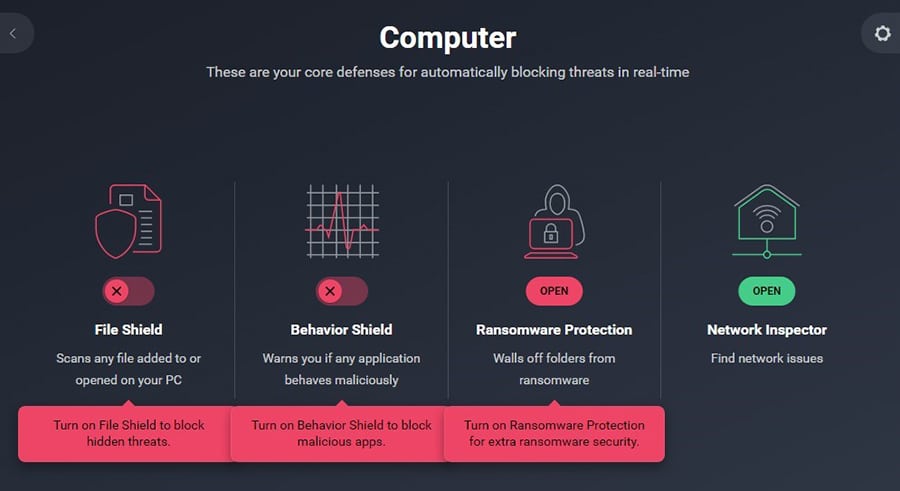 How to Turn Off Bitdefender
Launch the Bitdefender app from your Start menu, desktop, or system tray.
Click "Protection" on the left of the home page.
Navigate to "Antivirus" and open the Bitdefender Shield settings.
Toggle the Bitdefender Shield to off and decide if your choice is permanent or temporary.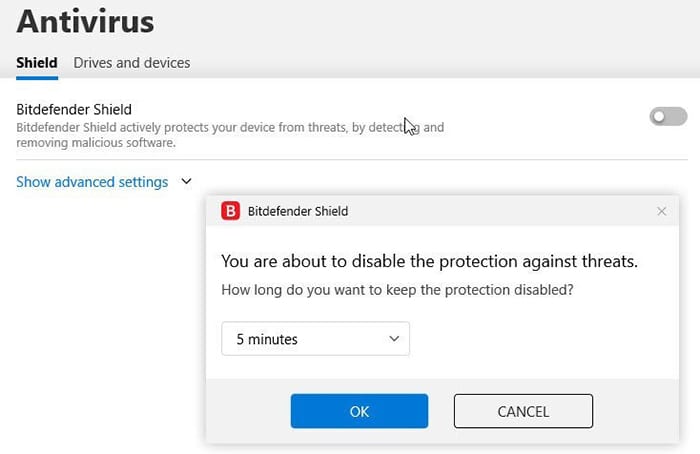 How to Stop Kaspersky
Open the Kaspersky antivirus app.
Click on the gear icon in the bottom left corner to access its settings.
In the "General" tab, click on the switch next to "Protection" to turn it off.
Click "Continue" in the pop-up window to finalize the process.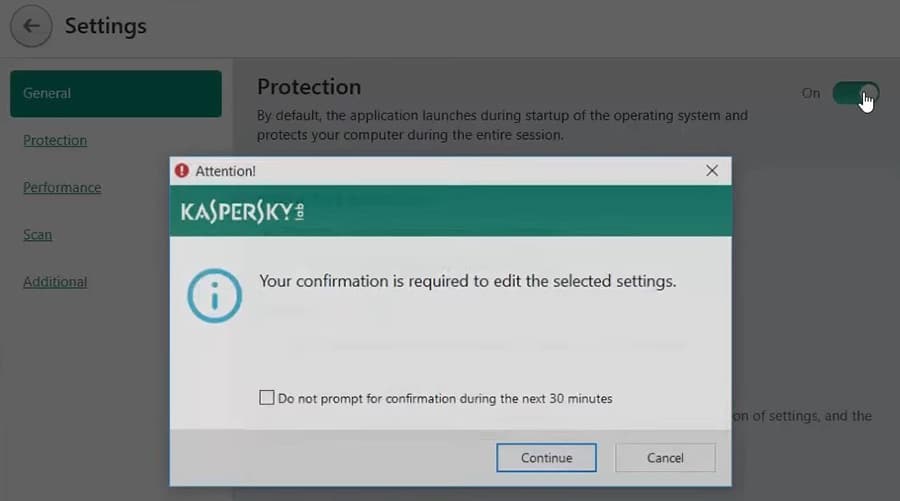 How to Turn Off Malwarebytes Antivirus Software
Locate the Malwarebytes antivirus icon in your system tray.
Right-click on the icon to bring up the settings menu.
Click on the features you wish to turn off, which will remove the checkmark next to them and change their status to "Off."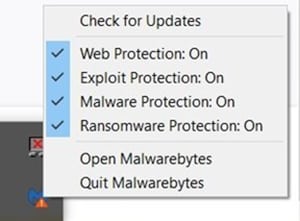 How to Stop McAfee on Windows
Here, we'll show you how to turn off McAfee antivirus protection on a Windows PC in less than a minute.
Right-click the McAfee icon in your system tray.
Place your cursor over the "Change settings" button until a new menu appears.
Click "Real-time Scanning" in the new menu to open the McAfee app.
Click "Turn Off" to finish the process.

How to Turn Off McAfee on Mac
Start the McAfee app on your Mac.
Click the gear icon in the top right corner to access its settings.
In the drop-down menu, click "Real-Time Scanning."
Click the lock in the bottom left corner of the Real-Time Scanning window and enter your admin password to allow changes.
Click the switch in the top-right corner to turn McAfee off.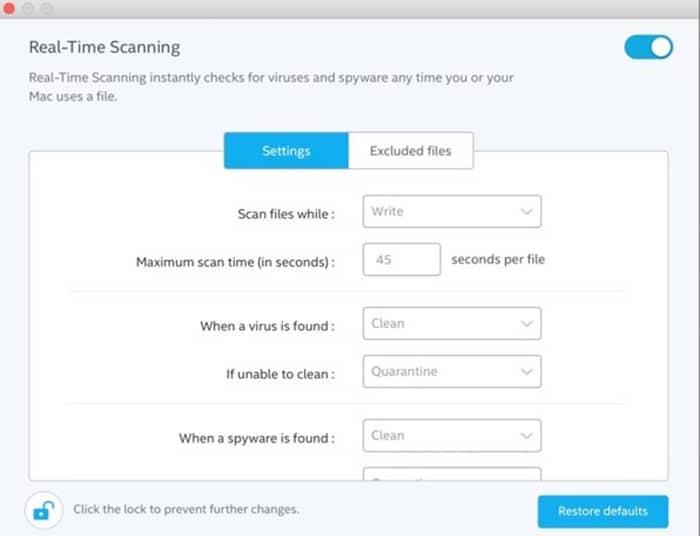 How to Disable Norton on Windows
Locate Norton in your system notification tray area.
Right-click the Norton antivirus icon and click "Disable Auto-Protect."
Select how long you want to turn Norton's protection off and press "OK."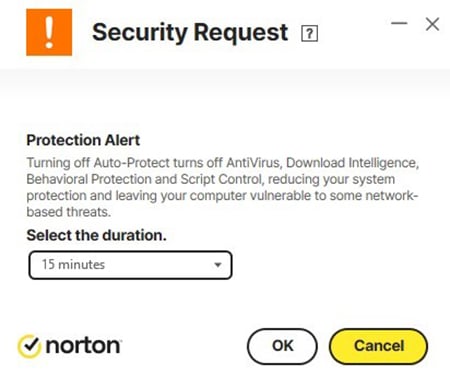 How to Turn Off Norton on Mac
Start Norton by launching it from your macOS dock.
Click on the "Advanced" tab at the bottom of the Norton app.
Toggle Automatic, Scheduled, and Idle scans off by clicking on their switches.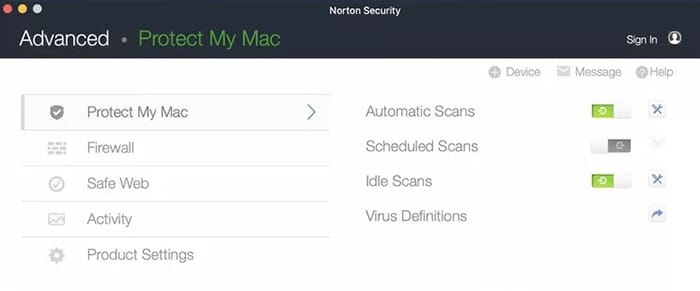 How to Stop Trend Micro
Press the Windows and R keys on your keyboard to open the Run window.
Type "supporttool.exe" in the Open field and click "OK."
Click Yes when the User Account Control Window appears to open the Trend Micro Diagnostic Toolkit.
Click "Stop all Components" to turn the antivirus off. You can also choose to uninstall Trend Micro.

Should You Turn Off Your Antivirus Software?
Now we've covered how to turn off antivirus protection on your devices, we'll list the pros and cons of doing this. Although we don't generally recommend turning off your antivirus software or built-in device protection, there are some scenarios where you might consider it.
Here are some cases when you might consider turning your antivirus off and alternative possible courses of action.
Downloading Issues
If you've spent some time downloading a file only to have your antivirus quarantine and render it unusable, you're likely looking forward to turning off your antivirus program. Although this is the fastest way to download the file, we suggest checking your antivirus program's features first.
For example, the best antivirus software for Windows often includes a "whitelist" menu that allows you to add exceptions to prevent false positives without compromising your device's overall security.
System and Gaming Performance
Owning one of
the best gaming PCs
won't mean much if a resource-heavy antivirus is running in the background and acting as a bottleneck on performance. While you might improve your PC's performance by turning the antivirus off, there are other smarter solutions.
Most modern antivirus software products include gaming or silent modes to reduce their impact on your system's performance while gaming or performing other tasks, such as 3D rendering.
Instead of leaving your PC vulnerable to external threats, consider installing an antivirus program with advanced features that allow you to adapt its resource consumption to your activities.
Automatic Scans and Notifications
If you're frustrated by your antivirus software's constant notifications and annoying scans, which interfere with your work or other activities, uninstalling the software isn't the only course of action you can take.
Most solutions, including the best antivirus products for Mac and Windows, have in-depth settings configuration menus that allow you to turn notifications off.
In addition, you can turn off their automatic scans or adjust their schedule so they run at convenient times. For example, you can set your antivirus to perform a full system scan while you sleep or are away from home.
What Features Does the Best Antivirus Software Have?
Besides keeping your devices safe from cyber threats, the best antivirus software can safeguard your privacy and much more. Here's a list of key features the best antivirus software should provide.
Real-Time Scanning — Ensure your antivirus checks your system for malware and viruses around the clock, giving you peace of mind, knowing you're protected.
Scheduled Scans — Performing a full system scan will find even the most persistent viruses. However, it's best to have a scheduling option to avoid dealing with slower performance during working hours or while gaming.
Firewall — The best antivirus program should offer firewall protection to provide an additional layer of security by blocking suspicious connections and monitoring network traffic.
Phishing Protection — Ensuring your antivirus has phishing protection will help keep you safe from phishing attacks and malicious websites.
Anti-Ransomware — These features are crucial if you're looking for an antivirus to protect your business. With ransomware attacks on the rise, organizations of all sizes should ensure their antivirus has the tools to fight them.
Automatic Updates — Your antivirus program should support automatic updates to keep your devices up to date and safe from ever-evolving malware, ransomware, and virus threats.
Additional Features — Advanced antivirus solutions offer exceptional value for money by providing some of the best password managers and VPN solutions, allowing you to store and manage strong passwords and use the internet in privacy.
Other Helpful Antivirus Guides and Resources
Whether you're a first-time antivirus buyer or a tech-savvy user looking for advanced guides, our resources on these tools can help you find the right product for your needs. Here's a list of some of our essential antivirus guides to help you make an informed decision.
Conclusion
While turning off your antivirus is a straightforward way to relieve your CPU of added stress and slightly improve your device's performance, it's crucial to consider the consequences.
Although we've provided step-by-step guides to turn off each antivirus program's protection in this article, we suggest following the alternative solutions we've outlined.
However, out of hundreds of antivirus solutions available today, only a few have advanced settings that allow you to tailor their processes to your needs and requirements. After testing dozens of these tools, just a handful made it to our list of the best antivirus software.
If you need a solution that will protect your devices without causing major performance issues and with a customizable, easy-to-use menu, consider one of the solutions we've tested.
Antivirus FAQs
How do you disable Windows Defender?
How do you turn off antivirus on Windows 10 permanently?
Can a virus turn off my antivirus?
Is it safe to disable antivirus software?
How do I uninstall antivirus software?
References