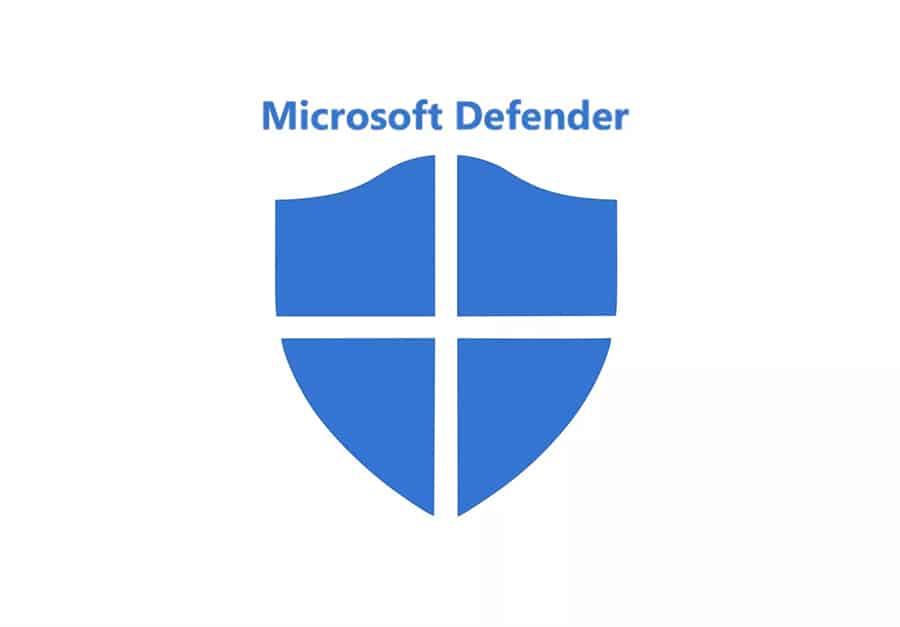 Is Windows Defender enough? In a world where online threats are evolving at an alarming pace, it's a natural question. Windows Defender is one of the most widely used antivirus solutions today, thanks to the fact that it's built into all Windows machines – and its features have improved drastically since its inception.
However, with the increasing sophistication of online threats, including malware and ransomware, you shouldn't necessarily rely solely on Windows Defender.
Let's explore Windows Defender's strengths and limitations to see if it's good enough to provide sufficient protection against online threats or if you need to pair it up with a commercial antivirus solution.
Table of Contents
Table of Contents
What is Windows Defender?
Windows Defender
is a built-in antivirus security solution developed by Microsoft specifically for Windows. It provides real-time protection against threats, including viruses, malware, spyware, and other forms of malicious software, by monitoring your system for suspicious activity and files.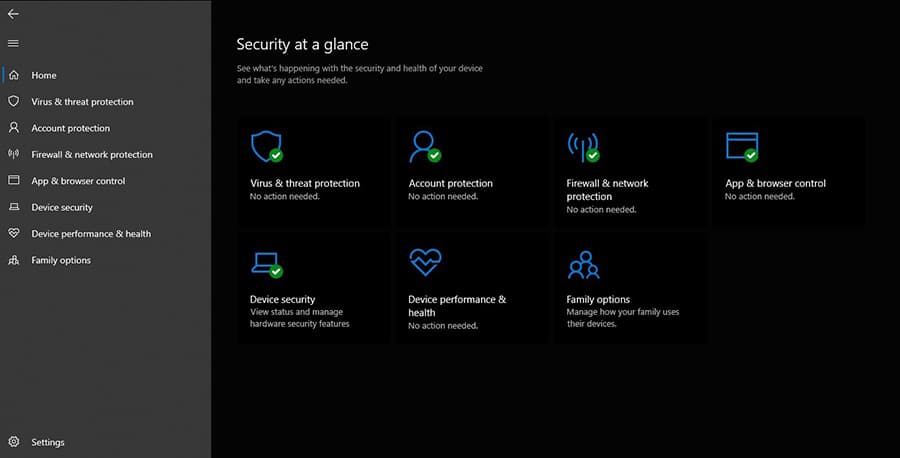 This Windows security system comes equipped with a firewall, and it receives regular updates. It also performs automatic scans of your machine to ensure your computer is kept safe at all times.
However, it's important to note that it only offers basic protection, which is why we recommend opting for additional or third-party solutions, as they come with more advanced features that enhance your overall online security.
Evaluating the Effectiveness of Windows Defender
For an antivirus solution to receive high marks, it needs to be able to perform well during the testing phase. This means pitting it against real-world threats like zero-day malware attacks to see how it defends against them.
Other than its protection capabilities, we looked at how it affected the performance of the protected system. In other words, does it slow the machine down? We also looked at usability. This includes the UI as well as general ease of use.
Let's see how the Windows Defender security center performed against the best antivirus solutions on the market under testing by AV-Test.
If you want a better understanding of how these products are tested, have a look at the results page from AV-Test.
These are good results, especially if you consider that this is a free antivirus solution and the firewall and real-time protection work as expected.
However, to take advantage of these features, you'll need to stick to using Microsoft products. This means that if you use Chrome instead of Edge as your default browser, you'll have to rely on Chrome's built-in protection.
It doesn't offer as many features as third-party solutions, either. For example, the best antivirus solutions often come bundled with a VPN, a password manager, dark web monitoring, and identity theft protection to deliver comprehensive security.
Understanding the Capabilities of Windows Defender
Microsoft has worked hard over the years to improve the capabilities of Windows Defender. It's really easy to use, with minimal setup needed.
For most users, Windows Defender requires no configuration at all and runs in the background without the need for user interaction. If you use a Windows machine, you'll have access to the following features:
Real-Time Protection
It monitors your system continuously to look for suspicious activity and files, providing you with real-time protection against various threats, including viruses and malware.
This includes scanning files, programs, and network activity. As soon as you open a file or program, Windows Defender will check it for any signs of malicious activity.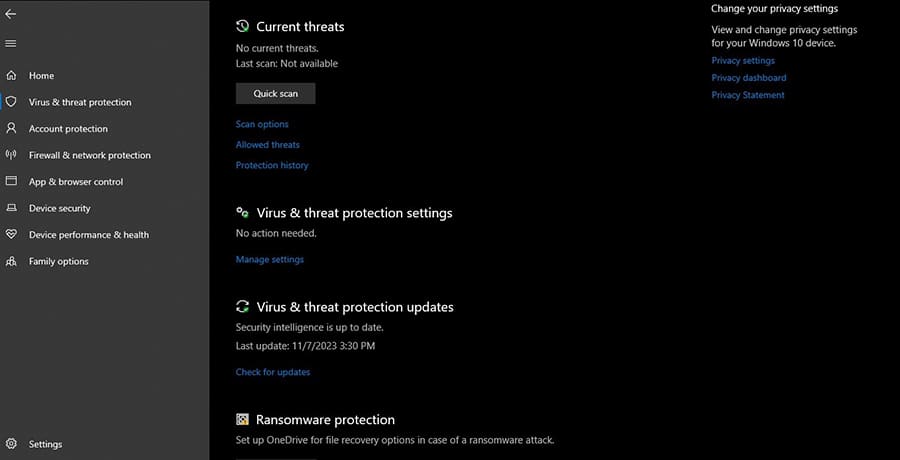 If it detects anything of note, it immediately generates alerts to inform you about the issue. You'll also get the option to take action by either quarantining the threat or completely removing it from your system.
Firewall Protection
Windows Defender comes equipped with a firewall to help block unauthorized access to your computer. This enhances your overall network security and adds a layer of protection against anyone trying to hijack your system. In other words, it's a good measure to prevent ransomware attacks.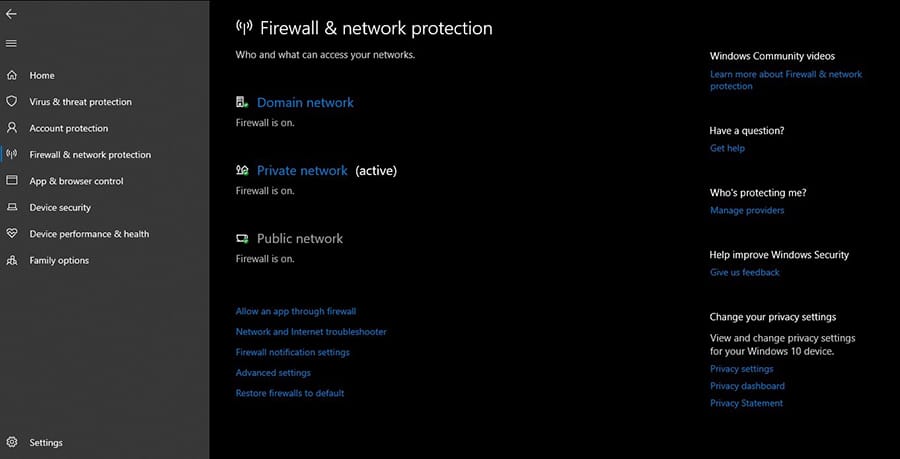 SmartScreen
This is a pretty nifty feature that protects you from phishing sites and malicious downloads. It works by analyzing a website's reputation and file downloads in real-time, essentially acting as a second firewall that blocks access to unsafe or suspicious content.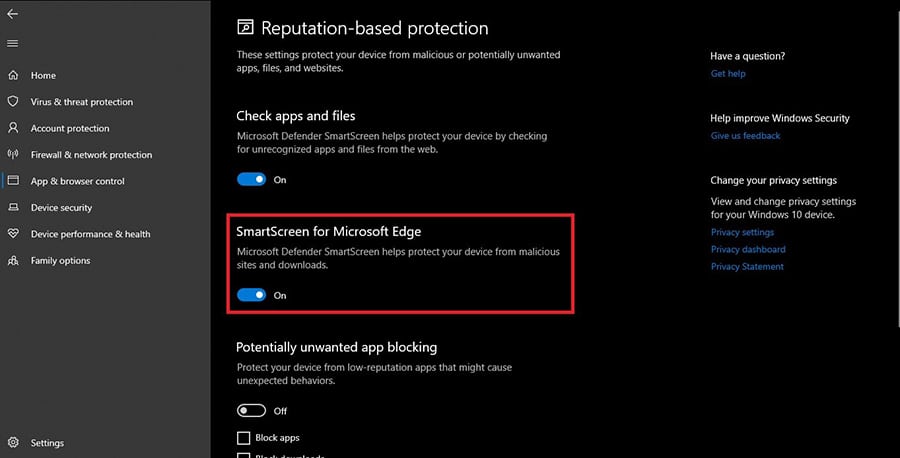 Controlled Folder Access
It can keep important system folders and sensitive files safe by preventing unauthorized access. You can also specify which folders are important so only trusted applications can make changes. This way, you can tailor protection to your specific needs.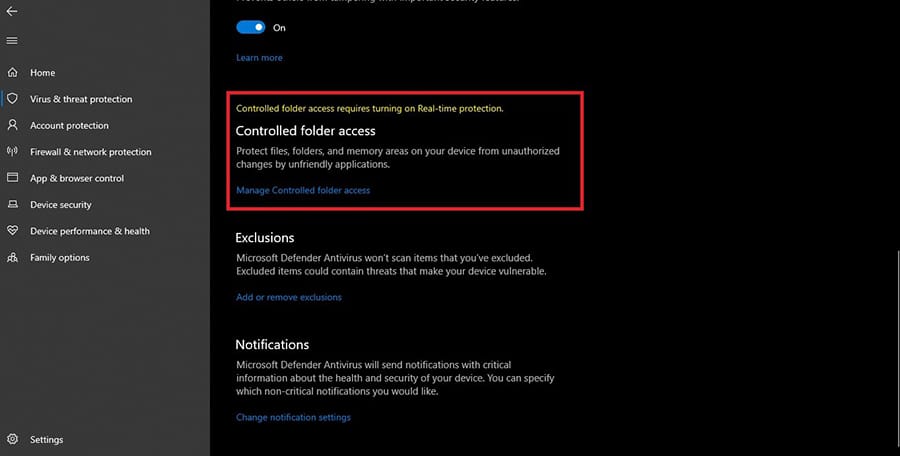 Device Performance and Health
Other than monitoring your network and files, Windows Defender also monitors the overall health of your computer and offers recommendations and guidance on how to keep your system secure.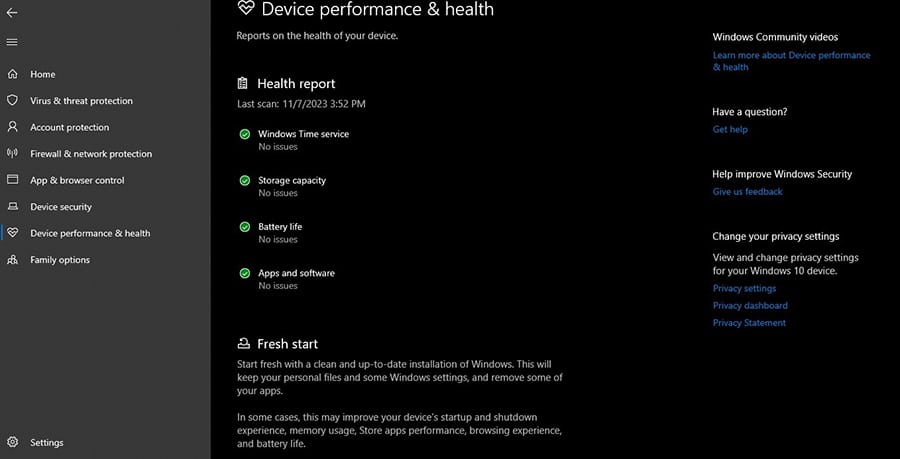 Automatic Updates
Updates are frequent and are equipped with the latest virus definitions and security enhancements, capable of identifying and blocking the latest threats. These updates can be pushed out multiple times a day, which is an indication of how fast threats evolve.
Windows Security Center Integration
Windows Defender is integrated with the larger Windows Security Center, which offers a central place to manage different security settings and features. You can even get access to Family Options through the security center. With it, you can control who can access specific apps and web pages.
Is Windows Defender Enough?
The answer to this depends on your online habits and behavior. If you practice safe internet usage by avoiding suspicious downloads and email attachments and ensuring your software remains up to date, then Windows Defender likely will be enough.
That said, many antivirus solutions work alongside Windows Defender, and having a second layer of security is never a bad idea, regardless of your internet habits.
Third-party solutions give you access to more advanced security features like behavior analysis, phishing protection, identity theft protection, and a whole lot more. Tests have also revealed Windows Defender has a small chance of blocking legitimate software from working.
An important note is that if you install a third-party solution, Windows Defender will go into inactive mode, and you'll need to switch it back on if desired.
In terms of getting a third-party solution, Microsoft recommends you use a reputable antivirus alongside Windows Defender in passive mode so you can benefit from the complimentary protection that's provided.
What's nice is that Windows Defender is completely free to use, so you have nothing to lose. If you have a Windows machine, there's a big chance that it's already on it, doing its thing.
Many people on a budget are reluctant to invest in a third-party solution. There are various free solutions available, but opting for a paid antivirus is generally the best choice.
While no solution can promise 100% protection, many of the best antivirus solutions have affordable plans and are better equipped to handle more advanced threats.
What You Won't Get With Windows Defender
Windows Defender has many features that boost your online security. However, when compared to other antivirus solutions, you'll find that it lacks some important features, including:
VPN (Virtual Private Network)
Many solutions bundle their antivirus packages with a VPN, which adds a layer of protection while you're on the internet. Windows Defender has decided against including this, however.
The best VPNs are fantastic tools for security and privacy and often come with 256-bit AES encryption to protect your data and mask your IP address.
Password Manager
Password managers have become increasingly popular for managing internet accounts. These tools can keep all your passwords in a secure location and auto-populate login pages, so you'll never need to remember your passwords again.
The best password managers will suggest strong passwords for you to use whenever you sign up for a new account so you can ensure you don't use any duplicate passwords.
Dark Web Monitoring
The dark web is a part of the internet that is intentionally kept hidden, and the only way to access it is through specialized software like Tor. Hackers use the dark web to sell compromised data – and if your details get leaked, it could have a devastating impact on your life.
That's why it's disappointing that Windows Defender doesn't offer this feature. Dark web monitoring can detect if your data has been compromised or if there's been an attempt to steal your identity, and it then alerts you so you can take action. Early detection is a crucial step in preventing further damage being done.
Pros and Cons of Windows Defender
Microsoft Defender is a decent antivirus solution for those looking for basic free protection. However, it lacks some key features and falls short compared to other solutions like ESET. Let's take a look at the pros and cons of Windows Defender:
Pros
Built into the Windows OS
Free to use
High lab scores
Integration with Windows Security Center
Receives regular updates
Cons
Missing key features
Resource intensive at times
Only offers basic protection
Limited to Windows machines
Best Practices for Maximizing Windows Defender's Effectiveness
In order to maximize the effectiveness of MS Defender, you need to implement best practices for optimizing your computer security. This means taking steps like ensuring you keep Windows up to date.
A good way to do this is to ensure automatic updates are enabled. This way, you can schedule updates for when you aren't working on your computer. The same can be done for scans.
You can also enable cloud-based protection, which protects your data against security threats and provides an easy way to back your data up in the cloud. If anything should happen to your computer, you'll be able to retrieve your data with relative ease.
Other key practices include enabling real-time protection, using the controlled folder access feature, enabling SmartScreen, and ensuring you use strong passwords. You might also consider using third-party solutions like a VPN for added security.
Finally, you should also use your own intuition. For example, if you receive an email with an attachment, it's probably best if you don't download it unless you're 100% confident it's safe. Also, try to avoid suspicious websites. If you find yourself on a website you don't trust, run a scan immediately.
Alternatives to Windows Defender
TotalAV – Outstanding Antivirus Software for Complete Protection, Including Password Manager and VPN
Minimal system impact
Unlimited VPN bandwidth
Excellent phishing protection

Let's take a look at some of the best Windows Defender alternatives. These are excellent options to pair up with Windows Defender as they have features the Microsoft antivirus is missing.
Antivirus Software
Test Results
Starting Price
Max Devices
Devices
Free Version
Top 3 Features
TotalAV
16.5/18
$9.95/month
6 – Total Security Plan
Windows, MacOS, iOS & Android
Free scan
– Identity Protection
– Password Manager
– VPN
Norton
18/18
$1.67/month (Annual)
10 – Norton 360 with LifeLock Plan
Windows, MacOS, iOS & Android
7-day trial
– Password Manager
– 250GB Cloud Backup
– Dark Web Monitoring
TrendMicro
17.5/18
$1.66/month (Annual)
10 – Premium Security Suite
Windows, Mac, Android, iOS & Chromebook
30-day trial
– Identity Protection
– Password Manager
– VPN
Avast
18/18
$4.19/month (Annual)
10 – Premium Security
Windows, MacOS, iOS & Android
– Free plan
– 30-day trial
– Webcam Shield
– VPN
– Wifi Inspector
Malwarebytes
17/18
$5/month
5 – Premium plan
Windows, MacOS, Android, iOS & Chromebook
14-day trial
– VPN
– Browser Guard
– Ad Blocker
As you can see in the table above, these solutions have more to offer, which makes them powerful choices for those looking for antivirus protection. We suggest you pair Windows Defender with one of these solutions, which will provide a second layer of security.
Third-party antivirus solutions also offer the ability to cover more than one device on a single subscription. This results in more control over your devices' security while keeping all the required information in a central dashboard for easy monitoring.
In contrast, the Microsoft Defender antivirus only protects the device it's on and can't extend its capabilities to other devices, such as mobile phones or tablets.
Other Antivirus Guides to Read Next
Having explored Windows Defender, you might be interested in investigating other antivirus solutions.
Our experts have put together a host of antivirus guides covering a wide range of different solutions for different platforms and use cases so you can compare Windows Defender vs. McAfee, among others. These guides include:
Conclusion — How Good is Windows Defender?
Windows Defender has come a long way in terms of its capabilities and effectiveness. For those with relatively straightforward security requirements, like home users, Windows Defender is capable of providing a decent level of protection.
This is especially true if you implement the best security practices, perform regular updates, and have a proactive user behavior.
However, for those looking for more complex security requirements, we recommend you opt for a third-party solution like TotalAV or Norton.
Microsoft Antivirus Defender FAQs
Is Windows Defender any good?
Is Windows security enough on its own?
Is Windows Defender free?
Does Windows 11 need antivirus protection?
Is Windows Defender good enough for small business needs?
Can Windows Defender remove malware?
References