The best Bluetooth speakers deliver the highest quality audio, with seamless connectivity and a solid 10-20 hours of playback time. With features like a sturdy build, a long wireless range, built-in voice controls, and portability, a Bluetooth speaker is an indispensable music essential.
However, given the various number and types of speakers available, choosing one can be a difficult ordeal. That's why we've put in the legwork to find and review the best Bluetooth speakers based on criteria like pricing, portability, battery life, wireless range, and connection options. Dive in as we discover why the JBL Flip 5, Anker Soundcore 2, and JBL Clip 3 are among the best in the music business.
The Best Bluetooth Speakers Ranked
The JBL Flip 5 tops our intensive research to emerge as the best Bluetooth speaker, owing to features like a 12-hour long playtime, IPX7 waterproof rating, and 11 color options to choose from. Here's how it fares against others on the list:
Reviews of the Top Wireless Speakers for Home
Can't wait to get your hands on the best Bluetooth speaker for your next party? Read on as we'll now discuss in detail the best features, pros, cons, and pricing of each of our top recommendations.
1. JBL Flip 5 — Best Bluetooth Speaker Overall in 2023
The Flip 5 is the best JBL Bluetooth speaker and the ideal one for parties. It comes with a "Party Boost" mode that allows you to pair up to 100 speakers together, as long as they're all JBL speakers and have the Party Boost mode themselves — thankfully, many do, including the JBL Pulse 4, Xtreme 3, Boombox 2, and Charge 5.
With this feature, you'd connect via Bluetooth and press the "Party Boost" button on all your JBL speakers one by one. Now any song played will do so on all the connected speakers simultaneously.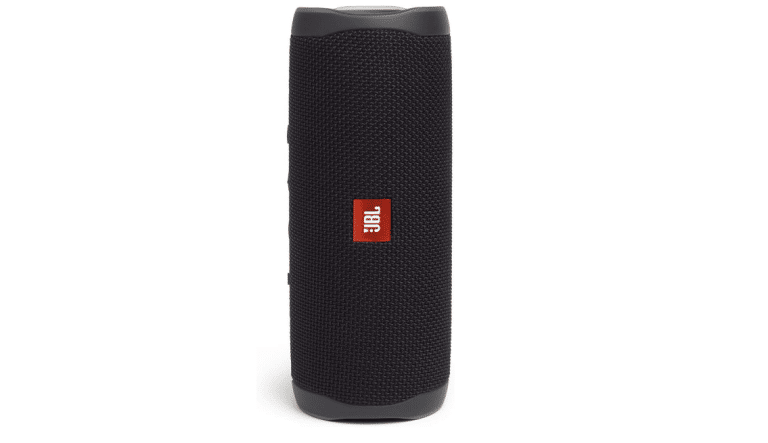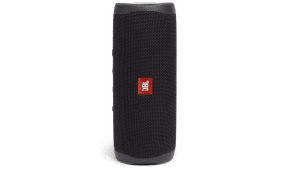 | | | | | | |
| --- | --- | --- | --- | --- | --- |
| Price | Wireless Range | Connections | Frequency Response | Waterproof Rating | Battery Life |
| $82.52 | 10 meters | Bluetooth | 65Hz to 20kHz | IPX7 | 12 hours |
The Flip 5 is perfect for outdoor parties because of its IPX7 waterproof rating, which means it can handle both exposure and immersion in water. So if you want to host a pool party, the JBL Flip 5 is your safest option. Whether you splash water on it or even drop it in the pool, the speaker will continue to work without missing a beat.
You'll also appreciate its long 12-hour playtime. In most daily scenarios and even at parties, a 12-hour battery life should be more than enough, but if you travel a lot, we've got other options on our list that are worth considering.
How a speaker looks matters. If you want your speaker to enhance the overall look of your workstation or gaming desk, this JBL provides 11 different colors, from shades of black and blue to fun and vibrant yellow, pink, and red; the options are endless.
Overall, it's tough to pinpoint a flaw with the JBL Flip 5, hence its popularity and shining reputation online.
Pros
Multiple color options
Premium sound quality
Lets you pair multiple JBL speakers together
Durable material made for outdoors
Best waterproof Bluetooth speaker
Cons
Only 12 hours of playtime
2. Anker Soundcore 2 — Best Outdoor Speaker with 24-Hour Battery Life
The Anker Soundcore 2 is a great option if you're looking for an outdoor-friendly Bluetooth speaker. It's a battery-powered speaker with 24 hours of playtime, which is twice that of the JBL Clip 5.
Furthermore, it also comes with an IPX7 waterproof rating that makes it resistant to all tough weather conditions. These two features together make it the perfect travel-friendly speaker. Whether you want to take a speaker to the beach or on your next road trip, the Anker Soundcore 2 will suit you well.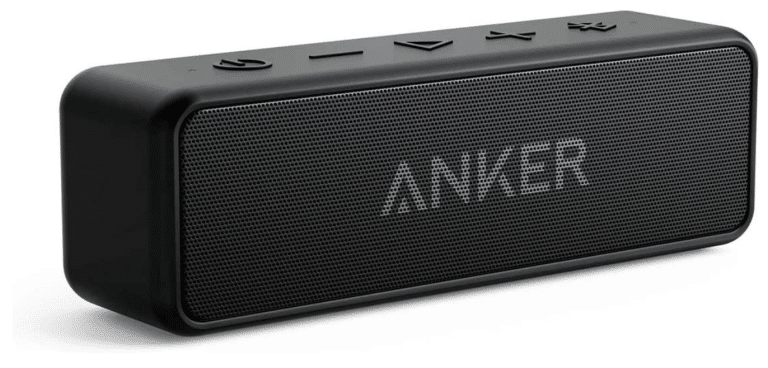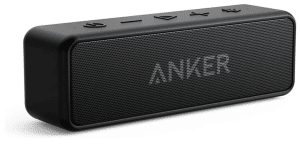 | | | | | | |
| --- | --- | --- | --- | --- | --- |
| Price | Wireless Range | Connections | Frequency Response | Waterproof Rating | Battery Life |
| $39.99 | 20 meters | Bluetooth & Aux-In | 70Hz to 20kHz | IPX7 | 24 hours |
Other remarkable features include the 5.0 Bluetooth connection, that's more stable than its previous versions. It comes with a better range, longer battery life, and can transmit 2x the data per second than the 4.2 version so that the audio doesn't lag.
We also loved the "Wireless Stereo" pairing feature, which allows you to connect two speakers via your original music source to make it louder. This feature is similar to JBL Party Boost, with the only difference being that while JBL lets you join multiple devices, the Anker Soundcore 2 limits it to 2 devices at a time. This should be more than enough for small gatherings and house parties.
What makes Anker Soundcore 2 rank second on the list is the brand's decade-long experience. It's served over 20 million happy customers across 50 countries in the world. Plus, it has 181 licensed patents and countless exclusive technologies that give it an upper hand over its competitors in terms of sound quality. We don't need more proof to confirm that the Anker Soundcore 2 is one of the best options in the market.
Pros
Trusted by 20+million people
IPX7 rating – both splash and submersion proof
An affordable device with 24-hour battery life
Aux input to connect to the best laptops
Cons
Some users find the bass to be too high
3. JBL Clip 3 — Best Portable Bluetooth Speaker Weighing Just 0.46 Pounds
The JBL Clip 3's biggest USP is in its name — it's a small and portable clip-on speaker that you can use on the go. This has several benefits, including that you can simply hang it on the handles of your bag to make more space in your luggage or protect the speaker from being buried under your package's weight. This makes it easily among the best portable speakers.
On top of this, if you're going on a hike, trek, run, or basically any activity where you'd like to keep the music playing for the entire group, this mini Bluetooth speaker will come in very handy.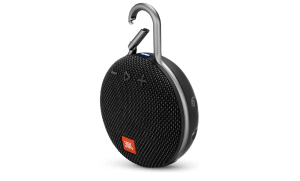 | | | | | | |
| --- | --- | --- | --- | --- | --- |
| Price | Wireless Range | Connections | Frequency Response | Waterproof Rating | Battery Life |
| $49.90 | 10 meters | Bluetooth | 600Hz | IPX7 | 10 hours |
This also applies to when you want to listen to music while doing chores around the house. You won't have to carry the speaker with dirty hands to the next room — hang it in your pants loophole or even the laundry basket (it weighs just 0.46 pounds).
It's also one of the few speakers on the list that lets you answer calls directly. Since it comes with noise and an echo-canceling speakerphone, the audio will be clear and audible with minimal network disturbances.
Color and design options are also endless. Starting from red, green, and mustard to yellow, pink, and silver, there's enough diversity to choose from. However, the only minor shortcoming that concerned us was the low playtime. With just 10 hours of playtime, it's much below the industry average.
Pros
Built for adventures
Multiple color options
Built-in noise cancellation technology
Easy to carry, meaning a good shower speaker too
4. Sony SRS-XB31 — Best Sounding Bluetooth Speaker with Multi-Colored Line Lights
The Sony SRS-XB31 is undoubtedly a mood-setter for parties with its multi-colored line light. These not only change color but also twinkle at fixed intervals, adding to the effect. Imagine this speaker with its dazzling colors in a dimly lit room — the ambiance will be surreal.
Beyond this, the speaker mainly focuses on adding extra bass to your music, another feature that indicates how perfect it could be for house parties. Compared to low-bass speakers, the high bass fills up the gaps in the song and makes each sound fuller.
Overall, the songs sound more vibrant. This feature is available in the "Live Sound Mode," which is built to give you a 3D and immersive sound experience.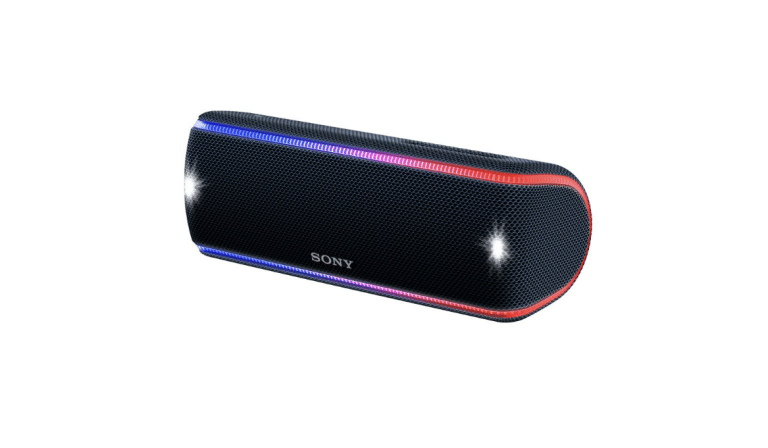 | | | | | | |
| --- | --- | --- | --- | --- | --- |
| Price | Wireless Range | Connections | Frequency Response | Waterproof Rating | Battery Life |
| $109.99 | 30 meters | Bluetooth & USB Cable | 20 Hz to 20,000 Hz | IP67 | 24 hours |
Connecting the speaker is also very simple. Thanks to the integrated NFC technology, you can connect it to your phone with just a simple tap. Simply turn on the Bluetooth on your phone, power up the speaker, and tap your mobile on it — you'll be connected instantly.
The speaker works in collaboration with the Sony Music Centre app, which makes managing it even easier. You'll find 3 presets under the Sound Mode that you can choose to avoid manually adjusting the audio settings of the speaker.
The app can also be used to manage the lighting, and you get dozens of colors to choose from. Furthermore, the lighting strobe that periodically runs across the speaker can also be turned on or off through the app. So while it could be the perfect second fiddle in a home disco setting, you can also turn off its lighting and use it for its impressive sound quality alone.
Pros
An excellent 24-hour battery life
Lets you connect up to 100 speakers
Best sound quality Bluetooth speaker
Provides a 3D immersive audio ambiance
Comes with multicolored line light and flashing strobe
Cons
The water resistance rating could be better
The Marshall Emberton is a true premium speaker. You surely have to pay a higher price, but it's worth every penny, thanks to its visual appeal and service. Weighing 1.54 pounds and with dimensions of 6.5 x 2.2 x 1.8 inches, it's certainly not the most lightweight or compact speaker on the list.
But then again, it wasn't meant to be. Marshall speakers command awe and are supposed to draw attention to whatever table or shelf you put them on. Consider them like Apple products; they add a small but certain amount of social prestige to the owner's persona.
This Marshall speaker comes with fast charging technology — you can run it for 5 hours straight with just 20 minutes of charging. And once it's fully charged, you get 20 hours of non-stop service.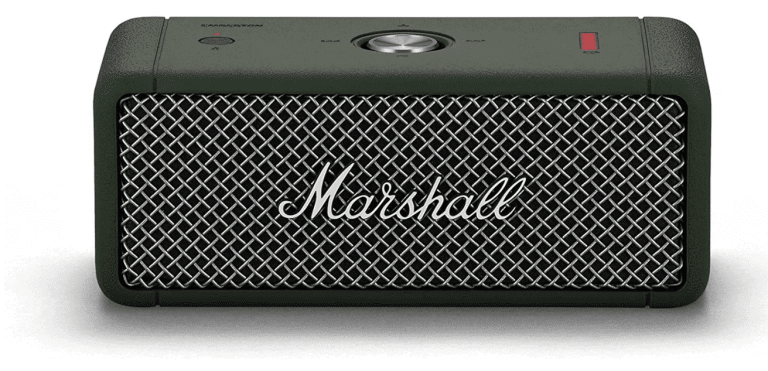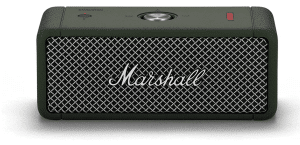 | | | | | | |
| --- | --- | --- | --- | --- | --- |
| Price | Wireless Range | Connections | Frequency Response | Waterproof Rating | Battery Life |
| $149.99 | 9 meters | Bluetooth | 60Hz to 20kHz | IPX7 | 20 hours |
Another notable feature is the 360° music experience. Using the "True Stereophonic" technology, this speaker manages to create a multi-directional audio ambiance. It's like how it is in movie theaters — the music will seem to flow in from every direction with you in the center.
Using the speaker is straightforward. It comes with a multi-directional knob that you can use to forward, rewind, play, or pause the music. The same knob can also be used to turn it on or off and adjust the volume.
The device also comes with an IPX7 waterproof rating which is quite standard in the industry and more than enough to ensure long-lasting service. Plus, the speaker is covered by Zound Industries USA Inc's one-year limited warranty, so you'll have expert help at your fingertips when needed.
Pros
1-year warranty coverage
Lightweight & portable
Comes with 20+ hours of playtime
IPX7 rating makes it water-resistant and road ready
Cons
Offers a premium experience but might be too costly for some
6. OontZ Ultra — Bluetooth Speaker with a Large Wireless Range of 100 ft.
The OontZ Ultra Bluetooth speaker comes with a massive Bluetooth range of 100 ft (or 30m). Usually, the Bluetooth range of speakers in this budget range isn't over 10-15m. OontZ is one of the few that gives you double the regular Bluetooth range with a consistent connection.
This means you can carry your phone all the way to the other side of the house and still listen to your favorite music playing with the same sound and clarity. You can also take calls from a different room or your yard (obstacles like walls don't interrupt connection) as long as it's within the 30m range.
This makes it perfect for users who want an expansive wireless range but find the Sony SRS XB31 offering a similar 30m range or the MEGABOOM 3 with a 45m range to be outside their budget.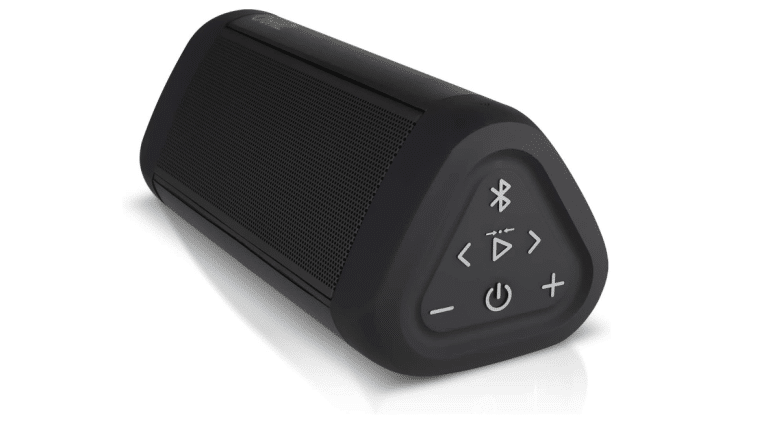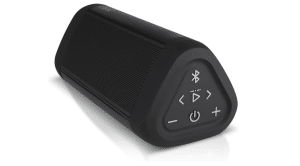 | | | | | | |
| --- | --- | --- | --- | --- | --- |
| Price | Wireless Range | Connections | Frequency Response | Waterproof Rating | Battery Life |
| $39.99 | 30 meters | Bluetooth | 150 Hz to 140 kHz | IPX7 | 20 hours |
The design is also rather unique. The triangular shape allows you to place it in two ways: you can either lay it flat on the platform or make it stand upright on one of its three bases. It's a significant advantage over the standard cylindrical design that leaves the risk of the speaker rolling down the platform it's placed on.
Speaking of battery life, OontZ provides a 20-hour play time on 2nd/3rd volume. In simple terms, if the volume is set at around 70% throughout, the speaker will last the entire day once fully charged — perfect for small get-togethers at home.
The only thing that might be slightly concerning is the material. It's made of plastic, however, it has been rubberized to add durability. All the corners and edges are smooth and round and covered with a layer of rubber to minimize the impact of accidental falls.
Pros
High-quality and sound
Among the finest portable Bluetooth speakers
Up to 100 ft of Bluetooth range
Offers a stable connection
Can be made to stand upright or laid flat
Cons
20+ hours of playtime only if the volume is at 2nd/3rd
7. Doss Soundbox — Best Budget Bluetooth Speaker
The Doss 12W Soundbox comes with a smooth touchscreen display that you can easily use to adjust the sound settings and set the right mood. No more jabbing at the buttons to change the sound — a few quick flicks is all you'll need.
For high-quality sound, the speaker uses 12W dual high-performance drivers, which are more equipped than traditional drivers to handle bass and frequency separately, resulting in more immersive audio.
Speaking of the playtime, it offers 20 hours at a stretch which is more than many other options above, but it can only be achieved if you're playing the songs at 50% volume. So unless you're buying it for personal use and planning to keep it indoors, the battery life isn't much.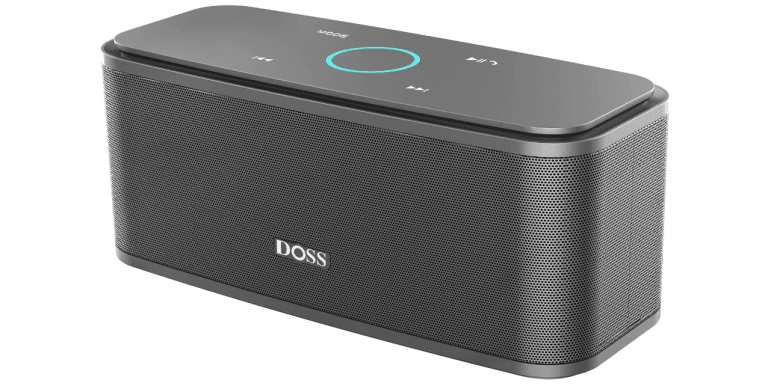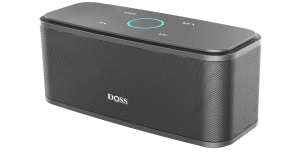 | | | | | | |
| --- | --- | --- | --- | --- | --- |
| Price | Wireless Range | Connections | Frequency Response | Waterproof Rating | Battery Life |
| $34.99 | 10 meters | Bluetooth and USB | 50Hz to 20kHz | IPX5 | 20 hours |
The water resistance is somewhat okay. It comes with an IPX5 rating which means it can resist gentle splashes or light exposure to drizzle but cannot be submerged in water. You can certainly use it for pool parties or at the beach, but there's always a risk that you might drop it in the water and damage it. Combining its poor water resistance and low playtime, we don't recommend this speaker for outdoor use.
On the plus side, it does have a stellar visual appeal, which goes to show that the manufacturers meant it to be an indoor speaker. The speaker's sleek design, paired with its smooth matte finish, also gives it an expensive look — perfect if you're trying to impress your houseguests.
In addition to that, you get 12 different colors to choose from. If you choose the deep black model, you'll also get a micro USB cable and a waterproof bag to store and carry the speaker.
Pros
Touchscreen display
Sleek & compact design
Available in multiple colors
Dual high-performance drivers
Cons
The battery only lasts 20+ hours if the volume is at 50%
A poor waterproof rating
8. Bose SoundLink II — Beginner-Friendly Speaker with Voice Prompts for Setup
The Bose SoundLink II is high-end, sure, but an amazing beginner-friendly speaker. While other speakers come with a written manual to help you set up, this Bose speaker uses voice prompts through Bluetooth to guide you through the process. These instructions will help you connect the speaker to your phone and other NFC devices.
Speaking of connecting devices, this Bose speaker lets you connect two other speakers of the same brand under its "Party" mode to amplify the volume. It's great for small parties, but if you're hosting a lot of guests or if you have an expansive garden, we recommend the JBL 5's Party Boost mode, as it lets you connect up to 100 speakers together.
What's more, the Bose SoundLink II comes with its own app called "Bose Connect." You won't have to throw your hands at your Bluetooth menu and have an app dedicated entirely to your music systems instead, making it easier for you to connect the speaker, manage the connection, and switch between devices.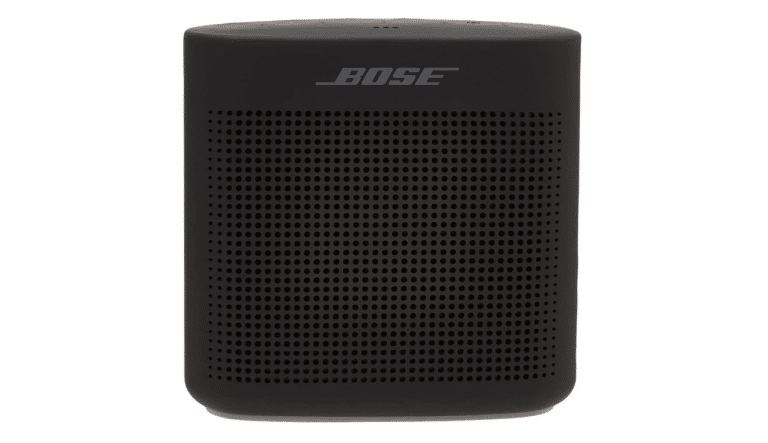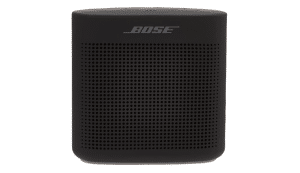 | | | | | | |
| --- | --- | --- | --- | --- | --- |
| Price | Wireless Range | Connections | Frequency Response | Waterproof Rating | Battery Life |
| $159.99 | 9 meters | Bluetooth | 88.5 Hz to 7.1 kHz | IPX4 | 8 hours |
If you're looking for a multi-purpose device, the Bose SoundLink II is a great choice. You can use it to stream music as well as take calls. Sure, the JBL Clip 3 lets you take calls, too, but Bose SoundLink II brings something more to the table.
It comes with a high-quality built-in microphone that captures your voice and transmits it to the user on the other end with minimal disturbance. What's more, its wireless range covers a 30-feet radius which makes answering phone calls all the easier.
It's also one of the few Bluetooth speakers that lets you connect to your phone's virtual assistant. This way, you can command the phone to play your favorite song hands-free.
That said, battery life isn't too remarkable. It only serves 8 hours at a stretch, but since it's rechargeable, it won't be a huge problem.
Pros
Voice-control available
Best Bose Bluetooth speaker
Lets you take calls hands-free
Voice prompts help you set up
Lets you connect two speakers together
9. Ultimate Ears MEGABOOM 3 — Most Durable Bluetooth Speaker
The Ultimate Ears MEGABOOM 3 is the most durable, strong, and adventure-friendly speaker on the list. It has undergone 25 durability tests to ensure it can survive in almost every tough condition. These tests included intentional drops, hits, and button pushes to ensure it can survive rough use as well.
Adding to the sturdiness, the speaker comes covered in a two-tone fabric which makes it stronger and looks better at the same time. It also comes with the standard IP67 rating, but what caught our eye was if you accidentally drop it in water, it'll automatically float up.
The buoyancy means it's the cream of the crop when it comes to party speakers, as you don't have to worry about your speaker drowning when at a pool party.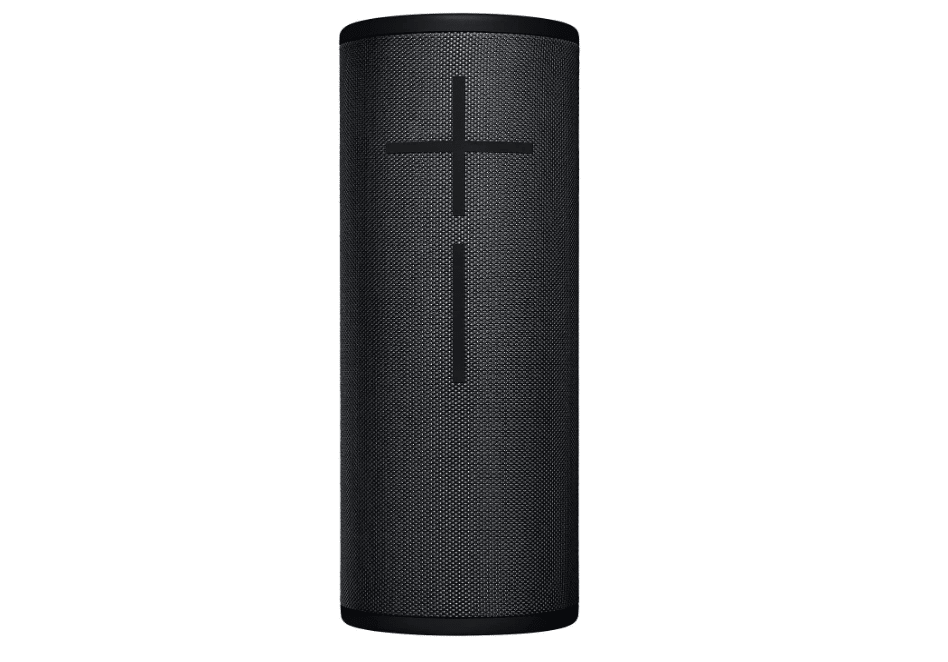 | | | | | | |
| --- | --- | --- | --- | --- | --- |
| Price | Wireless Range | Connections | Frequency Response | Waterproof Rating | Battery Life |
| $130 | 45 meters | Bluetooth | 60Hz to 20kHz | IP67 | 20 hours |
If you look closely, you'll notice that the MEGABOOM 3 and Marshall Emberton have many features in common. For example, this speaker has an all-purpose button that you can use to play, pause, or skip the music, just like the all-in-one knob in Marshall Emberton.
It also provides an immersive 360° experience so that no matter where you go or which corner you're at, the music seems even and balanced.
The only difference is that the MEGABOOM 3 is slightly costlier than Marshall Emberton. If the other distinct features mentioned above don't benefit you in any way, you should probably stick to Marshall Emberton.
Also, the MEGABOOM 3 lacks a speakerphone and an auxiliary input. So if you're looking for a speaker that lets you take calls or allows wired connections, you should consider other options such as the Anker Soundcore 2 or Bose SoundLink II.
That said, if you want a Bluetooth speaker with the best wireless range and are willing to spend a little, there's no beating the MEGABOOM 3, thanks to its 45m range.
Pros
Easy to use
Floats in water, no risk of drowning
Sturdy with a two-tone fabric for extra protection
Lets you connect up to 150 speakers at once
One of the best outdoor Bluetooth speakers
10. Amazon Echo 4 — Smart Speaker with Voice Assistant
The Amazon Echo 4 is an in-house product of Amazon itself, so there's no doubt that it comes from a reliable brand. It's also the only speaker on the list that can be completely controlled by voice commands. So if you're on the lookout for smart speakers, this is your best bet.
Amazon Echo works a lot like Alexa — you basically speak to the device and give instructions to it. The best part is that it's compatible with several music streaming platforms, such as Apple Music, Spotify, and Amazon Music, meaning you'll never run out of song options.
Since it's a smart Amazon device, it connects to all other smart Amazon appliances, and they can all work together like a synchronized unit. For example, you can connect it to your FireTV so that each movie or show comes to life with loud, clear, and realistic audio.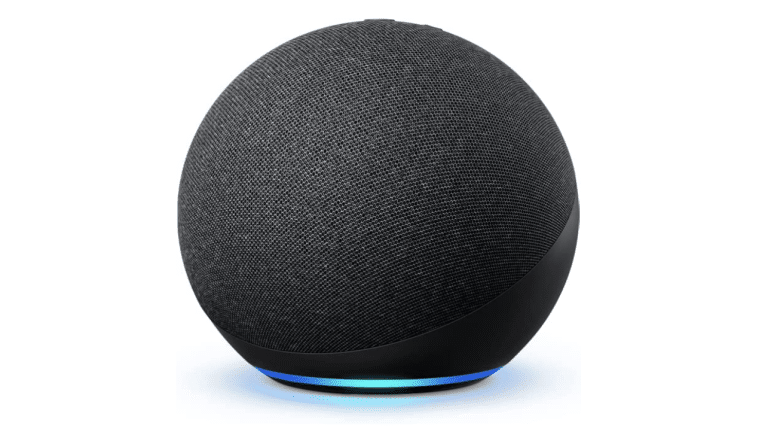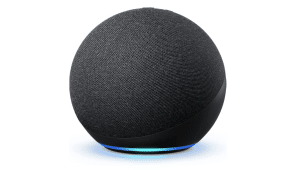 | | | | | | |
| --- | --- | --- | --- | --- | --- |
| Price | Wireless Range | Connections | Frequency Response | Waterproof Rating | Battery Life |
| $74.99 | 10 meters | Bluetooth | 40Hz to 100Hz | No waterproof rating | 4 to 5 hours |
It's also Alexa-enabled, which means you can use it for more than just music — ask the device to set a reminder for you, read a message, call a contact, or even ask questions.
However, there are two very clear downsides to using the Amazon Echo 4. First of all, it doesn't have a waterproof rating, so it's neither travel-friendly nor a good pick for parties. Secondly, it's not the loudest Bluetooth speaker. In serving a plethora of other responsibilities, its features as a speaker have taken a backseat.
On the plus side, Amazon is sincere about keeping your data safe. That's why the Echo 4 comes with multiple layers of encryption to keep away data thieves. It also lets you turn off the mic when not in use in case you don't want the device to eavesdrop on your conversation.
Pros
Alexa-enabled by default
A smart assistant and not just a speaker
Can connect to all smart devices in your home
One of the best home Bluetooth speakers
Comes with a battery base for seamless charging
Cons
Not exclusively made for quality music streaming
Comparison of the Best Wireless Speakers
To help you easily compare the market's top products, here's a quick roundup of the key differences between the 10 best speakers for music so that you can make a decision on the factors that matter the most:
| | | | | | | |
| --- | --- | --- | --- | --- | --- | --- |
| Bluetooth Speakers | Price | Wireless Range | Connections | Frequency Response | Waterproof Rating | Battery Life |
| JBL Flip 5 | $82.52 | 10 meters | Bluetooth | 65Hz to 20kHz | IPX7 | 12 hours |
| Anker Soundcore 2 | $39.99 | 20 meters | Bluetooth & Aux-In | 70Hz to 20kHz | IPX7 | 24 hours |
| JBL Clip 3 | $49.90 | 10 meters | Bluetooth | 600Hz | IPX7 | 10 hours |
| Sony SRS XB31 | $109.99 | 30 meters | Bluetooth & USB Cable | 20Hz to 20,000 Hz | IP67 | 24 hours |
| Marshall Emberton | $149.99 | 9 meters | Bluetooth | 60Hz to 20kHz | IPX7 | 20 hours |
| OontZ Ultra | $39.99 | 30 meters | Bluetooth | 150 Hz to 140 kHz | IPX7 | 20 hours |
| Doss Soundbox | $34.99 | 10 meters | Bluetooth and USB | 50Hz to 20kHz | IPX5 | 20 hours |
| Bose SoundLink II | $159.99 | 9 meters | Bluetooth | 88.5Hz to 7.1 kHz | IPX4 | 8 hours |
| Ultimate Ears MEGABOOM 3 | $130.00 | 45 meters | Bluetooth | 60Hz to 20kHz | IP67 | 20 hours |
| Amazon Echo 4 | $74.99 | 10 meters | Bluetooth | 40Hz to 100Hz | No waterproof rating | 4 to 5 hours |
Key Factors to Consider When Buying a Portable Speaker
A wireless Bluetooth speaker is undoubtedly a useful tool to have while celebrating. However, with so many alternatives on the market, it can be difficult to choose the ideal Bluetooth speaker that meets your needs. To break this impasse, here are a few factors to consider when purchasing a portable Bluetooth speaker:
Audio Quality
The key factor when buying a wireless Bluetooth speaker is its ability to produce top-notch sound quality with sufficient bass.
Most Bluetooth speakers are excellent for listening to podcasts and light music. But if sound quality is essential to you, seek devices with larger drivers in the higher price range. They're heavier and bigger but perform well across the sound spectrum.
To determine audio quality, consider total harmonic distortion, which should be less than 1%. Another significant consideration is the frequency range, which should be between 50Hz and 20kHz. A lower frequency produces higher bass quality.
Battery Life
Battery life is an important consideration when choosing the best Bluetooth speakers. A speaker with a shorter battery life will always be connected to a charging wire, making it less mobile than intended. You will require a more powerful battery backup to use it outside or while traveling.
Choose a speaker with a battery life of at least 10 hours if you plan to use it frequently. Some speakers also offer a reliable 20 hours of battery backup. So be picky about this. Be sure to read the product description and customer reviews carefully before purchasing to ensure that the battery life meets your needs.
Construction and Design
In addition to being small and portable, the wireless speakers should have a contemporary, easy-to-use design that complements the current aesthetic and fits your active lifestyle.
If you enjoy taking your Bluetooth speaker along wherever you go, opt for a portable and lightweight one to avoid the hassle of storage. You don't want to carry around a massive, bulky, and unattractive speaker.
Lag Free Connectivity
Having the option for both wired and wireless connectivity in a portable speaker is a great perk. If the speaker has a 3.5 mm auxiliary input, you can use an AUX cable to connect to devices that don't support Bluetooth.
To ensure a stable connection with no delays, it's best to choose a wireless speaker with Bluetooth version 4.1 or higher. Additionally, an integrated microphone is another useful feature in a Bluetooth speaker, as it allows for hands-free answering and rejecting calls. What's more – you can even connect these speakers to your gaming laptop for a complete in-room sound experience.
Type of Speaker
Are you looking for a compact speaker that you can carry on outdoor trips? Or are you just looking for a speaker to play music in the living room? Portable wireless speakers can be classified into two types: Bluetooth and Wi-Fi. The most common alternative is portable wireless Bluetooth speakers because of how convenient they are to use.
They also have quick charging and outstanding sound quality. Although they cost a little extra, Wi-Fi portable speakers have the benefit of being able to connect to a Wi-Fi network. They're suited for audio streaming from a tablet or smartphone as well. In any case, these speakers are a definite upgrade from traditional computer speakers.
Smart Speakers
You might think this is a new category, but "smart" is a must. And in the upcoming years, smart speakers will dominate the market. These smart speakers can do it all, including providing weather updates, sports scores, Wi-Fi access, 360-degree sound, and serving as an extension of your cell phone.
A speaker with smart features can respond to voice instructions, which is useful if you're listening to audio while cleaning, working out, cooking, or doing other work that makes it difficult to control your speaker manually. Therefore, before spending more money on features you won't use, determine whether your potential speaker is built with smart capabilities.
Product Durability and Manufacturer Reputation
Durability and build quality are some other considerations you mustn't forget. The manufacturer's history is an important factor in determining a product's potential longevity. A brand with an excellent track record for producing high-quality items often proves to be a better option.
Another way to tell if a brand is trustworthy is to see if they offer a product warranty. Usually, brands extending warranty and return facilities are more trustworthy as it shows how much trust they put in their products.
Features and Specs
Like larger speakers, portable speakers, too, have top-tier features such as a dual-mode, aptX HD audio technology, and an AUX jack connector.
The majority of Bluetooth speakers can do more than merely play music. Virtual assistants like Siri, Google Assistant, and Amazon Alexa are accessible through smart speakers.
Google has its Home series of smart speakers, Apple has the excellent HomePod, and Amazon Alexa is accessible in the brand's Echo range of speakers. Additionally, you'll discover that many Bluetooth speakers are equipped with microphones for hands-free calls and support for voice-activated virtual assistants, allowing you to handle your calls and music even when your phone is far from you.
Price
Bluetooth speakers weren't always this affordable. While this is still true for high-end brand-driven speakers, there are lots of places to find affordable alternatives. Today, you don't have to spend much money to get a good speaker. You can get decent sound in a well-designed compact box with long battery life for a fair price.
In any case, Bluetooth speakers are much more affordable than the best soundbars. However, don't buy a speaker for the lowest price. Aim for a mid-range speaker with usable functionalities.
Water and DustProof Construction
Besides signifying waterproofing capabilities, the IP67 certification also refers to dust resistance, which means that any device constructed with IP67-level protection will not be affected by dust build-up.
Some Bluetooth speakers include IP ratings that describe the speaker's level of durability, which is valuable for people with heavy outdoor usage.
Bluetooth speakers are now available in water and dust-proof variants. Many of which employ the "IP67" Ingress Protection Code classification. This indicates the speaker won't be damaged if dropped into the water up to one meter deep for 30 minutes.
Conclusion | What is the Best Bluetooth Speaker to Buy in 2023?
Our list of the best Bluetooth isn't short of action. Whether you need a budget speaker for casual listening or a high-end one for a superior professional audio profile – we've got something for every listener.
However, you wouldn't need to look beyond the JBL Flip 5, no matter your specific requirement. With unmatched audio quality with the option of pairing up with other JBL speakers, 11 color options, seamless Bluetooth connectivity, and an affordable price tag, the JBL Flip 5 is all you need for your next music session, whether that be a solo one or to create the perfect atmosphere at a pool party.
Bluetooth Speaker FAQs
How many watts is a good Bluetooth speaker?
Which speaker is best for sound quality?
Which speaker is the loudest?
What are the disadvantages of a portable speaker?