In this guide, we'll help you find the best wireless earbuds for every need and budget. Whether you're an Android user, a fitness enthusiast, or simply seeking the best audio experience possible, these earbuds have got you covered. And even on a tight budget, you can find great options without compromising on quality.
Immerse yourself in rich and powerful sound with the best noise-canceling earbuds. With true wireless technology, meanwhile, you can enjoy complete freedom of movement. That's not all, as brands like Sony, Beats, and Skullcandy all offer cutting-edge features such as wireless charging, active noise cancelation, and true water resistance. Read on and get ready to elevate your music experience with the best wireless earbuds out there.
The Best Wireless Earbuds Ranked
There are a huge number of wireless earbuds out there, which is why we've put together this shortlist of the top 9 wireless earbuds so you can quickly make sense of the market and choose your favorite.
Reviews of the Market's Top-Rated Bluetooth Earbuds
Here are our reviews of the best earbuds available on the market today, covering their features and pricing and their pros and cons.
1. Powerbeats Pro — Our Number One Choice for Bluetooth Earbuds
The Powerbeats Pro are high-performance wireless earphones designed for intense workouts. With no wires to hold you back, these earbuds offer a customizable and secure fit with adjustable ear hooks and multiple ear-tip options. The reinforced design provides IPX4-rated sweat and water resistance, making them perfect for long runs or sessions in the gym, and they're built to stay in place no matter how hard you go.
The Apple H1 headphone chip ensures that the Powerbeats Pro deliver powerful and balanced sound with enhanced clarity and improved dynamic range.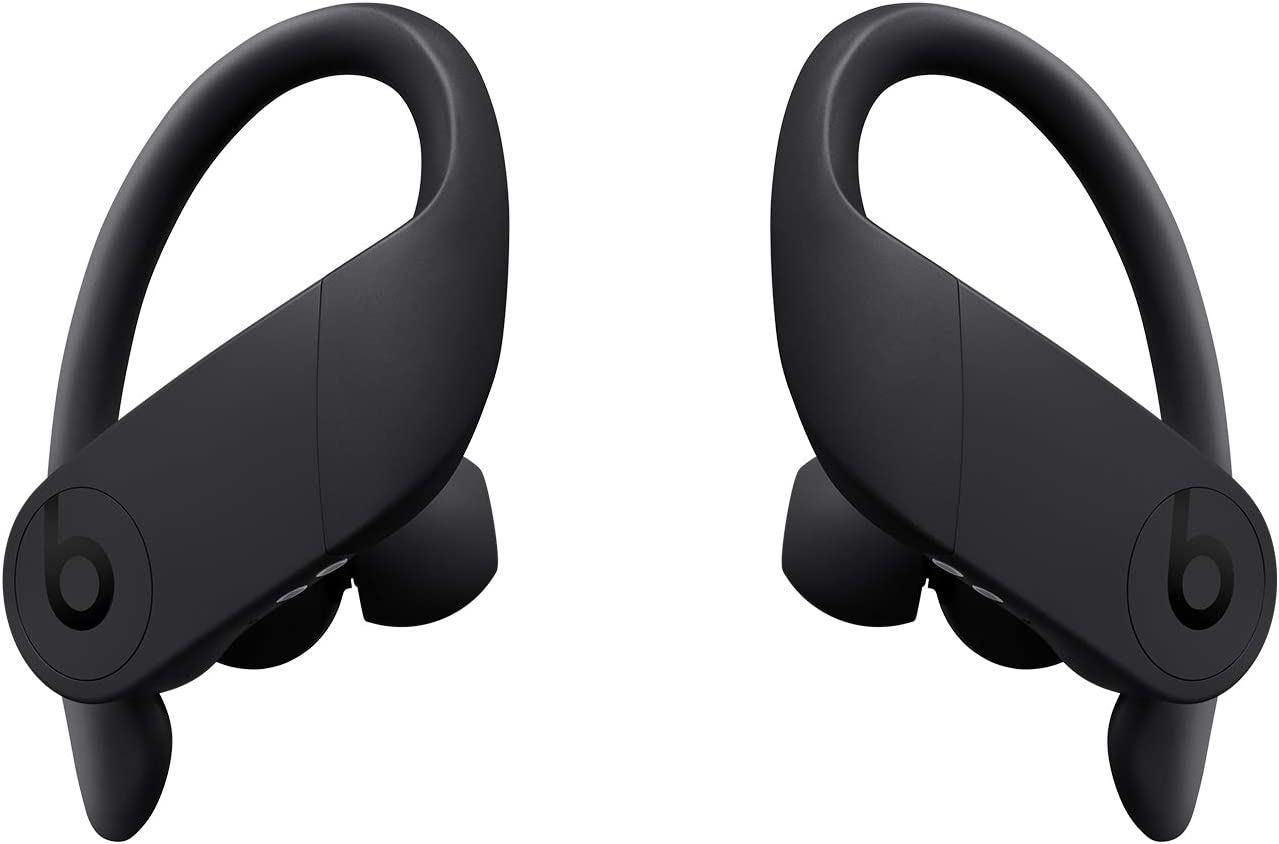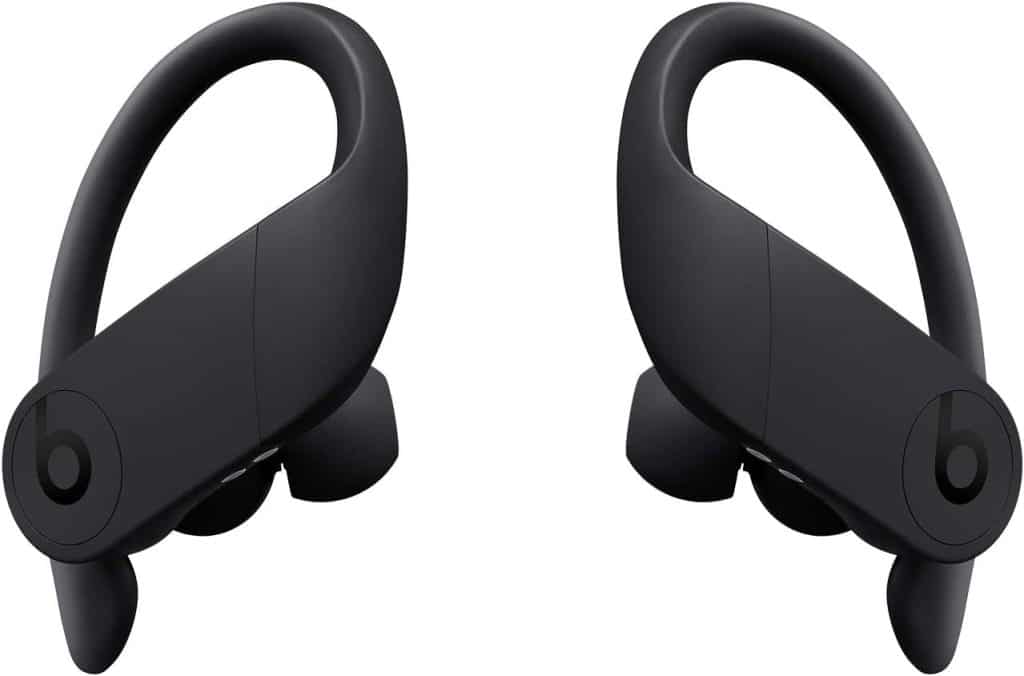 The earbuds have volume and track controls on each side, allowing easy control without device access. They also have auto-play/pause sensors that activate your music when you put them on.
With up to 9 hours of listening time for each earbud and more than 24 hours of combined playback with the charging case, these earbuds can keep up with long training sessions. Additionally, a 5-minute Fast Fuel charge provides 1.5 hours of playback when the battery is low. The Auto-On/Off sensors help conserve battery life, meanwhile, and automatically enter sleep mode when idle.
The Powerbeats Pro also feature hands-free voice activation with easy access to your personal assistant. They use Class 1 Bluetooth technology for extended range and better connectivity, with each earbud connecting independently to your device. The earbuds include a voice accelerometer and multiple microphones for improved call performance and filtering out background noise.
You can also use the Find My app, just like other Apple earbuds, to locate your Powerbeats Pro when they are near one of your Apple devices. This is incredibly useful, as earbuds are easy to misplace around the home.
When you buy the Powerbeats Pro, you get a complete package. The earbuds come with a charging case, eartips in four sizes, a Lightning to USB-A charging cable, and a quick start guide – and the whole kit helpfully comes as a single package.
Our only complaint is that the Powerbeats Pro earbuds are a little bulky, which may be uncomfortable if you have small ears. The adjustable ear hooks and swappable tips help minimize this issue, but your mileage may vary.
Price
Type
Battery Life
Special Features
$133.35
True Wireless
9 Hours

IPX4 Rated

Fast Fuel Charging

Solo Operation
Pros:
Designed for intense workouts with IPX4-rated sweat and water resistance
Customizable and secure fit with adjustable ear hooks
Up to 9 hours of listening time
5-minute Fast Fuel charge
Find My app and Find My network for locating misplaced earbuds
Cons:
Slightly bulky compared to other in-ear headphones
Pricing
At $133.35, these are easily the best wireless earbuds for working out and running on our list. They're not too expensive compared to some wireless earbuds, but there are definitely cheaper options on our list. That said, for overall bang for your buck, there's no better choice than the Beats Powerbeats Pro.

2. Tozo T6 — Impressive Features at a Cheap Price
The TOZO T6 earbuds are a budget pair that offer a range of impressive features. They come with smart touch controls, allowing convenient operation with a single tap for play/pause and answering calls, a double tap for skipping tracks, and a hold for volume adjustment. This makes them incredibly convenient when you're listening to music on the go.
These advanced earbuds utilize Bluetooth 5.3 technology, providing fast transmission speeds and low-latency audio. The one-step pairing feature allows for easy connection to Bluetooth devices by simply removing the earbuds from the charging case.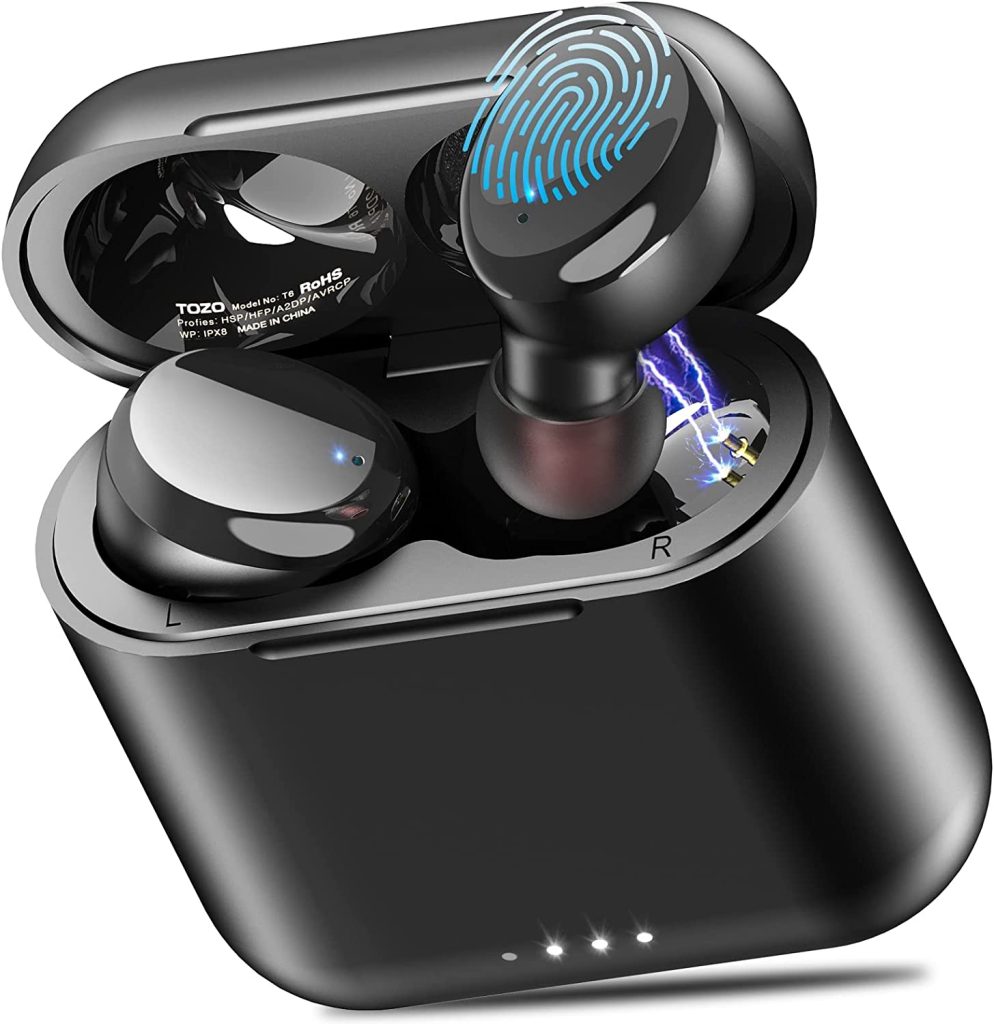 With over 10 hours of playtime from a single charge and a total of 45 hours with the charging case, they offer extended listening time. The charging case can be fully charged in 55 minutes via cable or in less than 2 hours with a wireless charger.
They're also IPX8 waterproof, making them suitable for sports activities and capable of being submerged for 30 minutes at a depth of 1 meter. The earbuds and charging case can even be washed with water and soap.
The earbuds provide a balanced sound with a punchy but not overpowering bass. The soundstage is spacious enough to allow different elements in recordings to be distinct, creating a great listening experience. While not at the top end of the market, the sound quality is impressive for this price range. We also found the passive noise-canceling feature is highly effective, blocking out external noise when music is playing.
On the downside, the comfort and fit of these earbuds largely depend on finding the right ear tip. They didn't come with a huge range of tips, so they might not be perfect if you've got particularly big or small ears.
Price
Type
Battery Life
Special Features
$26.99
True Wireless
10 Hours

Smart Touch Control

IPX8 Waterproof

One Step Pairing
Pros:
IPX8-waterproof rating
Long battery life with over 10 hours of playtime
Quick charging time of 55 minutes
Balanced sound with punchy bass and spacious soundstage
Cons:
Need to adjust tips to find the right fit
Pricing
At $26.99, the Tozo T6 are some of the best affordable wireless earbuds you can find on the market today. Although they have a high IPX8 rating, they're a little too easy to pop out of your ears during high-impact activity. Other than that, the sound quality is fantastic for the price, and we recommend these if you're looking for affordable earbuds. Among the best cheap wireless earbuds.
3. Ricoo JS82 — Advanced One-Touch Features
The JS82 Wireless Bluetooth Earbuds are a testament to Ricoo's commitment to providing top-notch wireless audio products at a cheap price. With the newly upgraded Bluetooth 5.3 chip ensuring faster and more stable connections, these in-ear headphones offer high-resolution transmission within a range of 10-15 meters.
What sets these earbuds apart is the presence of separate Bluetooth chips in both the left and right earphones, allowing them to be used individually. They are also compatible with all Bluetooth devices, making them highly versatile.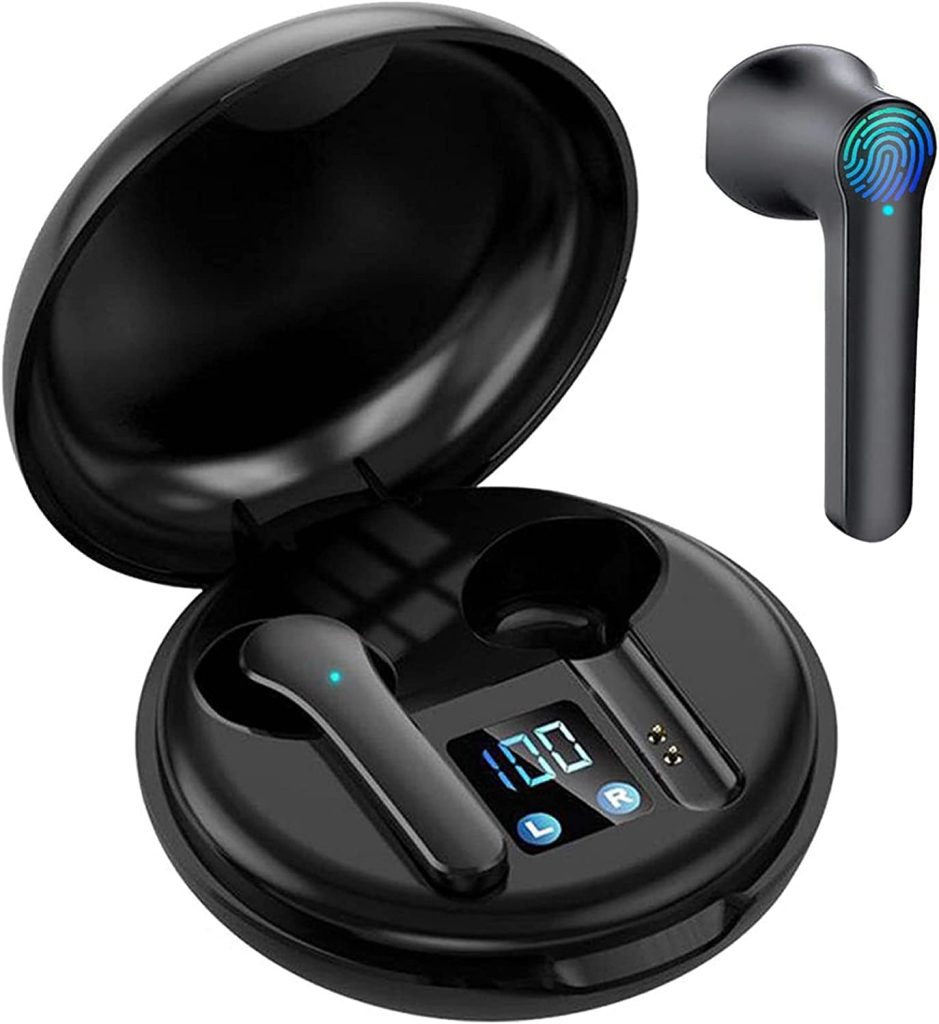 Equipped with an LED power display, the charging case not only indicates the charging progress but also provides a visual representation of the remaining power. The earbuds offer 5 hours of playback on a single charge, and the case provides an additional 5 full charges, adding up to an impressive 30 hours of use. With the convenience of a dual digital power display, you can effortlessly monitor the battery status, whether the case is open or closed.
Thanks to the intuitive one-button control system, operating these earbuds is a breeze. From answering or rejecting phone calls to controlling music playback, adjusting volume, or activating the voice assistant, everything you could need to operate your earphones is easily accessible with a simple button press.
Designed with comfort in mind, the JS82 mini wireless earbuds feature a semi-in-ear design that ensures a secure and snug fit. Weighing only 0.17 ounces per earbud, they're stable and comfortable. The sleek and compact charging case does feel a little flimsy, so you'll need to be careful when opening and closing it.
However, the earphones themselves are durable and come with an IPX7-waterproof rating. This makes them resistant to rain or sweat, meaning they are suitable for sports activities and intense workouts. Should anything go wrong while you're using them, Ricoo offers a 365-day warranty.
Price
Type
Battery Life
Special Features
$38.99
True Wireless
5 Hours

One Button Control

Dual LED Digital Power Display

Noise Canceling Mic
Pros:
Separate Bluetooth chips in each earphone for individual use
LED power display on the charging case
Intuitive one-button control system for easy operation
Sleek and compact charging case
Cons:
Charging case could be more durable
Pricing
The Ricoo JS82 earbuds are $38.99, making them just a little bit more expensive than the Tozo T6. We found the sound quality comparison between the two models, but the Tozo earned a higher place on our list thanks to their slightly cheaper price. Nevertheless, the JS82 earbuds are still an excellent choice for a budget set of earphones with great audio quality and one-touch operation.
4. TAGRY IPX5 — A Great Fit for Exercise
With 40 hours of playing time and one-step pairing, the TAGRY IPX5 wireless earbuds provide convenience and long-lasting performance. The lightweight design and the multiple ear tips supplied ensure a comfortable fit for most users.
The sound quality is impressive, with powerful bass, clear mids, and stunning treble. The earbuds provide enough isolation to enjoy music without being disturbed by outside noises.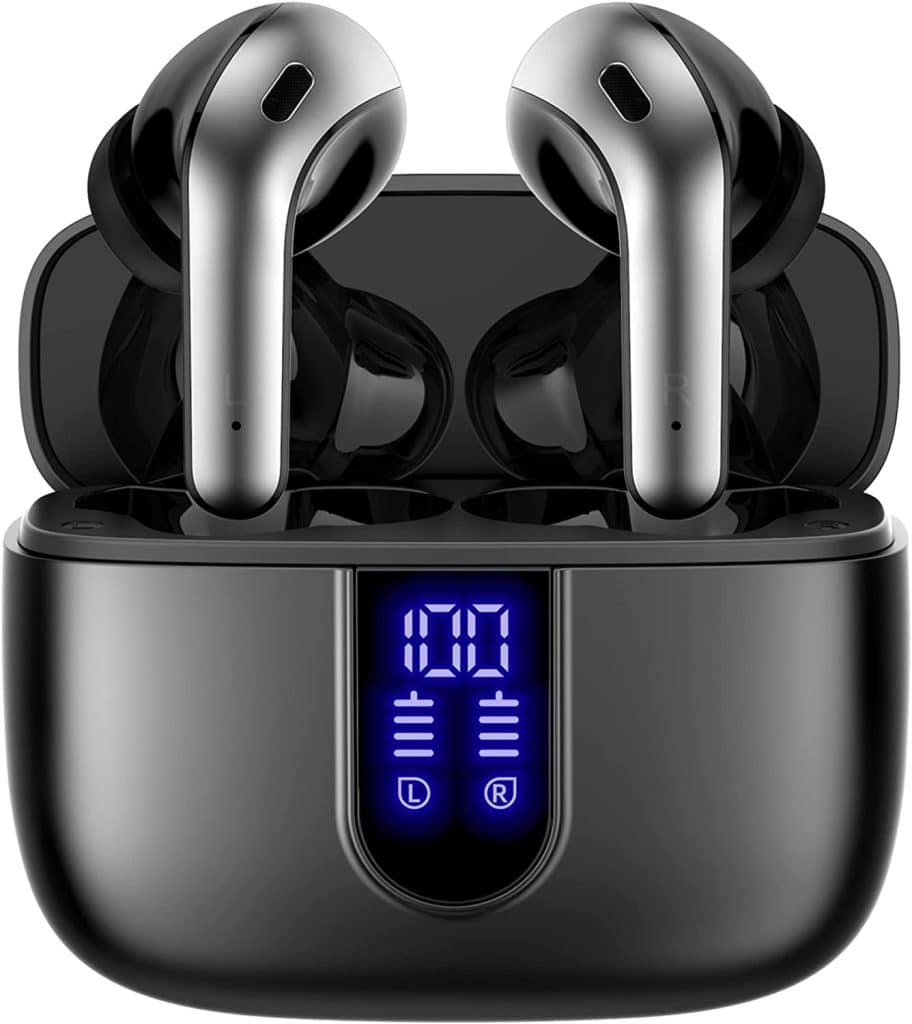 Comfort is a key aspect of the TAGRY X08 earbuds, as they are designed to fit securely without causing pain or discomfort, even during extended wear. These earbuds are particularly stable, as we found they'll stay in even during vigorous activities with jerky movements like boxing. We appreciate the ability to wear a single earbud for situations where it's necessary to be aware of the surroundings, such as cycling.
The charging case is compact and keeps the earbuds charged for an extended period, with five hours for a single charge and a total of 40 hours from the case. The IPX5-waterproof rating adds durability and makes the earbuds suitable for sports and other activities.
While the wind noise during phone calls can be slightly inconvenient, the overall call quality is clear, and the CVC noise reduction technology ensures that your voice is transmitted clearly to the other party.
Price
Type
Battery Life
Special Features
$29.73
True Wireless
5 Hours

Wireless Charging

Microphone Included

Auto Reconnect
Pros:
LED power display on the charging case
40 hours of use
Twin TWS earbuds work together or independently
Comfortable semi-in-ear design with a secure fit
Cons:
Phone call quality can drop while outside
Pricing
The TAGRY IPX5 are some of the best true wireless earbuds we've tested, and at $29.73, they're an absolute steal. The audio quality is great, but choices like the Ricoo JS82 and Tozo J6 beat it out in this price range for soundstage and noise canceling. That said, if you're looking for headphones that stay in your ear without a hook or tether, the TAGRY IPX5 earbuds are a strong choice.
5. BMANI-00L — Fantastic Battery Life
The BMANI-00L wireless Bluetooth earbuds stand out thanks to a dual LED display on the charging case, providing clear visibility of the battery power for both the case and the earbuds. The LED indicators show the remaining power percentage on the left side, while the right side displays the charging process of each earbud through four grids, with each grid representing 25% power. The LED lights flash during the charging process.
Equipped with Bluetooth technology, the BMANI-00L earbuds ensure a clear and stable connection, enabling you to enjoy crystal-clear calls and uninterrupted playback. The auto-pairing feature allows for seamless connectivity by automatically connecting to the previously paired device once removed from the charging case.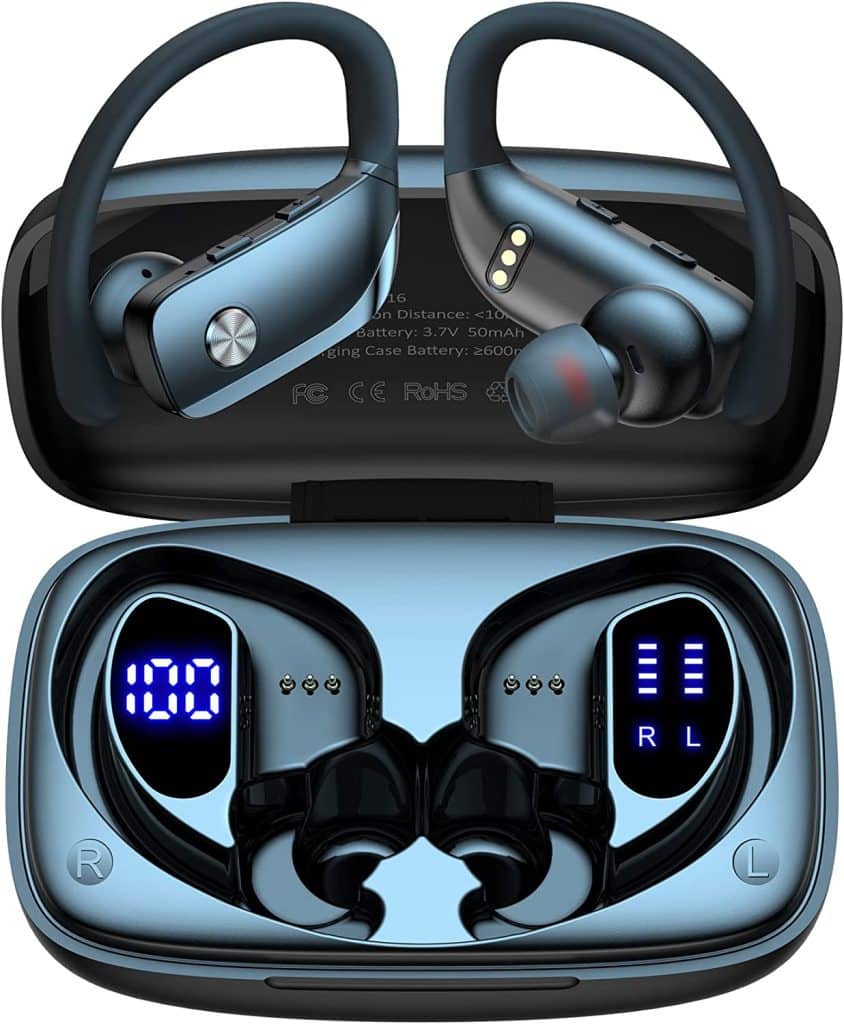 They're also fairly long-range, offering a wireless reach of up to 33 feet – providing flexibility and freedom of movement.
Designed with an active lifestyle in mind, these sports headphones offer a secure fit that remains intact during long training sessions. The inclusion of three pairs of ear caps and flexible ear hooks allows you to find a comfortable and customized fit. With an IPX7-sweat-resistant rating, these earbuds can withstand intense workouts and even light rain, enhancing their durability and suitability for various sports activities.
The BMANI-00L earbuds also come with great battery life. A single charge provides 8 hours of talk time or audio playback, and the charging case holds multiple full charges, ensuring extended usage over the course of an intense day without the need for frequent recharging.
While the case features an LED display indicating the charging progress, we feel that it's a little redundant and would have preferred to see a readout with real-time capacity information to gauge how long the earbuds will last.
You may find that adjusting the earbuds to tilt upwards, with the earband pushed further down the back of the ear, enhances stability. However, some find that the earbuds may occasionally lose the tight in-ear seal during vigorous movement or conversations, affecting sound quality and noise isolation. This makes them a little inconvenient for holding a call on the go.
Price
Type
Battery Life
Special Features
$37.49
True Wireless
8 Hours

Dual LED Display Case

Ear hooks

IPX7 Rating
Pros:
Dual LED display on charging case for clear power visibility
Long wireless range of up to 33 feet
IPX7-sweat-resistant rating for durability during workouts
Long battery life with 8 hours of talk time and audio playback
Cons:
Sometimes loses the inner ear seal
Pricing
Considering the price point, the BMANI-00L earbuds are great value at $37.49. The power readouts are not a groundbreaking innovation, but they do make using the earbuds pretty convenient. You're unlikely to find better at this price point for earbuds with a long battery life.
6. Skullcandy XTFree — Best Wireless Earbuds for Running
The Skullcandy XTFree wireless earbuds offer a fantastic combination of features and performance. With Microsport Bluetooth technology, these lightweight earbuds deliver audio for up to 6 hours. The Pureclean Tech integrated into the silicone ear gels keeps them fresh and odor-free, even during intense workouts.
Designed to withstand sweat and moisture, the XTFree earbuds are sonically welded shut, preventing damage caused by moisture infiltration. The proprietary ambient ear gels strike a balance between enjoying music and staying aware of your surroundings, ensuring safety.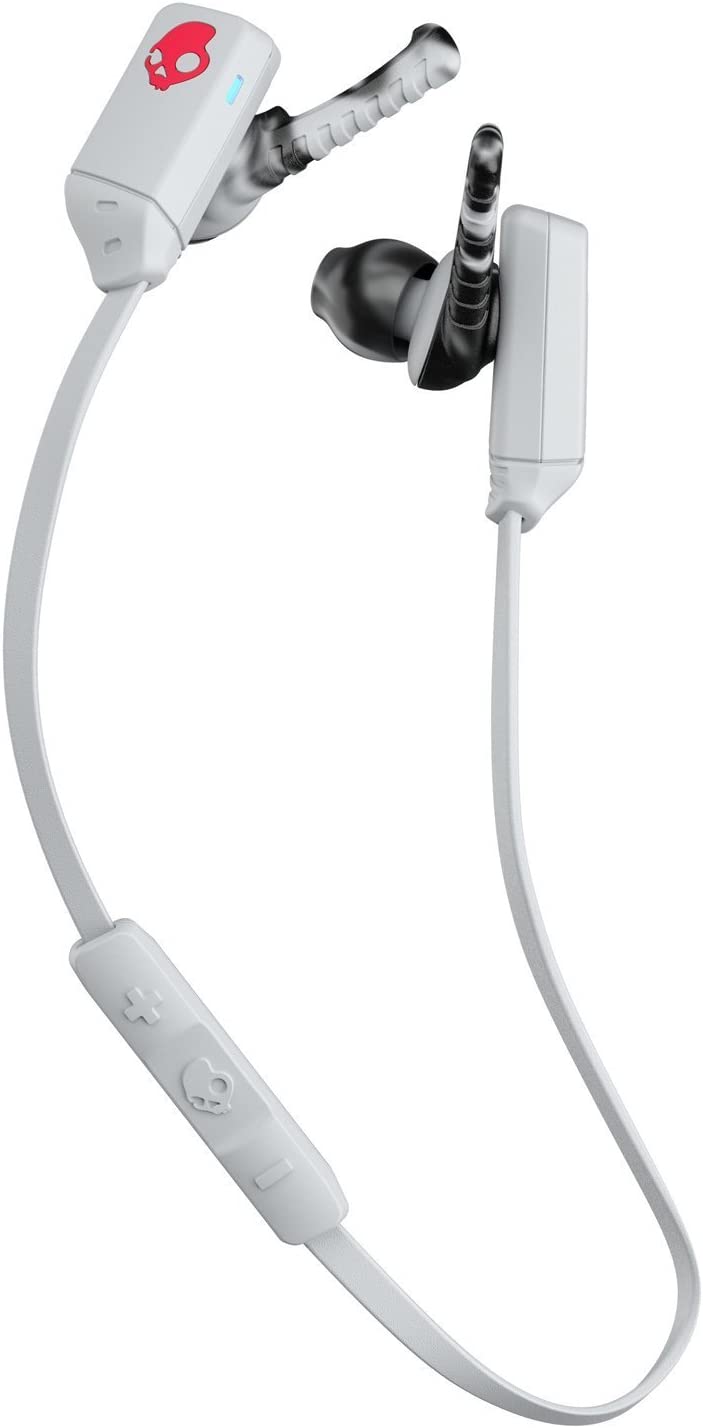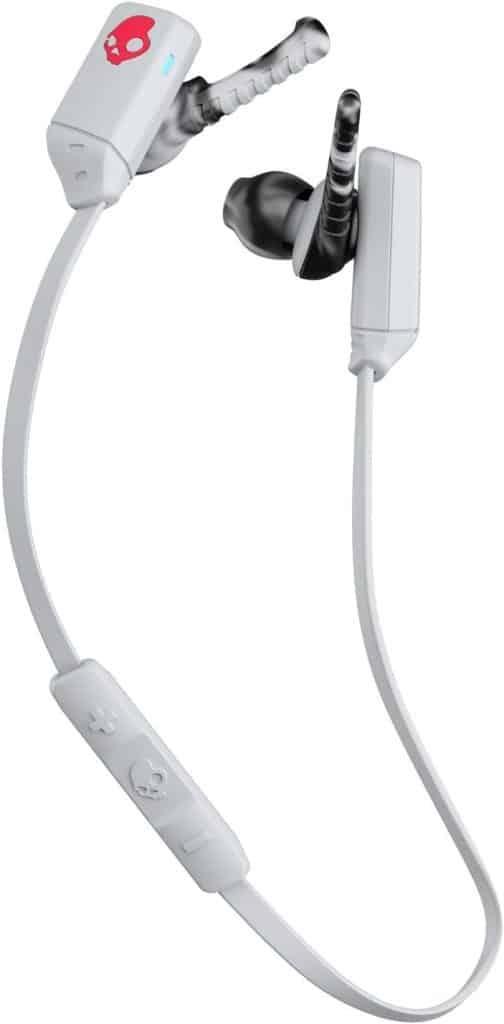 The XTFree earbuds impress with excellent audio performance, featuring moderate bass and precise clarity. The build quality is solid, with a durable feel and a tangle-free flat cable. The inclusion of multiple comfortable earbud options enhances the overall fit and comfort.
Although the XTFree earbuds come with a few drawbacks, such as non-removable ear wings and a slightly bulky design due to the battery, they still provide an excellent listening experience at an affordable price point.
They offer great sound, a comfortable and secure fit, and the convenience of wireless freedom. The only notable downside is the relatively short battery life, which may require recharging. Thankfully, the charge time is pretty quick.
Price
Type
Battery Life
Special Features
$70.24
Tethered
3.5 Hours

Android Phone Control

Excellent Build Quality

Connected For Ease of Use
Pros:
Pureclean Tech keeps the ear gels fresh and odor-free
Excellent audio performance with moderate bass and clear clarity
Solid build quality with a tangle-free flat cable
Multiple comfortable earbud options for a personalized fit.
Cons:
Relatively low battery life
Pricing
Considering Skullcandy earbuds can sometimes be expensive, we're pleased to see the XTFree earbuds are only $70.24. They offer fantastic audio quality for the price, but this comes at the cost of battery life.
They're a great pick for short workouts, and they're also some of the best wireless earbuds for small ears, as the tether helps with stability during exercise.
The Sony WF-1000XM4 earbuds are an industry-leading pair of noise-canceling Bluetooth earpieces that deliver exceptional sound and crystal-clear call quality. With the new Integrated Processor V1, these earbuds offer improved noise-canceling performance and utilize less power than other wireless earbuds.
The bone-conduction sensor and beamforming microphone ensure clear voice detection, even in noisy environments. We're particularly impressed with the Speak-to-Chat technology, which automatically reduces volume during conversations.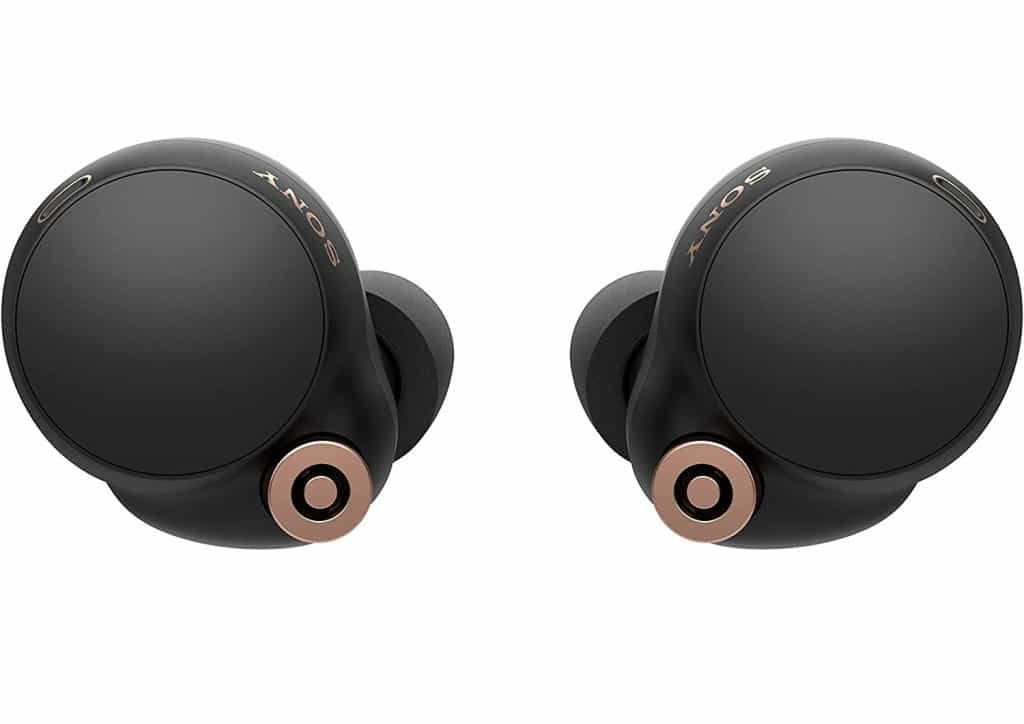 However, what really impressed us was the 8-hour battery life, allowing for a full day of use. It's easy to keep the earbuds topped up thanks to wireless charging with Qi technology, which eliminates the need for cables.
The quick charge feature built into the WF-1000XM4 provides up to 60 minutes of playtime with just a 5-minute charge, which is great when you find out your earbuds are dead just before you're about to embark on a commute.
The pleasing surface design and Noise Isolation Earbud Tips provide a stable and comfortable fit. The IPX4-water-resistance rating ensures durability and protection against splashes and sweat.
The sound quality of the WF-1000XM4 is exceptional, offering dynamic and rich audio across various music genres. The call quality is also impressive. The ANC feature, while not always necessary due to the earbuds' effective passive noise reduction, provides excellent noise isolation. Transparency mode also allows you to stay aware of your surroundings when needed.
The Sony Headphones Connect app for Android/iOS enables customization of sound settings and ambient sound levels, adding to the overall user experience. Additionally, the multipoint connection feature lets you connect two devices simultaneously, so you can hook your headphones up to your phone and a DAC at the same time.
While the WF-1000XM4 works well when controlled from inside the app, we did find that the tap control functionality, although functional, required precise tapping for desired actions which was difficult to operate on the go.
Price
Type
Battery Life
Special Features
$149.97
True Wireless
8 Hours

Qi Charging

Noise Canceling

Alexa Enabled Integration
Pros:
Long 8-hour battery life
Easy wireless charging with Qi technology.
Impressive sound quality across various music genres.
Effective noise isolation
Cons:
Tap control functionality may require precise tapping
Pricing
Although they are fairly expensive at $149.97, these are noise-canceling earbuds that last an entire day and truly live up to the audio quality that you'd expect from Sony earphones. They're some of the best-sounding wireless earbuds you can get your hands on for this price, so we definitely recommend them.
8. Capoxo X19 — Great Audio That Lasts All Day
The Capoxo X19 earphones are a remarkable pair of budget wireless earbuds that offer a range of impressive features. With a total playtime of 60 hours, including 8 hours on a single charge and additional charging in the case, these earbuds ensure uninterrupted music playback throughout the day.
You'll always know how much battery you've got left thanks to the dual LED power display on the case and earbuds, which provides both overall power level and individual meters for each headphone.
These earbuds deliver a high-quality audio experience with their 13-mm dual-chamber speaker driver unit, producing crisp and balanced sound with deep bass. There are also two built-in microphones, making them suitable for web meetings and online classes. The convenience of wireless charging via a USB-C cable or any Qi-certified charging pad only adds to their appeal.
Designed for sports enthusiasts, the X19 features flexible, secure-fit ear hooks and a smart design that ensures a perfect fit and prevents them from falling out, even during strenuous exercise. The IPX7-waterproof rating protects them against water and sweat damage, making them an ideal choice for workouts and running.
With Bluetooth 5.3 technology, the X19 connects quickly and provides decent audio quality. They automatically power on and connect to your device when removed from the charging case. The earbuds integrate well with Android and support dual audio controls and one-key reset functionality, providing easy management of music, calls, and voice assistants on any Android device.
While the sound quality is great, we found the X19 earbuds were a little quiet in noisy environments. This isn't a problem during a workout unless you're in a packed gym, but it did make it difficult to hear during voice calls while traveling.
Price
Type
Battery Life
Special Features
$29.99
True Wireless
8 Hours

Auto Pairing

IPX7 Waterproof

Dual Audio Controls
Pros:
Impressive total playtime of 60 hours
Convenient wireless charging
Bluetooth 5.3 technology
Over-the-ear design keeps the earphones secure while exercising
Cons:
Performance in noisy environments may be slightly quiet
Pricing
Although these are pretty cheap at $29.99, we found that the Capoxo X19 were among the best wireless earbuds for Android thanks to wide-ranging app integrations.
9. Bang & Olufsen Beoplay EX — Out Of This World Audio Quality
The Bang & Olufsen Beoplay EX earbuds offer an exceptional audio experience with their adaptive active noise cancelation feature. This technology allows you to tune out your surroundings, even in windy conditions.
The sound produced by the Beoplay EX earbuds is out of this world, thanks to finely tuned acoustics. Whether you are listening to music during your daily commute, working out, or embarking on a weekend adventure, these earbuds deliver immersive and high-quality sound.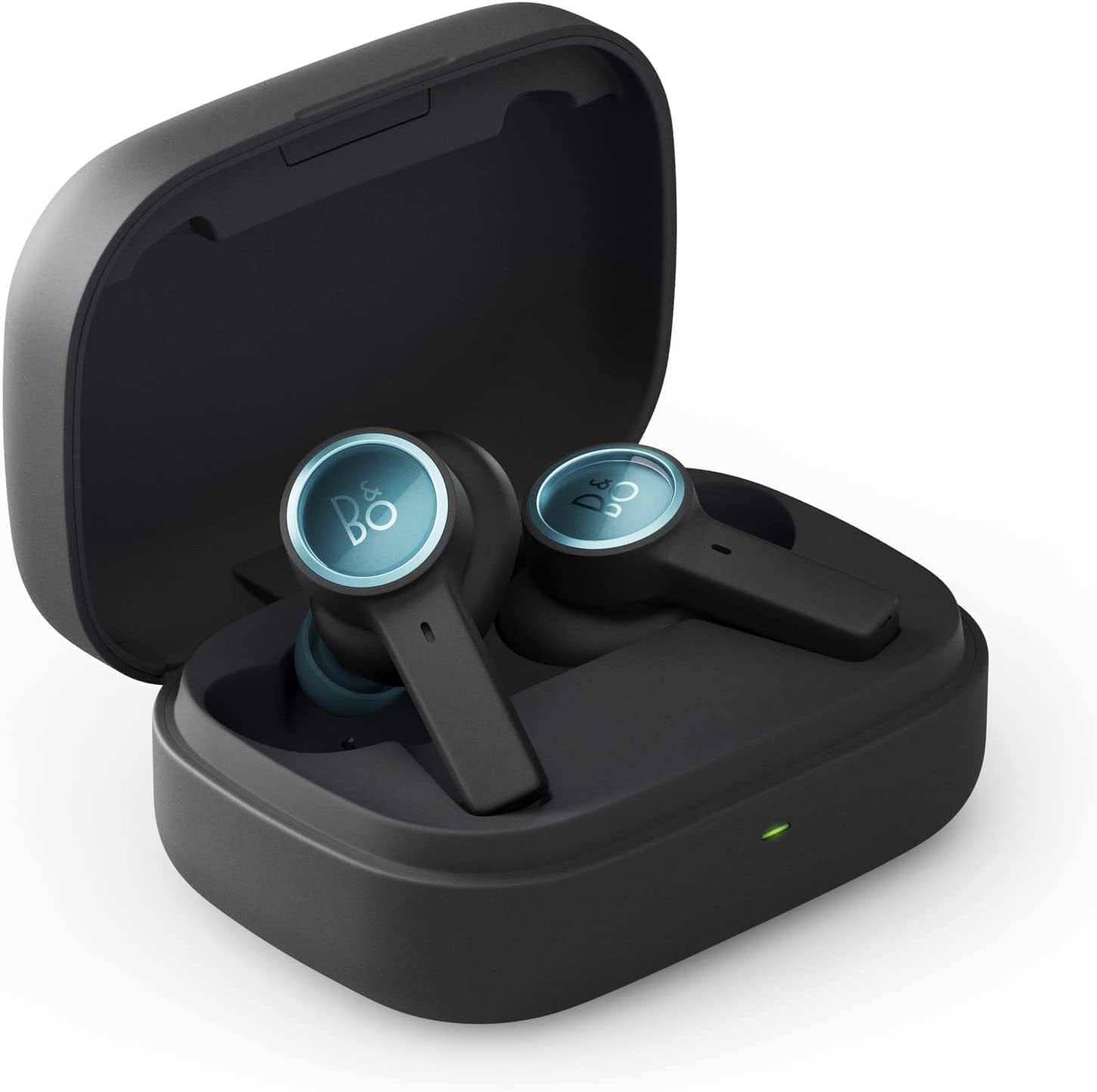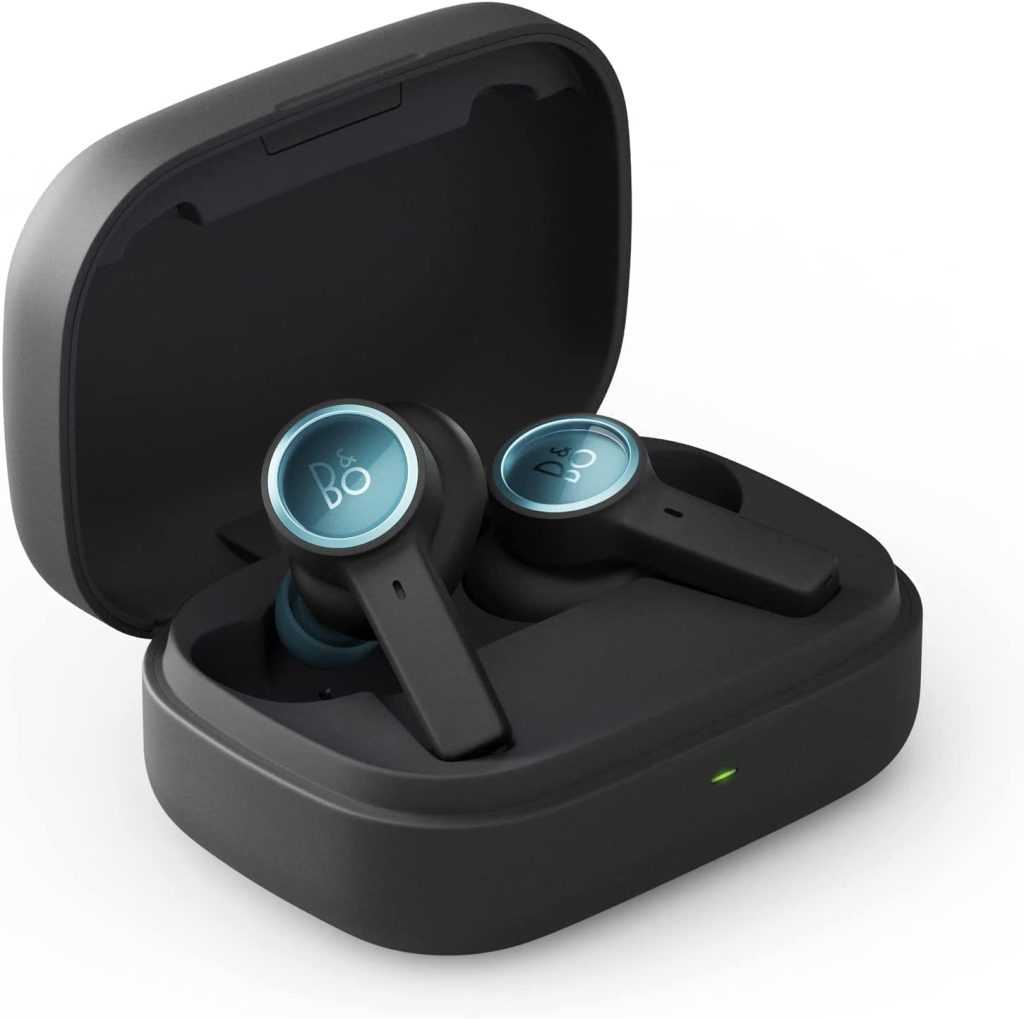 Crafted with precision, the Beoplay EX showcases clean lines and premium materials that you'd expect from Bang & Olufsen. Their engineers have carefully designed these earbuds to provide both style and functionality. Moreover, they're IP57-rated waterproof, which offers protection against water and allows you to comfortably wear them during intense workouts or in the rain.
These earbuds offer up to 20 hours of playtime, ensuring uninterrupted enjoyment throughout the day. The Bluetooth connectivity is reliable, and the earbuds can remember up to eight different devices, allowing for seamless switching between devices. The earbuds support low-latency sound, ensuring a synchronized experience when watching videos or taking calls.
Additionally, the six advanced technology microphones in the earbuds provide crystal-clear voice quality during calls. The touch controls are intuitive, allowing you to easily navigate music and calls.
While the ANC performance of the Beoplay EX earbuds is fantastic, we found that due to the small form factor, the earbuds may not provide complete closure to the external environment. It is important to note that for optimal sound quality and call performance, it's essential to ensure the proper fit of the earbud tips in your ears. Thankfully, the Beoplay EX comes with a wide range of tips to find the perfect fit.
Price
Type
Battery Life
Special Features
$410
True Wireless
6 Hours

Active Noise Cancelation

QI Wireless Charging

6 Omni-Directional Microphones
Pros:
Exceptional audio experience
Compact and comfortable design
Six advanced microphones for perfect call audio quality
Intuitive touch controls
Cons:
Small form factor may not provide complete closure
Pricing
The Beoplay EX earbuds are very expensive at $410. However, they're the best wireless noise-canceling earbuds we've seen by some way. In fact, they're among the best earbuds wireless technology has to offer in terms of audio quality. If you want to spend more than this on a pair of headphones, you'll either be buying wired pro-level headphones or a high-end gaming headset.

The Best Wireless Earphones Compared Head-to-Head
Here's a comparison table that brings together all the key information you need so you can make an informed decision about the wireless earphones that are best for you.
Earbuds
Price
Type
Battery Life
Special Features
Beats Powerbeats Pro
$133.35
True Wireless
9 Hours

IPX4 Rated

Fast Fuel Charging

Solo Operation

Tozo T6
$26.99
True Wireless
10 Hours
Smart Touch Control

IPX8 Waterproof

One Step Pairing

Ricoo JS82
$38.99
True Wireless
5 Hours

One Button Control

Dual LED Digital Power Display

Noise Canceling Mic

TAGRY IPX5
$29.73
True Wireless
5 Hours

Wireless Charging

Microphone Included

Auto Reconnect

BMANI-00L
$37.49
True Wireless
8 Hours

Dual LED Display Case

Ear hooks

IPX7 Rating

Skullcandy XTFree
$70.24
Tethered
3.5 Hours

Android Phone Control

Excellent Build Quality

Connected For Ease of Use

Sony WF-1000XM4
$149.97
True Wireless
8 Hours

Qi Charging

Noise Canceling

Alexa Enabled Integration

Capoxo X19
$29.99
True Wireless
8 Hours

Auto Pairing

IPX7 Waterproof

Dual Audio Controls

Bang & Olufsen Beoplay EX
$410
True Wireless
6 Hours

Active Noise Cancelation

QI Wireless Charging

6 Omni-Directional Microphones
Why Do People Get Wireless Earbuds?
People opt for wireless earbuds for a variety of reasons, as they offer several advantages over traditional wired headphones. Here are some common reasons why people choose wireless earbuds.
Convenience and Portability
Wireless earbuds provide a high level of convenience and portability. They eliminate the hassle of tangled wires and allow for easy storage and transportation. With no wires to restrict movement, you can enjoy greater freedom and flexibility when you're out on the go.
Ease of Use
Wireless earbuds often have user-friendly features such as touch controls or physical buttons, making it easy to adjust volume, change tracks, or answer calls with a simple tap or swipe. They also typically pair quickly and seamlessly with Bluetooth-enabled devices, especially on Android.
Active Lifestyle
Wireless earbuds are particularly popular among individuals with active lifestyles. They offer a secure fit and freedom of movement, making them suitable for workouts, running, cycling, or any other physical activity. Some wireless earbuds even come with water and sweat resistance, ensuring durability during intense workouts.
Improved Aesthetics
Many people prefer wireless earbuds for their sleek and minimalistic design. They offer a cleaner look without cables and are less obtrusive when worn. Some models even have a discreet profile, making them virtually invisible when you're on the move.
Better Compatibility
Wireless earbuds are compatible with a wide range of devices and operating systems. Whether you're using an iPhone, Android device, or any other Bluetooth-enabled device, wireless earbuds can connect effortlessly, ensuring a versatile audio solution.
Increasing Removal of Headphone Jacks
Many smartphones, especially iPhones, have been eliminating the traditional 3.5mm headphone jacks, making wireless earbuds the primary audio accessory for users who want to enjoy music or take calls without the need for adapters.
Key Factors to Consider When Choosing Bluetooth Earbuds
When choosing Bluetooth earbuds, you should consider several key factors to ensure you make the right decision. Here are some important factors to keep in mind:
Sound Quality
One of the most crucial aspects is sound quality. Look for earbuds with clear and balanced audio, good bass response, and crisp highs. While reviews can help guide you, the best way to figure out what you want is to try them out using high-quality audio sources and a powerful audio driver.
Comfort and Fit
You'll need to consider the comfort and fit of the earbuds, as you'll likely be wearing them for extended periods. Look for models that come with different sizes of ear tips or customizable options to find the right fit for your ears. Ear hooks can help with this, but they're sometimes uncomfortable to use all day. Comfortable earbuds will stay in place and provide a secure fit, even during physical activities.
Battery Life
Check the battery life of the earbuds, and make sure you aren't just reading the battery life of the charging case. Longer battery life ensures you can use them for an extended period before needing to recharge. Consider how long you'd be using your earbuds over the course of a day, and make sure the battery life meets your needs.
Connectivity and Range
Bluetooth connectivity is essential. Ensure the earbuds use the latest Bluetooth version (such as Bluetooth 5.0 or higher) for better range, stability, and compatibility. Most wireless headphones will use the latest Bluetooth version, but in general, you should look for earbuds that offer a stable connection and a reasonable connection range to prevent audio dropouts when you're moving away from your phone.
Controls and Features
Although all headphones can be controlled by an app on the device you've connected them to, some models have touch controls, physical buttons, or even built-in voice assistants for hands-free control. Each control method has its upsides and downsides, so make sure you pick a method you prefer and ensure it's easy to use and intuitive.
Some touch control devices can be difficult to effectively use. It's also important to look for the features you really care about. For example, the best noise-canceling wireless earbuds will ensure that you're listening to nothing but the highest quality audio without being interrupted by environmental sounds. Warnings about audio levels are also important, as long-term use of loud earbuds can potentially lead to tinnitus.
Water and Sweat Resistance
If you plan to use your earbuds during workouts or in wet conditions, look for a pair that offers water and sweat resistance. Ratings such as IPX4 or higher indicate resistance to sweat and light rain, while higher ratings like IPX7 indicate the ability to withstand immersion in water.
Compatibility and Integration
Most wireless earbuds will be compatible with Bluetooth technology, but it's important to ensure the earbuds are compatible with your devices, whether it's a smartphone, a tablet, or your gaming laptop.
Consider any integration features like companion apps that offer customization options or additional functionalities. High-end earbuds will often come with an EQ app that lets you specify the ranges for your audio output.
Charging and Case
Some models come with QI wireless charging, but most come with a charging case that provides additional battery life. Check if the charging case is compact, easy to use, and offers quick charging capabilities. Durability is also an important consideration, so you should make sure the case isn't flimsy or easily broken.
Price and Value
Most importantly, set a budget and consider the value of what you're paying for. Compare different options based on their features, performance, and customer reviews to find a balance between quality and affordability. It might be tempting to buy an expensive high-end pair of earbuds, but ultimately a cheaper pair may be better for your needs.
Earbuds Wireless FAQs
How long do AirPods last?
Do true wireless earphones fall out easily?
How can you tell if earbuds are good quality?
What are the best budget wireless earbuds?
What is the disadvantage of using earbuds?
Conclusion – What are the Best Wireless Earbuds to Buy in 2023
After a whirlwind tour of the best wireless earbuds, we recommend the Beats Powerbeats Pro. While the Sony WF-1000XM4 and Bang & Olufsen Beoplay EX arguably offer a higher quality audio experience, the price point makes the Beats our go-to recommendation for value and quality.
These high-performance earbuds stand out as an excellent choice for exceptional audio quality, secure fit, and long battery life. They're great for intense workouts, too, thanks to adjustable ear hooks and multiple ear-tip options. Add an IPX4-sweat-and-water-resistance rating, and you've got a set of earphones built to withstand tough training sessions.
Elevate your workout experience and enjoy the freedom of wireless audio with these remarkable earphones.