You'll hear several projects and teams stating that they are establishing a blockchain revolution in the crypto world. Of course, in truth, this is actually few and far between, and there aren't many projects that truly hold up this mantle.
There's one new entrant in the crypto world that appears to be actually following through on this idea: Baktat token (BAKTAT). This project is quite unique in that it actually works in the agriculture space, as we shall see. We give you all the details you need to learn about this fascinating new project which is taking the crypto world by storm.
What is Baktat?
Right off the bat, it's worth mentioning that Baktat is a well-established brand that has decades of experience in the food industry. It has all the potential to use this as a launchpad to become a giant in the crypto world and an even bigger one in the agriculture industry. The team describes the mission as follows in the whitepaper:
"In the short term, the goal is to offer agricultural projects worldwide with up to 20000 hectare land and then in the long term, to up to 80000 hectare land and beyond"
To put it simply, Baktat is a farming crowdfunding platform that lets users benefit from the farming industry in a variety of ways. It allows you to do so without having to buy an entire farm, equipment, or livestock – all of these can be very expensive so this is a huge positive. Essentially, Baktat does all the hard and boring work, while you get rewarded for your contribution via funding.
The Baktat crowdfunding platform is currently under development, so you have the chance to get in early before it really takes off. There will no doubt be a variety of agricultural projects to contribute to, which means you can earn for doing some good for society.
Baktat farming is a project that is backed by real, tangible assets, which is unique and will explode in popularity once it reaches critical mass. As such, it is imperative that users get in as early as possible.
The BAKTAT token is an ERC-20 token that is at the heart of the platform. Users will also be able to purchase groceries using major cryptocurrencies, including BTC, ETH, and LTC. Of course, they will also be able to do so with the BAKTAT token.
The current price of the BAKTAT token in the presale stands at €0.00120 or $0.00131, and it will rise to €0.00125 or $0.00136 in the upcoming phase. The token can be purchased with either ETH or USDT.
That's all the general information you need to know about Baktat token – let's get down to the specifics of how Baktat token is revolutionizing the agriculture industry. You'll be surprised how effective and potent the use case designs are, and it's very likely to convince you to invest in the Baktat presale.
How Baktat Token is Revolutionizing The Agriculture Industry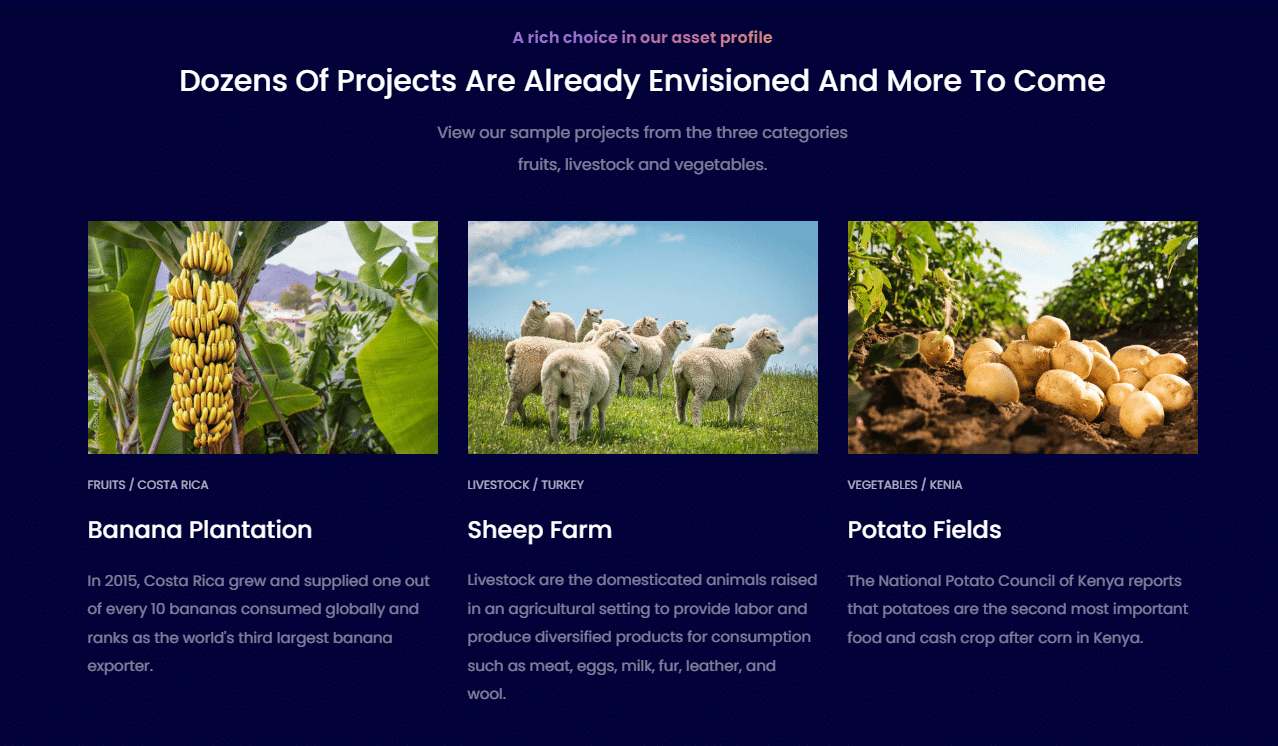 It's important to note that the global food and groceries market is currently valued at nearly $12 trillion (2019) and it's expected to sustain a CAGR of 5%. With the team having over 30 years in business with customers all over the world, they are perfectly poised to incorporate blockchain technology and revolutionize the agriculture business industry.
The Baktat platform is an excellent form of passive income that can really attract a lot of laypersons to the platform, boosting the agriculture industry significantly. It plans to foster projects in over 42 segments across the world. Whether that's coffee or blueberries, there isn't anything that won't benefit from Baktat's revolutionary ideas.
Investors who have purchased the BAKTAT token can choose from several agricultural projects to invest in, for which they will earn passive income. It's important to note that there will also be a mobile app. The app will include a wallet, managing various data and order histories, and interacting with your farmland.
Furthermore, if you own farmland, you can sell 50% of it to Baktat and become a partner. The resultant profits will be split 50% between the land owner and Baktat. Of course, all the information is immutable and transparent as it is stored on the blockchain.
With such an expansive yet targeted use case, Baktat token is proving to be one of the most exciting crypto projects to arrive in recent times. It's well worth taking a look at the presale, which will no doubt attract a lot of users. It's still early in the project's life as well, which means there's plenty of room to get in early and make the most of this opportunity. Dive into the website and other documents to learn more about the project and get involved right away.
Conclusion
You won't find many projects like Baktat token in the crypto space, which is precisely why it is so worthwhile to check out. It's solving a particularly important problem and it has the potential to transform its niche. We highly recommend looking at its presale and checking its social channels, including the Telegram group.
This project is the trademark and patent application of the EU registration number: 018681672 Baktatcoin