The eTukTuk ($TUK) movement continues to gain traction as investors rush to the potential of passive income while transforming lives and reducing emissions.
The $TUK token presale has officially raised $200,000 in funding, with just twelve days at current prices.
eTukTuk is on a mission to bring sustainable transportation to developing countries through its affordable EV solutions.
Here's how they're doing it.
eTukTuk is Bringing Sustainable Transportation to Developing Nations
Described as the most influential sustainability project of the decade, eTukTuk is rooted in the real world as it brings electric vehicle solutions to developing nations.
It's the first EV project built on the Binance chain with AI integration and a play-to-earn ecosystem.
Best of all, $TUK investors earn more passive income as the charging network expands, providing long-term rewards for early adopters alongside the potential 50x price surge.
With the developing world facing a health crisis due to polluted air, eTukTuk wants to challenge the carbon emission problem through its groundbreaking three-wheeler EV.
Although Tesla continues to make strides in the developed world in the EV sector, its technology is still far too expensive for less privileged countries.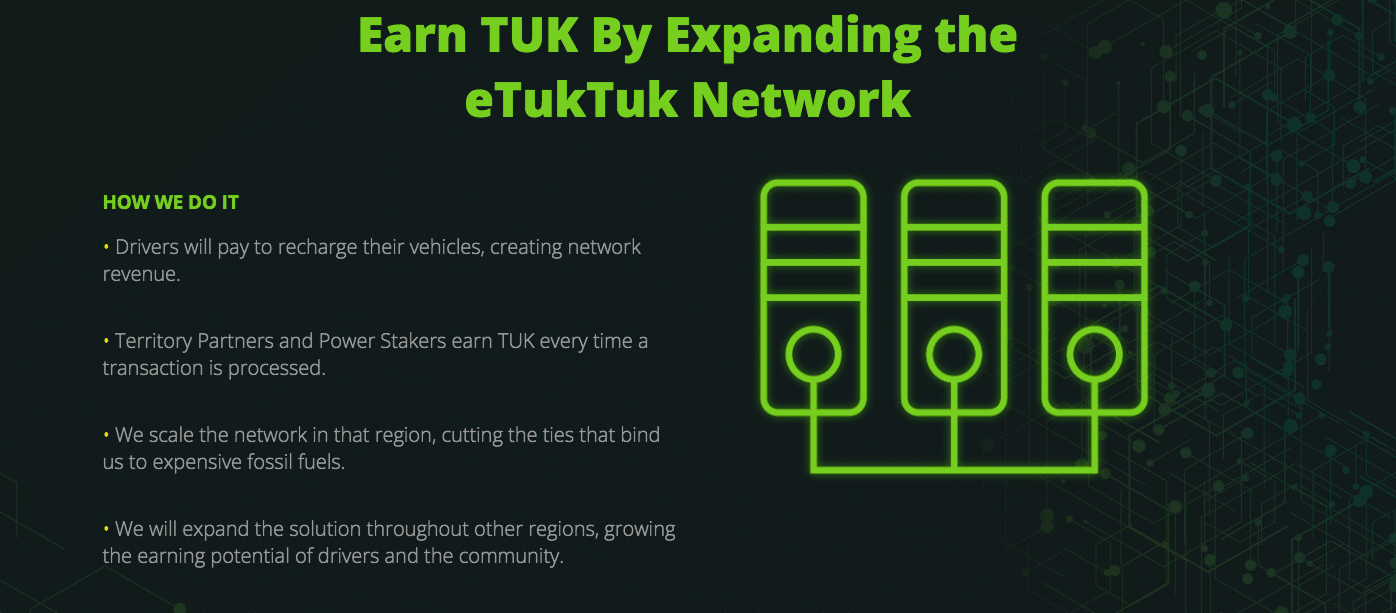 This is where eTukTuk wants to step in with an affordable and accessible solution.
One of the most popular modes of transportation in developing countries is the legendary tuk-tuk.
These vehicles are nippy, allowing them to weave between traffic to get to destinations quickly.
However, tuk-tuks have been shown to emit more carbon emissions than traditional cars, making them the largest contributor to air pollution.
eTukTuk intends to change this with its electric-powered three-wheeler alternative.
Groundbreaking Three-Wheeler Set to Lead EV Market
eTukTuk has spent five years perfecting its design and is finally ready to unveil its three-wheeler EV to the developing world – starting in Sri Lanka by the end of the year.
Sri Lanka has over 2.1 million tuk-tuks, making it the perfect testbed to set the blueprint before a global expansion.
Furthermore, with fuel prices rising at pumps, drivers are being priced out of the market as they struggle to make a livable wage.
eTukTuk believes its affordable EV can change this dynamic.
The eTukTuk is built to be safer and more reliable than its traditional internal combustion engine counterpart.
1/ Hold onto your seats as we introduce eTukTuk – The Future of Urban Mobility.

In this thread, we'll unveil the exceptional features that are set to transform the way we navigate our cities.

Safety, efficiency, and sustainability are just the beginning. 🧵 pic.twitter.com/8zwd6sxuoq

— eTukTuk (@eTukTukio) August 31, 2023
The vehicle can be manufactured locally with less than 200 components, driving down production costs for affordability.
As a result, the team believes operational expenditure can drop by 78% compared to regular tuk-tuks, allowing drivers to take a 400% wage increase.
Experts predict that the two and three-wheeler EV market will grow into the most significant sector by 2030. eTukTuk is focused on becoming a leader in this space by becoming one of the first movers with its revolutionary design.
Therefore, those investing in the project this early stand to benefit the most as they take hold of a large share of the market.
Furthermore, eTukTuk intends to launch a "Crazy Taxi" style play-to-earn game where players pick up and drop off passengers as quickly as possible while keeping their batteries charged and avoiding traffic.
The game is expected to bring exposure to the eTukTuk movement while providing rewards to players.
TUK Token: Earn Rewards as Charging Infrastructure Expands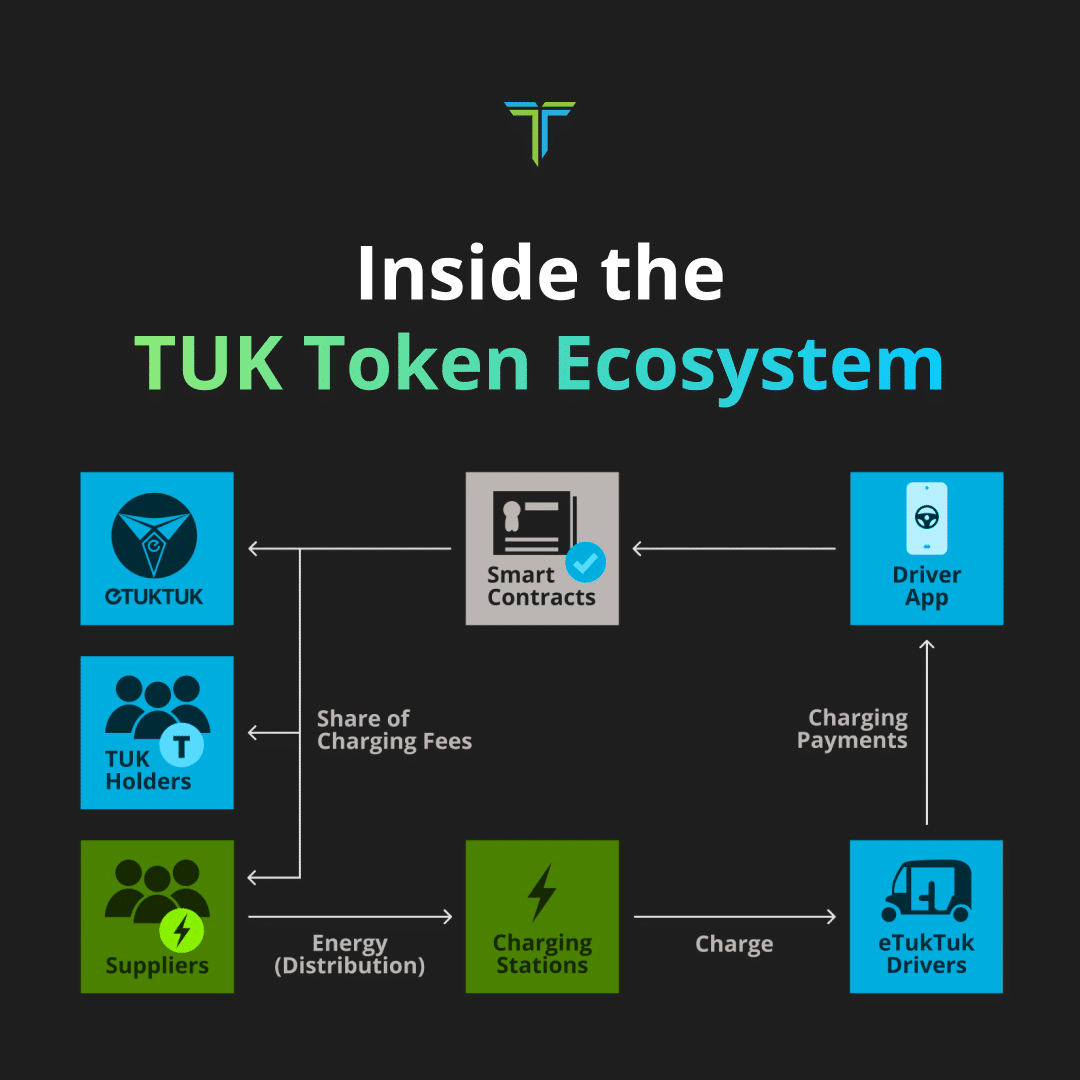 The $TUK token is your gateway to earn rewards as the charging infrastructure expands for eTukTuk.
$TUK forms the backbone of the ecosystem and is the utility token that provides rewards for long-term network participants.
Holders of $TUK earn rewards as drivers use it to charge their EVs.
The team will be using Territory Partners to strategically place efficient charging stations in their targeted locations, helping to reduce start-up inefficiencies in the network.
For example, eTukTuk has partnered with the Capital Maharaja Group (CMG) as a Territory Partner in Sri Lanka.
As the charging network expands, $TUK holders collectively earn a greater yield – leading to long-term rewards.
Just Twelve Days to Go: Get Positioned Before Prices Increase
Investors are keen to get positioned in $TUK as early as possible, driving the presale beyond the $200,000 level.
Currently, $TUK is being sold for $0.02475.
However, there's a rising pricing strategy in place that means the cost of the token increases during subsequent presale stages.
As a result, those investing earlier benefit the most as they leave the presale with higher levels of unrealized returns once the token is listed on major exchanges.
Overall, the eTukTuk movement allows investors to earn long-term passive rewards while simultaneously helping the developing world head in a sustainable direction.