Casino coins are on the hot list this year.
Scorpion Casino is at the forefront of the new online gambling revolution put forward by the crypto market with the help of blockchain tokenization.
The project's rich gambling and sports betting offerings, combined with the attractive reward potential, make it an opportunity that shouldn't be missed this year.
🔒 Licensed & Regulated Platform 🎰🃏

Join the $SCORP revolution in online gambling!

Our platform is fully licensed and regulated by the Curacao EGaming Authority, ensuring a safe and secure gaming environment. Join us today and play with peace of mind! 💪💰… pic.twitter.com/KN3MiCiV6B

— Scorpion Casino (@ScorpionCasino) October 24, 2023
Over the last few months, the crypto market has seen many online gambling platforms crowd the market with their unique cryptocurrencies. The new surge of interest in the domain is fuelled by the strong price action of Rollbit coin – an online casino coin that sparked a 7000% surge over the year.
Blockchain integration allows these platforms to maintain high standards of fairness and transparency, which makes it a better alternative to traditional online gambling platforms. Another factor that works in their favor is crypto rewards. Since the rewards are distributed on the blockchain in cryptocurrencies, there is no delay or geographical barriers.
But most crypto casinos that have entered the market based on the trend have failed to live up to expectations. Their hollow foundation and flimsy structure mislead investors.
This is where Scorpion Casino enters into the picture with an extensive array of gaming options, including gambling, casino games, live betting, sports betting, and crash games. It provides users with up to 30,000 monthly betting opportunities.

On Scorpion Casino, users can enjoy access to a diverse selection of over 210 casino games that span a wide spectrum of classic slots, blackjack, roulette, poker, and more.
One notable feature is that Scorpion Casino sources its games from renowned gaming providers such as Evolution, NetEnt, Play N Go, Novomatic, EGT, and AMATIC. This not only adds credibility but also provides players with a sense of trust and accountability.
For sports enthusiasts, Scorpion Casino presents a comprehensive sports betting platform, featuring 35 different sports. It presents an excellent monetization opportunity for those who have invested countless hours in following sports events.
In sum, Scorpion Casino creates a rich and engaging environment that caters to the interests of both gaming and sports enthusiasts.
The project's new look is scheduled for launch on Nov. 1, 2023. The version will include 20 new features, which will be unveiled step by step.
Staking, Burning, and Referrals
Scorpion Casino has introduced an innovative deflationary tokenomics system, where a portion of its daily profits are dedicated to sustaining both its staking and burning mechanisms evenly.
Stakers have the opportunity to earn up to $10,000 USDT as passive income from the platform every day!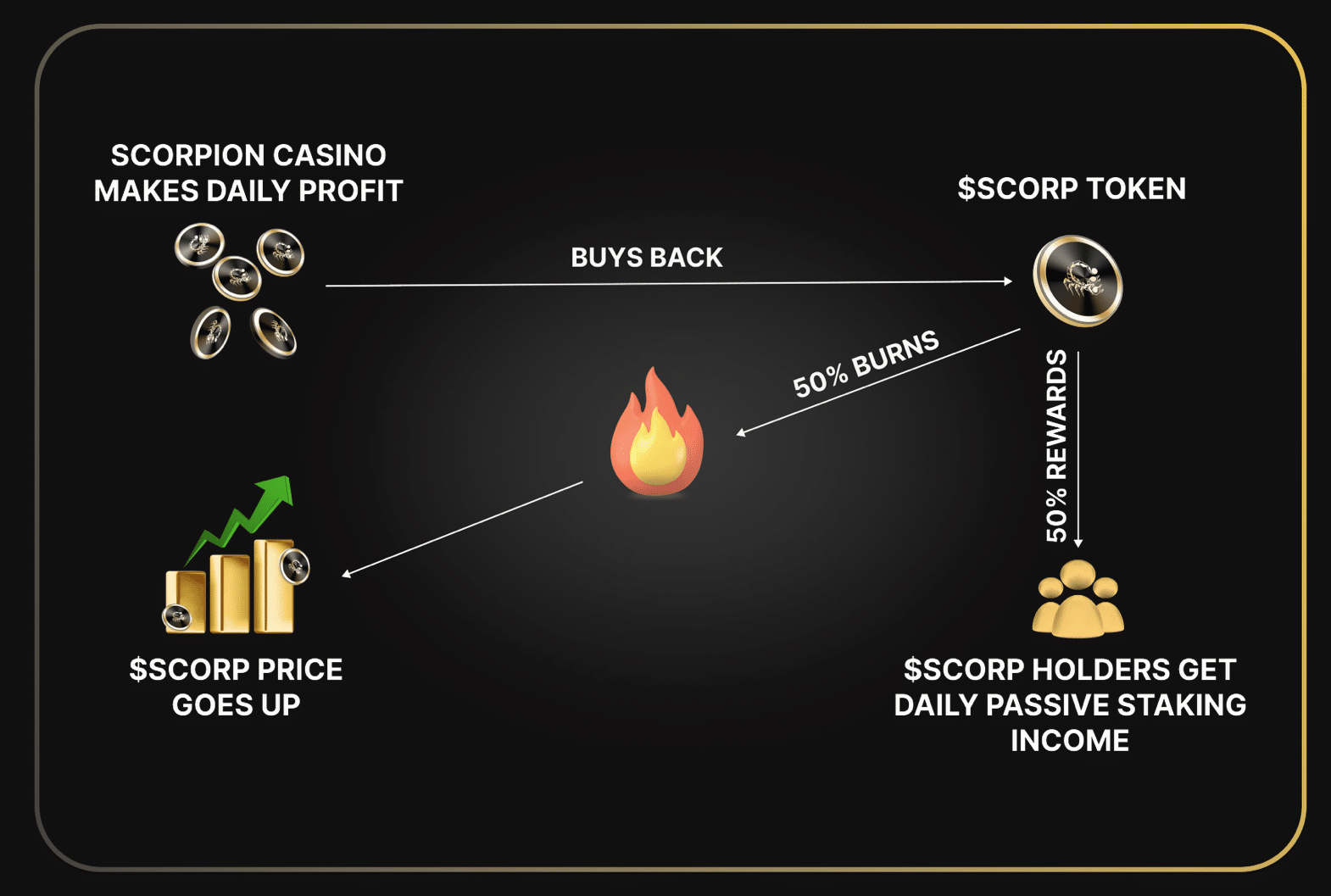 With this strategic and balanced approach, Scorpion Casino aims to maintain long-term sustainability and provide investors with confidence and stability in an otherwise uncertain cryptocurrency landscape.
Another compelling feature of the platform is its affiliate program where users can earn attractive incentives by actively recommending others and engaging with the platform.
Investing in SCORP tokens is another means to earn passive rewards from the platform. The token doesn't just support the reward mechanism, but also serves as a governance token. It empowers users to exercise their voting rights in crucial decisions that will influence the platform's future direction.
$SCORP Tokens are Selling For $0.021 Now
Scorpion Casino is a compelling investment opportunity in the dynamic cryptocurrency market. The online gambling market is entering a period of immense growth and Web3 is predicted to earn a significant share of the projected growth. Underpinned by a diverse range of casino and sports betting options, Scorpion Casino has established itself as a front-runner in the game.
SCORP tokens are now selling for $0.021, and are scheduled to be listed at $0.05.
The tokens can be purchased using ETH, USDT, and BNB during the presale stage. The presale is past the $1.6 million mark now. The presale investment comes with various benefits as mentioned below.