We all want to make our contributions to climate action. But we don't know how.
Chimpzee offers an excellent way with a blockchain-based ecosystem dedicated to wildlife conservation. But there is more. You will be earning attractive passive rewards as you save the planet.
Investors in Chimpzee Presale Helped Saving 1000 sqm of the Australian Rainforest and Animals in Ukraine
CHIMPZEE MAKES DONATION TO RAINFOREST RESCUE TO HELP PROTECT 1000 SQ METERS OF THE AUSTRALIAN RAINFOREST! 👏

Rainforest Rescue put together this video to thank the Chimpzee Army for the donation and for helping to protect a part of their rainforest.

This is just another example… pic.twitter.com/C4nocmzVRc

— Official Chimpzee Project (@RealChimpzee) September 28, 2023
Chimpzee is a wildlife conservation initiative that uses blockchain technology to instill more energy and enthusiasm into climate action. It empowers users to make a positive environmental impact and expedite wildlife preservation while also earning passive income.
For instance, Chimpzee has already achieved multiple feats, including:
The planting of 1200 trees to restore the Brazilian rainforest,
A $15,000 donation to elephant conservation efforts,
And the planting of 20,000 trees in Guatemala to protect its native rainforest.
Save 1000 sqm of the Australian Rainforest
The most recent raise goal will see Chimpzee making a donation to the Forgotten Animals association to help save the ten animals in areas like Ukraine.
CONGRATULATIONS! 🥳
CHIMPZEE ACHIEVES ANOTHER RAISE GOAL!

Chimpzee is going to make a donation to the Forgotten Animals to help save these forgotten animals from war torn Ukraine and burn another 1 Billion tokens tomorrow dropping the total supply to 36 Billion tokens!

The… pic.twitter.com/VmBixxrpZ8

— Official Chimpzee Project (@RealChimpzee) October 22, 2023
The project addresses the human tendency to procrastinate when it comes to long-term goals like climate action by providing attractive rewards as an incentive.
For this, the Chimpzee ecosystem is divided into three segments:
Shop-to-earn
Play-to-earn
Trade-to-earn
Each of these offers substantial opportunities for passive income generation.
For example, in the shop-to-earn category, users can purchase branded merchandise from the Chimpzee Store and receive attractive rewards in CHMPZ tokens.
Meanwhile, the play-to-earn aspect is centered around the Chimpzee Zero Tolerance Game, which allows users to earn rewards and benefits as they progress through new levels.
On the other hand, the Chimpzee NFT Marketplace is designed for active traders who stand a chance to earn a share of the platform's profits.
Wide Scope for Global Partnerships and Mainstream Adoption
It is important to understand the long-term growth potential of a project before investing in a project. So, let's take a look at that.
One of Chimpzee's key attractive aspects is that it has vast potential for partnerships with global brands and organizations. This positions it as one of the most promising initiatives of 2023. As more individuals and entities embrace sustainability missions, the project will enter the mainstream, thus fueling the utility of CHMPZ tokens.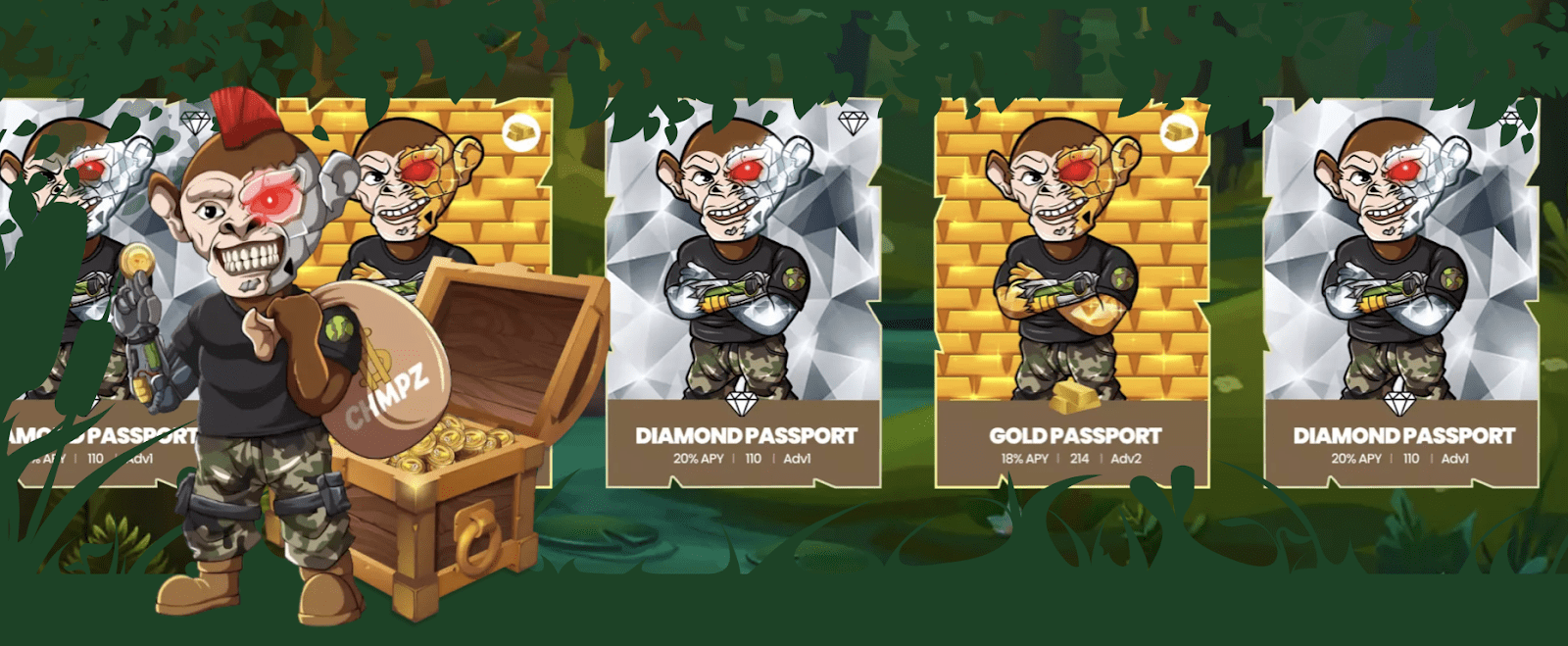 The rapid pace of the Chimpzee presale indicates the possibility of an early sell-out ahead of schedule, underlining the high level of interest and support it has garnered.
A Revolutionary Approach to Charitable Giving
Blockchain technology has changed the way we donate to charities by significantly improving transparency in donations and transactions. Transparency has high relevance when it comes to donations. In fact, it plays a key role in expanding the reach of charitable initiatives.
Although many of us wish to support organizations aligned with our environmental goals, we often hesitate due to the pervasive lack of transparency within the sector. It becomes even more pronounced when it comes to global transactions. But climate action, being a global endeavor, relies on international cooperation and financial transactions.

Chimpzee offers a breakthrough solution by using blockchain technology to facilitate global coordination. It is a transparent and accountable platform that addresses the reservations that often deter individuals from contributing to climate action.
Chimpzee empowers anyone to actively join the global efforts to combat climate change. It doesn't just appeal to our concern for the planet's future, but also instills confidence in the transparency of our contributions.
A Robust Burning Mechanism Underpins the Tokenomics
Although many crypto projects have implemented burning mechanisms with the same objective, Chimpzee stands out with its design and structure. For example, all tokens used to acquire Chimpzee NFT passports go to the burning protocol. The highly sought-after NFTs offer a range of valuable perks to their holders.
As the Chimpzee presale broke past the $1,700,000 milestone, the project burnt over 150 billion tokens to date, reducing the total supply to 36 billion tokens.
The proactive approach to token burning goes a long way in nurturing the long-term value of the token.
Get 4X Bonus CHMPZ Coins as an Early Investor
If you're considering investing in the CHMPZ presale, the timing couldn't be better. There is an amazing opportunity to maximize your potential returns as Chimpzee offers an exclusive VIP 4X bonus if you make an investment of $1000 or above.
The deflationary tokenomics of CHMPZ imparts reliability to the investment and makes the ongoing presale one of the most promising of the year. Once the token is listed on public exchanges, the investment will come with a hefty price tag.