Over the past year, a noticeable trend has emerged within the cryptocurrency market, where a multitude of new endeavors focus on environmental or social causes. Despite the inherently democratic nature of the crypto industry, teams are recognizing the potential of decentralized technology to rally people together for positive objectives. As a result, several projects are tailoring their solutions to address admirable goals.
Chimpzee (CHMPZ) stands as a prime example of such a project, presenting a system that seamlessly combines enjoyment and profitability, all the while motivating users to contribute to animal and environmental causes. Besides conducting numerous charitable initiatives, Chipmzee is also hosting its presale, which has many rewards. We explain all of this here.
Tackle Everything from Wildlife Preservation to Climate Change with Chimpzee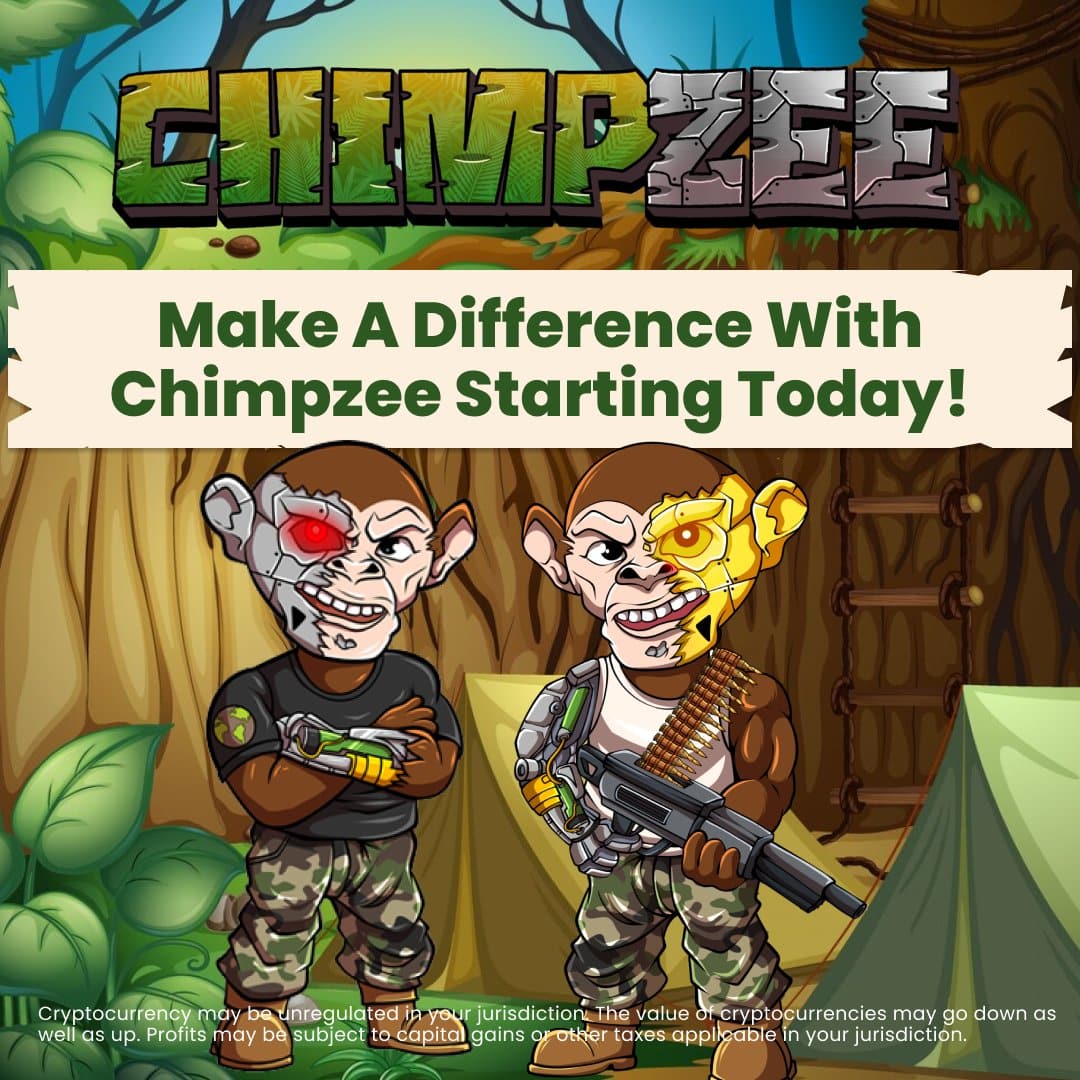 Chimpzee is an initiative with the objective of tackling pressing challenges like wildlife preservation and climate change, while simultaneously offering users a means to generate passive income. In order to support these causes, the project team has allocated 10% of the token supply and a portion of profits to organizations dedicated to addressing these issues. Furthermore, Chimpzee plans to establish an ambassador and community outreach program, funded by the project's resources, to emphasize the importance of raising awareness and funds for conservation-related projects.
In pursuit of its mission, Chimpzee presents an array of robust features, encompassing Play-to-Earn, Shop-to-Earn, and Trade-to-Earn functionalities. These features enable users to earn rewards while actively contributing to the project's overarching objectives.
Chimpzee boasts an array of features sure to captivate the interest of cryptocurrency enthusiasts, with particular emphasis on the Chimpzee shop, NFT marketplace, and Zero Tolerance Game. Amidst other available features, these three stand out as particularly remarkable and deserving of attention.
Setting itself apart from a conventional online marketplace, the Chimpzee shop acts as a centralized hub for various goods and commodities. Conversely, the NFT marketplace enables users to engage in the buying and selling of NFTs, providing an avenue to earn passive income through a portion of the platform's trading fees.
Through accomplishing specific milestones within the unique Zero Tolerance Game, which steadfastly upholds the principle of zero tolerance for any mistreatment of nature and the environment, players can amass CHMPZ tokens. For enhanced passive income within the Chimpzee ecosystem, holders of Chimpzee NFT passports gain access to additional benefits, contributing to the accumulation of more CHMPZ tokens. Below, we outline the steps involved in acquiring a Chimpzee NFT passport.
Furthermore, Chimpzee is poised to introduce a mobile application integrating AI technology to generate personalized Chimpzee AI avatars. Through this innovative mobile app, users will have the opportunity to create their own distinct Chimpzee avatar.
Investors Are Going Wild For The CHMPZ Presale
CHIMPZEE NFT PASSPORTS WILL BE YOUR KEY TO RECEIVING BIGGER REWARDS AND ADVANTAGES IN THE CHIMPZEE ECO-SYSTEM.

There will be a total of 10,000 NFT Passports only!
💎Diamond – 1000
🥇Gold – 2000
🥈Silver 3000
🥉Bronze – 4000

The Chimpzee Diamond NFT Passport will be in very… pic.twitter.com/eRb0rTWalo

— Official Chimpzee Project (@RealChimpzee) August 24, 2023
Chimpzee has structured its ecosystem around the CHMPZ token, which functions as the fundamental currency for all platform features and rewards. Users can employ this token for a multitude of transactions within the ecosystem and will be granted rewards in the form of CHMPZ tokens.
At present, Chimpzee is actively engaged in an ongoing presale, with the present phase offering the token at a rate of $0.00095. In the next phase, the price will increase to $0.001. The listing price is $0.00185.
For those who do not secure Chimpzee NFT passports during the presale, they will subsequently be available at a higher price, albeit with very limited availability. Non-presale investors will need to await the whitelist NFT passport prelaunch, exclusively reserved for presale participants. When CHMPZ coins are utilized to obtain Chimpzee NFT passports, they will be subject to burning, potentially decreasing the total circulating supply by up to 10%. Plus, anyone that buys the NFT Passports with the CHMPZ tokens will pay much less for them than people that pay using another token.
After the presale, the Chimpzee team will prioritize securing listings on diverse exchanges and advancing technological facets, including the development of the Chimpzee store, NFT minting platform, and staking engine. The debut listing on a centralized exchange (CEX) is anticipated to transpire in the latter half of the year.
Conclusion
Chimpzee holds the capability to reshape people's outlook on involvement in crypto ecosystems through its initiatives, showcasing how cryptocurrencies can serve the collective welfare of all living creatures, transcending mere financial motives. It is effectively leaving a notable imprint on the cryptocurrency market and possesses the potential to lay the groundwork for projects with a social conscience. As such, it's well worth checking out the presale of CHMPZ as soon as possible.