The much-awaited public presale of CHMPZ, the native cryptocurrency of Chimpzee, is now live. The event comes with 200% bonus coins for investors who join the presale in April, as part of celebrating Earth Month. CHMPZ tokens are starting at a price of  $0.0005 per piece in the first stage.
Earn Income Fighting Climate Change & Saving Animals
Chimpzee is a web3 project that empowers holders to make a positive impact on the environment and save animals while earning rewards. The project has been trending across crypto and traditional communities dedicated to wildlife protection since its launch. Investors can use the CHMPZ tokens bought during the presale to buy the Chimpzee NFT passport, which unlocks a range of rewards and benefits, including the ability to earn passive income and access exclusive opportunities.

As one of the most promising green projects in Web 3.0, CHMPZ is predicted to generously reward early investors with multifold returns by the fourth quarter of 2023. Let's take a closer look at the project and understand if it will live up to the hype.
Save Animals, Save Forests, Save Planet
The unprecedented surge in the number of endangered species and the rate of deforestation is alarming. It, in turn, affects the worldwide climate. In fact, NOAA's 2021 Annual Climate Report shows that the average global land and ocean temperatures have risen by 0.14 degrees Fahrenheit every decade (0.08 degrees Celsius) since 1880.
Increasing extinction and widespread forest loss call for urgent action. Destroying wildlife habitats, releasing harmful pollutants into the environment, and overusing natural resources are causes for concern. Owing to human activities, nearly one million animal and plant species are at risk of extinction. Climate change aggravates the situation and vice versa.
Forests are integral to human survival as they operate as a carbon sink. That is, they absorb carbon dioxide that is otherwise emitted into the atmosphere unchecked, leading to the continuation of climatic shifts. Forests absorb about 2.6 billion tonnes of carbon dioxide (one-third of the CO2 that is emitted by burning fossil fuels) every year.
If we save animals and forests, we can save our planet. Chimpzee uses blockchain and crypto incentivization as tools to strengthen the fight against climate change. Recognizing the imperative need for worldwide change, the project has set aside 10% of its total coin supply for charity that will be used to donate to organizations working for a common mission. This includes reputed organizations like The Giving Block, One Tree Planted, and WILD. The list of organizations Chimpzee supports will be updated on the website regularly for better transparency and accountability. In addition, the project will create an online donation tracker that displays the positive contributions it makes.

The Chimpzee Ecosystem – An Overview
The Chimpzee ecosystem provides three ways to earn – shop-to-earn, play-to-earn, and trade-to-earn.
The Chimpzee shop: A place to buy unique merchandise and earn passive income in CHMPZ coins. Why? Each purchase you make shows your support for the fight against climate change and animal cruelty, as Chimpzee distributes a percentage of profits generated from the platform to charity.
Chimpzee NFT Marketplace: A place to trade and earn your way to a better world. Interestingly, it is the first platform that shares a portion of trading fee profits with users. It features environment-focused NFTs on the main page, and all projects will be vetted to minimize duplications.
Zero Tolerance Game: A play-to-earn game that allows you to earn CHMPZ coins as well. In addition, the game rewards you with premium prizes. Your gameplay gains you an advantage in the ecosystem.
Chimpzee NFT Passport Your Key to Higher Earnings and More Advantages

Chimpzee NFT passports provide you with more advantages and rewards in the eco-system and prove that you are part of the Chimpzee movement to protect nature and fight climate change. The project will create a Chimpzee Transformation Generator, an AI-based desktop and mobile app, to transform your photo into your unique personalized avatar. You can use it to enter the platform and play the game, sell it on the Chimpzee NFT marketplace, or print it onto a variety of products using Chimpzee's print shop.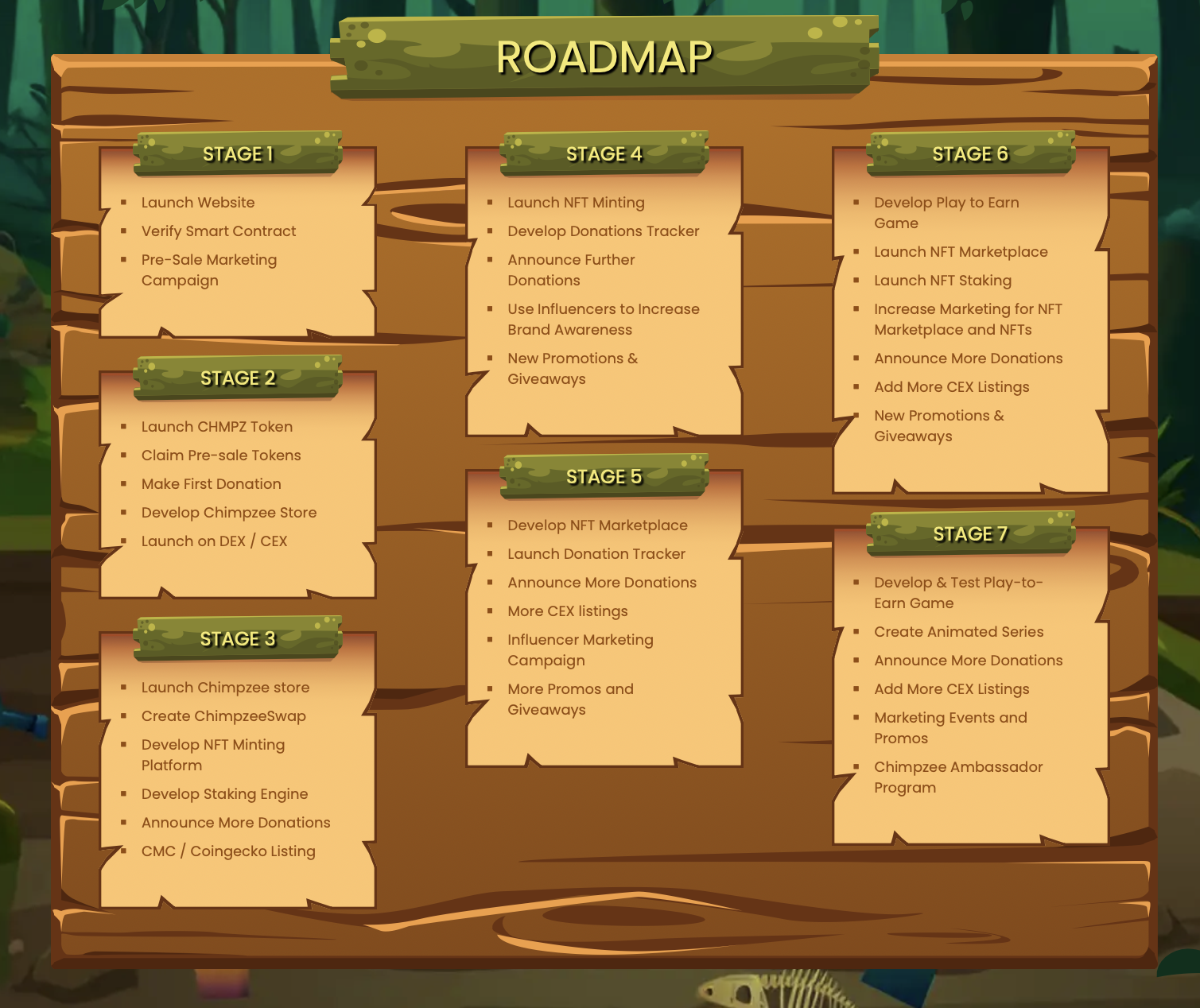 The story and the theme of the ecosystem revolve around Max Chimpzeeski, a brilliant scientist with a heart of gold. He is on a mission to save the planet from the ravages of climate change. He dedicated his life to creating a weapon that can eradicate animal poaching and deforestation. His work paid off when Chimpzee was born. Part man, part ape, and part machine, Chimpzee has unmatched strength and wisdom. The epic quest rooted in Web 3.0 changes the way we have understood climate action.
Attractive Bonus Awaits Early Investors 
The crypto market is moving to a mature phase where investors favor creative projects that make real-world changes. Chimpzee has high growth potential as it acknowledges our need for rewards and recognition in almost everything we do, climate action not being an exception. It encourages people to join its mission through a fun, transparent, and efficient ecosystem.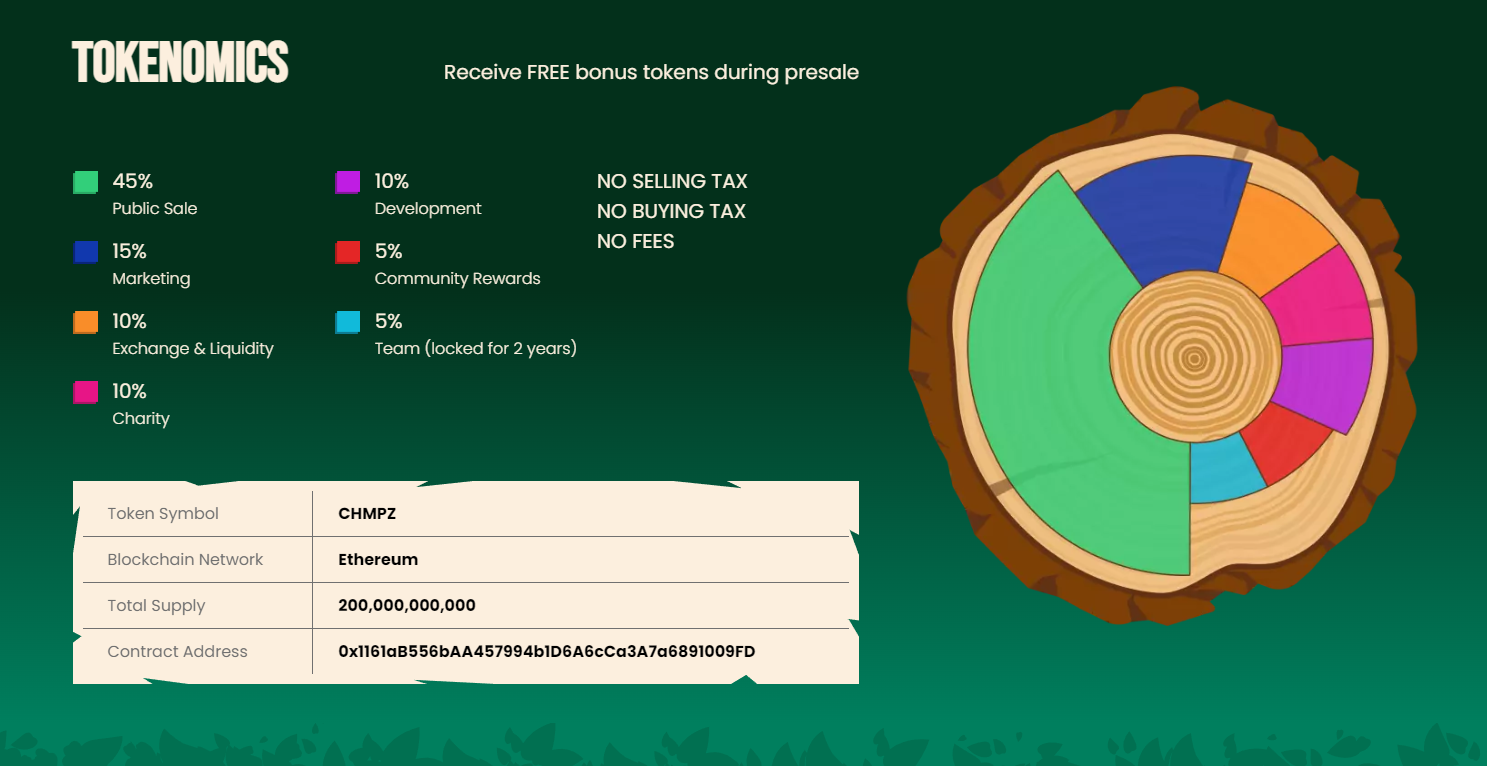 So it comes as no surprise that leading publications cite CHMPZ as one of the most promising cryptocurrencies to buy in 2023. The earlier you join the presale, the more attractive the discounts. Moreover, the price will gradually increase as the presale enters new stages, with the exchange listing price fixed at $0.00185.