Chimpzee (CHMPZ) is a remarkable project that has wowed the crypto community for its charitable nature. It has been successful in many such initiatives and now it can add another feather to its cap after hitting the $1.4 million milestone, which comes with it protecting 1000 square feet of the Australian rainforest.
We tell you about this massive accomplishment, as well as other details of the project and the CHMPZ meme coin here. Strap in because we have a feeling you're going to want to get involved with this project immediately!
Chimpzee Protects The Australian Rainforest
CHIMPZEE MAKES DONATION TO RAINFOREST RESCUE TO HELP PROTECT 1000 SQ METERS OF THE AUSTRALIAN RAINFOREST! 👏

Rainforest Rescue put together this video to thank the Chimpzee Army for the donation and for helping to protect a part of their rainforest.

This is just another example… pic.twitter.com/C4nocmzVRc

— Official Chimpzee Project (@RealChimpzee) September 28, 2023
Chimpzee has done it again – this time managing to protect the Australian rainforest after hitting the $1.4 million milestone in the presale. The effort helps protect a 1000 square meter area patch and will go a long way in making Chimpzee a global name.
The CHMPZ token is at the heart of all its endeavors, serving as the fuel behind all actions and rewards within the tightly woven ecosystem that Chimpzee has created. Users can utilize the CHMPZ token in this system for a variety of transactions and qualify for incentives in the form of extra CHMPZ tokens.
With an upcoming price increase to $0.00125, Chimpzee is currently selling the token at a rate of $0.0011. The listing price will be $0.00185. On top of this, investors can receive a 4x bonus coin payout, bringing the price down to less than $0.0008.
If you can't get a Chimpzee Diamond NFT passport during the presale, it will still be possible to buy one afterward, but at a higher cost and with fewer options. Those who did not take part in the presale will have to wait for after the whitelist NFT passport's prelaunch event, which is only open to those who did. Only those who participated in the initial presale round will still be eligible to purchase the Chimpzee Diamond NFT passport. A burning process will be activated when CHMPZ coins are used to purchase Chimpzee NFT passports, with a potential of burning up to 5 billion tokens out of circulation.
At the end of the presale, the Chimpzee team will give priority to acquiring listings on multiple exchanges and developing technological features. This includes creating the NFT minting platform, marketplace, and Chimpzee shop which is ahead of schedule and will launch soon.. In the later part of the year, the first listing on a centralized exchange (CEX) is anticipated to take place.
Chimpzee Has A Heart of Gold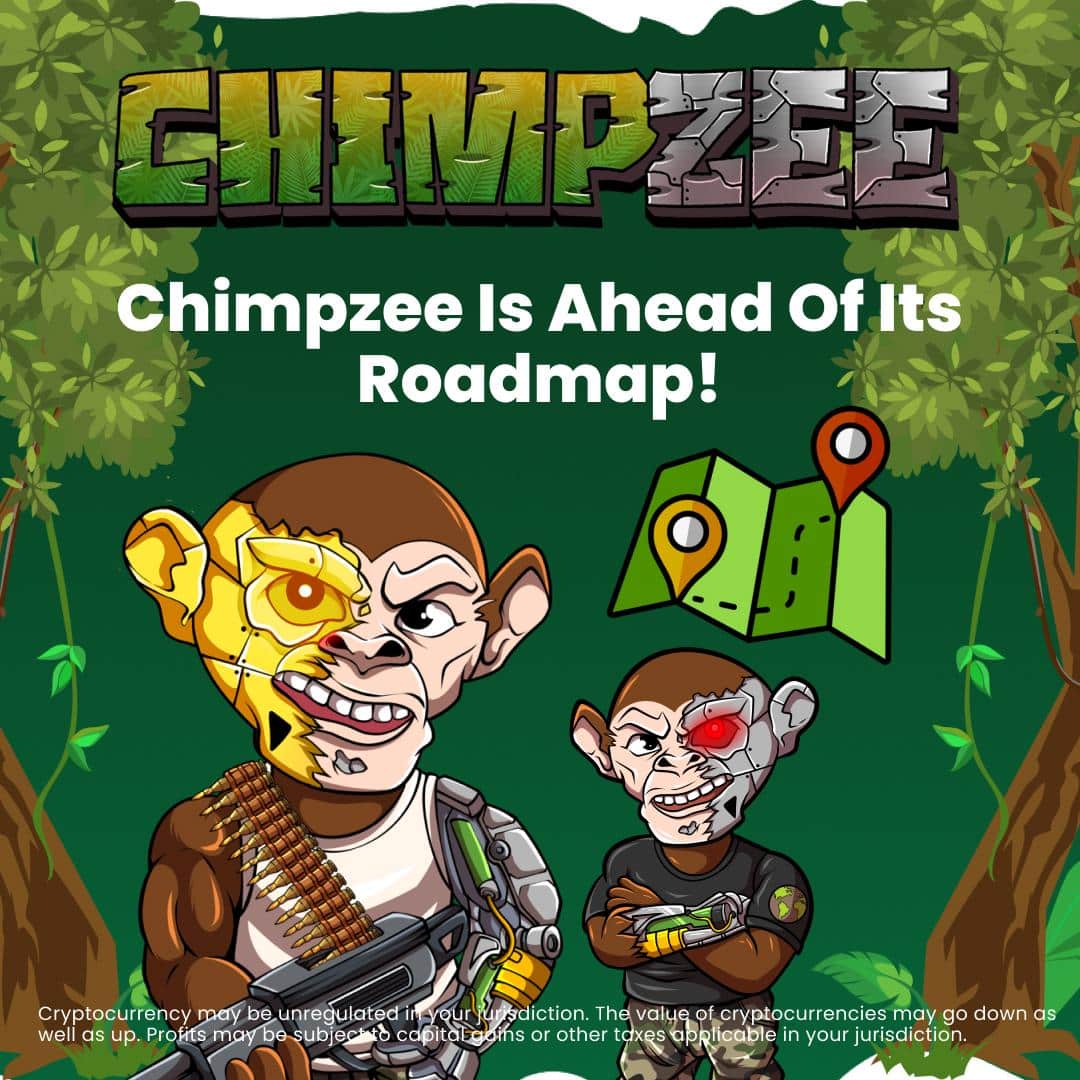 Chimpzee addresses problems like protecting animals and reducing climate change while also giving consumers a means to make passive income. The project team has donated 10% of the token supply and a share of the income to groups working to address these issues in order to assist these causes. To emphasize the significance of raising awareness and finances for conservation-related activities, Chimpzee has also put out plans for an ambassador program and community outreach campaign, funded through the project's resources.
Chimpzee offers a variety of strong features to further its objective, including Play-to-Earn, Shop-to-Earn, and Trade-to-Earn processes. These features enable users to receive incentives while actively advancing the main objectives of the project.
The Chimpzee shop, NFT marketplace, and Zero Tolerance Game are three elements that Chimpzee introduces that are sure to catch the attention of cryptocurrency fans. These three elements stand out as exceptionally excellent and deserving of recognition among the variety of features that are offered.
The Chimpzee shop distinguishes itself from a traditional online marketplace by serving as a primary center for a variety of goods. In contrast, the NFT marketplace makes it possible to trade NFTs and offers a means of passive income through a share of the platform's trading costs. This will launch in stage 13, which is the very next stage!
Players can amass CHMPZ tokens by achieving specified objectives in the firmly ecologically conscientious Zero Tolerance Game. Holders of Chimpzee NFT passports get additional advantages for a better passive income experience within the Chimpzee ecosystem, which helps generate more CHMPZ tokens. The steps necessary to obtain a Chimpzee NFT passport are described below.
Conclusion
Through its charity endeavors, Chimpzee offers the prospect of changing people's perceptions of their role in the crypto ecosystem. The fact that it has managed to successfully go through with multiple such initiatives, the latest being protecting the Australian rainforest, says a lot about its long-term potential. Get involved with the CHMPZ presale and help further the cause.