Chimpzee ($CHMPZ) is a meme coin project that's on a green mission with the capabilities of nurturing both pockets and planets.
The project has devised a Web3 ecosystem that lets investors earn a passive income while raising funds to contribute to organizations helping combat climate change and save endangered animals.
The best part about it is that the donations from Chimpzee are fully transparent, and the project has already made commendable contributions to help plant trees, save elephants, and protect black jaguars.
Here's everything you need to know about this revolutionary giving project.
Chimpzee is a Green Web3 Project to the Fullest Extent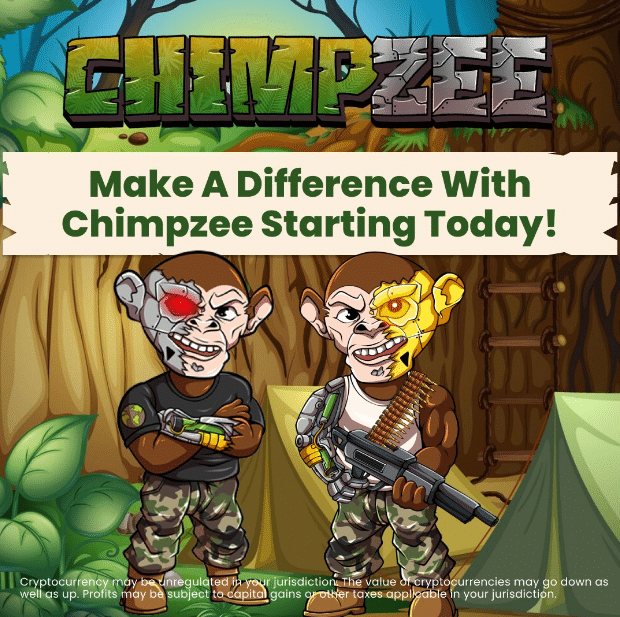 Chimpzee isn't just an adorable meme coin project. It's a movement in the Web3 industry revolutionizing how we give to charity.
Instead of just investing in meme coins to make a buck, Chimpzee has devised an ecosystem that lets users make contributions to charity – while earning a passive income.
The project is on a mission to prove to the world that Web3 technology can be used for a commendable purpose – rather than being a sponge to society.
As numerous animal species sit on the brink of extinction in the face of climate change and global warming, Chimpzee has devised an ecosystem that can actually help to make a difference.
The project wants to raise public awareness and bring more engagement to wildlife conservation initiatives.
An Ecosystem that Nurtures Both Pockets and Planet
Chimpzee has devised an ecosystem that helps to nurture both pockets and the planet. While you earn a passive income through this ecosystem, you're also raising funds to help provide financial contributions to organizations that are making a difference in the world.

The project has devised three methods of passive income;
Shop-to-earn
Trade-to-earn
Play-to-earn
The shop-to-earn component is the central commerce center, and it allows users to buy goods and merchandise that are unique to the store and earn $CHMPZ tokens. It's essentially a shop-to-earn and donate feature, with 10% of all profits going to charity.
The trade-to-earn component surrounds the NFT Marketplace, which is the first to share a portion of its trading fees generated with all NFT holders.
The Zero Tolerance game forms the play-to-earn component. Here, players can enjoy a fun game while earning $CHMPZ tokens after reaching certain milestones.
The Chimpzee NFT Passports tie these ecosystems together and are essential to earning the most passive income in the ecosystem.
Those investing in the $CHMPZ presale today are entitled to buy and mint a Gold Chimpzee NFT Passport after the presale ends.
This will provide higher rewards in the shop, a greater share of the trading fees, and more rewards in Zero Tolerance.
In addition, Gold NFT Passport holders will receive an 18% staking APY – increasing their passive income potential.
Transparent Contributions Already Saving Animals and Rainforests
Chimpzee is already living up to its mission by making sizable contributions to organizations that are saving animals and rainforests.
The best part about it is that the donations are made through The Giving Block, an organization that facilitates crypto payments to charities.
As a result, the donations are all fully transparent and easily verifiable on-chain.
Chimpzee kicked its contributions off by donating to One Tree Planted to plant 1,000 trees in the Brazilian Rainforest and another 20,000 in Guatemala;
What an amazing accomplishment! 🤩🌳 We are so happy to support you and get these trees planted🌱🌎

— One Tree Planted (@onetreeplanted) June 15, 2023
It then made a $15,000 donation to WILD Foundation to help save one of the last herds of desert-adapted elephants – which are quickly dwindling in numbers;
Chimpzee Makes the News and Appears on CoinTelegraph!https://t.co/PpNr0ffR8s

— Official Chimpzee Project (@RealChimpzee) May 25, 2023
It stepped its contributions up by donating another $20,000 to WILD Foundation to help the Yawanawa people save the final 600 black jaguars roaming in the Brazilian Rainforest;
Hey #ChimpzeeArmy! 🐵🌟

🎉We have just made a $20,000 donation to the @wildfoundation to support their remarkable efforts in saving and protecting the majestic black jaguar!🐆❤️

Join our #Presale and help us achieve our next donation!✨🌍https://t.co/Geog3EVuMC#EcoCrypto

— Official Chimpzee Project (@RealChimpzee) July 14, 2023
As you can see, Chimpzee is a project already making a difference in the world with proof to show its efforts.
Invest Today and Help the Australian Rainforest
The presale is currently ongoing, and you can help Chimpzee with its next target to save the Australian Rainforest.
Once the presale reaches the $1.4 million fundraising milestone, Chimpzee will make a donation to save 1,000 square meters of the Australian Rainforest and the animals living there;
🐵🌲Help Chimpzee protect 1000 sq meters of the Australian rainforest and the animals that live in it.

🔥1 Billion tokens to be burned when raise goal achieved! https://t.co/kkiKbvzV94

➡️Current Price $0.00095
📈Next price increase in 7 days! – $0.001
🚀Listing Price -… pic.twitter.com/7N5rdtg4pq

— Official Chimpzee Project (@RealChimpzee) August 25, 2023
The presale is currently in the twelfth stage, selling the token for $0.00105.
However, with its rising pricing strategy, the price will continue to increase as the presale progresses.
As a result, those investing earlier benefit most from the lower prices.
Overall, with its wholesome approach, sizable contributions to charity, and passive income potential, $CHMPZ might be one of the most explosive projects in Q4 2023 after the presale ends.