Chimpzee ($CHMPZ) continues to make waves in the meme coin sector after flying past the $1.53 million fundraising milestone.
Upon reaching this milestone, Chimpzee made a donation to save 1,000 square feet of the Australian Rainforest to protect the animals and plants living there.
This donation sits alongside previous notable contributions that have helped save elephants and black jaguars and planted over 20,000 trees.
The project now just has four days before it's discounted price ends and the cost of the token increases.
Overall, Chimpzee is one of the most wholesome meme coin projects in the space that promises to provide a passive income for everybody involved.
Chimpzee Continues to Reach Milestones as Investors Flock for Profit and Philanthropy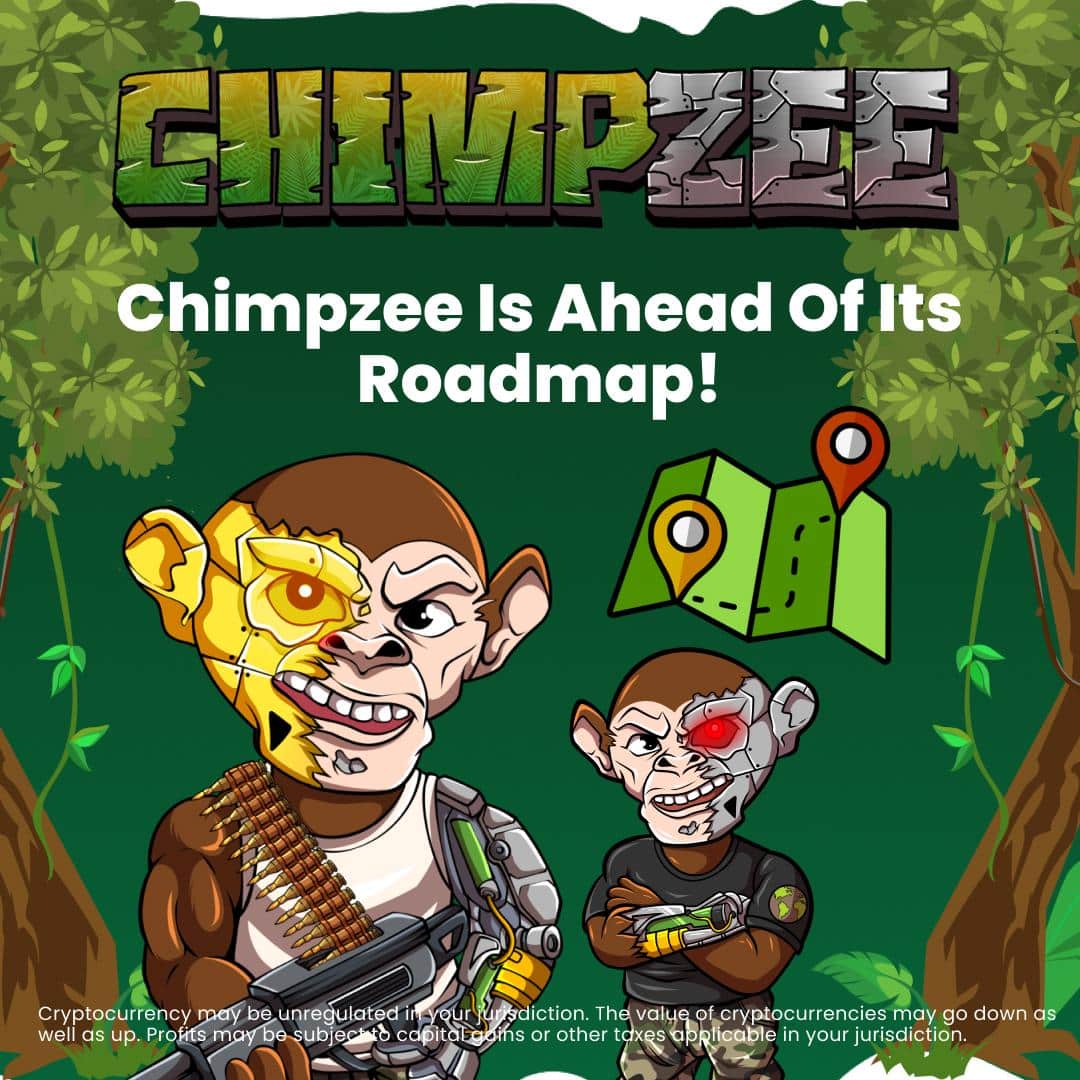 Chimpzee continues to hit all its milestones as investors flock for profit and philanthropy.
The project recently crossed the $1.5 million milestone, marking another significant contribution to charitable organizations making a difference worldwide.
The entire objective behind this wholesome project is to provide three avenues to passive income while simultaneously raising funds to make positive contributions to the world by saving animals and protecting the environment.
Chimpzee seeks to raise public awareness and provide financial contributions to noteworthy organizations helping endangered species and fighting deforestation.
It's the first Web3 project disrupting how people contribute to charity as it brings engagement and participation to wildlife conservation initiatives.
The best part about the project is that all financial contributions are entirely transparent as they're made through The Giving Block. This organization facilitates crypto-based donations to verified charities.
In addition, Chimpzee's team has been thoroughly verified by Cyberscope, and Solidity Finance has verified the smart contracts behind the project for security.
Three Avenues to Passive Income
The project provides three avenues to passive income through shop-to-earn, trade-to-earn, and play-to-earn.

The shop-to-earn component allows users to purchase merchandise unique to the store and earn $CHMPZ tokens in the process.
The trade-to-earn section is one of the first NFT marketplaces that shares a portion of its revenues with all NFT holders to provide a passive income.
The play-to-earn component is a fun Zero Tolerance game that provides $CHMPZ rewards as players hit certain milestones.
The Chimpzee NFT Passports help to bring the entire ecosystem together, providing the most passive income for holders.
There are three categories of NFT Passports, which provide varying rewards, including;
A staking APY for staked $CHMPZ tokens
Increase CHMPZ rewards and a discount in the Chimp Shop
A discount and a higher share of the trading fees on the NFT Marketplace
Discounted advertising on the platform
Higher rewards in the Zero Tolerance play-to-earn game
VIP access to events, airdrops, and special promotions in the ecosystem.
Transparent Donations Already Saving Animals and Rainforests
Despite still being in its presale, the project has made respectable contributions to charitable organizations making a difference in the world. They have also received some thank you videos from them that can been seen here: https://chimpzee.io/donations
Upon reaching the $1.4 million fundraising goal, Chimpzee made a donation to Rainforest Rescue to help save 1,000 square meters of the Australian Rainforest – protecting the plants and animals living there;
CHIMPZEE MAKES DONATION TO RAINFOREST RESCUE TO HELP PROTECT 1000 SQ METERS OF THE AUSTRALIAN RAINFOREST! 👏

Rainforest Rescue put together this video to thank the Chimpzee Army for the donation and for helping to protect a part of their rainforest.

This is just another example… pic.twitter.com/C4nocmzVRc

— Official Chimpzee Project (@RealChimpzee) September 28, 2023
Furthermore, Chimpzee previously donated $15,000 to WILD Foundation to help save one of the world's last herds of desert-adapted elephants – which has fewer than 150 reaming;
Chimpzee Makes the News and Appears on CoinTelegraph!https://t.co/PpNr0ffR8s

— Official Chimpzee Project (@RealChimpzee) May 25, 2023
It also made another $20,000 donation to WILD Foundation to help the Yawanawa people rescue the 600 remaining black jaguars that live in the Brazilian Rainforest;
Hey #ChimpzeeArmy! 🐵🌟

🎉We have just made a $20,000 donation to the @wildfoundation to support their remarkable efforts in saving and protecting the majestic black jaguar!🐆❤️

Join our #Presale and help us achieve our next donation!✨🌍https://t.co/Geog3EVuMC#EcoCrypto

— Official Chimpzee Project (@RealChimpzee) July 14, 2023
Their donations go beyond the scope of saving animals. For example, they made a donation to One Tree Planted to plant over 20,000 trees in the Guatemalan Rainforest;
What an amazing accomplishment! 🤩🌳 We are so happy to support you and get these trees planted🌱🌎

— One Tree Planted (@onetreeplanted) June 15, 2023
Overall, you can easily see why Chimpzee is capturing the attention of Web3 degens with a heart as it continues to make significant contributions to help the world.
Invest Today Before Prices Rise Further
The presale continued to fly as it entered its thirteenth stage.
The current stage is selling the token for a price of $0.011. With a listing price set at $0.00185, early adopters can take advantage of the current bonus and bring their token cost down to early presale stage prices at $0.0008 or less. This stage still leaves the presale with extraordinary levels of unrealized returns.
There's just four days to go in the current stage, meaning your time is running out to get positioned at discounted prices.
Chimpzee continues to rise as investors rush to get positioned in the project in the hopes of profit and philanthropy.
Experts predict 50x returns for early investors once the token launches due to its passive income opportunity and positive financial contributions.
Invest today before prices rise, and do your part to make the world more sustainable.