The best AMD CPUs shine through with balanced performance output at affordable and competitive prices. With AMD processors, especially the Ryzen series, you can benefit from improved single-core and multi-core application performance for hardcore gaming, better multitasking capabilities, and lower heat output.
However, the world of AMD CPUs, old and new, can be quite confusing. That's why we've narrowed down the 10 best AMD CPUs for you based on criteria like pricing, number of cores and threads, speed, cache, and TDP (Thermal Design Power). Read on to discover why the AMD Ryzen 9 7950X3D, AMD Ryzen 5 7600X, and AMD Ryzen 7 7700X are among the best AMD CPUs.
AMD's Best CPUs for 2023 Ranked
The Ryzen 9 7950X3D is overall the best processor from AMD on the market today, and it's made its mark with powerful performance and futuristic appeal. However, each of these products offers something a little bit different – so let's take a look at the top AMD CPUs ranked:
How Do AMD CPUs Work?
Processors are composed of millions of transistors. Together, these transistors process data and commands from the computer's hard drive or memory, which are transmitted via an "interface" port on the motherboard. The interface transmits this information to your system's network adapters, sound cards, and video cards.
AMD CPUs employ sophisticated techniques such as superscalar execution, out-of-order execution, and branch prediction to enhance performance and improve efficiency. They consist of multiple processing units called cores, each capable of executing instructions independently.
These cores communicate with each other and other components through a complex network of pathways known as the interconnect.
When a program or task is run on a computer, the operating system divides it into a series of instructions, which are then sent to the CPU. The CPU decodes and executes these instructions by fetching data from memory, performing calculations, and storing results in memory or sending them to other components.
Who Should Use AMD Processors?
AMD CPUs are ideal for those who need a fast and powerful computer but do not have the budget to invest in an Intel processor. They also function effectively with systems requiring multiple cores, like servers. AMD's processors are renowned for their exceptional gaming performance and compatibility with various graphics cards.
These processors are suitable for those seeking a powerful and cost-effective solution for their computing needs, whether for gaming, content creation, or productivity.
AMD's Ryzen series of processors, in particular, have been well-received by both gamers and professionals, delivering excellent multi-threaded performance for tasks such as video editing and 3D rendering. They offer a compelling alternative to Intel processors, often providing comparable or even superior performance at a lower price point.
Top 10 AMD Processors Reviewed
Excited to learn more about the best AMD CPUs? Read on as we'll now discuss each of our top recommendations in detail, including their best features, pros and cons, and pricing. Let's dive right in.
1. AMD Ryzen 9 7950X3D — Best AMD Ryzen CPU Overall
The AMD Ryzen 9 7950X3D provides incredible performance and is a strong contender on the gaming front. It supports DDR5, the latest computer memory type, which operates at a higher frequency than DDR4. This means faster data transfers and higher bandwidth for processing large amounts of data.
It uses PCle 5.0 technology for connecting the various components of the computer system, like the graphics card, motherboard, and peripheral devices. PCle 5.0 has twice the transfer rate of PCle 4.0, and you can connect a larger number of devices to the interface for increased flexibility. This, combined with DDR5, makes AMD Ryzen 9 7950X3D future-proof and a true performance beast.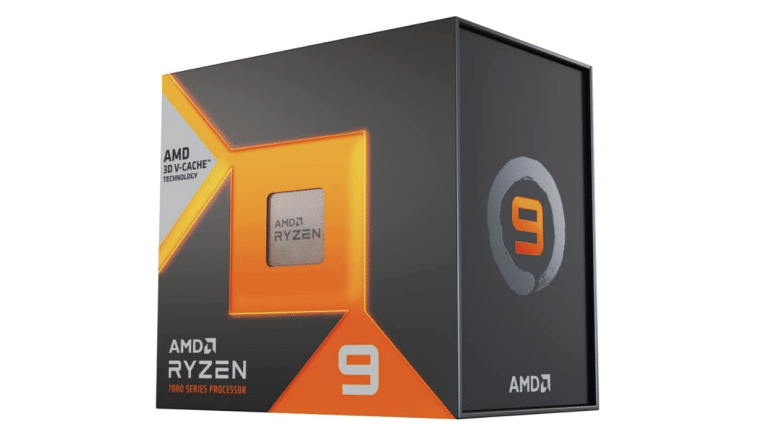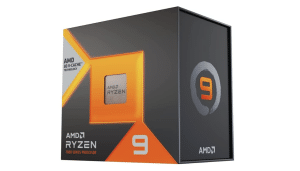 | | | | | | |
| --- | --- | --- | --- | --- | --- |
| Price | Cores/Threads | Base Clock | Boost Clock | Cache | TDP |
| $649 | 16/32 | 4.2GHz | 5.7 GHz | 128MB | 120W |
With a boost clock speed of 5.7GHz, you get smooth gameplay and improved graphics, meaning all the visuals will move swiftly and without lag. The boost clock is the maximum clock speed or frequency that a processor can achieve while carrying out heavy tasks, and the base clock is the minimum speed of the processor, which is recommended by AMD for carrying out simple tasks.
There's no doubt that this CPU is a step ahead of the competing chips on the market, but it requires an AM5 motherboard – the new and improved power delivery system that provides improved networking, audio, and storage capabilities. Plus, if you have DDR4 RAM, you'll have to replace it with DDR5 RAM for compatibility, which is certainly worth it if a bit expensive.
This processor has 16 cores and 32 threads — the highest on our list. Threads, as you may know, are the number of instructions that the processor can execute independently, and cores are the processing units that work together to execute those instructions.
The graphics are integrated with RDNA2 architecture, a handy safety net if your graphics card ever fails or malfunctions. When compared to its predecessors, RDNA2 shows significant improvement. It has a high bandwidth cache that reduces memory latency – the time taken to deliver the requested data from a PC's memory – and thereby delivers better performance.
Overall, the AMD Ryzen 9 7950X3D is one of the best Ryzen CPUs and most powerful processors delivering multi-core performance, which is perfect for users looking for a processor that's not only great for gaming but can also take on substantial tasks for content creation and data processing.
Pros
Solid multi-core performance
Future-proofed with DDR5 and PCle Gen 5.0
Extremely energy-efficient
Higher boost frequencies and better overclocking support
One of the best AMD gaming CPUs
Cons
Lacks a strong cooling system
Relatively expensive
2. AMD Ryzen 5 7600X — AMD's Best CPU for High Refresh Rates
The AMD Ryzen 5 7600X is one of the finest processors on the market, which offers cutting-edge features, including a high base clock for effortless gaming, and you can set the boosting behaviors to your needs by overclocking the processor.
Through overclocking, you can increase the clock speed of a computer's processor, enabling it to support tasks that require more weight than average. However, keep in mind that overclocking can cause an increase in temperature, which can potentially damage the processor. Plus, the performance difference isn't that drastic, so we don't recommend that you overclock your processor too much.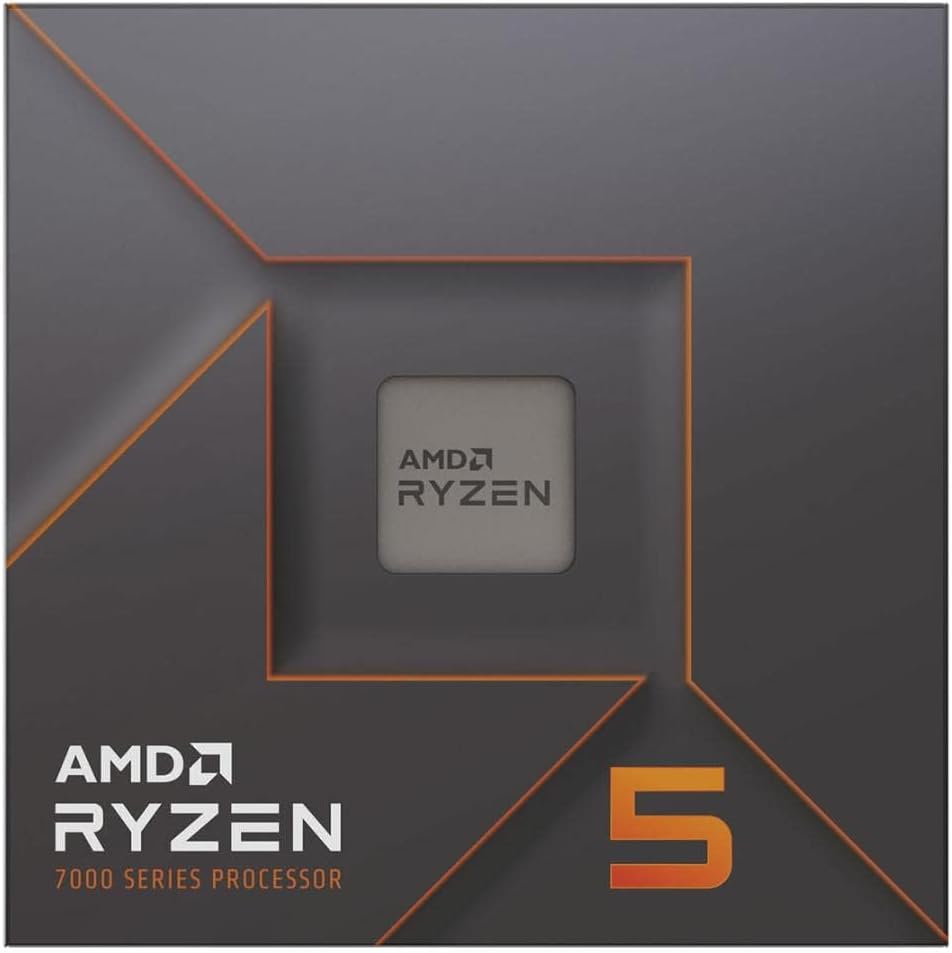 | | | | | | |
| --- | --- | --- | --- | --- | --- |
| Price | Cores/Threads | Base Clock | Boost Clock | Cache | TDP |
| $199.99 | 6/12 | 4.7GHz | 5.3 GHz | 38MB | 65W |
Users have seen this CPU reach a stellar 5.30GHz in everyday use. Often, while handling single-thread workloads like gaming, it can go as high as 5.45GHz. The processor has a 105W TDP, meaning it releases around 105W of heat while processing, which is pretty high, so you will have to get a CPU cooler to keep your device safe and increase its longevity.
This Zen 4 processor is very competent in handling triple-digit frame rates. All chip cores are the same, which can be confusing for the software, though, as it leaves no distinction between performance and efficiency cores.
Another interesting feature of the chip is that it supports functionality that helps increase AI performance. The 7600X is 24% faster than the 3700X, which in itself is a fairly fast processor. What's more, it's just 6% slower than the 10-core/20-thread Core-i9 10900K.
In conclusion, if you're looking to build a budget or mid-range system that's capable of taming the highest frame rates, then the AMD Ryzen 9 7950X is the one for you. On the other hand, if your use case includes a ton of 3D rendering or similar, you'll be better off with a processor with more cores.
Pros
Offers very solid performance for the price
Compatible with AM4 coolers
Very efficient and consumes minimal power
Supports DDR5 and PCle 5.0 SSDs
Cons
Regular heating problems detected
3. AMD Ryzen 7 7700X — One of the Best Gaming CPUs with an AM5 Socket
The Ryzen 7 7700X was a humongous leap over its predecessor, but it's been a rather underrated processor ever since the Ryzen 9 series became popular.
From running Photoshop and Lightroom to providing ample power for smooth video editing, it has a lot to offer for photographers and video editors. And with all of that available at an accessible price point, it truly is the creative's ideal pick.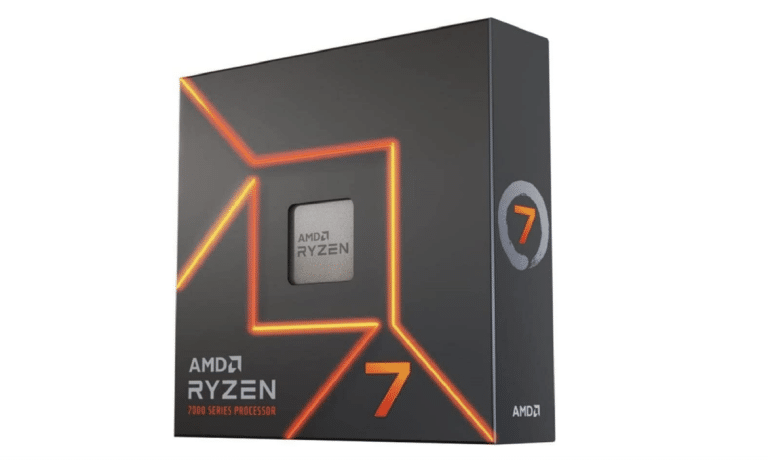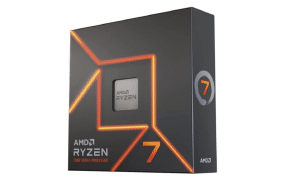 | | | | | | |
| --- | --- | --- | --- | --- | --- |
| Price | Cores/Threads | Base Clock | Boost Clock | Cache | TDP |
| $347.42 | 8/16 | 4.5GHz | 5.4 GHz | 80MB | 105W |
It has an AMD EXPO, a one-click memory overclocking technology that's also in Intel's XMP. While the processor does provide a 32MB cache and an 8MB L3 cache (40MB total), it would've been great to see the company's 3D-VCache as it made the Ryzen 7 5800X such a steal, with its amazing cache handling capabilities.
We were also impressed by the GPU's gaming performance. In fact, it's one of the best gaming processors on the market right now. With its AM5 socket, you get PCle 5.0 compatibility, just like our top two picks, but an added advantage here is the more affordable price.
You get significantly more efficient cores with its advanced 5nm FinFET transistor technology. On top of that, the Ryzen 7 7700X has an impressively low TDP for the powerful performance that it delivers, and since it uses the same hardware as the AM4 coolers, you won't have to invest in a cooler like you would in the case of the Ryzen 9 7950X.
The Ryzen 7 7700X is the perfect mid-range chip to pair with the best gaming PCs or for creative editing. While it's also great for content creation, it isn't the best on the market, where the Intel Core i5 12600K reigns.
Pros
Superb gaming performance
Has a one-click memory overclocking
Energy efficient with FinFET transistor technology
PCle 5.0 compatibility
Great value-for-money
Cons
Requires up-to-date hardware to function
4. AMD RYZEN 9 5900X — Value for Money Processor, Best for Single-Threading Functions
The AMD Ryzen 9 5900X breaks the notion that while the AMD processors are top-notch for multi-threading functions, they aren't the best at single-threading. This processor provides unbelievably balanced performance for both single-threaded and multi-threaded tasks.
Unlike the other processors we've discussed so far, this one has the Zen 3 architecture, which was designed by AMD from scratch to increase its efficiency and overall performance.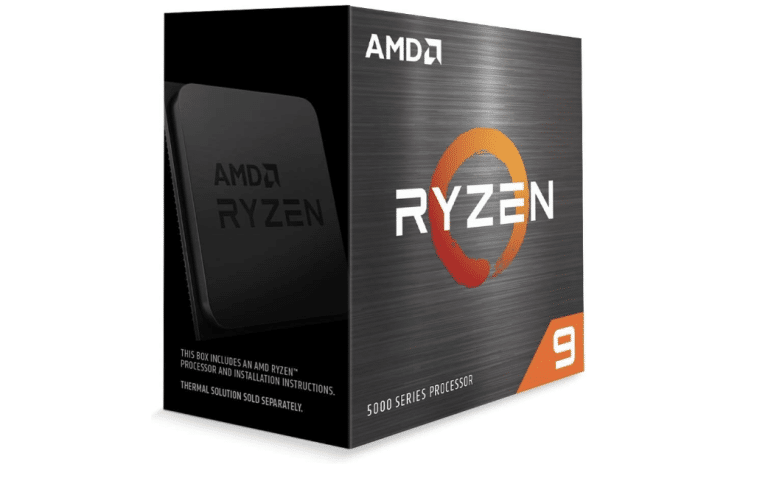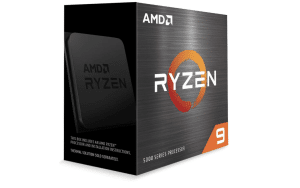 | | | | | | |
| --- | --- | --- | --- | --- | --- |
| Price | Cores/Threads | Base Clock | Boost Clock | Cache | TDP |
| $297 | 12/24 | 3.7GHz | 4.8 GHz | 70MB | 105W |
The processor here is 7nm instead of the 14nm processor we've seen in the Ryzen 7 7700X. The main difference between the two is their size, meaning the 7nm processor is half the size of the 14nm processor while being more powerful and more energy efficient than the latter.
What we love the most about the 5900X is that you don't need to buy a new motherboard for this processor if you're looking for an upgrade, as it is compatible with the X570 motherboard used in the older models.
While most motherboards come with a Ryzen 5000-ready BIOS pre-installed, it's always beneficial to check that the motherboard you are buying or already have has the latest BIOS installed – otherwise, you'll still need to update your BIOS for this processor.
For context, BIOS is the firmware responsible for initializing and testing hardware components, enabling the operating system to communicate with the hardware. So, it's pertinent that you look into BIOS before purchasing the motherboard.
Although 5900X exceeds our expectations in almost all fields, we expected better temperature control. In our testing, we noticed that the processor reached a maximum of 86 degrees Celsius, which is an uncomfortably high temperature while using. It's reassuring, though, that AMD said that the high temperatures will not lead to the processor bursting into flames.
If you're looking for a high-end consumer processor at a reasonable price point, you cannot get a better deal than this one.
Pros
One of the best for 1080p gaming
Good power efficiency
Unbeatable single-core performance
PCle Gen 4.0 support
Good architecture with multi-threaded performance
Cons
Doesn't come with a cooler
5. AMD Ryzen 7 7800X3D — Best AMD CPU for Gaming
The Ryzen 7 7800X3D is a high-performance gaming beast for desktop PCs. It's specifically designed to function on CPU-limited games and is one of the fastest chips on the market. It has the newest Zen 4 architecture, which delivers better scalability and efficiency than the Zen 3 architecture.
With its boost clock being as high as 5.0GHz, you can expect it to be stable at all times. On top of that, AMD has also unlocked a number of overclocking and undervolting capabilities with this processor.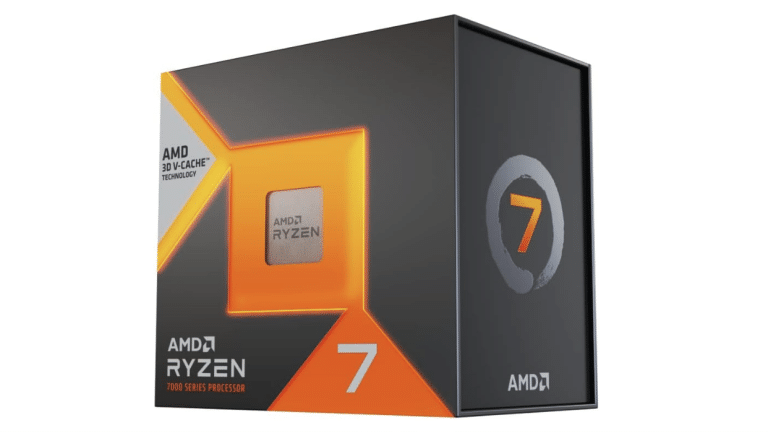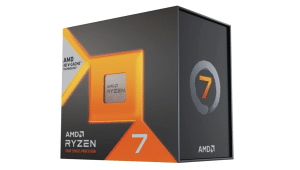 | | | | | | |
| --- | --- | --- | --- | --- | --- |
| Price | Cores/Threads | Base Clock | Boost Clock | Cache | TDP |
| $441 | 8/16 | 4.2GHz | 5.0GHz | 100MB | 120W |
Despite having so many high-end features, the USP of 7800X3D is its simplicity. It has a single compute chipset, and using it is just a matter of plug-and-play, with no software handholding or thread targeting required.
On the contrary, models like the Ryzen 9 7900X3D require you to know the thread targeting tech if you want to squeeze the best performance out of it.
Now, the 7800X3D has two eight-core CCD chiplets and a 3D V-cache tech — a combination we've seen for the first time. Each chipset fitted in the core is best suited for a different kind of work, making this an all-rounder.
The power and energy metrics on this one are off the roof. With a 120W TDP rating, it surpasses most products on our list. Such a high rating means that the chip would be mostly operating on "Eco Mode," a very efficient and energy-conserving mode.
Due to the silicon shim being stacked on top of the CPU cores with the 3D V-cache, a special accommodation to manage the voltage and thermals become necessary. Still, the Ryzen 7 7800X3D is super convenient to cool down, even when you're performing heavily threaded tasks on the PC.
If your only concern is smooth gaming performance and budget is out of the equation, the Ryzen 7 7800X3D is likely the best AMD CPU for gaming and streaming and won't give you any reason for complaint.
Pros
Comes with auto overclocking support
Supports PCle 5.0
One of the fastest gaming chips
AMD CPU – best for gaming
Excellent power efficiency
Cons
DDR4 memory is not supported
AM5 ecosystem is a bit expensive
6. AMD Ryzen 5 5600X — Reliable Processor Best for Encryption and Cryptographic Tasks
The AMD Ryzen 5 5600X is the perfect balance of core count and cost. With six cores and 12 threads, this is the company's most affordable Zen 3 option. It might not be as powerful as the Ryzen 9 5950X, but it beats almost every Intel chip by a fair margin in terms of both affordability and performance.
As a single eight-core core complex (CCX) design, this processor has an edge over the Ryzen 5 3600X when it comes to gaming. To reduce the latency and the travel time between cores, they have been centralized into a CCX design.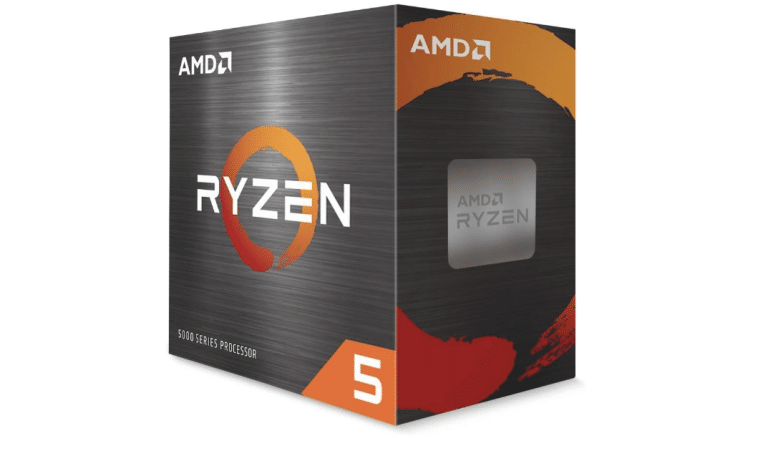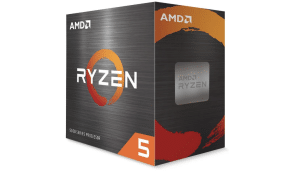 | | | | | | |
| --- | --- | --- | --- | --- | --- |
| Price | Cores/Threads | Base Clock | Boost Clock | Cache | TDP |
| $162.66 | 6/12 | 3.7GHz | 4.6 GHz | 65MB | 65W |
While the Zen 3 has many architectural improvements against the Zen 2, the lack of integrated graphics is a big drawback for the processor. Besides reduced energy efficiency and limited portability, not having integrated graphics also means you will have to incur additional costs for purchasing it separately.
We love that AMD bundles all its midrange and low-end CPUs with a cooler, including this one. The processor comes with an AMD Wraith Stealth cooler, no matter which model you choose. Plus, the cooler is more than capable of handling the Ryzen 5 5600X, so that's all you're going to need to deal with the heating aspect of the chip.
On the performance front, the 5600X is super fast when it comes to single-core performance. Statistically speaking, it's a 23% improvement from the Ryzen 3600 and an 18% improvement from the Ryzen 3700X. This is a lot, given that the two processors are very strong performers in their own right.
Another strong point of this processor is its encryption capabilities. Beating the Intel 10900K in terms of cryptographic performance, it's just 4% slower than Ryzen 3700X. The obvious benefits of this are better data security and privacy and, of course, reliability.
The Ryzen 5 5600X is a trustworthy workhorse, and being a 65W TDP chip, it's one of the most energy-efficient members of the 5000 series. Its obvious benefit is its quality-cost mix, meaning you'll have to compromise on DDR5 and PCIe 5.0 support.
Pros
Suitable for content creation and productivity tasks
Energy-efficient with impressively low TDP
Ample overclocking support
Compatible with AM4
Cons
Performance gain from overclocking isn't terrific
7. AMD Ryzen 7 5800X3D — Powerful Gaming Processor with 3D V-Cache Tech
The AMD Ryzen 7 5800X3D is an incredible processor with an AM4 motherIt way it stands out among its competitors is through the new 3D V-Cache technology, which improves the gaming performance of this processor, so much as to almost be on par with the 9000 series and beat the Core-i9 12900K.
The additional cache chipset is connected to the CCD's L3 cache, which triples the amount of available cache for the processing cores to use, saving the CPU from having to make substantially longer fetches to main memory for data, ultimately saving time and energy.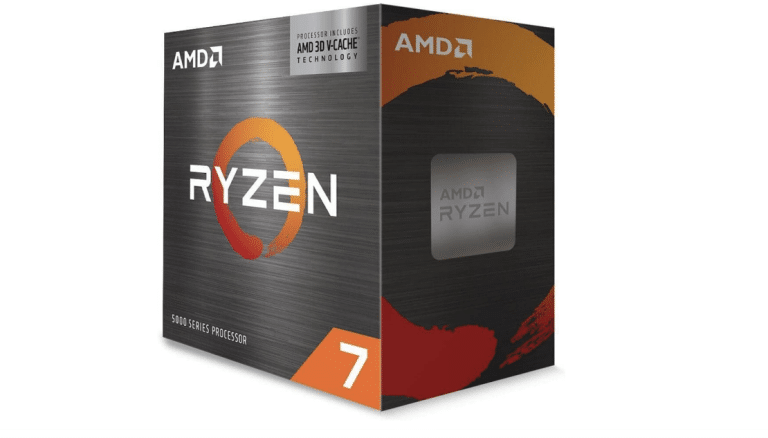 | | | | | | |
| --- | --- | --- | --- | --- | --- |
| Price | Cores/Threads | Base Clock | Boost Clock | Cache | TDP |
| $331.58 | 8/16 | 3.4GHz | 4.5 GHz | 100MB | 105W |
One negative that this feature brings is that you can no longer overclock if you need to. This is because the cache mechanism is intrinsically connected to how the voltage is managed, and you cannot really manipulate the CPU frequency so much.
It's genuinely a huge surprise that this processor consistently matches the speeds of some of the best AMD processors on the market, and it has even defeated a few of them in some areas. It's worth noting that the performance improvement, despite looking great in synthetic testing, isn't always matched in the real world.
And while this is all that you could be looking for if you're a gamer who already has an AM4 motherboard, there isn't a lot to be crazed about if you're a coney creator, developer, or general user. Even its USP, the 3D V-Cache, makes little to no difference outside the gaming terrain, making it just as good as any other Ryzen chip you can get your hands on, which isn't such a bad thing, either.
The AMD Ryzen 7 5800X3D is great for regular use, and with its amazing cache capabilities, it's perfect for heavy multi-taskers and gamers.
Pros
Best CPU for gaming on a budget
Supports AM4 motherboard
Efficient power consumption
Supports PCle Gen 4.0
Has the latest 3D V-Cache technology
Cons
Doesn't support DDR5 or PCle 5.0
8. AMD Ryzen 5 3600 — Best Budget AMD CPU
The Ryzen 5 3600 is the best 65W chip for someone who loves a small-form processor. Despite being super reay priced, it packs in many features like hyper-threading, allowing a single physical processor to act like multiple processors, which results in better performance.
The CPU's clock speed is sufficient for gaming, and you can also increase the clock speed by overclocking it. While that's not the highest on the market, its lower price and free cooler make it a worthwhile choice.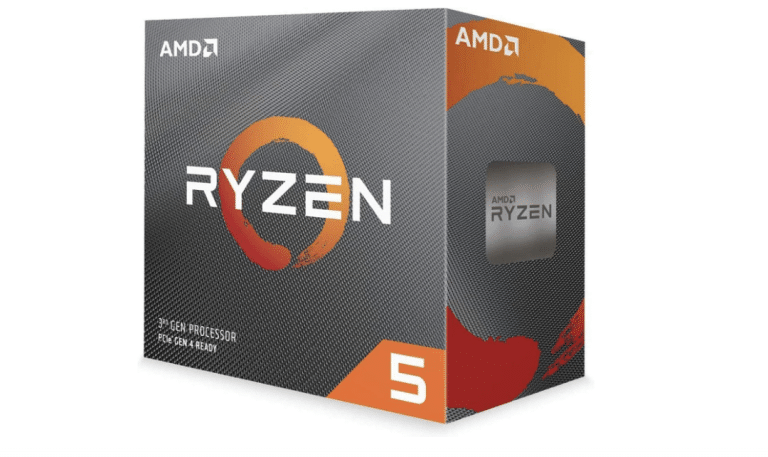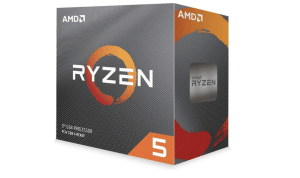 | | | | | | |
| --- | --- | --- | --- | --- | --- |
| Price | Cores/Threads | Base Clock | Boost Clock | Cache | TDP |
| $80 | 6/12 | 3.6GHz | 4.2GHz | 35MB | 65W |
The processor features the Zen 2 architecture, and sure, there's the Zen 4 architecture donning the market today, but it doesn't really take away the capable architecture that is Zen 2. Additionally, you get PCle 4.0 support with it, permitting higher bandwidths to flow through.
It's equally refreshing to see a low-budget processor have a 7nm processor instead of the 12nm processor seen in the Ryzen 5 2600. Speaking of its performance, the Ryzen 5 3600 performs modestly in almost all criteria. The efficiency is impressive, especially when compared to other Intel processors in the same price range, and testing has seen it beat some of the bigger names when it comes to gaming.
Although the processor shines through as a frugal desktop, when compared to its siblings, it lacks lower specs which may affect the overall performance of the PC, except for its gaming performance. It's important to remember here that this is the cheapest one amongst its peers, too.
Overall though, the Ryzen 5 3600 is an excellent bargain pick, especially when it comes to gaming.
Pros
Reasonably priced
Supports AM4 motherboard
Future-proofed with PCle Gen 4.0
Low power consumption
Comes with a cooler
Cons
Limited headroom for overclocking
Not the best for performance obsessives
9. AMD Ryzen 5 5600G — Recommended for Compact PCs Without Integrated Graphics Cards
The Ryzen 5 5600G is the upgraded version of 3400G, loaded with the fastest frame rates and an integrated graphics processor. The G in these models stands for integrated graphics, indicating how big of an aspect it is to the processor.
The fact that you won't have to look for the best graphics card and you'll still be able to stream or play games at 1080p or even 4K is a huge plus and reason enough to consider the 5600G because, let's face it, graphics cards are not getting cheaper, and quite the opposite is true, in fact.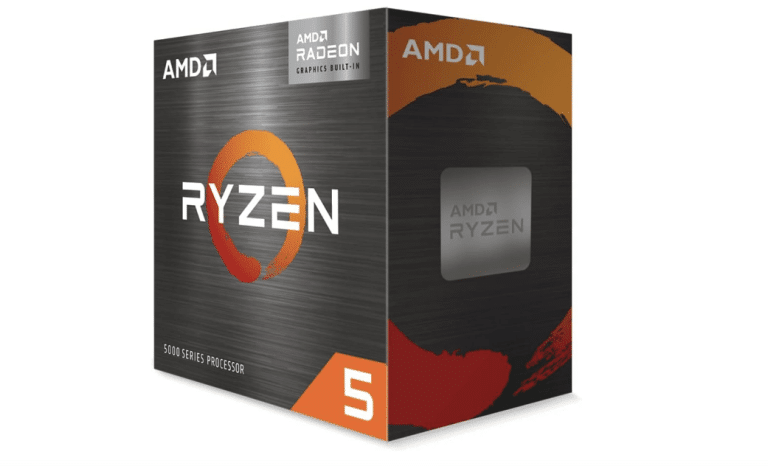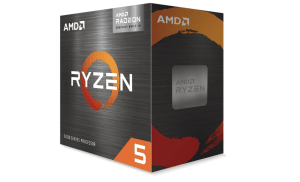 | | | | | | |
| --- | --- | --- | --- | --- | --- |
| Price | Cores/Threads | Base Clock | Boost Clock | Cache | TDP |
| $127.56 | 6/12 | 3.9GHz | 4.4 GHz | 19MB | 65W |
That said, it's certainly not a gaming beast, but if you're a casual gamer who has no plans to run titles heavier than Rocket League or Valorant, the 5600G is good to go.
Since the integrated graphics cards are built into the motherboard, it saves space for the processor. This is part of the reason why this is our top recommendation for compact PCs, whether that be for casual gaming or home theater use.
The 5600G is also big on performance. It's around 35 to 80% faster than its Intel counterparts in single-threaded performance, despite having a lower maximum clock speed of 4.4GHz against the much higher count of Intel processors.
It has a 16MB L3 cache, which is half of the Ryzen 5. The things that a good cache helps you with are gaming, multitasking, and reduced access time. However, if you want a processor for mostly editing and photography, know that the cache will not affect your performance in any way.
On a good day, the 5600G performs at par with the Core i5-11600K in more than one way, and it's a good thing, given the latter is pricier than the 5600G. It's layered with a Radeon RX Vega 7 graphics engine, which is a great choice for editing and light gaming, plus, it's more power efficient than if you were to get a dedicated graphics card.
All in all, the Ryzen 5 5600G is a cost-effective processor that comes with an integrated graphics card, a great option for users looking for a processor for their compact PCs.
Pros
Solid 720p viewing support
Adequate overclocking capabilities for its price
Comes with a cooler
Ideal if you just need an APU
Best CPU for gaming and streaming without a graphics card
Cons
Doesn't support DDR5 or PCle 4.0
10. AMD Ryzen 7 5700G — Value CPU for Gaming PCs
The Ryzen 7 5700G is an 8-core model that's a solid alternative to the Zen 3 models with no integrated graphics card. It's one of our top recommendations for you if you want to build a budget PC and don't want to spend separately on a graphics card. It boasts faster Zen 3 CPU cores and rock-solid 1080p gaming support.
It was the first 7nm 'Cezanne' Zen 3 for desktop PCs. The Cezzane chips were introduced to bridge the price gap in Ryzen's 5000 series, and it's the same die that's used in 5900HX. The effect of this is that the L3 cache is longer there, and the performance, too, has been negatively impacted.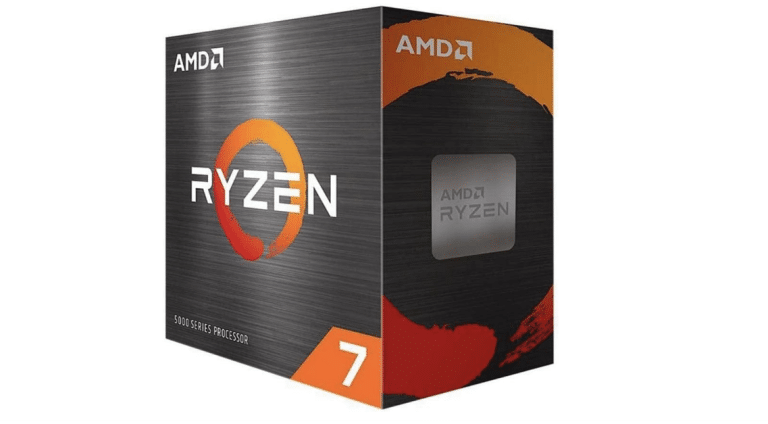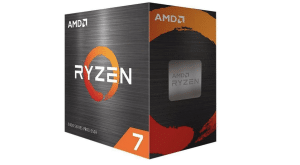 | | | | | | |
| --- | --- | --- | --- | --- | --- |
| Price | Cores/Threads | Base Clock | Boost Clock | Cache | TDP |
| $177.10 | 8/16 | 3.8GHz | 4.6 GHz | 20MB | 65W |
But it's not all bad, thanks to Cezanne, due to which this chip has a much larger thermal room in a PC for boosted algorithms and power sharing. We're expecting Cezanne to pave its way into future models too.
According to AMD, the 5700G typically slots in the non-X CPUs (lower-end versions of CPUs) but still, the Ryzen 7 5700G doesn't hold a candle to the Ryzen 7 5800X in terms of frequency, TDP, or cache. However, the TDP at 65W is still commendable, and the overall energy efficiency is going to be more than satisfactory here.
While it's true that eight core can feel a bit excessive at times, the stellar performance and quick speeds are well worth that. A Wraith Stealth cooler is included in the box, making it an excellent gaming solution.
If you're trying to build a budget gaming PC or a content creation engine without breaking the bank, a graphics card doesn't mean so much to you, the Ryzen 7 5700G might just be what you're looking for.
Pros
A very fast integrated graphics card
Remains cool in testing conditions with its excellent thermals
Supports 1080p gaming
Low power consumption and great efficiency
Top 10 AMD Processors Reviewed
Here's a bird's eye view of the key differences between each of our top picks so you can make a well-informed decision.
Factors to Consider When Choosing the Best AMD Processor for You
Not every CPU is created equal. Knowing which specifications and features are significant and how they relate to a computer's use is critical. Let's look into a few things to consider while buying an AMD CPU.
Cores
Cores are vital in determining the processor's multitasking performance capabilities. These can be considered the individual processing units within a CPU capable of executing instructions independently.
More cores generally result in better multitasking performance, allowing the processor to handle multiple tasks simultaneously without significant performance degradation.
If you're looking for an efficient and speedy computing experience, consider opting for the AMD processor with optimal cores designed to handle workloads effectively. In most cases, 6 or 8 cores should get the job done.
Threads
Threads are virtual cores created by utilizing the CPU's resources efficiently. They enable the processor to execute multiple threads within each physical core, maximizing performance for multi-threaded applications. More threads are especially beneficial for gamers who stream their gameplay or run resource-intensive games alongside other applications.
Considering the thread count of an AMD processor is vital to ensure smooth multitasking, efficient resource utilization, and optimal performance for multi-threaded applications. Just like cores, more threads provide better multitasking.
Cache
The cache plays a crucial role in bridging the speed gap between the CPU and RAM, ensuring that the processor has quick access to frequently used data.
A larger cache can improve performance, especially for applications that rely heavily on data retrievals, such as gaming, database management, and complex simulations.
Additionally, a well-designed cache hierarchy, including multiple levels of cache, can help reduce memory latency and improve overall system responsiveness. Therefore, consider the cache to ensure efficient data access, faster computations, and enhanced overall performance.
Frequency
Frequency, measured in hertz (Hz), represents the clock speed at which the processor operates. It determines the number of instructions the CPU can execute per second. A higher frequency generally indicates faster processing speeds, allowing for quicker execution of tasks.
If your tasks involve single-threaded applications that rely heavily on clock speed, a processor with a higher frequency will be beneficial. However, it's important to note that frequency alone does not determine the overall performance of a processor.
User Reviews
User reviews can offer a firsthand account of the performance, reliability, and compatibility of a specific AMD processor model. Additionally, user reviews may shed light on potential issues or limitations not apparent from product specifications alone.
They can also provide information on heat dissipation, power efficiency, and software compatibility. These reviews can help you select an AMD processor that aligns with your specific needs and expectations, ultimately leading to a more satisfying computing experience.
Thermal Design Power
TDP represents the maximum power a CPU will generate under typical workloads. It helps determine the cooling solution required to maintain optimal operating temperatures and prevent overheating.
Overheating can lead to performance throttling, reduced lifespan, and even system instability. Additionally, a higher TDP often indicates that the processor is more powerful and capable of handling demanding tasks.
Pricing
AMD processors are often known for offering competitive pricing compared to their counterparts, making them an attractive option for those seeking cost-effective solutions. By considering pricing, you can assess whether a particular AMD processor provides the desired performance and features within your budgetary constraints.
It's important to strike a balance between price and performance, ensuring that the chosen AMD processor meets the required computing needs without overspending.
Which is Best for Gaming, AMD or Intel?
The dispute over whether AMD or Intel CPUs are better is a hot topic in the gaming community. Both are capable of handling intense activities such as gaming, but which is the better option for you?
AMD focuses on enhancing general performance by lowering power consumption and heat generation while boosting performance per watt compared to Intel's offerings.
If you can find a good bargain, certain AMD CPUs, such as the Ryzen 5800X3D, offer clock rates similar to those of Intel CPUs. However, AMD might result in slower game performance, particularly when your computer is loaded or running several tasks simultaneously.
Intel is a well-known brand with many processor options. They also have an advantage in GPUs because they create dedicated chips tailored for gaming. The i9-12900KS from Intel is frequently cited as the greatest gaming processor since it has a very high single-thread throughput and is a potent CPU that can handle graphically demanding games. However, the K-series CPUs from Intel are expensive and only enable overclocking.
AMD or Intel for gaming? In short, Intel is the way to go if you want a CPU that can handle heavy gaming. On the flip side, if you're searching for an all-around powerful processor that can easily handle practically everything, AMD may be the correct pick.
However, choosing AMD and Intel processors in gaming performance is often marginal and can be affected by various factors such as the specific game, graphics card, and other system components.
Conclusion – What is the Best AMD CPU for 2023?
Our list of the best AMD CPUs has a diverse assortment of choices. Whether you need a budget CPU for everyday tasks, or a high-end one for extensive gaming and computing needs, our list won't disappoint you.
However, the Ryzen 9 7950X3D is the best AMD CPU you could pick. With 16 powerful cores and 32 threads, this CPU is a multitasking beast. A high 128MB of cache memory makes sure there's no lag when you switch between apps. Moreover, the boost clock speed of 5.7GHz is as good as it gets. Try out the AMD Ryzen 9 7950X3D to unlock unrivaled computing powers.
AMD CPU FAQs
What is the best budget AMD CPU?
Does your CPU matter for gaming?
What is the current fastest AMD processor?
Is Ryzen 9 better than Ryzen 7?
What is the weakest AMD CPU?
Does the CPU affect GPU rendering performance?
Is RAM important for rendering?