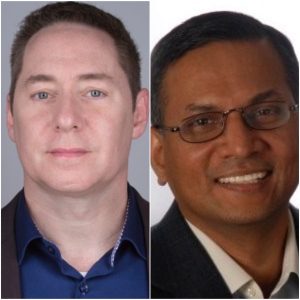 Bret Greenstein & Anand Rao
Cloud, Digital Analytics Insights and Artificial Intelligence Leads at PwC
Bio
Bret GreensteinBret Greenstein leads PwC's U.S. Data and Analytics Strategy and Alliances. He has worked for over 25 years helping clients transform by adopting new technologies—including AI, data, IoT and cloud—to deliver new business models and new ways of working. Greenstein joined PwC from Cognizant, where he was the SVP and Global Head of AI and Analytics. Before that, he worked in IBM as a P&L leader for multiple software and services brands and was the CIO for IBM's Growth Markets in China. Greenstein brings a focus on scaled transformation using AI, analytics and data with cross-industry experience working with clients all over the world. His business and technical experiences have made him a trusted partner for clients trying to accelerate their digital journeys. Recently, Greenstein led data strategy and transformation programs at major industrial clients, helping them develop data-driven business strategies, creating a data fabric for the enterprise which supported finance, supply chain, commercial, HR and manufacturing transformations. He emphasizes business-driven data governance and architecture and teaching clients how to transform decision making through AI. Keep up with Greenstein on LinkedIn and Twitter.Anand RaoAnand Rao is a Principal with PwC's U.S. Advisory practice with over 24 years of industry and consulting experience helping senior executives structure, solve and manage critical issues facing their organizations. He has worked extensively on business, technology, and analytics issues across various industry sectors—including financial services, healthcare, telecommunications, aerospace & defense and spanning across the U.S., Europe, Asia and Australia. His work has included behavioral economics, simulation modeling, global growth strategies, marketing, sales and distribution strategies, online, mobile, social media strategies, customer experience, multi-channel integration, risk management and compliance, large-scale program mobilization and management. Before his consulting career, Rao was the Chief Research Scientist at the Australian Artificial Intelligence Institute, a boutique research and software house. Follow Rao on LinkedIn and Twitter.
Articles by Bret Greenstein & Anand Rao
Artificial intelligence (AI) is quickly becoming a critical business imperative. No longer a nice to have, AI and machine learning...