The best automotive CRM software helps you manage leads effectively, ensuring there are proper follow-ups to customized marketing campaigns. Besides this, they can also churn out insights by analyzing collected data to point out areas that you can improve. With the help of CRM tools, you can easily track various interactions, schedule appointments, forecast sales, and drive post-sales efforts — all from a single software solution.
However, businesses are spoilt for choice, plus not every CRM is capable of handling the needs of an automobile store. That's why we've found and reviewed the 10 best automotive CRM software based on criteria like affordability, integrations, ease of use, and customizability. Read on to discover the best pick for your business.
Ranking the Best CRM Software for the Automotive Industry
Monday.com topped our testing criteria to emerge as the best CRM for the automotive industry owing to features like a simple drag-and-drop dashboard and robust communication channels. However, other CRMs are just as good. Here are the market's best options:
How Do CRMs for the Automotive Industry Work?
CRM systems tailored for the automotive industry serve as valuable tools for auto dealerships, streamlining operations and enhancing customer interactions.
These CRMs are sophisticated software solutions designed to organize, track, and optimize every facet of customer engagement. They centralize vital customer data, allowing dealers to:
Maintain comprehensive profiles
Track previous interactions, and
Predict future preferences
By managing leads, sales, and service appointments in a single platform, CRMs expedite communication and ensure nothing falls through the cracks.
CRMs are also great resource management tools that can help auto dealers allocate resources efficiently and enhance sales strategies with automated follow-ups, task reminders, and performance analytics.
In essence, these systems not only simplify day-to-day tasks but also foster lasting relationships with customers, creating a win-win scenario for both auto dealers and the clients they serve.
The Top Automotive CRM Systems Reviewed for 2023
Can't wait to find the best sales CRM solution for your automotive business? Read on for our detailed automotive CRM reviews as we discuss in detail each of our top recommendations, including their best features, pros, cons, and pricing.
Alternatively, you can skip ahead to our comparison table to compare details like their pricing, compatibility, and what each one is best suited for.
1. Monday.com — Overall, the Best CRM for Car Dealerships
Monday.com is the ideal CRM tool for small businesses in the automotive industry. Its cheapest plan is incredibly affordable and offers unlimited contacts, boards, viewers, and customizable pipelines.
Even the high-end plans offer more than just CRM tools. You get project management tools along with many other services that would typically require you to use separate apps — all in a single, compact, and reasonably priced plan.
A feature that stands out to us is activity management. As a CRM professional, it's important to have a record of every conversation that happens with your clients to ensure everything goes smoothly.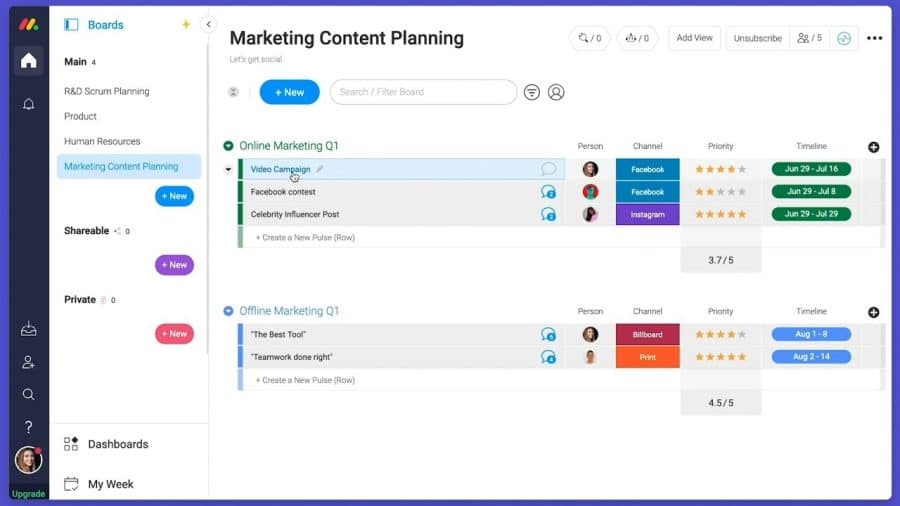 | | | | | |
| --- | --- | --- | --- | --- |
| Best For | Starting Price (Annual) | Free Version | Mobile Support | Integrations |
| Small businesses | $10/user/month | A free forever plan | Android and iOS | 200+ |
This activity management tool lets you automatically keep a log of all the phone calls, emails, and messages sent to your client. What's more, the activity log can be tracked for up to years (depending on the plan you choose).
So, suppose one of your clients tries to trouble you for something that happened years ago. You'll still have all the proof you need to deal with them. Also, the conversation records would be stored under the client's individual account.
That's right, you can create individual sub-accounts for each client to make it easier for you to find what you need. In case you log a piece of data twice, Monday.com will also immediately notify you so that you can delete the copy.
As we discussed in our full Monday.com review, we also love that Monday.com doubles up as a communication channel that you can use to convince your customers to upgrade their car, for example.
Overall, since automotive businesses require you to build long-term customer relationships, a tool with powerful account management features is highly recommended, and it doesn't get better than with Monday.com.
Pros
Ideal for small companies
Multiple project views available
Lets you track the activity of up to years
Automates email tracking and supports mass emailing
Cons
No time tracking on starter plans
2. Salesforce — Auto Dealership CRM Software With AI Assitance
Salesforce's CRM tool is available under the name "Salesforce Customer 360″. What sets it apart from other competing software is that it uses AI and data analysis to connect to your customers like never before.
Our favorite thing about Salesforce's CRM is its multi-talented AI called Einstein. You can ask questions to this AI bot about your business's performance, and it'll dig out data from your own reports and give you a detailed answer.
For example, if you ask, "How is the sale of XYZ car models this year compared to last year?" Einstein will quickly dig through your reports and find the answer. A task that'll take you hours can be done instantly with the help of Einstein.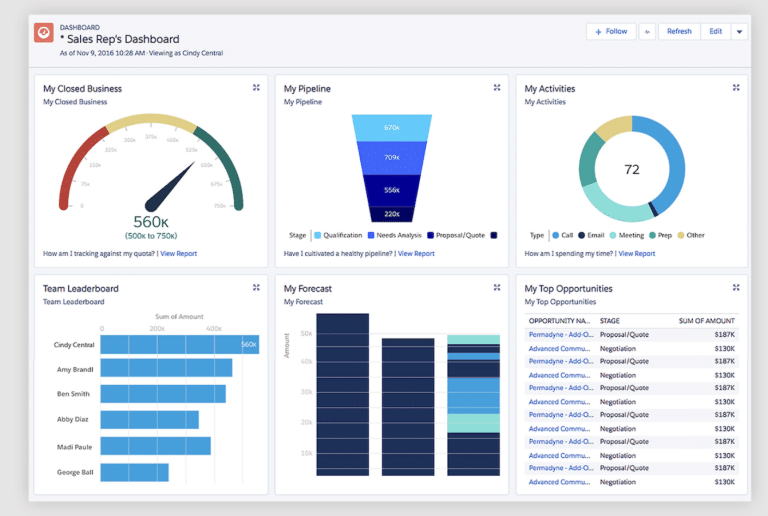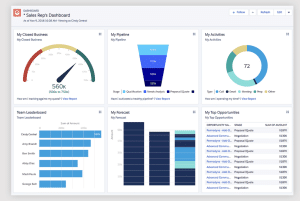 | | | | | |
| --- | --- | --- | --- | --- |
| Best For | Starting Price (Annual) | Free Version | Mobile Support | Integrations |
| AI support through Einstein | $25/user/month | 30-day free trial | Android and iOS | 2,500+ |
You can also use Einstein to generate emails and messages that are personalized for each customer, which is a great way to keep customers engaged and make them feel special.
If you want to target high-impact deals that are expected to bring in more revenue, Salesforce can also make this job easier by using AI to label the most profitable customers who are more likely to close the deal sooner than others.
Beyond allowing you to dedicate resources to the right customer, Salesforce also improves team communication with its Slack integration, where your team's data from Salesforce is automatically synced.
This allows your team to easily share files and discuss projects without leaving the messaging platform. Employees also get instant notification on every activity/update so that they can stay at the top of their game at all times.
Pros
In-depth analytics by the AI tool
Seamless Slack integration
Personalized messages and emails
AI recommendations for site design
Cons
Not transparent about their pricing
3. Pipedrive — Ideal Auto CRM With Various E-mail Marketing Tools
Pipedrive offers tons of email marketing tools, and since phone calls can't convince someone to buy a car, emails are the next best way to stay in touch with your leads without making too much effort.
Pipedrive supports group emailing, too, which means you can create a single email copy for all your potential customers and send it to them in one click.
If you want to send emails during holidays or special events when people are more likely to splurge, you can also use Pipedrive's scheduling feature.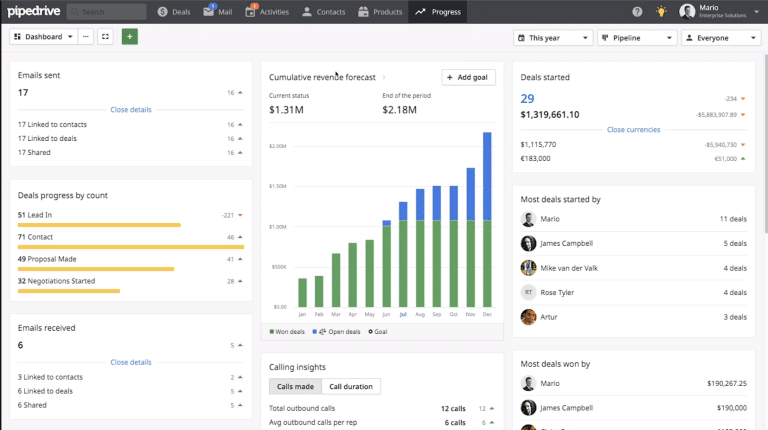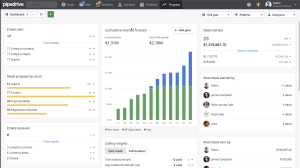 | | | | | |
| --- | --- | --- | --- | --- |
| Best For | Starting Price (Annual Plan) | Free Version | Mobile Support | Integrations |
| Email marketing | $14.90/user/month | 14-day free trial | Android and iOS | 400+ |
All you have to do is prepare the email copy, get it ready, and pick when you want to send it; Pipedrive will do the rest. This way you can enjoy your own holidays while the job still gets done. Emails aren't the only way to contact your clients, though.
Once your customers show a little interest, you can use Pipedrive's meeting scheduler to book a call with them where you can answer their queries and convince them to show up at your nearest showroom. Beyond all this, another interesting feature is the "Deal Rotting" tool.
It automatically notifies you when a deal has been sitting idle for too long without any communication from the lead. With this extra nudge, you can either follow up with the lead or give up and invest your time in a different lead. Also, you can customize the rotting period, i.e., how long before a deal is labeled "Rotten".
Pros
Seamless email and meeting scheduling
Suggestions based on past records
Provides shareable dashboard link that makes collaboration easy
Lets you know when a deal has been sitting idle for too long
Cons
Unlike Monday.com, its features are entirely focused on CRM
4. HubSpot — Best Free CRM Automotive Software
HubSpot is one of the best marketing automation CRMs around. If you're an established car dealer, you might be getting tons of customer requests and inquiries daily. It's not practical to deal with them manually. In that case, HubSpot's automation tools can help.
For starters, it comes with live chat software. It's an automated chatbot that'll talk to your customers until you're ready to take over, so if it's a new customer, you can create automated questions.
This includes common ones such as "What kind of car are you looking for?" or "What's your budget?" to get started. Have your HubSpot chatbot automatically send these questions, record the answers, and then connect them to a suitable car agent all by itself.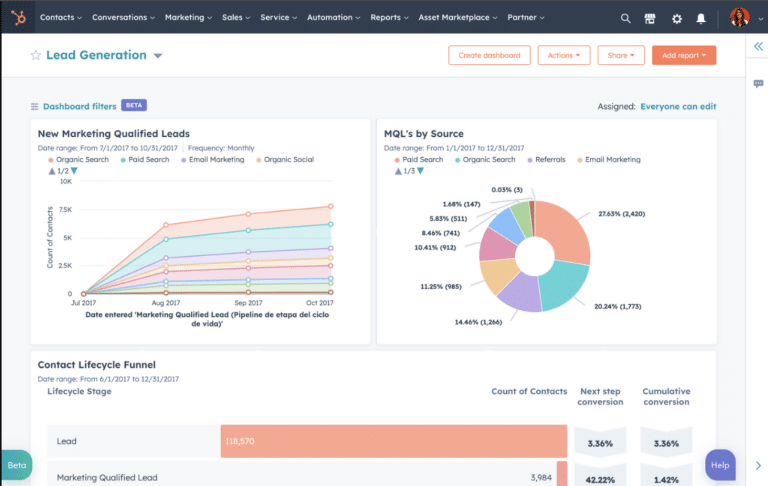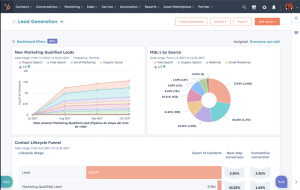 | | | | | |
| --- | --- | --- | --- | --- |
| Best For | Starting Price (Annual) | Free Version | Mobile Support | Integrations |
| Automated services | $20/month | Free marketing, sales, service, CMS, and operations tools | Android and iOS | 1,340+ |
Similarly, booking a meeting with clients is equally easy. You don't have to email them because HubSpot comes with an online meeting scheduler that syncs with your Google Calendar. This way, the prospect can see your availability and book an appointment accordingly.
As a part of the HubSpot CRM suite, the meeting scheduler tool also automatically collects the prospects and syncs them with HubSpot Contacts. So, even if the deal doesn't work out, you can reach out to them later or target them in a marketing campaign.
Speaking of deals, HubSpot's Deal Pipeline feature gives you complete insight into the current stage of your project. Such visual labels on your projects make tracking progress much simpler.
You can decide if you want to accelerate the tasks to make space for others in the pipeline or not. With this feature, you'll be able to bid adieu to bottlenecks forever.
Pros
AI-powered chatbot available
Comes with a meeting scheduler
Provides a free AI email writer
Simplifies deal management by labeling each stage
Cons
The contracts aren't flexible
5. Act! — Lets You Create and Track Custom KPIs
Act! gives you tons of customization options. After all, every business is different. That's why Act! lets you personalize their tool so that you can decide how it works for you.
For example, it lets you create custom Sales KPIs. As a car dealer, your KPIs might be different from others. You might want to track additional details, such as how many cars opted for an upgrade or how many customers opted for a car exchange.
They're unique and not available by default on any of these automotive CRM tools, but with Act!, you can create them on your own. Plus, custom tables are also available as an add-on.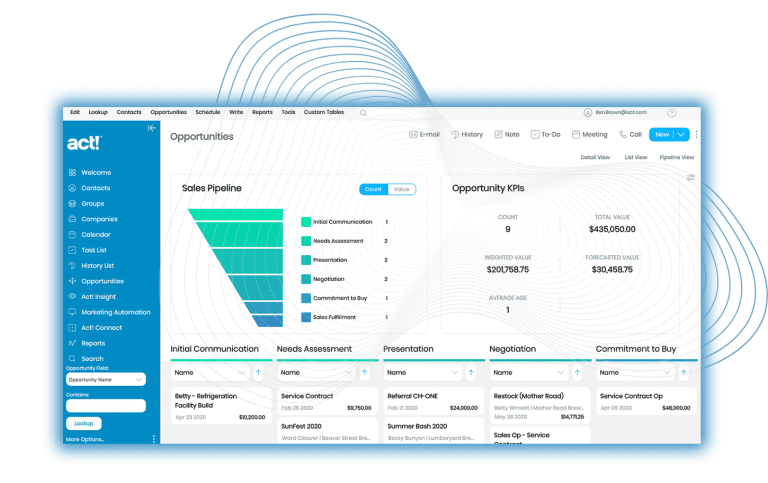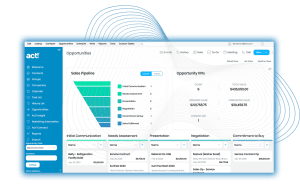 | | | | | |
| --- | --- | --- | --- | --- |
| Best For | Starting Price (Annual) | Free Version | Mobile Support | Integrations |
| Customization | $30/user/month | 14-day free trial | iOS and Android | 5,000+ |
This works a lot like custom sales KPIs. You get to keep a record of unique fields such as insurance details, car plate number of loan/EMI, etc. Beyond this, further proof of Act's generous customization is the Preference tool.
As the name suggests, this lets you redesign the functions of Act! CRM based on your needs. Let's say you create a record of a new client, complete with their name and contact details.
Now, every platform will give you the flexibility to go back and delete the record. But if you want, you can use the Preference tool to prevent your team from deleting a record once created. You can also set preferences for your tasks and activities.
For example, you can set reminders for certain tasks, and your system will actually beep when the alarm is triggered, or you can choose to roll over the remaining tasks of the day automatically to the next day. The options are endless.
Pros
Provides 6GB cloud storage on every plan
Provides automated nightly backups
Lets you create custom sales KPIs
Helps you personalize the tool as per your needs
Cons
Limited integration opportunities
6. Zoho — Must-Have Automobile CRM Software for Deal Management
Zoho is the ideal CRM tool for those looking to speed up the process and close deals as soon as possible, thanks to the plethora of deal management features in its kitty.
For starters, you get to create Assignment Rules that dictate the flow of new leads to the sales reps. For instance, if it's a new customer, you might want to lead them to an experienced agent, or if it's an old customer, you can automatically connect them to the agent they've worked with in the past.
Usually, deciding who gets to handle a new lead takes considerable time when done manually. But with the Assignment Rules feature, your leads will have someone to guide them almost instantly.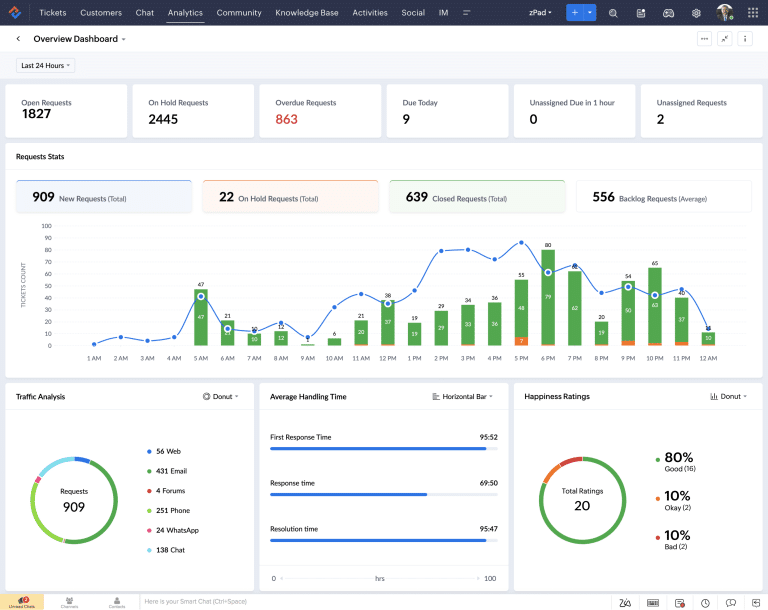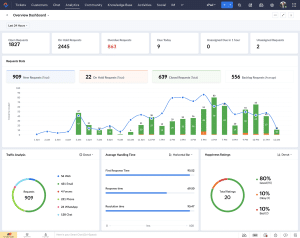 | | | | | |
| --- | --- | --- | --- | --- |
| Best For | Starting Price (Annual) | Free Version | Mobile Support | Integrations |
| Faster deal management | $14/user/month | A free forever plan | iOS and Android | 500+ |
Another benefit of using Zoho is Scoring Rules — a feature that uses your lead's past conversation and engagement level to calculate how likely they are to close the deal. If you're chasing a dead lead, this tool will notify you immediately.
If you're understaffed or in a time crunch, this tool will help you relocate your resources to the best leads, and if you want to close a deal in a quick time, you also need to make and update the client's account in a jiffy.
But again, manually entering so many personal details is exhausting, but not with Zoho's Email Parser tool. It goes through all your official emails, picking up details such as names, contact details, and addresses, and adds it to the client's profile all by itself.
If you're not sure whether you're rushing in the right direction or not, check your performance analytics. If there's any deviation from your usual business standards, Zoho's Anomaly Detector will let you know immediately.
Suppose it usually takes you 2 weeks to close the deal with an interested buyer, but for some reason, if it takes 4 weeks for a certain buyer, the Anomaly Detector will notify you of the same.
Pros
Can handle multiple currencies
Unique reporting features, such as the Anomaly Detector
Also one of the best CRM software tools for hotels
Automated data updates to your client's account
Faster deal management with features like Email Parser
7. FreshSales — Popular Automotive CRM With a Handy AI Chatbot
FreshSales is the ideal CRM for you if you want better communication channels with your team and leads. When convincing someone to make an expense as big as a car, it's important to be within their reach at all times.
That's why Freshsales provides a built-in phone system, the only CRM on the list to do so. You can buy local or toll-free numbers directly from FreshSales and use them to connect to interested buyers.
If you're targeting an international market, it's best to use local numbers that are familiar to the people. A built-in phone system not only centralizes your communication with the leads but also saves you the money and trouble of buying a separate phone line.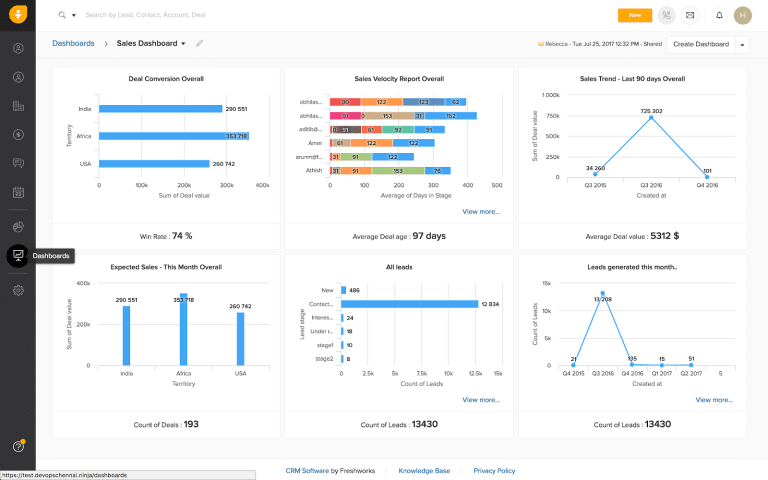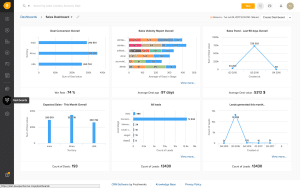 | | | | | |
| --- | --- | --- | --- | --- |
| Best For | Starting Price (Annual) | Free Version | Mobile Support | Integrations |
| Better communication | $15/user/month | A free forever plan | Android and iOS | 750+ |
If the buyer isn't comfortable with calls, you can also reach out to them via chat, SMS, or social media. For chat support, Freshsales has its own AI chatbot — Freshbot.
You require no code to build the bot; all you have to do is feed it answers to common questions asked by prospects. What's more, Freshbots are designed to capture a lead's intent.
This further helps it find the best answers for the lead. Intent here means the goal with which the customer types in the question, and Zia has been trained to understand it. To top it off, You can also build the bot in multiple languages.
If you want to use social media to keep in touch with leads, you'll be happy to know that FreshSales integrates with Facebook, WhatsApp, and Line. This allows you to get, manage, and respond to your social media messages on your Freshsales dashboard.
Other notable features include activity management, where your client's activities are displayed chronologically, and Auto Profile Enrichment — a tool that looks up public information of an interested buyer and adds it to your database.
Pros
Multilingual bots
Built-in phone system
Easy to set, the menus are simple, and the interface is clean
Auto updates client accounts using publicly available information
Cons
Some customers have found Freshsales to be a little slow
8. Maximizer CRM — Recommended Car Dealer CRM for Smooth Internal Communications
Maximizer CRM is one of the few platforms that prioritizes your internal team just as much as it prioritizes your customer. For starters, it helps you monitor your team's activity.
You'll be able to see how often they contact a customer, the mode of contact, and the duration, to check if your sales team is making the right move. You don't want to overwhelm customers, but at the same time, you can't abandon them, or they'll pick another vendor.
Also, since you'll be able to track your team's every move, it'll also become much easier to coach them. Take inspiration from your best-performing sales reps and help others learn from them.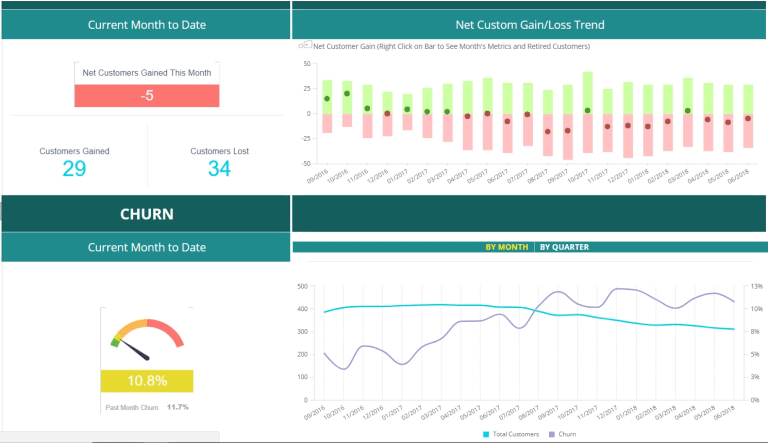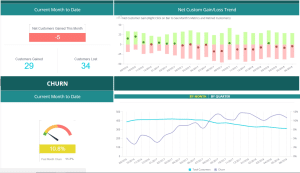 | | | | | |
| --- | --- | --- | --- | --- |
| Best For | Starting Price (Annual) | Free Version | Mobile Support | Integrations |
| Training sales reps | $65/user/month | Free demo | Android and iOS | 50+ |
Car salesmen often work on commission and have a fixed quota assigned to them. If that's the model you're following, you'll be happy to know that here, you'll get an inbuilt quota tracker where you can check your team's progress.
Now, speaking of customers, Maximizer CRM should be your first pick if you want to focus on retaining customers. Since cars are expensive, you probably won't see your customers for another 5-6 years.
Even then, if you want to make them come back to you, start by offering better service. Here, you can use Maximizer's case resolution feature.
This is basically a database of all customer complaints and their solution, which can be used to solve similar problems more quickly in the future.
Pros
Perfect tracking tool for sales readers
Helps you offer faster solutions to your customers' queries
Warns you when customers are on the verge of leaving a deal
Cons
More expensive compared to other options
9. Bonsai — A Complete Auto Dealer CRM With Ample Useful Features
Bonsai offers a mixed, all-in-one plan, which is perfect for businesses that can't afford to purchase these services separately. The plans cover accounting, expense tracking, task management, and time tracking, among others.
The mixed plans are far more beneficial for the automotive industry since selling a car is a cumbersome process. For instance, unlike other products, car buyers are more likely to require an EMI option or at least some sort of financing.
This means that their invoices and accounting will be slightly more complicated. And since Bonsai's CRM is already integrated with its accounting tool, it'll make accounting a bit easier for you.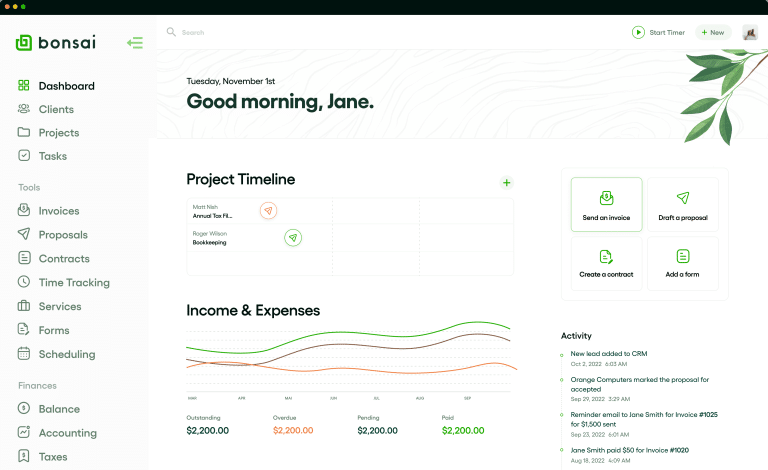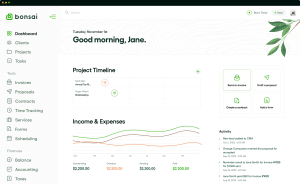 | | | | | |
| --- | --- | --- | --- | --- |
| Best For | Starting Price (Anuual) | Free Version | Mobile Support | Integrations |
| All-in-one diverse plans | $17/month | 7-day free trial | iOS and Android | 5,000+ |
In addition to this unique selling point, there's no shortage of basic CRM features, and it's overall a very well-rounded product. For instance, you get to custom-tag your new clients and create your own lead-scoring rules.
This lets you rank your leads based on their interest level and see who's more likely to complete the purchase. Bonsai also offers tons of professionally designed form templates that can help you race through the first stage of establishing contact.
You'll find a template for client intake, and registration, a client feedback form, a client information form, and a comprehensive client form where you can add in-depth details on their preferences, budget, and other important parameters.
Once you've collected the data, you can add the client to your existing Contact List. To quickly brief other team members about a certain client, you can also leave short internal notes beside each contact.
Pros
Custom lead scoring is available
Access to countless professionally designed templates
Integrated with accounting and time tracking
Both a free trial and a money-back guarantee are available
Cons
Basic functions like adding a partner are unnecessarily complicated
10. SageCRM — CRM Dealership Ideal for Post-Sales Support
SageCRM understands that the need for automotive CRM solutions doesn't end at purchase. In fact, it has a whole suite of tools dedicated to helping you deliver post-purchase service.
To begin with, SageCRM has automated customer service for you. For example, it gives detailed metrics of your customer's problems, such as how often that problem has been raised, how many times it's been solved, and the timeline of the process.
These metrics help you identify repeat problems. So, for instance, if as many as 50 customers complain about the AC's cooling in a certain car model, you'll know that it's an issue from your end and needs urgent resolution.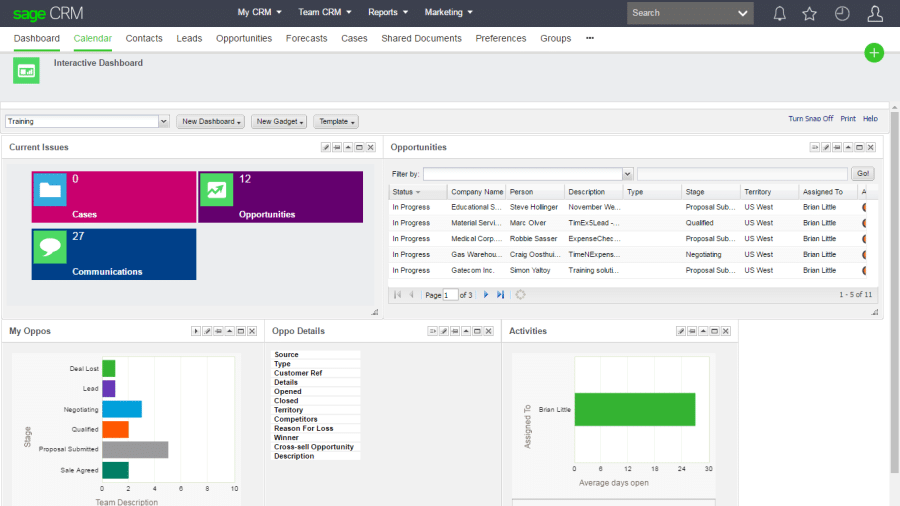 | | | | | |
| --- | --- | --- | --- | --- |
| Best For | Starting Price (Annual) | Free Version | Mobile Support | Integrations |
| Post-purchase support | Available on request | NA | Android and iOS | 280+ |
Also, just like Maximizer CRM, the SageCRM tool lets you create a central repository of solutions that you've already come up with in the past. If a new customer comes up with a similar problem, your team can use this database to fix their issue faster.
If you're using email marketing to reach out to prospects, do check out SageCRM's email tracking feature. For this to work, you'll need to integrate your Sage account with Mailchimp. This will give you detailed email insights.
This includes things like how many people opened your email, how many clicked on the link in the email, and so on. While this is a standard email marketing benefit, what it does extra is give you an insight into soft and hard bounce emails.
Soft bounces are the ones that couldn't be delivered due to temporary issues, whereas hard bounces are the ones that can't be delivered permanently. Knowing this can help you remove dead leads from your mailing list and make space for new ones.
Pros
Helps you track email
Integrates with your Sage accounting tool
Gives you important metrics about customer complaints
Manage the complete lifecycle of a lead in one dashboard
Cons
Not transparent about their pricing
The Best Car Dealership CRMs Compared
Here's a crisp table summarizing the critical differences between each of our top picks so that you can make a quick and data-backed decision:
| | | | | | |
| --- | --- | --- | --- | --- | --- |
| Automotive CRM | Best For | Starting Price (Annual Pricing) | Free Version | Mobile Support | Integrations |
| Monday.com | Small businesses | $10/user/month | A free forever plan | Android and iOS | 200+ |
| Salesforce | AI support through Einstein | $25/user/month | 30-day free trial | Android and iOS | 2,500+ |
| Pipedrive | Email marketing | $14.90/user/month | 14-day free trial | Android and iOS | 400+ |
| HubSpot | Automated services | $20/month | Free marketing, sales, service, CMS and operations tool | Android and iOS | 1,340+ |
| Act! | Customization | $30/user/month | 14-day free trial | Android and iOS | 5,000+ |
| Zoho | Faster deal management | $14/use/month | A free forever plan | Android and iOS | 500+ |
| FreshSales | Better communication | $15/user/month | A free forever plan | Android and iOS | 750+ |
| Maximizer CRM | Training sales reps | $65/user/month | Free demo available | Android and iOS | 50+ |
| Bonsai | All-in-one diverse plans | $17/month | 7-day free trial | Android and iOS | 5,000+ |
| SageCRM | Post-purchase support | Available on request | NA | Android and iOS | 280+ |
Key Details to Keep in Mind When Selecting Auto Dealership CRM Software
From customization options to integration capabilities, pricing structures, and reporting features, each detail contributes to the comprehensive evaluation of an auto dealership CRM Software.
Here, we'll dive into the key details to keep in mind when selecting an automotive CRM provider.
Customization
Choosing the right auto dealership CRM software goes beyond its basic features; it's about finding a solution that integrates seamlessly with your operations and goals.
Your dealership has its own way of doing things and unique processes that make you stand out. A CRM that can't be tailored to your style just won't cut it. That's where customization steps in.
With custom fields to modify workflows and the ability to align the user interface with the dealership's identity, the CRM becomes an organic extension of the business.
This fosters efficiency, accuracy, and a smoother customer journey, as the software aligns perfectly with the dealership's operations.
User-friendliness
A user-friendly interface and intuitive navigation are essential in ensuring the software becomes a seamless part of the dealership's operations rather than a daunting obstacle.
Easy-to-use features facilitate swift onboarding and reduce the learning curve, enabling sales and service teams to focus on what truly matters — fostering customer relationships and driving sales.
Plus, don't forget about support – robust customer service and an active user community ensure you're never stranded. Also, access to community forums or tutorials fosters a space for sharing best practices, troubleshooting issues, and exchanging insights.
So, select a user-friendly CRM that can increase productivity, smoother operations, and better customer interactions for auto dealerships.
Features
Imagine effortlessly managing leads, tracking sales, and staying connected with customers — all within a few clicks. The right features directly impact your efficiency and customer relationships.
From customizable workflows that match your unique processes to advanced analytics that unveil insights, these features turbocharge your processes and client relations. Other features like:
Lead management
Sales tracking
Service appointment scheduling
All further streamline operations while customer communication tools enhance engagement, and inventory management and reporting features offer insights for better decision-making.
Prioritize the right features to ensure the software works with dealership needs, contributing to smoother operations and improved customer experiences.
Integrations
The effectiveness of a CRM in the automotive industry greatly depends on its ability to work with other tools your dealership uses. Integrations streamline processes, save time, and boost accuracy by eliminating duplicate entries.
Integrations undoubtedly supercharge your CRM, allowing it to sync effortlessly with the tools you already love and use. No more juggling between platforms; everything is connected, making your dealership's operations smoother and more efficient.
Leads generated from your website can seamlessly transition into the CRM, while customer interactions on social media can be tracked and utilized for personalized engagement.
This streamlines processes and enhances customer experience by providing a unified and consistent journey. So, when choosing your CRM, remember that the integrations keep your dealership running at peak performance, mile after mile.
In-Built Marketing Tools
When selecting among various automotive CRM companies, built-in marketing tools are a game-changer. A CRM equipped with integrated marketing tools is a valuable resource, providing access to real-time data crucial for crafting targeted and impactful campaigns.
Think of having a toolbox that hands marketers the exact data they need to whip up instant emails, newsletters, Internet banner ads, and social media magic without relying on outside sources.
This integration eliminates the need for disparate systems, streamlining the marketing process and ensuring consistency across different channels.
These features let you create and execute targeted campaigns, reach out to potential customers, and keep your current clients engaged — all without needing to juggle between different platforms — saving time and streamlining efforts while maximizing marketing impact.
Device Support
A CRM auto sales software solution that offers robust device support, spanning desktops, laptops, tablets, and smartphones, ensures that your team can access critical information and manage tasks seamlessly, regardless of where or what device they use.
This versatility boosts productivity, as salespeople and staff can interact with the CRM on the go, during showroom interactions, or even off-site visits. Device support also speaks to the software's commitment to adaptability.
A CRM that caters to device diversity contributes to a more agile and responsive dealership operation, enabling smoother communication, faster decision-making, and enhanced customer service.
On-Premise Software or a Cloud-Based Solution
When deciding on auto dealership CRM software, the choice between on-premise and cloud-based solutions holds substantial significance.
A cloud-based tool is ideal if your dealership operates across multiple locations, as it enables seamless data sharing and access among sales representatives at various sites, fostering a cohesive view of CRM data, inventory management, and vehicle service records.
The cloud-based approach streamlines operations and workforce management, as employees can collaboratively engage with the same data regardless of location.
On the other hand, if you have a single car dealership and collaboration with other stakeholders isn't necessary, an on-premise software might suffice. This choice provides control over data storage and management within your premises.
Reporting and Analytics Capabilities
Reporting and analytics capabilities are important when selecting an auto dealership CRM software. A robust CRM should go beyond simple data storage and provide comprehensive reporting features.
This offers deep insights into sales performance, customer behavior, and inventory trends, amongst others. It's not just about storing data; it's about harnessing that data to fuel growth.
An effective CRM empowers dealerships with tools to dissect customer information, yielding valuable insights into buyer behavior, preferences, and patterns.
These insights, in turn, become the foundation for strategic sales approaches and precisely targeted marketing efforts. With a CRM's analytical muscle, you can optimize your operations, fine-tune sales strategies, and create personalized customer experiences.
Are Free Dealer CRMs Any Good?
Free CRM software can be tempting, offering a cost-effective solution for managing dealership operations. However, it's important to consider both the advantages and limitations.
Free plans from platforms like Monday, HubSpot, and Zoho can provide basic functionalities such as lead tracking, customer communication, and task management.
They're a great entry point for smaller dealerships with limited budgets. Among the options, HubSpot's free plan stands out as it offers a broader spectrum of tools, including marketing and sales features.
Now, while free plans may offer a taste of what these CRMs can do, they often come with limitations regarding customization, integration, and advanced functionalities.
Investing in a paid plan is recommended for a growing or established dealership seeking a more comprehensive solution. These plans unlock advanced features such as:
Time tracking
Detailed insights into a client's communication with your team
More integrations
And beyond this, you'll also get dedicated support that can significantly enhance efficiency, customer engagement, and growth. While free dealer CRMs have their merits, the value and potential growth unlocked by a paid plan can't be overlooked.
Conclusion – What's the Best Automotive CRM for Auto Dealers in 2023?
Our list of the best automotive CRM tools is a well-researched buffet of effective CRMs for every automotive vendor. Whether you're looking for a budget-friendly tool or a comprehensive automotive CRM with numerous integrations to streamline multiple outlets — you'll definitely find something on our list.
While going horses for courses when shopping for CRM software is a must, we found Monday.com to be a great all-purpose automotive CRM capable of handling pretty much everything. With several productivity and project management tools, you don't need to jump from app to app to manage your teams.
You can log your sales team's activity and maintain the records for years to build effective customer relationships. The best part is that there's a free forever plan that lets you onboard 2 team members and offers 200+ templates. Additionally, you can try a Monday.com premium plan risk-free with its 14-day free trial.
Automotive CRM FAQs
What CRM do most car dealerships use?
What are the benefits of automotive CRM?
How much do car dealer CRMs cost?
How do automobile companies use CRM to enhance customer loyalty?
Can you use Excel as an auto dealer CRM?
What's the best free car dealership CRM?