Looking for the best CRM marketing automation tools to supercharge your growth? These powerful tools can help streamline your sales processes and engage your target audience. If you're searching for a CRM with built-in marketing automation, we've got you covered.
In this guide, we've reviewed and compared the best CRM marketing automation apps for 2023, analyzing key features such as automation integration, email campaigns, customer engagement tools, and overall marketing processes. If you're looking for the perfect integration of CRM and marketing automation, read on to learn which tools are the best suited to your needs.
Top Marketing Automation CRM Software Products Ranked
With many providers in the market, selecting the right marketing automation CRM software can be overwhelming. Let's dive into our shortlist of the top-ranking products:
Top 10 Best CRM Automation Tools Reviewed
To help you navigate the dozens of CRM digital marketing tools available today, we've reviewed and compared the top 10 CRM automation tools on the market. Our analysis takes into account key criteria such as features, ease of use, scalability, and integration capabilities.
1. Salesforce — Our Top Pick for Best CRM Automation Tool
Salesforce is an industry-leading platform known for its extensive customization options and integration capabilities. With over 20 years of experience, Salesforce has established itself among the best marketing CRMs.
The platform's customization options allow businesses of all sizes to tailor their sales pipeline to their specific needs, making it a versatile tool for maximizing sales opportunities. It's a popular choice for large and scaling businesses with complex sales teams that require a highly customizable solution, and it offers a wide range of integrations with over 1,000 other platforms.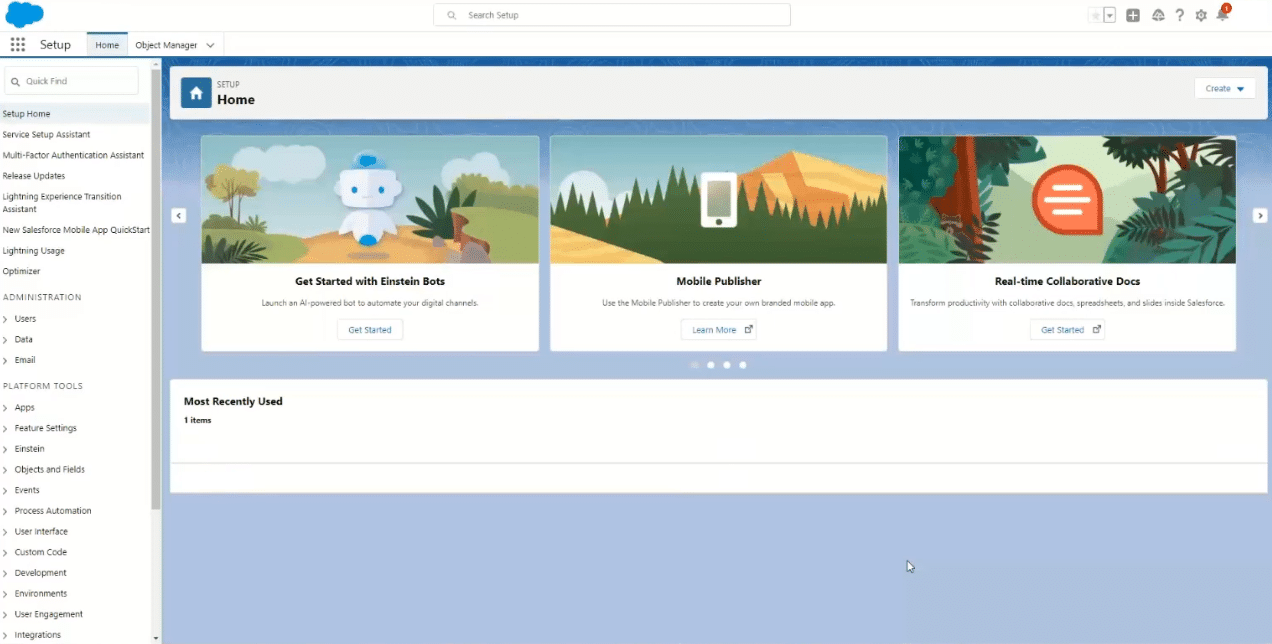 While it may be complicated to set up and learn initially, Salesforce provides ample support to assist with customization and integration requirements. The platform's marketing automation features allow you to streamline your lead generation system so you can get new leads while running on autopilot, driving engagement wherever your customers are.
Salesforce also provides a powerful workflow automation engine. Your sales team can create automated workflows to trigger actions based on specific events or criteria. This includes sending follow-up emails, assigning tasks to sales representatives, updating contact records, and initiating other actions to nurture leads and move them through the sales funnel.
The platform also has excellent campaign management capabilities, which enable your team to plan, execute, and track the performance of marketing campaigns.
A wide range of analytics and reporting features provide insights into campaign effectiveness, ROI, conversion rates, and other key metrics, helping your sales team optimize their marketing strategies. This lets you comprehensively measure your campaign's performance, all within Salesforce.
However, there are some drawbacks to consider. Salesforce does not offer a free plan, and you may not fully master Salesforce's capabilities in the 30-day free trial period. The platform's complexity can also make initial onboarding time-consuming, so ongoing maintenance and customization may require dedicated staff.
| | | | | |
| --- | --- | --- | --- | --- |
| Best For | Starting price | Free Version | Mobile Support | Integrations |
| Large Businesses with Wide-Scale Automation Needs | $25 per month / $1,250 per month for Marketing Automation | 30-Day Free Trial | Android and iOS | Over 1,000 different products |
Pricing
While the basic package for Salesforce starts at $25 a month for small businesses, accessing marketing automation tools will set you back at least $1,250 a month for the organization.
As such, Salesforce is best suited for established businesses looking to streamline their sales functions or integrate multiple platforms into one CRM. Small businesses with limited budgets or simpler sales processes may find other CRM solutions more suitable.
Pros
Extensive customization options
Lead management and scoring capabilities
Powerful reporting and analytics
Easy setup and user training
Cons
Steep learning curve for advanced features
Potential complexity in integration with other systems
2. Oracle NetSuite — Get In-Depth Analysis of Your Customers
NetSuite's CRM covers essential aspects of the sales and marketing process, such as contact and lead management, sales orders and fulfillments, renewals, and upsells.
It also includes some powerful marketing automation capabilities, too. It allows you to automate your entire marketing process, align campaigns with your sales team, and generate highly qualified leads. With NetSuite, you can target, build, execute, and measure the success of your marketing campaigns, streamlining lead qualification and conversion.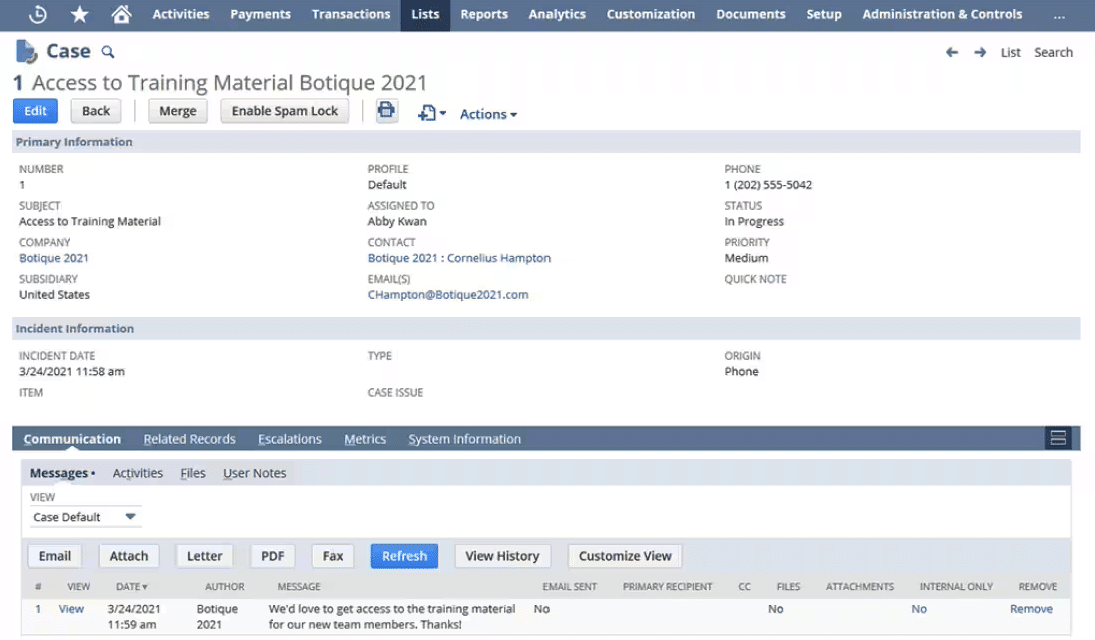 Managing and analyzing your marketing campaigns is made easy with NetSuite's all-in-one application. You can track and analyze email, direct mail, events, and multi-channel campaigns in real time, enabling you to fine-tune your campaigns and maximize your return on investment.
The feature that really impressed us with Netsuite was the ability to segment data and deliver personalized marketing campaigns based on factors such as demographics, purchase trends, response patterns, and support histories. This allows you to deploy campaigns across multiple channels and effectively move leads through your sales process.
The platform can also be integrated with Netsuite's eCommerce module, SuiteCommerce, offering website setup, hosting options, CSS design templates, catalog and price level management, and marketing campaigns and promotions.
While the navigation interface can be overwhelming due to the extensive business functionality packed into the platform, there are a variety of search tools baked into NetSuite to help you find what you need.
| | | | | |
| --- | --- | --- | --- | --- |
| Best For | Starting price | Free Version | Mobile Support | Integrations |
| Large Businesses with Customized Integration Needs | Customized Plan | Free Product Demo Only | Android and iOS | Fully Customizable API |
Pricing
NetSuite charges an annual license fee based on three main components: the core platform, optional modules, and the number of users. However, you'll have to talk to a sales rep from Oracle to find out more. There is also a one-time implementation fee for the initial setup.
Pros
Powerful tools for personalized marketing campaigns
In-depth sales transaction management and reporting
Strong pipeline tracking and forecasting capabilities
Huge integration opportunities
3. Monday — Easy Customization
Monday.com is a highly customizable CRM with a wide range of features to manage your marketing automation needs. The platform stands out as one of the most customizable CRMs available.
The platform offers automated CRM email marketing software, as well as campaign tracking and social media marketing metrics. It also comes with extensive integration options with popular tools such as MailChimp, Salesforce, and Zendesk, which can further drive marketing automation processes.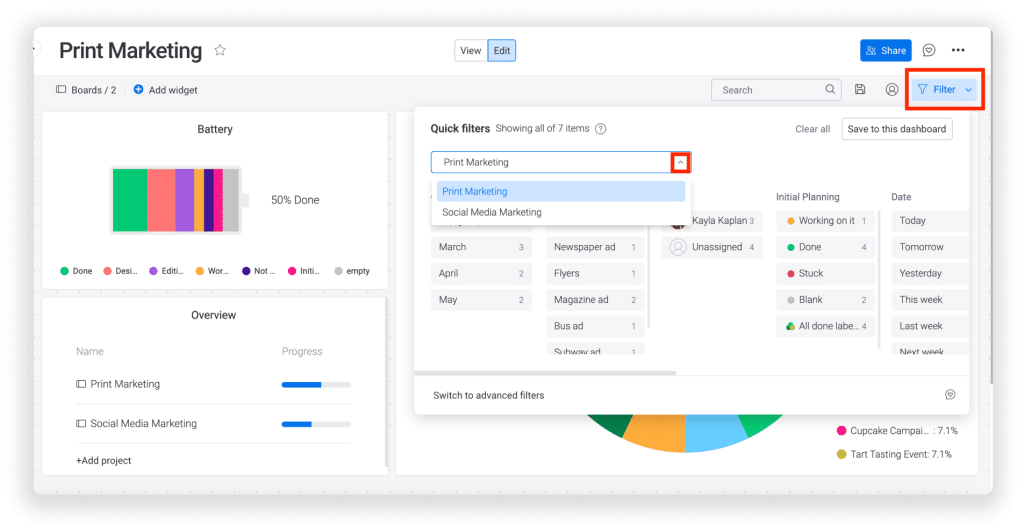 The platform takes a no-code approach to automation design, which allows you to quickly get up and running building your own automated email campaigns. Each lead is captured and accounted for in Monday.com's centralized boards, which notify you whenever there's an important change in lead status or journey progression.
Setting up Monday.com CRM is a straightforward process, and the platform provides users with comprehensive online documentation and video tutorials to assist in setup and customization. The drag-and-drop interface makes it intuitive and easy to create and customize boards according to your business needs.
The CRM also comes with helpful customer support through email and chat, ensuring you can get prompt assistance when facing issues.
| | | | | |
| --- | --- | --- | --- | --- |
| Best For | Starting price | Free Version | Mobile Support | Integrations |
| Small Businesses that Need Easy-To-Use Market Automation | $30 per month / $72 per month for Marketing Automation | 14-Day Free Trial | Android and iOS | Gmail, Outlook, Zendesk, Stripe, and many more |
Pricing
Monday.com's Basic CRM plan is priced at $10 per seat per month, with a three-seat minimum. It includes features such as lead, contact, and deal management, unlimited, customizable pipelines, unlimited contacts and boards, templates, and mobile apps. There is no free plan, but a 14-day free trial allows you to test all of the platform's features.
At the other end of the scale, the Enterprise CRM plan provides features like lead scoring, team goals, account management, multi-level permissions, and HIPAA compliance – with pricing for the Enterprise plan issued on a custom basis, depending on the specified requirements.
Pros
Easy to set up
Highly customizable
Extensive integration with other marketing automation tools
Cons
Out-of-the-box marketing automation limited compared to other providers
4. Pipedrive — Ideal for Small Businesses
Pipedrive excels as a sales-focused CRM solution for small businesses. It's designed to increase the efficiency of your marketing team thanks to its intuitive layout, high capacity for customization, and time-saving features, such as automatically updating information for new leads.
It guides sales leads through the sales process, recording key contacts and feedback to track leads and increase sales. The platform automates repetitive tasks using artificial intelligence and provides personalized tips to enhance performance.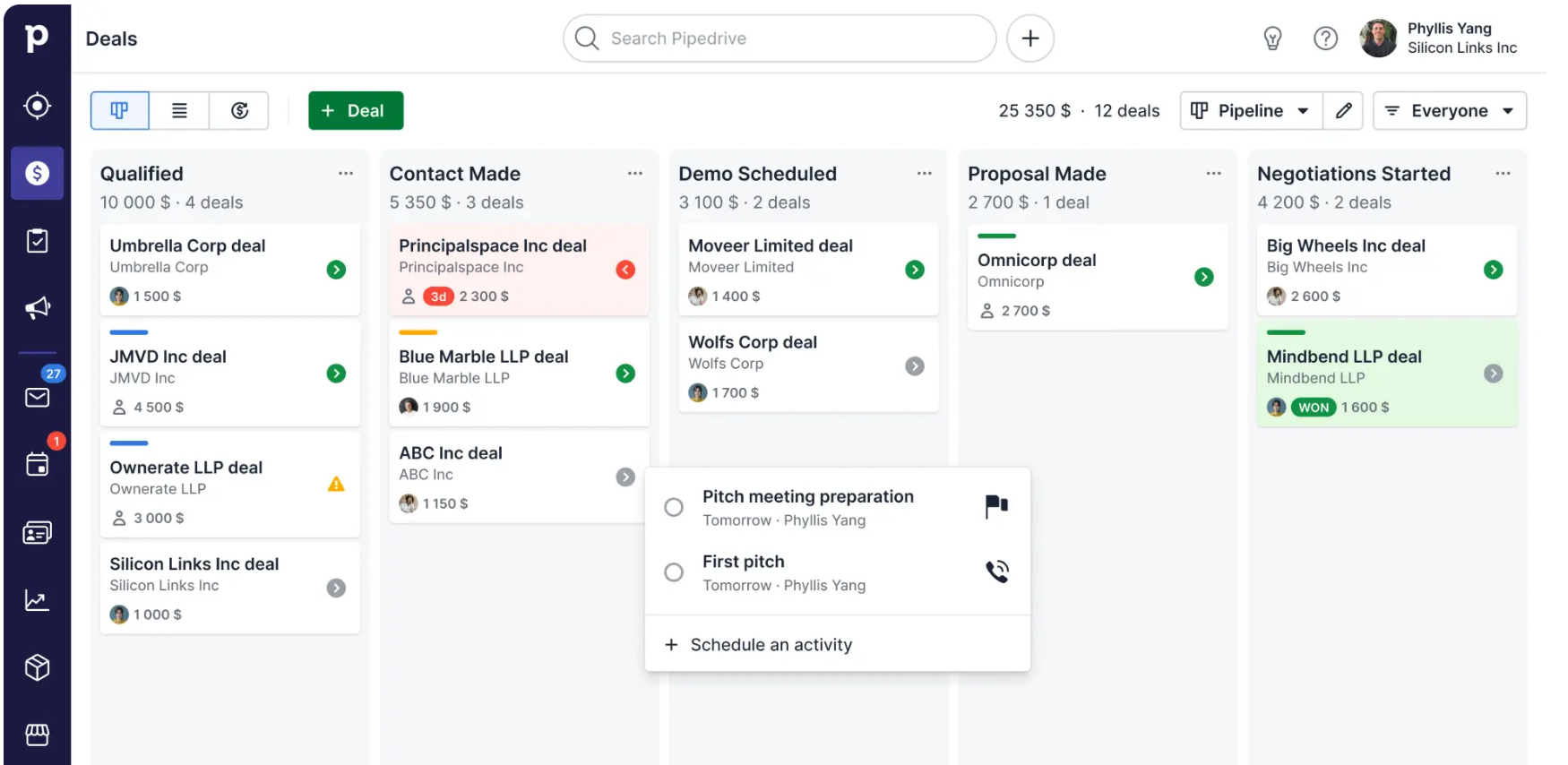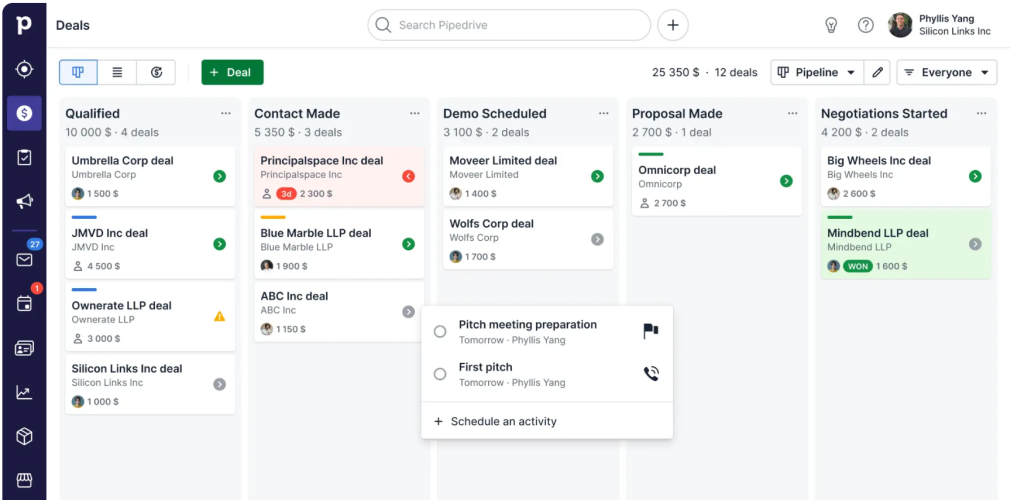 Pipedrive's drag-and-drop Kanban board and integrated email marketing templates make it easy to manage sales cycles and correspondence with prospects, speeding up the marketing process.
There are also third-party integrations with over 400 apps across a wide range of sales and marketing functions. If that isn't enough, Pipedrive's open API allows integration with other software, making it customizable to suit your needs.
We're impressed with Pipedrive's ease of use and customization options, which make it simple to set up automated CRM workflows in minutes. Additional features worth noting are the LeadBooster add-on for additional lead generation, a web visitors panel for tracking website visitors, as well as an AI-driven chatbot for channeling additional customers into your sales pipeline.
Pipedrive's customer service includes online support and chat available for all plans, with telephone support exclusive to the Enterprise plan. While there is no free plan, Pipedrive offers a 14-day free trial without requiring a credit card.
| | | | | |
| --- | --- | --- | --- | --- |
| Best For | Starting price | Free Version | Mobile Support | Integrations |
| Small Businesses Focused on Growth | $14.90 per month / $27.90 per month for Marketing Automation | 14-Day Free Trial | Android and iOS | App Marketplace and Open API |
Pricing
The pricing and plans vary, ranging from the Essential plan at $14.90 per user per month, to the Enterprise plan at $99 per user, per month. Each plan offers different features, customizations, and support options.
However, the lack of a free plan means you'll need to take full advantage of the 14-day free trial to get a feel for the software. Be warned, most plans limit custom fields and reports, and phone support is only available on the Enterprise tier.
Pros
Affordable pricing
Customizable sales pipelines
Intuitive layout
Workflow automation features
Machine learning-powered sales assistant
Cons
Limited advanced features
Limited customer support options for lower-tier plans
5. HubSpot — Great Choice For New Marketing Teams
HubSpot is a powerful and user-friendly CRM solution that offers a range of plans to cater to different business needs. With a competitive free plan and reasonable paid options, it's one of the best CRM software options for small and midsize businesses.
HubSpot Marketing Hub is a great choice for small businesses getting into marketing automation. It provides a seamless onboarding experience, with guided tours and the HubSpot Academy offering online training resources. The free plan includes a shared inbox, email templates, and website tracking, streamlining communication and lead management.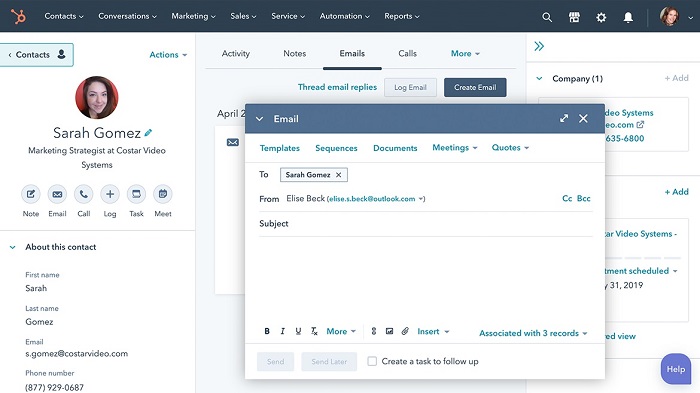 Marketing Hub takes marketing automation to the next level with emails triggered by automated workflows, chatbots as part of user journies, and full-spectrum social media marketing, all managed from the same client. The visual builder for Marketing Hub makes building complex automated triggers easy, requiring no coding knowledge to put together email campaigns, define the steps in web forms, or set follow-up conditions.
HubSpot's marketing automation integration options are impressive, as well, with over 300 third-party app integrations available. This allows users to connect their CRM with various other tools and systems, enhancing their workflow and productivity.
The Operations Hub simplifies processes by syncing data with popular third-party apps and providing company insights. Additionally, you can include campaign data in custom reports and create deals directly from Gmail and Outlook via the HubSpot sales extension.
| | | | | |
| --- | --- | --- | --- | --- |
| Best For | Starting price | Free Version | Mobile Support | Integrations |
| Small Businesses and Nonprofits | $45 per month (including Marketing Automation) | Free Plan | Android and iOS | 100+ Apps and Webservices |
Pricing
Hubspot's marketing subscription has a free option which gives you access to basic marketing tools, whereas the Starter option is $45 per month and includes all features of the Free plan plus marketing automation, ad retargeting, landing page reporting, and the ability to remove HubSpot branding.
It's a significant jump to the Professional plan, which is at $800 per month and includes everything in the Starter plan as well as additional features to increase engagement, such as omnichannel marketing automation, SEO tools, and social media management.
Pros
Competitive free plan
User-friendly interface
Wide range of third-party app integrations
Cons
Expensive premium plans
Lack of telephone support with the free plan
6. Act! — Cloud-Based Marketing Intelligence
Act! is a cloud-based software product with integrated email marketing features and a user-friendly dashboard. Customer relationship management is a strong point for Act!, with integrated email marketing technology. It offers features like contact segmentation, campaign management, and lead scoring.
Building opportunities in Act! is relatively easy, with self-explanatory fields and customizable pipelines. The opportunity pipeline view is one of the areas where Act!'s web UI shines, offering clear graphics and easy drag-and-drop functionality.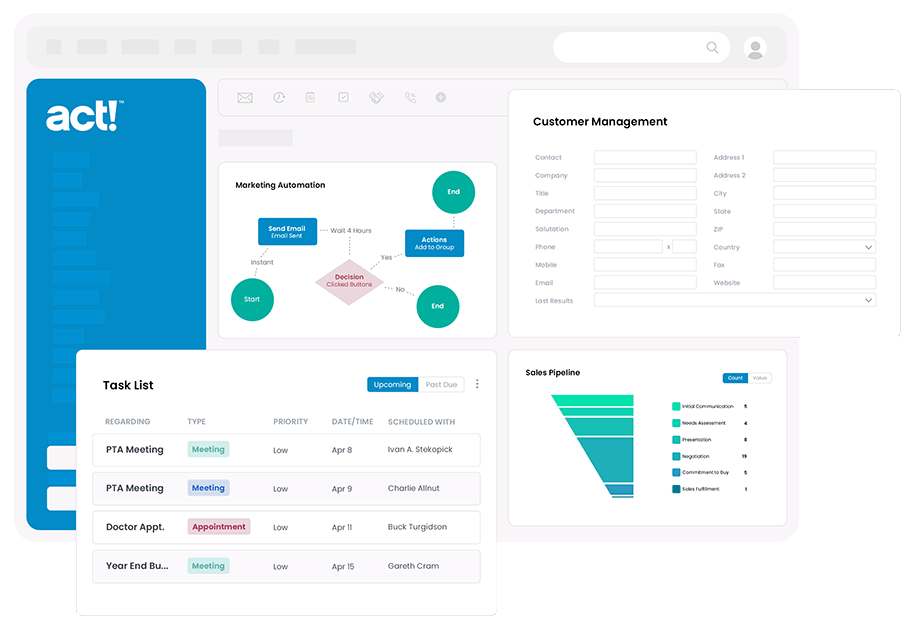 Act! makes analyzing your campaigns easy. Reporting in Act! is easy to set up, with prebuilt templates that can be edited. The software's Custom Views feature allows customization of contact, group, company, and opportunity screens. Act! Insight offers a visually appealing custom dashboard creator, which is a standout feature.
The platform also has great marketing automation tools, enabling you to capture leads from landing pages and web forms, create personalized campaigns, and automate workflows to engage your target market.
However, the software's somewhat old-fashioned UI can sometimes be an issue. The import process, for example, involves dialog box-style wizards reminiscent of older Windows applications. These sometimes seemingly fail to display the necessary buttons and require manual resizing, which can be frustrating. Data entry can also be needlessly convoluted in some instances.
| | | | | |
| --- | --- | --- | --- | --- |
| Best For | Starting price | Free Version | Mobile Support | Integrations |
| Great for Email Marketing Automation | $30 per month (including Marketing Automation) | 14-Day Free Trial | Android and iOS | Eventbrite, SurveyMonkey, Wufoo, and hundreds of other apps |
Pricing
Act's cloud service starts at $30 per user per month, with desktop functionality available for an extra $10 per month. This gives you access to Act's suite of email automation and marketing tools, with up to 2,500 emails per month. Each additional 2,500 emails per month is another $15.
The Complete package is $199 per month, which increases the number of emails you can send to 50,000 per month and gives you access to in-depth lead-tracking analytics.
Pros
Strong integrated email marketing features
An easy-to-use dashboard designer
Great marketing automation workflow builder
Cons
UI is outdated
Email integration requires an external email client
7. Zoho CRM — Multi-Faceted CRM Solution
Zoho is particularly well-suited for small to midsize businesses looking for market automation, offering a robust set of tools that can rival even enterprise-grade CRMs. There's a Zoho module for almost every business function you can think of, in fact.
The platform's detailed analytics makes it one of the best CRMs for email marketing. And while the lead generation and analytics tools are powerful, its automated workflows are perhaps even better.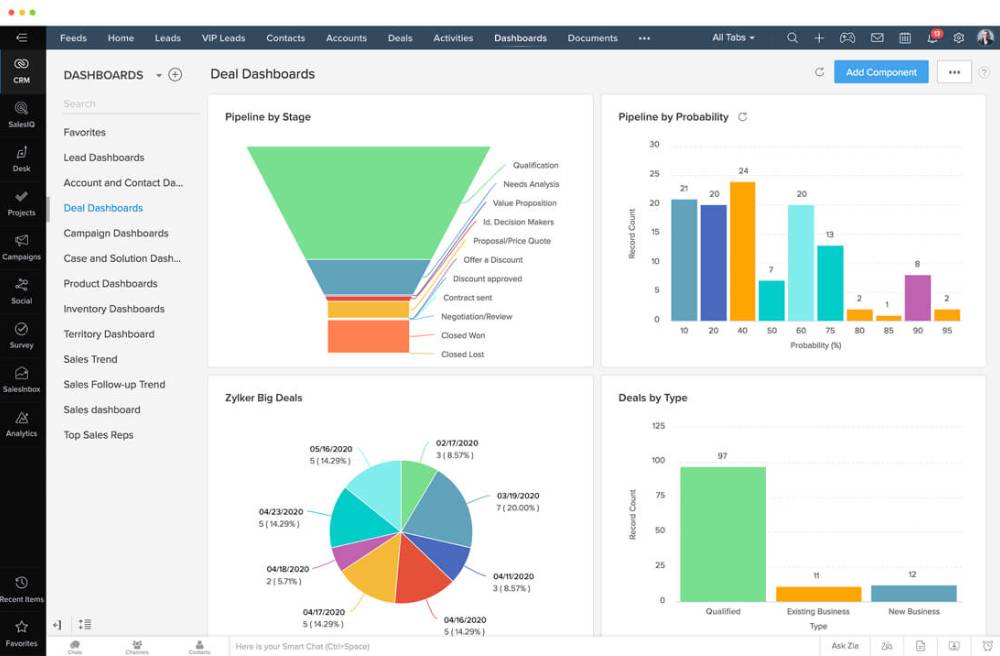 Zoho allows you to build custom forms and popups or adapt your own to direct users from customizable landing pages to any number of personalized sales journies. Email automation allows you to capture potential leads that exit their journey before completion, further increasing your retention rate and overall sales.
The CRM also incorporates artificial intelligence capabilities with its AI-powered analytics engine, Zia. With Zia, your marketing team can gain valuable insights into sales anomalies and trends, helping them make data-driven decisions. Zia's integration with the CRM enhances the overall user experience and makes it easier to navigate through vast amounts of data.
The software also offers integrated gamification features, which can be a great motivator for sales teams. By introducing game-like elements such as leaderboards, badges, and rewards, Zoho adds a fun and competitive element to the sales process, boosting productivity and engagement.
However, Zoho does come with a steep learning curve. The extensive feature set and customization options can be overwhelming for new users, requiring a significant investment of time and effort to fully understand and leverage the platform's capabilities.
| | | | | |
| --- | --- | --- | --- | --- |
| Best For | Starting price | Free Version | Mobile Support | Integrations |
| Businesses Looking to Boost Their Sales Team | $14 per month (including Marketing Automation) | Free Plan | Android and iOS | Google Workplace, Microsoft 365, Twilo, MailChimp, Google Ads, and more |
Pricing
Zoho's Marketing Automation platform offers three pricing plans: Standard, Professional, and Enterprise. The Standard plan is priced at $14 per month, which is ideal for businesses that are just starting out.
While it includes features such as basic contact management, the best personalized automated marketing features are found under the Professional plan at $22 per month, which include A/B testing and advanced individualized email marketing. The Enterprise plan, at $44 a month, offers even more advanced user analytics and journey tracking.
Pros
Highly customizable with the Canvas Builder drag-and-drop interface
AI-powered analytics engine
Integrated gamification features
8. Maximizer CRM — Affordable Solution for Sales Teams
Maximizer is a reliable and versatile customer relationship management solution that has been on the market for over two decades. It caters to both small businesses and large corporations, offering a range of features to streamline lead management and improve overall efficiency.
It enables seamless collaboration between sales, marketing, and customer service teams by facilitating the sharing of customer information. This integration improves productivity and efficiency, resulting in better customer experiences. The software is highly flexible and can be easily configured to meet specific business requirements.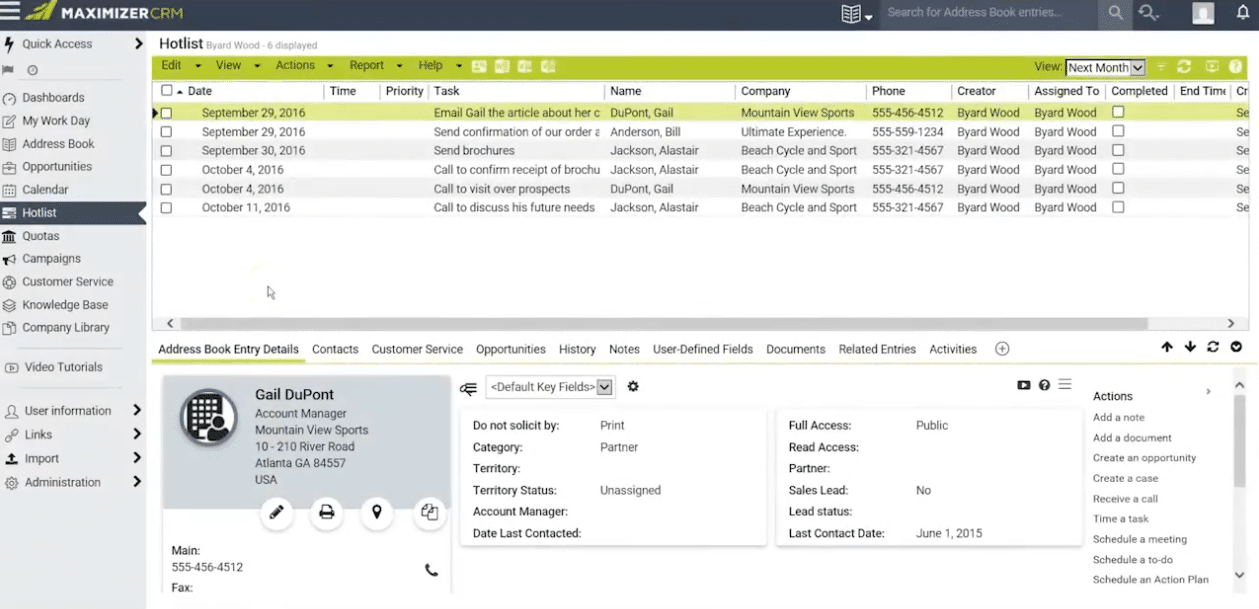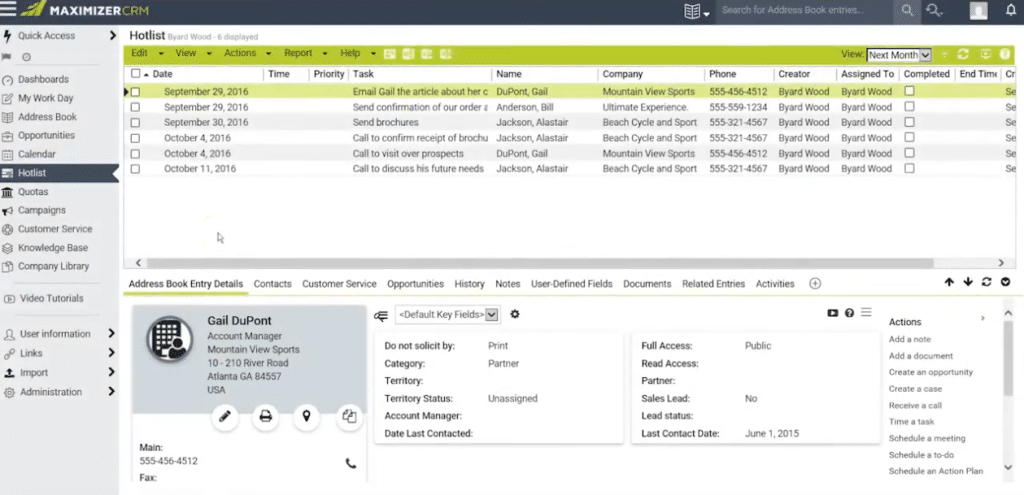 Maximizer provides a central hub for managing customer and prospect information, allowing instant access to their entire history. The All Access licensing option, meanwhile, ensures that users can find customer data anytime, anywhere, whether through the web, mobile devices, or Windows desktop.
Email campaigns are easy to build in Maximizer by importing your contact lists from the customer history silo and leveraging on-email templates. You can automate these campaigns by attaching them to pre-built web forms available in Maximizer. Any missed leads are flagged by Maximizer's built-in lead analytics system, making sure you've got every opportunity to convert for more sales.
Deployment of Maximizer is quick and straightforward, and it offers integration with popular business applications like Microsoft Outlook, Exchange, Office, and accounting software. It offers flexible deployment options, as well, allowing businesses to choose between using their own cloud or Maximizer's cloud.
| | | | | |
| --- | --- | --- | --- | --- |
| Best For | Starting price | Free Version | Mobile Support | Integrations |
| Sales Teams Optimizing Their Processes | $195 per month (including Marketing Automation) | Free Demo | Android and iOS | Zendesk, OpenAI, Slack, Teams, and others plus API |
Pricing
Maximizer CRM provides most features bundled together with a single monthly fee, ensuring that businesses get all the core CRM features without any hidden costs or unexpected expenses. The base version costs $65 per user per month with a minimum of three users. This gives you all of the core sales features for up to 10,000 contacts on a database of up to 100GB.
The Sales Leader plan, at $79 per user per month, adds a Kanban board and additional quota and forecast functions.
Pros
Enables seamless collaboration between sales, marketing, and customer service teams
In-house database for greater control over data security
User-friendly with helpful customer support
Cons
Some find the UI unintuitive
9. Freshsales — Ideal for Sales Teams
Freshsales is a sales-focused CRM product designed to streamline processes, close deals faster, and provide insights for sales teams. All in all, it has one of the best CRM sales automation suites available.
Freshsales offers an intuitive and customizable interface, making it suitable for sales teams new to CRM software. Its contact management features allow users to gain greater insight into customers and prioritize leads based on engagement. The CRM also provides advanced AI forecasting and insights to empower sales teams.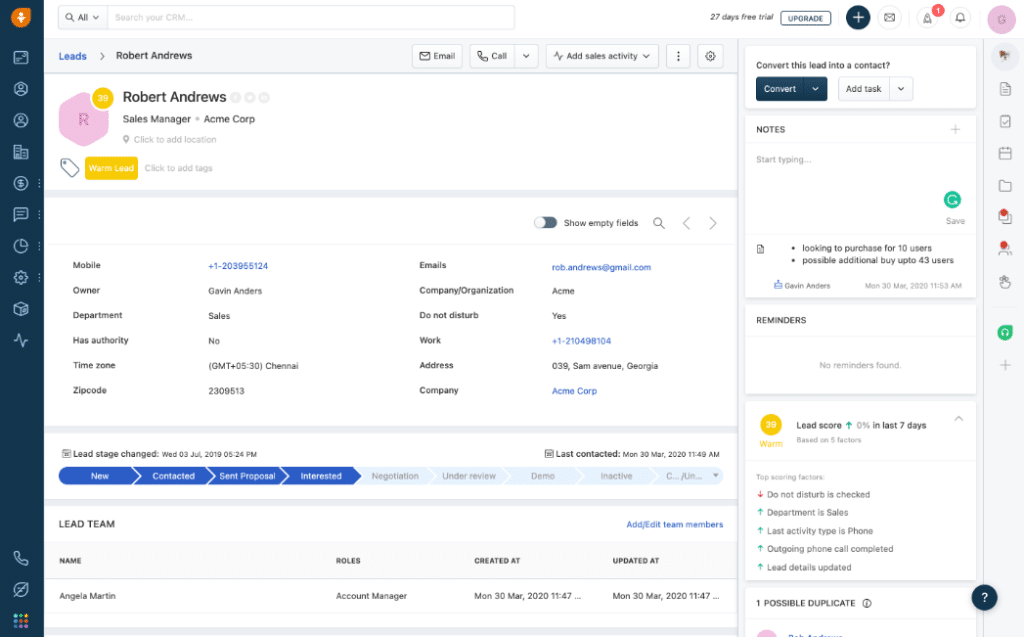 Freshsales integrates tightly with Freshmarketer, which focuses on email automation and lead generation. Freshmarketer also offers several interesting add-ons, including conversion rate optimization features and a centralized messaging station that funnels WhatsApp, SMS, and email inquiries into a single place.
Workflow automation is another key feature of Freshsales, automating tasks like lead assignment and sales sequences. The CRM allows customization of appointments, alerts, reminders, and activities to keep teams organized. This ties in nicely with Freshmarketer's sales automation features, which allow teams to convert leads into sales with minimal effort.
Our only real complaints about Freshworks is that the AI-powered lead analytics tools are only available with the somewhat expensive Enterprise plan, and we found fewer third-party integrations compared to other providers on our list.
| | | | | |
| --- | --- | --- | --- | --- |
| Best For | Starting price | Free Version | Mobile Support | Integrations |
| Sales Teams Seeking Workflow Automation | $19 per month (including Marketing Automation) | Free for up to three users | Android and iOS | Other Freshworks apps, Mailchimp, Hubspot Marketing, and more |
Pricing
Freshsales offers several pricing plans, including a free plan with basic contact management and paid plans with additional features. The Basic paid plan starts at $19 per user per month, which includes contact, account, and deal management.
The Pro version costs $149 per user per month, which also gets you 3,000 chatbot sessions per month that funnel your customers toward one of your products.
Pros
Intuitive and customizable interface
Mobile app with voice note features
Advanced AI forecasting and insights
Cons
Lead generation tools limited to Enterprise plan
Fewer third-party integrations compared to competitors
10. Bonsai — Great for Freelancers
Bonsai offers freelancers a suite of small business products, including a proposal creation tool. It streamlines the process of attracting clients for small businesses and freelancers and provides forms for automated lead capture and custom tagging for lead qualification.
Bonsai's proposal creation capabilities allow you to work from scratch or use sector-targeted templates. While the design options are limited, the overall design is sleek, and customization is smooth. Team collaboration in Bonsai is available with paid and free options.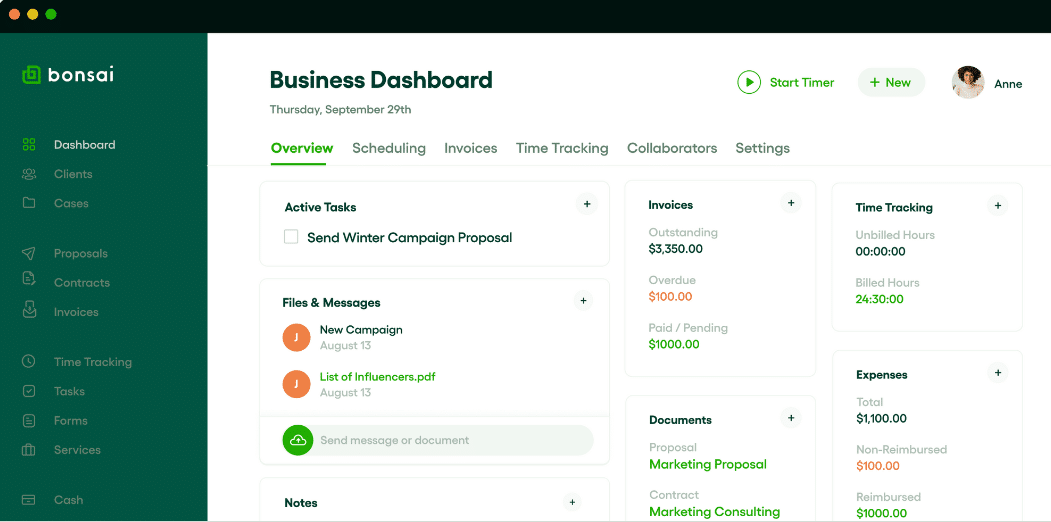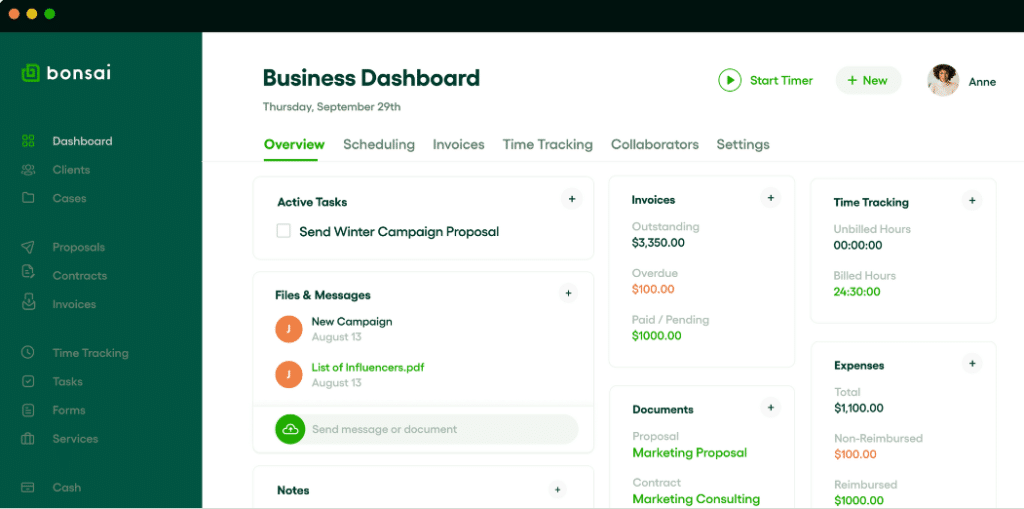 Collaborators can be invited to a project at no cost, but access to proposals requires the paid Partner option. Bonsai enhances any potential client's experience with professional-looking landing pages and the ability to download proposals as PDFs.
Integration support in Bonsai allows you to connect to third-party products like Google Calendar, Zapier, Calendly, and Slack. Bonsai Payments is the platform's own payment system, but external payment providers like Stripe, PayPal, and Plaid are also supported. Bonsai offers help setting these up through a chatbot within the platform and a well-populated FAQ support page.
On the downside, proposal development lacks automation features, which can increase the time required for proposal preparation. The templates provided have limited customization options and are focused on modifying the text rather than the design. Tracking client interaction with the proposal isn't hugely advanced, either, with only basic information available on views and acceptance.
| | | | | |
| --- | --- | --- | --- | --- |
| Best For | Starting price | Free Version | Mobile Support | Integrations |
| Best for Freelancers or Small Businesses | $17 per month / $32 for Marketing Automation | 7-Day Free Trial | Android and iOS | App Marketplace |
Pricing
Bonsai offers three paid plans. The Starter plan costs $17 per month and includes unlimited clients, projects, and access to basic proposal and invoice tooling. The Professional plan costs $32 per month and features workflow automation and additional tooling integration with products like Quickbooks.
Pros
Accessible client experience
Comprehensive suite of small business tools
Sleek and customizable proposal design
Connectivity to other Bonsai tools
Cons
Limited automation for proposal development
Top CRM Marketing Software Solutions Compared
In the following table, we present the information you need to select the CRM marketing software that best fits your business needs. Explore the table below to find the ideal CRM marketing software solution for your organization's marketing processes.
CRM
Best For
Starting price
Free Version
Mobile Support
Integrations
Salesforce
Large Businesses with Wide-Scale Automation Needs
$25 per month / $1,250 per month for Marketing Automation
30-Day Free Trial
Android and iOS
Over 1000 different products
Oracle NetSuite
Large Businesses with Customized Integration Needs
Customized Plan
Free Product Demo
Android and iOS
Fully Customizable API
Monday CRM
Small Businesses that need Easy-To-Use Market Automation
$30 per month / $72 per month for Marketing Automation
Free Version
Android and iOS
Gmail, Outlook, Zendesk, Stripe, and many more
Pipedrive
Integrations
Small Businesses Focused on Growth
$14.90 per month / $27.90 per month for Marketing Automation
14-Day Free Trial
Android and iOS
App Marketplace and Open API
HubSpot
Small Businesses and Nonprofits
$45 per month (including Marketing Automation)
Free Plan
Android and iOS
100+ Apps and Webservices
Act!
Great for Email Marketing Automation
$30 per month (including Marketing Automation)
14-Day Free Trial
Android and iOS
Eventbrite, SurveyMonkey, Wufoo, and hundreds of other apps
Zoho CRM
Businesses Looking to Boost Their Sales Team
$14 per month (including Marketing Automation)
Free Plan
Android and iOS
Google Workplace, Microsoft 365, Twilo, MailChimp, Google Ads, and more
Maximizer CRM
Sales Teams Optimizing Their Processes
$195 per month (including Marketing Automation)
Free Demo
Android and iOS
Zendesk, OpenAI, Slack, Teams, and others plus API
Freshsales
Sales Teams Seeking Workflow Automation
$19 per month (including Marketing Automation)
Free for up to three users
Android and iOS
Other Freshworks apps, Mailchimp, Hubspot Marketing, and more
Bonsai
Best for Freelancers or Small Businesses
$17 per month / $32 for Marketing Automation
7-Day Free Trial
Android and iOS
App Marketplace
CRM vs. Marketing Automation – How They Work Together
CRM software, or Customer Relationship Management software, and marketing automation software are two powerful tools that work together to streamline marketing and sales efforts, improve customer engagement, and drive business growth.
While they serve distinct functions,
integrating CRM and marketing automation
can create a seamless and efficient system that maximizes the effectiveness of customer interactions and marketing campaigns. At its core, CRM is focused on managing and organizing customer data. It serves as a centralized repository for storing and tracking customer information, such as contact details, purchase history, preferences, and interactions.
CRM systems provide a comprehensive view of each customer, enabling businesses to build stronger relationships, deliver personalized experiences, and provide timely support. This data is invaluable for marketing teams as it allows them to understand their customers better and tailor their marketing strategies accordingly.
Marketing automation, on the other hand, enables marketers to create automated workflows, segment audiences, track engagement, and measure campaign performance. Marketing automation empowers businesses to deliver targeted and personalized messages at scale, ensuring that the right message reaches the right customer at the right time using email marketing, lead nurturing, social media management, and campaign tracking.
Integrating CRM and marketing automation enables a closed-loop system where marketing and sales teams can work together more efficiently. Marketing automation platforms can track and measure the effectiveness of marketing campaigns, providing valuable data on lead generation, conversion rates, and revenue attribution.
This information can be fed back into the CRM system, enabling sales teams to prioritize leads, tailor their sales approach, and have more meaningful conversations with potential customers. This alignment between marketing and sales leads to a more streamlined and effective customer journey.
What to Consider When Choosing the Best Marketing Automation CRM For Your Business
When selecting the best marketing automation CRM for your business, there are several key factors to consider. These factors will help you evaluate different platforms and ensure that you choose the one that aligns with your specific business needs and objectives. Here are some important considerations:
Integration Capabilities
It's important to look at whether your new software system will integrate with existing systems in your organization. You should evaluate the integration capabilities of the marketing automation CRM with your key systems, such as email marketing, social media, and project management.
This will enable data synchronization and allow you to get a comprehensive view of your customers across different channels.
Features and Functionality
It's also important to assess the features and functionality offered by the marketing CRM software and that you're not paying for a premium package with features you don't need. Ensure that the platform provides the necessary tools to execute your marketing strategies, such as email marketing, lead nurturing, lead scoring, campaign management, analytics, and reporting. Our complete guide to the best CRM software covers more details on market-leading functionality.
Ease of Use
The marketing automation CRM you choose should have an intuitive interface and a user-friendly workflow that allows your team to easily navigate and leverage its capabilities. While training and support resources should also be available to help your team get up to speed quickly, less time spent training your staff with overly-complex software means a quicker turnaround on your investment.
Scalability and Flexibility
You will need to consider your growth plans and whether your marketing automation CRM of choice can accommodate your evolving needs. It should be able to handle increasing volumes of data, support complex workflows, and adapt to changing marketing requirements as your business grows in size.
Personalization
The best marketing CRM options offer customization and personalization options that allow you to tailor your marketing campaigns to individual customer preferences and behaviors. This includes the ability to create dynamic content, segment audiences, and automate personalized messaging. Personalized marketing will increase your lead conversion rate and help retain repeat customers.
Analytics and Reporting
Any good marketing automation CRM will also provide in-depth analytics and reporting capabilities. It should provide detailed insights into campaign performance, customer engagement, lead conversion, and revenue attribution. These reporting features will help you measure the success of your marketing efforts and make data-driven decisions, especially when assisted by AI agents.
Conclusion – What's the Best CRM Marketing Automation Platform in 2023?
After thorough research, we believe the best CRM marketing automation platform for 2023 is Salesforce. Salesforce offers a comprehensive set of features, robust automation capabilities, and seamless integration with other business systems.
It provides a user-friendly interface, advanced analytics, and customizable workflows that empower organizations to streamline their marketing processes, engage customers, and drive business growth.
With Salesforce, businesses can automate their marketing campaigns, personalize customer interactions, and track marketing performance with ease. The platform's scalability and flexibility make it suitable for businesses of all sizes, from small startups to large enterprises.
Marketing Automation CRM FAQs
What is marketing automation?
What's the difference between marketing automation software and CRM?
What solutions offer CRM with marketing automation features?
What are the benefits of a CRM with marketing automation?
What's the best CRM with email marketing software?
How can marketing automation improve my business?