The best CRM for nonprofits will let you keep track of your donor touchpoints, streamline events, and manage your workflows, as well as integrating with the tools you need to drive end-to-end task management.
Given the number of options available, choosing the right CRM can be difficult, though. That's why we've created a shortlist of the best nonprofit CRM solutions available, paying particular attention to criteria like affordability, integrations, ease of use, and customer support. Read on to find out why platforms like Salesforce, Oracle NetSuite, and Monday rule the industry charts.
Best CRMs for Nonprofits Ranked
Salesforce stands out as the best nonprofit CRM available today owing to a library of more than 2,500 integrations, easy-to-understand reports, and a 30-day free trial. Here's how it stacks up against others on our list:
How Do Nonprofits Use CRM Software?
Nonprofits, like for-profit companies, can benefit from using Customer Relationship Management (CRM) software to streamline their operations, enhance communication with donors and supporters, and improve overall efficiency. Here are some ways nonprofits utilize CRM software.
Fundraising and Donor Engagement
CRM software provides nonprofits with tools to streamline fundraising campaigns and donor engagement activities. It helps manage fundraising events, track pledges, generate personalized donation requests, and send acknowledgments and thank-you messages.
CRM systems can automate donor communications, such as emails or newsletters, and track interactions to nurture relationships with supporters.
Make Future Preparations
Without an in-depth review of supporter data, their worth, and profitability, as well as an understanding of process bottlenecks in the organization, it's impossible to boost the success of your fundraising. A CRM can provide statistical data and perform extensive data analyses for strategically significant management decisions.
Event Management
Nonprofits often organize events to raise funds, increase awareness, or engage with their community. CRMs offer all the tools you need to organize a successful event, including tracking attendees, creating various pricing options, populating calendars, and processing payments, among other tasks.
Centralize Data
A lot of NGOs organize and save contact information in Excel spreadsheets. Storing data in numerous spreadsheets, each handled by different individuals can quickly lead to data going missing, being duplicated, or failing to be updated. This makes historical data monitoring nearly impossible — not to mention consuming time and resources.
Using a CRM helps NGOs to keep all of this data in one well-organized location that can be easily managed and accessed over time by the full team. Despite some additional expense, the savings achieved make it worthwhile.
Analytics and Reporting
CRM software provides nonprofits with data analytics and reporting capabilities to gain insights into their operations. They can track donation trends, measure the effectiveness of fundraising campaigns, monitor volunteer engagement, and assess the impact of their programs. These insights enable nonprofits to make data-driven decisions and refine their strategies.
Do All Nonprofits Need a CRM?
Although not all nonprofits require CRM software, it can significantly benefit most organizations, particularly those that rely on donor support, engage in fundraising activities, and manage volunteers.
By implementing a CRM system, nonprofits can centralize the storage and management of donor information, track fundraising efforts, coordinate volunteer activities, and analyze data for informed decision-making.
This software enhances communication with donors, streamlines administrative tasks, and improves overall efficiency. However, very small nonprofits with limited resources and minimal donor engagement may find manual methods or simpler tools sufficient for their needs – though some of the best CRM platforms offer cheap or free plans for nonprofits.
Ultimately, the decision to adopt a CRM system should be based on the specific requirements, size, and complexity of each nonprofit's operations.
10 Best Nonprofit CRM Software Products Reviewed
Can't wait to discover the best CRM tool for your nonprofit? Here's a detailed rundown of all of our top recommendations, including their best features, pros and cons, and pricing. Read on to learn more…
1. Salesforce – Best CRM Software for Nonprofits
Salesforce is the ideal CRM platform to build rapport with your donors. For starters, its detailed, actionable insights tell you which channel your prospective donors are most active on. This can make a huge difference if, for example, you're putting all your resources into email marketing, but your leads are actually far more responsive on social media.
The platform also analyzes past user behavior and tells you what kind of content your audience likes. Once you know where to find your prospects and how to approach them, the job is already half done. Salesforce's nonprofit CRM does more, though. It can also create personalized experiences for each of your users – for example, with bulk email marketing.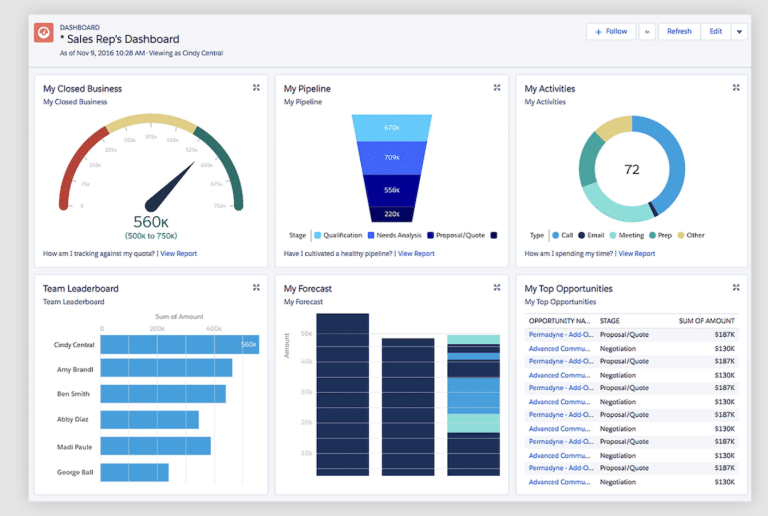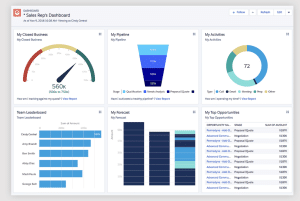 | | | | | |
| --- | --- | --- | --- | --- |
| Best For | Starting price | Free Version | Mobile Support | Integrations |
| Building relationships with new donors | First 10 subscriptions are free, then $25/user/month billed annually | 30-day free plan | iOS & Android | 2,500+ |
As your lead information is already in the platform, all you need to do is create a new email and use the "Merge Fields" feature, pulling from a database of categorized details on your donors. You can then personalize emails with details like names, numbers, addresses, and more.
Apart from CRM, Salesforce also has a complete software pack for nonprofits known as the Nonprofit Success Pack, with fundraising, program management, and marketing tools. Under this plan, you can easily track your donations, and its 30-day free trial makes it a great offer.
One unusual feature of this plan is the Household Model & Contacts tool, which lets you track the donations from a household. You can get insights on individual household members, check their relationships with each other, and see how each individual contributes to your organization. And if they don't, you can always target them with your next campaign.
Pros
Large number of integrations
Powerful reporting and analytics
Granular customer information tracking
Send personalized bulk email
Pricing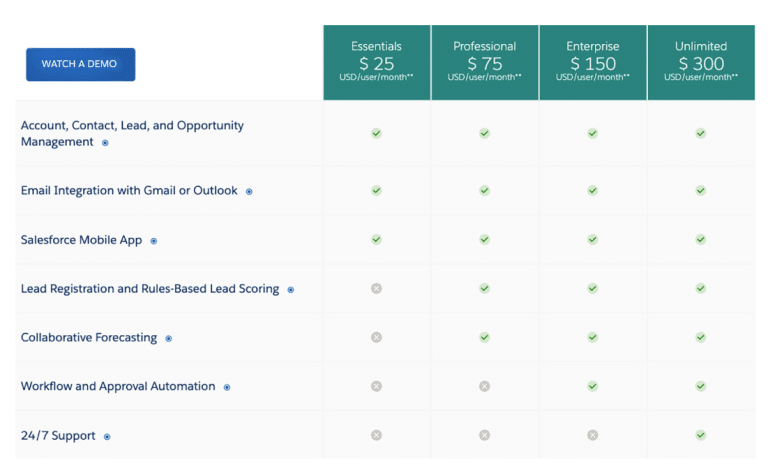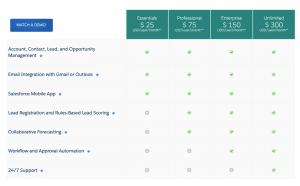 2. Oracle NetSuite – Best for Post-Donation Support
Oracle NetSuite connects your marketing, sales, and customer support teams into a closed loop where everyone gets a 360-degree view of your contact database. When a donor reaches out to your customer support team with a query, your support agents hence have all the information they need to help them.
This includes their name, contact details, company, and their query. They'll also have quick access to all the communications exchanged since the first interaction. Since everything is collated in one place, there's no need to search for information about donors in different databases.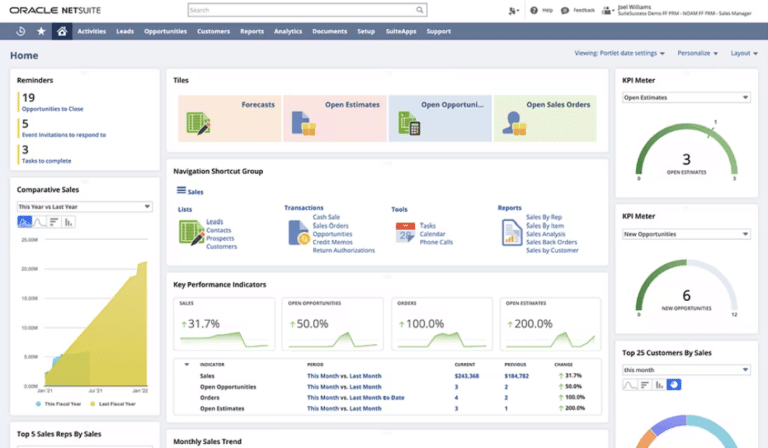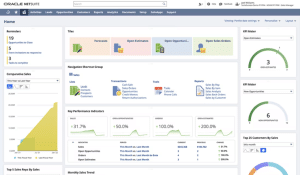 | | | | | |
| --- | --- | --- | --- | --- |
| Best For | Starting price | Free Version | Mobile Support | Integrations |
| Post-donation services | On-demand pricing | 14-day free trial | iOS & Android | 140 pre-built connectors and integrations |
Oracle NetSuite also comes with a dedicated customer/donor portal where donors can submit and track queries, keeping them updated without back and forth. The customer portal also doubles up as a payment portal where they can submit donations directly.
To help you improve donor services, Oracle NetSuite provides you with valuable insights on donor satisfaction, call volume, frequency of problems, call resolution time, and more.
The platform also makes it easy to track donor information at scale and to manage large-scale marketing campaigns with support from multiple teams.
The CRM has a special Social Impact Program. Under this, it provides free customer support, a base donation of its nonprofit financial management software, and free software activation. The organization is also connected with experts who can help you fine-tune your financial and operational processes.
Pros
Custom pricing
Helps you provide fast issue resolution
Customer portal gives donors more flexibility
Experience insights help you serve donors better
Cons
Comes with a steep learning curve
Pricing
Oracle NetSuite has custom pricing for each client. The total price will be a sum of an annual license fee, depending on your chosen subscription, number of users, and optional modules, and a one-time initial setup fee.
3. Monday.com – Free CRM for Nonprofits
Monday.com is a free CRM tool for up to 10 users – under the special Monday.com nonprofit pricing – and is best known for its remarkable data and team management features.
For example, you get a massive dashboard where you can add and manage up to 50 boards. These boards can be used to handle donor lists, fund accounting, and budgeting. You can maintain a regular doc view or convert it into a chart view to better understand the progress of each campaign.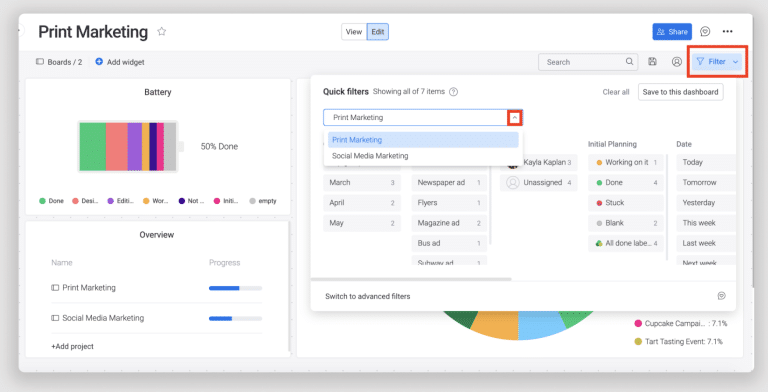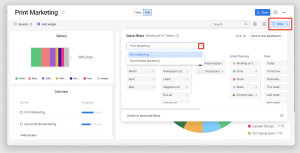 | | | | | |
| --- | --- | --- | --- | --- |
| Best For | Starting price | Free Version | Mobile Support | Integrations |
| New donor and data management | $57.60/seat/year for 13 seats, free for less than 10 seats | Free for up to 10 users | iOS & Android | 30+ |
Our favorite thing about Monday.com's task management feature is the dependency column. It helps you manage connections between interrelated tasks. With the dependency column, you can maintain a connection so that each time a new donation comes in, it's automatically reflected in your budget tab.
If your nonprofit grows out of the basic offerings of the free plan, you can move to the Enterprise Plan, which comes with custom pricing. Here you get extra benefits, such as tailored onboarding, advanced analytics, and premium customer support.
The nonprofit CRM free plan has a lot going for it, but more features are available if you move to a paid CRM subscription – such as superior donor management features.
For example, when a new donor shows interest, you can automatically advance them to the qualified pipeline stage and assign a contact representative. This feature will save your team the trouble of working with dead leads, and they'll only connect with people who are actually interested in your organization.
Pros
Email sync and tracking
Access to customizable forms
CRM for nonprofits free of charge for up to 10 users
Chart view to track progress over a timeline
Generous free plan and custom pricing available
Cons
Limited marketing and sales features on the free plan
Pricing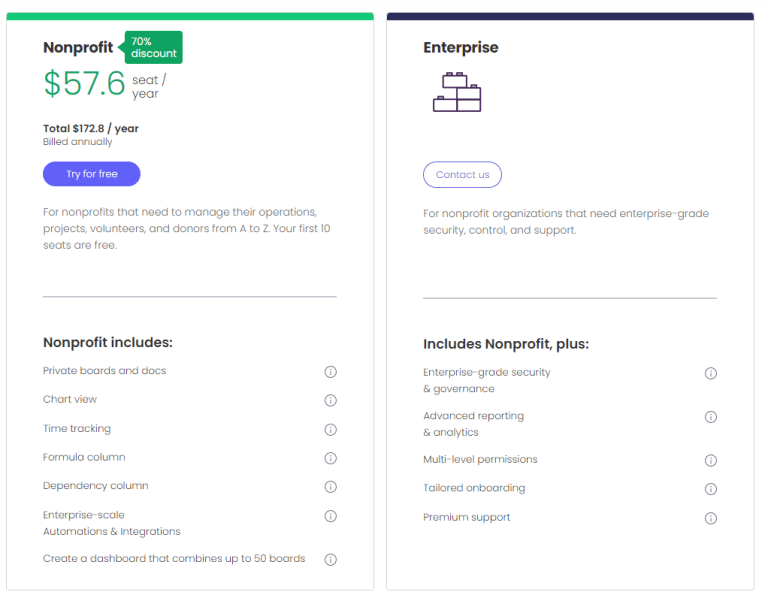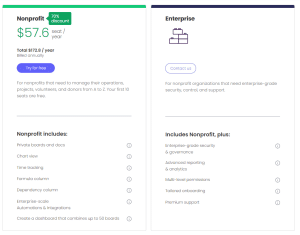 4. Pipedrive – Stands Out for its Deal Management Tools
Pipedrive is best known for two things — a huge range of deal management options and stellar customer support. The most important aspect of managing donors is retaining their faith in the cause. Pipedrive helps you with that by creating personalized emails and messages based on previous activity.
For example, if a donor recently made a big donation, you can send a personalized message thanking them for the difference they made and reiterating the importance of your cause.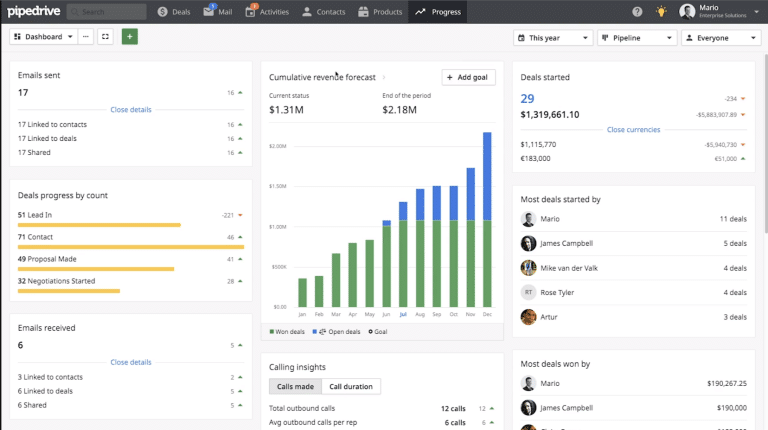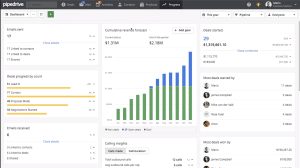 | | | | | |
| --- | --- | --- | --- | --- |
| Best For | Starting price | Free Version | Mobile Support | Integrations |
| Deal management | $14.90/user/month billed annually | 14-day free trial | iOS & Android | 400+ |
Pipedrive's main dashboard also gives you a complete overview of all donors, their activities, and your campaigns. You can easily identify which donors are inactive and then follow up with a personalized message so you can gain their attention before it's too late.
If you don't want to manually check which donors are inactive or on the verge of disengaging, Pipedrive's deal rotting feature can be very helpful. It automatically monitors the activity level of different deals and notifies you if they have been sitting idle for too long.
From there on, you can either follow up with the donor or redirect your time and resources to someone who's actually interested in contributing.
Pipedrive is ideal for beginners as it comes with 24/7 multilingual support. Unlike most other platforms, Pipedrive brings down language barriers and lets you communicate with your team in whatever language you need.
If you're already using a different CRM, such as Zoho or HubSpot, Pipedrive will help you migrate easily through its data import and export feature. The ease of migrating to Pipedrive is another reason we recommend this platform.
Pros
Easy migration process
24/7 multilingual customer support
Helps you create personalized emails
Deal Rotting notifies you when a donor conversation is sitting idle for too long
Cons
Reporting is limited and lacks advanced insights
Pricing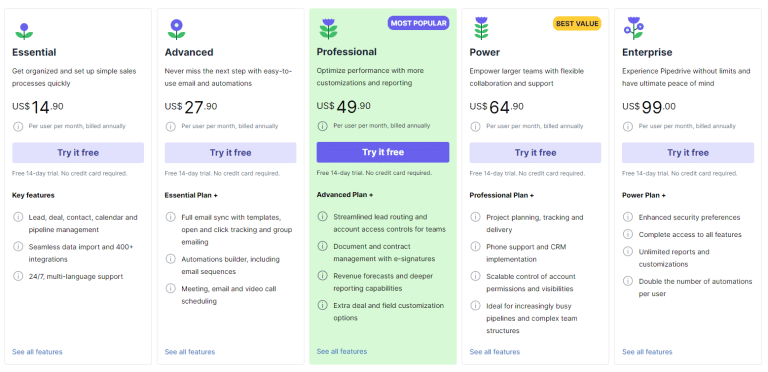 5. HubSpot – Simplifies Reaching Out to the Right People
HubSpot is ideal for nonprofits that are running on a tight budget. That's because it offers a 40% discount, nonprofit-friendly onboarding, and 1,000+ integrations at an affordable price. So far, more than 4,000 nonprofit organizations around the world have benefitted from partnering with HubSpot.
The biggest hurdle in running a nonprofit organization is reaching out to the right people who are willing to contribute. Thanks to HubSpot's stellar suite of marketing tools, this won't be a concern for you.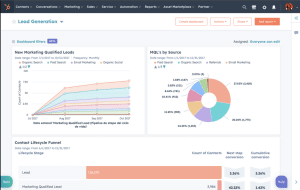 | | | | | |
| --- | --- | --- | --- | --- |
| Best For | Starting price | Free Version | Mobile Support | Integrations |
| Marketing and outreach | $30/month billed annually | Free tools for up to 5 users | iOS & Android | 1,000+ |
For starters, it offers a set of form templates specially designed for donors and tracking donations. These forms are editable, so you can customize them for different campaigns. Once the template is ready, you can embed it within your website so that when a new donor fills out the form, their details are automatically captured in the CMS system.
You also get to test your campaign with the A/B testing feature to see which campaign works best. This lets you create two or more versions of the same campaign and run them simultaneously.
You can then check your results to see which version has been performing best and invest accordingly. Other CRM platforms don't offer this feature, which gives HubSpot an edge.
We also loved HubSpot's built-in meeting scheduler. Often, big donors prefer to talk directly to learn more about causes. HubSpot's automated meeting scheduler allows them to visit your page, check your availability, and select a date and time that works for them. If you make the communication process easy, it'll help to secure their donation.
Pros
Well-rounded charity CRM with 1,000+ integrations
CRM with a nonprofit free plan for small teams
A/B testing for campaigns
Customizable templates specially designed for donors
Cons
A/B testing isn't available on free and low-end plans
Pricing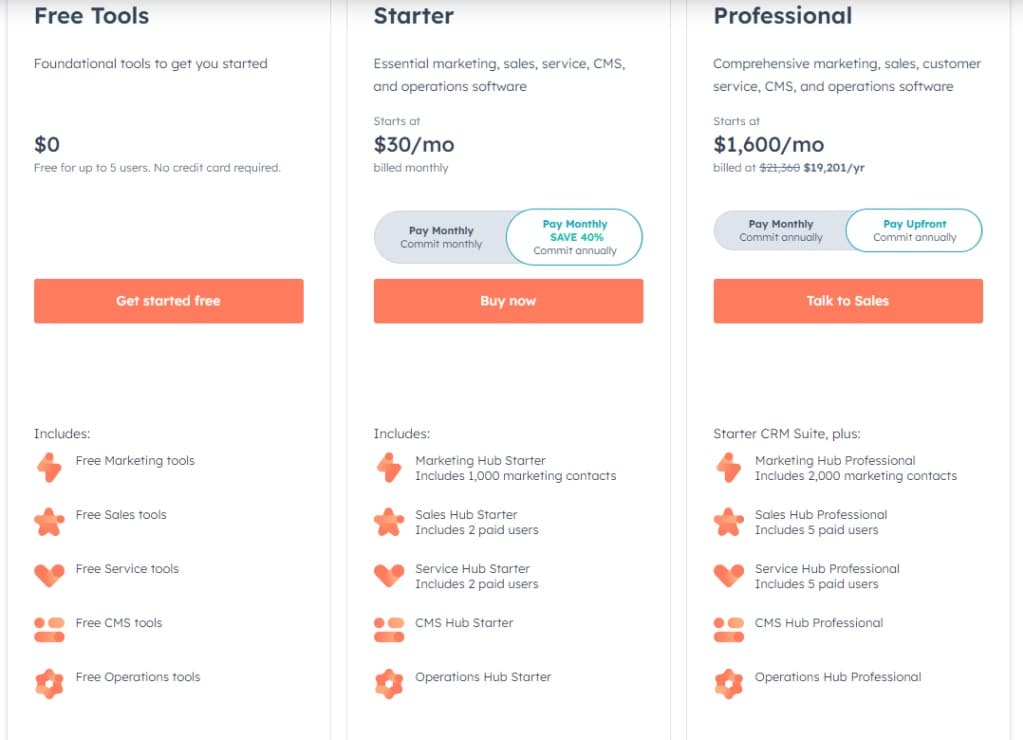 6. Act! – Best Nonprofit Software for Maintaining a Rich Database of Contacts
Act! is best known for its suite of contact management features. Everything you need to know about your contacts and their relationship with your organization can be found in one place.
For example, if your donors are representatives of a company, you can link their name on your database with the company name and details, making it easier for you to remember who works with whom.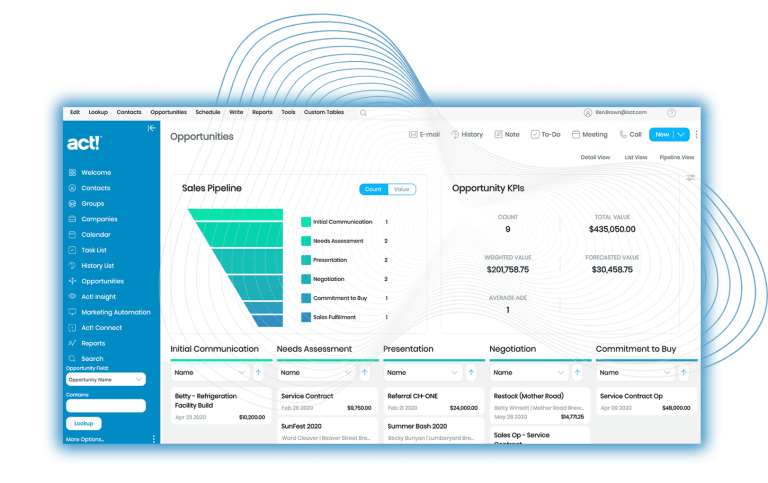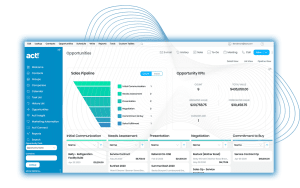 | | | | | |
| --- | --- | --- | --- | --- |
| Best For | Starting price | Free Version | Mobile Support | Integrations |
| Contact management | $30/user/month billed annually | 14-day free trial | iOS & Android | 20+ |
It also helps you get to know your donors inside out by giving you access to their social media profiles, location, and general information. Another benefit of using Act! is that it lets you track how likely a new donor is to donate. This feature is a lot like Zoho's Scoring Rule feature, but it bases the prediction on call activity.
Intelligent call analysis measures the engagement level of each prospective donor and marks the ones who are most likely to contribute. This information not only helps you zero in on your best donors, but it also saves you from wasting your resources on dead leads.
To help you stay on top of the larger picture of your relationship with donors, Act! Comes with two impressive features: Notes and Relationship Timeline.
With Notes, you can create a detailed record of each client, including their likes and dislikes. The Relationship Timeline, on the other hand, gives you a visual chronology of every interaction with them. You can use this feature to refer back to previous conversations to prepare for future meetings.
Act! also ensures you never miss out on important news with its Welcome Page for user productivity. Every morning you get an overview of all your top donations, key activities, and upcoming tasks for the day so that you can immediately start from where you left off the previous day.
Pros
User-friendly interface
Ideal nonprofit database software for organizing bulk data
Searching within the database is simple
Excellent tool to dig up donor details
Cons
Only 20 integrations supported
Pricing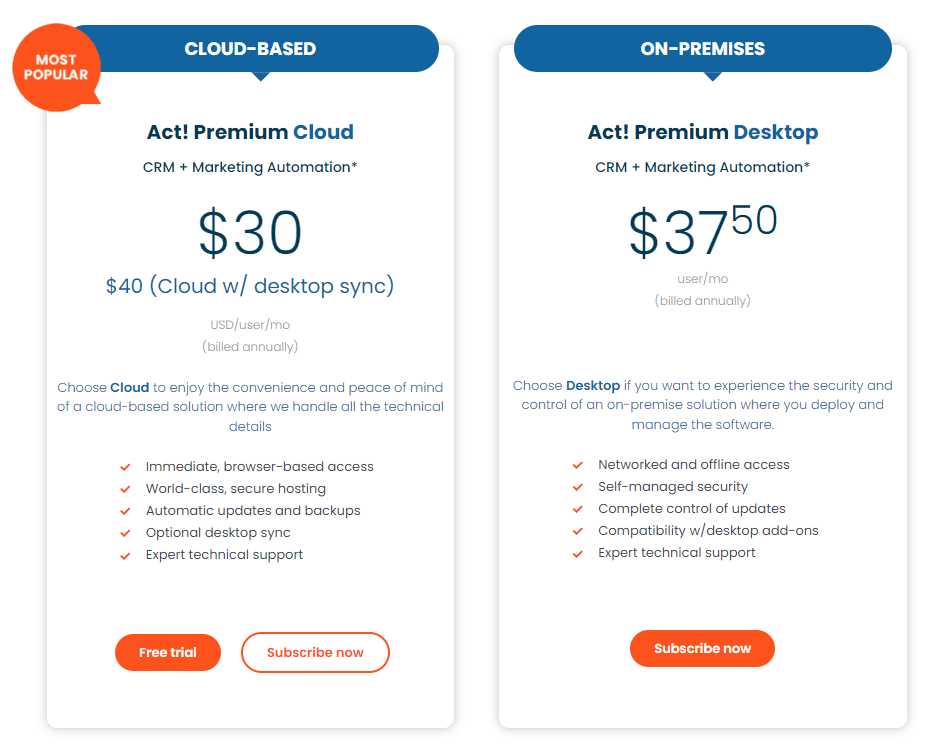 7. Zoho CRM – Smart Email Features for Automation
Zoho CRM is recommended for nonprofit organizations looking for a two-in-one CRM and payment platform. It's one of the few platforms that lets you manage transactions with your donors without having to integrate a third-party payment app like QuickBooks.
You can work with Zoho's native finance management platform – Zoho Books – to track your expenses, manage invoices and bills for donors and vendors, and keep an eye on your budget.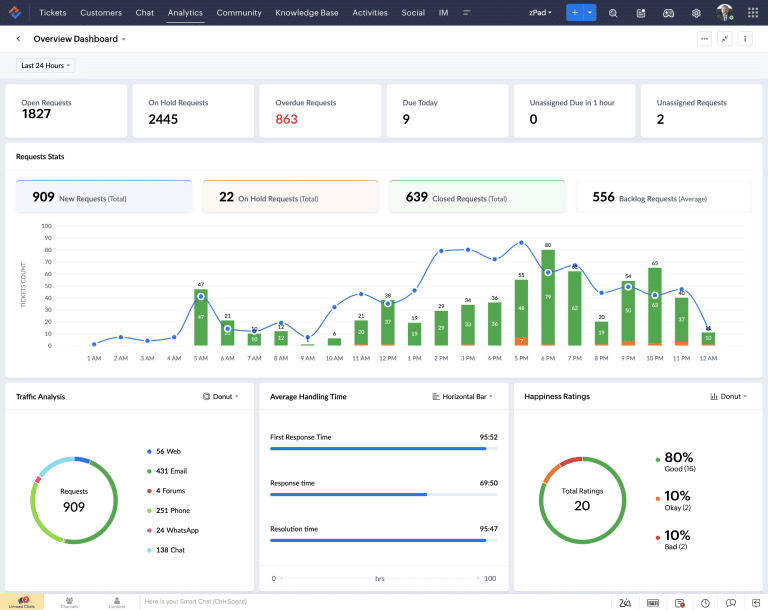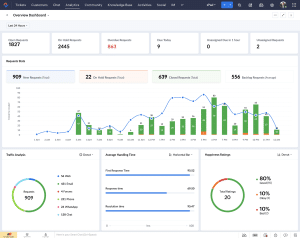 | | | | | |
| --- | --- | --- | --- | --- |
| Best For | Starting price | Free Version | Mobile Support | Integrations |
| Email marketing | $14/user/month billed annually | 15-day free trial | iOS & Android | 500+ |
What's more, you can connect your bank, cards, and PayPal with the system so your donors can pay you without hassle. The simpler you keep the payment process, the more likely they are to go through with the donation.
Regarding its CRM features, Zoho's Smart Email tool deserves a mention. Record keeping typically requires lots of data to be manually transferred between systems. However, Zoho CRM's Smart Email feature automatically scans every email, extracts relevant data, and updates it across the CRM.
The platform allows you to maintain an omnichannel presence for each marketing campaign. You can connect to your donors over SMS, social media, Whatsapp, email, or your own website, and Zoho will help you track the interaction and progress in each channel.
Having a multi-channel presence not only gives your donors the flexibility to choose their preferred communication mode but also helps you stay on top of them without spamming a particular channel.
The Scoring Rule feature is also useful for identifying the donors who are most likely to donate. Using this, Zoho will track your last communication with a given user and estimate the probability of them contributing.
Pros
Seamless transactions
Smart email marketing features
Connects to over 500+ apps
Helps you maintain an omnichannel presence over social media, Whatsapp, SMS, and email
Cons
You may need to add a lot of customizations to get started
Pricing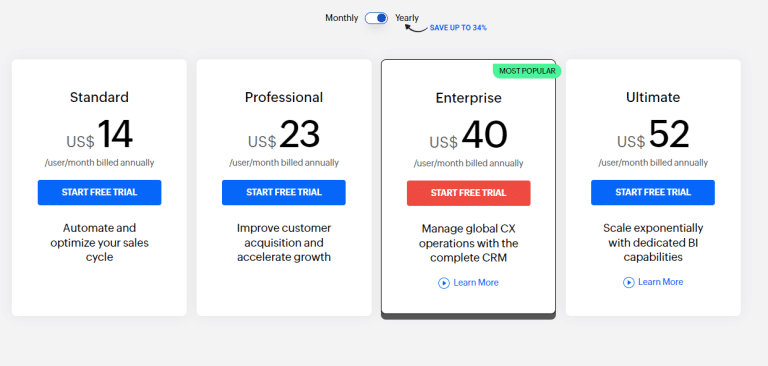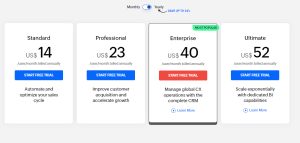 8. Maximizer CRM – Tracks Team Performance with Relevant Metrics
Maximizer CRM is built for sales leaders and managers. The tool can help you identify your most successful reps so you can develop and optimize your processes.
You get real-time updates on what every employee is up to through Maximizer CRM's detailed sales pipeline. You can use this feature to implement the winning tricks of your best employees across the organization to close more donations and guide new recruits.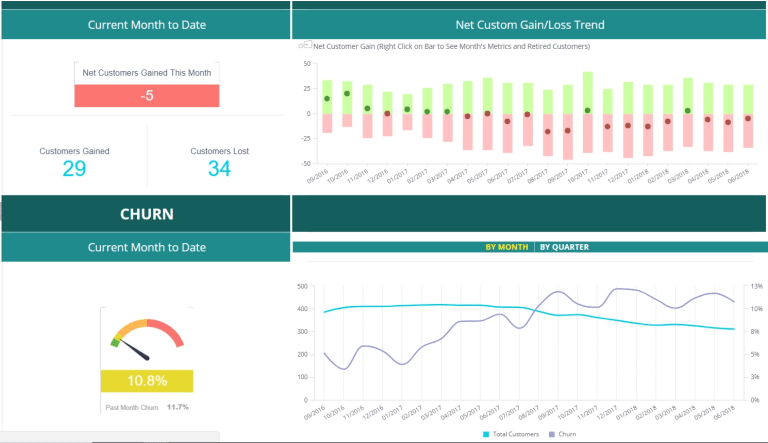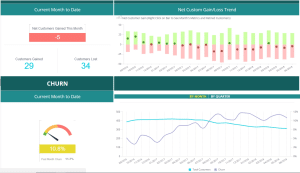 | | | | | |
| --- | --- | --- | --- | --- |
| Best For | Starting price | Free Version | Mobile Support | Integrations |
| Managing your team and retaining existing donors | $65/user/month billed annually | 30-day free trial | iOS & Android | 19 regular & 750+ through Zapier |
It also comes with a quota tracker where you can assign donation targets to each employee and get real-time updates on how much they have covered. If a donor communication sits idle for too long, you'll get an automated notification so that you can follow up on time.
While other CRM tools only focus on getting new donors, Maximizer helps you retain existing donors. With its Health Analysis feature, it monitors your past interactions with a donor and flags their account if it looks like they're on the verge of disengaging. A heads-up like this can help you refocus your campaigns and drive up your retention rate.
To help you get more repeat donors, Maximizer gives you detailed insights into donation patterns. For example, if you see a certain donor has been more interested in donating to campaigns related to children, you can tailor your marketing campaigns to resonate with their preferred cause.
Pros
Perfect for training weaker employees
Helps you retain existing donors
Lets you keep an eye on every team member
Notifies you when a donor's communication is off track
Pricing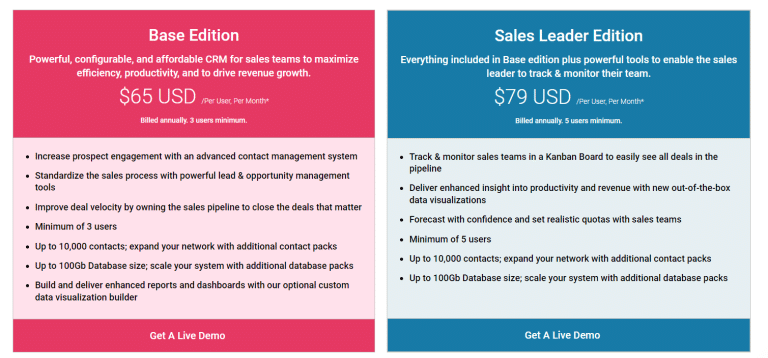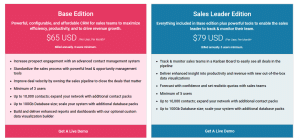 9. Freshsales – Fundraising CRM with an AI Bot for Donor Communication
Freshsales's diverse range of automation features makes it the perfect CRM for small teams. Freshsales goes a step ahead when it comes to automation with its AI bot, Freddy: your multi-talented, virtual employee.
If you want to create emotionally resonant messages that move your donors, ask Freddy for help. All you have to do is enter the theme of the email and share a prompt, and Freddy will craft a catchy subject line and email within seconds.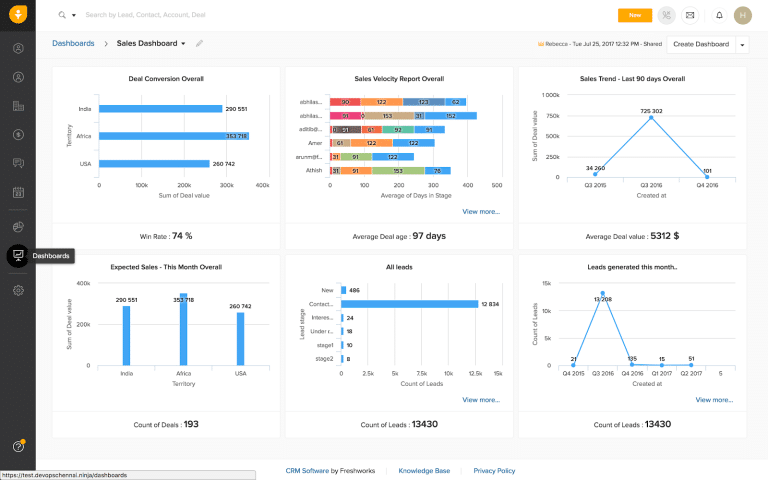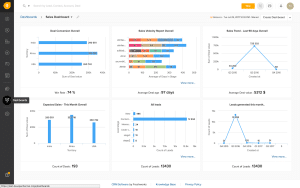 | | | | | |
| --- | --- | --- | --- | --- |
| Best For | Starting price | Free Version | Mobile Support | Integrations |
| Automating the donation process | $15/user/month billed annually | 21-day free trial + a free plan for up to 3 users | iOS & Android | 17 native and 19 other integrations |
Freddy can also double up as a chatbot. You can integrate the tool with your website, and it'll answer your users' most common questions. The biggest benefit of having a 24/7 live chatbot like Freddy is that it can cater to queries without having staff on call, whether out of hours or when other agents are busy.
It can answer all basic to medium-level questions for your prospective donors until you're ready to take over.
Freshsales will also help you automate your sales operation. It sets up a series of automated processes that new donors can go through on their own. For example, once someone responds positively to your first email, you can have Freshsales automatically send a follow-up email explaining the payment process and then another email once complete thanking them for their donation.
Simply put, a prospective donor can come across your campaign, make a payment, and be thanked for their contribution, all without manual intervention. Automating processes like these will allow you to manage more donors simultaneously, further increasing your results.
Pros
21-day free trial
A free plan for up to 3 users
Comes with multiple automation processes
Built-in AI bot Freddy to help you communicate with donors
Cons
The interface could be more user-friendly
Pricing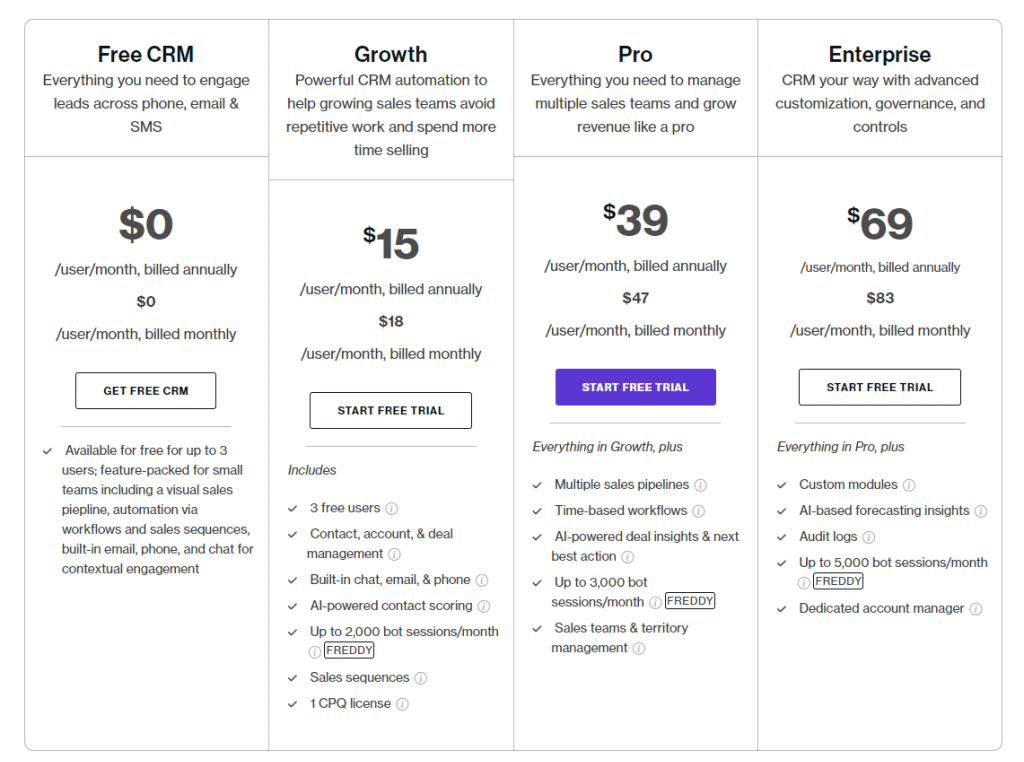 10. Less Annoying CRM – Simple Donor CRM with just One Pricing Plan
Less Annoying CRM greatly simplifies lead and donation management, and most importantly, its "less annoying" pricing separates it from the pack. For starters, its donation tracker comes with color-coded labels to highlight and differentiate between the different stages of each donor.
For example, you can divide the pipeline into potential donors, people who have been contacted, and donors who have contributed. This real-time pipeline will give you an estimate of the results of your campaign. You can then use the data to plan future outreach.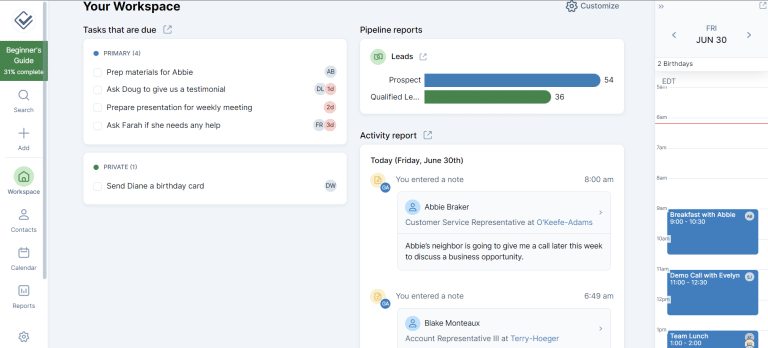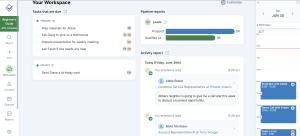 | | | | | |
| --- | --- | --- | --- | --- |
| Best For | Starting price | Free Version | Mobile Support | Integrations |
| Simplifying lead and donation management | $15/user/month (can be paid annually or monthly) | 30-day free trial | No dedicated app | 20+ native integrations + 5,000 more apps through Zapier |
A similar customizable pipeline can be made for new opportunities and leads. In both cases, Less Annoying CRM gives you a real-time view of where you stand in terms of funding and donors.
Another remarkable feature is the ability to segment your donors into different groups. For example, you can put the ones interested in a particular cause in one group and the ones interested in another in a separate group.
This way, you can target your campaigns based on the interests and demographics of your donor base based on segmentation within your system.
Less Annoying CRM offers just one flat pricing model for everyone — with no complicated contracts or pricing tiers. Everyone gets access to unlimited pipelines, contacts, and custom fields and 25GB of storage space for their organization files.
The platform provides regular, free updates, and your files are backed up in Amazon's cloud data centers. No matter what, you'll never run the risk of losing all your customer data.
Pros
Simple flat pricing
Free updates for every user
Both live demo and free trial are available
Simplifies team management with an integrated calendar
Pricing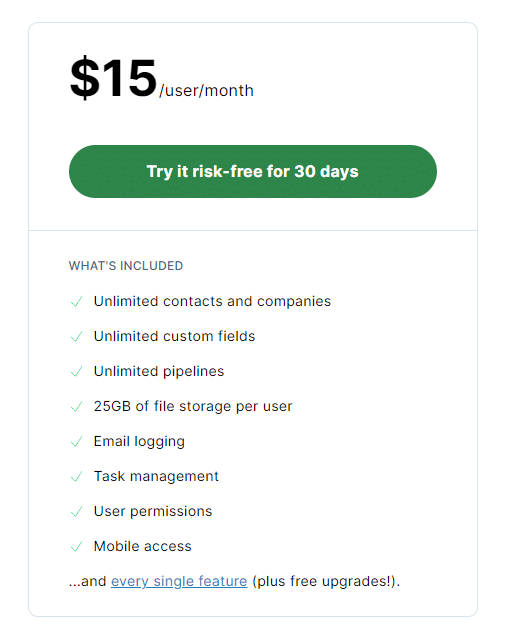 Top Nonprofit CRMs Compared
The table below highlights key differences between each of our top picks and their best features, so you can make a quick decision about the one that's right for you.
| | | | | | |
| --- | --- | --- | --- | --- | --- |
| Nonprofit CRM | Best For | Starting price | Free Version | Mobile Support | Integrations |
| Salesforce | Building relationships with new donors | First 10 subscriptions are free, then $25/user/month billed annually | 30-day free plan | iOS & Android | 2,500+ |
| Oracle NetSuite | Post-donation services | On-demand pricing | 14-day free trial | iOS & Android | 140 pre-built connectors and integrations |
| Monday | New donor and data management | $57.60/seat/year for 13 seats, free for less than 10 seats | Free for up to 10 users | iOS & Android | 30+ |
| Pipedrive | Deal management | $14.90/user/month billed annually | 14-day free trial | iOS & Android | 400+ |
| HubSpot | Marketing and outreach | $30/month billed annually | Free tools for up to 5 users | iOS & Android | 1,000+ |
| Act! | Contact management | $30/user/month billed annually | 14-day free trial | iOS & Android | 20+ |
| Zoho CRM | Email marketing | $14/user/month billed annually | 15-day free trial | iOS & Android | 500+ |
| Maximizer CRM | Managing your team and retaining existing donors | $65/user/month billed annually | 30-day free trial | iOS & Android | 19 regular & 750+ through Zapier |
| Freshsales | Automating the donation process | $15/user/month billed annually | 21-day free trial + a free plan for up to 3 users | iOS & Android | 17 native and 19 other integrations |
| Less Annoying CRM | Simplifying lead and donation management | $15/user/month (can be paid annually or monthly) | 30-day free trial | No dedicated app | 20+ native integrations + 5,000 more apps through Zapier |
Important Factors to Consider When Choosing a Nonprofit CRM Solution
The right CRM for fundraising will differ from organization to organization. Your decision should be based on your objectives, priorities, finances, and plans for the future. Some of the things you may want to consider to assist you in raising more funds and boosting your productivity include the following.
Customization
The dashboard is the heart of the CRM. It provides you with a summary of what is happening within your organization. You can often control what is displayed on the CRM's dashboard, where customization options are available.
This helps ensure you're just focusing on what's important to you. For instance, you don't need event stats in your CRM dashboard if you don't host events.
Automation
Nonprofits often have limited staff and busy schedules, making it important to automate repetitive tasks and workflows. An automated CRM can handle tasks such as data entry, email marketing, donation tracking, and event registrations, reducing manual effort and minimizing the risk of errors.
Automation allows you to focus on strategic activities, such as donor engagement and program delivery, rather than getting bogged down in administrative tasks. It also enables personalized and timely communication with donors, such as automated thank-you emails or targeted fundraising campaigns.
Cost
Nonprofits typically operate with limited budgets and resources, so ensuring that the chosen CRM aligns with your financial capabilities is important.
By evaluating the cost of implementation, licensing, ongoing maintenance, and potential customization or integration fees, you can make an informed decision that fits your budget. Finding a cost-effective CRM solution can help nonprofits maximize their return on investment and efficiently use their available funds.
Features
Considering the nonprofit CRM features is essential to effective selection since it directly impacts an organization's ability to effectively manage relationships, fundraising, volunteer coordination, and other critical aspects of its operations.
Whether it's donor management, fundraising campaign tracking, volunteer scheduling, event management, or reporting and analytics, having the necessary features in a CRM enables you to streamline processes, automate tasks, and gain valuable insights.
Integration
Integrations enable seamless data flow and enhance overall efficiency. Nonprofits often use multiple tools and systems to manage their operations, such as email marketing platforms, accounting software, or volunteer management tools.
Choosing a CRM that can integrate with these existing systems allows for streamlined workflows, eliminates duplicate data entry, and ensures data consistency across platforms.
Scalability
A scalable CRM can seamlessly handle increased data volume, user load, and transactional demands without compromising performance or requiring a costly migration to a new system. By choosing a CRM that can scale, nonprofits can avoid the disruption and expense of switching platforms as they grow.
Scalability also ensures that the CRM can support future technological advancements and integrate with emerging tools and systems, providing a long-term solution that can grow alongside the organization's needs and aspirations.
Security
Security is of utmost importance when choosing a nonprofit CRM software, and safeguarding sensitive donor information and protecting against data breaches is critical.
Nonprofits handle significant personal and financial data, including donor contact details, donation history, and other confidential information. Ensuring that the chosen CRM has robust security measures in place, such as encryption, access controls, and regular data backups, helps prevent unauthorized access and data loss.
Device Support
Device support is essential to maximize the efficiency and effectiveness of a nonprofit's CRM implementation. An ideal CRM should support multiple devices and platforms.
This will enable team members to access critical information and perform tasks on the go, regardless of their location or preferred device. It allows staff and volunteers to update donor information, track fundraising progress, manage events, and engage with supporters effortlessly from the device of their choice.
Ease Of Use
Ease of use directly impacts user adoption and productivity. Nonprofits often have diverse staff and volunteer teams with varying technical expertise. Selecting an intuitive and user-friendly CRM ensures that everyone can quickly learn and navigate the system, reducing the learning curve and minimizing the need for extensive training.
An easy-to-use CRM encourages widespread adoption, allowing staff and volunteers to efficiently manage contacts, track donor interactions, and perform other essential tasks.
Conclusion – Which is the Best CRM for Nonprofits in 2023?
Our list of the best nonprofit CRM software covers tools specializing in various aspects of nonprofit operations. Whether you're looking for an intuitive dashboard that can help you manage multiple workflows or one that can generate advanced reports and analytics, we have it all.
However, you can safely bank on Salesforce, which is a one-stop solution for all your CRM needs. With more than 2,500 integrations, managing workflows and maintaining communication channels with your donors is a breeze. You can try its 30-day free plan to gauge if its features suit your needs with no hassle and no risk of losing money.
Nonprofit CRM FAQs
What does CRM mean in fundraising?
What is the best free CRM for nonprofits?
How good is Salesforce as a nonprofit CRM?
What is the average cost of a CRM for a nonprofit?
What is the best CRM for small nonprofits?