The best CRM for small businesses will allow business owners to streamline outbound business activities for an improved sales experience. With the best CRM tools aiding your small business, you can develop and customize your sales pipelines, better manage your teams, and automate your marketing efforts.
Choosing the best CRM tool can be difficult, though, given the sheer number of options available. Fear not: we've done the hard work for you. We've found and reviewed the best CRM for small business in the UK based on criteria like pricing, automation, integrations, and customer support. Read on to learn why platforms like Monday.com, Salesforce, and Pipedrive are in a league of their own.
10 Best CRMs for Small Businesses in the UK
Monday.com tops our list of the best CRM for small businesses, with unbeatable features like seamless automations, free templates, supportive customer care, and numerous integrations. However, there are a lot of strong contenders out there.
Best Small Business CRMs Reviewed
Eager to get your hands on the best small business CRM software? Get ready, as we'll now discuss each of our top recommendations in detail, including their best features, pros, cons, and pricing. Buckle up…
1. Monday CRM — Overall, the Best CRM for Small Business UK
Monday.com's CRM tool is best known for being easy to set up and work with. It covers everything you'll need to effectively manage your customers, leads, and even your team.
For starters, its dynamic lead management feature lets you collect leads from multiple sources. This could be from a social media campaign you set up or from someone who filled in the contact form on your website. All this information is collated together so that you can access your leads from one place.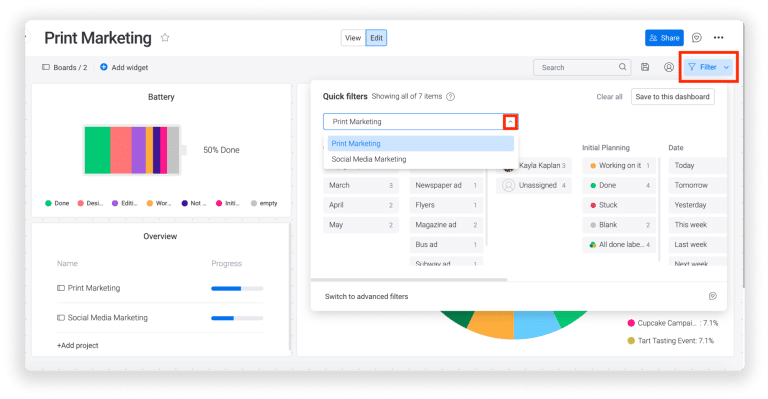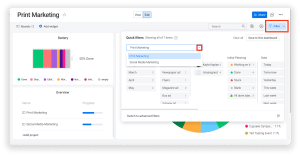 Tracking what stage a lead is at is simple. That's because Monday.com comes with a drag-and-drop pipeline management feature that lets you edit the current stage of a lead with a simple drag. What's more, Monday also supplies leading task management software, so there are great tools for team management integrated right into the platform.
Another benefit of using Monday.com is that it creates a centralized communication platform for you. All the interaction that happens between your team and leads – be it via calls, emails, or chats – are tracked in one place.
Monday CRM offers an excellent email tracking feature. You can check when a lead opens your email or responds to it so that you can reply to them right away. Since competition is all too-often sky-high, it's wise not to keep your leads waiting.
If a disagreement ever arises in the future and you need to review the relationship history, you'll have every bit of the conversation saved for your reference.
If you want instant email alerts on Monday.com, you can sync your Gmail or Outlook account with the platform. It'll automatically log every email you send or receive. This feature ensures you never miss out on an interested customer by helping you to quickly respond to emails.
Want to know more about Monday.com? Check out our full Monday.com project management review.
Price
Free Version
Mobile Support
Top 3 Features
£8.50/seat/month – annual plan
14-day free trial
Android, iOS

1. Timeline & Gantt views

2. Over 20 column types

3. Whiteboard collaboration
Pricing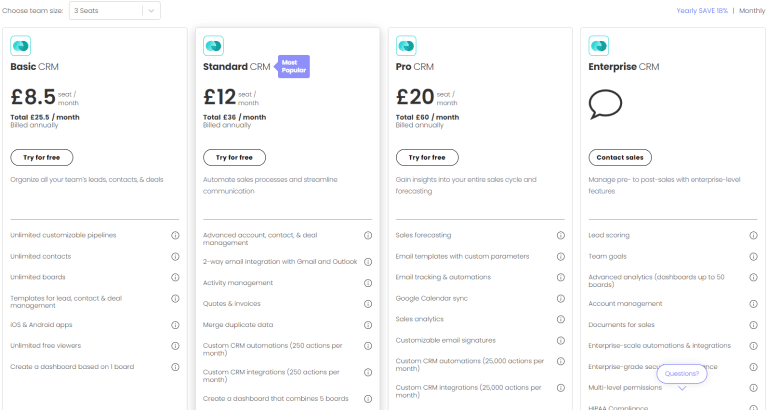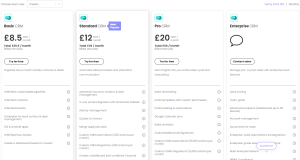 Pros
Numerous automation templates
Smooth onboarding process and training
Excellent project tracking visibility
Easy to organize workflow
Cons
Time tracking isn't available with base plans
2. Pipedrive — Perfect CRM for Handling Multiple Projects
Pipedrive is a web-based sales CRM platform, meaning you don't have to install any software to work with it.
The best thing about Pipedrive is that it can manage multiple open deals at the same time. At its cheapest plan, the limit is 3,000, whereas the enterprise-level plan allows unlimited open deals. Businesses that have a large client base will certainly benefit from this feature.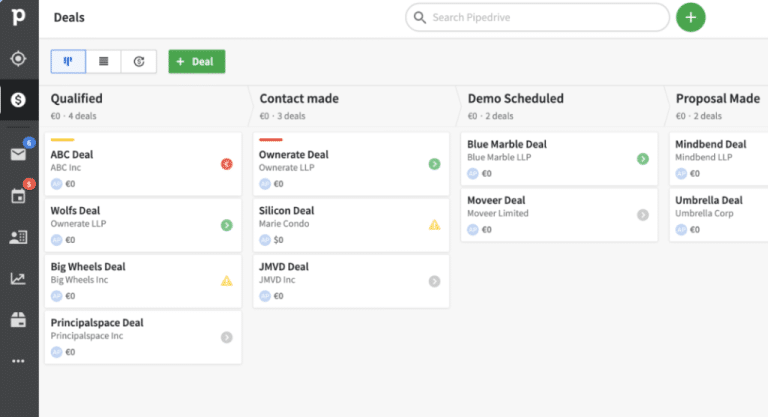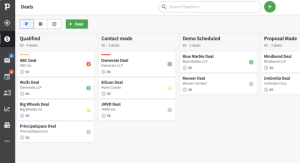 When you're dealing with multiple projects from different clients, it's quite natural that you might need different types of pipelines for each. That's when the customizable pipeline feature will come in handy.
You can create different sales stages for each client and move the deal along with simple drag-and-drop functionality.
Not just that, you can also have custom fields in your pipelines and CRM databases. You might not need the same type of data for every project. That's why Pipedrive gives you the flexibility to choose your own parameters.
Pipedrive also ensures that you never miss out on any lead data by centralizing your lead inbox. Every email or update that comes from your leads is pooled in one place. This way, you can focus on the things that actually matter instead of hopping from one platform to another, digging for lead data.
If a deal is sitting idle for a long time, Pipedrive will let you know immediately, thanks to its Deal Rotting feature. This will help you in two ways. You can either reassess the situation and approach the client again, or you can pull your resources and invest them elsewhere.
Getting started with Pipedrive is also easy. Its one-click import/export feature lets you transfer your data from other CRM platforms, such as Zoho CRM or HubSpot.
Price
Free Version
Mobile Support
Top 3 Features
£14.90/user/month – annual plan
14-day free trial
Android, iOS

1. Over 350+ integrations

2. Group email and email scheduling

3. Smart docs
Pricing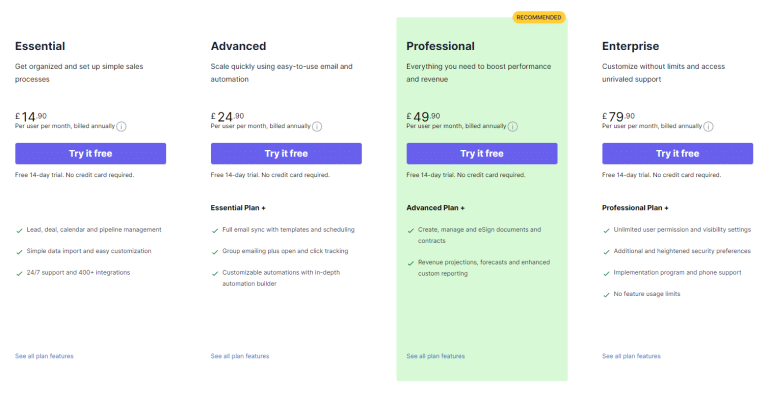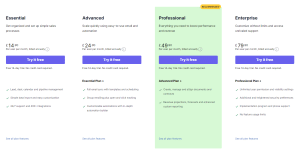 Pros
Multiple customizable pipelines
An effective autofill feature
A comprehensive dashboard to prioritize tasks
Excellent funnel visibility makes tasks easy
Easy to learn
Cons
Phone support isn't available with the basic tier
3. HubSpot — The Best Free CRM Platform with Loads of Free Features
HubSpot is a popular name in the industry, particularly for its free CRM solution. Whether you need help with marketing, sales, or CRM, HubSpot and its dynamic tools can always be relied on.
The best part about using HubSpot is it's highly scalable. Whether you're a solopreneur or a team of 1,000 members, HubSpot is cut out for both. Also, it lets you add up to 2,000 contacts and their data at the same time, which is more than enough for most mid-level businesses.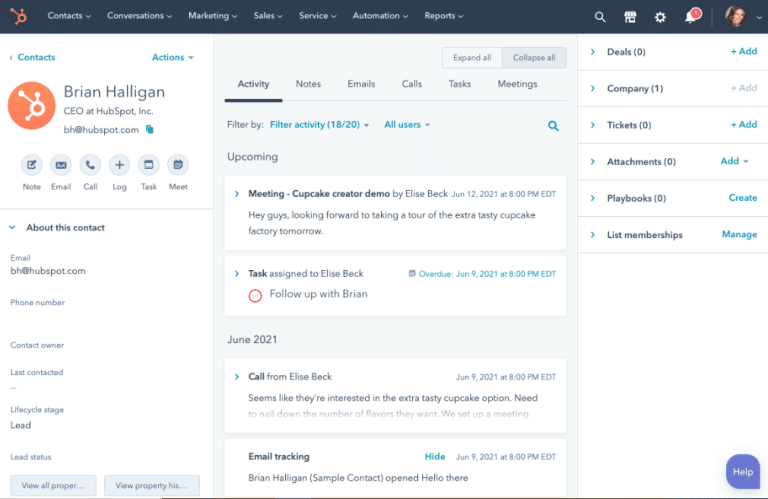 With HubSpot's dynamic dashboard, you can view your entire sales pipeline and its updates in real time. The faster you get such crucial information, the easier it gets for you to make informed decisions at any given time.
Two of our favourite tools of HubSpot are email tracking and prospect tracking. You get these, and there's nothing more you'll need to win over your leads.
The email tracking feature shows you how each lead interacts with your emails. Using this feature, you can check when each lead opens your email, how many of them interact with it, and how many of them click on the given links or attachments.
This data can be used to gauge their engagement and interest level, which will further help you identify the most profitable clients.
If you want to schedule one-on-one meetings (increases your chances of closing the deal), HubSpot's Meeting Scheduler will be your friend. Using this tool, your leads will be able to automatically book a meeting with you without the unnecessary exchange of emails.
Also, since this tool will be directly integrated with your Google Calendar, it'll show only your free slots to the new leads so that there are no double bookings. Automating processes like these help you get more work done in less time.
Price
Free Version
Mobile Support
Top 3 Features
£27/user/month
A free plan
Android, iOS

1. Deal, call, and email tracking

2. Form & landing page builder

3. Reporting dashboard
Pricing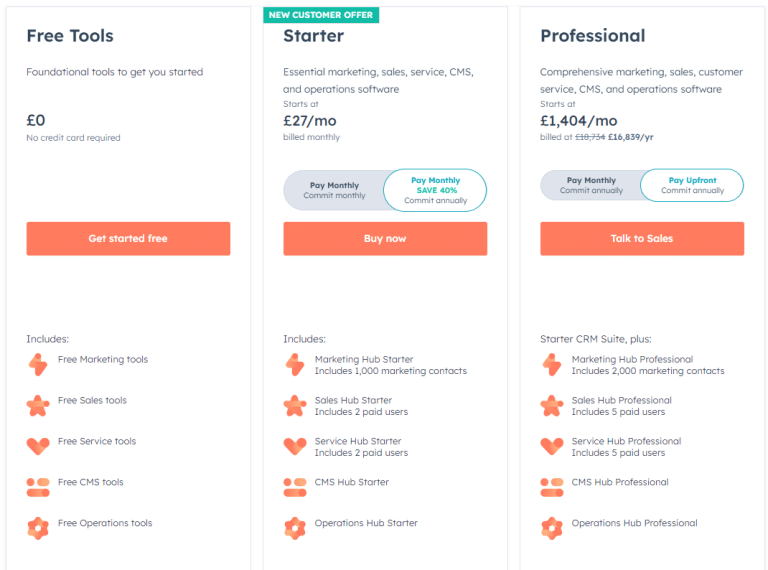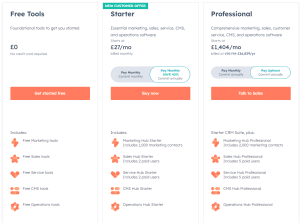 Pros
A plethora of tools for effective CRM management
Makes social media management easy
A unified, integrated solution
Can personalize and set emails in a sequence
Notifications for real-time lead behaviours
Great marketing CRM
Cons
Page builder needs getting used to
4. Act! — Powerful Platform with Offline Access for Uninterrupted Work
Act! is an all-in-one customer management system. From marketing to sales and post-purchase management, Act! will help you take care of these processes via one single platform.
One of the best things about using Act! is that it helps you manage rich custom profiles by tracking the entire course of the relationship. From the first interaction to the most recent exchange, everything will be logged by Act! so that you personalize the experience for each customer. After all, knowing your customer's likes and dislikes can certainly give you an edge in a competitive industry.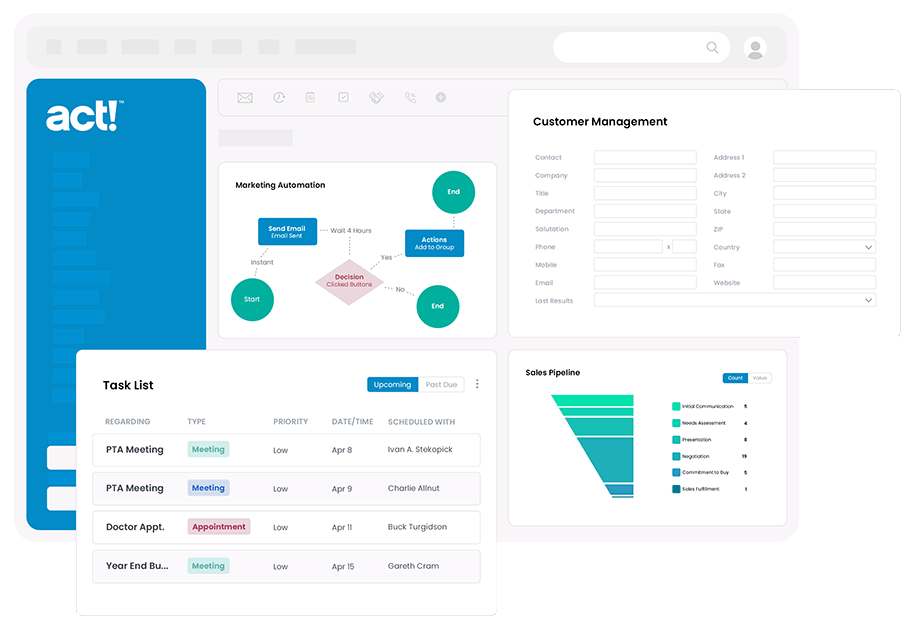 Act! also comes with a powerful search tool that locates the information you're looking for in an instant. Instead of digging through heaps of customer files for hours, you can simply type in what you need and Act! will match the relevant keywords and show you the matching results within seconds.
Another way Act! helps you win over your clients is through its real-time interactive metrics that let you know what's working and when's the right time to follow up — the right timing and the right approach can take you places.
What makes Act! truly stand out is its offline mobile access. Sometimes, bad weather might lead to a stinky Wi-Fi connection, or in another scenario, your employees may have ventured into a zone with no network. No matter the situation, Act! will ensure the work progresses uninterrupted, even without the internet.
This feature is further powered by Act! 's real-time notification feature. Anytime something important happens — say a customer replies to your email — Act! will let you know immediately so that you can send a timely response.
If you're opening your work dashboard after a few hours, Act! will smoothly guide you through the new updates and point out the top priorities for the day that need your attention.
Price
Free Version
Mobile Support
Top 3 Features
£25/user/month – annual plan
14-day free trial
Android, iOS

1. Immediate, browser-based access

2. World-class, secure hosting

3. Optional desktop sync
Pricing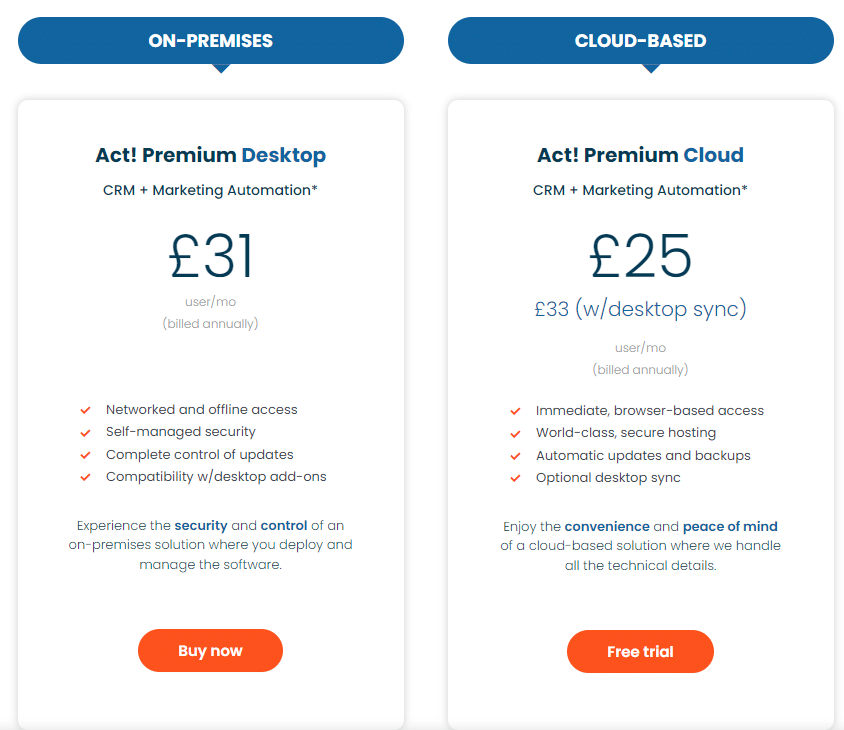 Pros
A quick search feature
Known for its Outlook integration
One of the most simple and easy-to-use CRM software
Effortless customization options
Easy to build reports
Cons
Sketchy email upselling tactics
5. Bonsai — All-in-one CRM for Looking After the Entire Sales Cycle
Bonsai's CRM tool takes care of a lot more stages than its competitors. Along with lead management and customer handling, Bonsai helps you set up contracts with clients and process their payments too.
All the tasks associated with a project will be listed under it. Sending over the agreement, onboarding the new client, and setting up their billing can be done directly through Bonsai.
You'll also have a checklist for these tasks, which will be automatically ticked as they're completed, making it easier for you to keep track of the progress.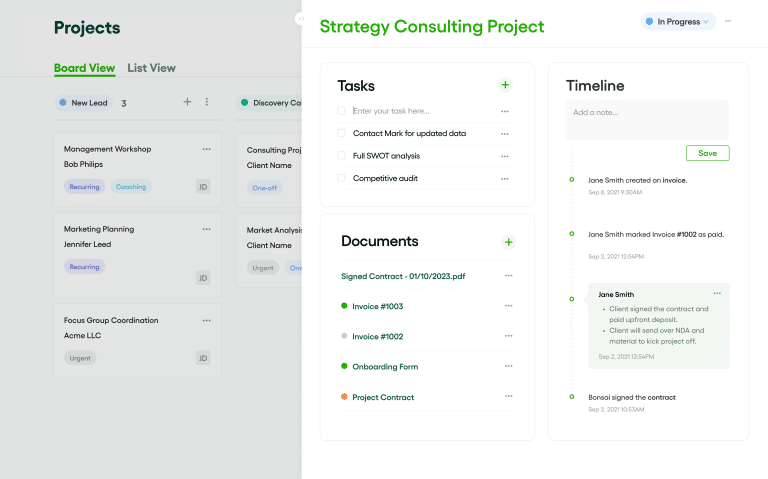 Our favourite part of working with Bonsai is it comes with multiple pre-designed templates that save you lots of time. For example, you can embed Bonsai's pre-designed client intake and client registration forms on your website to welcome new users.
Similarly, you'll get separate templates for client contact, client feedback, consultation intake, client enrollment, and more.
If you're tired of losing client contacts over emails, Bonsai offers the perfect place to build a reliable client database. Here, you can log their contact information, plus log all the conversations you have or add personal notes about the deal.
This makes it easier to brief new recruits about the clients or hand over the project to a different team.
Another benefit of using Bonsai is that it helps you collaborate better with your clients by offering them their own previews. Here, they can check the progress of their project, pending payments, contract details, and more.
This feature helps you boost transparency with your clients and saves you the trouble of manually updating them every time.
Speaking of bills, Bonsai comes with a time-tracking feature that shows you exactly how much time you spend on a certain project. This will make sure that every minute you spend is paid for.
Price
Free Version
Mobile Support
Top 3 Features
$17/month – annual plan

(£13.50)

7-day free trial
Android, iOS

1. Tasks & Time Tracking

2. Unlimited Scheduling events

3. Connect Multiple Bank Accounts
Pricing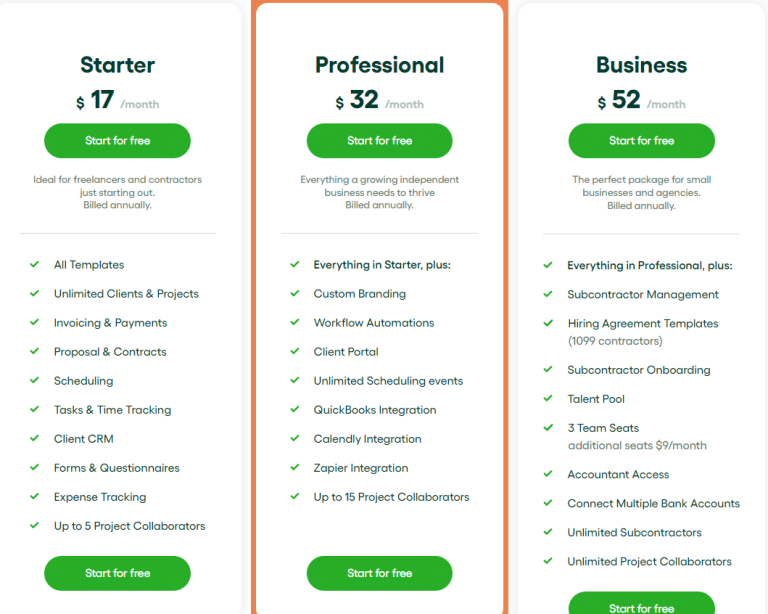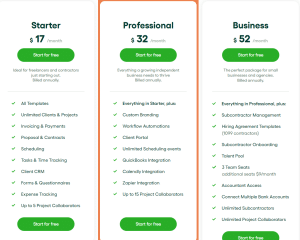 Pros
Accurate time-tracking
Automates invoices and proposals
Enough features to maintain transparency with clients
Lots of payment options
Cons
A bit expensive compared to other options
6. Zoho — Recommended CRM for High-End Automation
Zoho is a popular name when it comes to business apps. Just like HubSpot, Zoho, too, offers multiple business solutions. However, its intuitive CRM platform certainly takes the cake.
One of the best things about Zoho is it comes with lots of automation features that make your team's work easier and frees up some of your resources as well.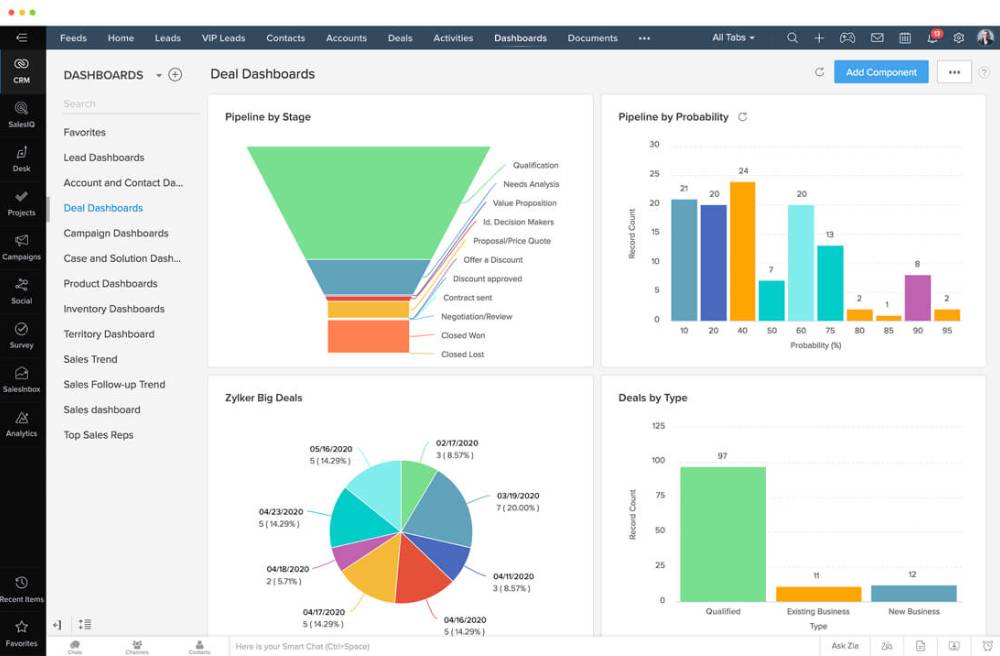 For instance, if you're tired of manually digging up leads, use the automatic lead generation feature of Zoho. It helps you find the most interesting prospects from chats, social media, websites, and trade shows.
Zoho CRM offers a free forever plan as well. It's perfect for small and medium-sized businesses.
Once the leads are in, Zoho will score them based on their interest level and other parameters decided by you. This ranking can then be used to connect the leads with the right sales rep.
For example, the leads with lower scores and harder to convert can be connected with experienced employees, whereas the easy ones can be handed over to the juniors.
You can also easily track all the deals in progress. Divide the workflow into multiple stages, such as Qualification Stage or Final Decision Stage, and list the relevant deals under these categories. Each deal will be accompanied by other important data, such as the deal owner's name, contact info, closing date, and deal value, among other details.
Under the deal management feature, Zoho also provides insights from your previously failed deals so that you don't repeat the same mistakes again.
To maintain transparency with your partners, Zoho lets you create a separate portal for them to access information and share their insights with the rest of the team. You can also customize their view in case you want them to access the content.
Price
Free Version
Mobile Support
Top 3 Features
£12/user/month – annual plan
A free plan
Android, iOS

1. Advanced analytics tools

2. Dedicated admin panel

3. State-of-the-art customization
Pricing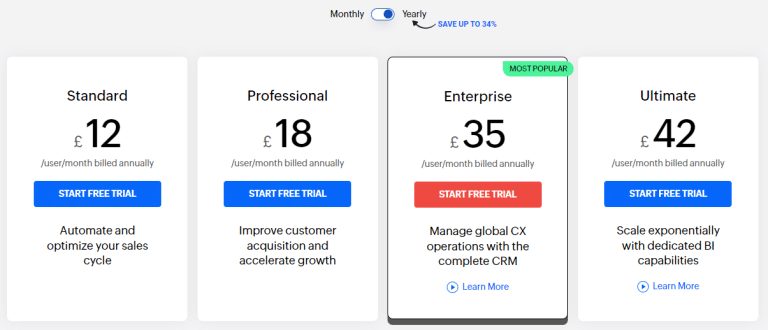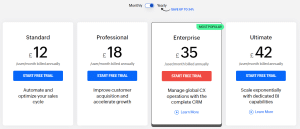 Pros
Automations with all plans
Integrates well with other third-party apps
Easy to re-assign and assign support tickets
Excellent analytics and visualization
A handy free plan
Cons
Few password recovery options
AI features cost more
7. Freshsales — Top-Rated CRM for Interacting with Your Clients
Freshsales is a feature-rich CRM tool that claims to transform the way you handle your clients. One look at its features is enough to confirm that it's certainly capable of doing what it claims.
For starters, it lets you visualize your data in multiple formats. You can go for a detailed view with Kanban boards or keep it simple and precise with a table or list view.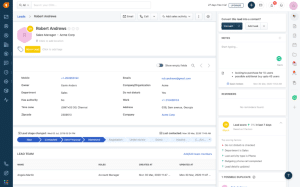 At the customer engagement level, Freshsales provides a separate timeline where you get a chronological view of every interaction, be it a chat or email. This feature helps you gauge the interest level of your customers so that you can keep them hooked until the end.
A Kanban board is a
project management tool
that helps teams visualize their workflow, improve productivity, and make the overall management of a project easier.
A timeline view also increases transparency, making it easier for you to notice a lack of interest or a poor customer-company relationship.
If you feel that the timeline has too much information, you can also highlight the most important parts, such as the sales sequence, the last interaction, meetings, and more. Highlighting what matters the most is a great way to extract actionable insights and make quick decisions.
Freshsales offers multiple options for tracking customer interactions, such as email, chat, Messenger, Zoom, calls, and more. Each of these communication channels is well supported by the platform.
For example, Freshsales lets you auto-log calls, record conversations, and redirect them to a different number during holidays.
Similarly, with emails, you can integrate your inbox so that all emails directly come to your Freshsales dashboard. To respond quickly, you can use its pre-designed email templates with customizable fields.
If you have a small team, you'll love Freshsales automation features. Cut down on repetitive tasks such as welcoming new leads, updating contact status, sending invoices, and qualifying leads.
Automating workflows requires you to create triggers for a certain action to happen, which in turn allows you to create multiple scenarios.
Price
Free Version
Mobile Support
Top 3 Features
£12/user/month – billed annually
A free plan
Android, iOS

1. Personalize, schedule, and automate emails

2. Custom reports and schedules

3. Seamless automations
Pricing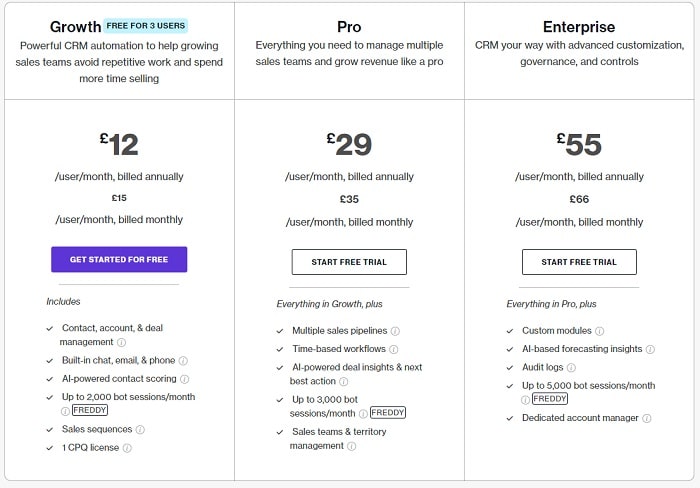 Pros
An excellent AI assistant
Importing data and sharing reports is easy
Simple APIs ensure smooth integration
Intuitive and easy-to-use UI
Cons
No reports in the free plan
8. Maximizer — Great CRM for Coaching Underperforming Reps
Maximers is a CRM platform specifically built for sales leaders. While other CRM platforms only give you a glimpse into what's happening or what has already been done, Maximizer will also show you who's behind each activity.
This way, you'll be able to identify your best performers and see the ones struggling with maintaining the sales numbers. You can then coach the weaker employees or change staff if needs be.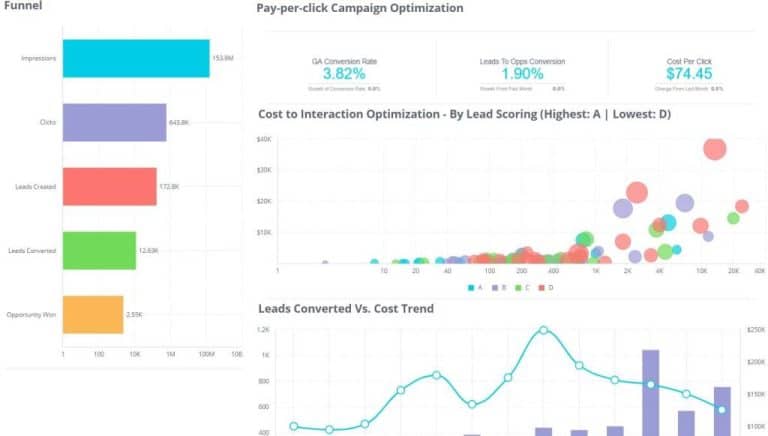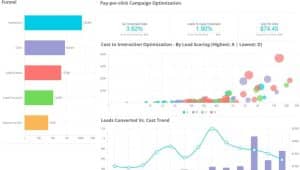 Another benefit of using Maximizer is it helps you retain old clients in addition to acquiring new ones. For this, you can use Maximizer's Customer Health Analysis, a feature that marks customers who are more likely to leave your service. The reports herein are created by assessing the customers' past interactions and engagement levels.
To know who your most important clients are, Maximizer will give you real-time updates and renewal revenue forecasts. For example, if you have two clients at risk of leaving and one of them spends £10,000 on your service every month while the other only spends £500, you'll know who to save first.
If you're still unsure if Maximizer is the perfect CRM partner for your business or not, book a demo of its service and have its experts take you through the whole process.
What's more, Maximizer tags, along with fast deployment and installation. Unlike its competitors, Maximizer does not impose expensive and complicated setups on you. The process is guided by their experts and takes only a few minutes — no hassle, no loss of business for migration either.
Price
Free Version
Mobile Support
Top 3 Features
£45/user/month
A free demo
Android, iOS

1. Harness critical sales rep information in real-time

2. Pre-configured dashboards & reports

3. Maximizer productivity improvements
Pricing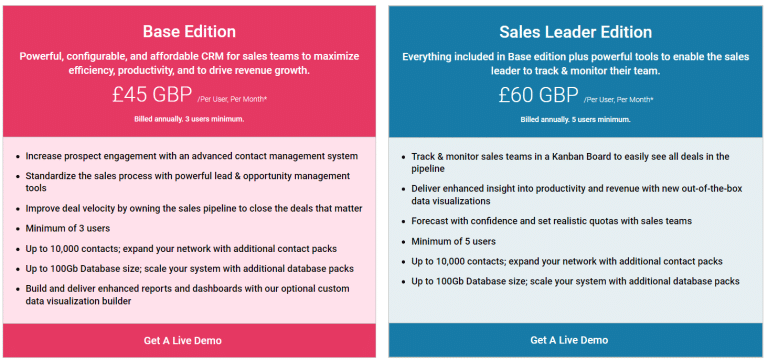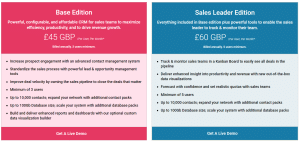 Pros
Easy-to-learn features
Best for small businesses
One of the best analytic features
An excellent sales team and support
Seamless data and contact management
Cons
Users have complained of a glitchy experience
9. Salesforce — Reliable CRM for Connecting Leads with the Best Agent
Salesforce is perhaps the easiest CRM platform to get started with. And you don't have to share your credit card information or install any software — simply create an account and start navigating the online interface.
One of its most unique features is the Opportunity Split. If your employees work on commission, this tool will take care of the task of calculating everyone's share. All you have to do is label who completed each part of the project, and based on your previous configuration, Salesforce will help you split bonuses automatically.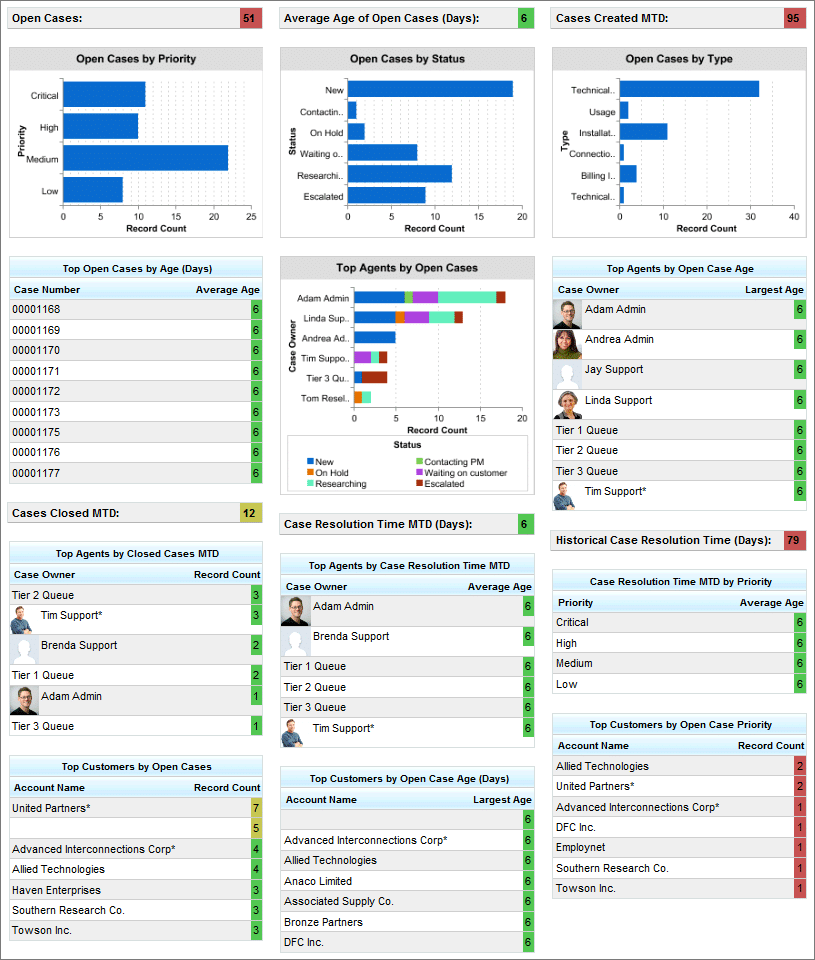 And Salesforce has revolutionized the process of connecting leads with the right rep using automation.
For example, let's say you currently have leads flowing in from your website and a recent email campaign. You can direct these streams of leads to two separate teams based on their activities. This will reduce the wait time for your leads and make it easier for your team to manage them.
It's also simple to maintain lead and customer data with Salesforce. Aside from its basic data management features, Salesforce ensures that no data is saved twice.
As and when Salesforce finds duplicate content, it'll either delete it or merge the two sources, depending on the particular scenario. This way, you can save confusion, bring in more leads, and manage your workflow more efficiently.
Another feature that can make your life a lot easier is predictive sales forecasting. This feature will use your company's old sales records and performance results to predict how the business will do in the future. This will take out the guesswork, and you'll be able to allocate your funds more effectively.
Salesforce's plans are quite flexible, with affordable plans for beginners, scaling up with more features as needed. You can try out all plans with a free 30-day trial.
Price
Free Version
Mobile Support
Top 3 Features
£20/user/month – annual plan
30-day free trial
Android and iPhone

1. Email Integration with Gmail or Outlook

2. Sales Engagement and Insights

3. Workflow and Approval Automation
Pricing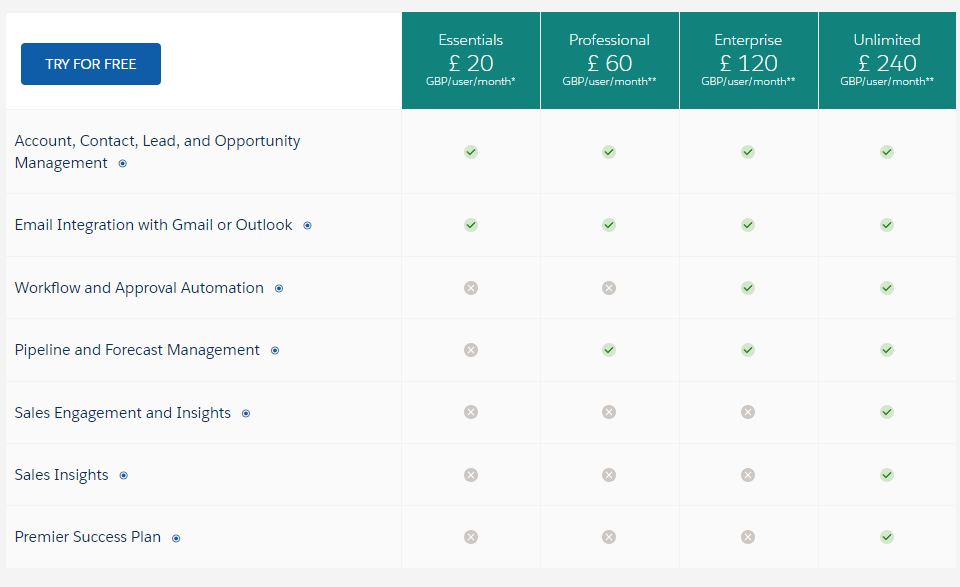 Pros
More than 1,000 integrations
Dynamic forecasting options
Provides a broad overview of reports & dashboards
Complete record traceability
Ideal for large enterprises
Cons
Overwhelming and complex feature set
10. Zendesk Sell — Robust CRM with Free Data Storage
Zendesk Sell is more than just a CRM platform. It's an all-in-one sales platform that helps you maximize your revenue and productivity.
One of our favourite things about Zendesk Sell is that it cares about your team just as much as it cares about your customers. That's why each user gets 2 to 10 GB of free document storage so that your team doesn't have to sacrifice their own device memory for work files.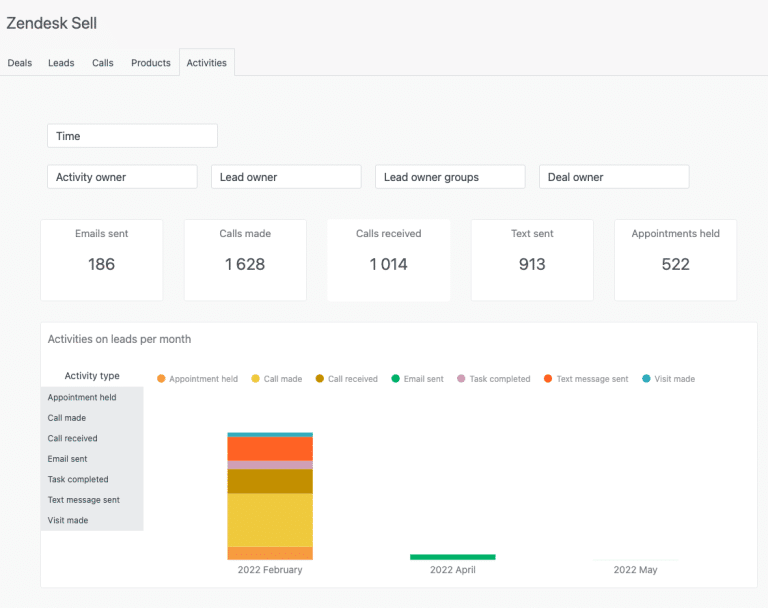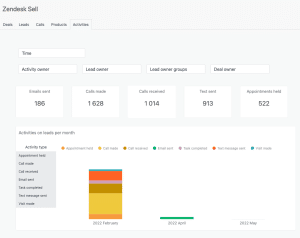 Even if they're working on company devices, storing bulk data on Zendesk Sell's servers will free up a lot of space, which in turn, will make those devices run faster — no more complaints from your employees regarding slow devices that keep lagging.
If your employees are new to online CRM, Zendesk Sell will ensure that their transition is smooth, thanks to pre-built sales dashboards. It'll have all the necessary data collection parameters to help you get started, and you can add and edit more as you go.
Managing your schedule is also quite easy with Zendesk Sell. You can integrate it with your Google Calendar account so that all your events and appointments show up here, making it easier for you to manage your commitments for the day.
Using the same feature, you can also manage the appointments and meetings with your leads. The better you communicate with them, the higher will be their chances of sealing the deal.
Speaking of customer management software, Zendesk Sell ensures everyone gets pleasant and consistent service by recording conversations.
Call and message recording helps you in two ways. You can go back to collect evidence in case of a conflict and use it to check which approach is working and which isn't.
Just like Act, Zendesk Sell gives you offline mobile access so that work is uninterrupted, regardless of the connection.
Price
Free Version
Mobile Support
Top 3 Features
£15/user/month
14-day free trial
Android, iOS

1. Industry-leading ticketing system

2. Easy-to-set-up automations & workflows

3. Unified agent workspace
Pricing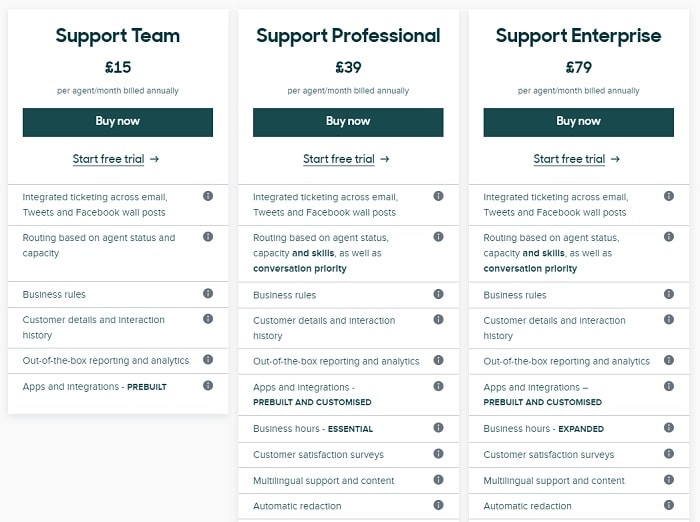 Pros
Presents revenue data at a glance
Easy to categorize sales process as needed
Excellent call recording functionalities
Seamless importing and exporting
Cons
Doesn't offer a free plan
Top UK Customer Relationship Management Software Compared
Don't have enough time to go through each of our detailed reviews? Read on as we'll now list down, in short, the key differences between each of our top picks.
CRM Tools
Price
Free Version
Mobile Support
Top 3 Features
Monday CRM
£8.50/seat/month – annual plan
14-day free trial
Android, iOS

1. Timeline & Gantt views

2. Over 20 column types

3. Whiteboard collaboration

Pipedrive
£14.90/user/month – annual plan
14-day free trial
Android, iOS

1. Over 350+ integrations

2. Group email and email scheduling

3. Smart docs

HubSpot
£27/user/month
A free plan
Android, iOS
1. Deal, call, and email tracking

2. Form & landing page builder

3. Reporting dashboard

Act!
£25/user/month – annual plan
14-day free trial
Android, iOS

1. Immediate, browser-based access

2. World-class, secure hosting

3. Optional desktop sync

Bonsai
$17/month – annual plan

(£13.50)

7-day free trial
Android, iOS
1. Tasks & Time Tracking

2. Unlimited Scheduling events

3. Connect Multiple Bank Accounts

Zoho
£12/user/month – annual plan
15-day free trial
Android, iOS

1. Advanced analytics tools

2. Dedicated admin panel

3. State-of-the-art customization

Freshsales
£12/user/month – billed annually
A free plan
Android, iOS

1. Personalize, schedule, and automate emails

2. Custom reports and schedules

3. Seamless automations

Maximizer
£45/user/month
A free demo
Android, iOS

1. Harness critical sales rep information in real-time

2. Pre-configured dashboards & reports
3. Maximizer productivity improvements

Salesforce
£20/user/month – annual plan
30-day free trial
Android and iPhone
1. Email Integration with Gmail or Outlook

2. Sales Engagement and Insights

3. Workflow and Approval Automation

Zendesk Sell
£15/user/month
14-day free trial
Android, iOS

1. Industry-leading ticketing system

2. Easy-to-set-up automations & workflows

3. Unified agent workspace
Why Small Businesses Need CRM Software
Wondering why your business cannot do without a CRM tool? Let's take a closer look at some of the reasons why your small business needs a CRM:
Extensive Analytics
Having a lot of information on your customers is essential, but you must also understand what it means and how to utilize it. CRM software often includes analytical tools that contextualize data, dividing it into useful metrics and actionable things.
Metrics like bounce rates, click-through rates, and demographic data allow you to assess the performance of a marketing campaign and optimize it appropriately. Additionally, it helps in discovering the source that provides the most revenue. This data can assist the administration in making important business decisions and sales teams in reaching their goals.
Understand Your Clients
Detailed knowledge of your client base is critical for any business, large or small. Knowing what works and doesn't for your clients can help you close the deal quicker. CRM software allows you to store all client data in one place and make it readily available.
This can help you quickly analyze your customers' behaviour and forecast how certain contacts will react, such as which customers will buy more, which customers will leave with the biggest profit margin, which customers will make their payments on time, and which customers won't. Using all of this information wisely allows you to sell more and sell better.
Examine Sales Process
Using a CRM system, you may nurture leads more successfully while keeping an eye on a central, visualized sales pipeline. A CRM system has features like task management, pipeline management, and numerous analytical tools for generating reports and offering insights into customer behaviour to speed up these processes.
CRM highlights the areas in your sales process where leads frequently stall out. That way, you can quickly identify opportunities, risks, weaknesses, and strengths. You'll also know which sales measures work effectively for your target audience and which you should avoid due to ineffectiveness.
Improved Internal Communication
CRM systems allow efficient communication, permitting departments to interact and exchange information more effectively. Using a CRM application, your sales, marketing, and service teams can collaborate flawlessly and offer customers excellent experiences.
Different teams can be informed about the customer's journey and any active interactions. This works well when multiple people from different groups work together on the same client. These employees can share files and post comments to facilitate efficient communication with only a few clicks.
Collect and Organize Data
On the most basic level, customer relationship management software will assist your company in collecting and organizing data on its customers and prospects. You don't need to waste time sifting through piles of papers to find particular client contacts.
With only a few clicks, you may get the required information and proceed with the follow-ups. Additionally, CRM gives you clearer customer data. Data enrichment and mining are standardized and automated. This ensures that nothing is missed. A CRM tool also notifies you of any missing information so you can update it immediately.
Effective Marketing Campaign Management
CRM for your small business also centralizes the complete marketing process in a single application, giving you access to all the information you want to create successful campaigns.
Knowing the specific open rates of your emails by individual clients and the extent to which your emails and advertisements are successful within a certain market sector. All of this refined analytical information will tell you the ROI of every element in your campaign, allowing you to make efficient and sensible marketing decisions.
Automate Business Process
CRM software connects with various third-party programs, including accounting, project management, and data processing, to satisfy client expectations and requirements in every aspect of your organization. A strong CRM software will automate your sales and marketing duties to deliver customized solutions.
Automating routine processes like deal management and data input will increase staff productivity and boost your company's income. CRM software handles most administrative work, like keeping track of customers and following up with leads, allowing you to focus on the things that matter for your business, like setting up meetings with clients ready to make a sale.
Increased Productivity
One of the most significant benefits of CRM software is increased productivity.
CRM helps increase the productivity of individual employees and the business as a whole. You may utilize the system to visualize upcoming tasks and assign them accordingly. A CRM platform, in addition to offering extensive calendar tracking functions, also significantly boosts transparency inside the firm through specific user roles and permissions.
Not just that. With a dynamic CRM that offers automation possibilities, you can ditch repetitive jobs and concentrate on more difficult ones.
How Do I Choose a CRM for My Small Business?
When looking for the finest customer relationship management software for your small business, you should keep a few factors in mind.
Pricing
Your resources are probably limited if you are a startup, small, or developing business. Finding an ideal CRM for your small business without going over budget is important. Your best option is an all-in-one CRM with additional features like marketing automation and customer support. There are even free options. So, carry out your research, and you should be able to select a budget-friendly CRM for your small business.
Features
You must decide what CRM features are non-negotiable for you since not all CRMs will offer the same features. Perhaps you want a CRM that supports third-party interfaces, or maybe email marketing automation is a must. Once you've determined all the necessary CRM features, you may narrow down your options and better decide the best CRM for your company.
Ease of Use
Understanding how to use your small company's CRM software may be challenging. Thus, selecting a simple CRM is critical, so you don't have to spend time helping team members learn how to use it. Additionally, you don't want to waste a lot of time trying to figure out how to utilize your CRM tools on your own, so make sure to see whether it also provides excellent customer care that you can quickly call if you run into problems.
Integrations
A CRM won't add to your technology stack; instead, it will consolidate everything into a single platform. Imagine accessing all your third-party applications and integrations, including email, social media accounts, and marketing tools, from a single dashboard. With the correct CRM, it is possible. So make sure to choose a CRM that works with the tools your company uses the most.
Scalability
As your business requirements grow, you'll need a lot more from your CRM system, and it's just not possible to move data to a new program and convince your marketing staff to adapt to new software quickly.
Select a CRM program that can expand your business and is scalable. Most CRM systems provide various pricing plans to accommodate various business sizes. Therefore, upgrading to premium plans and keeping data is simple as your business expands.
Customizability
Individually, it is preferable to utilize a CRM that allows you complete control over feature activation and user credentials. Even if you're using a small business CRM system tailored to your industry, your company's requirements are likely to differ from those of others. Having the option to customize your organization's CRM allows you to remove any elements you don't need and maintain a simple and intuitive user experience.
Assistance
Will the CRM company you select just provide you with a login and let you go? Or will they work with you as a team to set everything up and get it done? If you face an issue you cannot address alone, you must have access to help. You must be well instructed on utilizing the system to meet your needs.
Confirm with your supplier that they will help you until everything works effectively. If not, using your CRM efficiently will be difficult, and you won't get the best ROI from your investment.
Dashboard
Dashboards are often a common feature in a CRM for small businesses but don't take this for granted. Check to see whether you'll have a customizable dashboard that allows you to populate it with whatever metrics you track regularly. You should be able to log in, quickly check metrics on easy-to-read charts and graphs, and then log out armed with a wealth of facts.
A user-friendly CRM will have greater adoption rates. So, emphasize the user experience and look for a CRM that integrates smoothly into your staff's routines. Most CRM companies offer employees a 30-day trial period to try out the program.
What's the Best Free Small Business CRM Solution?
When it comes to choosing CRM software for your small business, you have the option to choose between a free or a paid solution. If you're used to tracking your leads and customers the old-fashioned way, with notebooks and spreadsheets, using a free CRM system will streamline your processes and assist in the growth of your business. A free CFM tool allows you to test the system and see its strengths and weaknesses for your business's needs.
While free CRM software can seem like an attractive option, it may not always provide the advanced features, scalability, and support that paid options offer. Paid CRM software offers more advanced features, scalability to accommodate business growth, and better customer support.
HubSpot is the best CRM software for small businesses searching for a low-cost way to get started. It provides free plans for its CRM, Marketing, Sales, and Service hubs. HubSpot has a wide range of capabilities, such as mobile applications for the iPhone and Android, a contact manager, email templates, real-time alerts, phone calls, email tracking, scheduling, and more. However, you must upgrade to one of their premium Growth Suite plans to use other features.
UK Small Business CRM FAQs
What CRM software is best for startups?
What's the simplest CRM for small businesses?
What is the average cost of a small business CRM?
What is the best CRM for a small nonprofit?
What's the best free CRM for small businesses?
Conclusion – What's the Best CRM for Small Businesses in the UK in 2023?
Our list of the best CRM for small businesses includes everything from affordable options for startups to comprehensive plans for businesses with numerous employees. Regardless of the use case, though, Monday CRM is an ideal choice for businesses of all sizes.
With features like seamless integrations, easy automations, a user-friendly interface, and supportive customer support, Monday.com is an all-in-one solution. Don't take our word for it – try it out now with a risk-free 14-day free trial.