Wondering can you buy a Lamborghini with crypto? In this guide, we explain how to buy a Lamborghini with Bitcoin and other digital currencies.
We also reveal which Lamborghini dealers accept crypto as payment. Read on to buy a new or used Lamborghini today with crypto.
Step-by-Step: How to Buy a Lamborghini With Bitcoin
To buy a Lamborghini with Bitcoin, follow the step-by-step instructions below to place an order at Crypto Emporium.
Step 1: Create a Crypto Emporium Account – Click 'Account', followed by 'Register'. When prompted, enter a name, email, password, and cell phone number.
Step 2: View Lamborghinis for Sale – In the Automotive section, buyers can filter vehicles by type and make. Click the Lamborghini logo to browse what's for sale.
Step 3: Pick a Lamborghini – To find out more about each Lamborghini model, such as features and mileage, click the listing. Click 'Add to Cart' once a Lamborghini has been chosen and check the delivery details before going to the crypto checkout.
Step 4: Transfer BTC to Crypto Emporium – Either copy the wallet address from Crypto Emporium or scan the QR code. Enter the correct quality of Bitcoin to cover the purchase, service fees, and shipping costs.
Crypto Emporium is our top pick for its great reputation, variety of Lamborghini models, and 4% cashback offer. There is a more detailed account of how to buy a Lamborghini with crypto later in this guide.
The 7 Best Dealers to Buy a Lamborghini With Bitcoin
Wondering where to buy a Lamborghini with Bitcoin in 2023?
By reading the reviews below, buyers will find out the best places to purchase a Lamborghini with Bitcoin in safety.
1. Crypto Emporium – Best Dealer to Buy a Lamborghini With Crypto
Those deciding where to buy a Lamborghini with Bitcoin should consider Crypto Emporium. We found this platform to be the overall best online car dealer for crypto holders. The company was established in 2018 and has a great reputation in the crypto e-commerce space. Furthermore, all Lamborghini models are provided by screened dealers.
Shoppers can switch between Bitcoin and USDT with ease when viewing Lamborghinis (to see the price in US dollars). Furthermore, registered customers can buy a Lamborghini with Bitcoin immediately as the platform accepts direct crypto payments. At Crypto Emporium, there are many Lamborghini models for sale.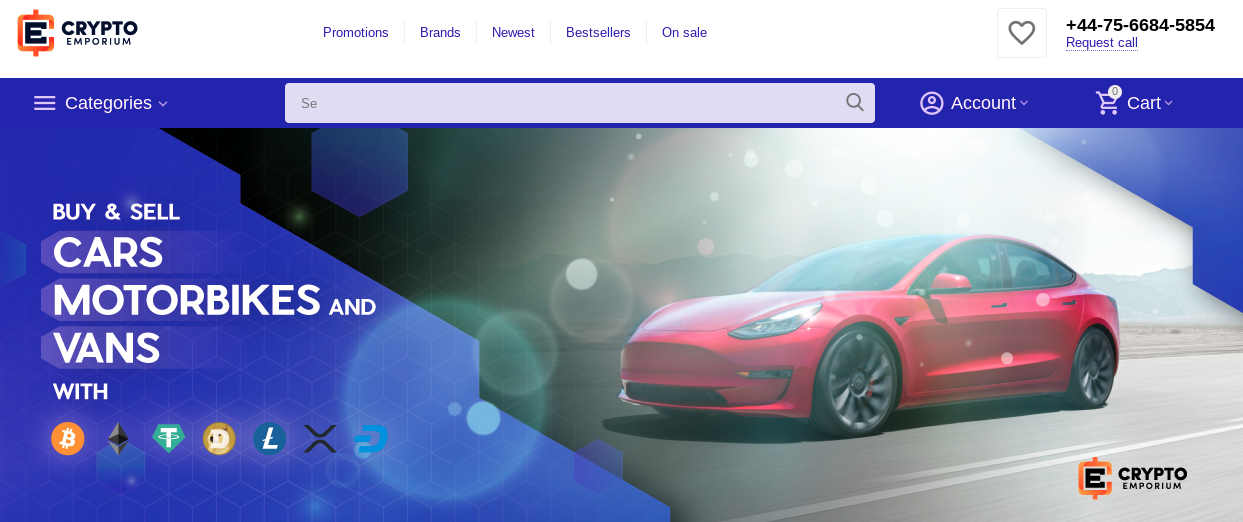 For instance, a 2013 Lamborghini Aventador is listed for around $216k. The car has had four previous owners and has 19k mileage. It includes a 12-month MOT and full service history. Features include black carpets, leather trims, and Arancio stitching. The 6.5-liter V-12 engine generates a horsepower of up to 691 at 8,250 RPM.
The seven-speed automatic manual transmission powers all wheels on this Lamborghini. Alternatively, for $612k, shoppers can buy UK or European versions of the Lamborghini Aventador SJV (Super Veloce Jota). This Lamborghini has 1,000 km on the clock and a 6.5-liter engine with 759 horsepower.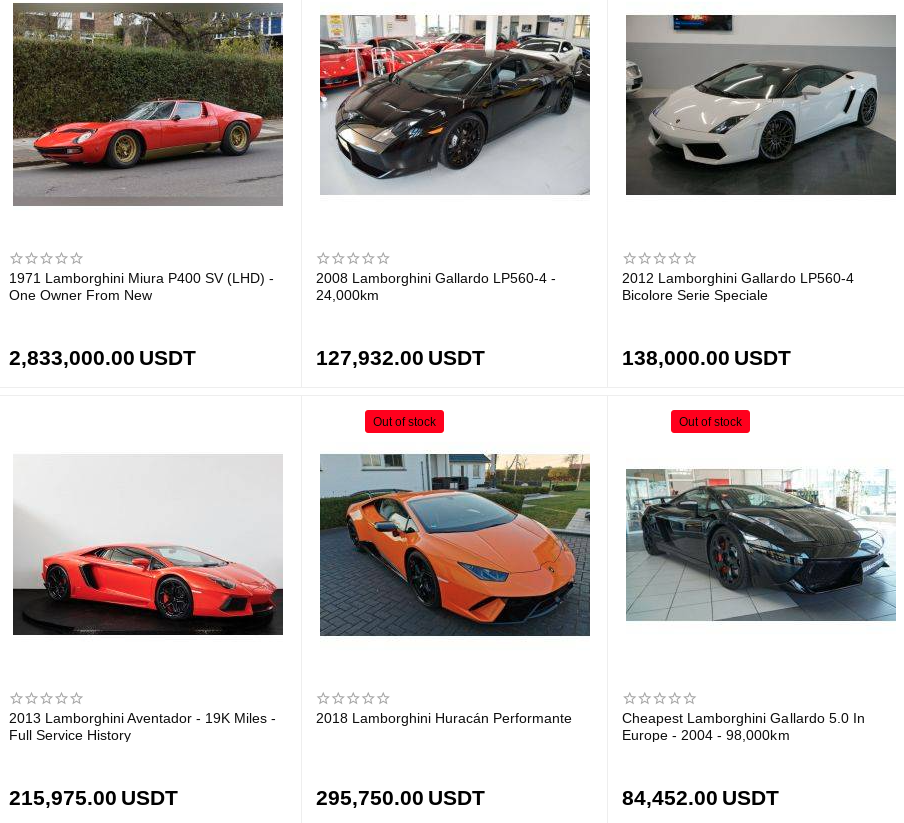 Those researching how to buy a Lamborghini with a Gallardo in mind can purchase one for between $84.5k and $140k at Crypto Emporium. This includes a 2004 European Lamborghini Gallardo 5.0 in metallic black for $84.5k. It has 98k km on the clock and 519 horsepower.
Alternatively, the 2008 black Lamborghini Gallardo costs $128k, has 24k km on the clock, and has a black/gray bicolor leather interior. There's also a 2012 special edition with a 12-month guarantee at $140k. This has 21,000 km on the clock and includes features like a leather steering wheel with an F1 shift paddle, Bi-xenon headlights, and automatic air-conditioning.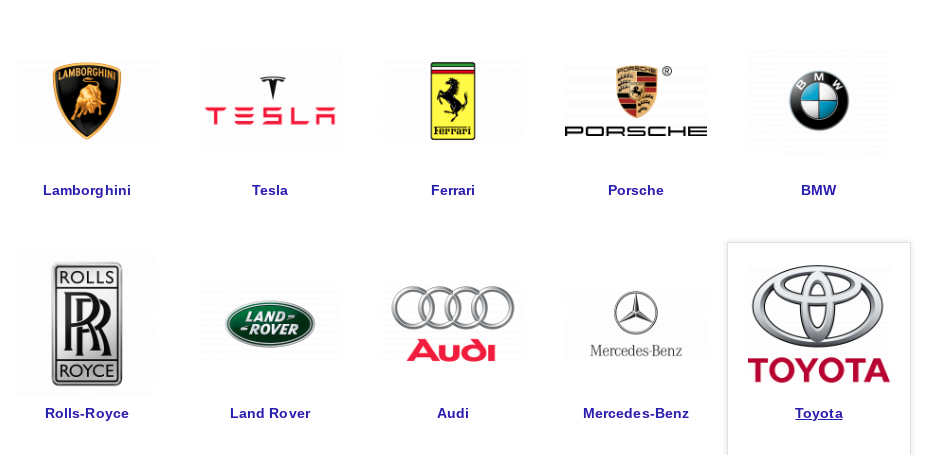 Lamborghini Huracan models are also listed and can be bought for under $300k. Meanwhile, the Lamborghini Urus 4.0 V8 BiTurbo is $340k, with only 1,000 km on the clock and a twin-turbo V8 engine. Additionally, shoppers will also find vehicles by Audi, Ferrari, BMW, Aston Martin, Bentley, Jaguar, Mclaren, Lexus, and around 40 other makers.
In addition to Bitcoin, Crypto Emporium accepts some of the best altcoins: Dogecoin, Ethereum, Litecoin, Ripple, and Dash. Registered customers can also earn free crypto each time they spend. The platform awards shoppers with 4% cashback in Emporium Cash crypto tokens.
2. Bitcars – Top-Rated Car Dealer Specializing in Crypto
Bitcars has been shipping Lamborghinis for crypto on a global scale since 2016. This includes off-road UTVs, motorhomes, sports utility vehicles, motorcycles, and a wide range of luxury, classic, and premium cars. For shoppers that want to buy a Lamborghini with Bitcoin, Bitcars is one of the most popular online dealers.
The dealer sells various Lamborghini models, all priced in Bitcoin. This includes the Huracan, Diablo, Urus, and Aventador. For instance, a white Aventador LP-740 S with 14.9k mileage, 741 horsepower, and a full black leather interior is available for 21.5 BTC. Service history, voice control, sports suspension, traffic sign recognition, and an onboard computer are among its features.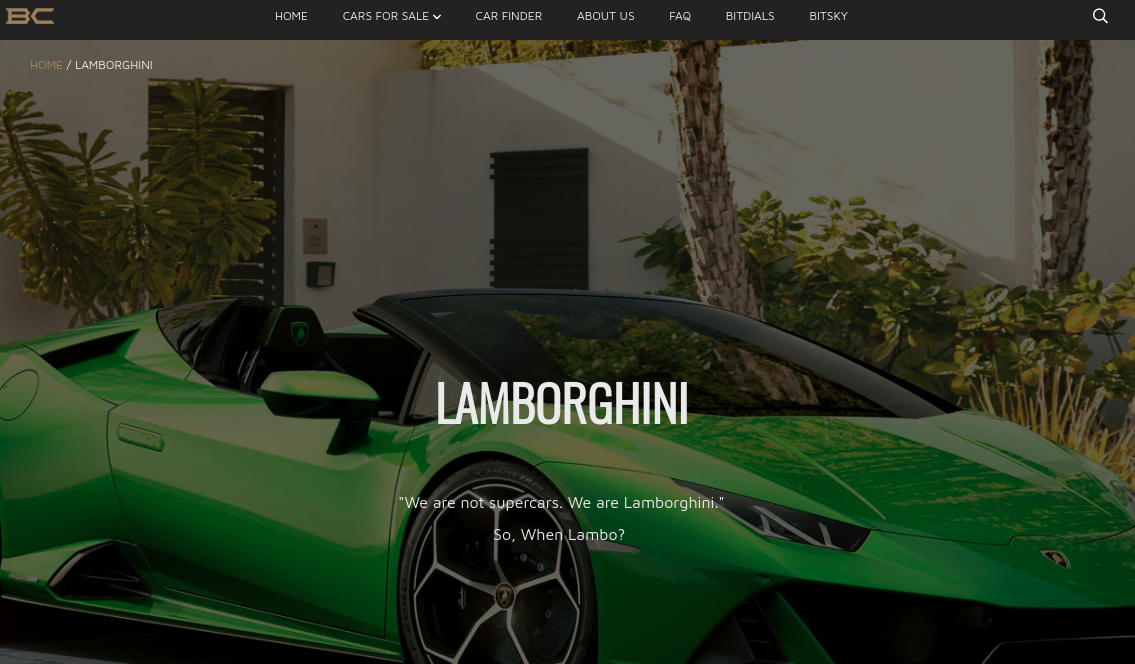 The Lamborghini Urus Graphite Capsule, priced at 14.7 BTC, is a great alternative for those with fewer Bitcoins in their portfolio. It is black with accents in Arancio Argos (red/orange), has 4k mileage, a 3D Bang & Olufsen sound system, 23″ Taigete wheels, and a Lamborghini ANIMA with off-road modes.
Furthermore, Bitcars sells vehicles from a long list of other brands. This includes Audi, Bentley, Jaguar, Aston Martin, Ferrari, Mclaren, and Tesla among others. The platform also accepts Ethereum, Litecoin, Decred, Polkadot, Monero, Tether, and the popular meme coin, Dogecoin.
3. CryptoExchange – Exotic Supercar Marketplace for US Buyers
Located in the US, CryptoExchange is a Lamborghini marketplace that's also a licensed Bitcoin escrow service. Because of this, CryptoExchange only delivers funds to the vendor when the customer has received the car. Furthermore, customers receive a money-back guarantee through the platform's escrow service, in case something goes wrong and the Lamborghini is returned.
Most shoppers will find it a simple process to buy a Lamborghini with crypto. The platform is user-friendly, plus Bitcoin and US dollars are used to price all vehicles so no calculations are needed. One of the most popular models is the blue 2021 Lamborghini Huracan STO, listed for $354k. This has 2.5k mileage, 631 horsepower, and a 5.2-liter engine.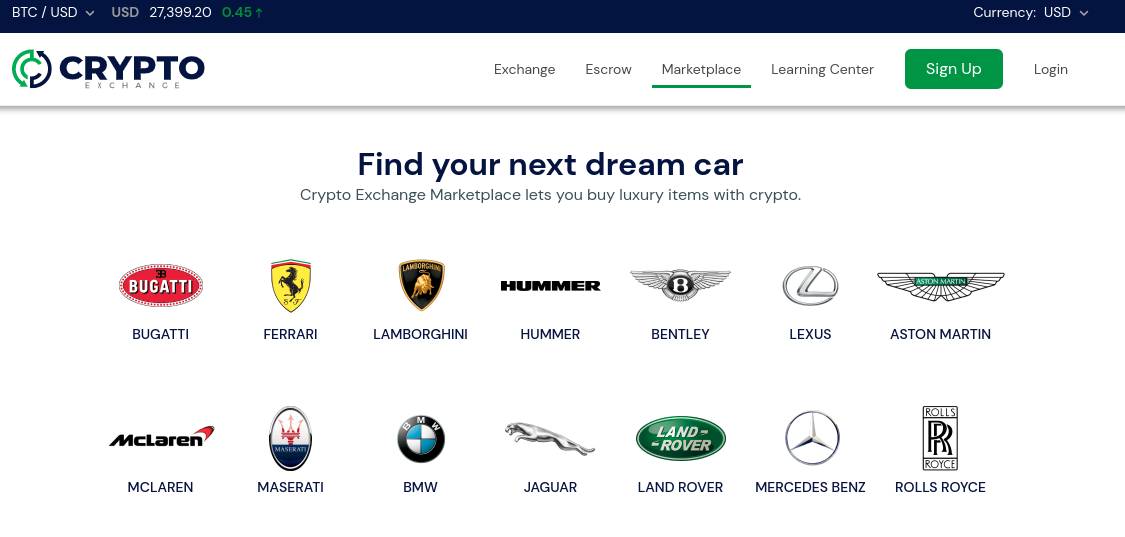 There's also a 2020 Lamborghini Urus Mansory for $408k. This SUV has a 4-liter engine, 38k mileage, and 650 horsepower. Meanwhile, a green 2018 Lamborghini Huracan Performante Spyder can be bought for $312k with 5.7k mileage, 640 horsepower, and a 5.2-liter engine.
In addition to offering a significant selection of Lamborghinis, CryptoExchange lists cars from makers such as McLaren, Ferrari, Jaguar, Bentley, BMW, Audi, Maserati, and Land Rovers, among others. Furthermore, this platform also serves as a cryptocurrency exchange.
Lamborghini Newport Beach was founded in 2010 and is a popular option for those looking to buy a car with Bitcoin. The company offers new and used Lamborghinis to Orange County residents in places like Corona Del Mar, Laguna Beach, Newport Beach, and Huntington Beach, among other coastal cities.
As a factory-authorized Lamborghini dealership, the platform has around 25 cars and numerous models from this brand. For example, there's a new open-top hybrid Lamborghini Sian Roadster for $3.7 million. This features a 770 CV naturally aspirated V12 engine and can reach speeds of over 350 km/h.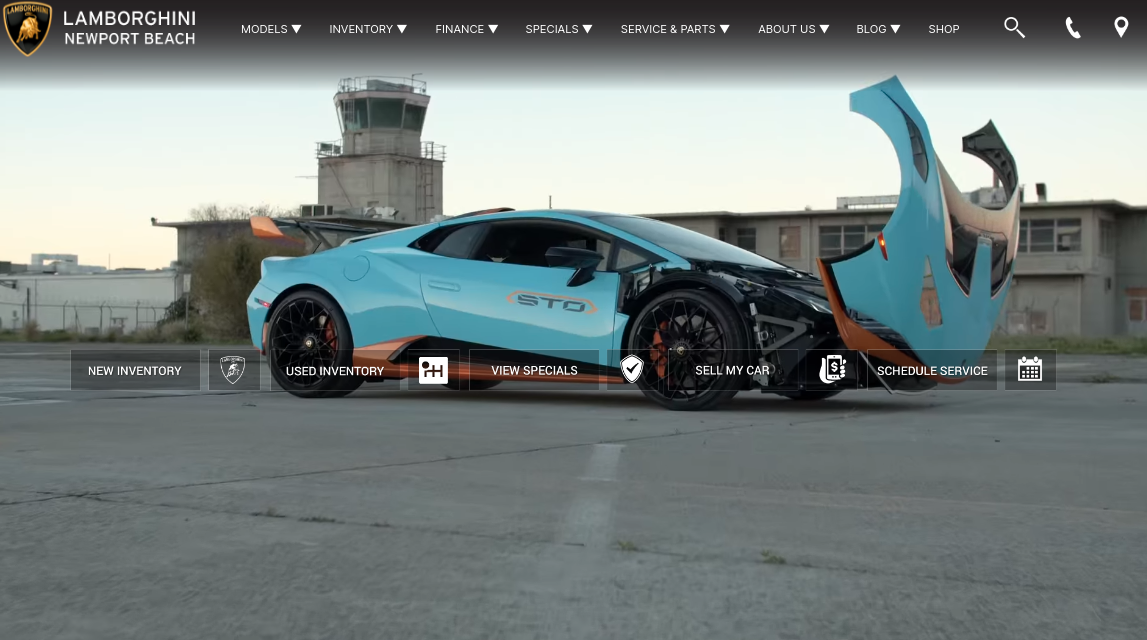 There's also a variety of pre-owned vehicles: a black 2018 Lamborghini Huracan LP580-2 for $209k, a white 2022 Urus for $288k, or the same model and year in purple for $289k. Those with a higher budget might find the Blu Nila 2021 Lamborghini Aventador SVJ Base appealing for $850k with 4k mileage. New and second-hand cars are also available from Ferrari, Bugatti, Aston Martin, McLaren, Porsche, Rolls Royce, and others.
5. Import Marques – Car Importer With Tax-Free Shipping
Those researching who accepts Bitcoin as payment for Lamborghinis may be aware of Import Marques, a luxury brand car importer. The dealer was established in the UK in 2001 and offers worldwide shipping. Both right-hand drive and left-hand drive Lamborghinis are for sale at this dealership.
Furthermore, Import Marques is a popular place to buy a Lamborghini with crypto because private and business purchasers are exempt from taxes. Lamborghini models include Urus, Huracan, and Aventador. For example, shoppers can buy the Aventador LP700-4 with 700 horsepower in a variety of colors.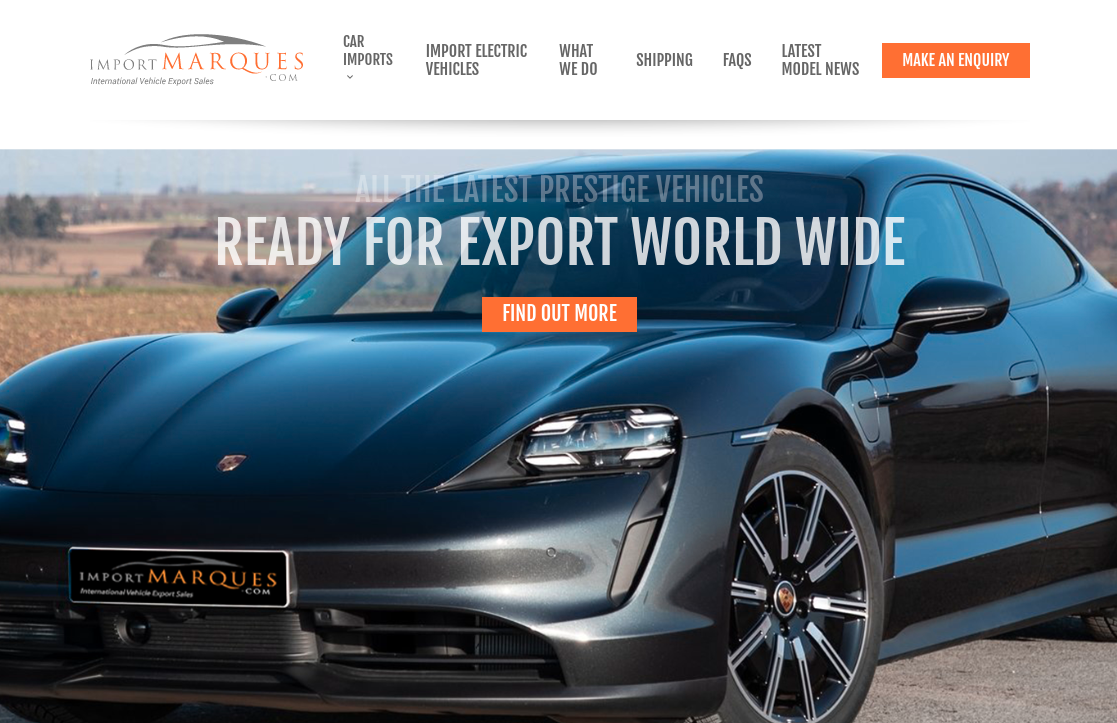 Those that want more speed might like the red Lamborghini Aventador LP750-4 Superveloce with 750 horsepower and a 6.5-litre engine. Do note that this dealer does not display car prices. Shoppers who want to buy a Lamborghini with Bitcoin must complete the contact form under the advert for a quotation.
Import Marques also has electric, hybrid, and traditional vehicles from brands such as Jaguar, Ferrari, Bentley, Maybach, Audi, Range Rover, Mercedes-Benz, BMW, Land Rover, Lexus, Porsche, and others
6. AutoCoinCars – Nearly 130 Lamborghinis for Sale
One of the largest crypto vehicle marketplaces globally is AutoCoinCars. The marketplace was established in 2017 and signed its first car dealership in 2019. The company acts as a middleman, connecting shoppers looking to buy a Lamborghini with crypto to car dealers.
Currently, AutoCoinCars has almost 130 Lamborghinis available. Models include: Urus, Diablo, Countach, Avetador, Murcielago, and Huracan. For example, a used 2016 Lamborghini Huracan in orange for $180k, with a 5.2-liter engine, 610 horsepower, and 22k mileage.
AutoCoinCars also lists vehicles from numerous other popular brands. This includes Toyota, Porsche, Volkswagen, Mercedes-Benz, BMW, and Audi. Aside from Bitcoin, supported cryptocurrencies include Bitcoin Cash, Ethereum, Litecoin, Dogecoin, Cardano, and Tether, among others.
7. Post Oak Motors – New and Used Luxury Cars
Post Oak Motors is a Texas-based new and used car dealership. Shoppers can buy a used white 2019 Lamborghini Urus, with 27.6k mileage, for $220k. Features include an advanced 3D premium sound system, a hands-free tailgate, brake calipers in green, and 23″ Taigete rims. For $290k, there's a red 2022 Urus Graphite Capsule with only 2k mileage.
Another option for those who like the Lamborghini Urus is a used 2020 model in white. This costs $220k and has 33.2k mileage. This vehicle can be customized to include a panoramic sunroof, rear-seat entertainment, and fully electric heated front seats, among other features.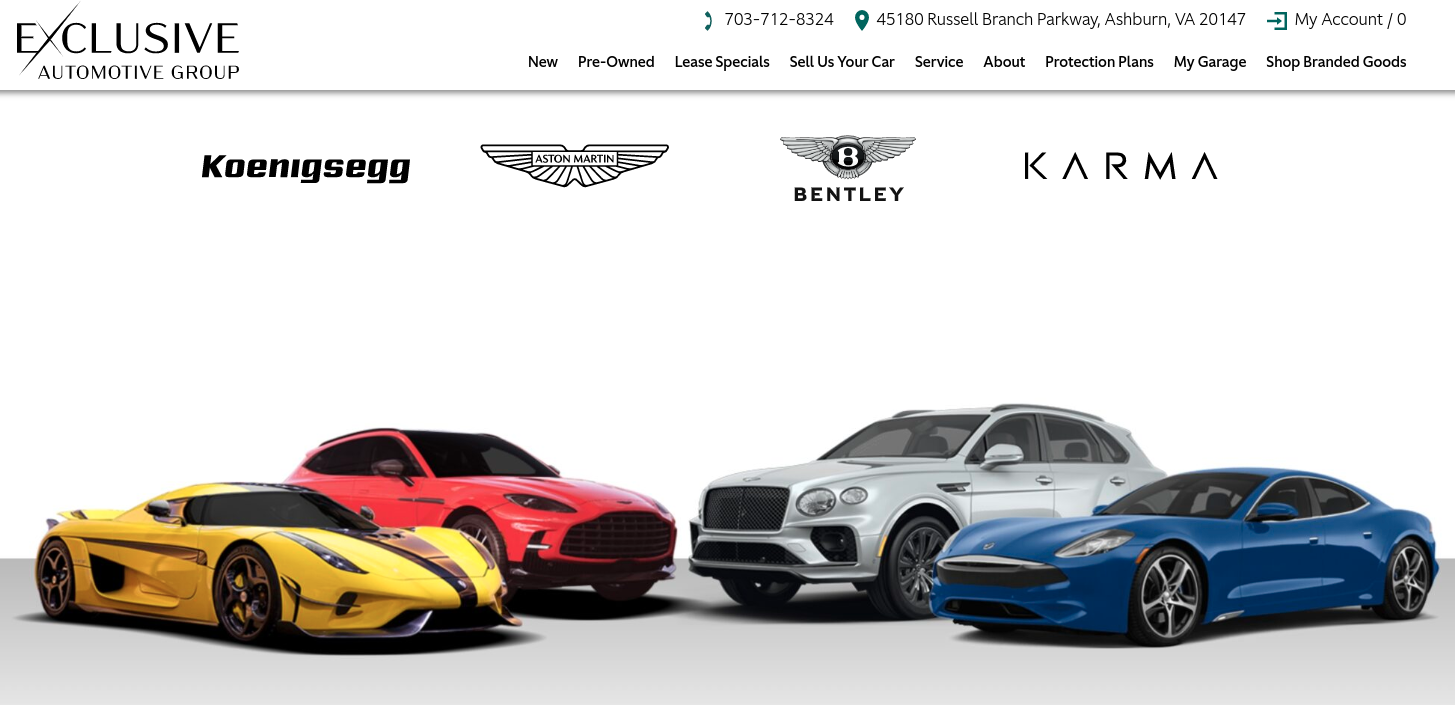 In terms of how to buy a Lamborghini with Bitcoin, customers need to contact one of the brand specialists at Post Oak Motors to let them know their preferred payment method. The platform accepts Bitcoin via BitPay.
Top Reasons to Buy a Lamborghini With Crypto
Bitcoin is one of the best cryptocurrencies, and Lamborghini is among the most popular luxury car makers in the world. Some investors combine them by purchasing luxury goods like a Lamborghini to diversify their holdings. That said, there are other advantages to opting to buy a supercar with Bitcoin.
Below, we've detailed the main advantages of choosing to buy a Lamborghini with crypto in 2023:
Save on Fees
Bitcoin transactions allow for seamless currency transfers between domestic and foreign wallets. Saving on fees is one of the main reasons to buy a Lamborghini with crypto.
See below:
The transaction costs associated with using credit cards and wire transactions can be substantial
This is particularly common when buying from another country because the foreign bank needs to convert the funds after receiving them
As per Blockchain.com data, an average Bitcoin transaction fee is only $0.87 per transaction right now.
Secure Transactions
When a shopper chooses to buy a Lamborghini with crypto, transactions are protected by authentication procedures. As such, when exploring can you buy a Lamborghini with Bitcoin securely, the answer is yes.
Public-key cryptography is used by Bitcoin to protect the integrity of transactions made on the network
This is a stark contrast to traditional banking methods where transactions might be intercepted without protection
Not only that but when a Bitcoin holder opts to buy a Lamborghini with crypto, they don't need to give the car dealer any sensitive information such as their credit card details.
Speed and Convenience
Decentralization makes cross-border payments faster and more convenient by removing the constraints of time-consuming and expensive procedures.
It is simple for a car dealer to confirm transactions using cryptocurrency because they take just minutes to complete. In contrast, a wire transfer may take up to a week.
Can I Buy a Lamborghini With Bitcoin Safely?
Bitcoin was created in 2009 and is the largest cryptocurrency by market capitalization. As such, it is well-established, and more car dealers accept Bitcoin as payment than any other digital currency.
When researching where to buy a Lamborghini with Bitcoin, many shoppers question how safe it is.
In short, buying a luxury vehicle with digital currencies is safe, if certain precautions are taken. For instance, choosing a well-established dealership is key when deciding where to buy a Lamborghini with crypto in safety.
We found Crypto Emporium to be the best option in this regard. The platform allows shoppers to buy a range of Lamborghini models with crypto on a direct basis. Furthermore, the platform vets all sellers before listing their cars, and offers 4% cashback in crypto tokens.
Importantly, it is the shopper's responsibility to keep their Bitcoin safe. One of the best ways to do this is to store tokens in a cold storage (offline) wallet and to make sure private keys are kept safe.
Full Walkthrough of How to Buy a Lamborghini with Crypto
Now we've covered the best supercar marketplaces accepting Bitcoin, shoppers will find a full walkthrough of how to buy a Lamborghini with crypto at Crypto Emporium.
Step 1 – Register for an Account
Crypto Emporium is user-friendly and signing up is quick and simple. Click 'Account', and then 'Register' to start.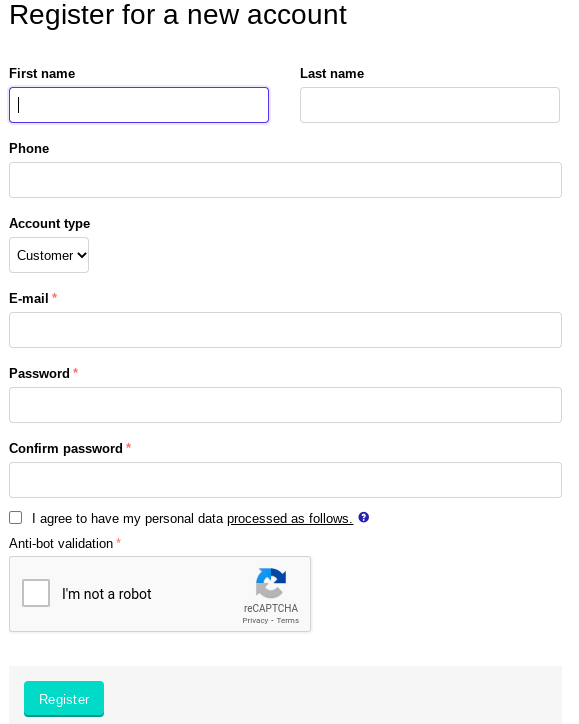 Crypto Emporium accepts direct crypto payments and only needs basic information to register a customer. This includes a name, email, phone number, and password. Click 'Register' to confirm the information is correct and create an account.
Step 2 – Find a Lamborghini
There is a range of Lamborghinis at Crypto Emporium. To find a suitable model, click 'Automobiles', and then 'Cars'.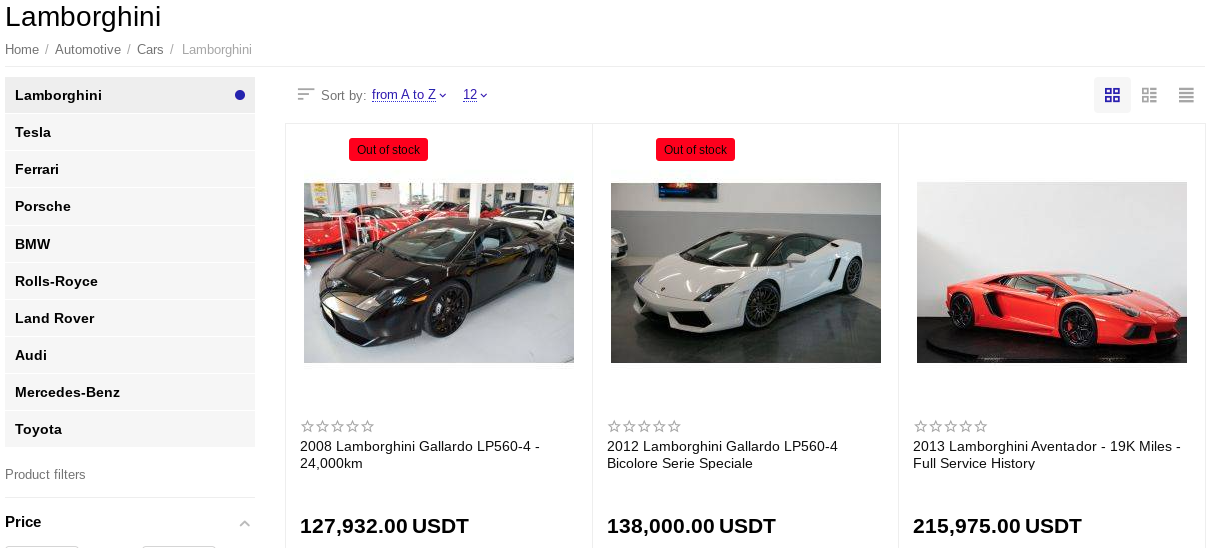 Vehicles can be filtered by make and price. Select 'Lamborghini' by clicking the brand logo, or typing it in the search bar.
Step 3 – Pick a Lamborghini
When clicking the listing, buyers will see images and information such as special features, mileage, and the year of manufacture.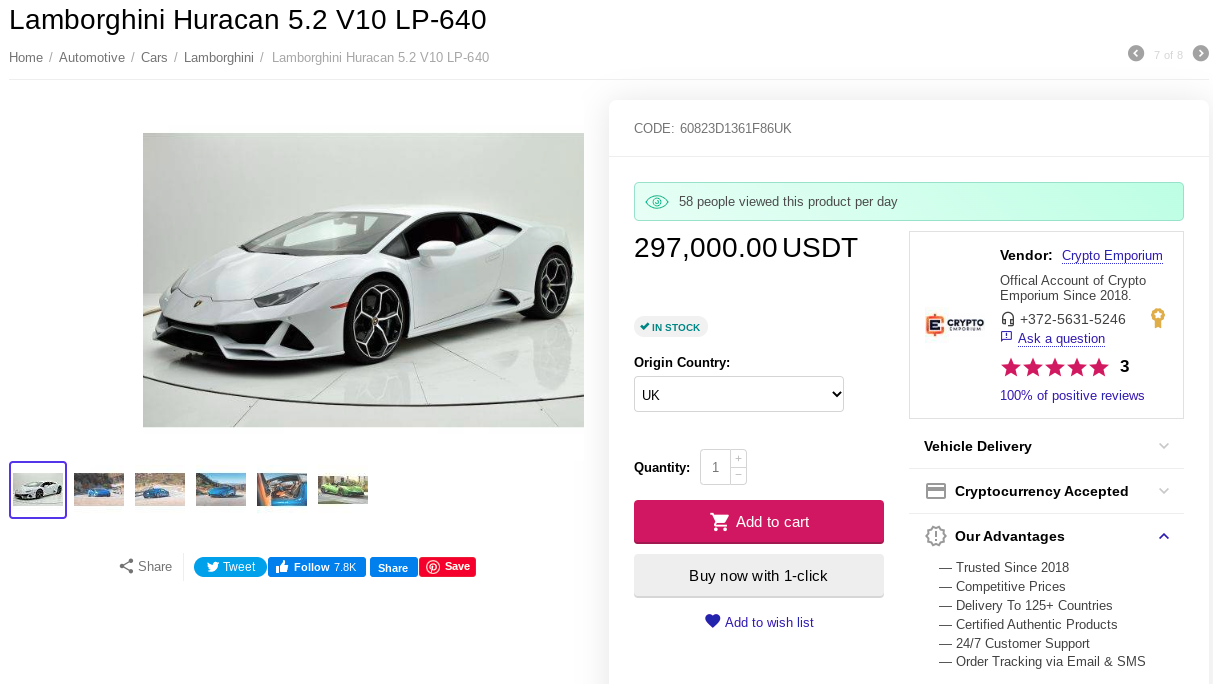 When happy to proceed, click 'Add to Cart', followed by 'Checkout'.
Step 4 – Check Shipping Info
Once at the checkout, the shopper will see the shipping address and the cost of delivery.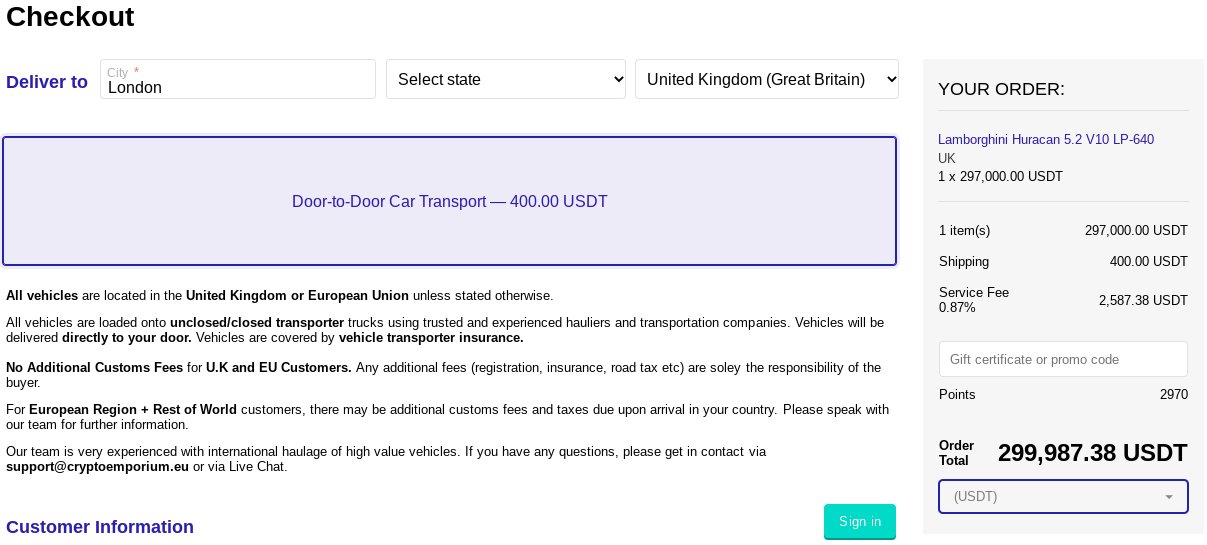 There will also be a 0.87% service fee. At Crypto Emporium, there are no additional customs fees to pay for US, UK, and EU customers that buy a Lamborghini with Bitcoin.
Step 5 -Send Bitcoin
The safest way to transfer Bitcoin to pay for the Lamborghini is to scan the QR code given by Crypto Emporium.
This allows the buyer to send Bitcoin directly from their wallet to Crypto Emporium with no room for error.
The buyer will be sent an email as soon as the Bitcoin transaction is complete. This will also include a unique tracking number for the Lamborghini delivery.
Conclusion
In summary, buying a Lamborghini with Bitcoin comes with many benefits, including low fees, speedy transactions, and anonymity. Those deciding where to buy a Lamborghini with crypto could consider Crypto Emporium.
The dealer accepts Bitcoin, in addition to other cryptocurrencies, and sells a range of Lamborghini models. It also offers 4% cashback in Emporium Cash tokens.
FAQs
Can I buy a Lamborghini with BTC?
What dealer sells Lamborghinis for crypto?