AiDoge is a cutting-edge crypto protocol allowing users to leverage generative AI to create memes. Despite being brand new, many experts have high hopes for AiDoge, but how far can it go?
This AiDoge price prediction uncovers our short and long-term forecasts. We consider various factors, including its utility, tokenomics, hype, and some issues the coin may need to tackle.
AiDoge Price Prediction – Quick Summary
In case you are short on time, we have summarised our price forecast below.
End of 2023: With the end of the AiDoge presale set for Q3 2022, the coin will be live on exchanges by the end of the year, giving investors that missed the presale the chance to purchase the coin. This could create a sense of fear of missing out (FOMO) and boost the price to $0.0001 by the end of 2023.
End of 2025: Considering its capped supply, use case, unique value proposition and product-market fit, we could see the AiDoge price reach $0.00024 by the end of 2025.
End of 2030: AiDoge's long-term potential stands out from other presale coins due to its 10-year vesting schedule and 'first-mover advantage' for AI-generated memes on the blockchain. Therefore, we expect a price of $0.00055 by the end of 2030.
AiDoge Price History
While its name might lead you to believe AiDoge is a meme coin, the project aims to be more like the Ethereum of meme coins. It is a powerful AI-powered tool that enables creators to generate memes with text-based prompts. Combining crypto, AI, and memes uniquely positions AiDoge where it could amass unprecedented hype. That said, what is AiDoge all about, and how does it differ from competitors?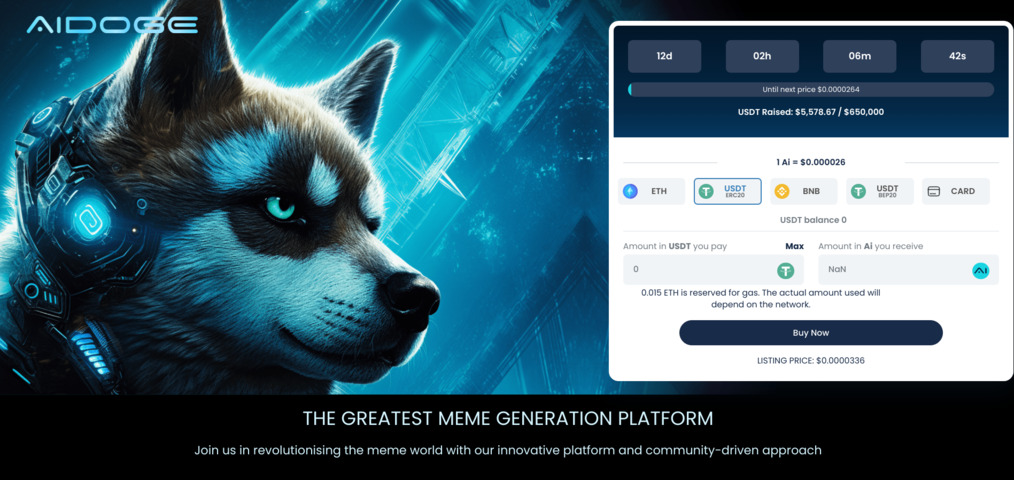 Features
The first thing to note is that the native token, $AI, is used to purchase credits to pay for generating memes. This puts demand for the AI tool and demand for its token in tight correlation.
The AiDoge AI tool is trained on a vast dataset which includes new and emerging events. Users can create engaging and relevant memes based on current crypto industry events in real-time.
Whether AiDoge is one of the best coins to make you rich is yet to be seen. However, its 'Meme Feed' feature certainly gives it high potential. The Meme Feed is where all newly created memes will go, and users can filter the feed for results like sorting by the newest or most popular memes.
The meme feed is also a way for creators to gain exposure, and the platform rewards the best-performing creators with $AI tokens.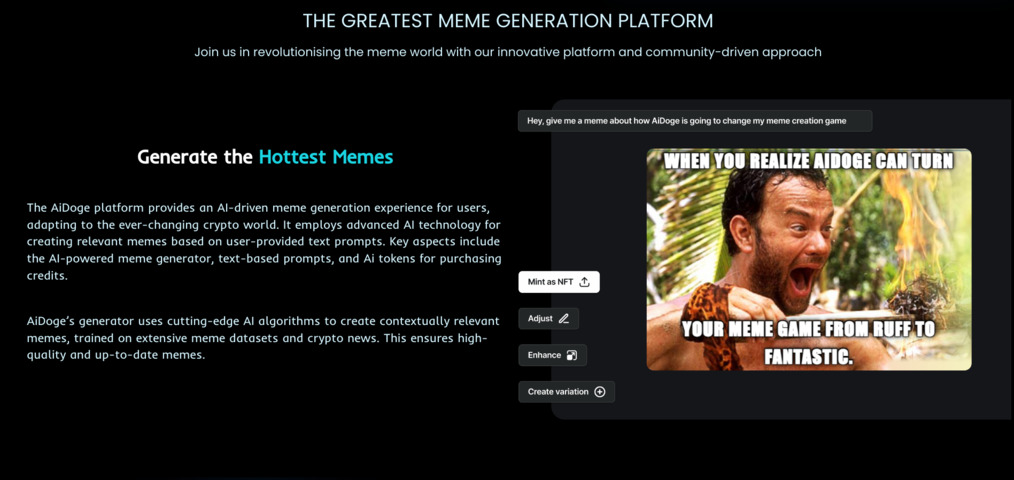 Overall, AiDoge provides a solid use case, but the main challenge the project currently faces is the broader market conditions.
The crypto market remains in a range slightly above the bear market capitulation. These market conditions make launching more difficult for new projects. Still, many top presales have experienced massive success throughout the bear market, such as Tamadoge, which generated 18X returns for first-round presale investors.
Tokenomics
The AiDoge token has a hard cap of $14,900,000, which we expect it to easily hit thanks to the factors we discuss later in our AiDoge price prediction.
AiDoge has a supply cap of one trillion tokens, and 50% are available in the presale. The presale is split into 20 stages, with 5% of tokens available at each stage and the price incrementally increasing each round.
AiDoge Price History – Summary
Considering its use cases, capped supply and current discounted price, AiDoge could be one of the cryptos with the highest potential for 2023. However, it is important to note that this comes with a degree of risk, as with every high-potential investment.
Below is a quick summary of its price history so far.
Currently in its first round presale with a fixed price of $0.00002600.
Price will incrementally increase for 19 more rounds before its IEO.
The presale hard cap is set at $14,900,000.
CEX and DEX listings will launch in Q3 2023 with an IEO price of $0.00003360.
| | |
| --- | --- |
| Presale Started | April 2023 |
| Purchase Methods | ETH, USDT, BNB, Card |
| Chain | Ethereum |
| Hard Cap | $14,900,000 |
| Min Investment | 38,461 $AI |
| Max Investment | None |
AiDoge Price Prediction 2023
As mentioned earlier, AiDoge is the first cryptocurrency to utilise AI for meme generation. Considering the connection between the crypto community and memes culture, this gives AiDoge the potential to generate huge demand.
With the generative AI market is set to reach $51 billion by 2028, we expect much of AiDoge's price to be driven by hype and speculation in 2023. That is not to say the coin lacks fundamentals; but the AiDoge fundamentals combined with AI's hype will cause the coin's demand.
According to the AiDoge whitepaper, the $AI token will give users multiple utilities, such as purchasing credits to generate memes and passive rewards through staking.
Moreover, the coin will launch on CEX's and DEX's in 2023, bringing a flurry of new buyers to the market who did not purchase at presale and are looking to capitalise on the AI trend.
A recent statement from Standard Charted claimed that Bitcoin could reach as high as $100,000 by the end of 2024, stating that the Bitcoin winter is over.
If this is correct, the crypto markets will receive a lot of new liquidity towards the end of 2023, with investors looking for high-risk coins with the highest upside potential.
One of the main concerns with recent presale coins has been the ongoing crypto bear market. Still, with institutions expecting new Bitcoin all-time highs, investors could begin looking to higher potential coins once again.
Therefore, our AiDoge price prediction expects a price of $0.0001 by the end of 2023, resulting in a 284% increase from its current presale price.
Although it is not without risk, some presale coins achieved higher results, even in the crypto winter. For example, as Tamadoge, which we mentioned earlier, surged over 1500% from its stage one presale price.
AiDoge Price Prediction 2025
Holding cryptocurrencies long-term can result in massive gains; however, cryptocurrency is an emerging and volatile industry, especially when it comes to newer coins. Therefore, managing your assets and ensuring the team continues to engage and build the project is crucial.
Looking ahead to 2025, the most influential factor towards AiDoge's price will be its utility. This is because, by 2025, the initial hype will have fizzled out; instead, demand will be utility-based. With over 100 new cryptocurrencies released daily and only a select few lasting past their first year, it is crucial for new coins to solve real-world issues to remain relevant and in demand.
The primary use case for AiDoge is to enable users to create fun, unique and engaging memes with simple text-based prompts. This plays a big role when considering its long-term price potential since the cryptocurrency industry closely relates to meme culture. For example, the top meme coin, Dogecoin, recently surged on the back of Elon Musk changing the Twitter logo to the Dogecoin dog.
Also, a brand new meme coin, Love Hate Inu, has exploded in popularity, causing a media frenzy, with many pundits touting it as one of the top meme coins.

This puts AiDoge in the perfect position to capture a large part of the Dogecoin, Love Hate Inu and other meme coin communities who want to develop memes to connect with others online.
Another reason we expect AiDoge to generate a lot of demand is that creating memes manually is time-consuming and surprisingly challenging. But with AiDoge, a simple prompt such as "Create a meme with the Dogecoin logo on a U.S. dollar bill" could render quality results in seconds.
Therefore, provided AiDoge's ecosystem continues to develop, we expect a price of $0.00024 by the end of 2025. This prediction would result in an 823% increase from its current presale price if accurate.
AiDoge Price Prediction 2030
One thing that holds many coins down despite a strong use case is poor tokenomics, usually due to inflationary coins. Examples include Axie Infinity and StepN, which relied on token emissions and artificial demand to fuel their ecosystems.
On the other hand, AiDoge has a capped supply and a lengthy vesting schedule to ensure the coin does not experience excess sell pressure. The vesting schedule lasts ten years, which tells us the team is committed to making the project sustainable long-term.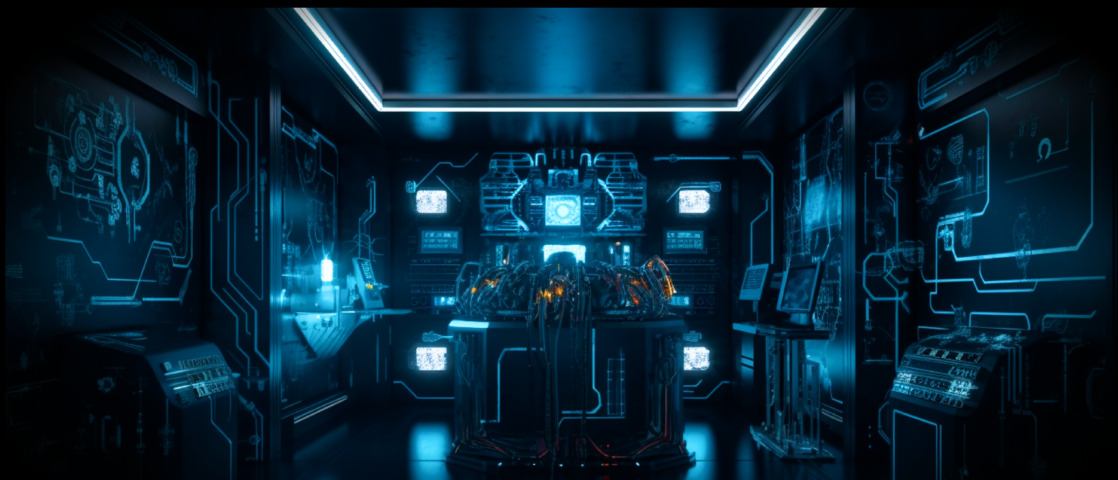 Moreover, to generate memes on the platform, users must buy credits with the $AI token. This creates revenue for the team, which they can use to further develop the project without relying on token emissions, making AiDoge one of the best long-term coins.
Still, cryptocurrency is volatile, so making long-term predictions is difficult. No matter how good a coin is, external factors affect crypto prices, such as regulation, the broader economy and the public's crypto perception.
Nonetheless, AiDoge has a solid set of fundamentals, and its tokenomics also work in its favour for the coin to be successful long-term. Therefore, our AiDoge price prediction estimates a price of $0.00055 by the end of 2030, resulting in a 2015% increase from its stage one price.
AiDoge Potential Highs and Lows
Considering its unique positioning at the intersection between AI and the crypto meme industry, AiDoge could be one of the best presale coins to invest in this year. We have summarised its potential prices below.
| | | |
| --- | --- | --- |
| Year | Potential High | Potential Low |
| 2023 | $0.0001 | $0.00005 |
| 2025 | $0.00024 | $0.00015 |
| 2030 | $0.00055 | $0.003 |
What is AiDoge?
Key Points on AiDoge:
AiDoge is the first AI integrated meme platform, using AI technology to create high-quality, and relevant memes.
The $AI token serves as the primary currency for purchasing credits to generate memes and can also be staked for daily credit rewards and voting rights.
The platform fosters a vibrant community through staking, rewarding stakers with credits, featuring a public wall for sharing and voting on memes, and incentivizing top memes with $AI token rewards.
AiDoge is a new presale cryptocurrency that enables users to create AI-generaed memes using text-based prompts.

One of the project's core features is its Meme Feed, where all new memes will be published. Creators are rewarded with crypto and exposure for creating popular memes. This could push creators to think outside the box and use creative prompt engineering to make the most unique and engaging memes to rank higher on the feed.

To determine which memes are the highest quality, AiDoge has implemented a voting mechanism to allow users to up or downvote memes on the Meme Feed. The platform will also reward users with $AI tokens who vote.

Another essential feature of the coin is its staking mechanism. By locking tokens in the platform's smart contract, users can earn passive rewards, which they can swap for another crypto, use to buy credits or restake to compound their gains.

Staking also grants access to new features and voting rights on the project's direction.

The staking mechanism could play an important role in reducing the coin's supply, thus boosting its price. However, the staking APR is unknown, so it is uncertain how much of the coins supply users will likely stake.

Ultimately, however, AiDoge is targeting an untapped area in the crypto industry, giving it a first-mover advantage. Moreover, it has the perfect product-market fit and solves a real need for the crypto industry by enabling the seamless generation of memes.
What Affects the AiDoge Price?
This section considers some main components that will dictate the $AI price, helping you to determine whether it is one of the best future cryptos.
Strong Tokenomics
The term tokenomics is short for 'token economics' and refers to everything relating to a cryptocurrency's supply, distribution and utility. Understanding the tokenomics of a coin, particularly its supply and vesting schedule, helps determine the current and future token supply.

Regarding tokenomics, AiDoge has three main features that set it apart from other cryptocurrencies, potentially leading to a higher future price. Firstly, there is a ten-year vesting schedule, as well as showing the team's long-term vision for the coin; this means there will not be a significant supply shock, which would hold down its price.

Secondly, the supply is capped, which means there will only ever be one trillion tokens, and the coin will turn deflationary at the end of the vesting schedule.

Finally, the $AI coin has multiple sources of demand; for example, investors will buy it to speculate on generative AI and earn passive staking rewards. But more importantly, creators require it to purchase credits to create memes.
Hype and Exchange Launches
AiDoge will launch on exchanges following its presale. This will allow a wide range of new investors to buy the coin who missed the presale. Considering its core feature of leveraging AI to enable users to generate memes, we speculate that the coin will amass a lot of hype leading up to its exchange launch, which could positively impact its price.
Utility Driven Demand
Another key driver of demand is utility-driven demand. This form of demand will stem from creators who want to use AI to help create memes. Since crypto is highly community-driven, we can expect to see many existing and new content creators flock to AiDoge to brush up on their 'meme game'.

The platform makes creating unique and engaging memes easier than ever; saving creators a lot of time and effort. Therefore, it will likely attract a lot of new creators who previously did not have the resources to put out content on social media consistently.

It is also important to remember that users must buy credits with $AI to create memes with AiDoge. Therefore, demand to use the platform will positively impact the coin's price.
Is AiDoge the Best Crypto to Buy in 2023?
Considering the factors we mentioned above, AiDoge certainly has a promising future. With that in mind, there are a couple of reasons why AiDoge could be one of the best altcoins to buy in 2023.

Firstly, since it uses generative AI for meme creation, $AI is the perfect way for investors to gain exposure to the AI industry from the blockchain. Moreover, its ability to solve an issue many creators and would-be creators face in the social media crypto community gives it utility and long-term potential.

Finally, since the project is in its presale, it is still a small-cap coin, which gives it tremendous potential for upside growth.

That said, whether or not investors buy a coin like AiDoge ultimately depends on their risk tolerance. Different from coins with proven track records like Bitcoin and Ethereum, presales are regarded as higher-risk investments. Nonetheless, high-risk coins under $1 provide a lot of growth potential, and at one point, coins Bitcoin and Ethereum were also considered 'high-risk'.

AiDoge is a presale crypto token offering discounted investment prior to an exchange listing. Presales are risky, but some have yielded high returns for investors, making them a potential addition to a well-balanced crypto portfolio.
How to Buy AiDoge – Quick Guide
Since AiDoge is still in its presale, you can only purchase it from its website. This section explains how to buy AiDoge tokens in less than ten minutes.
Step One: Create a Software Wallet
First, you must create a software wallet. The most straightforward wallet to get started with is MetaMask. To get started, visit the MetaMask website, download the wallet to your device, and follow the on-screen instructions to create your account.

Keep your seed phrase secure and private; never share it with anyone.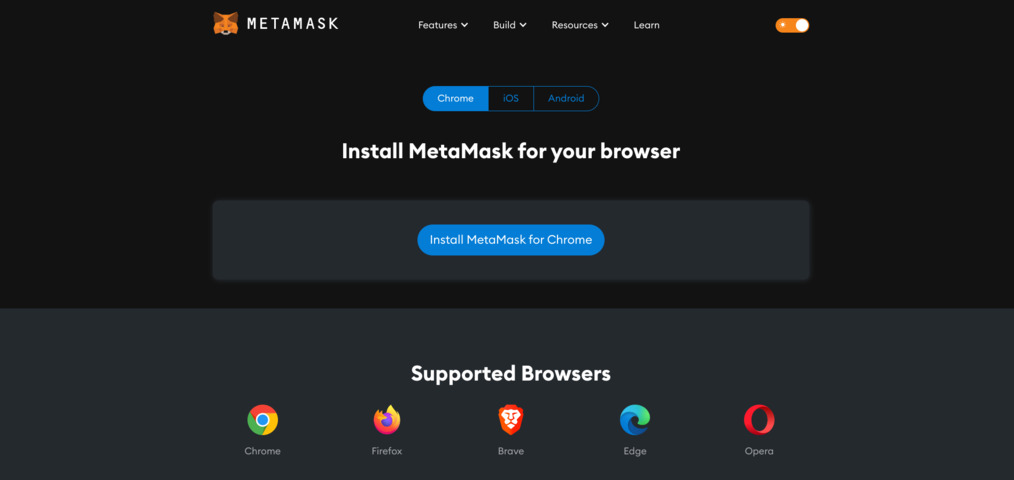 Step Two: Purchase Funds to Invest With
Next, you must load your software wallet with crypto to fund your investment. Since AiDoge is an Ethereum token, we recommend loading your wallet with Ethereum (ETH), since you can also use it to pay the gas fees. However, the AiDoge platform also accepts USDT and BNB.

Log in to your centralised exchange account and deposit fiat, then purchase Ethereum. Next, visit your software wallet, click 'Receive', select Ethereum, and copy the wallet address. Or, you can copy the wallet address from your dashboard.

Next, head back to the centralised exchange, click on Ethereum, then click 'Send', pasting your wallet address in the text box.

Alternatively, AiDoge allows you to pay with a card (if your software wallet supports card payments). However, you will still need to load your wallet with ETH for gas fees anyway.
Step Three: Connect Your Wallet To AiDoge
Visit the AiDoge website, select 'Buy Now', then choose your wallet type. From there, follow the on-screen instructions to finish connecting your wallet.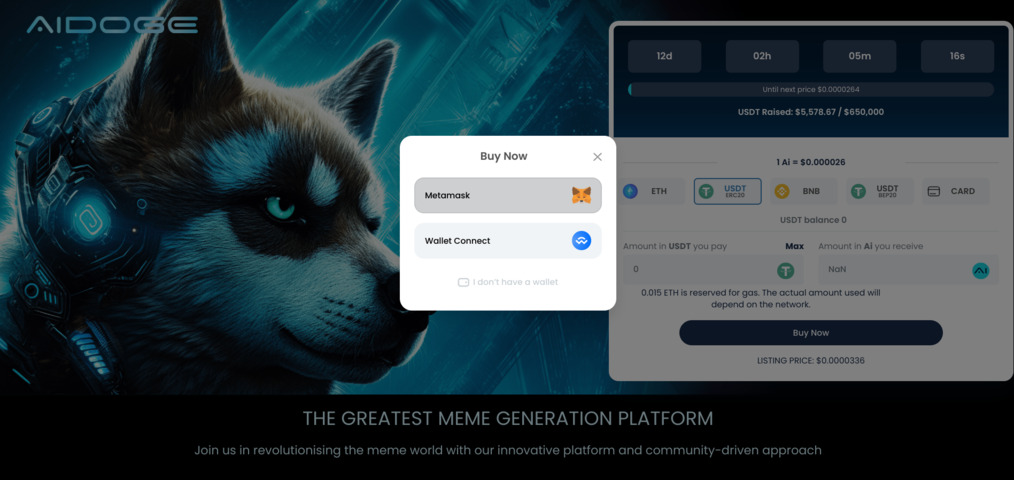 Step Four: Purchase $AI Tokens
Choose the amount of AiDoge tokens you want to buy, then follow the on-screen instructions to complete your purchase, confirming the transaction in your wallet when prompted.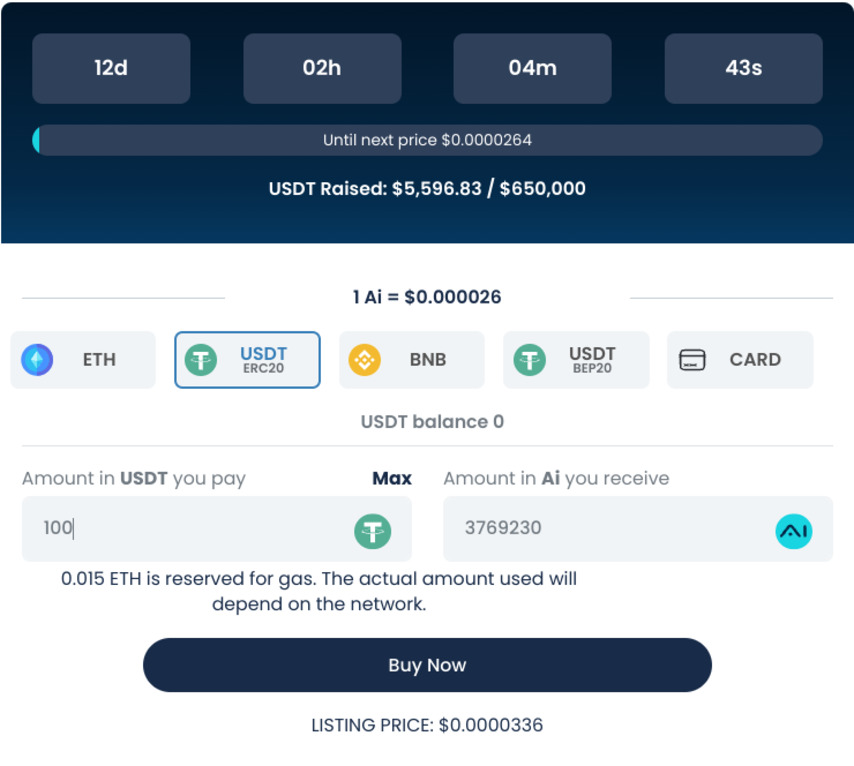 Step Five: Claim Your Tokens
At the end of the presale, you can revisit the AiDoge website and connect your wallet to claim your tokens. Once you have claimed them, you can find them in your wallet by choosing the 'import tokens' button and pasting the AiDoge smart contract address.
AiDoge Price Prediction – Closing Thoughts
This AiDoge price prediction analysed the AiDoge price based on various factors, including its utility, tokenomics, product-market fit and broader market trends.

We estimate that the price could increase as much as 2015% by 2030 based on its current presale price. Since the price will continually increase until its IEO, entering early will provide investors with a bigger discount and potentially more profit.
FAQs
Is AiDoge a good investment?
What will the AiDoge price be in 2025?
What is the AiDoge price?