ApeMax is an new presale crypto that incorporates ways to reward its community with passive income – stating users of the platform will be able to earn free crypto through staking and purchasing loot boxes.
Currently in its first presale stage, the ApeMax token price is set to rise incrementally over time.
However, does ApeMax have what it takes to be the next crypto to explode? We investigate in this ApeMax Price Prediction.
ApeMax Presale Launches With Daily Price Increases
The ApeMax presale is currently in its first round, priced at $0.00013952 at the time of writing. However, that price is temporary, with the price of $APEMAX tokens rising every 24 hours throughout the presale, meaning investors have limited time to purchase at the best possible rate.
After launching on May 23, ApeMax raised $122,000 in the first 24 hours of its presale.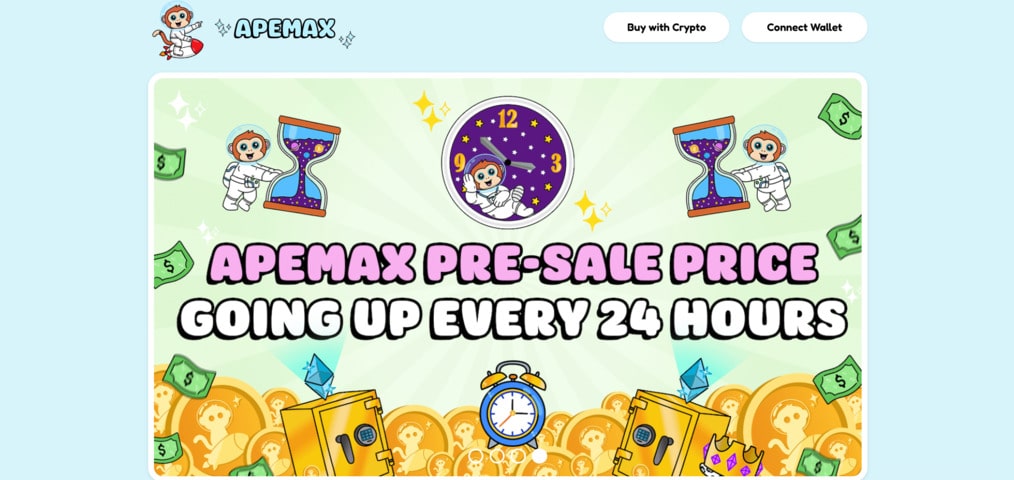 The fast start to the presale is likely due to the daily price increases, which will generate a sense of FOMO among investors who want to purchase the coin at the lowest possible price.
If the ApeMax crypto ICO can continue on its current trajectory, we could see it resembling the Tamadoge presale in terms of numbers and success following its initial exchange offering (IEO). Like Tamadoge, ApeMax is a fun, community-driven meme coin that also provides real value to holders through its wider ecosystem.
Following the Tamadoge IEO, the price of TAMA tokens exploded, netting early investors a 19x profit – Tamadoge had a sell-off following the initial pump, but the price has recently recovered, climbing over 50% at the start of 2023 as it released a series of play-to-earn games and announced its upcoming augmented reality mobile app.
This illustrates the power of community-focused coins that provide real value to their holders. Therefore, if the ApeMax presale continues to succeed, we could expect big things from the coin following its exchange launch.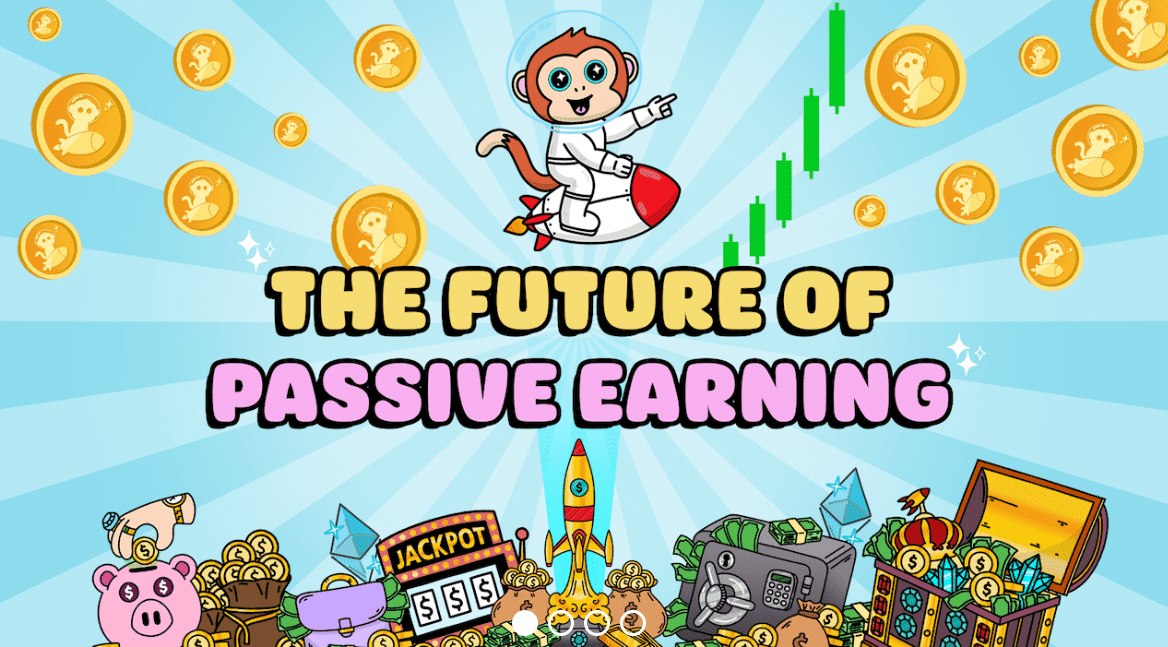 The main feature of the ApeMax project is its staking mechanism, which works differently from traditional staking and could be part of why the project has got off to an explosive start.
The staking mechanism is supported by three key features: staking bonuses, transfer tax and a staking fee. The Apemax whitepaper goes in-depth into what each of these is, but the main thing to know is that each of them adds to the project's long-term sustainability.
The interesting thing about the ApeMax project and its staking mechanism is that it is proclaimed as 'Boost To Earn'. Essentially, creators can launch on the ApeMax platform, and users can stake on their favorites.
When a user stakes on their favorite creator, such as an influencer, celebrity or new crypto project, both the staker and creator will earn staking rewards.
Why ApeMax Could Be the Next Crypto to Explode
While we touched on ApeMax's tokenomics earlier, it is worth breaking them down since they could be crucial to the project's success or failure, and decide whether or not ApeMax is the next cryptocurrency to explode.
Firstly, ApeMax is a deflationary token that also provides staking rewards to users.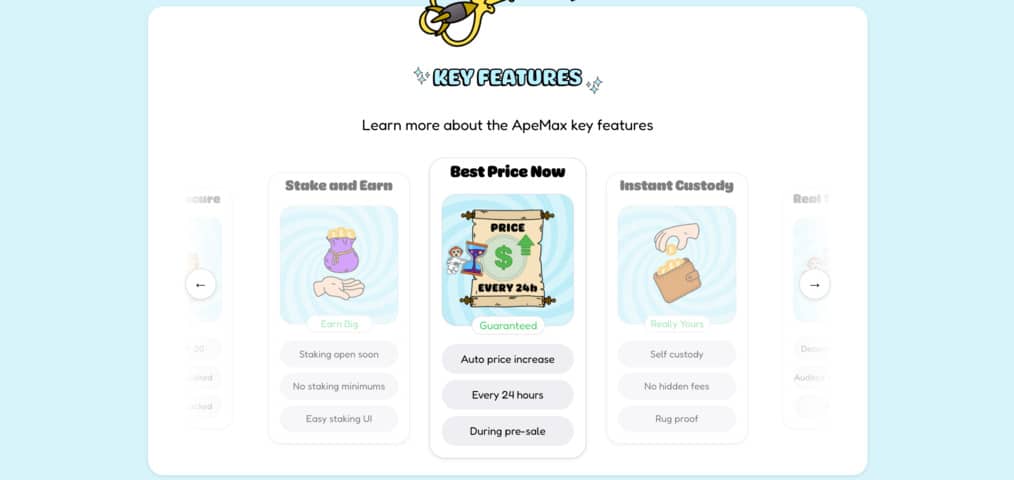 These factors provide two benefits toward the ApeMax price. Firstly, since ApeMax is deflationary, the circulating supply will reduce over time. Ultimately, this will reduce sell pressure, enabling the price to climb.
Secondly, the staking rewards feature means the coin will generate demand from users looking to earn passive rewards. These two factors mean there will be a decreasing supply and increasing demand.
However, some critics have shunned protocol-level staking in the past since it usually relies on inflationary tokenomics. In spite of this, ApeMax is allocating 40% of its max supply to staking rewards.
This means ApeSwap can sustainably reward stakers long-term while maintaining a fixed supply. Moreover, its integration of transfer and staking fees will further secure its long-term sustainability.
Investors should always be aware of the risks of purchasing presale tokens, with long-term success far from guaranteed as they are brand new projects that have not established any market for their utility – even if they have the potential to do so.
ApeMax Price Prediction
Overall, ApeMax has already generated considerable hype, and its tokenomics mean it could have long-term potential. That said, investors must remember that all crypto presales come with risk.
Our ApeMax price prediction forecasts that ApeMax will generate sustained hype throughout this year, leading to a price of $0.001 by the end of 2023 – a 600% increase from the price at the time of writing.
Looking further ahead, we could expect ApeMax to reach $0.0018 (1,200% increase) by the end of 2025. The reason for this is its ability to generate hype quickly, combined with its unique staking mechanism and sustainable tokenomics.
How to Buy ApeMax – 5 Simple Steps
Follow the steps below to purchase ApeMax in ten minutes or less.
Step 1: Create a MetaMask Account
First, download MetaMask to your device and follow the instructions to create an account.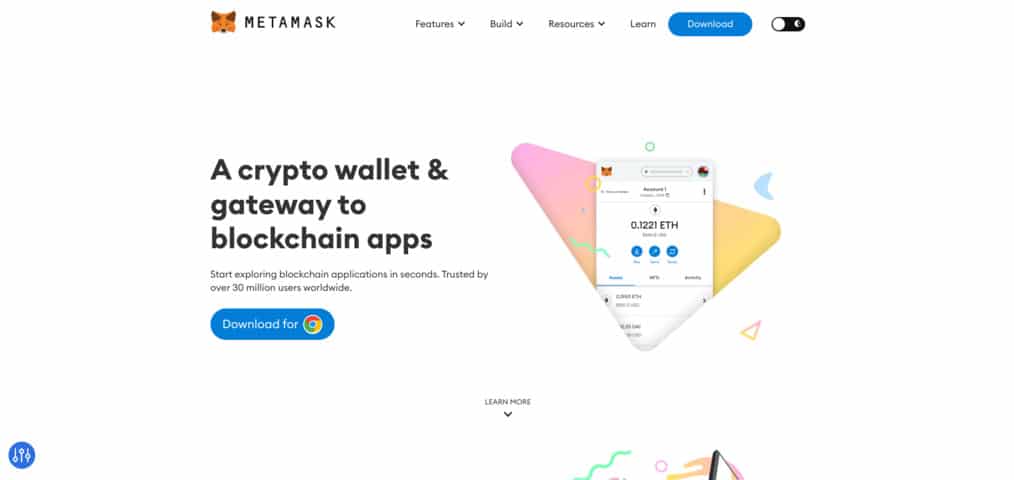 Step 2: Purchase Crypto to Fund Your Investment
Then you must purchase crypto to fund the investment. ApeMax accepts a range of cryptos, including Ethereum, BNB, Polygon, USDT and USDC. Simply choose the crypto you want to pay with, then buy it on MetaMask with your bank card or on a centralised exchange and send it to your MetaMask account.
Step 3: Visit the ApeMax Website
Next, visit the ApeMax website, click "Buy Crypto", and select the amount of crypto you want.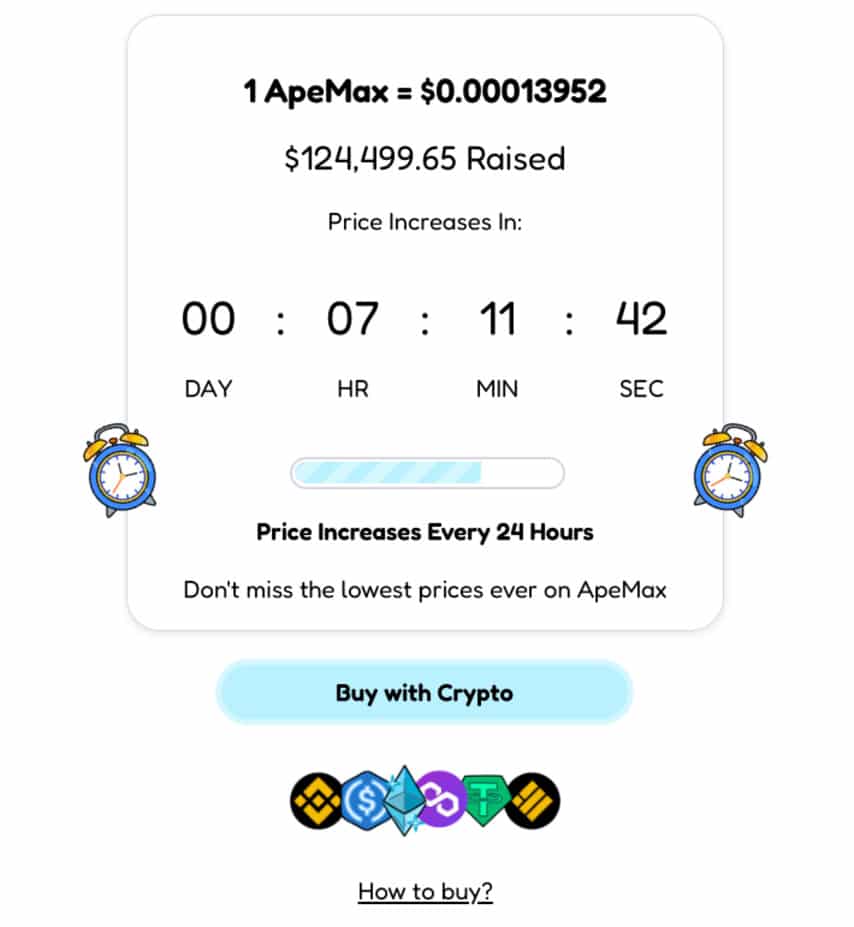 Step 4: Purchase ApeMax
Complete the purchase by following the onscreen instructions and authorizing the transaction through your MetaMask account.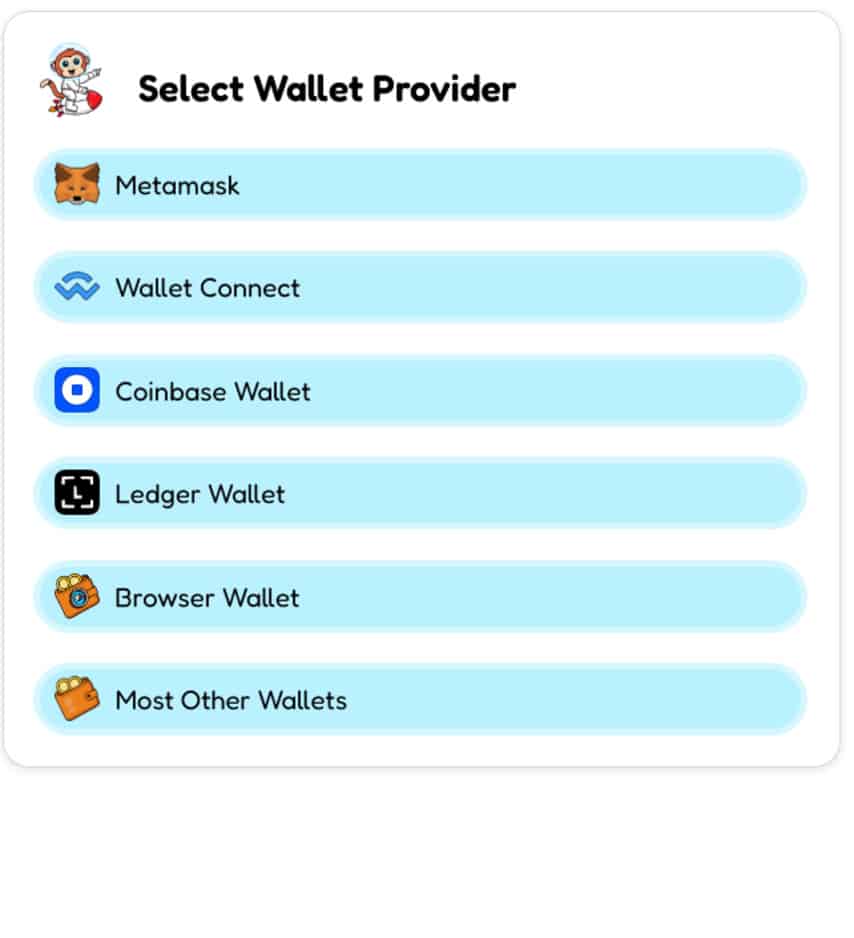 Step 5: Claim Your ApeMax
Following the presale, visit the ApeMax website, connect your wallet and claim your ApeMax tokens.
ApeMax – Alternative Projects
ApeMax is a trending crypto presale project that has launched with a lot of hype and has already generated $120,000 of funds in its first 24 hours.
However, our expert writers have put together a list of the best crypto presales to invest in now, with ApeMax failing to find a spot.
Best Place to Buy Cryptocurrencies
Binance is without a doubt the best place to buy cryptocurrencies because of a wide variety of useful and potentially profitable features.
First, you get to buy over 350 cryptocurrencies either with a card or on the spot market. The latter comes with some of the lowest fees in the space of just 0.1%. You can further lower this number if you pay the fees with BNB coins or if your 30-day trading volume is above $1 million.
Next, you can earn passive rewards on your coins. Binance Earn lets you lock your coins for a certain period of time and earn more of that coin in rewards. There are low risk and high risk options where the former comes with annual percentage rates of up to 15%, while the latter can return over 200% annually in some cases.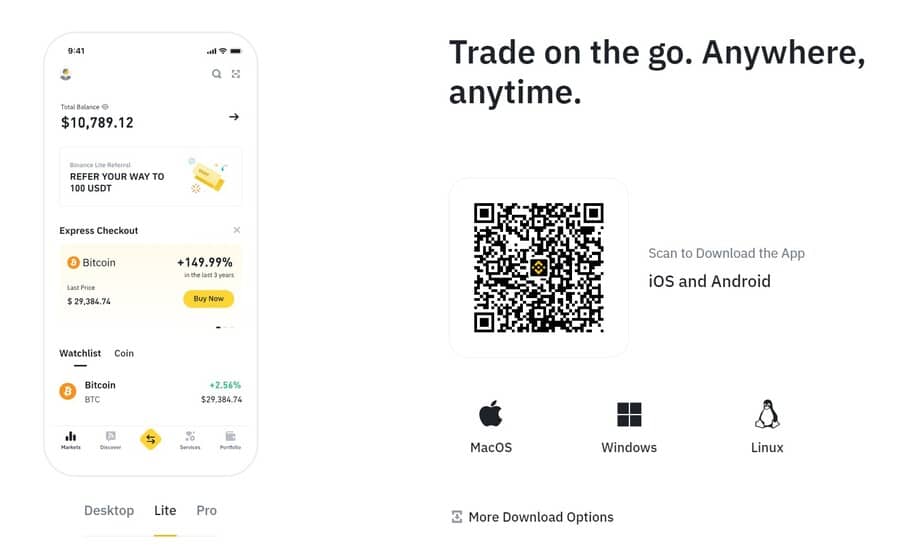 Seasoned traders can use up to 10x leverage to speculate on crypto asset prices via options and futures, and those who want a hands-off approach to crypto investing have trading bots and copy trading at their disposal.
If you're looking to buy new coins that are yet to be listed, Binance Launchpad is the way to go. This feature offers Binance users access to newly launched coins before they are listed on any exchange, giving them potentially better entry prices early on.
Overall, Binance is the leading crypto exchange both in terms of number of users and in daily trading volume, making it the best place to buy cryptocurrencies.
Don't invest unless you're prepared to lose all the money you invest. This is a high-risk investment and you should not expect to be protected if something goes wrong.
ApeMax Price Prediction – Conclusion
ApeMax provides a unique use case and has had a successful start. The project has considerable hype and genuine long term potential, but bear in mind that all crypto presale investments come with risk.
FAQs
What is a crypto presale?
What is the ApeMaxPrice Prediction?