Launched in October 2022, Aptos (APT) faced a setback with the FTX fallout but bounced back impressively through strategic partnerships like the Web3 Recovery Initiative by Binance. 
Despite recent downturns, Aptos' developer community remains active, constantly devising new upgrades to improve the platform's long-term utility. This article tracks Aptos's past prices, projects possible future potential, and gathers experts' opinions to give a full view of the Aptos price prediction.
APT Price Forecast 2023 to 2030 – A Brief Overview
Here's a summarized version of the Aptos price forecast from 2023 – 2030:
As of July 2023, Aptos ranks as the 35th biggest crypto, despite market turbulence and a persistent bear trend. Although its value decreased, a break above its long-term pattern might lead to a short-term rally.

Market conditions will greatly influence APT's progress through 2023, with a predicted average price of $9.86 by year-end. It might drop to $3.19 in a downturn but could touch $14.5 in a bull market.

Moving into 2024, with prospective blockchain updates, Aptos might hit a high of $18 and bounce back from the $13.5 level.

Tech advancements forecasted for 2025 hint at a bright future for Aptos. If the market remains stable, APT might peak at $22.4 or settle around $15.4 in a less bullish market.

By 2030, accounting for broader market patterns and Aptos-specific efforts like 'Shoal' and 'Petra Wallet,' APT may top at around $72 or steady around the $54 level in more moderate market periods.
| | | | |
| --- | --- | --- | --- |
| Year | Potential Low | Average Price | Potential High |
| 2023 | $3.19 | $9.86 | $14.5 |
| 2024 | $13.5 | $16.6 | $18 |
| 2025 | $15.4 | $19 | $22.4 |
| 2030 | $54 | $65 | $72 |
Aptos Price History
Having launched on October 19, 2022, Aptos caught the attention of investors as it rallied to a significant $10.25 just days after launch. This initial optimism, however, faced a steep challenge when the collapse of the FTX exchange led to a damaging impact on the broader crypto market, including Aptos.
Consequently, it touched its all-time low of $3.02 in December 2022. Despite the setbacks, Aptos managed to witness an impressive recovery. One of the major reasons was the announcement that the Aptos blockchain was joining the Web3 Recovery Initiative program, an initiative led by Binance.
At the start of this year, Aptos registered over 500% growth, reaching an all-time high of nearly $20 on January 26.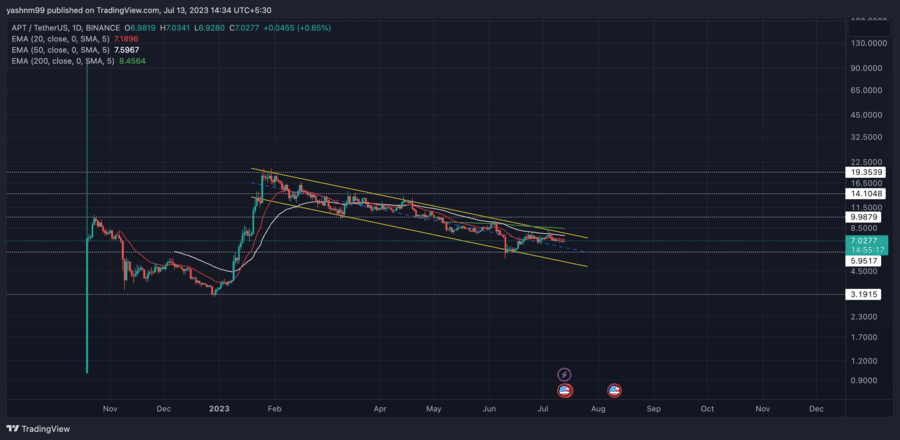 As market uncertainties kicked in, the price slid to a low of $5.9, marking a significant downturn. Despite this drop, this level offered strong support, causing an uptrend in the near term.
Recently, the coin has been grappling with a strong bearish influence after falling from the $19 resistance level.
The bearish dominance was further confirmed as the 20/50 EMA (Exponential Moving Average – a weighted moving average that gives more importance to recent prices) slipped below the 200 EMA. This crossover is often called a 'death cross,' indicating a strong bearish trend.
This bearish trend has also outlined a 'descending channel' on the daily chart. A descending channel is a technical pattern characterized by two downward-sloping parallel lines. 
It is generally seen as a bearish signal but can also indicate a potential reversal pattern, i.e., a switch from a downtrend to an uptrend. After plunging to its 5-month low on 10 June, Aptos struggled through this pattern. However, the bulls have been striving hard to break the pattern.
At press time, Aptos is the 35th-largest crypto by market cap – a solid achievement for a coin traded for less than nine months in the open market, making it one of the top cryptos to watch.
Key points of Aptos's price history:
Aptos started trading on the open market in October 2022 and rallied to $10.25 shortly after.

FTX's collapse and broader uncertainties drove Aptos to its lowest point at $3.02 in December 2022.

Aptos rebounded after joining Binance's Web3 Recovery Initiative.

In 2023, Aptos exploded over 500%, hitting nearly $20 on January 26.

Recently, Aptos has seen a strong bearish trend, with the 20/50 EMA sliding below the 200 EMA.

This downward trend has formed a 'descending channel' on Aptos's daily chart.
Aptos Price Prediction 2023
Investors typically search for the next crypto to explode as crypto markets rebound. At press time, Aptos is down by 65% from its peak. Nonetheless, much of  APT's performance will depend on several market trends and conditions for the rest of 2023.
Currently, the upper trendline of the channel and the EMAs have been acting as significant resistance, pushing back a near-term rally. If Aptos closes above these levels, it may confirm a patterned breakout, hinting at a potential reversal from the current downtrend.
The token is trapped in a descending channel, a sign of ongoing decline. This suggests that investors should wait for a price jump above this pattern before investing, improving chances for short-term gains. 
A significant rally might occur if buyers can drive the price to surpass the $14.5 resistance level, especially with the Bitcoin fear and Greed Index favoring the bulls at press time.
Yet, If APT breaks beneath the downtrend pattern, it could signal more losses ahead, highlighting the importance of a cautious approach.
Given these factors, we estimate that APT might average $9.86 by year-end. It could slump to a low of $3.19, or, in a bullish scenario, it could rise to around $14.5.
The following are the month-on-month projections for APT price prediction for the rest of 2023:
| | | | |
| --- | --- | --- | --- |
| Month | Potential Low | Average Price | Potential High |
| August 2023 | $3.19 | $5.50 | $8.2 |
| September 2023 | $3.75 | $6.25 | $8.75 |
| October 2023 | $4.2 | $7.3 | $10.5 |
| November 2023 | $4.50 | $8.00 | $11.5 |
| December 2023 | $5 | $9.86 | $14.5 |
Aptos Price Prediction 2024
Investors seek the best cryptos to trade, particularly as the crypto market actively tries to recover from its multi-monthly lows. When projecting APT's future, we should take into account a variety of market influences.
Understanding market trends, blockchain advancements, and Aptos's developments is crucial for potential investors. It's important to note that any surge pushing APT past the $14 resistance and toward $20 would require significant momentum.
This isn't solely tied to APT's attributes but also wider market sentiment and investor confidence. Remember, perception and investor mood greatly impact cryptos.
From a fundamental perspective, a significant upgrade, the v1.5 package, is in the pipeline. It introduces features enhancing the Aptos blockchain's functionality and broadening developers' capabilities. These updates are key to boosting the appeal and utility of APT.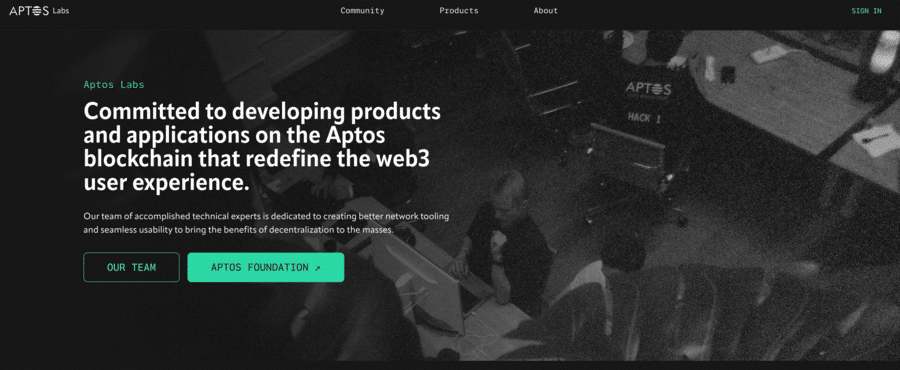 Notably, the Aptos Investment Proposal (AIP)-21 update aims to expand the network's handling of fungible assets like tokenized securities, real estate, and in-game currencies. This flexibility could expand Aptos's use cases and demand, potentially increasing its value.
Backend changes for better efficiency are also proposed, such as node behavior tracking, cloud-based node restoration, and duplicate transaction removal. 
Another proposal aims to simplify building cryptographic applications in Aptos's native code, Move. These improvements aim to make Aptos more resilient, adaptable, and user-friendly. 
While market volatility is given, Aptos's proactive steps hint at a potentially bright future for the APT token in 2024. APT could see highs of $18 while finding rebounding grounds at the $13.5 support.
APT Price Prediction 2025
Remember, crypto prices are deeply tied to wider market trends and investor mood. A bullish crypto market in 2025 could push APT's price upward.
Looking ahead to 2025, Aptos shows promising potential, thanks to tech upgrades, market trends, and network improvements. Let's break down how these elements shape APT's future price.
From a tech perspective, Aptos looks to implement the Move Objects framework via its AIP-10. This lets users access a wide variety of resources at one address. This will improve resource control and data analysis, making the Aptos network more efficient and attractive to investors.
For example, with Move Objects, a digital asset like an NFT could have shared data in one resource and unique data in another, improving performance. This and future upgrades, like assigning abilities to objects, could boost network flexibility.
Further boosting APT's prospects, Concordia, a new protocol for managing risk and collateral across multiple chains, is being tested on the Aptos network. It's already raised $4 million in seed funding. If successfully integrated, this could improve Aptos' resilience and risk management.
With these factors, Aptos could soar to new heights in 2025. If the upgrades go well and the market stays strong, APT could hit a high of $22.4. The token might hover around $15.4 if the market conditions are less bullish.
APT Price Prediction 2030
The global blockchain market, worth roughly $11.14 billion in 2022, is expected to surge to $469.49 billion by 2030, showing a yearly growth rate of about 60%. Cryptos like APT will likely gain from increased acceptance and utility as blockchain becomes commonplace across sectors.
To ensure long-term growth, a key effort by Aptos to improve its long-term utility is 'Shoal,' a unique blockchain framework built by the AptosLabs team. Shoal significantly improves Aptos' blockchain speed and reliability, showing latency improvements between 40% to 80% during stress tests.
Shoal runs sequential instances of the 'Bullshark' protocol, like a relay race of sharks. This setup cuts down latency by up to 40% in flawless runs and 80% in runs with hiccups, all without slowing transaction processing speed (TPS). This boost in efficiency could draw more users to Aptos, enabling network growth.
The 'Petra Wallet' launch on Google Play and Apple App Stores is expanding Aptos' influence. This lets users handle their APT tokens wherever they are, potentially driving more engagement and investment.
Factoring in these elements and the growth of the global blockchain market by 2030, APT could peak at around $72. In less bullish times, it might stabilize around the $54 mark.
Nonetheless, when assessing long-term price projections to identify the best long-term investment, it's crucial to consider the general mood toward Bitcoin and broader economic events.
Potential Highs & Lows of Aptos Price
Below is a summary of the APT price forecast from 2023 to 2030:
| | | | |
| --- | --- | --- | --- |
| Year | Potential Low | Average Price | Potential High |
| 2023 | $3.19 | $9.86 | $14.5 |
| 2024 | $13.5 | $16.6 | $18 |
| 2025 | $15.4 | $19 | $22.4 |
| 2030 | $54 | $65 | $72 |
What Do Other Analysts Predict For Aptos?
As we look at some top analysts' Aptos price predictions, it's crucial to remember that these are based on several technical and other factors and are only estimates. 
While these predictions offer different scenarios, they unanimously project a bullish trend for Aptos. But given the volatility of cryptos, future market behavior is always uncertain.
Digital Coin Price has offered a comprehensive prediction for Aptos in the coming years. They suggest that the coin could reach a value of up to $136. Here is a detailed breakdown of their predictions:
In 2023, they propose a minimum price of $6.32, an average price of $14.58, and a maximum price of $15.46.

By 2024, they anticipate these figures to escalate to a minimum of $15.08, an average of $16.57, and a maximum of $18.17.

This upward trend continues each year, with a minimum price of $68.44, an average of $72.15, and a maximum of $73.73 in 2030.
Telegaon, another predictions platform, offers a slightly different perspective on Aptos' price trajectory:
For 2023, they foresee a price range from $4.82 at the lower end to $8.91 at the higher end.

By 2024, their prediction ranges from a minimum of $9.16 to a maximum of $15.23.

By 2030, their outlook places Aptos between a low of $76.91 and a high of $102.15.
CoinCodex predicts a slightly conservative growth for Aptos. According to their model:
In 2023, Aptos could trade between a low of $6.13 and a high of $13.09.

By 2024, the prediction remains the same, with a range of $6.13 and $13.09.

In 2030, they expect Aptos to oscillate between $28.82 on the lower end and $36.47 on the higher end.
Finally, PricePrediction.net has provided its forecast, anticipating a steady climb in Aptos' value:
For 2023, they project a price between $8.00 and $9.34.

By 2024, they predict a rise to between $11.37 and $13.86.

Their most optimistic APT price forecast is for 2030, where they predict a minimum price of $115.97, an average price of $119.82, and a maximum price of $131.64.
What is Aptos?
Aptos addresses major barriers to blockchain's widespread acceptance, such as frequent crashes, high costs, slow speeds, and security gaps. Inspired by the progress in cloud technology, Aptos offers a resilient, scalable, and cost-effective platform for application creation.
A dedicated team of over 350 developers worldwide spent three years crafting the Aptos blockchain, prioritizing scalability, security, dependability, and upgradability. 
Its design offers several first-time improvements in consensus, smart contract design, system security, performance, and decentralization. Aptos uses the 'Move' coding language, allowing for quick, secure transactions and enhancing contract security against potential threats. 
It provides developers with a flexible data model for key management and mixed custodial solutions, improving user experience and confidence.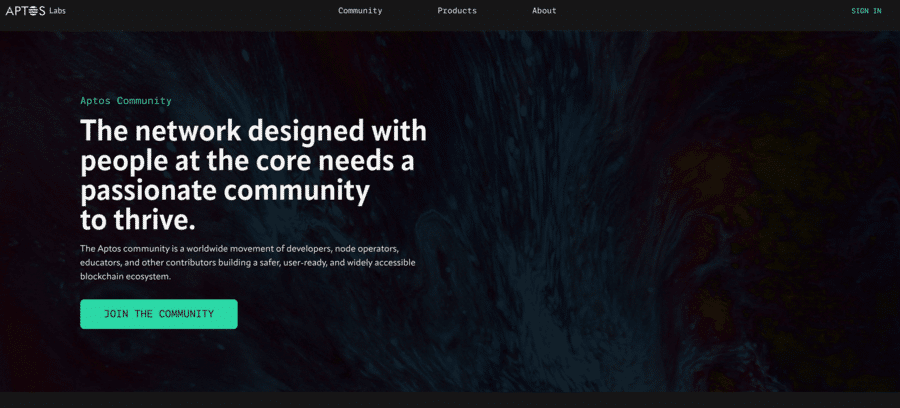 In solving slow speed and latency problems, Aptos utilizes a modular and sequential approach for different phases of transaction processing, such as transaction distribution, block metadata ordering, parallel transaction execution, batch storage, and ledger certification. It effectively uses all available resources for highly parallel execution, boosting hardware efficiency.
The platform's emphasis on security, scalability, and continuous improvement can make it a dependable blockchain platform for various applications.
Aptos Overview
| | |
| --- | --- |
| Cryptocurrency | Aptos |
| Ticker Symbol | APT |
| Price | $7.02 |
| Price Change 24H | -0.4% |
| Market Cap | $1,510,947,568  |
| Circulating Supply | 215,210,633  |
| Trading Volume | $49,465,667 |
| All-Time High | $19.92 |
| All-Time Low | $3.08 |
What Factors Influence the Price of Aptos?
Investors must understand factors that influence crypto prices to make sound decisions. The following factors can affect the Aptos price;
Usability

: Aptos aims to enable the creation of popular, cost-effective applications. The more widely these apps are adopted, the higher the demand for Aptos tokens, potentially increasing their price.

Scalability

: Aptos uses a module-based, step-by-step transaction process that efficiently uses all resources. This scalability focus can attract businesses and positively affect the token's price.

Security

: In the crypto world, security is paramount. Aptos uses the 'Move' language, recognized for secure transactions. This security emphasis may boost investor trust and push up the price.

Decentralization and Upgradability

: Aptos supports the internal division of a validator and equal state division, promoting decentralization. Its commitment to instant upgrades and on-chain change protocols could be a significant price driver.

Market Trends

: Like all cryptos, Aptos responds to broader market trends, including shifts in investor sentiment, regulatory updates, and economic factors.

Investor Sentiment

: Investor sentiment can heavily influence prices. Any news, good or bad, can cause price swings. For example, positive updates about Aptos' tech progress or adoption can lead to price increases, while negative news can trigger price drops.

Regulatory Shifts

: Lastly,

regulatory news can impact Aptos' price

. Encouraging regulatory updates can boost investor confidence, whereas unfavorable news might cause price drops.
Conclusion
Despite a rather extended downtrend on its charts, Aptos showed rebounding potential. The project's in-network developments can boost its utility and popularity, suggesting possible long-term growth.
However, it's vital to factor in the coin's correlation with Bitcoin and other macroeconomic factors. Making a well-informed decision based on risk tolerance and regularly tracking market shifts is critical.
To hedge your portfolio risk, including other high-potential cryptos is vital to offset any possible losses on Aptos. But with over 26,300 cryptos around, spotting cryptos with upside potential could be tough.
Our 'Best Cryptos' page helps you navigate the crypto landscape while offering detailed insights on top crypto projects. You can visit the page to explore these options.
References
https://www.coingecko.com/en/coins/aptos
https://coinmarketcap.com/currencies/aptos/
https://in.tradingview.com/symbols/APTUSDT/
https://alternative.me/crypto/fear-and-greed-index/
https://twitter.com/Aptos_Network/status/1678556973460262913
https://twitter.com/Aptos_Network/status/1678556976962506752
https://www.fortunebusinessinsights.com/industry-reports/blockchain-market-100072
https://www.zawya.com/en/press-release/companies-news/concordia-secures-4mln-seed-round-from-tribe-capital-kraken-ventures-and-cypher-capital-xdi3isrq
https://money.usnews.com/investing/cryptocurrency/articles/will-cryptocurrency-regulation-affect-crypto-prices
https://digitalcoinprice.com/forecast/aptos
https://coincodex.com/crypto/aptos/price-prediction/
https://telegaon.com/aptos-apt-price-prediction/
https://priceprediction.net/en/price-prediction/aptos
Frequently Asked Questions (FAQs)
How much will Aptos crypto be in 2030?
What is the future of Aptos?