Avalanche is an open-source blockchain enabling fast and low-cost transactions by leveraging a unique network design. However, the AVAX price has been unable to hold well during the recent bear market.
This Avalanche price prediction looks at the tokenomics, AVAX price chart and its fundamentals to forecast the price between 2023 and 2030.
Avalanche Price Prediction Summary
Avalanche launched in September 2020, priced at $5.3217.
The price reached an all-time high (ATH) of $146.22 on 21 November 2021.
Currently, AVAX is down 90% from its ATH at $13.37
Our Avalanche price forecast estimates a price of $14.5 by the end of 2023.
We estimate the 2025 price of AVAX will be $54.5.
| | | | |
| --- | --- | --- | --- |
| Year | Minimum Price | Average Price | Maximum Price |
| 2023 | $9 | $14.5 | $20 |
| 2024 | $16 | $23.25 | $30.5 |
| 2025 | $43 | $54.5 | $66 |
| 2030 | $70 | $100 | $130 |
Avalanche Price History
Avalanche was developed by Cornell University researchers, led by Emin Gün Sirer. The project began development in 2018, with the AVAX token launched in 2020.
Before the token launch, Avalanche underwent multiple presale rounds to fund the project's development. 16% of all AVAX tokens were available throughout the seed round, a private sale and three public sale rounds. The rounds were priced between $0.33 and $0.85.
On top of this, 20% of AVAX tokens were reserved for the Avalanche team and are to be unlocked over the duration of a vesting schedule.
Once live on exchanges, Avalanche began trading at $5.3217 and was followed by a prolonged sell-off to a price of $2.92 in December 2020. However, the crypto markets began to pick up around this point, pushing the price of AVAX to a peak of $55 in February 2021.
The price crashed again after its peak, touching lows of $9.6 in July 2021 before bouncing and undergoing an explosive run to its $146.22 ATH on 21 November 2021.
Following this, the price experienced significant volatility until it experienced a significant collapse in May 2022. The reason for Avalanche's drastic crash was that it had significant exposure to Luna Terra, which collapsed in May 2022.
AVAX touched lows of $15 following the collapse and has continued to decrease since. The price is currently $13.37, down 35% in the last year and 90% since its ATH.
The project also experienced a significant sell-off recently amid the SEC suing Binance and Coinbase. However, its price has mostly recovered as the broader market bounced.
Avalanche price history key points:
Avalanche underwent multiple presales rounds priced between $0.33 and $0.85.
The initial trading price on exchanges was $5.3217.
AVAX reached its ATH of $146.22 on 21 November 2021.
Following a strong sell-off, AVAX is priced at $13.37.
Avalanche Price Prediction 2023
The aim of Avalanche is to provide a scalable and secure blockchain solution for enterprises and crypto projects to build on. It is an intriguing yet complex project, enabling developers to easily deploy a blockchain interoperable with the Avalanche ecosystem.
So far, Avalanche has partnered with Mastercard, Amazon Web Services, SK Planet and many other well-known enterprises. Moreover, popular crypto DeFi applications such as Curve, Aave, and GMX have also migrated to Avalanche.
The project is immensely popular with developers and builders; this is because it has Ethereum Virtual Machine (EVM) compatibility and offers "subnets", where developers can quickly launch their own customized blockchains that are connected to the Avalanche network.
The use cases regarding Avalanche are limitless – this is evident in the impressive partnerships and development the chain has seen thus far.
With that in mind, let's take a look at the Avalanche price chart to forecast the possible price for AVAX in 2023.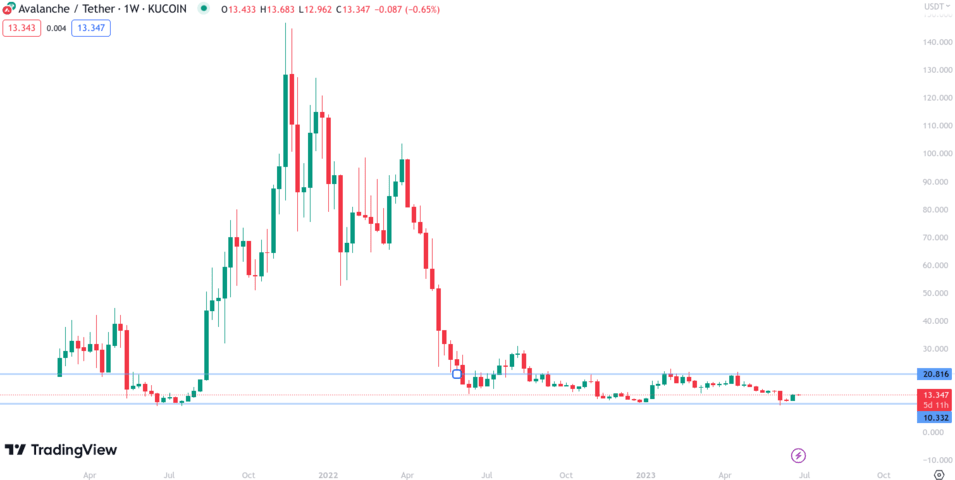 The Avalanche price is currently trading at a key long-term support level. However, the recent support touch has created a "double bottom" and has been followed by a bullish momentum from the last weekly candle.
Considering the developments in Avalanche's ecosystem, we expect the price to bounce from here. However, a deviation to the downside before a move upwards is also possible. If this occurs, we expect the price to drop around 10% below its current support before bouncing and moving towards the resistance level.
Therefore, our Avalanche price prediction forecasts a possible low of $9, a high of $20 and an average price of $14.5 by the end of 2023.
| | | | |
| --- | --- | --- | --- |
| Month | Potential Low | Average Price | Potential High |
| July 2023 | $8.5 | $11 | $13.5 |
| August 2023 | $9 | $11.6 | $14.2 |
| September 2023 | $10 | $12.5 | $15 |
| October 2023 | $10 | $13 | $16 |
| November 2023 | $10 | $14 | $18 |
| December 2023 | $9 | $14.5 | $20 |
Cryptoassets are highly volatile and unregulated in most EU countries, Australia and the UK. No consumer protection. Tax on profits may apply. Your capital is at risk.
Avalanche Price Prediction 2024
With an estimated price of $14.5 by the end of 2023, we forecast Avalanche will break its bear market resistance in 2024.
Avalanche is a highly scalable project, enabling up to 4,500 transactions per second (TPS), with each subnet also capable of 4,500 TPS. As we explained in our Polygon price prediction, cryptos that offer scalability often prove the best bull run coins since gas fees on Ethereum get so high.
The team has also recently announced its AI chatbot, AvaGPT, which will help users learn and build in the Avalanche ecosystem. This will likely lead to faster ecosystem growth and could boost the AVAX price in 2024, thanks to the ongoing AI trend.
Taking a macroeconomic outlook, many banks, analysts and governments are predicting conditions to improve in 2024. For example, the European Central Bank projects inflation will decrease from 5.4% to 3% by 2024.
Improving macroeconomic conditions often causes financial markets to increase in value. This is already illustrated in the equities market, with the S&P 500 index up 13.45% in six months. Therefore, it would be no surprise if cryptocurrencies increased in value in 2024.
However, our main concern regarding the AVAX price is its aggressive token vesting schedule. Currently, just 48.02% of the total supply is circulating. In total, there are 720,000,000 AVAX and 345,210,066 circulating. By the end of 2024, there will be a circulating supply of 479,063,600, equating to a 38% increase.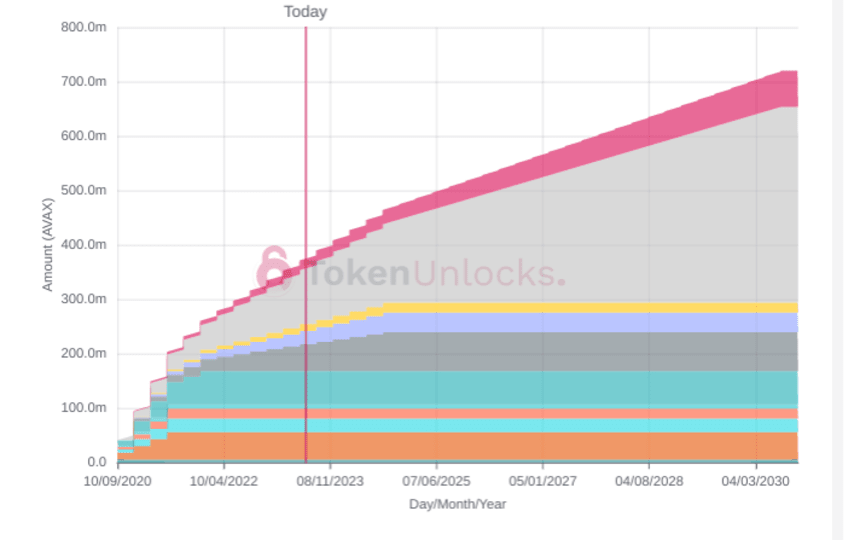 Moreover, as mentioned, many of these holders are already in substantial profits since they bought AVAX at less than $1. Essentially, this means many of them may look to dump the tokens as early as possible to secure their profit.
With this in mind, the upside potential for AVAX in 2024 is limited. While we still forecast a breakout, it is likely to be a much slower ascent than the last bull market.
With this in mind, our Avalanche price prediction estimates a possible low of $16, a high of $30.5 and an average price of $23.25 by the end of 2024.
Avalanche Price Prediction 2025
In recent weeks, institutional interest in crypto has been brewing. Most recently, a non-custodial exchange for institutions has launched and is backed by Citadel Securities, Fidelity and Schwab.
Looking ahead to 2025, we expect institutional interest in crypto to generate significant hype and be a key driver in pushing prices higher.
However, despite a bullish outlook for the broader crypto markets in 2025, Avalanche's vesting schedule means there will be lots of sell pressure that could potentially hold down the AVAX price.
It is also important to consider that holders who already have had some of their tokens unlocked may hold them until the next bull market to sell at a higher price. Consequently, the Avalanche coin price potential for 2025 is limited.
Therefore, our AVAX price prediction 2025 forecasts the price could break to the upside, touching $66 with an average price of $54.5.
However, there is also the possibility that the increasing selling pressure could prevent Avalanche from reaching climbing that high, potentially reaching lows of $43.
Avalanche Price Prediction 2030
Taking a long-term outlook, the main driver in our AVAX coin price prediction 2030 is the demand to use its network. As mentioned, Avalanche offers composable blockchain solutions for enterprises and crypto projects.
We have already seen the biggest crypto projects and global companies choose to use the network, illustrating its long-term potential.
Developers on Ethereum can easily migrate their projects to Avalanche thanks to its EVM-compatible "C-Chain". Moreover, its "P-Chain" enables developers to easily create a customized blockchain using Avalanches development kits and consensus tools.
Also, Avalanche subnets have the added benefits of scalability and interoperability with other Avalanche chains.
This creates a highly scalable, interconnected ecosystem where data and assets can be seamlessly transferred. Moreover, Avalanche's unique consensus algorithm means a network attacker must control 80% of the network, a considerable increase from that of Ethereum or Bitcoin, where it is 51%.
These factors make Avalanche a desirable and flexible blockchain for developers, meaning the project could experience mass adoption by 2030.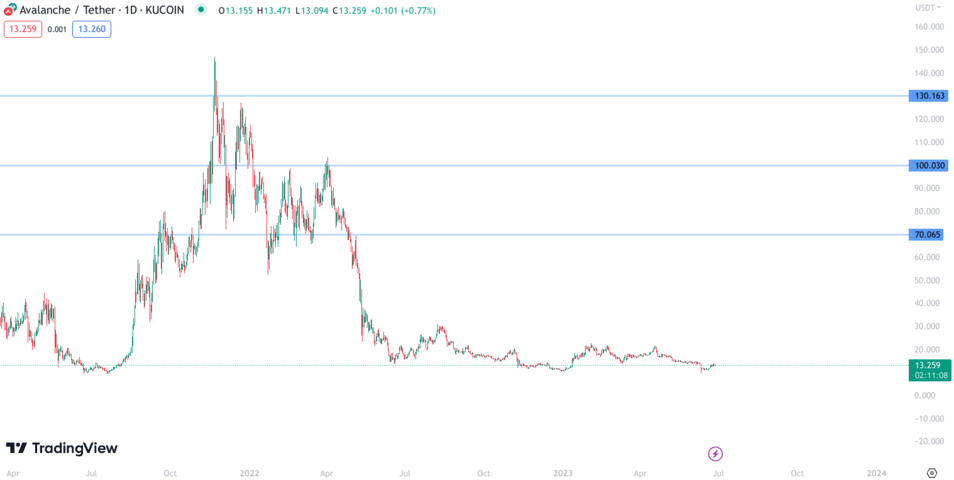 Therefore, our AVAX price prediction 2030 estimates a possible high of $130. However, an average price of $100 would be a more stable long-term estimate.
It is worth noting that there is also potential for Avalanche to reach lower than this, mainly since the token unlock schedule only ends in 2030. This could hold the price down, potentially to lows of $70.
Potential Highs and Lows of Avalanche
Avalanche is a promising crypto with lots of potential use cases. However, there are a lot of variables that could affect its price along the way. We have listed our forecasted lowest and highest Avalanche price for 2023-2030 below.
| | | |
| --- | --- | --- |
| Year | Minimum Price | Maximum Price |
| 2023 | $9 | $20 |
| 2024 | $16 | $30.5 |
| 2025 | $43 | $66 |
| 2030 | $70 | $130 |
What Do Other Analysts Predict for Avalanche?
To determine whether AVAX could be the next coin to explode, we have compiled the Avalanche price predictions of other analysts below.
CoinPedia's Avalanche price forecast predicts possible lows of $17.542, highs of $35.163 and an average price of $25.852 by the end of 2023.
According to the Changelly AVAX coin price prediction, the price could reach a maximum of $18.64, a minimum of $16.37 and an average price of $16.9 by the end of 2023.
The CryptoNewZ AVAX crypto price prediction forecasts possible highs of $36.46 and possible lows of $15.01 by the end of 2023.
Bitnation's Avalanche forecast estimated highs of $23.8, lows of $15.86 and an average price of $19.83 by the end of 2023.
The AMBCrypto Avalanche price forecast predicts a maximum price of $11.13, a minimum price of $7.42 and an average price of $9.28 by the end of 2023.
What is Avalanche and What is it Used For?
Avalanche is an open-source cryptocurrency project consisting of three main blockchains – C-Chain, P-Chain and X-Chain. Each chain serves a specific purpose in creating a secure, scalable and interoperable ecosystem.
The project was developed by a team of researchers from Cornell University and is praised for its innovative (but complex) consensus algorithm – Avalanche Consensus. The algorithm uses a blend of "Nakamoto algorithms" used by other cryptos like Bitcoin and Ethereum combined with classical consensus mechanisms used by computer scientists since the 1980s.
Avalance Consensus plays a key role in facilitating fast transactions with 3-second finality, much quicker than on Ethereum, where finality takes 15 minutes.
The Avalanche P-Chain enables developers to create subnet blockchains within the Avalanche ecosystem, which are capable of up to 4,500 TPS each.
Moreover, the Avalanche C-Chain allows developers to easily port EVM dApps to Avalanche, benefiting from Avalanche's finality and scalability.
The AVAX token is used for governance, gas fees on the P-Chain and X-Chain, and validator staking on all chains. Subnets can also accept AVAX for gas fees, although they can also accept other cryptos.
Avalanche Overview
| | |
| --- | --- |
| Cryptocurrency | Avalanche |
| Ticker Symbol | AVAX |
| Rank | 17 |
| Price | $13.2 |
| Price Change 24H | 0.46% |
| Market Cap | $5B |
| Circulating Supply | 345,214,396.42 AVAX |
| Trading Volume 24H | $114M |
| All Time High | $146.22 |
| All Time Low | $2.79 |
What Influences the Price of Avalanche?
As with most crypto assets, the broader market usually plays a significant role in the price of AVAX. During the previous bull market, the Avalanche price surged and then fell with the rest of the market. As the market picks up in 2024, we expect AVAX to climb once again.
Another significant price driver is the adoption of the Avalanche blockchain. If the Avalanche team continue to secure partnerships with enterprises and other crypto projects, the user will grow.
The reason this will boost AVAX's price is that users require the coin for gas fees, so as network activity increases, so will the demand and price of AVAX.
As mentioned, AXAX is required for staking by validators on all chains. Therefore, as the demand to validate the Avalanche blockchains grows, the demand for AXAX will also grow.
The supply of Avalanche coins will also influence its price. When vested coins are unlocked, the holders will likely have gained significant amounts of profit. This could lead them to quickly sell the tokens, negatively impacting the AVAX price.
Finally, speculation and market sentiment will affect its price. Investors often speculate on future upgrades, regulations, market cycles, narratives and competition. All these factors can increase or decrease AVAX demand.
Is Avalanche a Buy?
Avalanche is a solid cryptocurrency project that has gained impressive partnerships and adoption. However, its price has performed poorly throughout the bear market, currently down 90% from its ATH.
Looking ahead, Avalanche has upside potential, but its coin vesting schedule may be a hindrance to how far it can go.
Conclusion
Overall, our Avalanche price prediction found that although Avalanche is an innovative project that provides real value, but its tokenomics may limit its growth potential.
Therefore, we have compiled a list of our picks for the best cryptocurrencies to buy now.
Cryptoassets are highly volatile and unregulated in most EU countries, Australia and the UK. No consumer protection. Tax on profits may apply. Your capital is at risk.
References
https://www.bbc.com/news/technology-61425209
https://www.theguardian.com/technology/2023/jun/06/sec-crypto-crackdown-us-regulator-sues-binance-and-coinbase
https://www.mastercard.com/news/perspectives/2022/ava-labs-avalanche-smart-contract/
https://www.ecb.europa.eu/pub/projections/html/index.en.html
https://www.wsj.com/articles/crypto-exchange-backed-by-citadel-securities-fidelity-schwab-starts-operations-597f6d46
https://news.cornell.edu/stories/2020/08/blockchain-startup-raises-quick-42m-first-sale
FAQs
How much is Avalanche worth in 2030?
Is Avalanche worth investing in?
How much will Avalanche be worth in 2025?
Should I buy Solana or AVAX?