Axie Infinity is one of the most well-known blockchain games on the market, mainly as a result of the dramatic rise and fall in the token's price in 2021 and 2022 resulting from the short-lived adoption of its play-to-earn gaming model. The Axie Infinity game and its associated token (AXS) are still going strong and building toward a blockchain gaming future.
In this Axie Infinity price prediction, we'll look at what could happen to the price of AXS, as well as what impact outside factors, along with protocol and in-game ecosystem factors, could have on the price.
Axie Infinity Coin Price Prediction 2023–2030 Summary
Axie Infinity token (AXS) is trading at $5.62, an almost 97% decline from its November 2022 all-time high (ATH) of $165.37.
Axie's ATH was reached as a combination of the bull market and a near-hysteria for the play-to-earn (P2E) element of Axie Infinity.
Despite trading steadily downwards since this ATH, AXS has not traded under $4 since June 2021, a support level it just bounced off to breakout of a downward wedge.
Development of the game is progressing steadily, and use cases for the AXS token are growing as the Axie Infinity gaming ecosystem continues to expand.
By the middle of 2026, all Axies Infinity tokens will be in circulation, meaning that, between 2023 and the end of 2026, the circulating supply is set to almost double.
With a solid platform and steady growth of the game through the expansion of the ecosystem and additional game modes, Axie is well-positioned to make the most of the expected near-term adoption of blockchain gaming.
| | | | |
| --- | --- | --- | --- |
| Year | Low Price | Average Price | High Price |
| 2023 | $4 | $6 | $8 |
| 2024 | $10 | $15 | $20 |
| 2025 | $20 | $30 | $37.50 |
| 2030 | $60 | $65 | $80 |
Axie Infinity Price History
The Axie Infinity project was initially funded through a private sale, at $0.08 per coin, and an Initial Exchange Offering (IEO) through the Binance Launchpad, at $0.10 per coin. it then debuted on the Binance exchange at the same price on the day the IEO closed, November 4th 2020. It has always remained above that price.
Its P2E model helped it to gain popularity, and by May 2021, it was seen as a legitimate form of income for people in the Philippines—with many making as much as seven months' wages in the space of a month.
Driven by this growing demand for the game, and the wider crypto market bull run of late 2021, prices soared from $5.67 on July 1st to ATHs of $165.37 on November 6th.
Due to failings in the game's tokenomics—being very Ponzi scheme–esq by being dependent on the continued adoption of the game by new players—the value of the game's two tokens, including AXS, tanked. Although, it is good to note that it did so at the same pace as the wider crypto market. The failings of the P2E model and the fallout was widely covered in the media. In addition to this, the Ronin bridge, Ronin being the sidechain that the Axie Infinity game runs on, was hacked for over $600m in ETH and USDC in 2022.
At the beginning of 2023, the Axie Infinity token was worth just $6.04, a 96% loss from its ATH in November 2021. Despite a confusing, pre-token-unlocking price pump on January 22nd, which saw the token reach a high of $13.94 (the highest price it has seen this year), the Axie Infinity token has spent the majority of the year trading between $4 and $10.
Despite all these fluctuations in price, the price of the Axie Infinity token AXS has not dipped below $4 since the June 29th, 2021.
Key Points in Axie Infinity Price History
Debuted on November 4th, 2021, at a price of $0.10. Today's price of $5.62 represents a 5,520% increase on this initial price.
Fueled by its popularity and the bull market of late 2021, Axie Infinity hit a high of $165.37 on November 6th, 2022. A 165,270% increase on its launch price.
At the beginning of 2023, AXS was worth $6.04, a more than 96% decrease from its all-time.
The Axie Infinity token jumped in early 2023 to reach a high of $13.94.
Since then, Axie Infinity has been moving in a downward wedge, trading between $4 and $10.
Axie Infinity Price Prediction 2023
Axie Infinity has been trading in a downward wedge since its high of 2023, $13.94, on January 23rd.
On the daily candle chart below, we can see that AXS recently, and successfully, tested support at $4 twice, and, on October 20th, showed a solid breakout from the wedge by bouncing off its previous resistance line where that line met the $4 mark. This means that the Axie Infinity token AXS could see a positive end to 2023.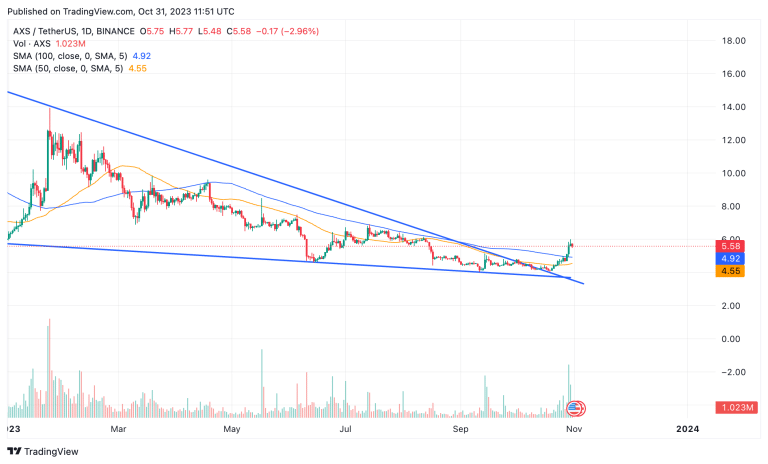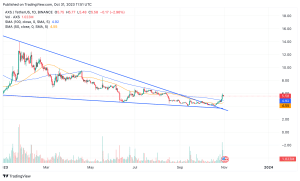 This sentiment is also echoed in the weekly chart, where the downward wedge stretches back to July 2022. We also have, on the daily chart, the 50-day moving average turning in a positive direction and closing in on the 100-day moving average.The candles have recently overtaken both of these indicators, and if they can stay above them, this signals strong bullish momentum for AXS.
With all that said, our Axie Infinity Price prediction for 2023 is a high of $8 if the overall bullish momentum in the market continues, along with the bullish position that AXS is currently sitting in. If, however, AXS can't sustain its rally or the overall crypto market receives some bad news, we predict that AXS could successfully retest previous support of $4 at the end of the year. In between this, we expect the coin to consolidate in the middle of these two figures at $6.
| | |
| --- | --- |
| 2023 | Price Prediction |
| Low | $4 |
| Average | $6 |
| High | $8 |
Axie Infinity Price Prediction 2024
One of the big talking points around price forecasts for 2024 is the Bitcoin Halving expected to take place in April. These Halving events are typically followed by a bull market. On top of that, we have what currently seems to be the thawing of the crypto winter, with Bitcoin ETFs seeming to be imminent, but many analysts differ on the influence it'll have on the price of Bitcoin. All of these, when or if they occur, could have a positive impact on the price of Axie Infinity in 2024.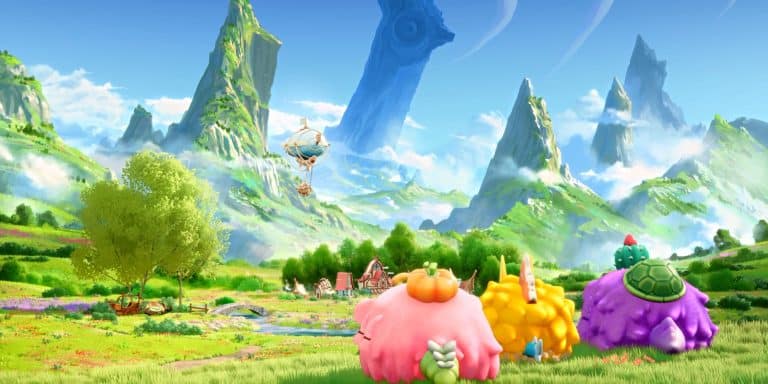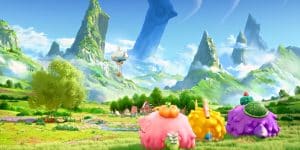 Regarding the going on in the Axie Infinity world, development of the game is moving at a steady pace, and in late 2023, Axie Infinity: Homelands entered pre-beta after spending almost a year in alpha. The release of this, a continued focus on expanding the Axie game ecosystem and making it more attractive to new players, along with a Merch store being slated for release by the end of 2023, all bode well for an Axie Infinity price forecast for 2024.
Considering this, our price prediction for Axie Infinity in 2024 is a high of $20 (a price with a recent history of resistance for AXS), a low of $10, and an average price of $15.
Axie Infinity Price Forecast Long Term Outlook – 2025-2030 Predictions
It is usually 12–18 months after the Bitcoin Halving event that Bitcoin and other tokens hit new ATHs. This means that these should be achieved in 2025. Include that with bumps that could come to the Axie Infinity token price from the release of upgrades and new game elements, and Axie Infinity has a bright future for 2025.
However, AXS tokens are still being released, and between now, where 52% of the supply is in circulation, and the end of 2025, another 47% of the supply is slated to be released—almost doubling the number of tokens on the market. If the utility for these tokens and the level of adoption of the game do not increase significantly during that time, this could put downward pressure on the token price—even in a strong bull market.
Our Axie Infinity Price prediction for 2025 gets a boost from the Bitcoin Halving, but we don't get near ATH territory, with a high of $37.50, a low of $20, and an average price of $30.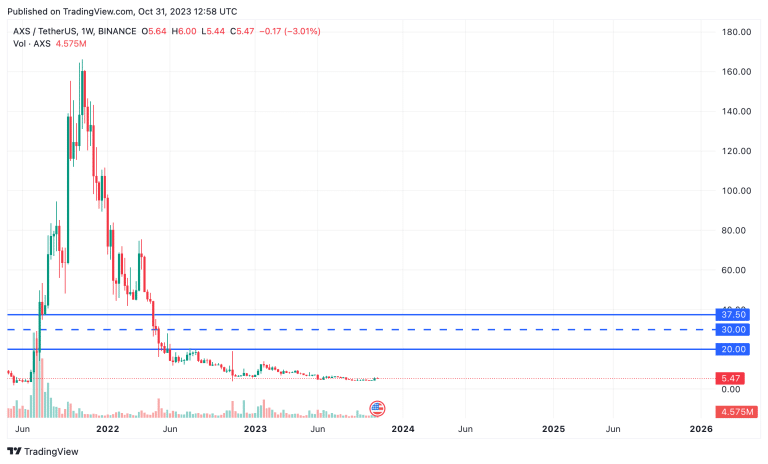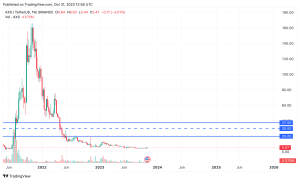 Looking past 2025, an Axie Infinity coin forecast for 2030 is, as for other coins, quite difficult.
Current development plans and roadmaps for Axie Infinity don't stretch past 2026. However, there are outlines for much grander plans than what is scheduled in these roadmaps, and we expect the development of the game and ecosystem to continue well into the future, creating a universe that the Axie Infinity token is an essential element of.
As the blockchain ecosystem evolves, we can expect to see more gamer becoming more interested in blockchain gaming. When they do, they'll start by trying some of the bigger games—and Axie Infinity is well-positioned as one of those top games. By this time, with all the AXS tokens in circulation, the game should have evolved to include a significant amount of utility for the AXS token, and community governance—which will require token locking—should also be in full swing.
However, if Axie Infinity suffers another large hack, development drops off, or the game fails to gain adoption for one reason or another, then we could see AXS posting negative price movements too regularly.
But, with all that in mind, our Axie Infinity Price prediction for 2030 is a positive one, with highs of $80, lows of $60, and averages of $65.
Potential Highs & Lows of Axie Infinity Coin Price
Below, we have collected our Axie infinity price predictions for each year.
| | | | |
| --- | --- | --- | --- |
| Year | Low Price | Average Price | High Price |
| 2023 | $4 | $6 | $8 |
| 2024 | $10 | $15 | $20 |
| 2025 | $20 | $30 | $37.50 |
| 2030 | $60 | $65 | $80 |
What do Other Analysts Predict for Axie Infinity Coin?
Many analysts have weighed in on the future price of Axie Infinity, and here are some of those predictions.
The website CryptoNewsz predicts that, by the end of 2023, Axie Infinity will reach a high of $14.79. They also predict a moderate increase over 2024 and 2025, with a maximum price of $19.07 in these two years.
CryptoNewz
AMBCrypto expects Axie Infinity's AXS to reach $85.78 by the end of 2030, with an average price that year of $71.48. They also expect it to beat its ATH in 2033 and set a new one of $188.45.
AMBCrypto
Through the MSN website, the Cryptopolitan predicts that in 2030, Axies Infinity will be hitting new ATHs of 194.08.
Cryptopolitan
The Changelly blog states that AXS will reach a high of $16.59 in 2025. It does, however, have AXS breaking the $100 mark in 2030, with an end-of-year high of $114.76.
Changelly Blog
Bitnation forecasts a price of $26.26 for AXS by 2025 and expects it to exceed $8.21 by the end of this year.
Bitnation
What is Axie Infinity Coin and What is it Used For?
The Axie Infinity coin is called Axie Infinity Shards, ticker: AXS, and it is one of the two tokens used in the blockchain game Axie Infinity and is the utility and governance token of the game's ecosystem.
What is Axie Infinity?
Axie Infinity is a blockchain-based game built on the Ronin sidechain for Ethereum. It was created and is being developed by the Sky Mavis development company. It is a player-vs-player (PvP), turn-based game where players collect and build teams of Axies—novel creatures, each represented by an NFT—and then use these to battle other plays across multiple gaming formats.
Axies are a wide array of creatures whose defining features, for the purpose of the game, are the body parts they have. During the game, a players' Axies draw cards, and their ability to use them depends on the body parts they have.
According to DappRadar, Axie Infinity ranks 15th overall amongst blockchain games when sorted by number of unique active wallets. But ranks first when blockchain games are ranked by the volume of token value transferred in and out of the game.
Multiple Game Modes
The game initially started with a Classic version, where Axies were battled in an arena, and has evolved to include Axies Infinity: Origins, which features an adventure mode, ungraded art, new cards and power-ups, and in-game changes. There is also a metaverse-style game under development called Axies Infinity: Homelands, which entered pre-beta in late 2023.
Other mini-games have been developed, at least two other developers have built games in the Axie Infinity ecosystem, and further development of the ecosystem is planned. There have also been numerous tournaments with AXS featuring as prizes.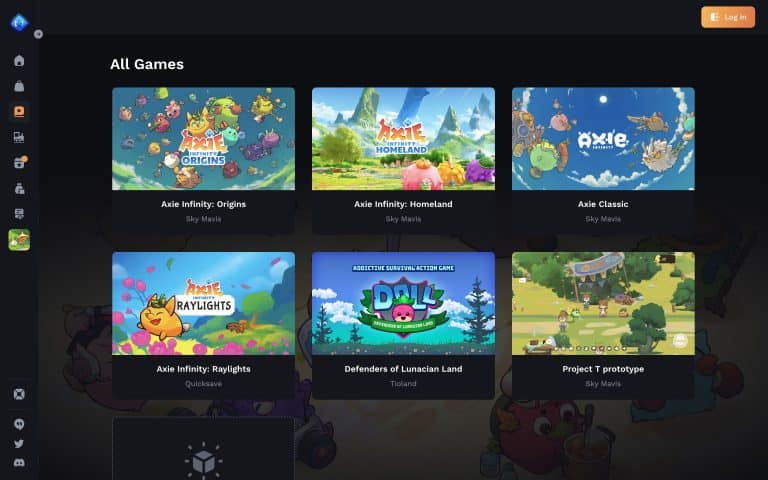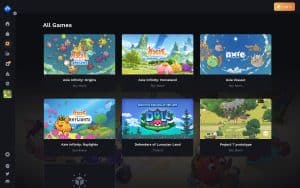 Breeding Axies
One of the main elements of Axies Infinity is the breeding of Axies to create new Axies. Each Axies is represented by an NFT, and each one has a unique genetic code. Breeding Axies can produce an almost infinite variety of creatures, each with unique genetic traits. These can then be used in gameplay or sold on an NFT marketplace.
To Breed Axies, a player needs to pay a certain amount of Smooth Love Potion (SLP) and a varying amount of AXS.
The Other Token: SLP
The other token in the Axies Infinity universe is Smooth Love Potion. This is used exclusively in one element of the games, and that is the breeding of Axies to create new Axies. Each Axie can only be bred 7 times, with each use requiring an increasing amount of SLP.
Unlike AXS, which has multiple use cases and many sinks and faucets within the game, SLP has only one use, breeding Axies, and is only released as a reward for competing in the game's arena. It is now also available on many of the top DEXes.
What is the AXS Token Used For?
AXS is the utility and governance token of the Axie Infinity ecosystem. It has multiple use cases that can be divided into three categories:
Staking: Owners of AXS can lock up their tokens to receive rewards in the form of newly released AXS tokens. Staking also makes token holders eligible to participate in governance.
Payments: AXS is accepted as a currency in the Axie NFT marketplace, and a variable amount (varying by taking into account numerous economic factors) is required to breed Axie NFTs.
Governance: Those who stake AXS will be eligible to vote on various issues concerning the game's development and the Axie Infinity ecosystem. There is a lot of thought going into how the governance system is constructed, and it is currently under development. These holders will also govern the use of the AXS infinity treasury, which is funded by numerous revenue streams from within the game.
The current AXS economy is detailed in the image below: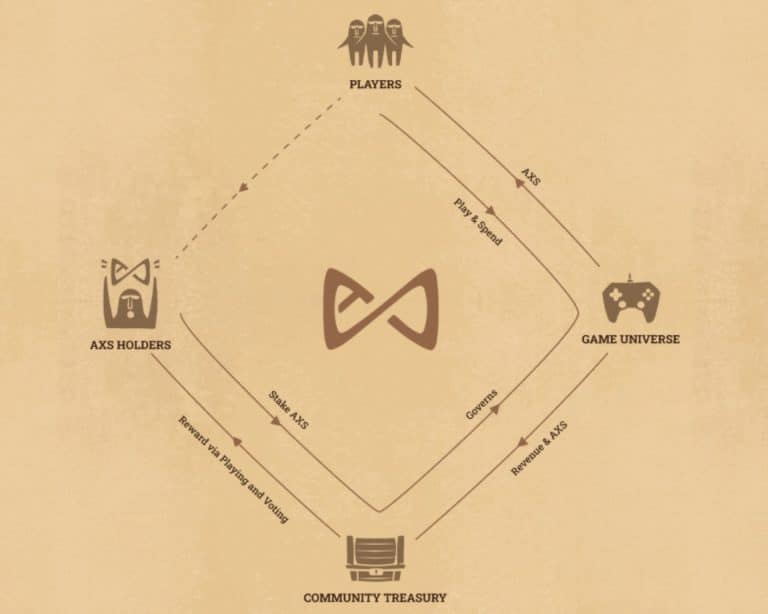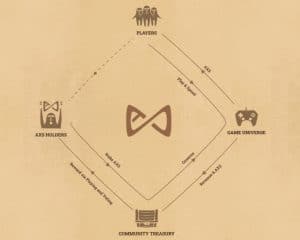 What is the Ronin Sidechain?
Axie Infinity was initially launched on Ethereum before migrating to a sidechain developed by the Loom Network due to network congestion and high gas fees. However, Loom then chose to optimize their products to a different end than what the Axie Infinity game needed. This led the developers of Axie Infinity, Sky Mavis, to develop their own sidechain for their game—enter the Ronin Sidechain.
Ronin is a highly scalable, EVM-based Ethereum sidechain that is purpose-built for blockchain games, focusing on the gamer experience by ensuing low gas fees, less congestion, and higher transaction speeds than the main Ethereum chain.
Ronin was launched in 2021 and has a steadily growing ecosystem of games. It works using a Proof-of-Authority consensus mechanism, and the validator pool contains a limited set of validators, who stake their reputation, not tokens. The validator list includes some big names, including Binance, Ubisoft, and Google Cloud. This form of consensus creates a centralized system. However, there are plans to move to a proof-of-Staked-Authority in the future to help widen the validator pool. Currently, holders of RON, the Ronin sidechain's native token, can delegate their RON to validators to receive a portion of the RON rewards emitted and distributed for the creation of blocks.
Axie Infinity Coin Overview
The Axie Infinity token has been around since November 2020, here are its important stats.
| | |
| --- | --- |
| Cryptocurrency | Axies Infinity |
| Ticker Symbol | AXS |
| Rank | #53 |
| Price | $5.62 |
| Price Change 24H | -3.01% |
| Market Cap | $794,123,067 |
| Circulating Supply | 141,391,737 AXS |
| Trading Volume 24H | $122,995,543 |
| All Time High | $165.37 |
| All Time Low | $0.1234 |
What Influences the Price of Axie Infinity?
Besides the overall conditions surrounding the crypto market and news items that are impacting Bitcoin and the other top currencies—both of which have an effect on the price of even the best altcoins—there are numerous factors that influence the Axie Infinity token price.
The main influence on the price of the AXS token is the demand for it. This is affected by numerous elements of the game's tokenomics and economy, but most obviously, it is affected by the popularity of the game. This was seen in late 2022 when the game and token price boomed in popularity.
The other major factor that impacts the demand for the AXS token is the quantity of tokens that are staked. The larger the quantity of staked tokens, the lower the supply of tokens. This scarcity can help to push the token price higher. According to the AXS staking dashboard, 47% of the total circulating supply of AXS is currently staked.

With only 52% of the total supply of AXS tokens currently in circulation, the AXS token release schedule and who receives these tokens and when needs to be taken into account by potential token buyers. By April 2024, a maximum of 86% of the AXS supply will be in circulation, with that number rising to 97% in April 2025—marking a significant increase in the number of tokens available on the market and potentially increasing the sell pressure on the AXS token.
Future game development can also impact the price of a utility token, especially with AXS. Sky Mavis intends to increase the token's in-game utility by introducing more use cases. Axie Infinity already offers an immersive game and community experience and is actively developing different game modes and methods for other developers to build on top of the Axie Infinity ecosystem—with at least two already doing so. Development plans can be followed on the Axie Infinity roadmap, and updates on progress can be found the Axie Infinity Blog.
One issue that could potentially deter new users in the near-term is the isolated and centralized nature of the Ronin sidechain. An important element of this is that there is, currently, only one wallet that can be used with the Ronin sidechain, the Ronin Wallet, and the chain is yet to be supported by the likes of MetaMask and some of the more popular web3 wallets and platforms. All this acts as a barrier to entry and preventing adoption.
Adoption of the suite of Axie Infinity games will be the biggest long-term driver of the Axie Infinity crypto price. With a large base of players, a strong community, and solid game foundation for future development to build on, Axie is well positioned to become a popular blockchain game. There is already a mobile version of Axie Infinity: Origins for both iOS and Android.
Is Axie Infinity a Buy?
Blockchain gaming is continuing to grow, although not at the previously hoped for or predicted pace. In the world of blockchain gaming, Axie Infinity is one of the leaders of the pack, and this position is exceptionally important for its potential as the adoption of blockchain gaming continues to grow. As levels of adoption do increase, demand will only increase for the Axie Infinity token, helping to put upward pressure on its price.
Next year's Bitcoin Halving event is expected, due to historical evidence, to be followed by a bull market. This, along with the continued growth and adoption of blockchain technology and the idea of decentralization, all make for exciting times for any cryptocurrency. With gaming considered to be one of the next industries that blockchain technology will cause waves in, Axie Infinity is ready to go.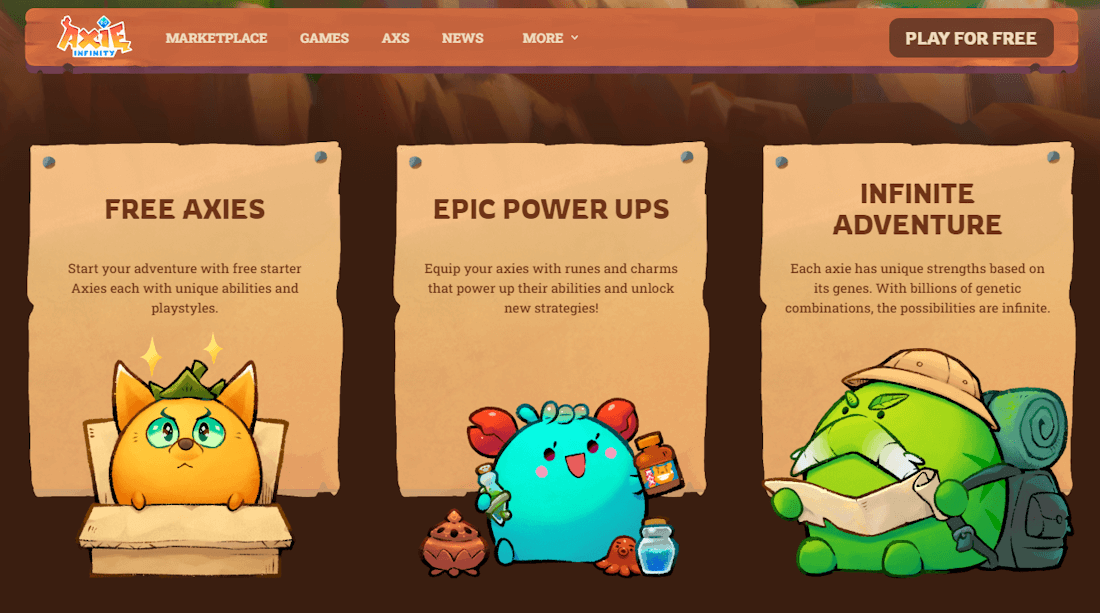 Outside of all this anticipation of action in the whole crypto market and the blockchain gaming segment, what really makes Axie Infinity stand out are its strong development plans. These plans continue expanding the Axie Infinity world and ecosystem and increase the utility of the Axie Infinity token. These plans include improving the game modes that exist now and developing new ones while also bringing more social elements into the games.
The development team is also already working on building the tools to allow other developers to build in the Axie Infinity gaming ecosystem, and all of this will only add more utility to the AXS token and also increase demand for the token. All of which will have a positive impact on the price.
However, in light of all these positives, the token emissions schedule, which has the number of tokens in circulation doubling over the next three years, could add downward price pressure to the AXS token should adoption of the game not happen at the desired rate.
Conclusion
For our Axie Infinity price predictions, we took all elements of the blockchain, blockchain gaming, and Axie ecosystems into account. We looked at the positives and negatives that are on the horizon and determined that Axie Infinity does indeed have a bright future.
However, Axie Infinity is already an established coin, and while we noted that this helps to make it a buy and increase its chances of succeeding in the long term, we don't currently class it as one of our best buys for November 2023. Follow the link below to find out what coins are on our list of best buys for 2023.
References
How much will Axie Infinity be in 2024?
What will Axie Infinity be worth in 2025?
How much will the Axie Infinity price be in 2030?