The BEN token is up 736% since its launch, and popular YouTuber Ben Armstrong, known as BitBo_Crypto, has recently taken control of the project with aims to turn it from a meme coin to "a crypto adoption coin".
This Ben coin price prediction looks at Ben's rocky history,  roadmap and forecasted short and long-term potential prices for the upcoming seven years.
Ben Coin Price Prediction 2023-2030
Ben is currently priced at $0.00000007817, down 70.6% from its all-time high (ATH).
Our short-term Ben price forecast estimates Ben could climb 28% to a price of $0.0000001 by the end of 2023.
If the Ben roadmap developments roll out successfully, we could see Ben increase by 667% to $0.0000006 by the end of 2025.
Ben is down 13.1% in 24 hours and 50.77% in the last seven days.
| | | | |
| --- | --- | --- | --- |
| Year | Minimum Price | Average Price | Maximum Price |
| 2023 | $0.00000005 | $0.00000008 | $0.0000001 |
| 2024 | $0.0000001 | $0.00000028 | $0.00000046 |
| 2025 | $0.0000001 | $0.00000035 | $0.0000006 |
| 2030 | $0.00000001 | $0.0000005 | $0.000001 |
Ben Price History
Crypto influencer BitBoy Crypto played a crucial role in bringing Ben to the masses at the beginning of May. Amid the meme coin frenzy on 8 May, he tweeted:
Guys $BEN is live. People all want to invest in themselves and now Bens can do that.

The facts:
– The coin has my name
– We have a Ben DAO on telegram
– Bens are better than Jeffs so we should easily take over JeffCoin as the number one name on the blockchain

— Ben Armstrong (@Bitboy_Crypto) May 8, 2023
The tweet now has over one million views and over 1k likes, and the price began to soar shortly after.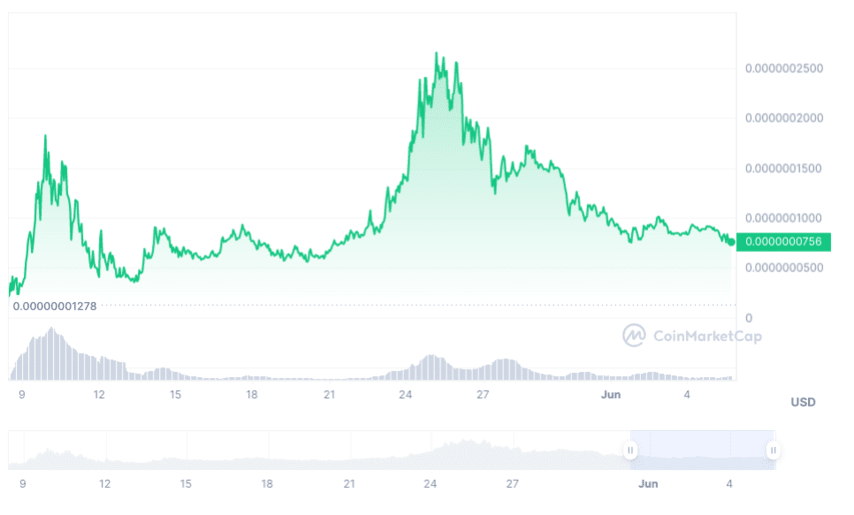 The Ben launch come just two days after Binance announced it would list Pepe, causing the meme coin to reach a $1.8 billion cap.
Binance's announcement sent meme coins into a frenzy, with multiple new coins surging in the following days. Most of these meme coins lasted only one or two days before the hype died out, and they got forgotten about, and many critics thought the same would happen for Ben.
However, BitBoy Crypto seems to have a bigger vision for the token, calling it his "life's work" on Twitter.
The price peaked at $0.0000001826 on 9 May before plummeting to $0.00000003913 on 12 May.
BitBoy tweeted on 12 May that he would take over the project entirely from Ben.ETH, who is rumoured to of initially launched the project. Following the announcement, the price gradually climbed before starting an explosive ascent on 23 May.
Finally, Ben reached its ATH on 25 May of $0.0000002725 and has been trending downwards since.
The coin has been at the centre of several controversies since its launch, with its main stakeholders Ben.ETH and BitBoy Crypto both involved in other legal issues recently.
A class action lawsuit was recently filed against BitBoy Crypto following allegations that he (and others) misled investors into investing with FTX. An article by Yahoo Finance later found that BitBoy has been accused of harassing a lawyer regarding the case.
Nevertheless, BitBoy has recently taken 100% control and responsibility of the Ben token, recently publishing a long-term roadmap to his Youtube channel.
Ben Price Prediction 2023
BitBoy Crypto recently published a YouTube video highlighting the roadmap for the Ben coin. The roadmap is not yet available on the Ben website and is exclusive to this video.
The video started by stating the overarching goal of the Ben coin. Unlike other meme coins, Ben coin has a real purpose: to boost crypto adoption. According to the video, the Ben coin will aim to tackle four pillars of crypto adoption.
The four pillars are public awareness, crypto education, government regulation and crypto news.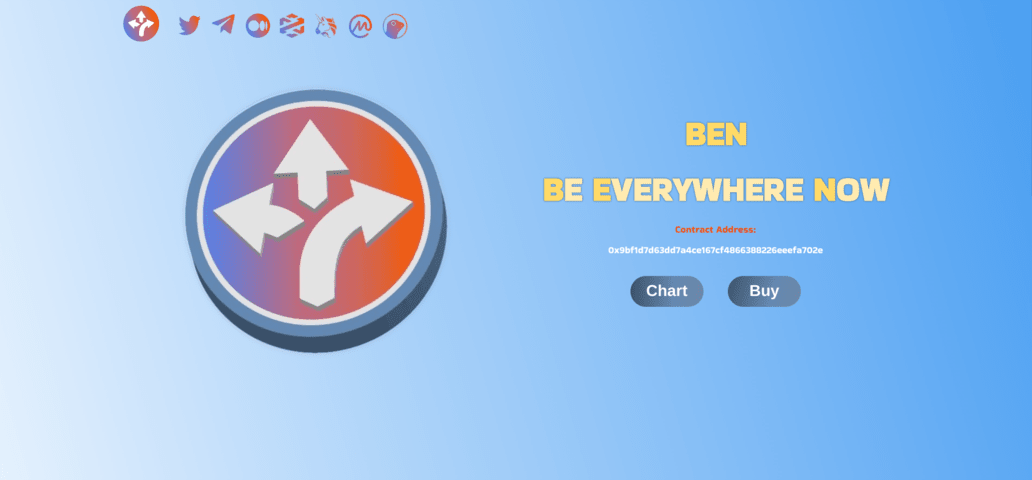 According to a survey by Kaspersky, the main barriers to crypto adoption are financial risk, security risk and lack of tangible assets backing cryptocurrencies.
There are strong counter-arguments to each of these concerns, and the combination of the four pillars mentioned above could help people to understand the benefits of crypto can far outweigh its concerns.
Based on the Ben coin roadmap, the initial goal will be to run public awareness campaigns. According to BitBoy Crypto, this will involve placing advertisements across bus stops, newspapers, TV and more. The advertisements will aim to generate awareness around the shortfalls of traditional finance by using shock tactics.
Following this, the project aims to transition Ben into a governance token by Q3 2023, enabling users to vote on initiatives the Ben project takes.
Finally, the project will seek to establish regulatory and education initiatives, working to generate regulatory certainty in the industry and educating the masses on the benefits of crypto.
Overall, it is evident that BitBoy is taking the project seriously and has big goals for Ben. With this in mind, our Ben coin price prediction estimates a price of $0.0000001 by the end of 2023.
| | | | |
| --- | --- | --- | --- |
| Month | Potential Low | Average Price | Potential High |
| July 2023 | $0.000000036 | $0.000000058 | $0.00000008 |
| August 2023 | $0.000000038 | $0.000000061 | $0.000000085 |
| September 2023 | $0.00000004 | $0.000000064 | $0.000000088 |
| October 2023 | $0.000000045 | $0.000000068 | $0.000000092 |
| November 2023 | $0.00000048 | $0.000000072 | $0.000000096 |
| December 2023 | $0.00000005 | $0.000000075 | $0.0000001 |
Ben Price Prediction 2024
Considering Ben aims to be a combination of a meme coin and DAO, access to a large community is key.
Luckily, BitBoy has over 1.4 million YouTube subscribers and is one of the most well-known influencers in the industry.
According to Etherscan, Ben has 30K holders and a $29 million market cap. These figures are still relatively small compared to BitBoy's following. However, Ben must make a real impact with the project for it to become one of the coins with the highest upside potential in 2024.
Much of Ben's early price action has been driven by hype and speculation, but as Ben coin seeks to become a utility project, it must begin to see tangible results for the price to climb.
Although Ben has an ambitious roadmap and strong community, this does not automatically make it a coin with long-term investment potential.
As we can see on the chart below, Ben's price has continued trending downwards despite the project's developments.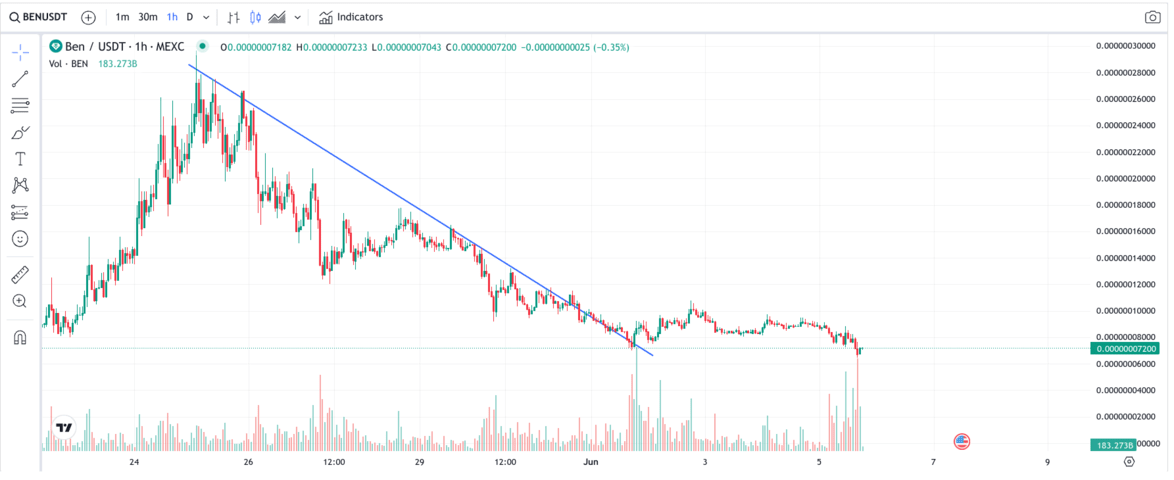 However, BitBoy's video on the Ben roadmap also stated that the 2024 roadmap would be issued in Q4 2023. Providing the project continues to make impactful changes. We will likely see Ben recover and attain new all-time highs in 2024, particularly since the Bitcoin halving is expected in April of that year.
Nonetheless, it is important to consider that the project may not achieve its roadmap goals, particularly if the community continue to lose interest.
With this in mind, there is a bull and bear case for Ben in 2024. But provided Ben performs well and the community are receptive to it, our Ben coin price prediction estimates the Ben price could reach $0.00000046 by the end of 2024.
Ben Price Forecast Long Term Outlook – 2025-2030 Predictions
Looking further ahead, Ben's use case gives it the potential to become one of the best altcoins. However, the project also comes with considerable risk.
The main consideration investors must take is that its price is currently sliding. If this continues, the team could eventually abandon the project, causing Ben coin to lose all value.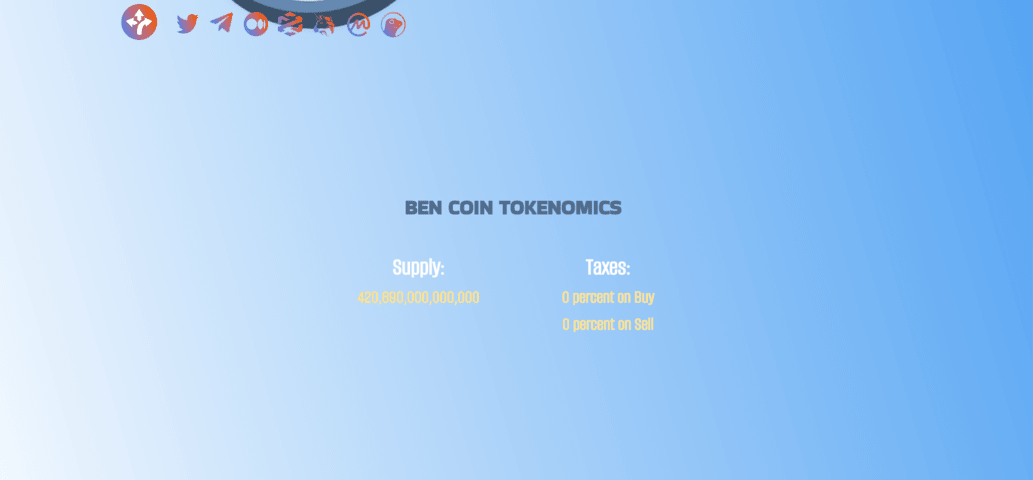 On the other hand, sometimes, the best crypto coin to buy are those currently trading at a lower price.
Based on the factors discussed in our Ben price forecast, we expect Ben to recover from its current slide. If it does recover, then we could see the project make considerable progress in the long term.
As of yet, the long-term plans for Ben are unknown. However, the project will likely double down on education, adoption and regulation. If it succeeds, it will likely onboard many new users to crypto, and make it easier for new projects to launch, thanks to increased regulatory clarity.
This would prove highly bullish for Ben and crypto as a whole. With this in mind, our Ben coin price prediction forecasts the price could hit $0.0000006 by the end of 2025.
Looking further ahead, we could see Ben climb as high as $0.000001 by the end of 2030, provided it succeeds in boosting crypto adoption.
Potential Highs & Lows of Ben Coin Price
It remains to be seen whether Ben will prevail as one of the best meme coins, and it is currently a high-risk coin which could go either way. However, it does hold significant potential if it succeeds in its feat to become the crypto-adoption coin. We have summarized the potential highs and lows of Ben's crypto price below.
| | | |
| --- | --- | --- |
| Year | Minimum Price | Maximum Price |
| 2023 | $0.00000005 | $0.0000001 |
| 2024 | $0.0000001 | $0.00000046 |
| 2025 | $0.00000005 | $0.0000006 |
| 2030 | $0.00000001 | $0.000001 |
What do Other Analysts Predict for Ben Coin?
To better understand the Ben coin price potential, we have collected the estimates from several analysts and summarized them below.
Pricepredict.net forecasts that Ben could see potential lows of $0.00000011 and potential highs of $0.00000012 by the end of 2023.
Digitalcoinprice estimates that Ben's minimum price will be $0.0000000634, and its maximum price will be $0.000000154 by the end of 2023.
Based on Coindataflow's Ben coin price prediction, Ben could reach a minimum price of $0.000000065 or a maximum price of $0.00000009 by the end of 2023.
According to Telagon, Ben could see potential lows of $0.0000000985 and highs of $0.000000192 by the end of 2023.
BTCC's Ben price forecast predicts that Ben could have potential lows of $0.0000000685 or potential highs of $0.000000192 by the end of 2023.
What is Ben Coin?
Ben is a meme coin turned utility token now controlled by YouTube influencer BitBoy crypto. It started as a joke to connect everyone with the name Ben, but since BitBoy's involvement, the project aims to boost mainstream crypto adoption.
The project will start with an aggressive marketing campaign targeted towards those who are usually against or do not understand crypto. Following this, the project aims to work with regulators and provide educational content to the masses in crypto, all working towards increasing crypto adoption.
European Union regulators have developed a crypto regulatory framework called Markets in Crypto Assets (MiCA). The bill aims to provide regulatory certainty around numerous crypto topics, enabling businesses to ensure they are not breaking any rules.
However, the United States is behind in this regard, with less regulatory certainty and more confusion over how cryptocurrencies should be regulated. For example, the U.S. Securities and Exchange Commission (SEC) and the Commodities Futures Trading Commission (CFTC) are currently in legal battles with Binance.
The issue here is that it is impossible that cryptocurrencies can be commodities and securities simultaneously, shining light on the need for more regulatory and legal certainty regarding cryptocurrencies.
Ben will also bring crypto education and news to the masses, with BitBoy also pledging that Ben will have its own decentralized news channel.
It is worth noting, however, that Ben coin does not have a whitepaper, and its roadmap consists of ideas that could change at any time.
Ben Coin Overview
For a quick summary of the Ben token price, we have listed the main points below.
| | |
| --- | --- |
| Cryptocurrency | Ben |
| Ticker Symbol | BEN |
| Rank | 2661 |
| Price | $0.00000007374 |
| Price Change 24H | -13.1% |
| Market Cap | $31,018,296 |
| Circulating Supply | 420,690,000,000,000 BEN |
| Trading Volume 24H | $10,963,993 |
| All Time High | $0.0000002725 |
| All Time Low | $0.000000009416 |
What Influences the Price of Ben?
Ben is a new crypto that has caused a massive stir in the crypto community. The price has been in turmoil so far, but below we break down the key factors which could affect its future price.
Ecosystem Developments
The Ben token has an ambitious roadmap and end goal. However, the project may face lots of adversity trying to achieve it. Therefore, Ben's ability to roll out its roadmap could have a significant impact on its price.
Broader Market Conditions
Most cryptos move in unison, especially in the long term. That means if the markets are trending downwards, then almost all other coins will follow, and conversely, the opposite occurs.
Hype
As Ben is a community-driven token, much of its demand will be hype and speculation driven. With this in mind, the project's ability to foster hype will play a key role in its success.
One of the four pillars of mass adoption, according to BitBoy Crypto, is public awareness. Moreover, the first step on its roadmap is a public awareness campaign. If successful, this could greatly improve the Ben price in the coming months.
Conclusion
Overall, the team working on Ben have been taking actions which seem to be moving the coin towards becoming a long-term crypto. However, there are still several uncertainties regarding Ben, and it will take a while before it can truly cement itself as a legitimate cryptocurrency project.
However, we have put together a list of over 20 proven cryptos which could prove better choices than Ben. Click the link below to find our top picks.
References
https://www.binance.com/en/support/announcement/binance-will-list-floki-floki-and-pepe-pepe-in-the-innovation-zone-f68a3bc6eb014ed9bacf1d6c71dc1134
https://finance.yahoo.com/news/bitboy-crypto-accused-threatening-harassing-134335906.html
https://www.kaspersky.com/about/press-releases/2023_cryptocurrency-volatility-and-security-concerns-kaspersky-research-identifies-key-barriers-to-crypto-adoption
https://etherscan.io/token/0x9bf1d7d63dd7a4ce167cf4866388226eeefa702e
https://www.reuters.com/technology/eu-council-adopts-first-legal-framework-regulate-crypto-sector-2023-05-16/
FAQs
What is the Ben price prediction for 2023?
Does Ben crypto have a future?
What is the price prediction for Ben token in 2025?